After the Pearl Harbor attack, Hawaii underwent strict Martial law, which lasted until the end of World War II. Everyone in Hawaii lived under the control of the US military. They set working hours and wages, regulated bars and restaurants, and set curfews dictating what time lights had to go out. Martial law violated the fundamental rights of the citizens. Critics were regarded as unpatriotic, and the military censored the press, so there could be no public debate. When the war ended, the people of Hawaii stood together and rebuilt Oahu's island and launched many campaigns to attract visitors to the island. Hawaii's economy was profoundly affected by the war, but because of the unity of Hawaiian citizens, Hawaii has recovered beautifully, and it thrives economically.
In 1954, there were a series of nonviolent protests, strikes, and acts of civil disobedience across the industry. Hawaii's Republican Party was ousted from the legislature in the territorial elections of 1954 and was replaced by the Democratic Party of Hawaii. The Democratic Party lobbied for statehood and held the governorship from 1962 to 2002.
On March 18, 1959, President Dwight D. Eisenhower signed the Hawaii Admission Act, granting Hawaiian statehood. Hawaii became the 50th state on August 21, 1959, following a popular referendum in which over 93% voted in favor of statehood.
Here are some fascinating historical photos that show what Hawaii looked like in the 1950s.
#1

A couple repairing a net strung between two palm trees in a remote part of Hawaii, 1950
#2

Crowds gather on the Hawaiian island of Oahu to watch the winning boat of a gruelling 36 mile canoe race arrive at the finish, 1950
#3

At the Royal Hawaiian Hotel on Waikiki Beach, Honolulu, Hawaii. Outrigger Canoe Club (center left); Moana Hotel (on the right)
#4

Hawaiian woman selling lei with Aloha Tower in the background, Honolulu Harbor, Oahu, Hawaii
#5

Hawaiian woman with flower lei
#6

King Street in downtown Honolulu with the wall / fence of Iolani Palace on the left
#7

Mountain range in Hawaii
#8

National Memorial Cemetery of the Pacific at Punchbowl Crater in Honolulu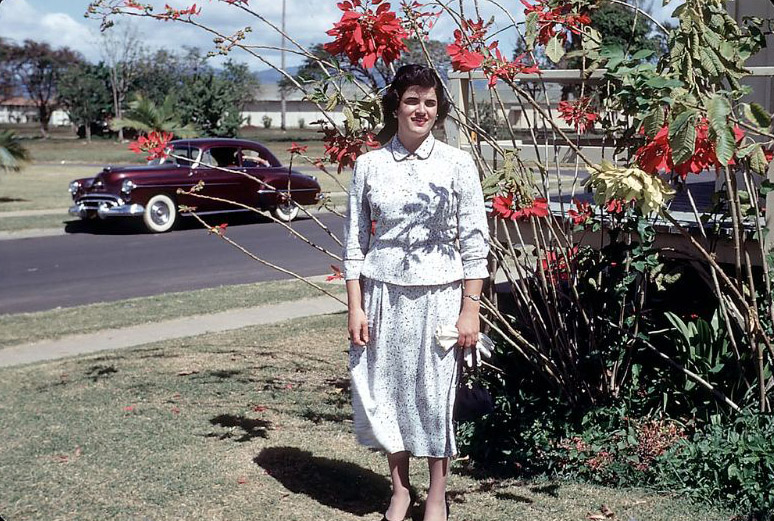 #12

Honolulu Sporting Goods
#13

Royal Hawaiian, Waikiki, Honolulu
#14

Foodland supermarket, Hawaii, 1959
#16

Swimming in a freshwater pool, Hawaii, 1959
#17

Outrigger Waikiki on the Beach, a bar and hotel on Waikiki Beach, Honolulu, Hawaii, 1950s
#18

Pineapple Canning Factory, Honolulu, Hawaii, 1950s
#19

A man pushes a woman out to sea on a surf board, Waikiki Beach, Honolulu, Hawaii, 1955
#20

A farm and surrounding fields on Hawaii, 1955
#21

Visitors to Hawaii join in the 'Hukilau', 1955
#22

The Samoan sword is a formidable weapon of war, but it can also be useful in peacetime, 1955
#23

Women weaving rushes in kaiolani park in Waikiki, Hawaii, 1955
#24

Men in straw hats picking pineapples from field and loading them on conveyor belt piece of farming equipment, 1950.
#25

American comedian Lenny Bruce performs on stage with exotic dancer Windee Gayle and a saxophonist at the Orchid Room, Waikiki, 1950s.
#26

Pathway Leads to a Home, 1950
#27

King Kamehameha statue in a peaceful square surrounding by palm trees, Honolulu, Hawaii, 1950.
#28

Hawaii Calls" radio show being performed on stage at the Banyan Court of the Moana Hotel, Waikiki, Honolulu, Hawaii
#29

Ala Wai Boulevard next to Ala Wai Canal, Waikiki, Honolulu, Hawaii
#30

Dillingham Transportation Building on Bishop Street (left), downtown Honolulu, Hawaii
#31

Fort Ruger on the slopes of Diamond Head (foreground); Leahi Hospital in right distance
#32

Giant cross at Schofield Barracks, Oahu; since removed
#34

Hickam Field, Oahu, Hawaii
#43

Irrigation ditch in sugar cane field, Hawaii
#44

Kaneohe Marine Corps Air Station, Oahu, Hawaii
#45

Koolau Mountains seen across Kaneohe Bay from the Kaneohe Marine Corps Air Station on Mokapu Peninsula, Oahu, Hawaii
#46

Lei sellers in parked cars along Lagoon Drive near Honolulu Airport
#50

Planting pineapple crowns, central Oahu, Hawaii
#51

Planting rice, Hawaii
#52

Preparing field for planting pineapples, central Oahu, Hawaii
#53

Runway at Hickam Field, Oahu, Hawaii
#57

The coastline of Oahu around the Blowhole
#58

The saltwater swimming pool at the Kona Inn, Hawaii island
#59

Upside-Down Falls in Nuuanu Valley, Oahu, Hawaii
#60

View from Nuuanu Pali Lookout towards Kailua, Oahu
#61

View from Tripler Hospital (foreground)
#62

Women at the beach, Hawaii
#63

World War II memorial at Punchbowl Street (background) and King Street, Honolulu, Hawaii
#73

Welome Home Hula Dance on Ford Island, Honolulu
#74

Hula Dancers at Ford Island
#75

Hula Dancers at Ford Island
#76

Hula Dancers at Ford Island
#80

Pali Cruiser, Oahu, Honolulu
#83

Honolulu Airport Tarmac
#84

Waikiki Beach from Kalakaua Ave, Honolulu
#85

SS Lurline Arrival, Honolulu
#86

Making Leis, Honolulu
#87

Lei Day Performance, Honolulu
#88

Lei Day Dancing, Honolulu
#89

Geishas, Lei Day, Honolulu
#91

Waikiki Beach, Honolulu
#92

Cattle graze under volcanic cliffs on Oahu, 1959
#93

Black-sand beach, made by waves battering volcanic rock, on the Big Island, Hawaii, 1959
#94

Scene at Dole's 15,000-acre Wahiawa plantation near Honolulu, 1959
#95

Young Catholics at St. Catherine's Church on Kauai, 1959
#96

Washing hung out to dry, Hawaii, 1959
#97

Fans at a football game, Hawaii, 1959
#98

Drum majorette leads band at Honolulu football game, 1959
#99

Football game, Honolulu, 1959
#100

Mamala paddle dance which was performed in honor of Lono
#101

Hawaiian women pose, 1959
#102

Dunking pool at a Hawaii fair, 1959
#103

Roman Catholic church, Hawaii, 1959
#104

Hawaiian police, 1959
#105

Scene on a Hawaiian plantation, 1959
#106

Tourists in Hawaii, 1959
#108

A young Hawaiian mother, 1959
#111

Hawaii Speed Week, 1950s
#112

A scenic view of a tributary of the River Wailua on Kauai, the oldest of the main Hawaiian Islands, 1950s
#113

Hotels along the beach, Honolulu, Hawaii, 1950s
#114

Kiasu Beach, Hawaii, 1950s
#115

Honolulu Docks, with a view of Aloha Tower, Honolulu, Hawaii, 1950s
#116

Hotels along the beach, Honolulu, Hawaii, 1950s
#117

Women in traditional native Hawaiian clothing, Kauai, Hawaii, 1950s
#118

US marines outside Club Hubba Hubba on Hotel Street, Honolulu, 1955
#119

Bert and Ellie Lang, a young American couple on their honeymoon in Hawaii try a spot of hula dancing in their hotel bedroom, 1955
#120

Christmas day on Waikiki beach, Hawaii, 1955
#121

The white sands and warm Pacific waters of a Hawaiian beach, 1955
#122

A crowd of camera wielding tourists watching a hula show in Honolulu, Hawaii, 1955
#123

Mary Ray Fearon and Oralee Kiewit Posing with Their Surfboards, 1955
#124

Scenic view of an Hawaiian beach with palm trees overhanging the sea,Hawaii, 1950s
#125

American actress Mamie Van Doren in Hawaii, 1954
#126

Crown Prince Akihito Makes Trip To Attend Queen Elizabeth II Coronation, 1953
#127

Contestants in the Mrs America 1953 pageant pose on a Mercury 'Mrs America', 1953
#128

Hula Dancers Dance Around May Pole, 1950s
#129

An array of feather-topped staffs on display at the Bishop Museum in Honolulu, Hawaii, 1953