The state of Washington began Prohibition at midnight on December 31, 1915, more than four years before the nation went dry under the Volstead Act and the 18th Amendment. Following World War I, Prohibition brought more than just sobriety to the Northwest. Brewing industry was Vancouver's primary source of jobs, and distillers provided income for fruit growers. Meanwhile, prune growers suffered significant losses due to bad weather and competition from California orchards. To support the industry, a booster group called the Prunarians organized and put together a Prune Festival. Although they tried their best, the market for Washington's prunes steadily declined and eventually dried up.
Prunarians were not the only benign organization. The Ku Klux Klan made its first appearance in Vancouver on March 11, 1922, and it grew in power by portraying itself as a patriotic Christian group. They held a large open-air ceremony in August 1924, with a flaming cross as the centerpiece. There were 500 clansmen in the entire regalia present and an estimated 10,000 spectators.
The Great Depression began when Wall Street crashed on October 24, 1929. Vancouver's mayor, John P. Kiggins, ordered building the city hall in November 1929, but it was to be constructed to office building specifications if it had to be sold quickly. Two significant industries were brought to Vancouver by the opening of Bonneville Dam on the Columbia River in 1938. Alcoa became the first company to build a plant in Vancouver two and a half miles from the city with low electricity prices.
#1

Three women and two men sit inside an open touring car, Vancouver, 1920
#2

Vancouver Policemen, 1923
#3

Covington House Near Vancouver, 1926
#4

Interstate Bridge Crossing Columbia River at Vancouver, 1925
#5

Interstate Bridge from Vancouver, 1920
#6

Main Building School for the Deaf Vancouver, 1920
#7

1st Presbyterian Church – Vancouver, 1920
#8

Main Building State School for the Blind, Vancouver, 1920
#9

Pacific Highway Interstate Bridge across Columbia River between Portland, Ore. and Vancouver, 1920
#10

Ku Klux Klan Meeting, Vancouver, 1925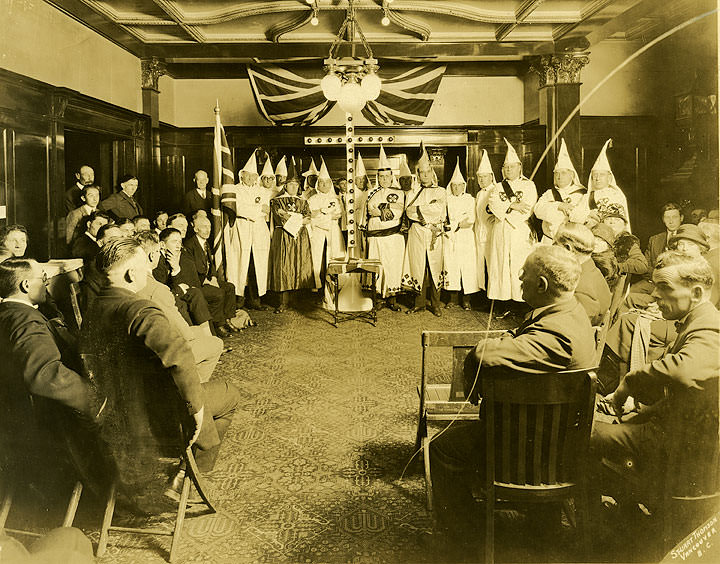 Fifteen male Ku Klux Klan members, wearing ceremonial robes and hats, stand posing with arms crossed in image center, facing the photographer. Probably a British flag is draped against the upper wall behind them. A tall cross, with circular objects spaced along the center of the bars, is in the middle of the group. A small table, with possibly a British flag draped across the top, is in front of the cross.
#11

W.W. Fair Pendleton Wool Booth, 1923
#12

Battle Ground High School Senior Class, 1924
#13

Bridge over Lewis River, 1920
#14

The exterior of the Camas Paper Mill near the railroad tracks, 1920.
#15

Caravan of Soldiers Heading to Camp Bonneville, 1929
#16

The exterior of the Carmack building located at NE 4th Avenue and Cedar Street in Camas, 1920s
#17

Ceremony at Vancouver Barracks, 1920s
#18

Crown Willamette Company House, 1920s
#19

Students gather outside of Franklin School in Vancouver, 1920s
#20

Hager's Theater located at 1905 Washington Street in Vancouver, 1920s
#21

The exterior of the Independent Lumber Company building located at 2615 Main Street off Fourth Plain Boulevard in Vancouver, 1928
#22

Independent Lumber Company, 1920
#23

People pose for a photo at the Lake Shore Grange in Vancouver, 1920
#24

Lindsay Lumber Company, 1928
#25

Main Street Vancouver, 1920
#26

Main Street Washougal Washington, 1922
#27

Maneuvering Sections into Place, 1927
#28

The exterior of the American Legion community building in Vancouver, 1922.
#29

Mikiah and Rebecca Marshall Home, 1920.
#31

A view of 6th Street along Esther Short Park, 1930s. The railroad bridge is visible in the distance.
#32

6th Street, Vancouver, 1930s
#33

8th & West Reserve Street, 1930s
#34

Five Men Stand Outside a Store, 1930s
#35

Fred Booker rides a horse during a parade in Vancouver, Washington, 1930s
#36

Students gather outside for a photograph at Harney school in Vancouver, 1932
#37

Harney School in Vancouver, 1930s
#38

The exterior of the Hotel St. Elmo which is located at 5th and Washington Street in Vancouver, 1930s
#39

William Shoenig behind the bar at the Lehthle Saloon located at 502 Main Street in Vancouver, 1930s
#40

Mr. and Mrs. A.L. Brougher with Worth Coulson, 1935
#41

Old School House, 1930s
#42

Orchards School, 1930
#43

Pacific Highway in Downtown Vancouver, 1936
#44

A view of the Army Air Corps at Pearson Airfield with Mount Hood in the background, 1930
#45

A group of men stand in front of a building housing the Phil Willig Merchant Tailor shop, 1930s