The prohibition is a period in the United State's history when the consumption and production of liquor were banned. Prohibition was ratified with the 18th Amendment in January 1920. However, the prohibition was difficult to impose, and results were not satisfying, so Congress proposed the 21st Amendment to the Constitution that would repeal the 18th Amendment on December 5, 1933, which ended the prohibition.
The prohibition started as a religious movement, such as the abolitionist movement to end slavery, in the early decades of the 19th century. In 1838, Massachusetts passed a temperance law to impose a ban on the sale of spirits in less than 15-gallon quantities, though the ban was lifted two years later. However, it set the path for such legislation. The State of Maine passed the first prohibition law in 1846, followed by a stricter was in 1851. When the Civil War Broke out, several other states imposed similar laws.  After the civil war ended, the movement gained rapid support in the late 19th century from social reformers who saw alcohol consumption as a destructive force in families and marriages. Others associated alcohol with urban immigrant ghettos, a primary cause of crimes, and political corruption.
At the start of the 20th century, a new wave of attacks started on the sale of liquor led by the Anti-Saloon League (established in 1893). Some factory owners also supported the prohibition to increase the efficiency of their workers in an era of increased industrial production and extended working hours. When the United States entered into the First World War in 1917, President Woodrow Wilson imposed a temporary wartime prohibition to save grains for food production. Congress submitted the 18th Amendment which outlawed the production, transportation and sale of intoxicating liquors began on 17 January 1920. The act defined 'intoxicating liquor' as anything that contained one half of one percent alcohol by volume, the medical or industrial use of the was exempted. Both the local and federal government tried to enforce prohibition across the country. The task was initially assigned to the Internal Revenue Service (IRS) and later transferred to the Prohibition Unit (federal Bureau of Prohibition). The bureau numbered around 3,000 agents and they can take help from local police. Several other steps were taken to prevent the smuggling from the Canadian and Mexican borders.
Despite very early signs of success, such as the number of deaths decreased due to Cirrhosis, the enforcement was very difficult. The illegal production and sale of liquor (bootlegging) started to meet the demands. Before the prohibition, been bars and saloons, served large quantities of. After the prohibition, there were illegal drinking dens known as "speakeasies" or "blind pigs" which by the end of the decade were numbered at an estimated 200,000. The era also encouraged the rise of criminal activity associated with bootlegging.  The most notorious example was the Chicago gangster Al Capone, who earned $60 million annually from bootleg operations and speakeasies. The price of bootleg liquor was doubled which only restricted the poor and some working-class people. Prohibition almost destroyed the brewing industry, causing a huge loss in jobs. It also resulted in a loss of $11bn in tax revenues, and cost $300m to enforce. An estimated 10,000 people died of alcohol poisoning during prohibition from bootleg whiskey, tainted gins and a federal government program that added poison to alcohol to frighten folks from imbibing (according to The Poisoner's Handbook: Murder and the Birth of Forensic Medicine in Jazz Age New York).
When Franklin D. Roosevelt ran for president in 1932, he demanded to revoke the prohibition and easily won the victory over the incumbent President Herbert Hoover. Eventually, in February 1933, Congress passed the 21st Amendment which repealed the 18th Amendment. Though a few states continued to prohibit alcohol after Prohibition's end, Mississippi was the last until 1966.
Have a look at these historical photos that perfectly depict the prohibition era.
#1

Mother Stewart Protesting against the liquor.The picture shows a group of women committing to rather extreme measures in support of the temperance movement.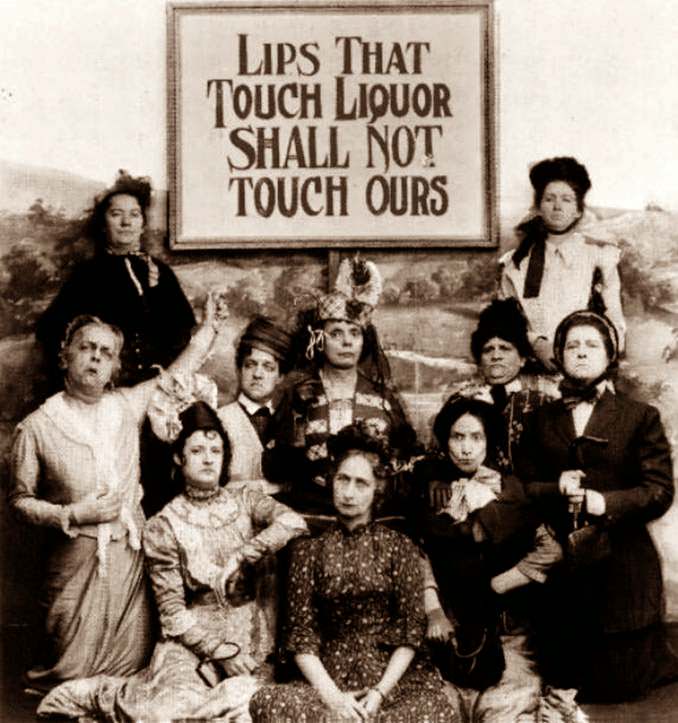 The temperance movement was an effort in the 1910's in the United States to reduce alcohol consumption. It actually led to Prohibition.This image is taken from book entitled "Memories of the Crusade: A Thrilling Account of the Great Uprising of the Women of Ohio in 1873, Against the Liquor Crime" The reason why the women are holding this sign for this picture is because they did not want a man that would drink because in most cases the women and children would be beaten, and the men would spend all of their money on the alcohol. This is a terrible issue of the time and it needed to be fixed, so women got together and protested and made sure that men knew their stance on the subject of alcohol.
#2

"The lips that touch liquor shall never touch mine." is a line from a poem.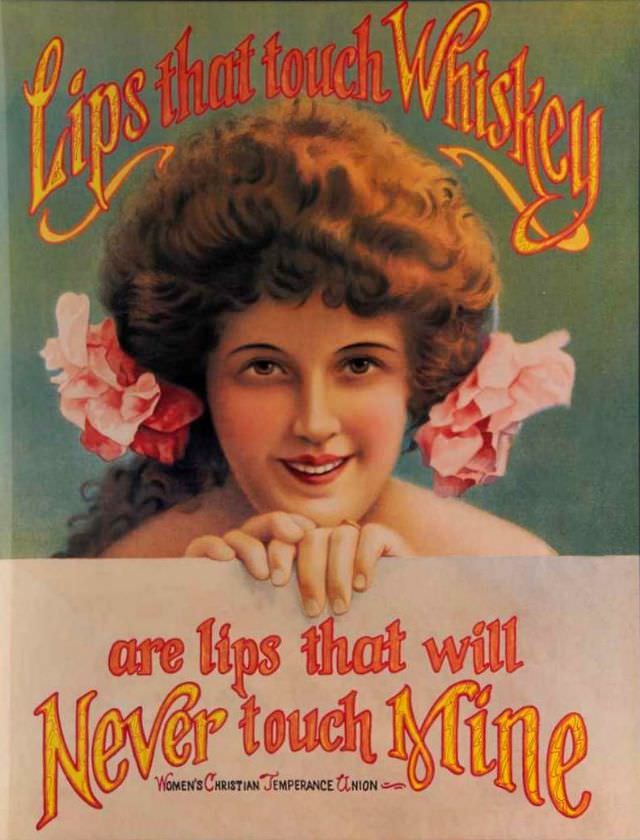 This mantra published in newspaper articles, magazines and books; depicted on placards, signs, and needle point; and repeated in poems and songs. "Lips that touch liquor…" has reached iconic stature and as such has attracted more than its share of parodies.
#3

Three men having a liquor party before the prohibition day.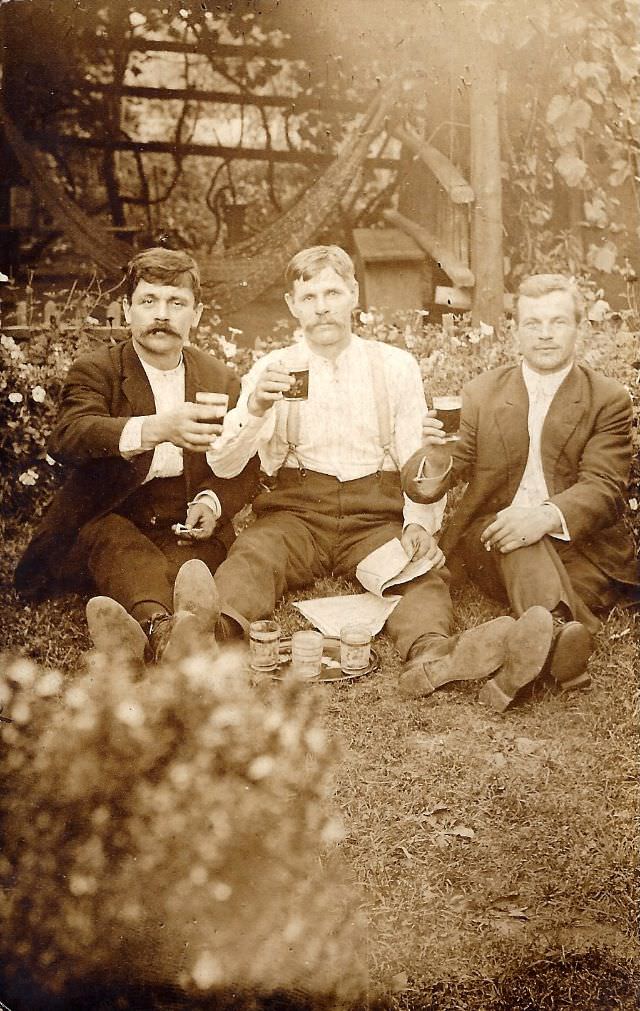 #4

A family drinking a day before prohibition.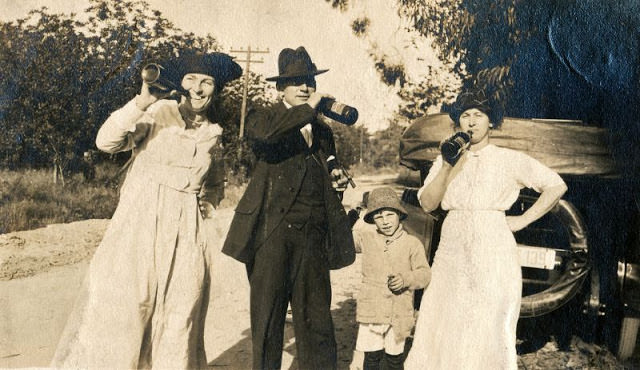 #5

The day before prohibition, a man dirnking bottles.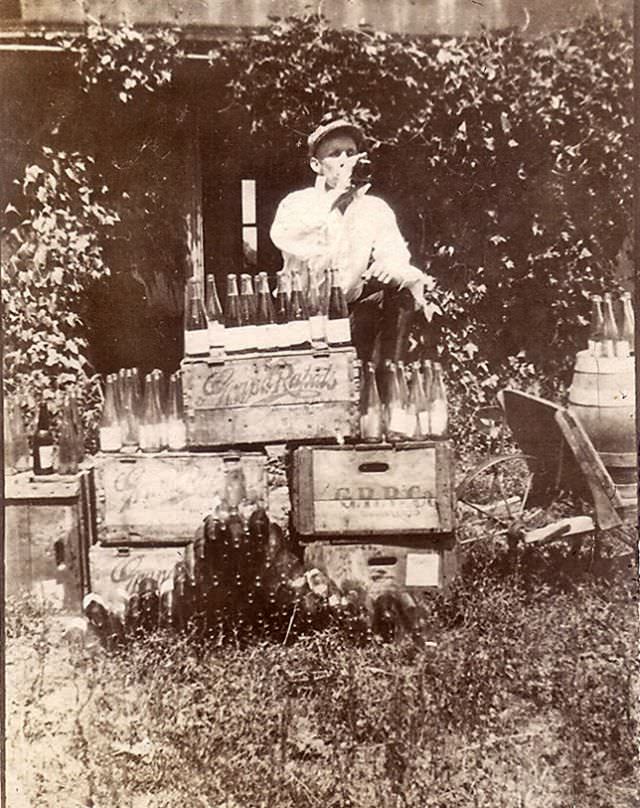 #6

New York City Deputy Police Commissioner John A. Leach (right) watches as agents pour liquor into a sewer following a raid during the height of Prohibition.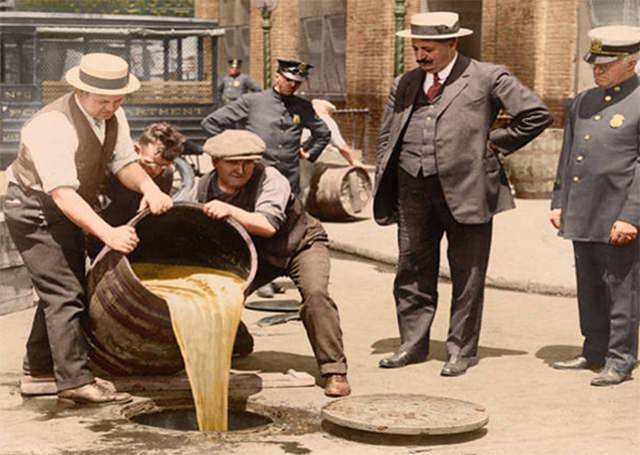 #7

Stop when you see this sign! The Bureau of Prohibition adopted a special insignia plate for use by prohibition agents in stopping suspected automobiles.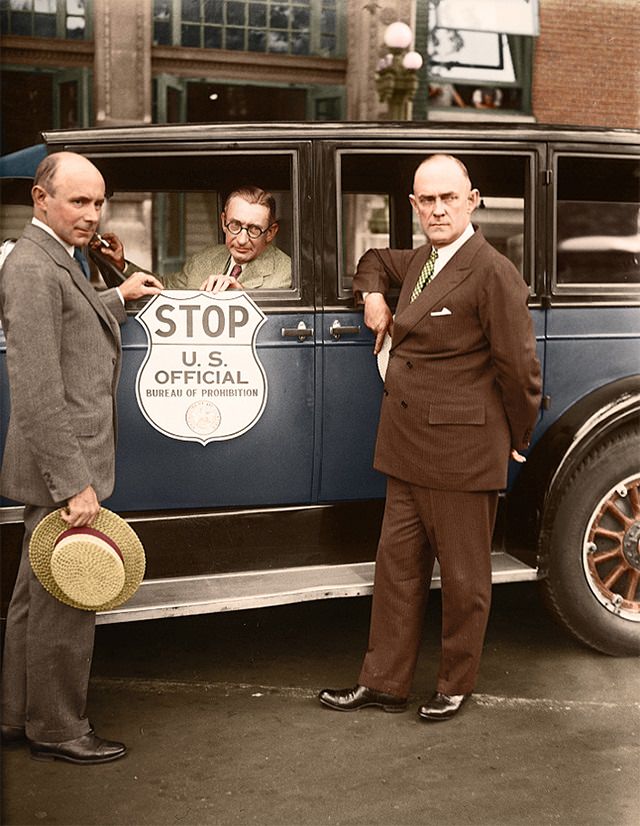 #8

Women and the ballot box: Women's Organization for National Prohibition Reform.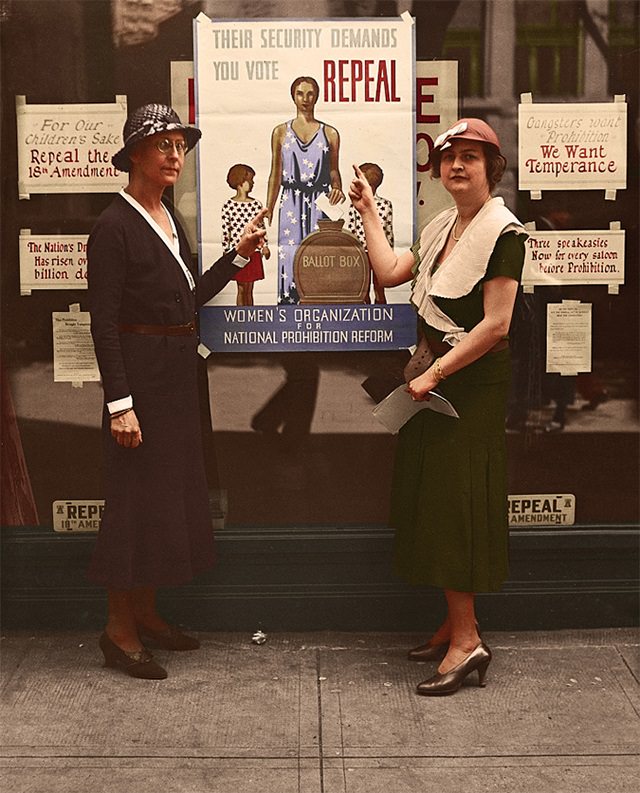 #9

Policeman stands alongside a wrecked car and several cases of moonshine.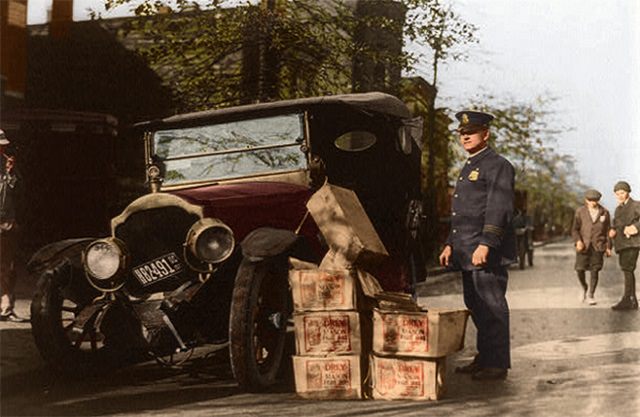 #10

After a thrilling chase through the busiest streets of Washington, a couple of bootleggers and their car are apprehended by the Capitol police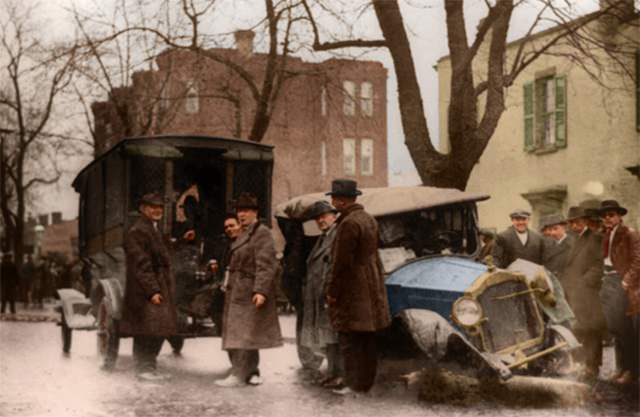 #11

Detroit police inspecting equipment found in a clandestine underground brewery during the prohibition era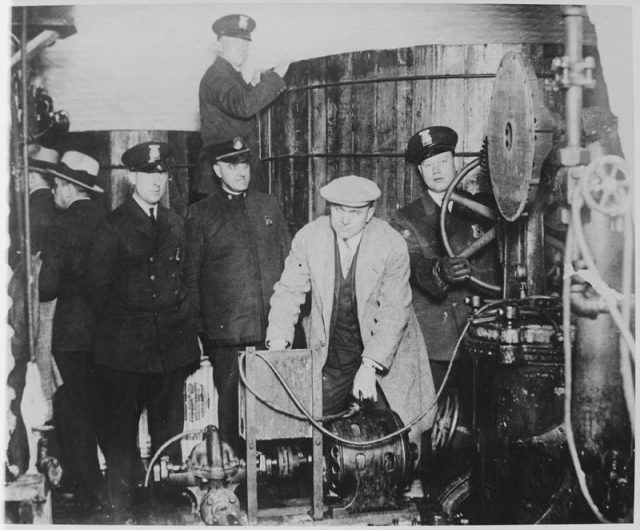 #12

Prohibition agents dump liquor out of a raided building, 1929.
#13

A tower built with barrels of alcohol, which will be destroyed later. 1929.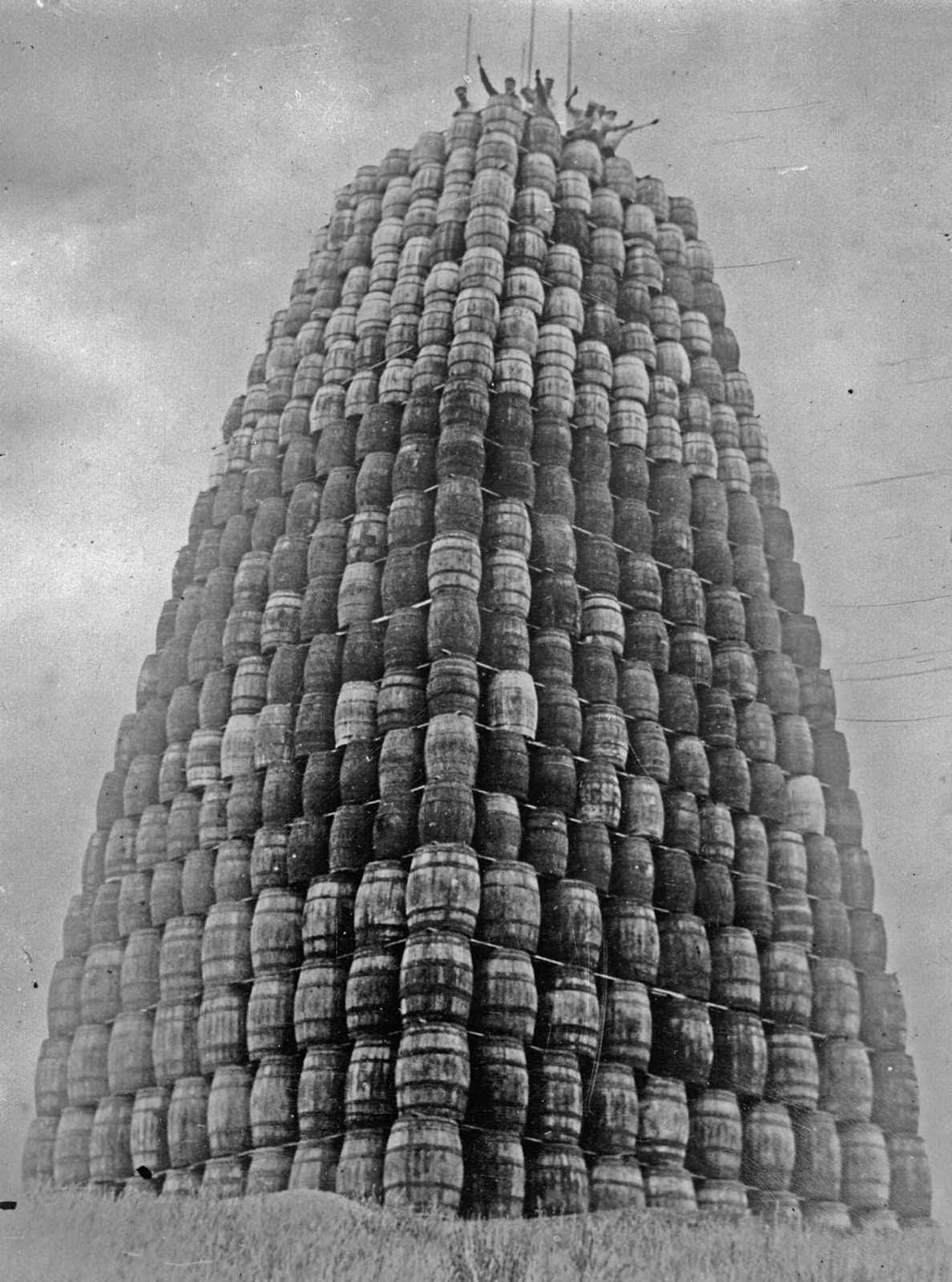 #14

An FBI Officer breaks a confiscated barrel of beer. 1924.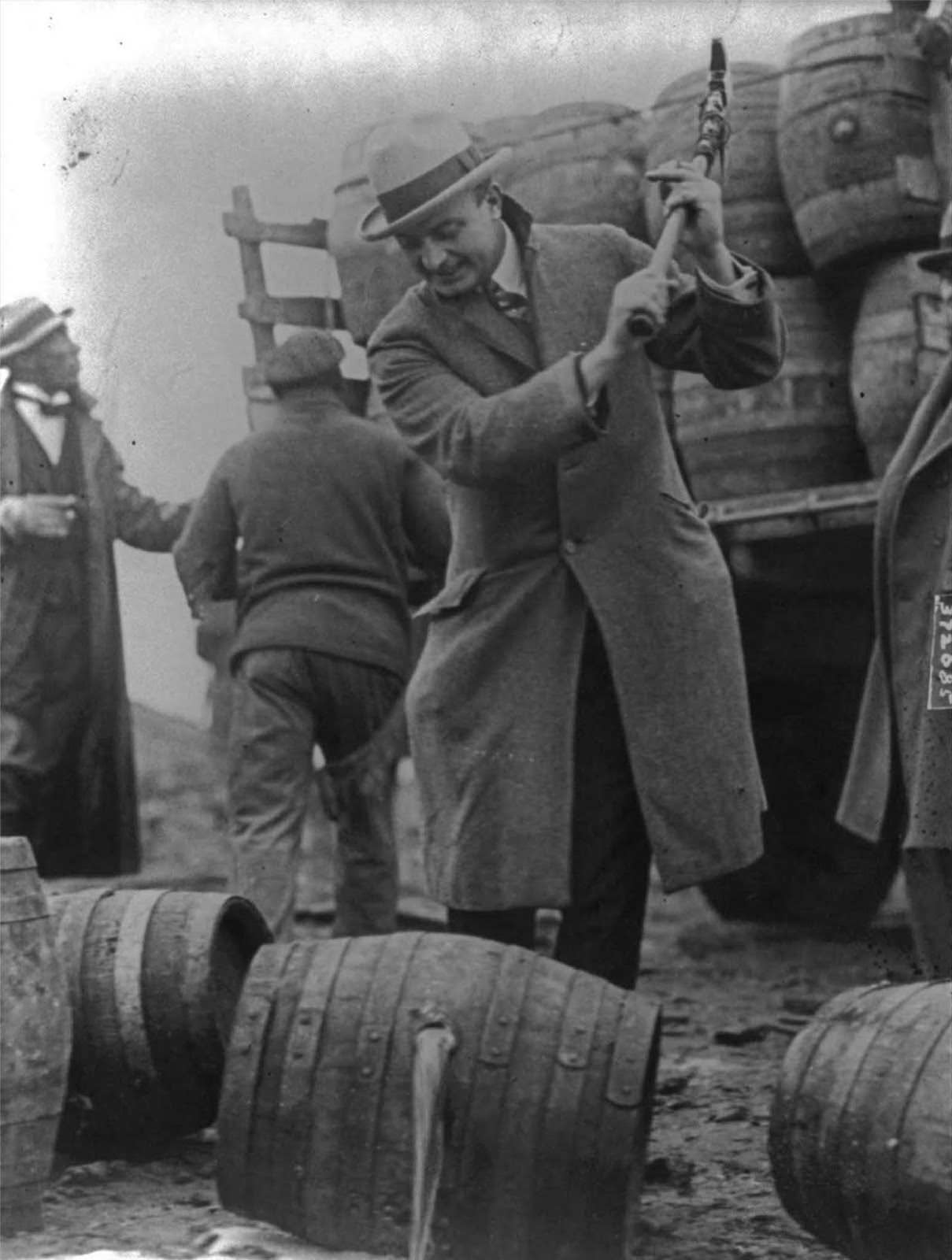 #15

Barrels of beer emptied into the sewer by authorities during prohibition.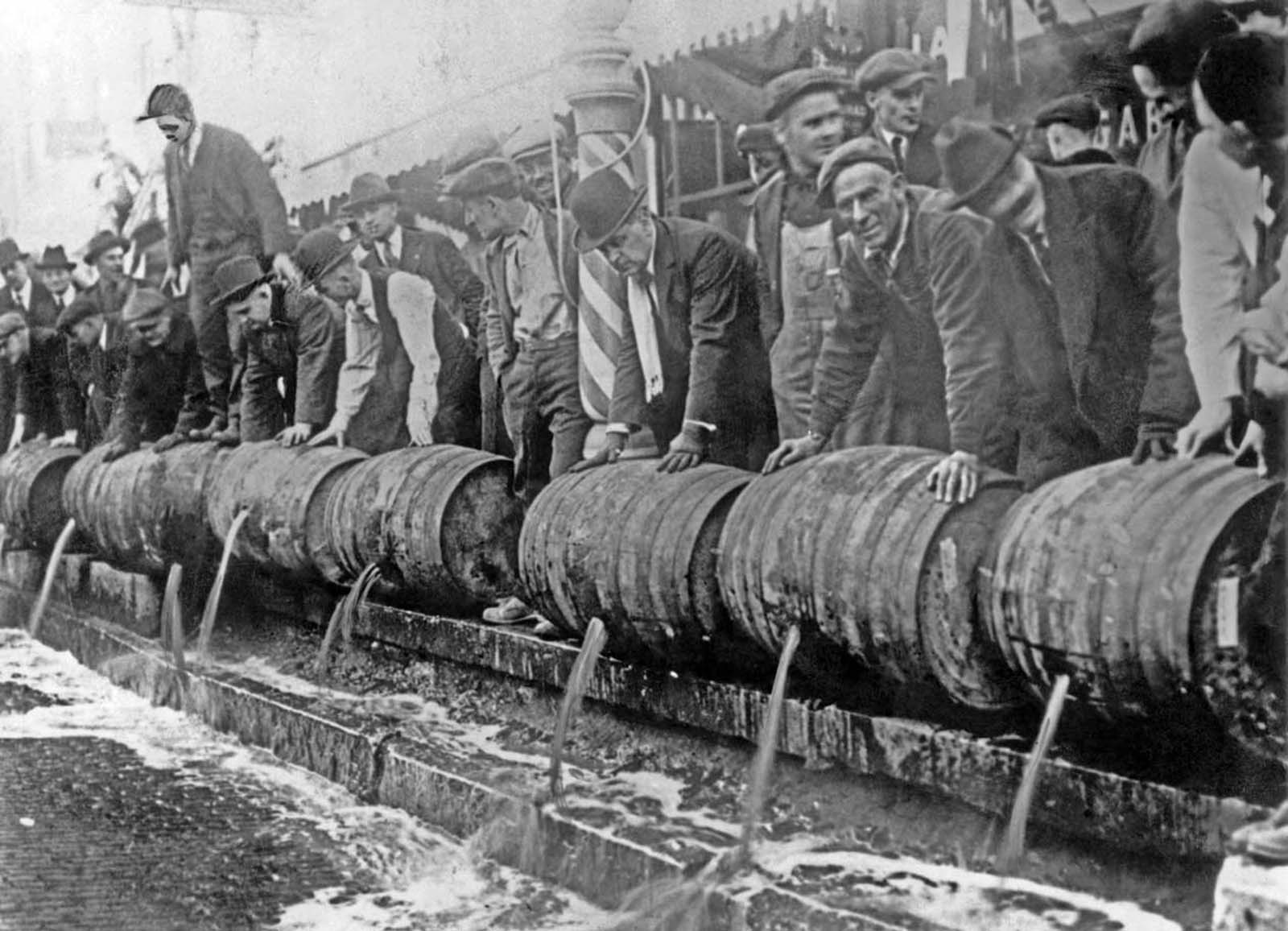 #16

Emptying more than a hundred kegs of beer seized in a raid.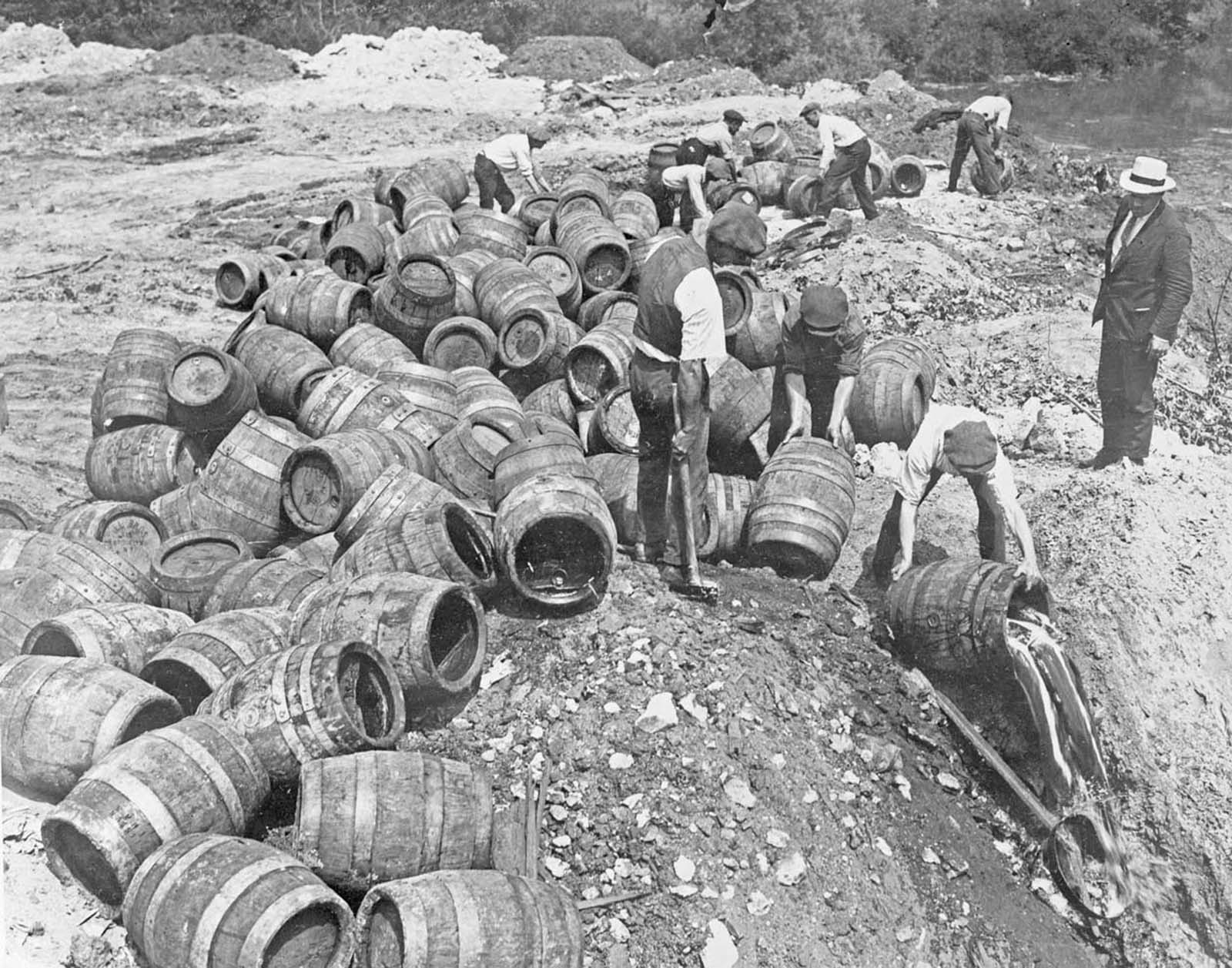 #17

A brewery in Washington, DC, switches from brewing beer to making ice cream during Prohibition. Workers roll the giant beer vats out to make room for ice cream production equipment.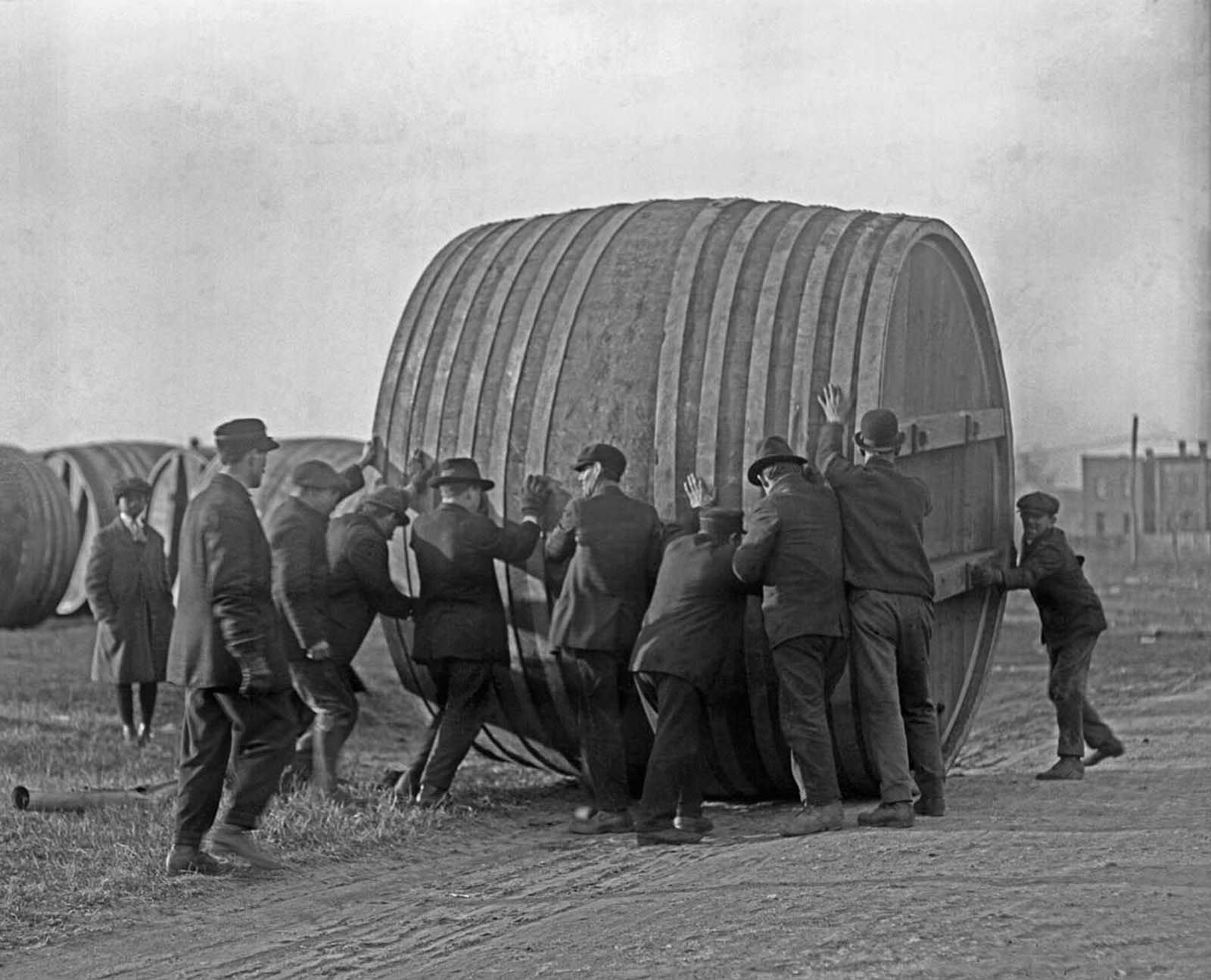 #18

Police dumping beer from barrels into sand at Atlantic City.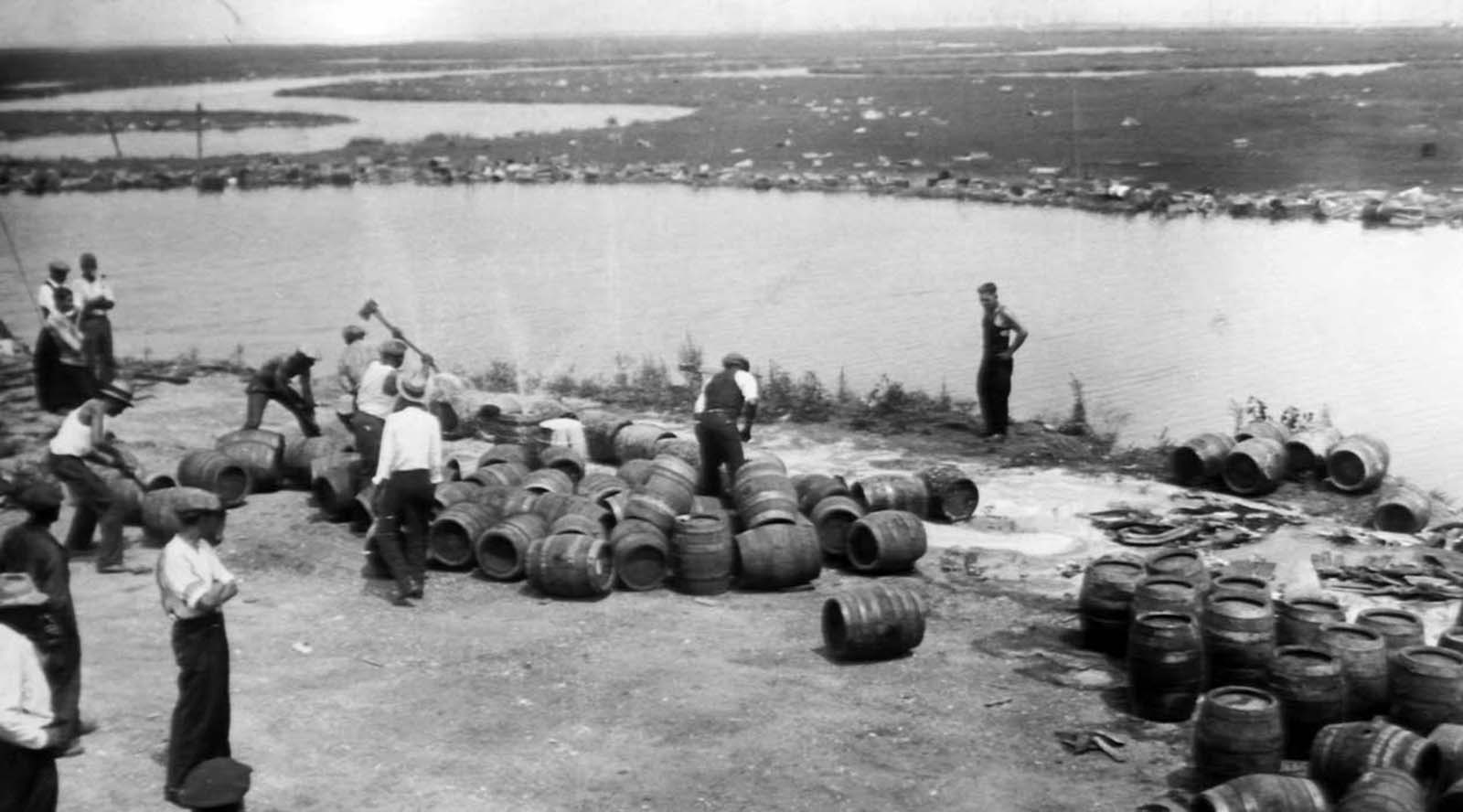 #19

Prohibition agents destroy unlawful liquor seized in Hoboken.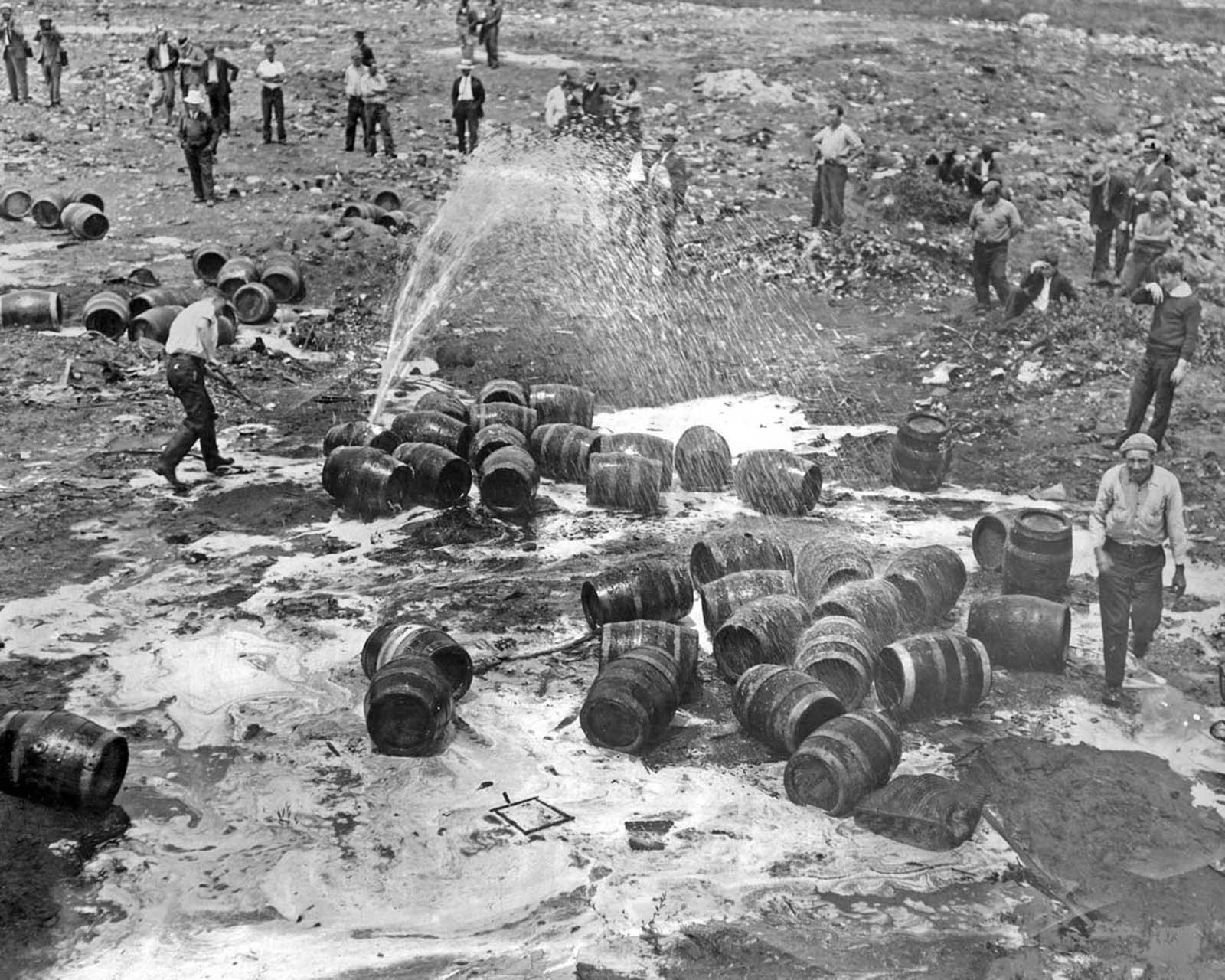 #20

Two carloads of beer poured into the Hudson River.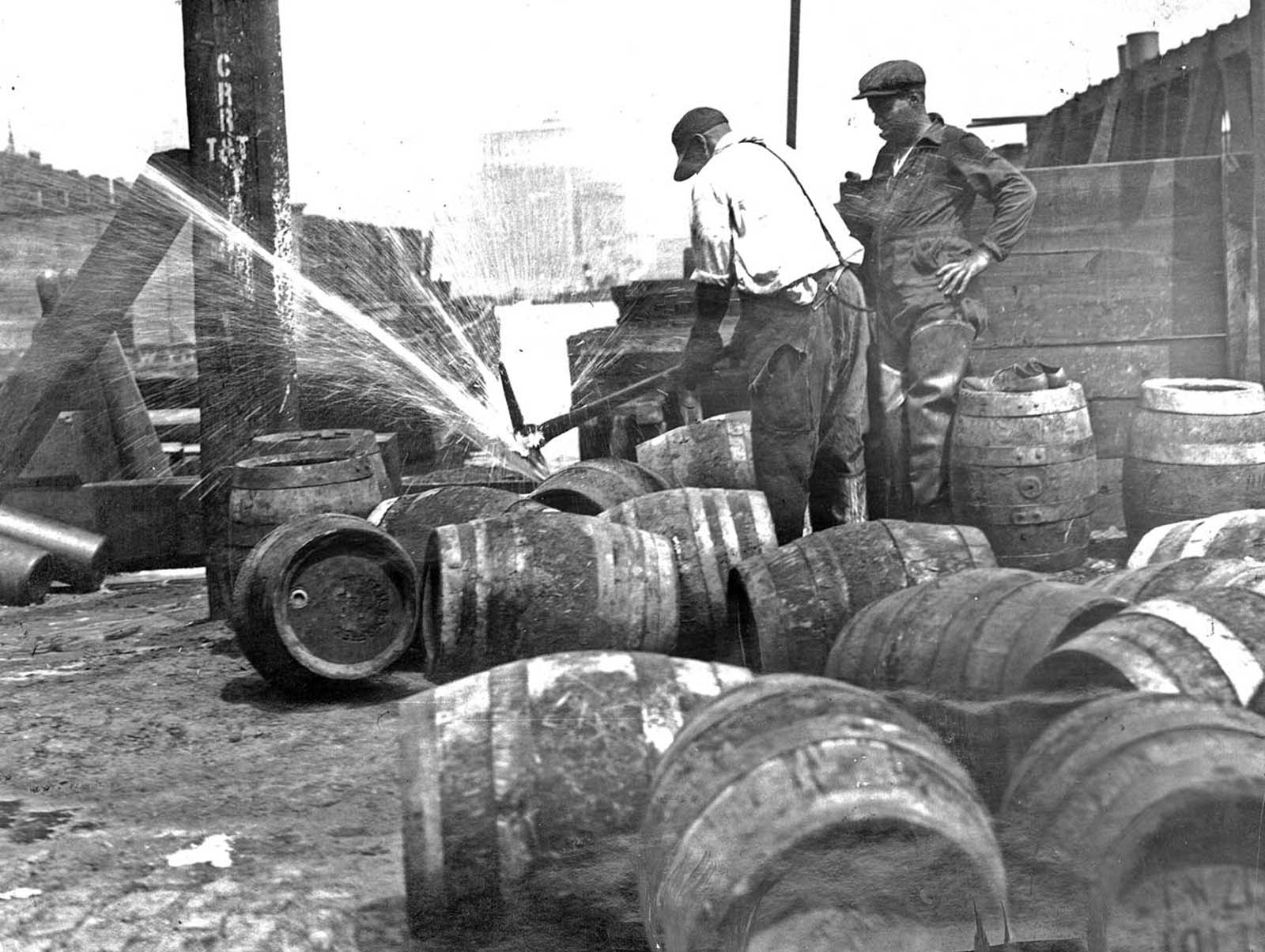 #21

At an army base in Brooklyn, men drain 10,000 barrels of beer into New York Harbor.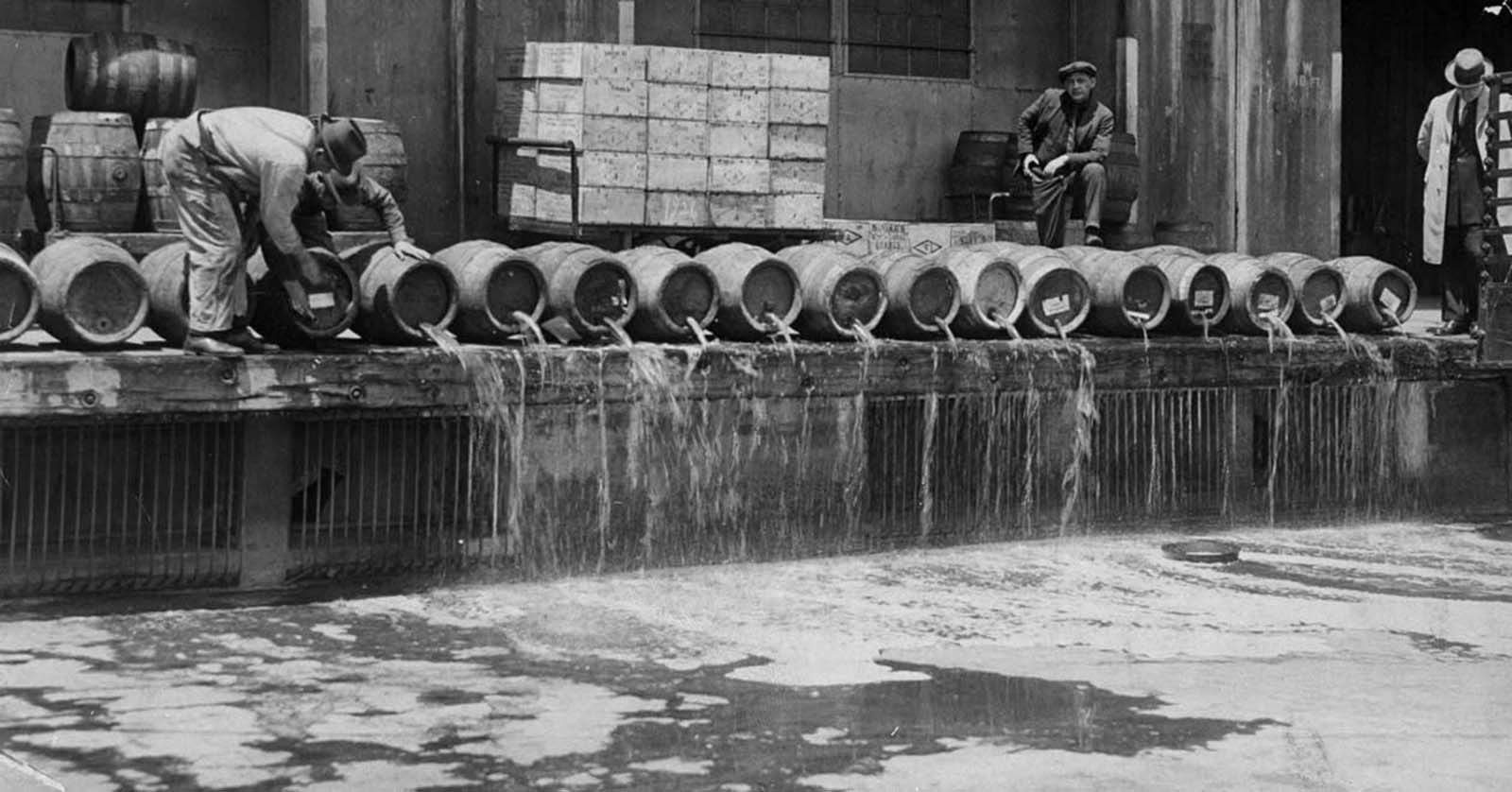 #22

Two men pour alcohol down a drain during prohibition in the United States, c. 1920.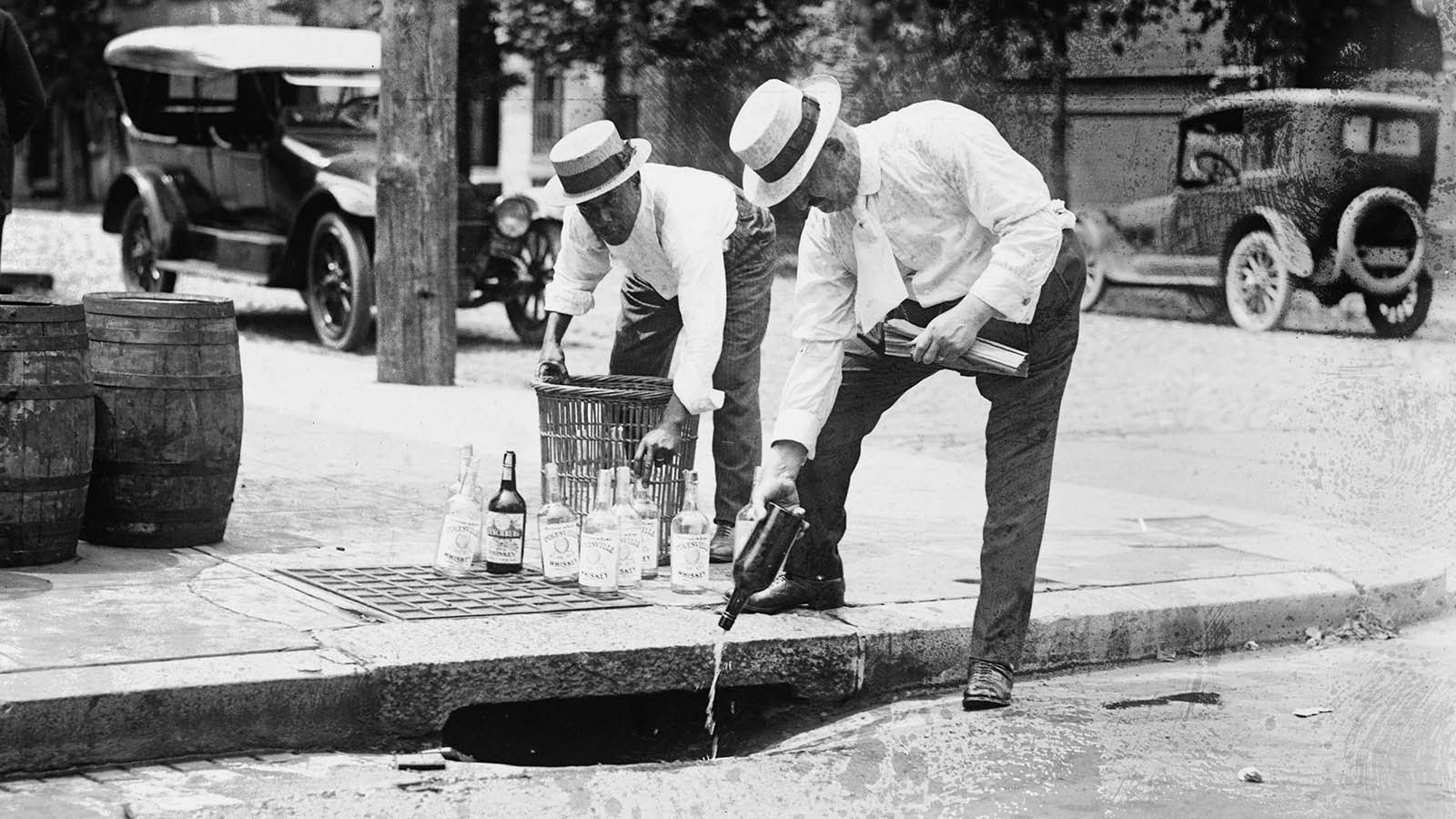 #23

Prohibition-era policemen Moe Smith (on the left in top picture, on the right on the bottom picture) and Izzy Einstein (on the right in the top picture, on the left in the bottom picture). The pair would use disguises to infiltrate speakeasies.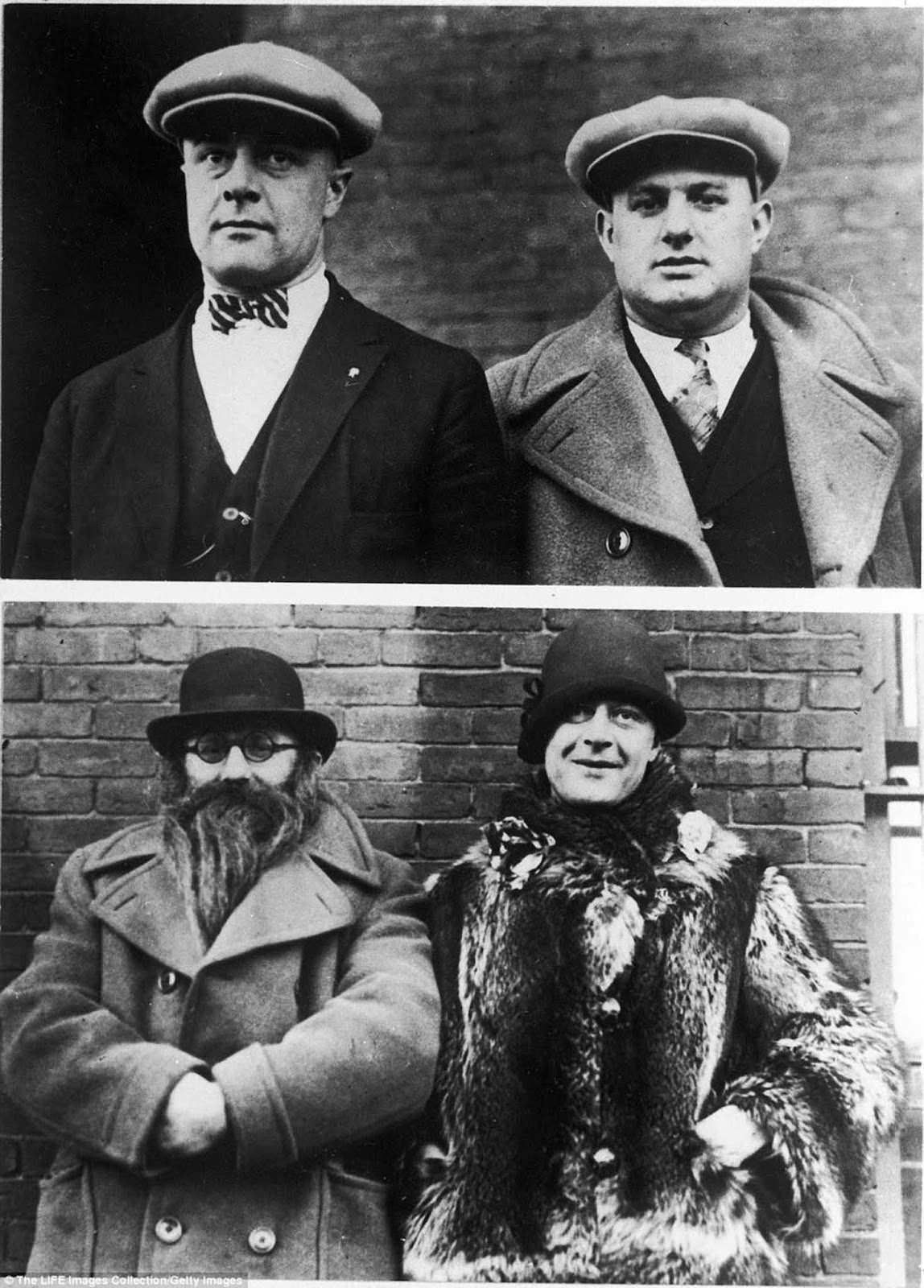 #24

Police mug shot of Chicago mobster Al Capone, one of the leading gangsters of the prohibition era.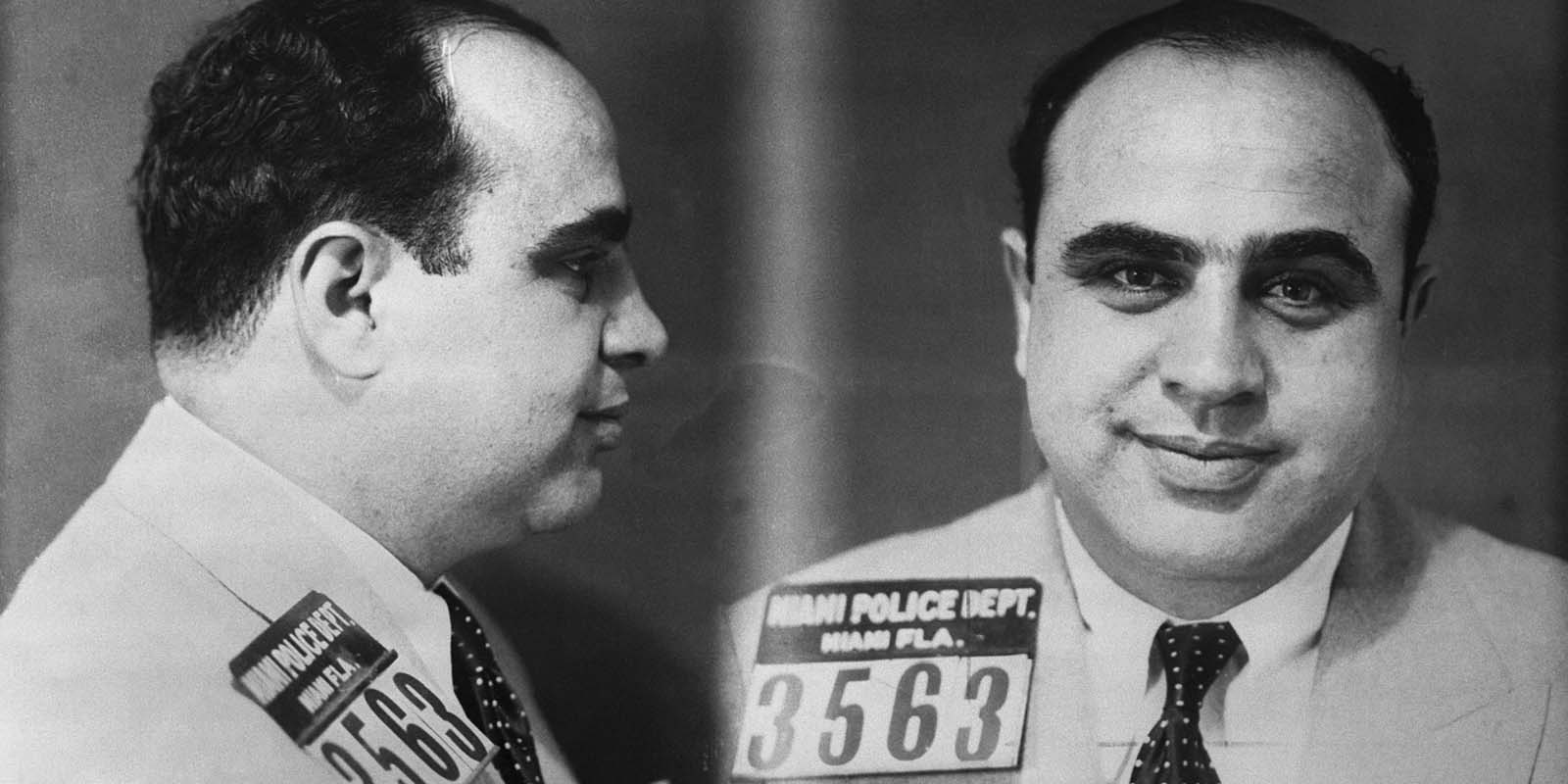 #25

A potential customer examines an advertisement for an illegal drinking den or speakeasy during US prohibition in the 1920s.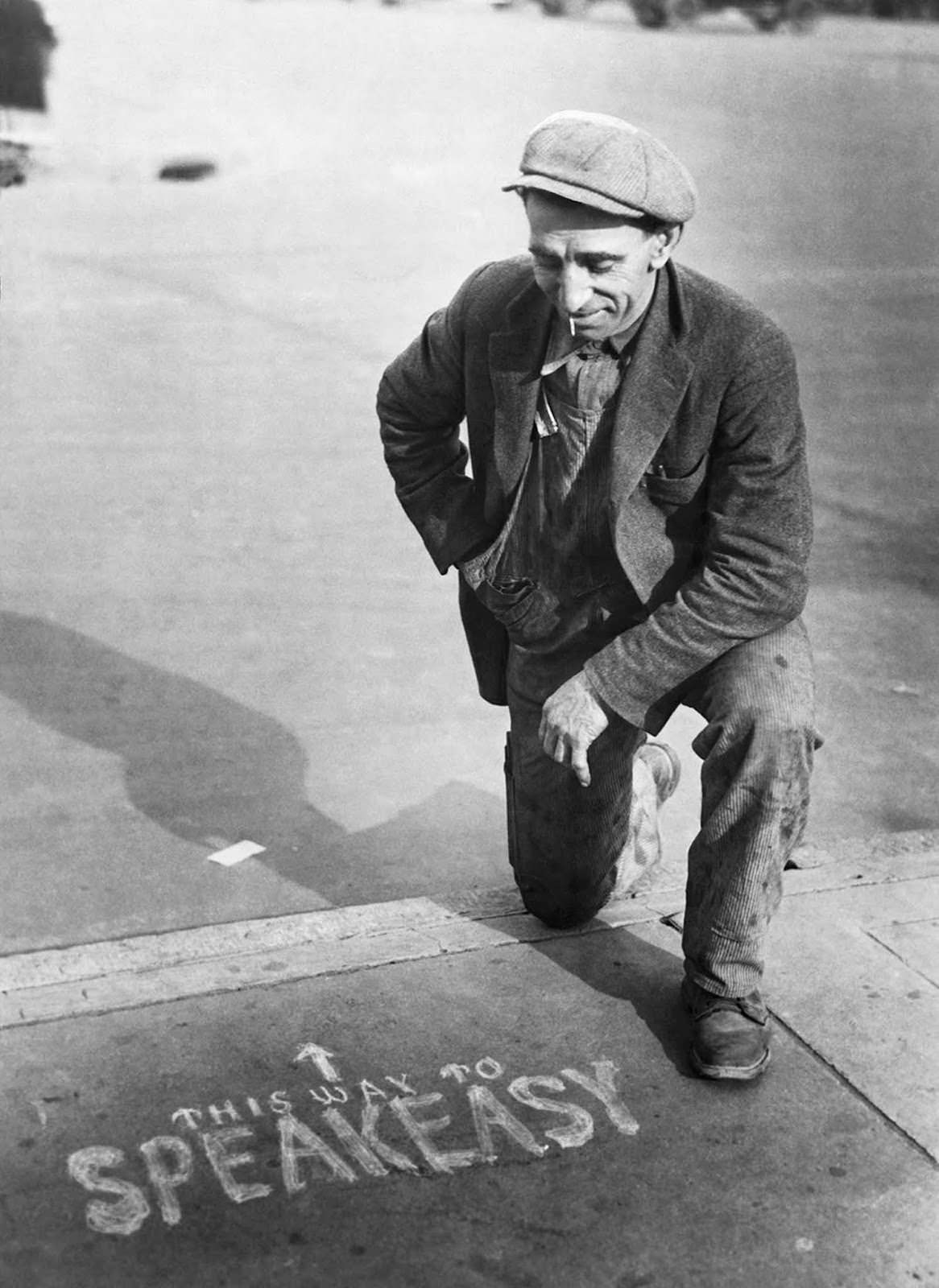 #26

Beer barrels are destroyed by prohibition agents in an unknown location. Picture date: Jan. 16, 1920.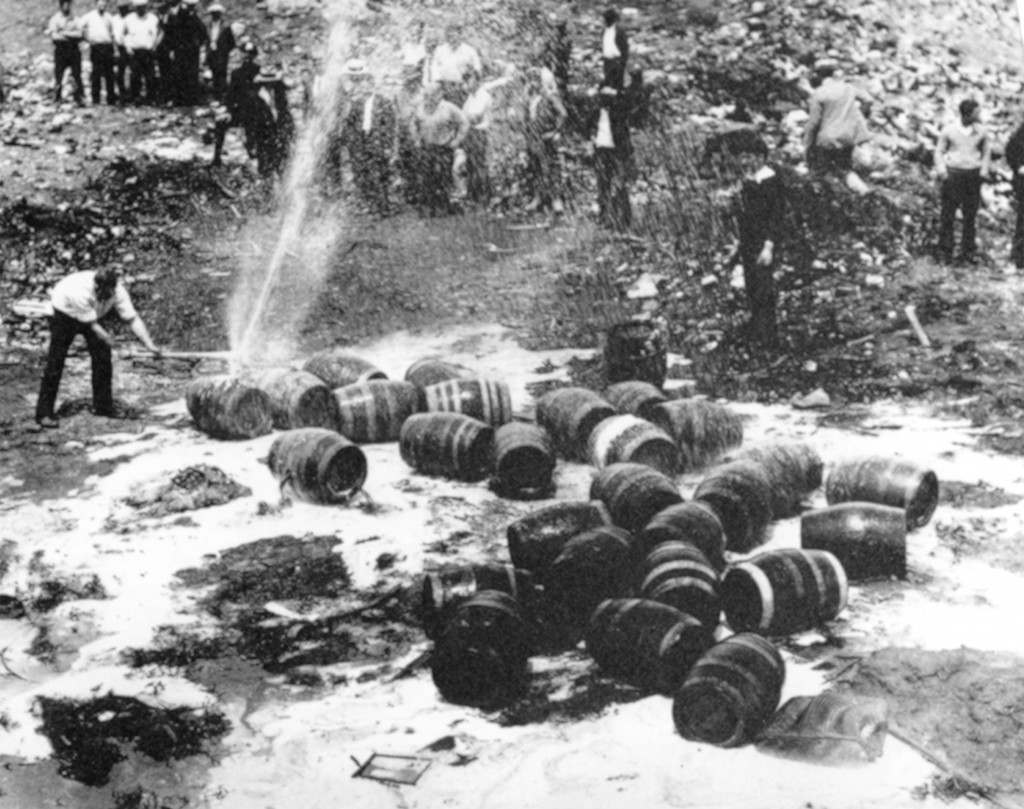 #27

Authorities unload cases of whiskey crates labeled as green tomatoes from a refrigerator car in the Washington yards on May 15, 1929.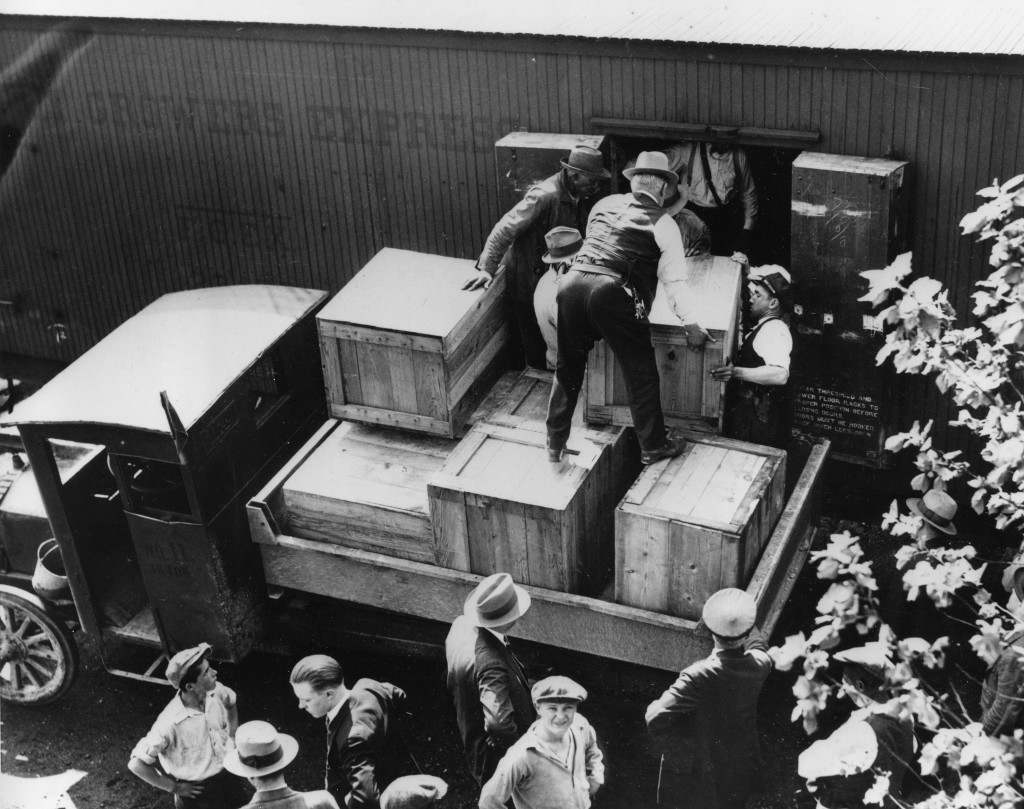 #28

Large quantities of Canadian beer and whisky are being transported in cars from Amherstburg, Ont., Canada, across the frozen lower Detroit River, to the Michigan side of the international boundary line, Feb. 14, 1930.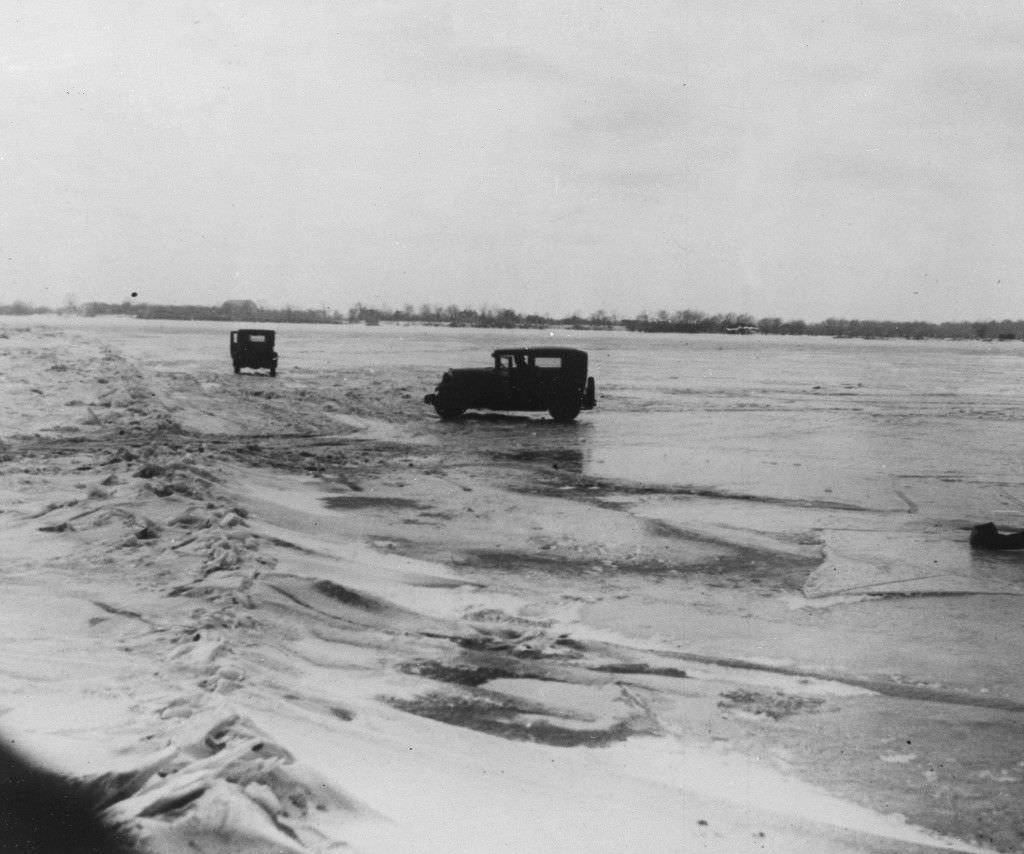 The cars are driven with one door open, so if the car goes through the ice the driver can scramble free.
#29

The largest distillery ever uncovered in Detroit was raided and prohibition officers are seen inspecting tanks and vats in one part of the plant, on Jan. 5, 1931. Each of these vats have a capacity of 15,000 gallons and there were thirteen on this floor alone.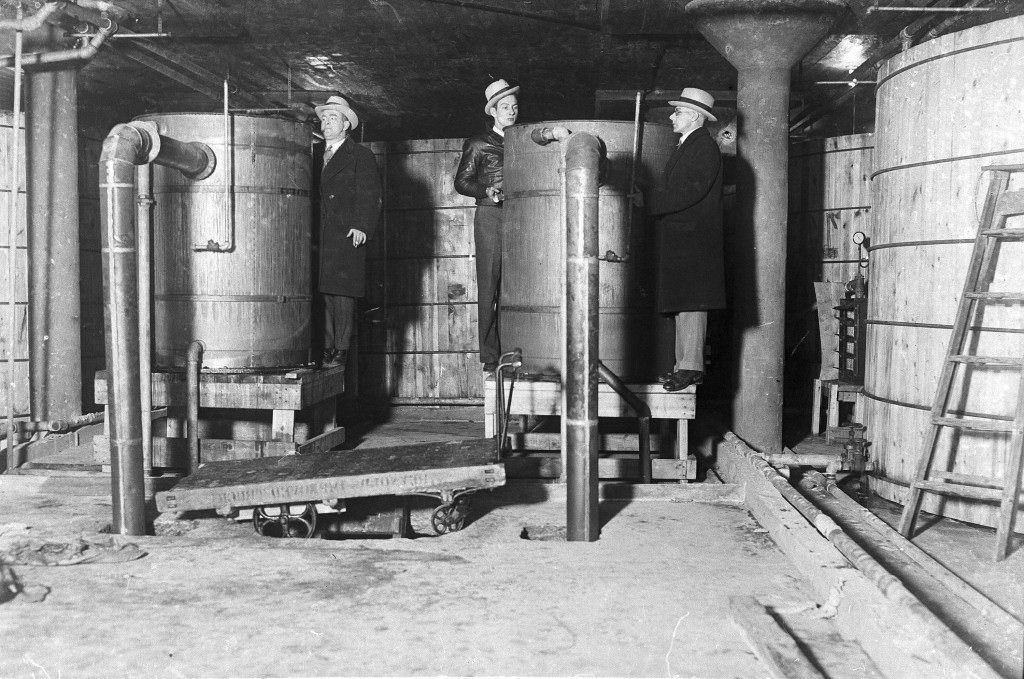 #30

Coast guardsmen stand in front of two truck loads of liquor that were seized after a midnight battle between three Falmouth policemen and a score of alcohol smugglers in the woods near Falmouth, Ma., April 14, 1931. One policeman was injured and all the rum runners escaped.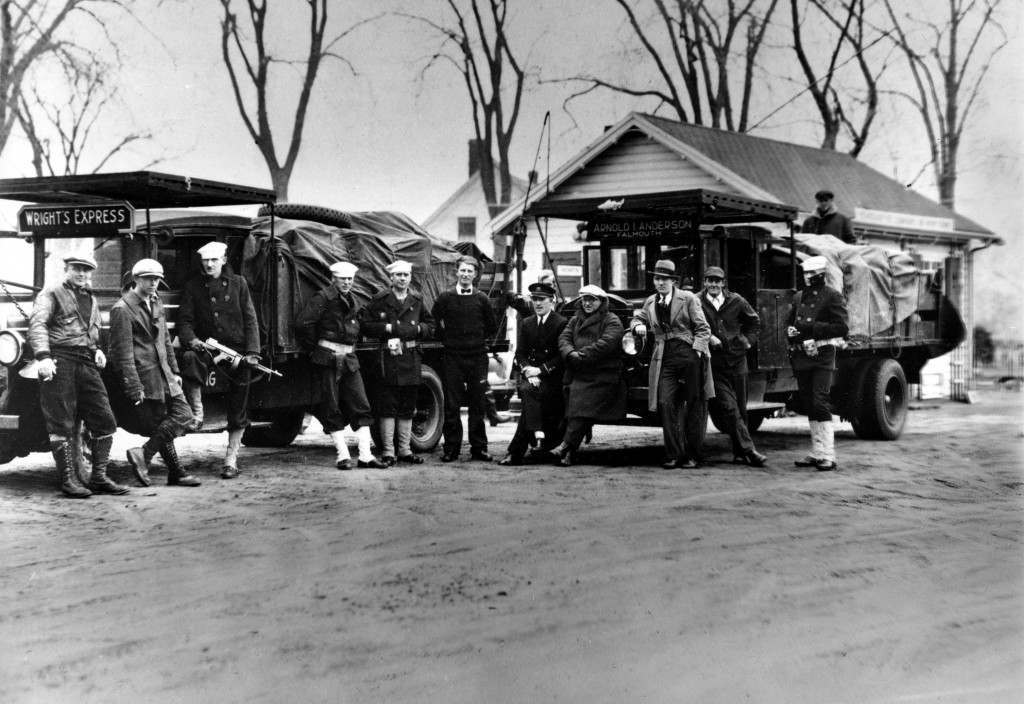 #31

Large beer vats are seized by prohibition agents on West 25th Street in New York City, July 22, 1931.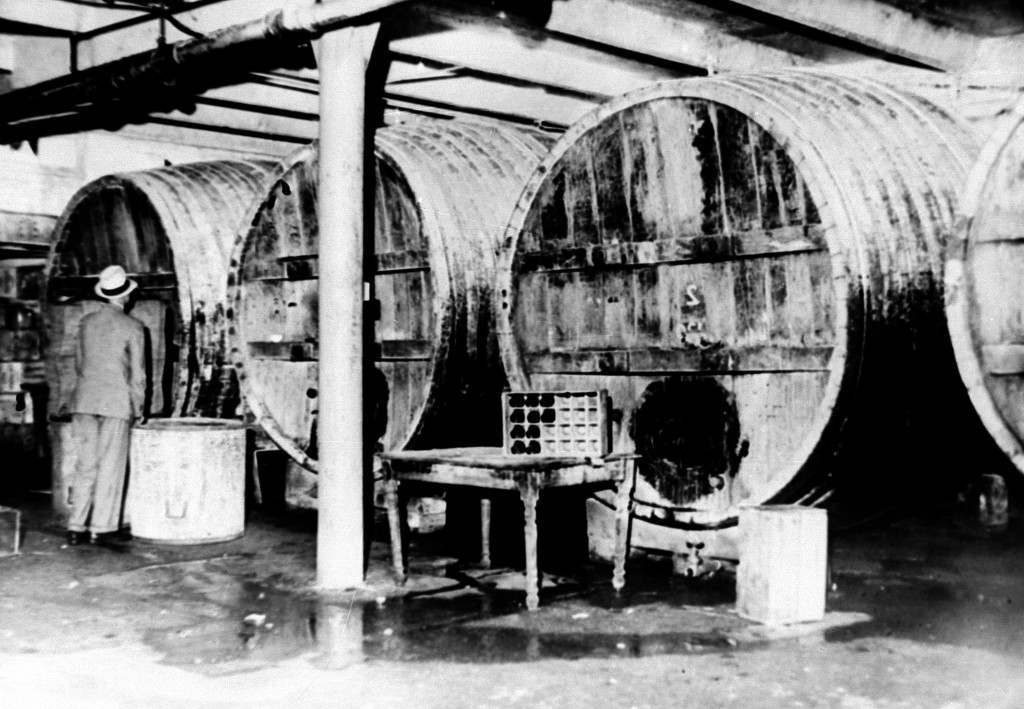 #32

Prohibition agents uncover about $300,000 worth of liquor concealed in a pile of coal when they boarded the coal steamer Maurice Tracy in New York harbor on April 8, 1932.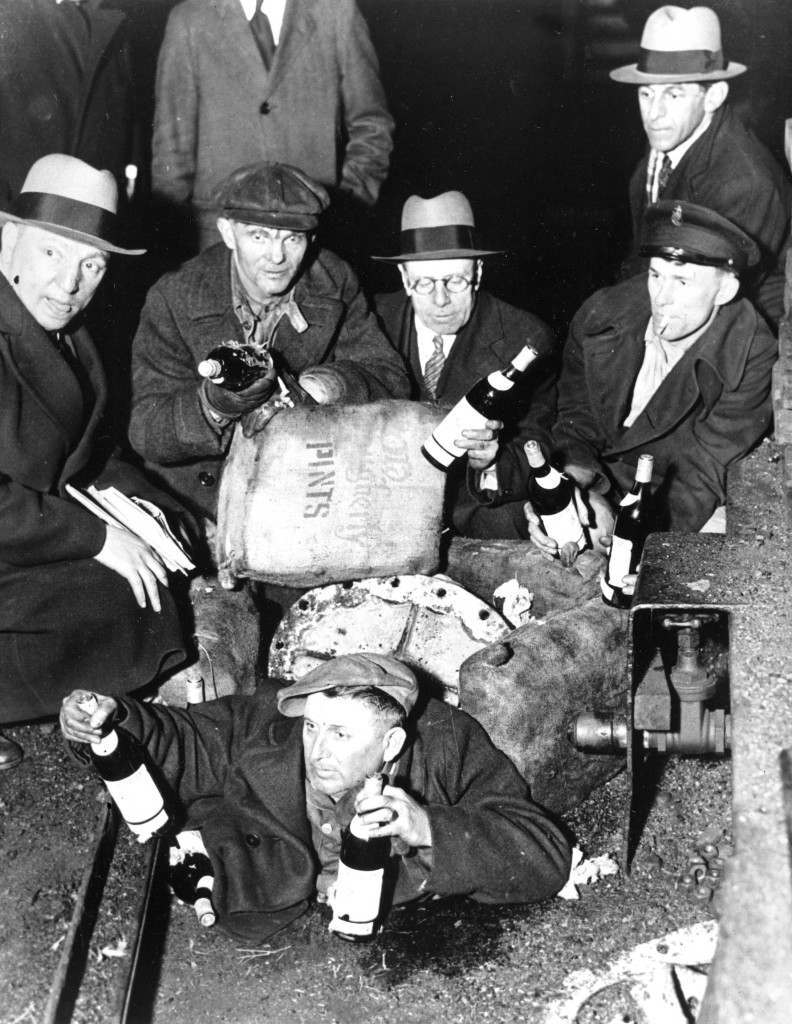 The inspectors shovelled coal for about an hour before they discovered the 3,000 bags of bottled beverages.
#33

Coast guardsmen stand on a speed boat packed with nearly 700 cases of liquor they captured as it was unloaded at Newburyport, Mass., on the morning of May 6, 1932.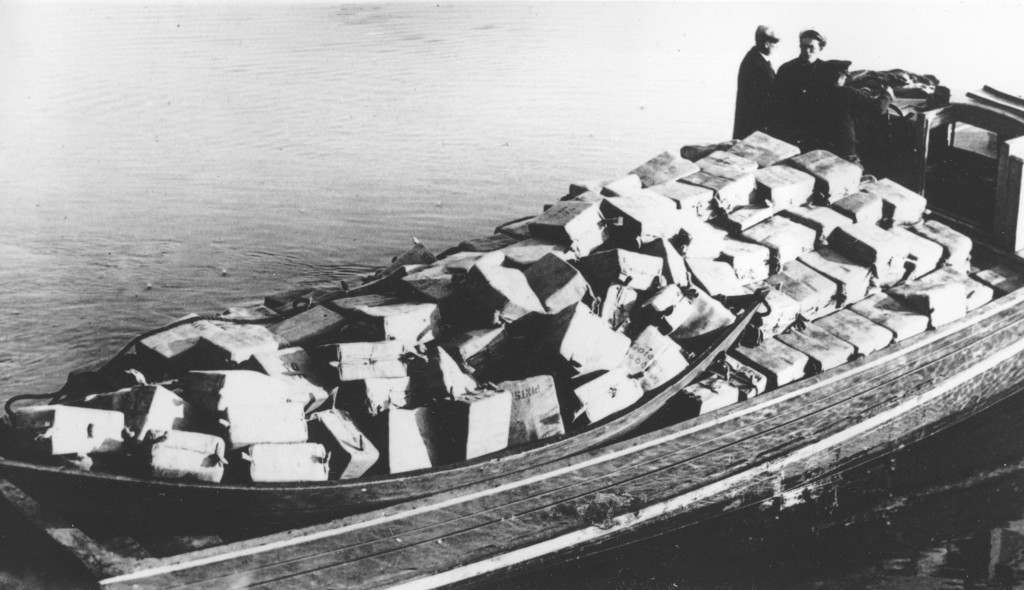 They pursued the craft from outside the harbor into the Merrimack River. The crew fled as the government boat approached.
#34

Prohibition-era prescription for whiskey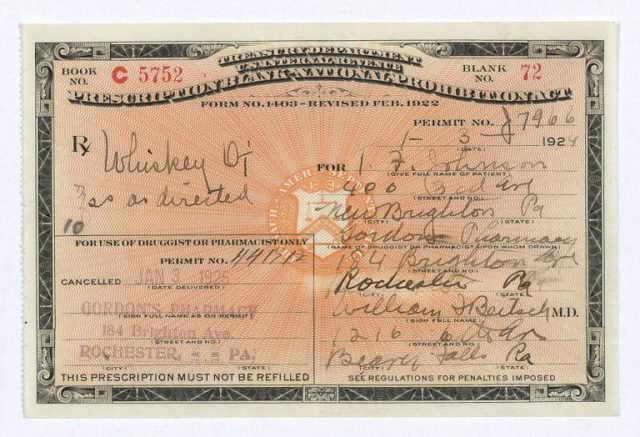 American doctors earned $40 million for whiskey prescriptions during the prohibition. Predictably, thousands of people across the country became very sick in no time. Some of them were actually ill, but most were feigning illness in order to get a prescription for booze. Alcohol was used for the treatment of various conditions and ailments, including tuberculosis, headaches, toothache, high blood pressure, or anemia. To buy spirits from the pharmacy, one had to pay $3 for each prescription, the equivalent of $40 today.
A limit was established on the number of prescriptions per head, so a single patient could only get one prescription per week, paying three dollars for a pint of whiskey, gin or brandy. It is estimated that doctors across the United States earned approximately $40 million during the 13 years of the prohibition period.
#35

Police officers look over distilling equipment and guns confiscated during a Prohibition raid, Chicago, ca.1920s.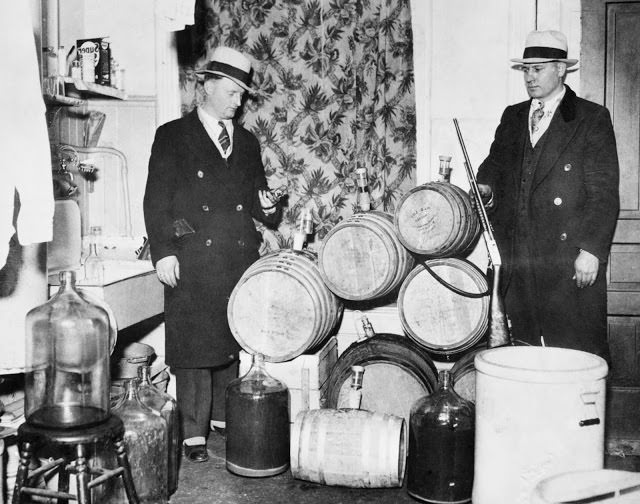 #36

Alcohol seized by police is dumped into sewage drains in New York.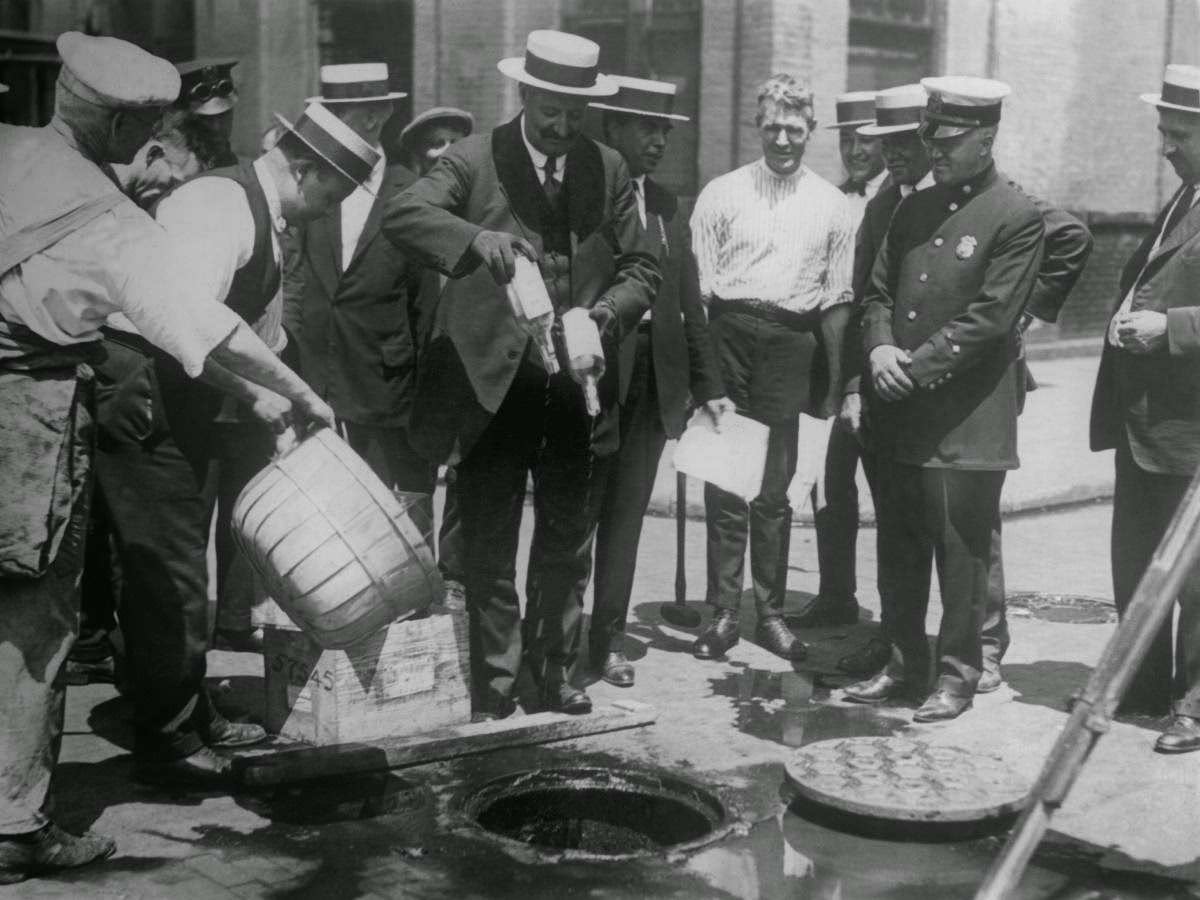 #37

Casks of booze go straight down the drain as Prohibition takes effect.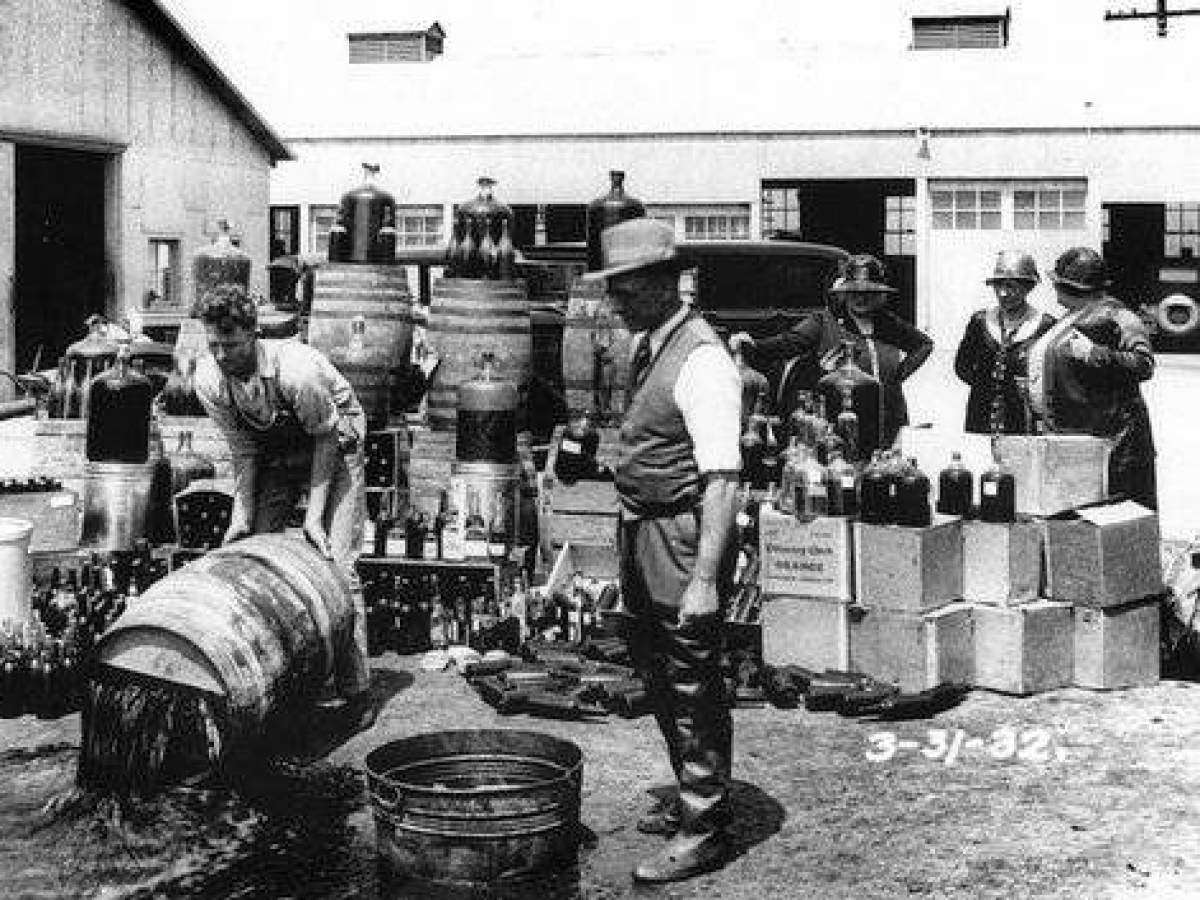 #38

Gallons and gallons of wine pour into the street at this winery near Los Angeles.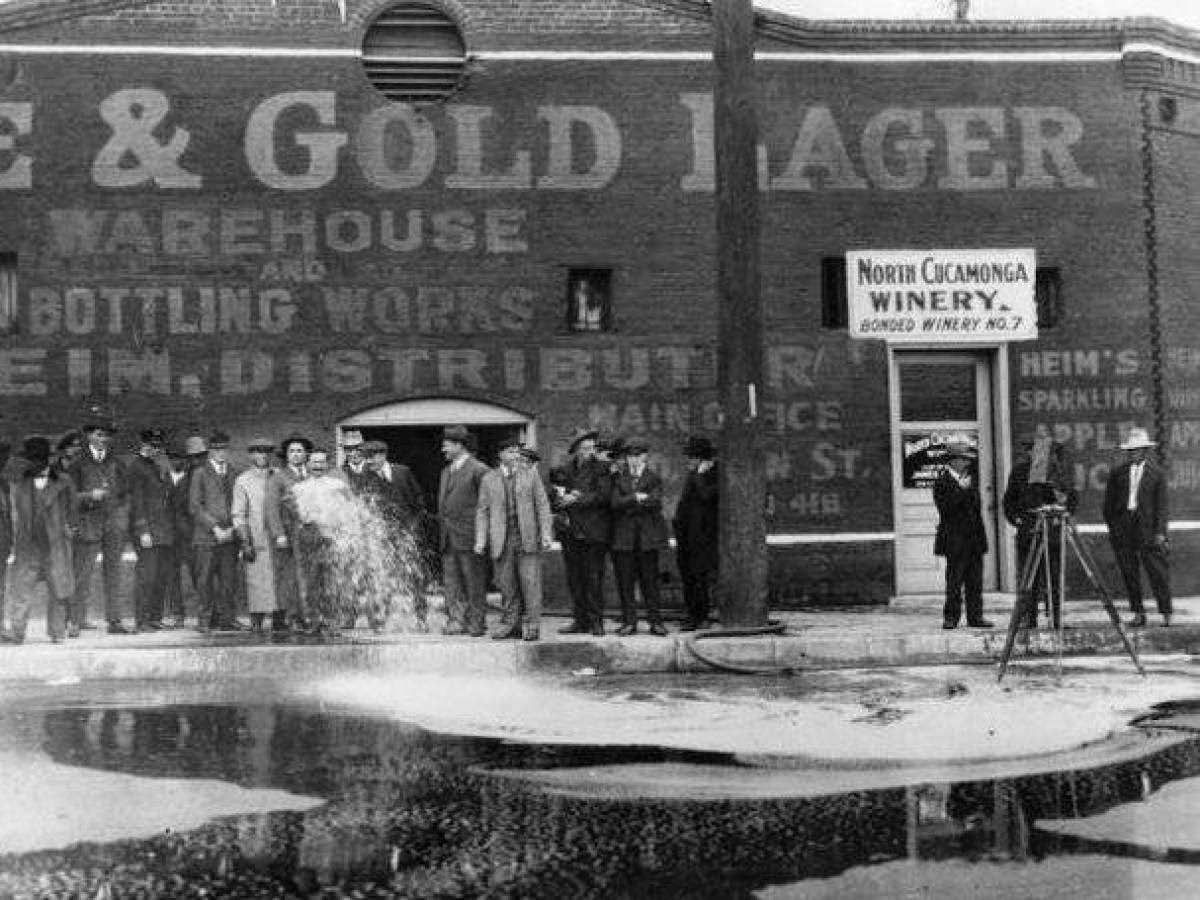 #39

Booze smugglers employed all manner of tricks to avoid the law. In this image police officers have just uncovered one.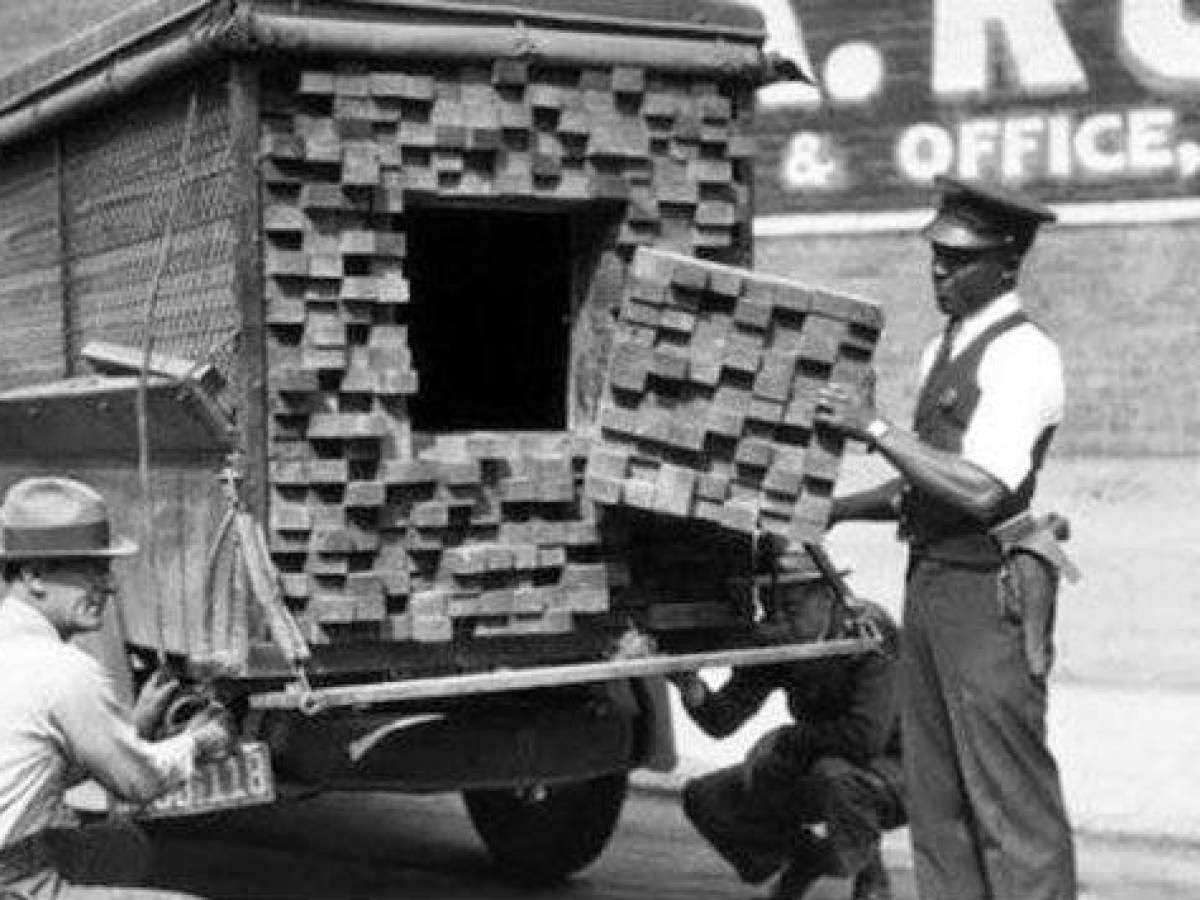 #40

During Prohibition, Americans hid their bottles of alcohol in creative ways.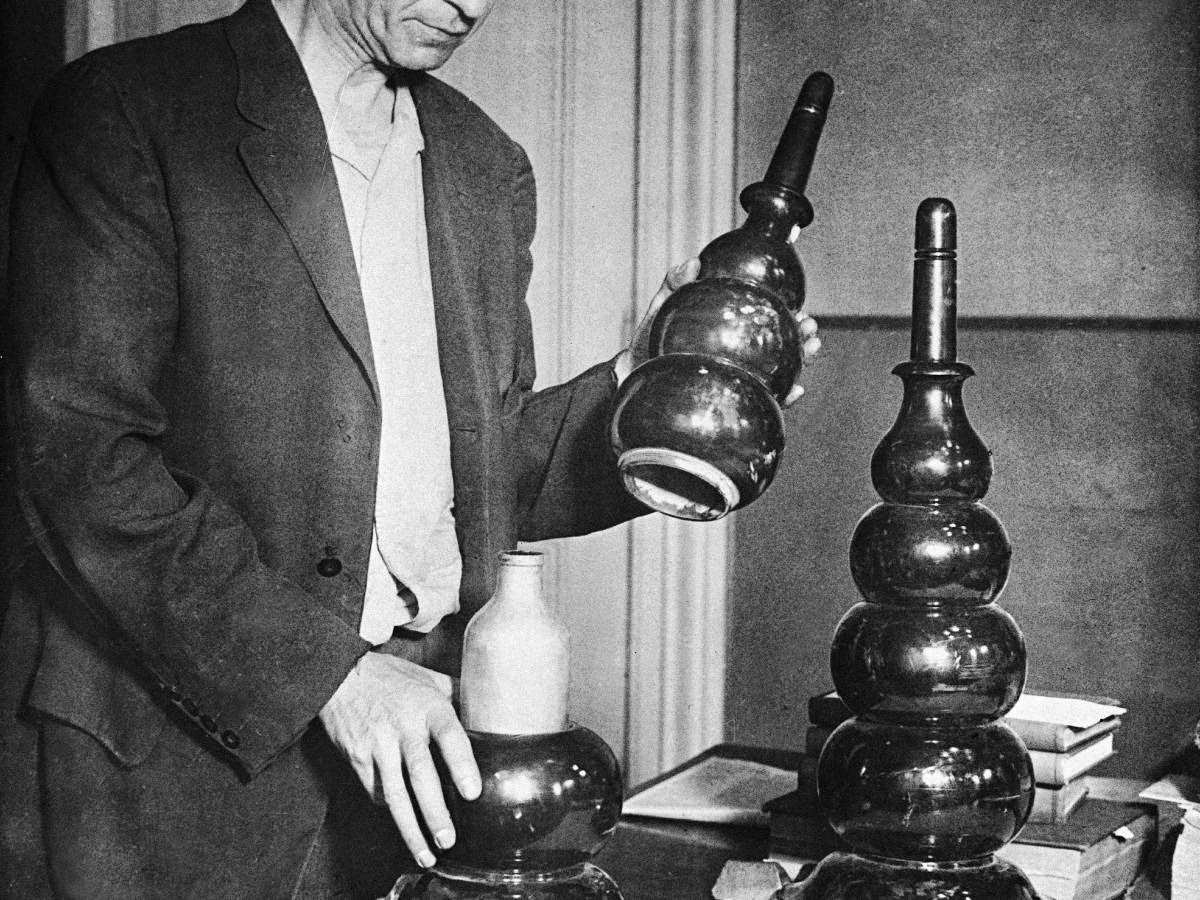 #41

These rural moonshiners set up their operation far out in the woods to avoid detection by Johnny Law.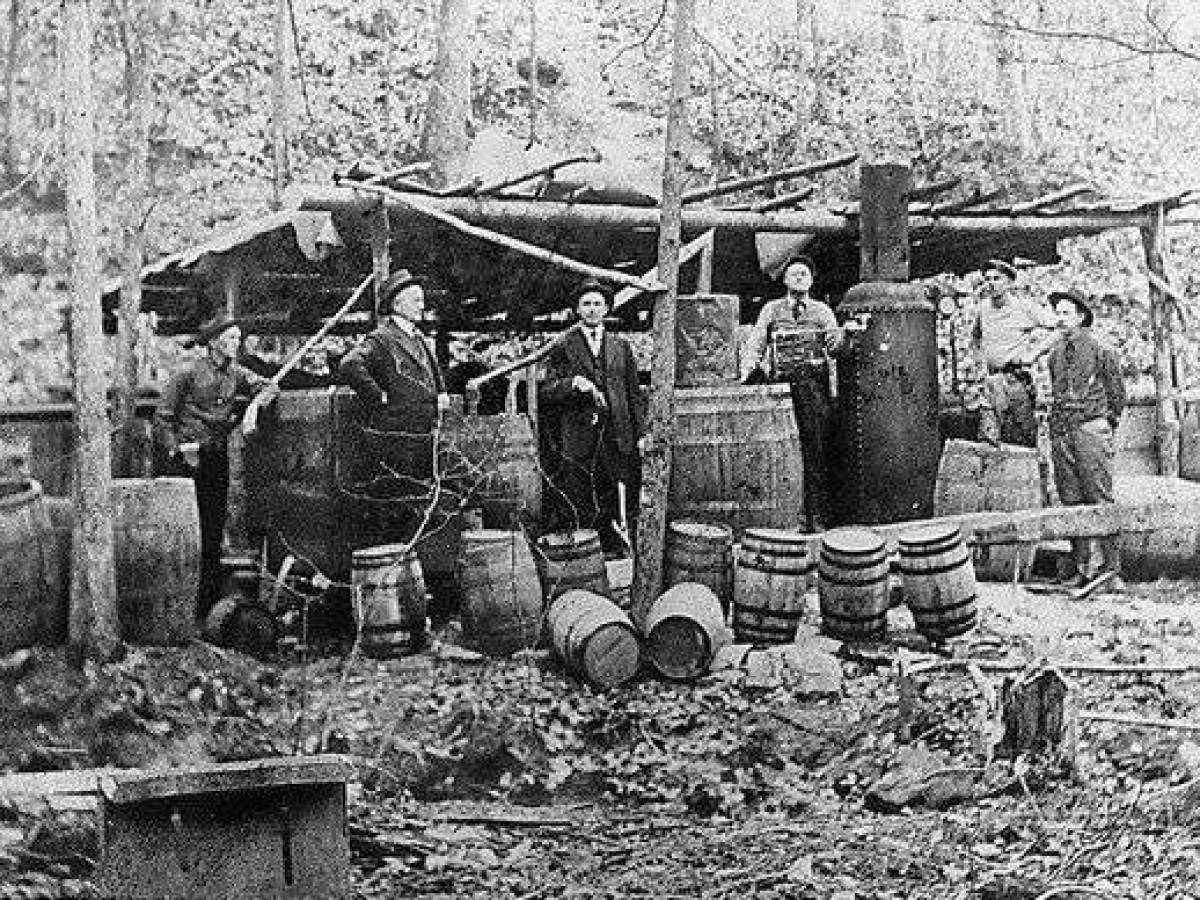 #42

Officers in Cambridge, Massachusetts pour confiscated liquor into the sewer.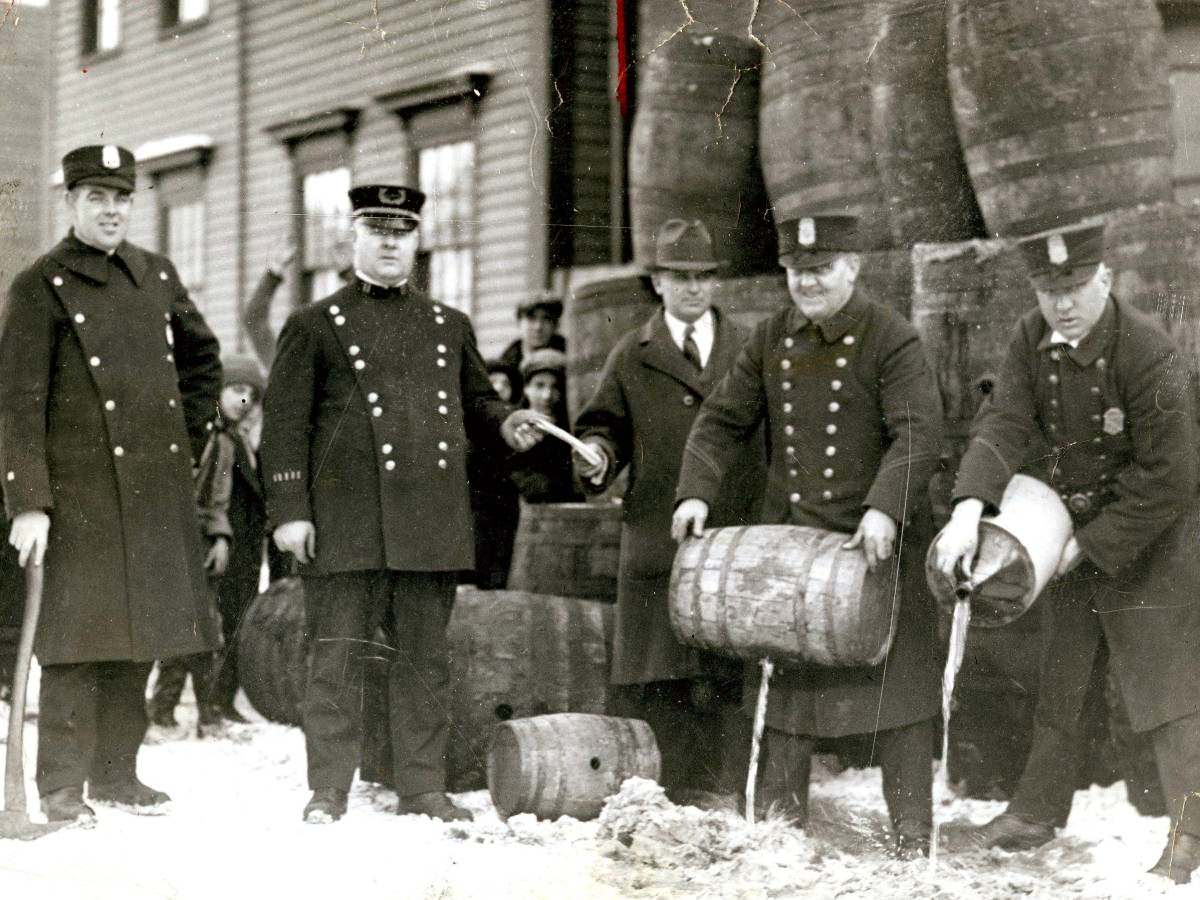 #43

Customs agents confiscate a large amount of alcohol from a bootlegger's boat.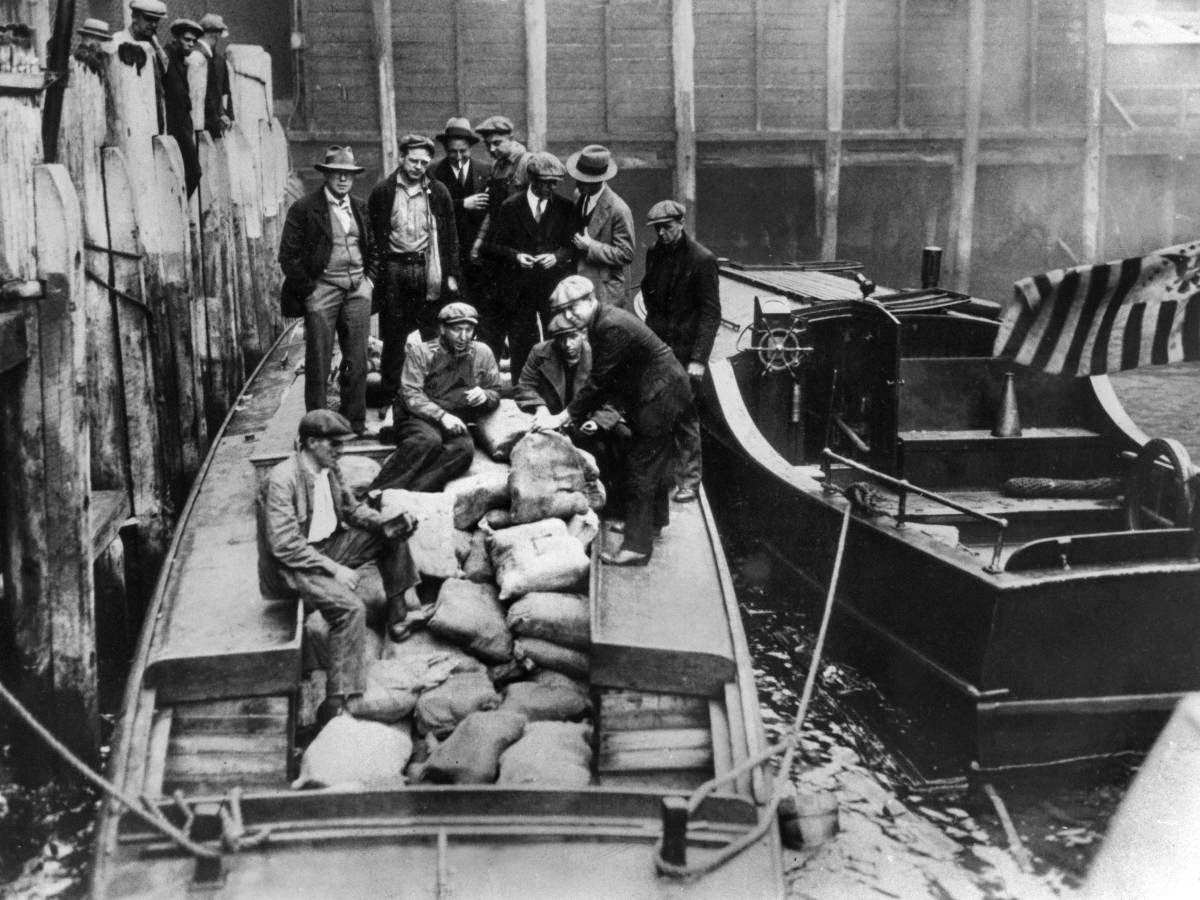 #44

Officers break up an illegal distillery in King County, Washington.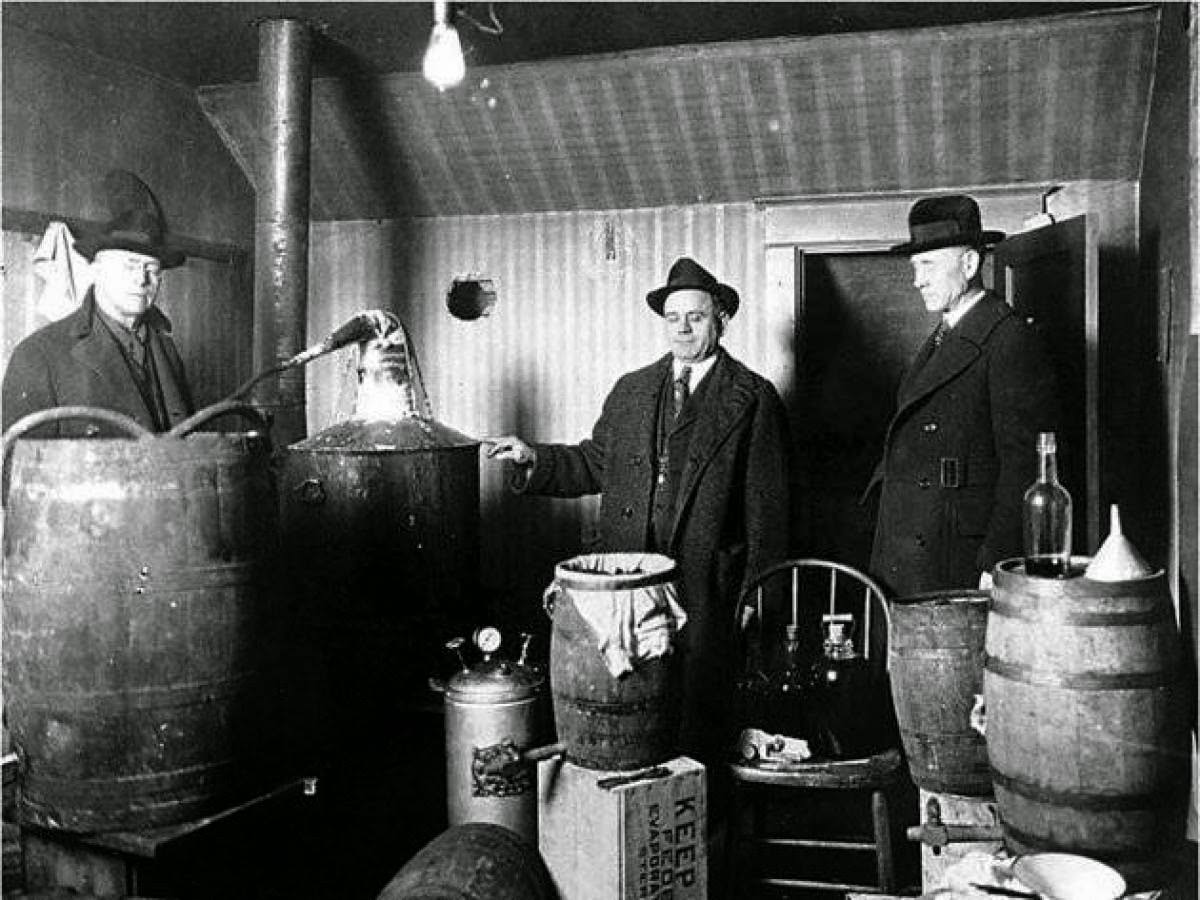 #45

Prohibition agents seize boxes of booze during a raid.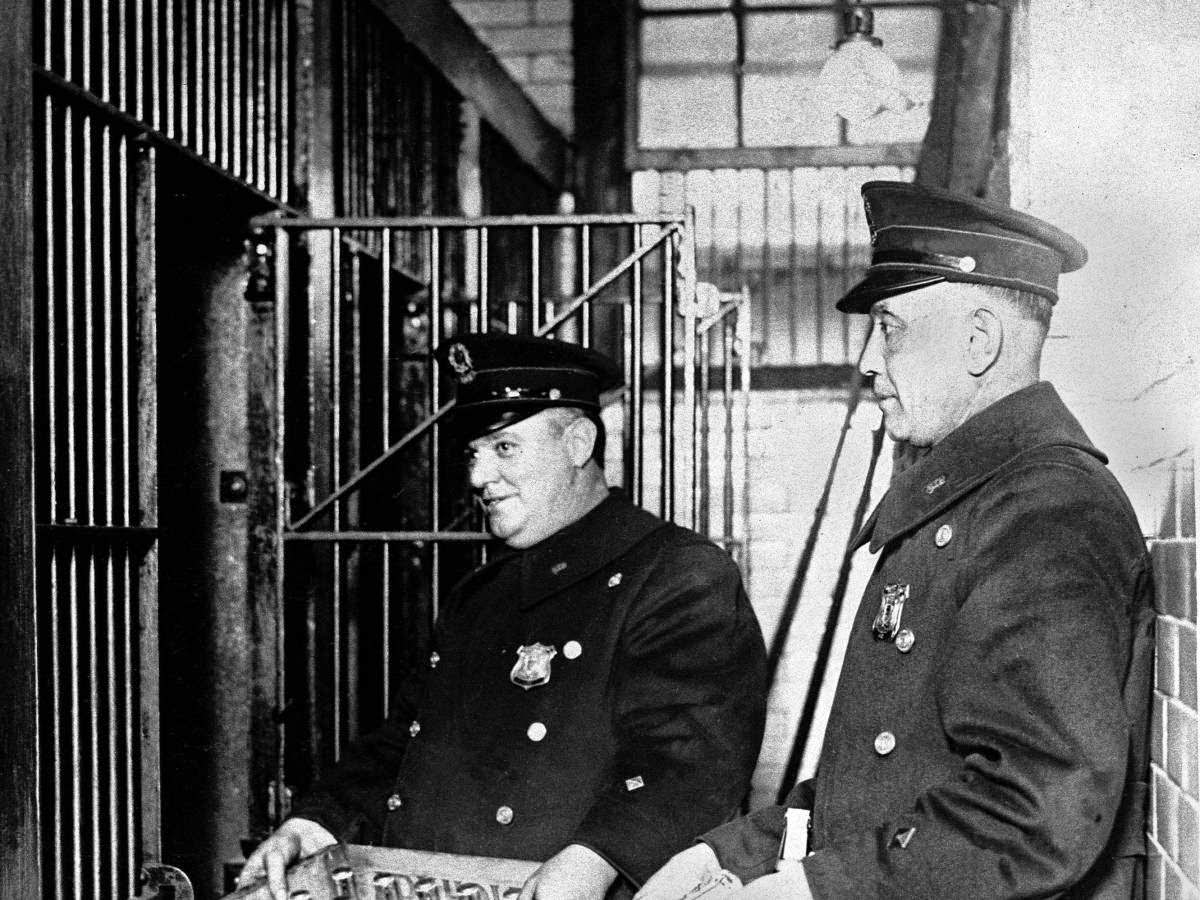 #46

Huge black-and-white posters printed in bold type serve as notice that a Chicago business had been closed by the federal courts for violations of the Volstead Act.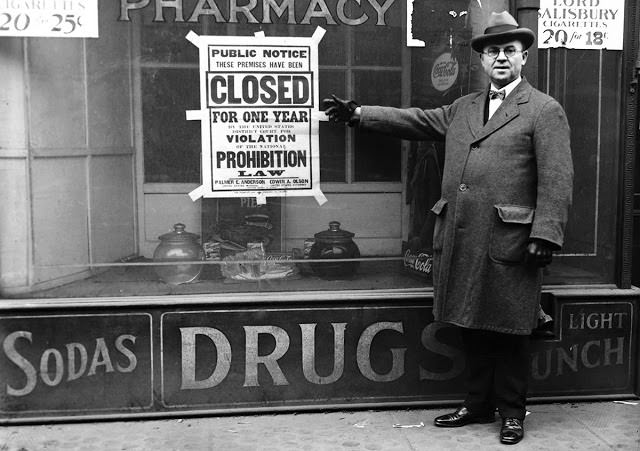 #47

A driver tries to ensure his safety with a banner on his vehicle that reads, "I'm not a Bootlegger. Don't shoot, I'll stop," near the Mexico border in 1929.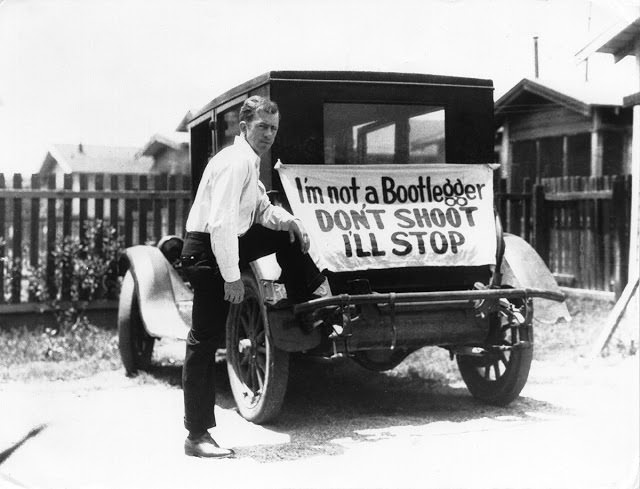 #48

Bottles of Scotch whisky smuggled in hollowed-out loaves of bread are confiscated by police on June 12, 1924.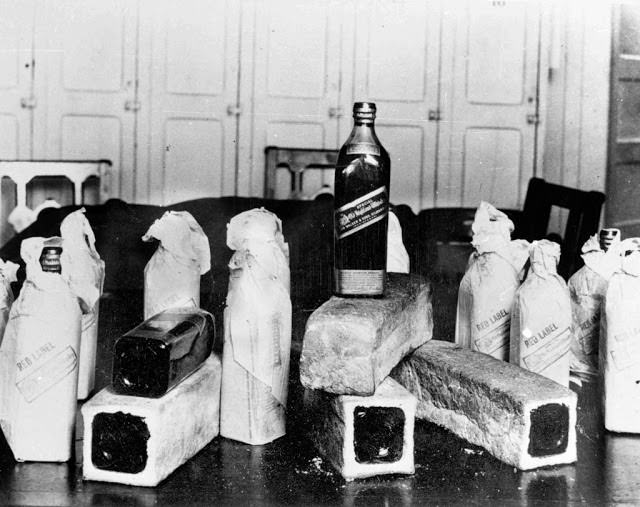 #49

Children watch as a prohibitionist destroys a barrel of beer with an ax during the 1920s.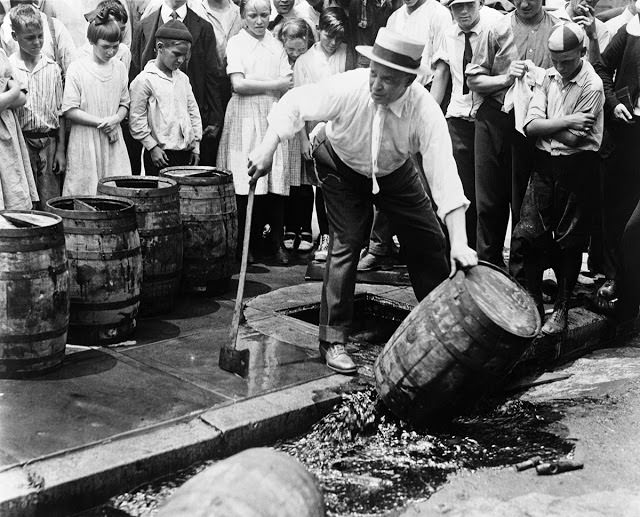 #50

Police officers raid a Long Island, New York, home to find $20,000 worth of booze on Jan. 26, 1930.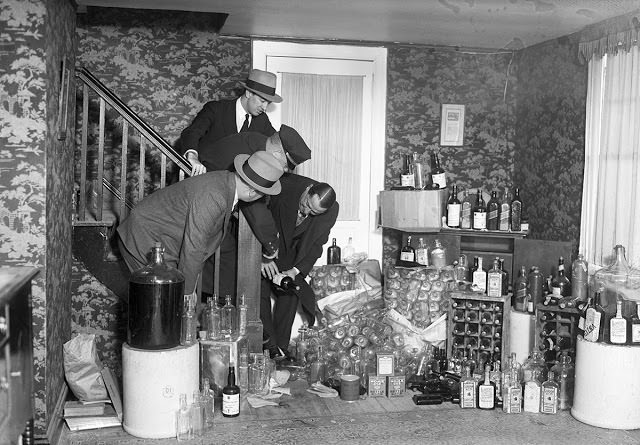 #51

Superintendent Crowley Inspects a Speakeasy, 1930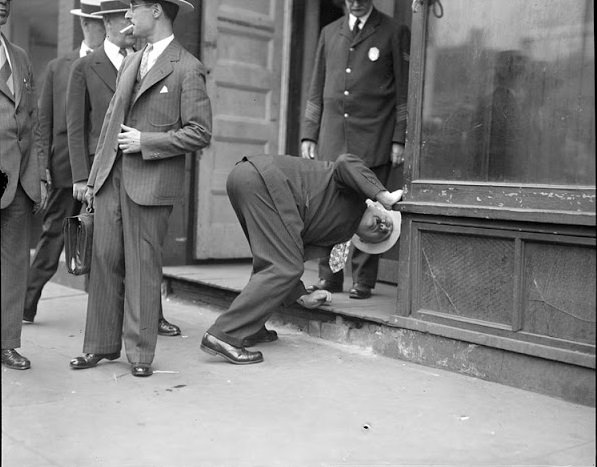 #52

Aerial Photo of a Seized Rum Runner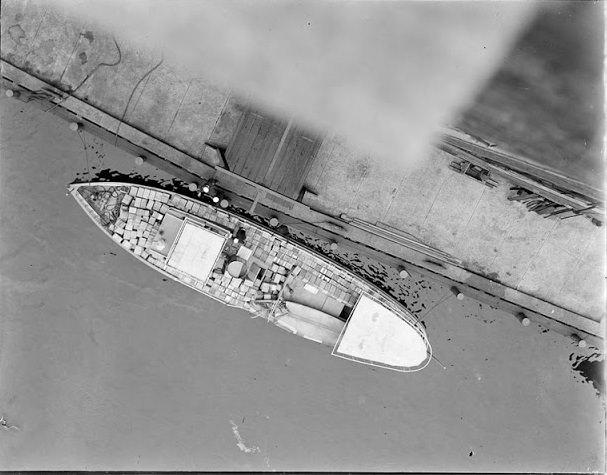 #53

$175,000 in Liquor Seized by Coast Guard – Jan. 18, 1932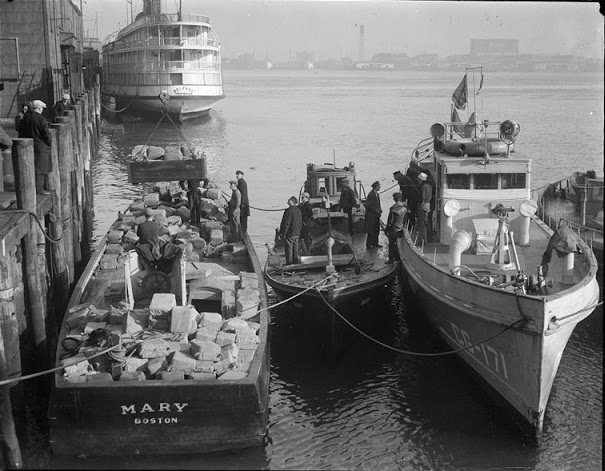 #54

Captured Rum Runner Brought to the Appraiser's Stores – c. 1917-1934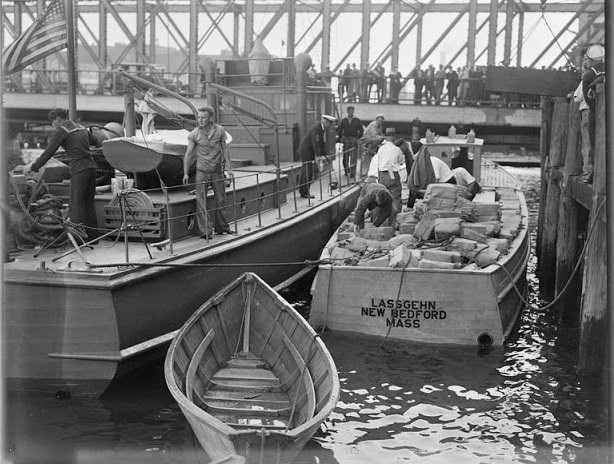 #55

Officers Dismantle a Speakeasy After Raid, Boston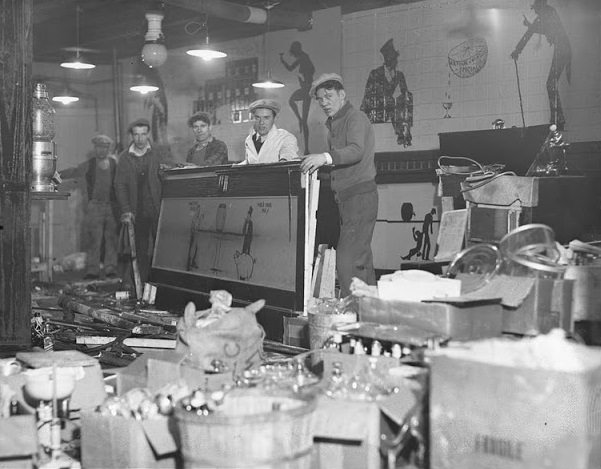 #56

Boston Police Liquor Squad – 1928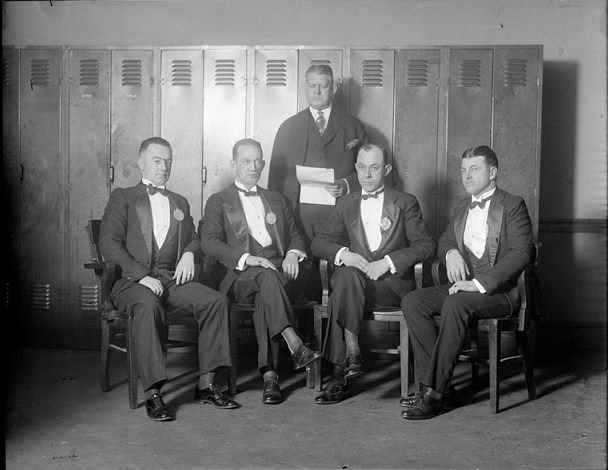 #57

Casks Seized by Police, 1930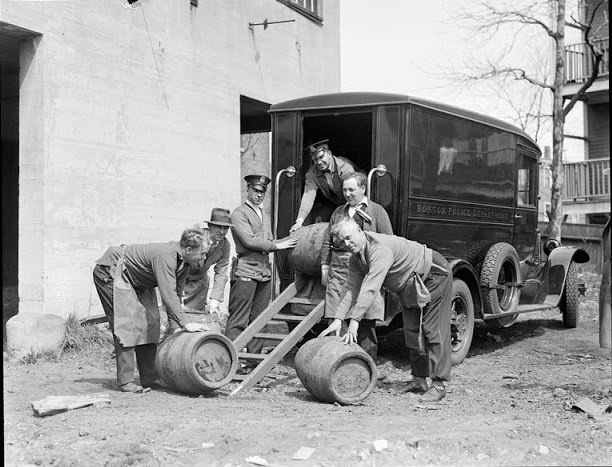 #58

A woman demonstrates the use of a Prohibition era book that conceals a liquor flask, 1927.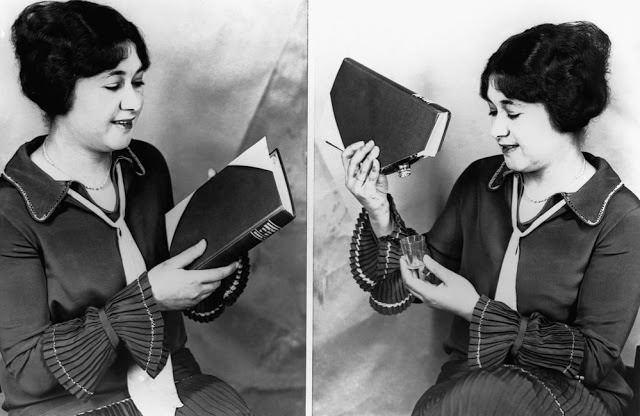 While police had been rounding up the many gangs of male rum runners and bootleggers—the men who smuggled or transported illegal liquor across the border, or even just from one place to another—they had reason to believe that there was another, even more clandestine source of the illegal liquor transport in the country. And these bootleggers would be much harder to track down and much more complicated to search: women. They were wives, sisters and mothers, after all. And no one, quite literally, wanted to touch them.
#59

Woman wearing a floppy overcoat (left) which conceals two tins of booze strapped to her thighs (right). (Underwood & Underwood/Corbis)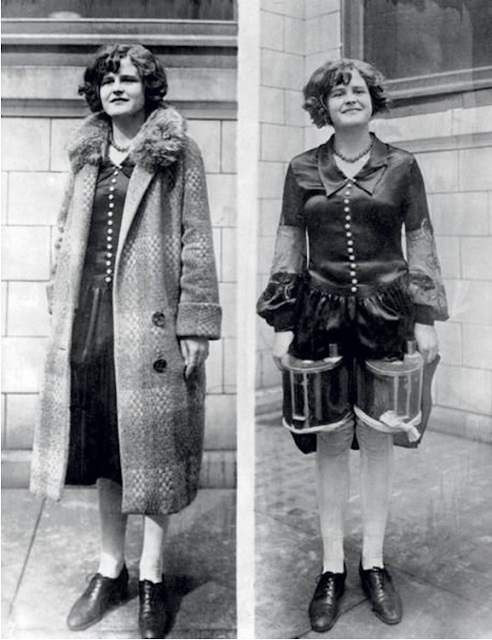 #60

Estelle Zemon, left, and an unidentified woman model ways to conceal bottles of rum to get past customs officials during the U.S. alcohol prohibition, March 18, 1931.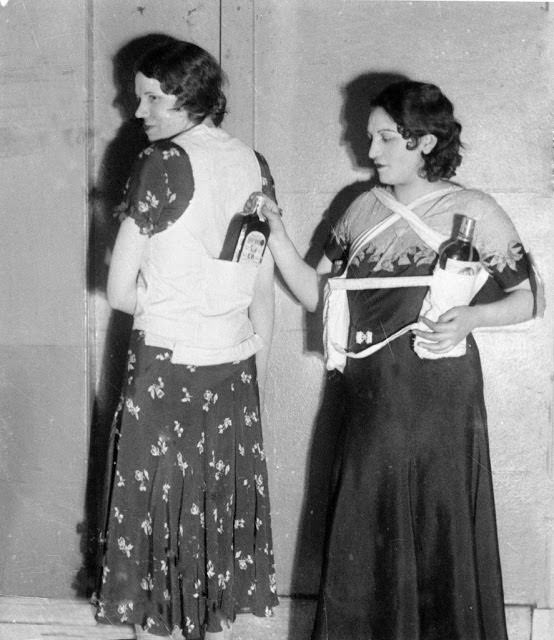 #61

A woman arrested in Minneapolis on April 10, 1924. Her crime was "dispensing wet goods" from her bootlegger's life preserver.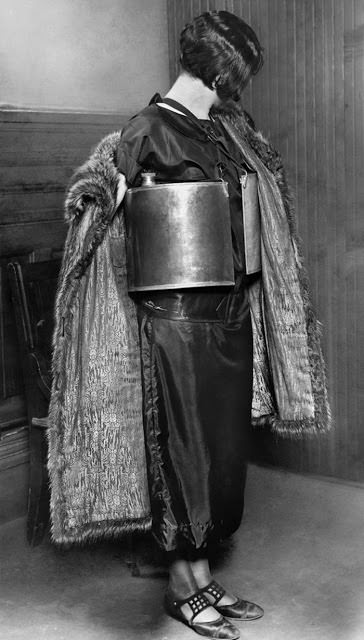 #62

Estelle Zemon shows the vest and pant-apron used to conceal bottles of alcohol to deceive border guards during the U.S. alcohol prohibition on March 18, 1931.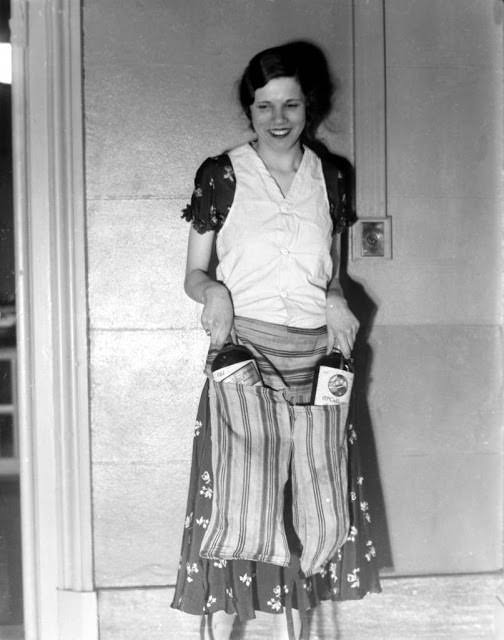 #63

Woman putting flask in her Russian boot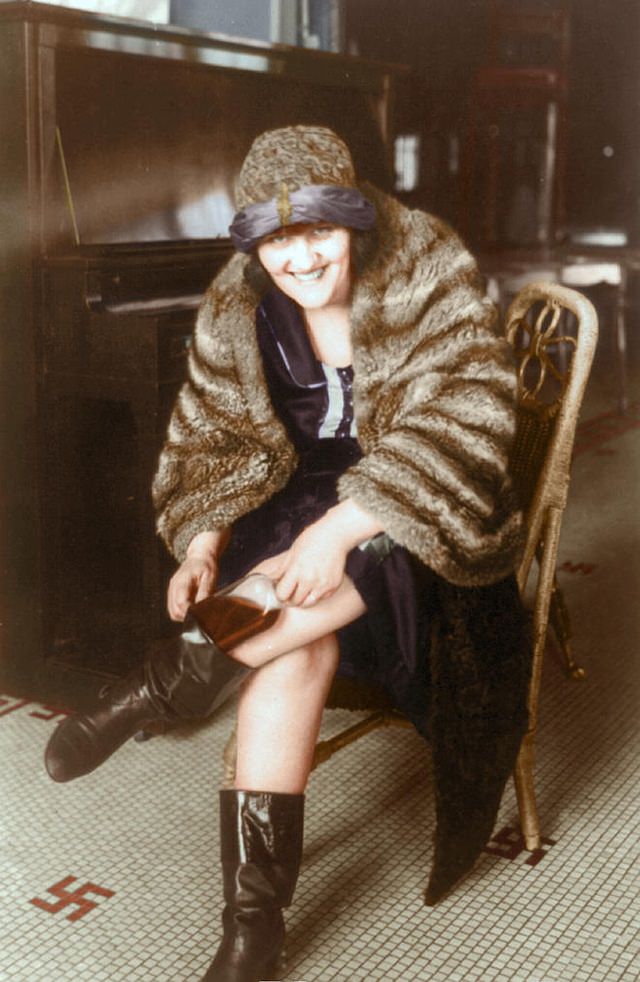 #64

Latest thing in flasks. Mlle. Rhea, dainty dancer who is now in the city as part of the Keiths program inaugurates the garter flask fad in Washington D.C.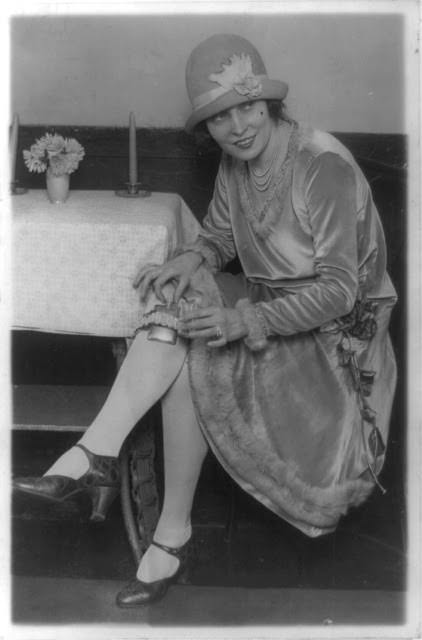 #65

A flapper flouts the Volstead Act by carrying a whiskey flask in her garter, ca. 1920s.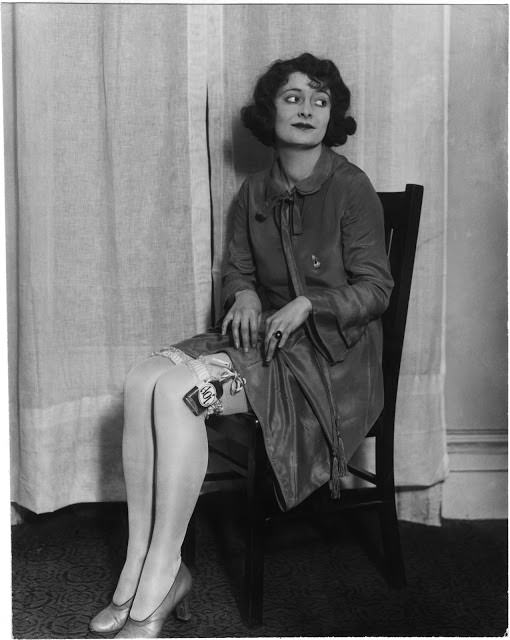 #66

Woman seated at a soda fountain table pours alcohol into her cup from a cane. Note the large Coca-Cola advertisement on the wall, 2/13/1922.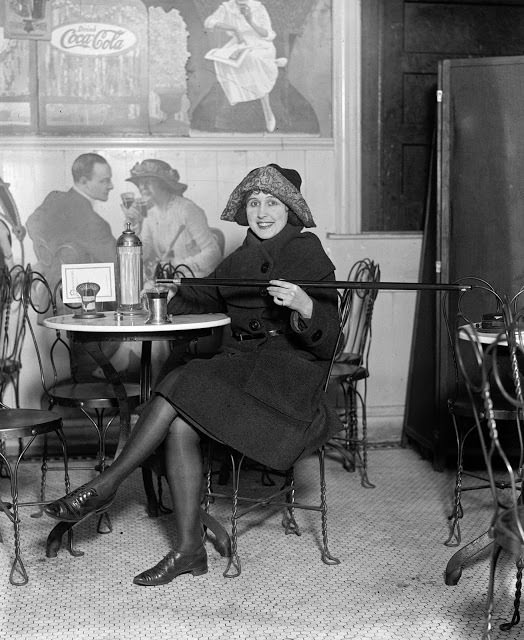 #67

A woman using a dummy book, bearing the title 'The Four Swallows,' as a hiding place for liquor during Prohibition, 1920s.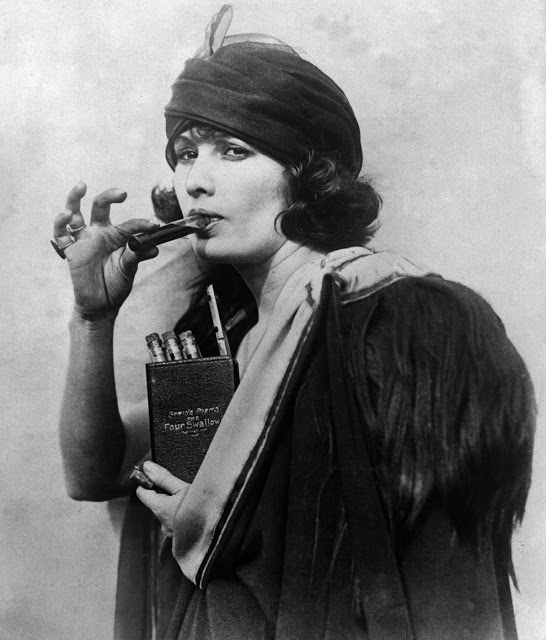 #68

Woman shows off her new initialed garter flask, which had become the latest rage in 1926.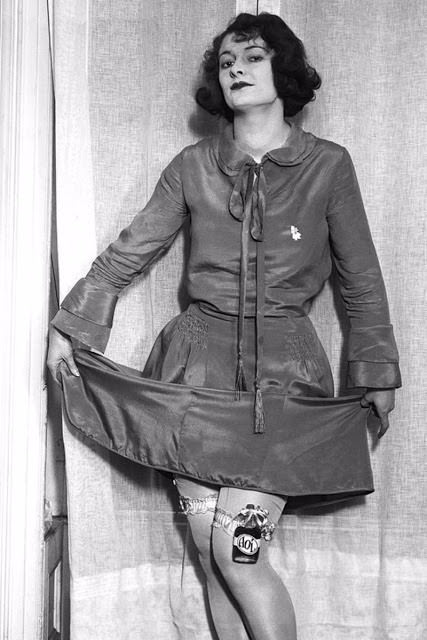 #69

Speakeasie at the Hunt Club in the theatrical district.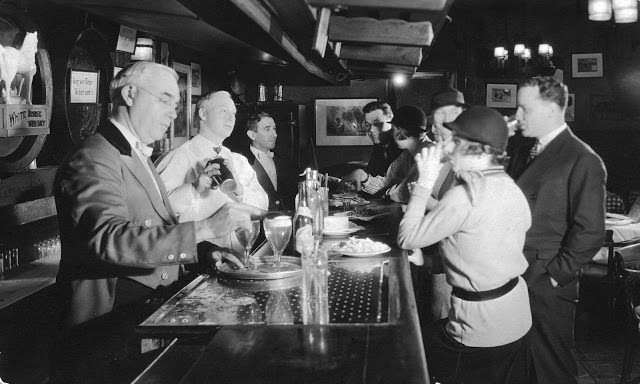 These speakeasies were bars that illegally sold booze to their customers behind locked doors. Some of these popular places were run by criminals, and even though the police would sometimes raid the bars and arrest both the owners and their customers, the speakeasies were so profitable they continued to flourish.
#70

At luncheon half a dozen dogs feed amicably at their mistresses' side. This bar is chromium, rose and black.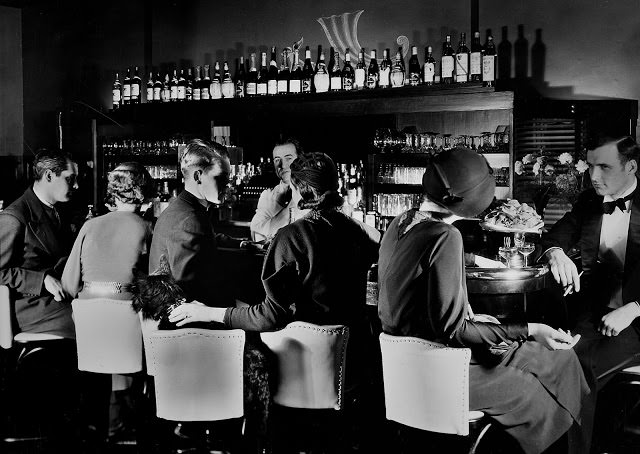 #71

In the heart of a business section Thomas keeps this speakeasy on the second floor. Drinking starts at 8:30 A.M. when full-bellied Irish contractors drop in for a solidly comforting rye.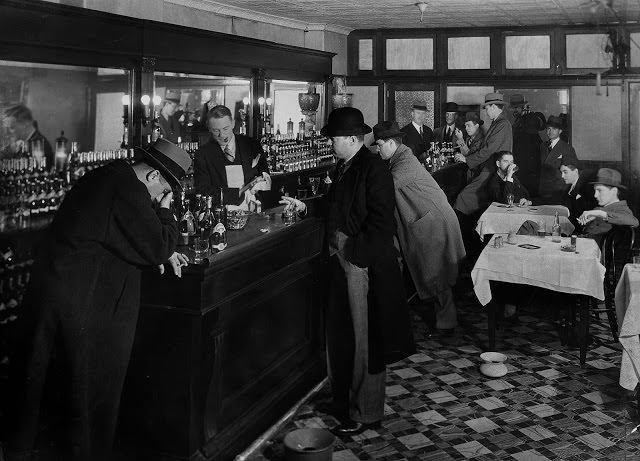 #72

Champagne from right to left, on mantel: half nip, nip, pint, imperial pint, magnum, jeroboam, rehoboam, methuzelah, salmanazar, balthazar… Twenty-nine waiters and eight chefs are none too many for a popular place.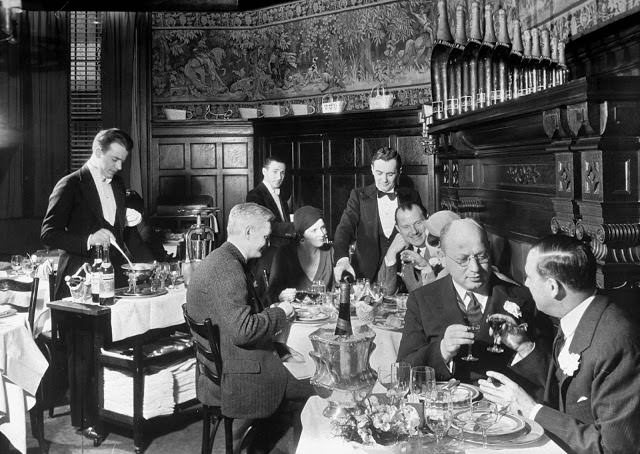 #73

Social atmosphere has made the popularity of this speakeasy, which is full of gay chintz, red and white awnings, indirect lights. The barroom is gold and Victorian-green.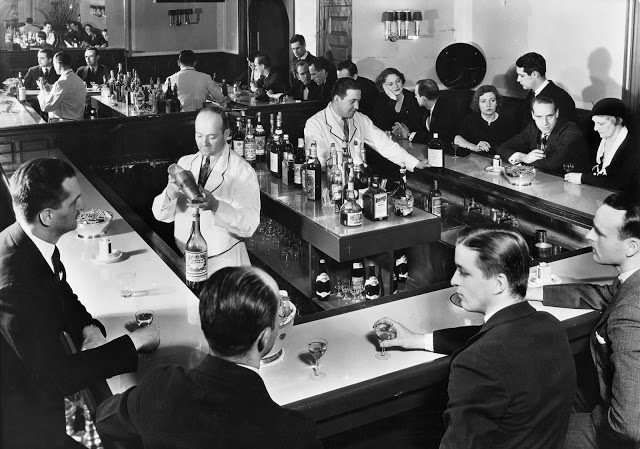 #74

Scene inside a New York City speakeasy during Prohibition, 1933.
#75

Speakeasy patrons drink and dance at this party.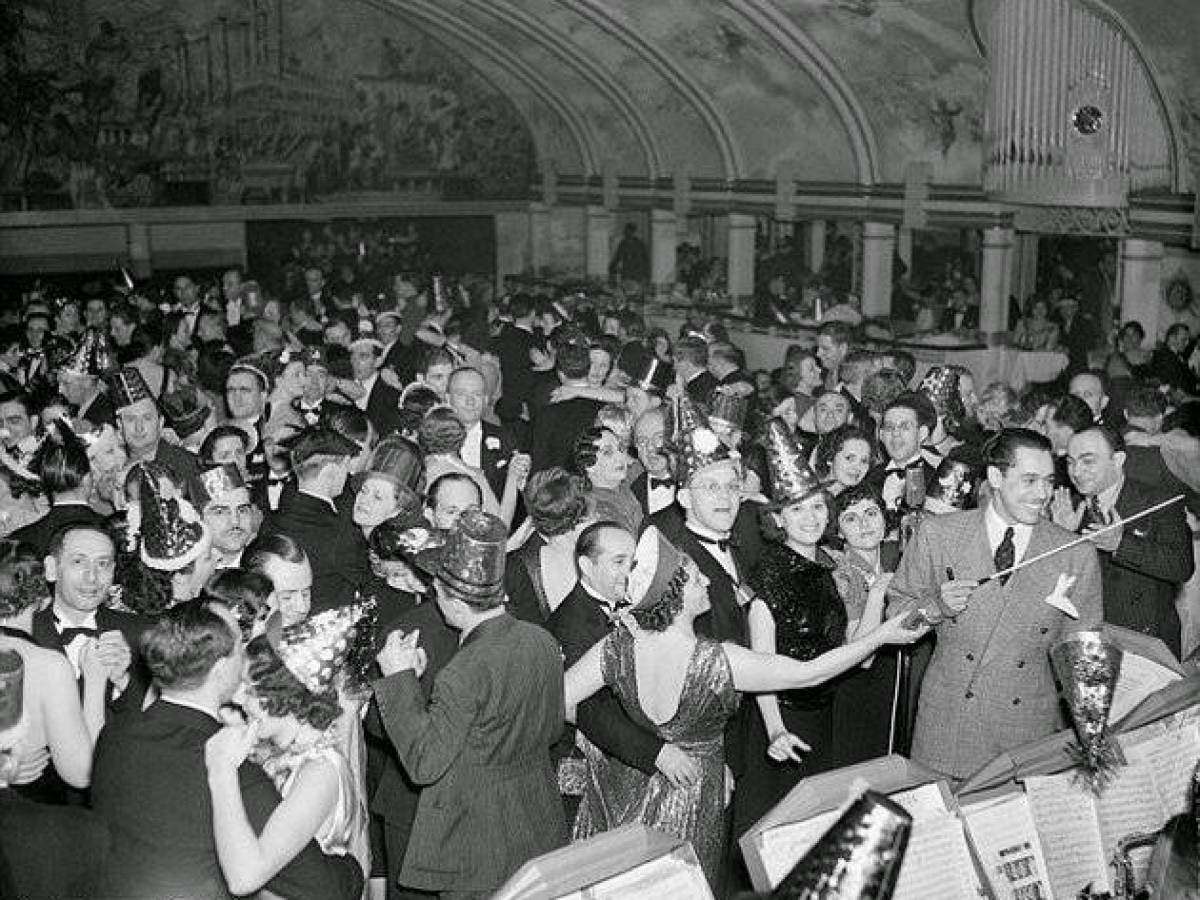 #76

The Krazy Kat Klub was a painting school, treehouse, and illegal speakeasy in Washington, D.C.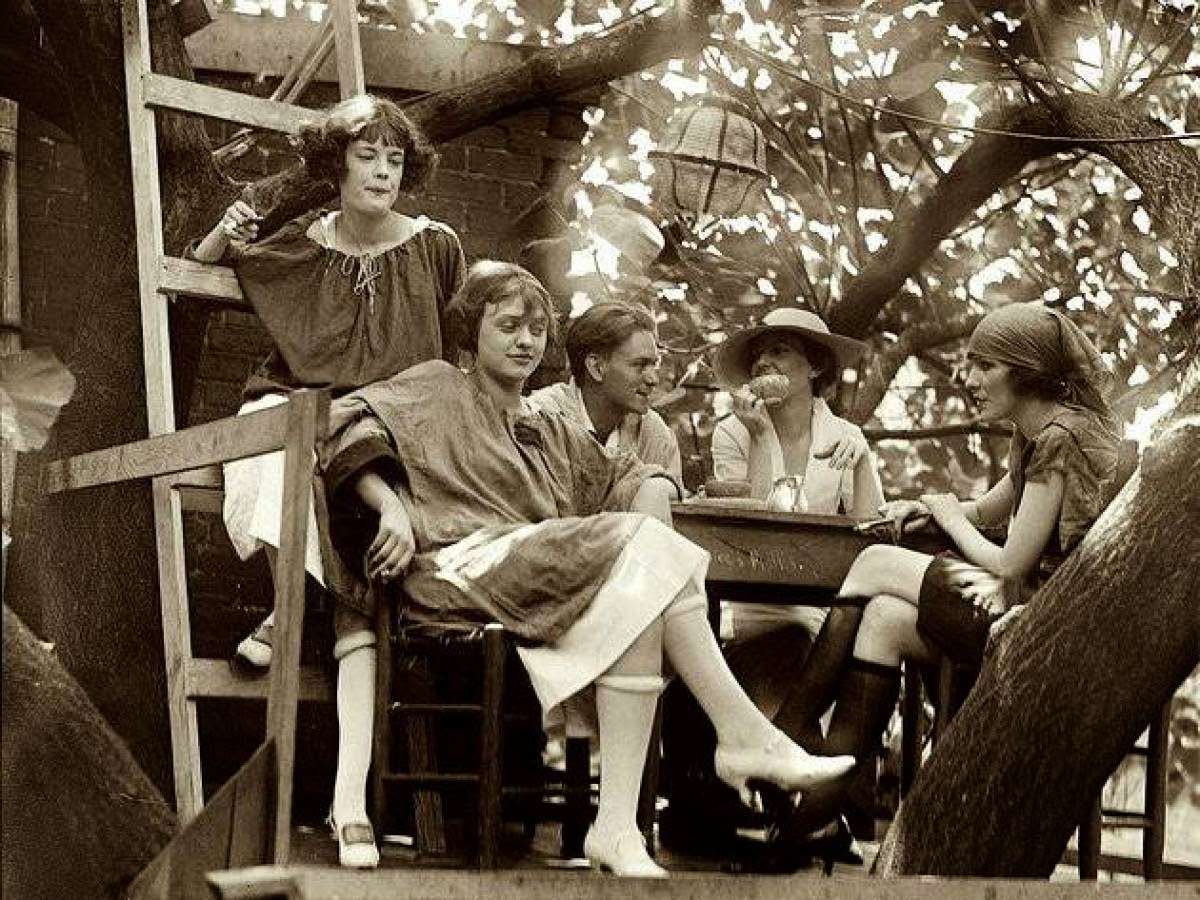 #77

Four women chug bottles of illegal liquor, 1925.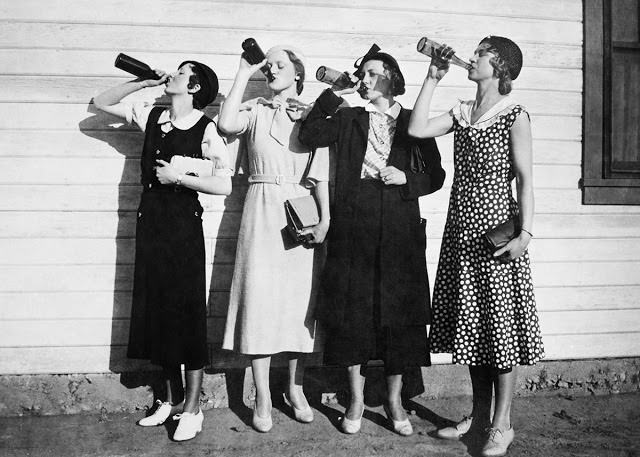 #78

The shoe of an alcohol smuggler who had been arrested at the Canadian border is strapped with wooden soles in the form of cattle hooves to camouflage their border crossing, circa 1924.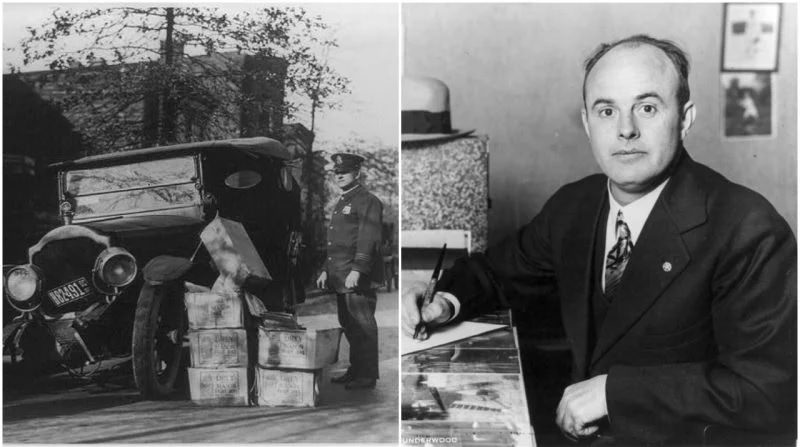 Photo of George Cassiday in 1930. Cassiday managed his bootlegging activities out of the congressional Cannon House Office Building in Washington from 1920 until 1925 when he was first arrested. From 1925 to 1930, he operated out of the Russel Senate Office Building. After his second arrest on February 1930, Cassiday withdrew from bootlegging activities, and during the fall that same year, he went on to write the Washington Post articles. The shared information was sensational and pointed to the Congressional hypocrisy.
#79

The shoe of an alcohol smuggler who had been arrested at the Canadian border is strapped with wooden soles in the form of cattle hooves to camouflage their border crossing, circa 1924.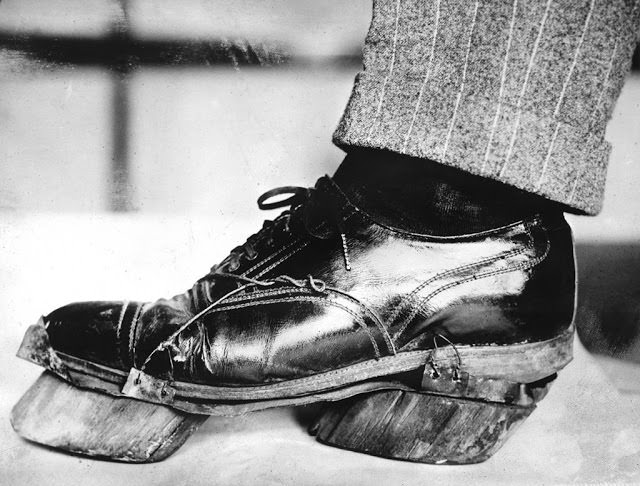 #80

Freedom advocates demand the end of alcohol prohibition, 1930s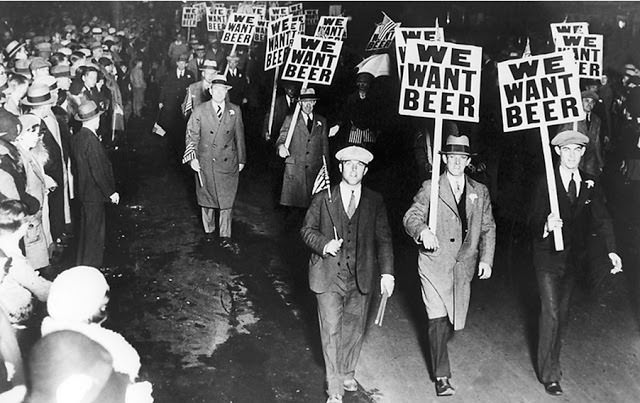 #81

These anti-prohibition protesters use biblical passages to make their point.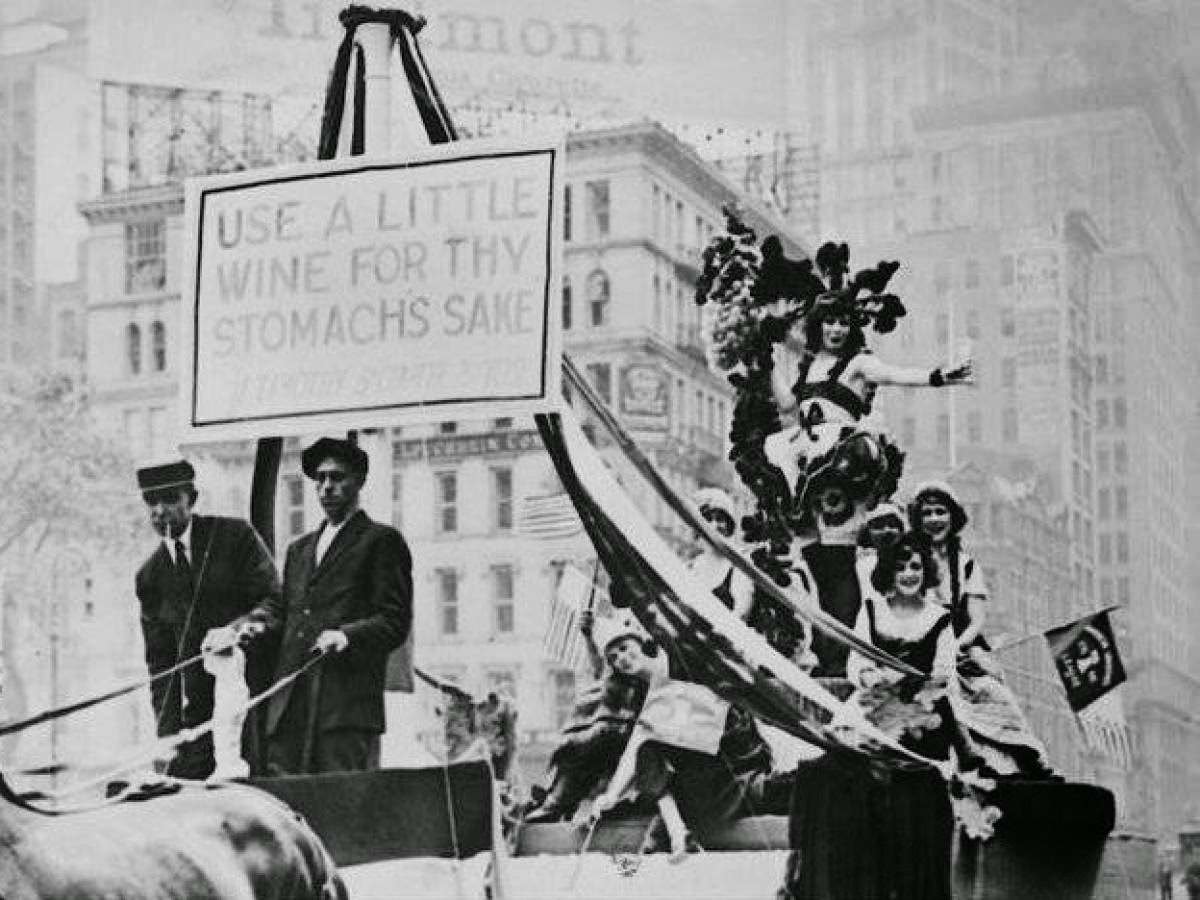 #82

Protestors march in New York City on November 10, 1932, calling for the end of Prohibition.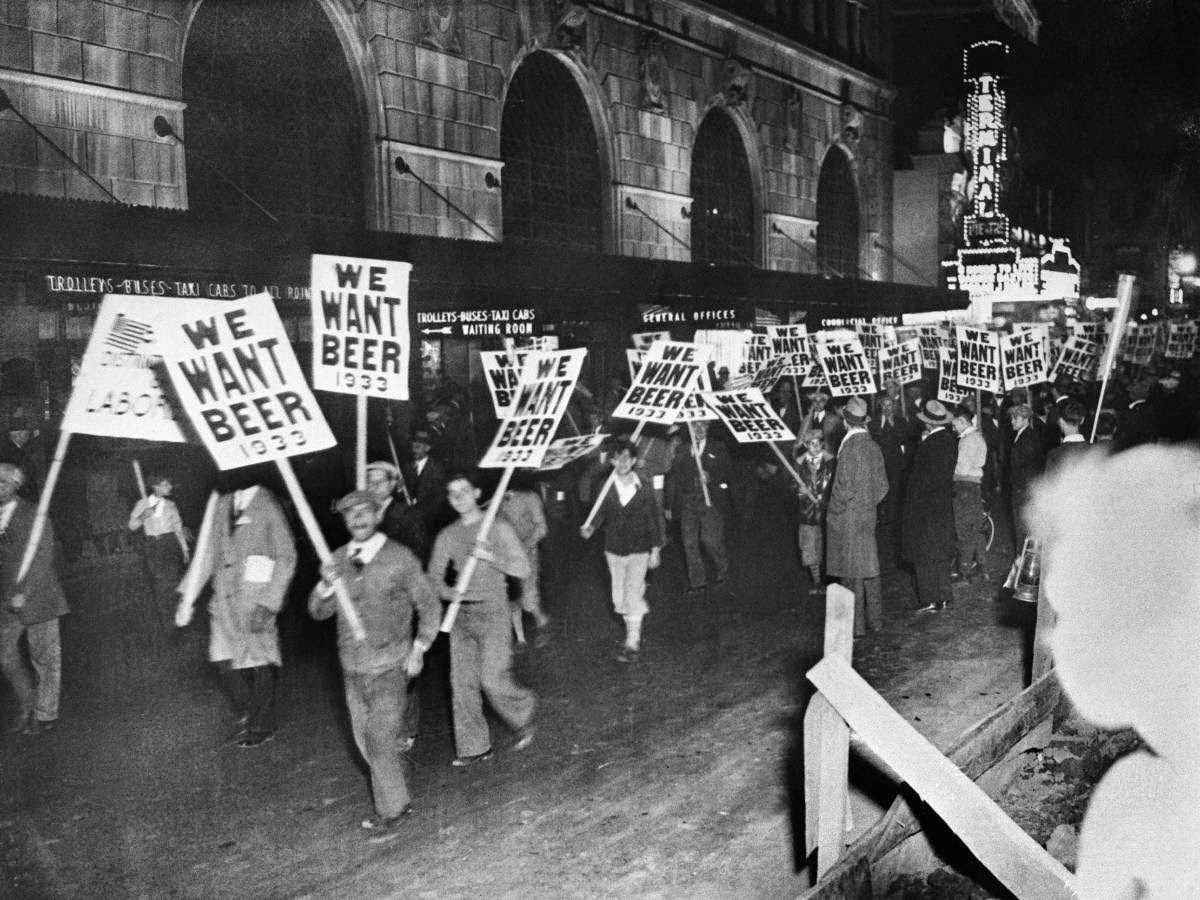 #83

Protestors in the NYC streets, protesting against the prohibition.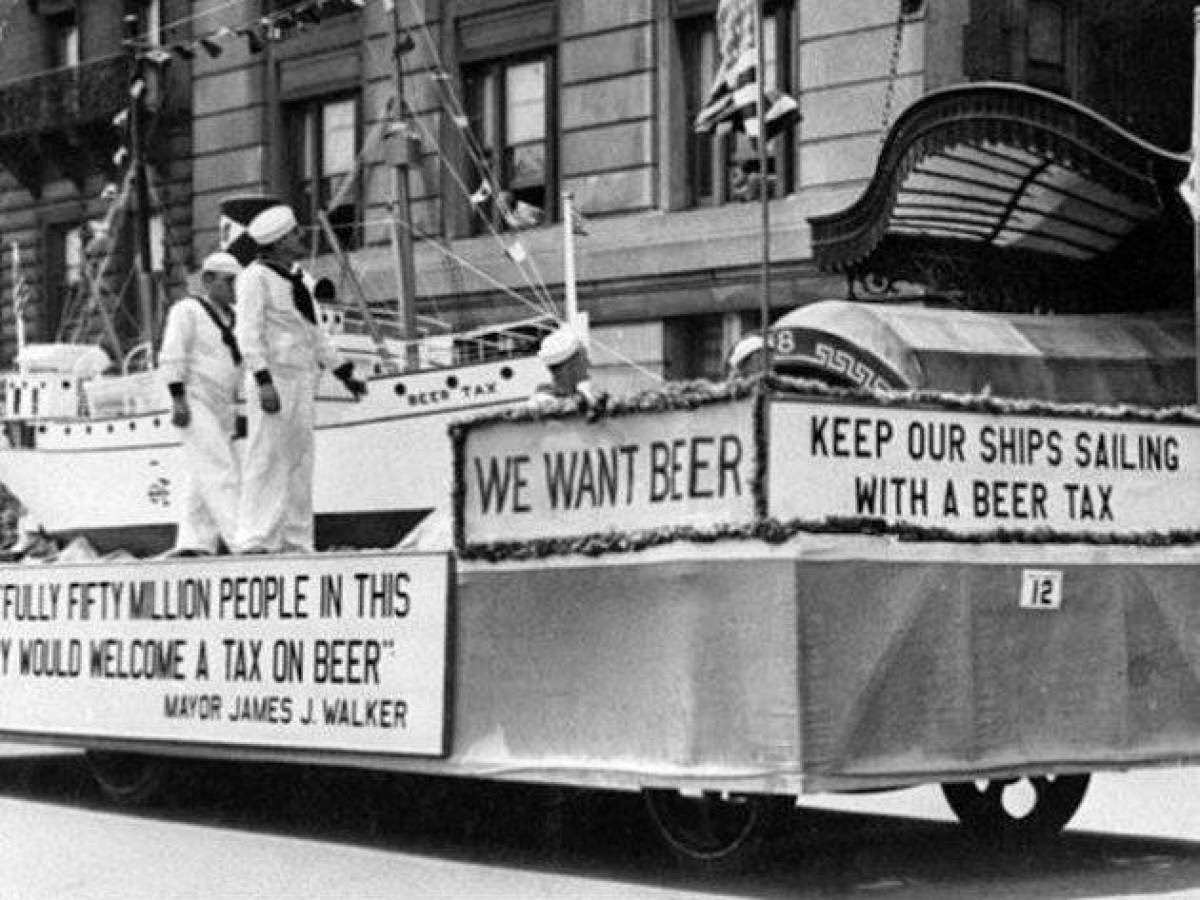 #84

More than 40,000 demonstrators gather in Military Park, Newark, on Nov. 1, 1931, to oppose the ban of alcohol in the US.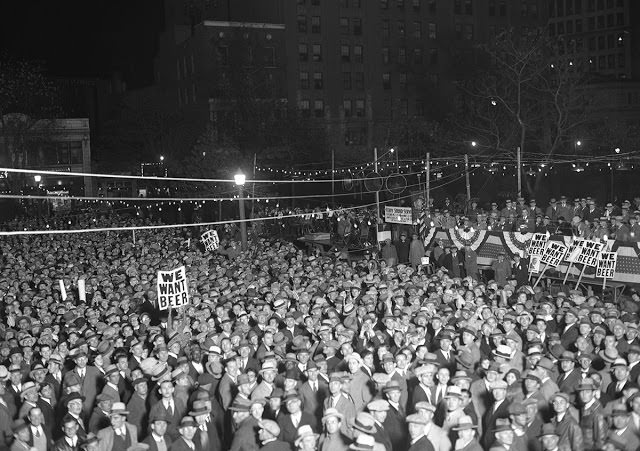 #85

A July 4 protest against the 14-year-ban on alcohol takes place in New York in 1925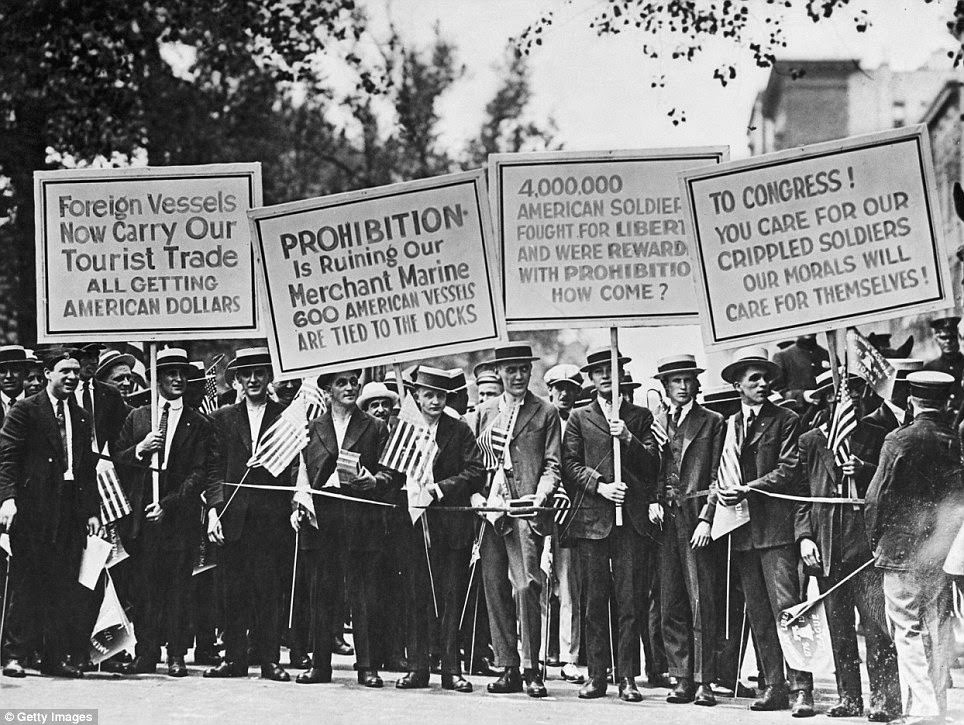 #86

Five members of the Alcohol Prohibition Research Committee depart on the bus Diogenes, named after the man who sought in vain for an honest man, in New York City.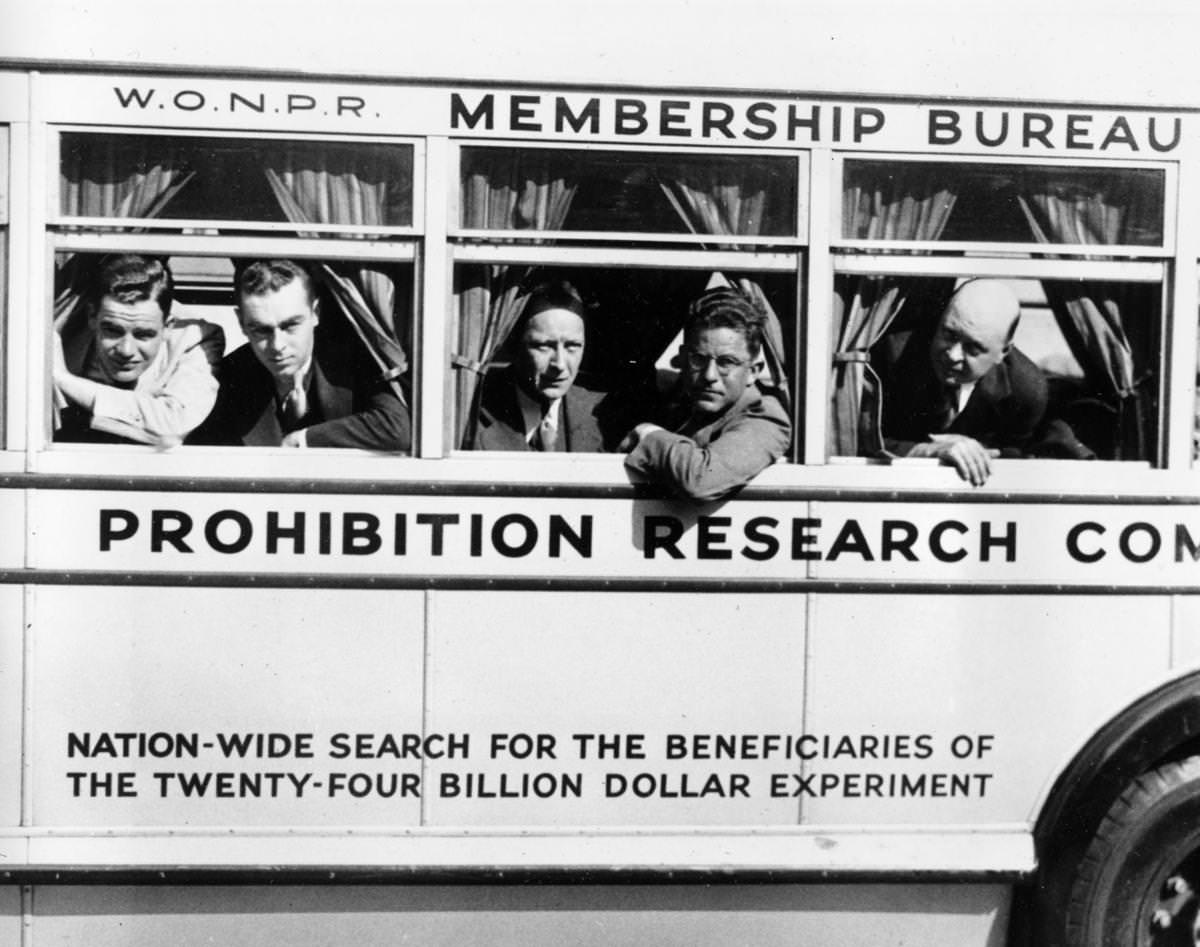 The membership is seeking one drunk who has been reformed by the 18th amendment in their campaign against the liquor ban.From left are, Stephen Duggan Jr., assistant investigator; Russell Salmon, chief investigator; Ernest Boorland Jr., member of the executive committee; Robert Nicholson, assistant director; and Paul Morris, director.
#87

President Franklin D. Roosevelt signs the Cullen-Harrison Act, or "Beer Bill," the first relaxation of the Volstead Act, on Mar. 22, 1933. The new law allowed the sale of beer and wine containing 3.2% alcohol starting at midnight on April 6.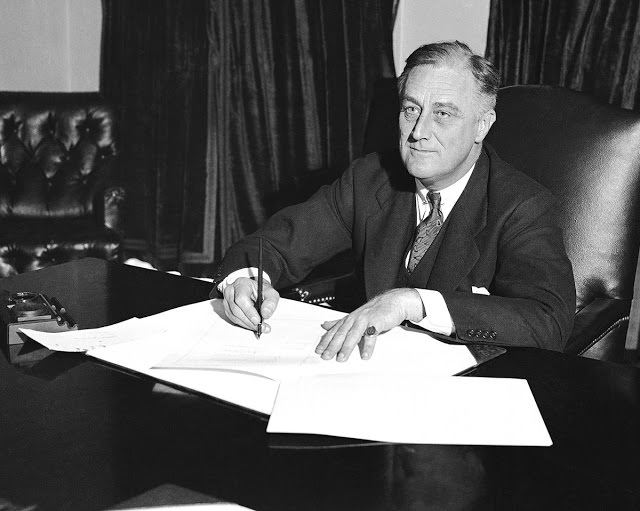 #88

Crowds fill Times Square in New York after hearing that prohibition had come to an end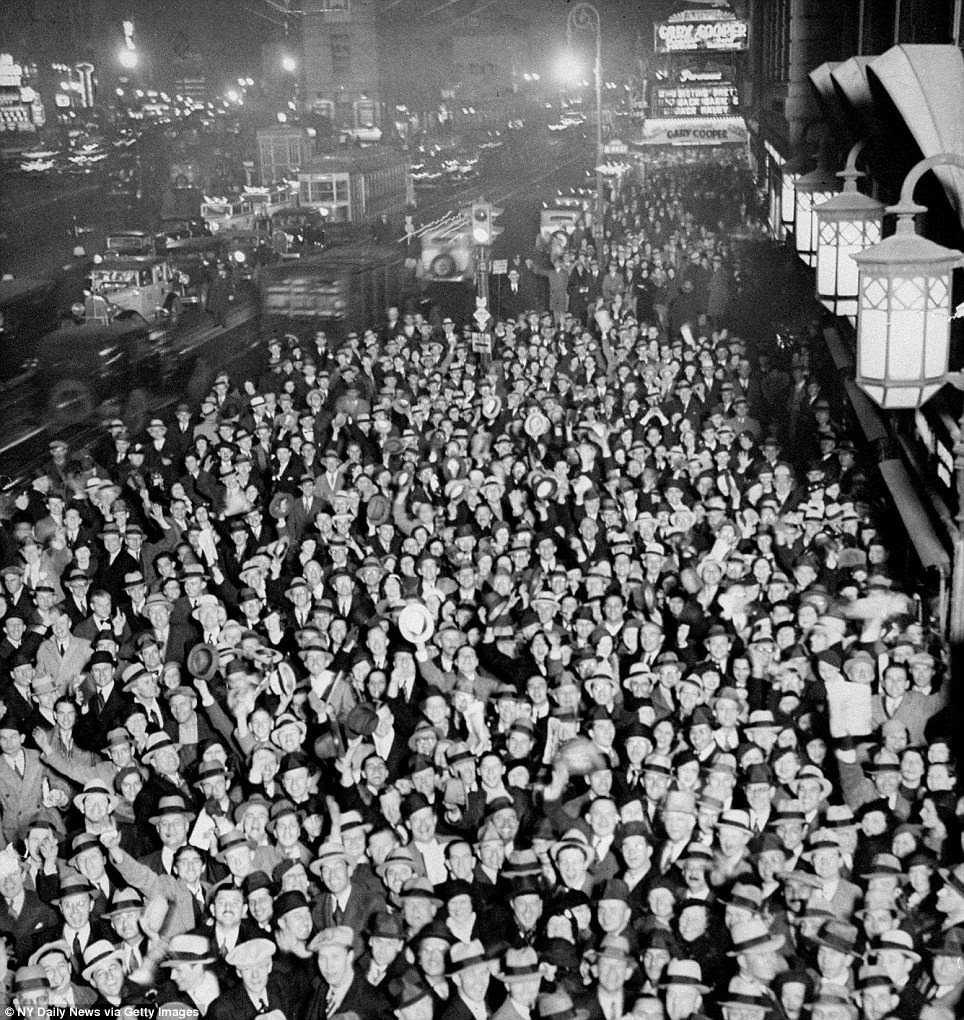 #89

Bartenders at Sloppy Joe's pour a round of drinks to celebrate the end of prohibition in Chicago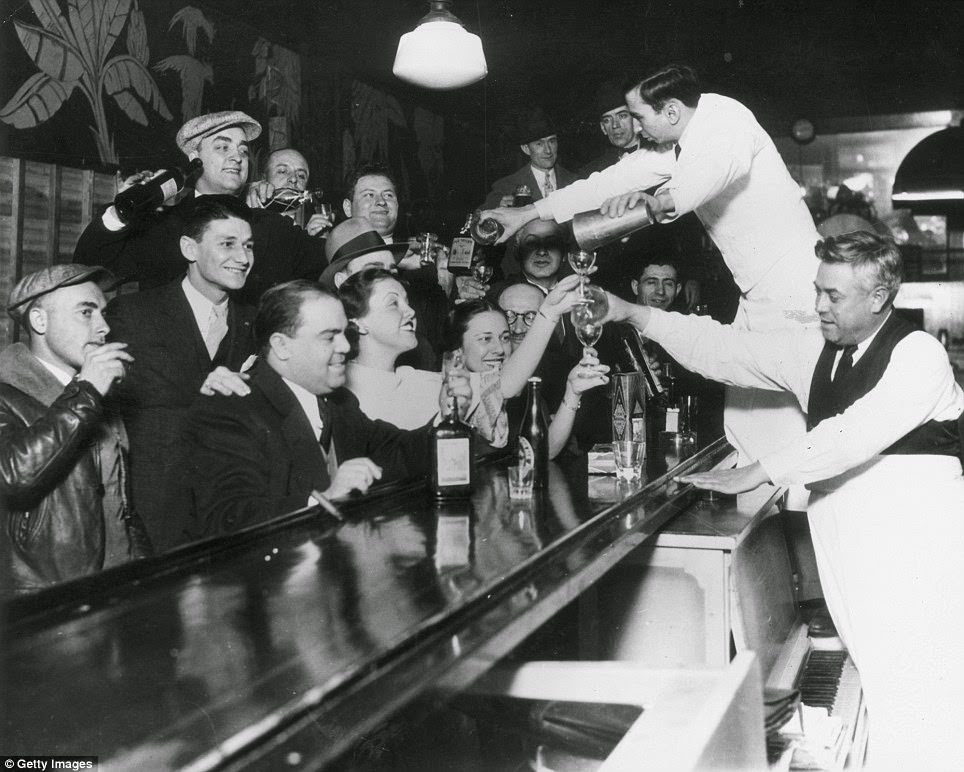 #90

Celebrating the end of prohibition, 1933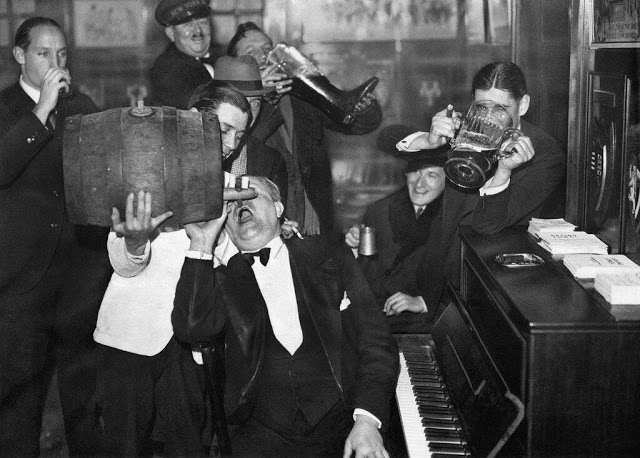 #91

Two New York Brewery workers scrub a large tank of beer on November 23, 1932 that had remained empty during Prohibition. With the repeal of the Eighteenth Amendment and the end of the Volstead Act, the stills were ready for use again.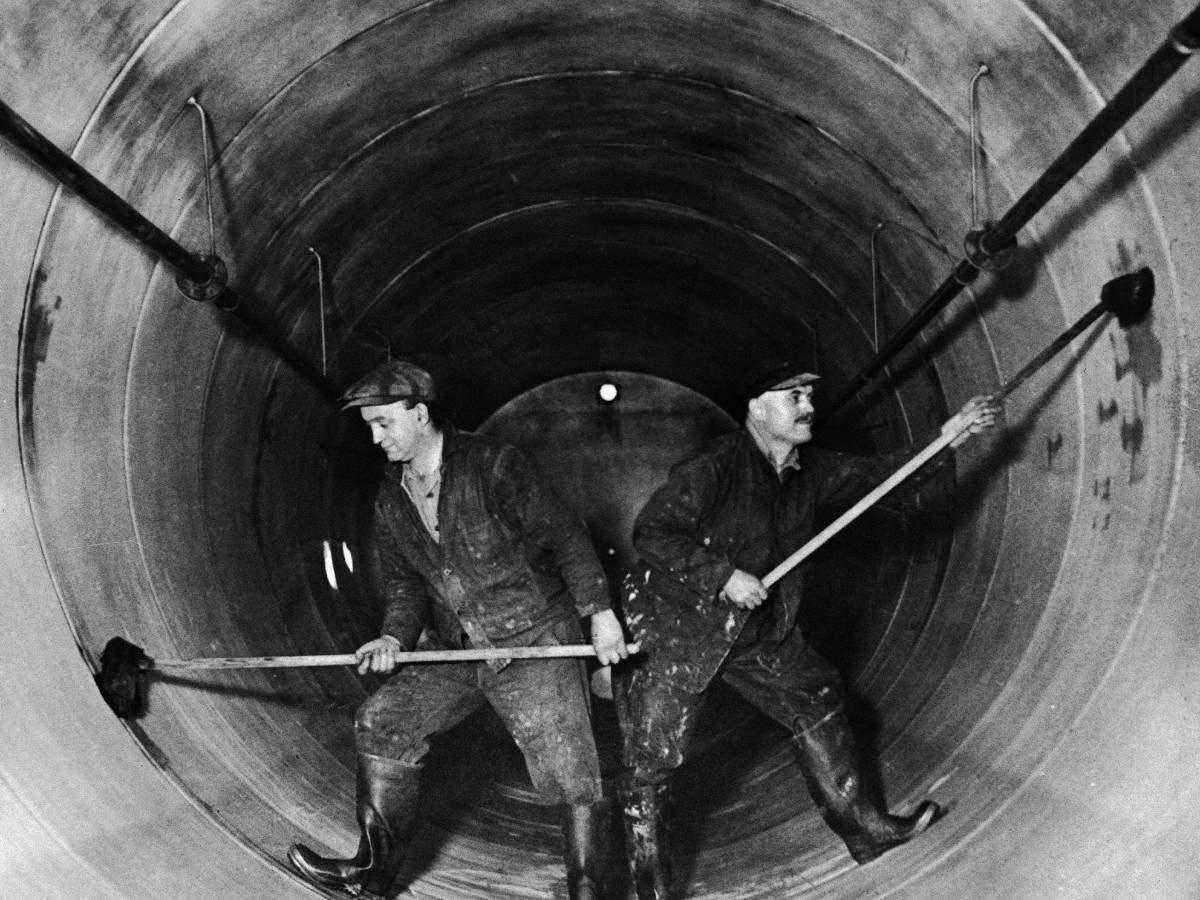 #92

Revelers toast the end of Prohibition in 1933.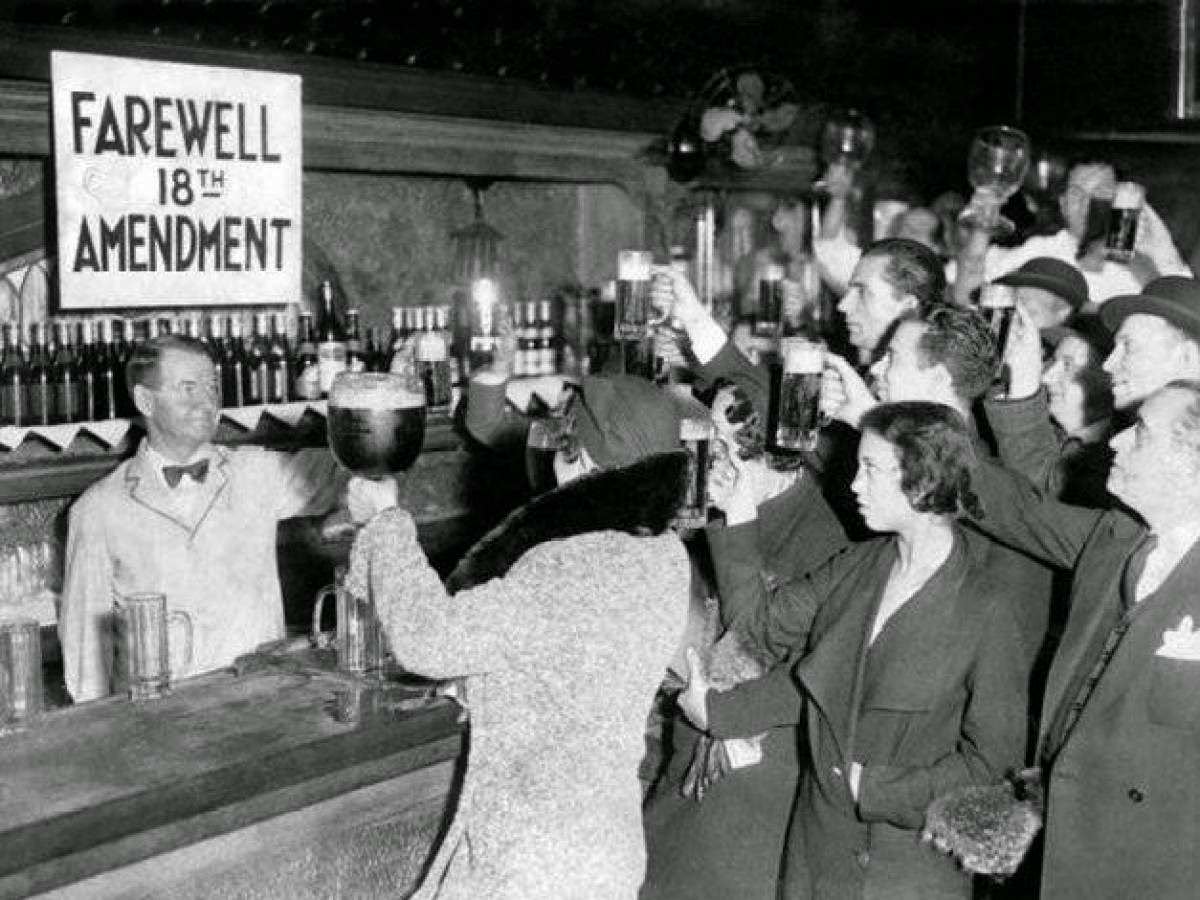 #93

The night they ended Prohibition, 1933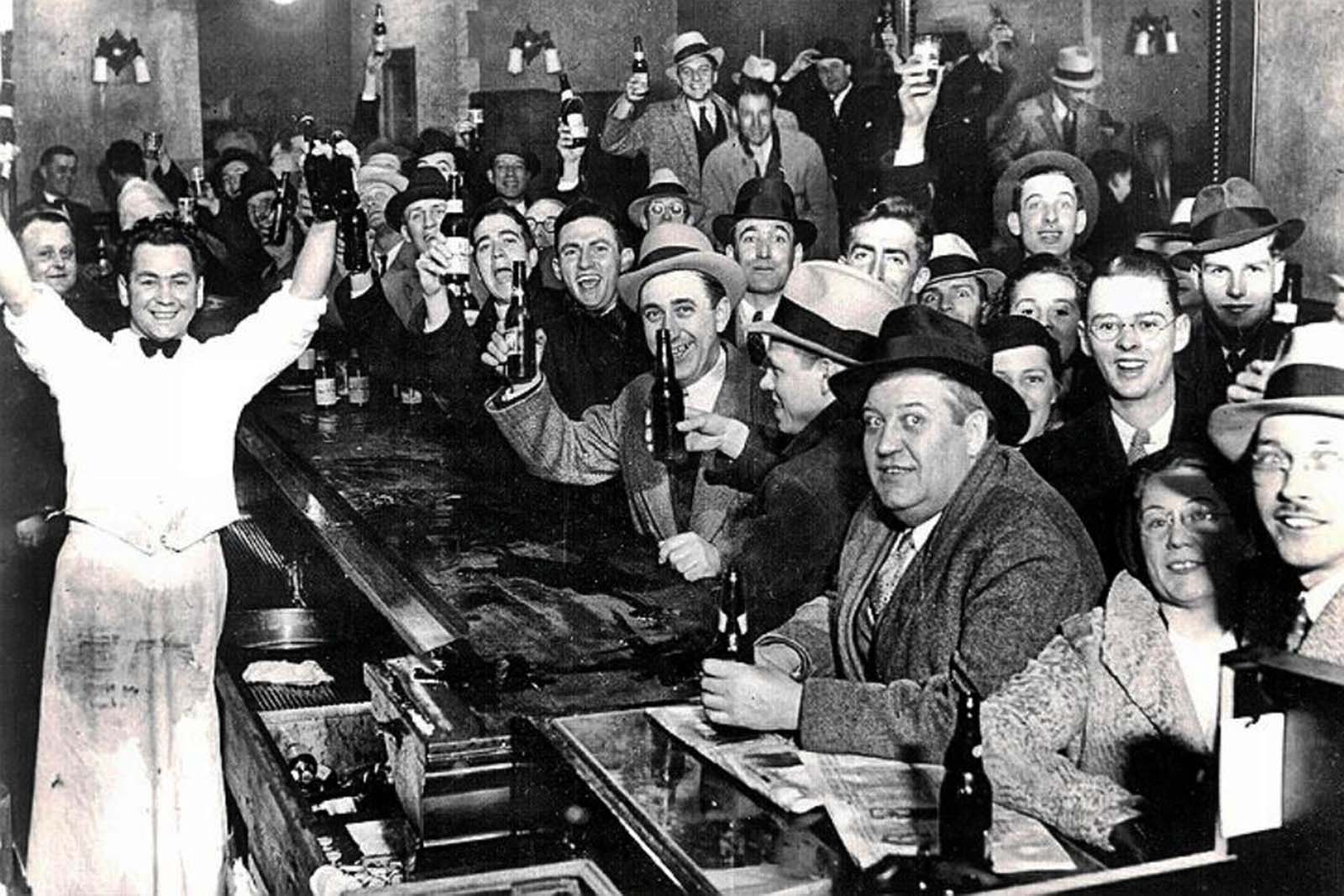 #94

Partygoers celebrate the end of Prohibition amid a tangle of confetti and ribbons in 1933.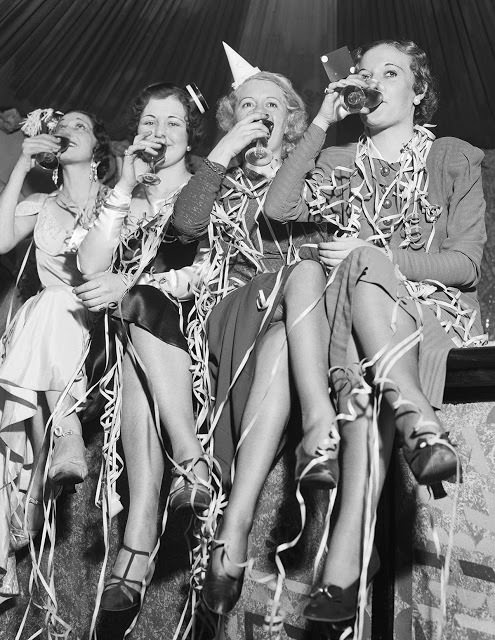 #95

A woman serves drinks to a crowd of men who are joyfully celebrating the repeal of Prohibition in 1933.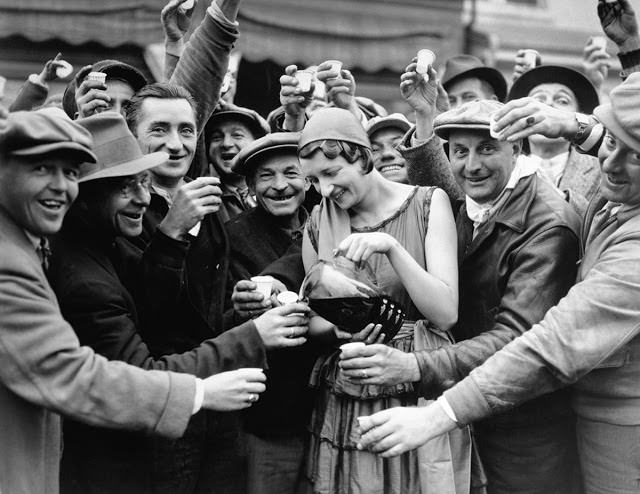 #96

Man enjoying the End of Prohibition in Ohio, December 1933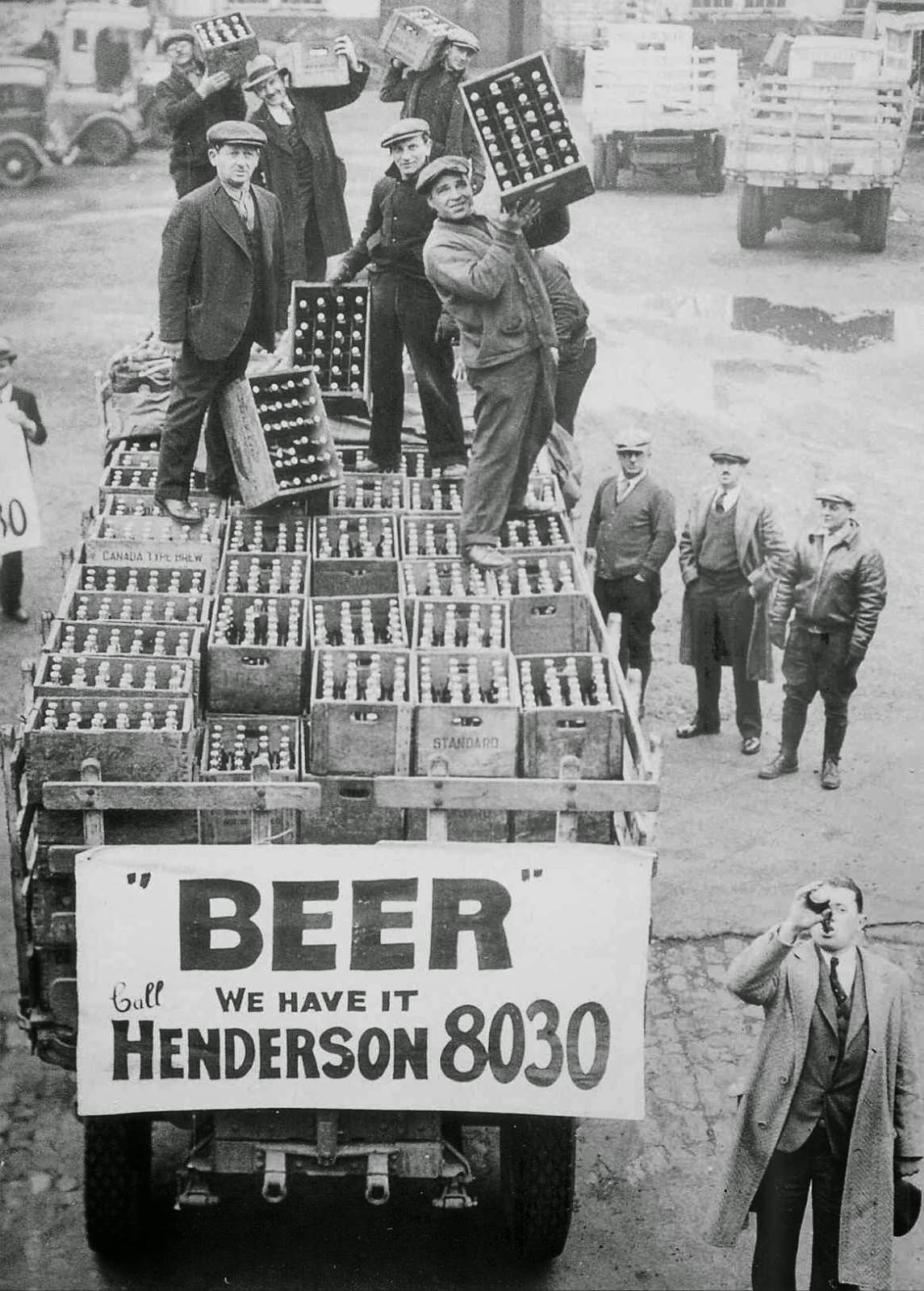 #97

A crowd gathers as kegs of beer are unloaded in front of a restaurant on Broadway in New York City, the morning of April 7, 1933, when low-alcohol beer is legalized again.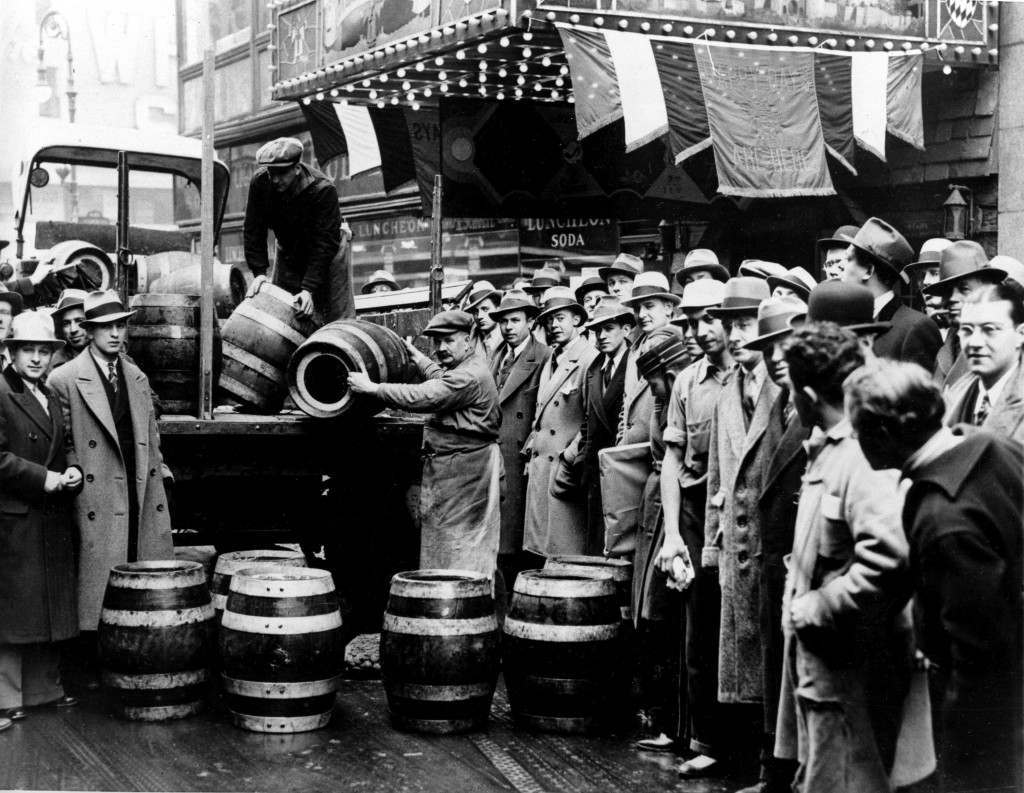 #98

People enjoy legal drinking as they gather at Cavanagh's in New York City on Dec. 5, 1933 after the 21st Ammendment is ratified.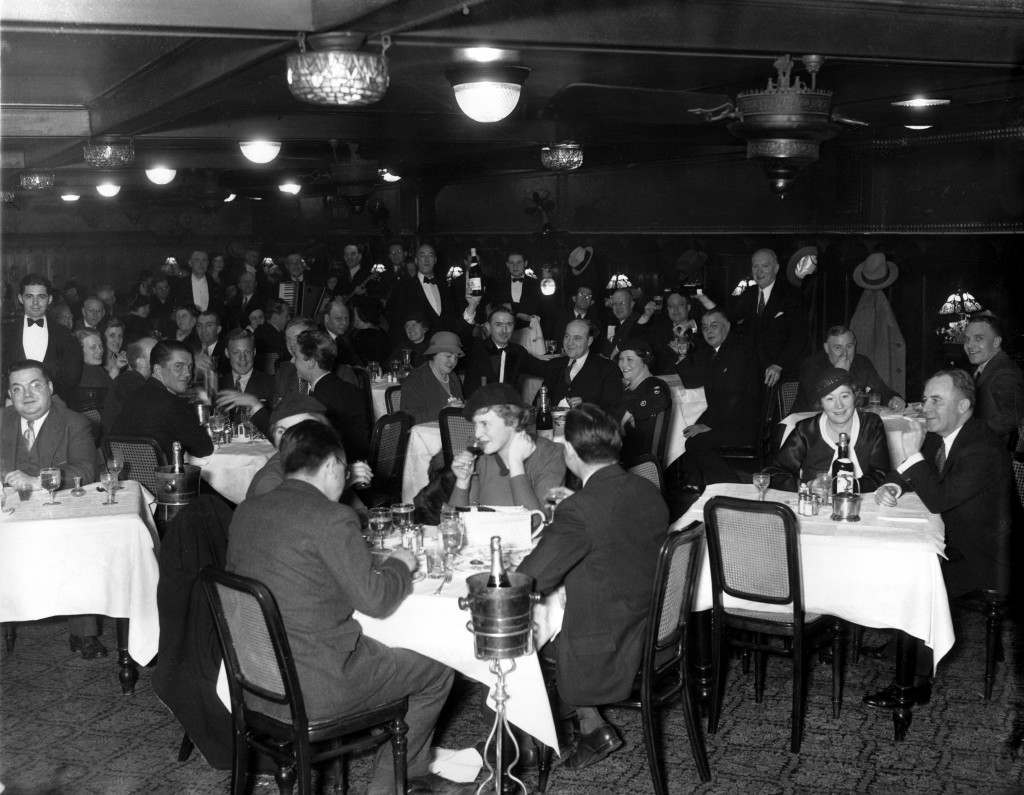 #99

Marie Beiser, Baltimore beauty, took a personal hand in collecting scrap aluminum for defense purposes, July 25, 1941.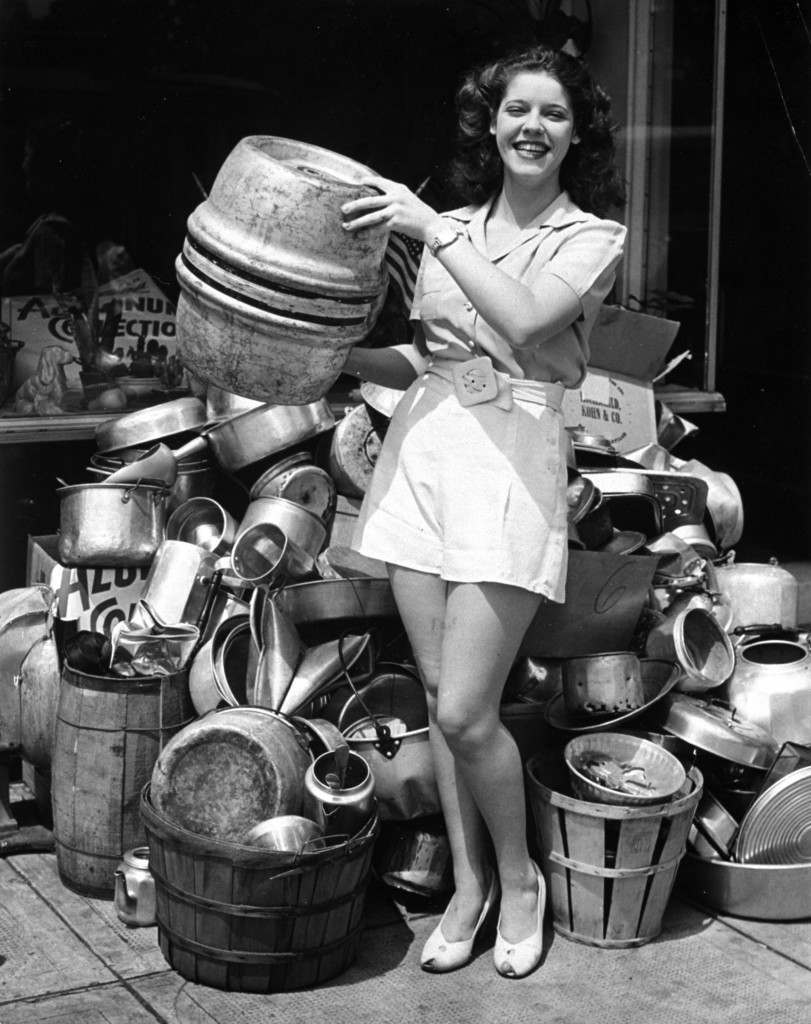 Among the articles she added to a pile of castoffs gathered by her mother was an old aluminum beer keg of the pre-prohibition era. Marie was "Miss Maryland" in the 1940 Atlantic City beauty pageant.
#100

Rae Samuels holds the last bottle of beer that was distilled before Prohibition went into effect in Chicago, Dec. 29, 1930.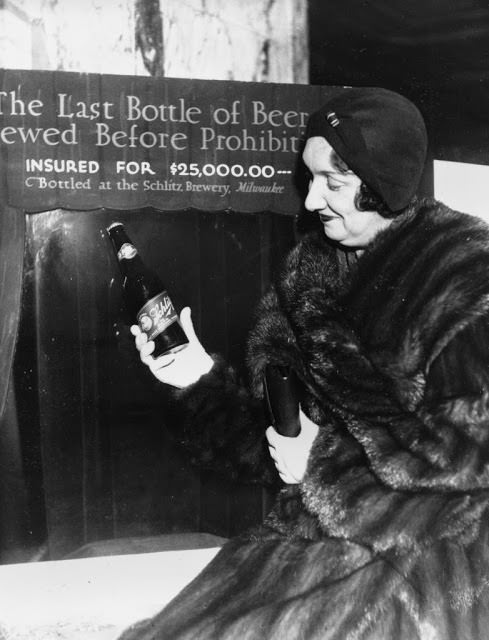 The bottle of Schlitz was insured for $25,000.Rae Samuels was one of vaudeville's biggest stars for over 20 years, earning $2,500 per week.