At the turn of the 20th-century, expansion abruptly stopped in Spokane, and the population also declined. Local people and organizations lost control of regional mines and resources to national corporations, which diverted capital outside of Spokane and decreased investment and growth opportunities in the city. The stagnation created unrest among the area's unemployed, who were victimized by "job sharks" who charged fees for signing up workers. It was well known that job sharks and employment agencies would cheat itinerant workers by bribing them to fire entire work crews periodically, generating repeat fees for themselves.
Spokane's economy became dominated by agriculture and logging after the decline of mining at the turn of the 20th century. In northern Idaho and southern British Columbia, the logging industry was fueled by population growth and homes, railroads, and mines. Spokane became a notable leader in manufacturing doors, window sashes, blinds, and other planning mill products. Despite being overshadowed by large timbered areas west of the Cascades and facing stiff competition from rail freight rates. Spokane had higher rail freight rates than coastal seaport cities such as Seattle and Portland so that Minneapolis merchants could ship first to Seattle and then back to Spokane for less than shipping directly to Spokane, even though the rail line passed through Spokane on the way to the coast.
Below are some fascinating historical photos that will take you back to the 20th century Spokane.
#1

Indian Center, Spokane, 1976
#2

Gonzaga College, 1900s
#3

1926 Interstate Coach Company bus, Spokane, 1926
#4

People in front of log building in Mount Spokane State Park, 1930s
#6

Steps to Vista House in Mount Spokane State Park, 1935
#7

Streetcar no. 175 in Spokane, 1915
#8

Sunset Highway to Spokane, 1940s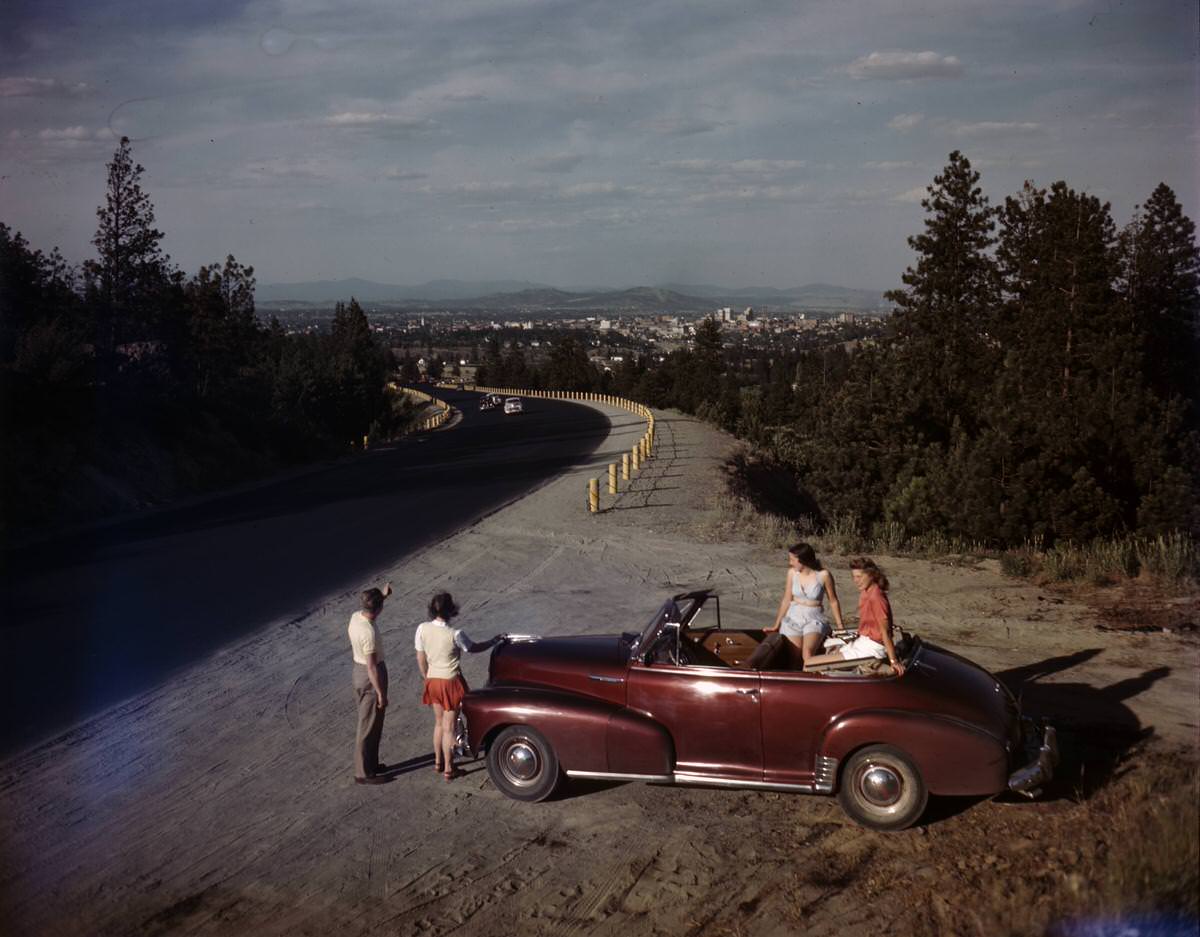 Image shows the Western approach to Spokane, Washington on the Sunset Highway. A red convertible is parked on the side of the road, and a man and woman stand outside of the car looking toward Spokane. Two more women are seated inside the convertible. Spokane can be seen in the distance.
#9

Wendle Fordtown at Division and Wellesley, Spokane, 1960s
#10

Three-story wooden house with gingerbread trim on corner and porch in 2nd Avenue, Spokane, 1968
#11

Comstock Pool, Spokane, 1950
#12

Davenports, Spokane's great restaurant, 1913
#13

Downtown Spokane, 1930s
#14

Downtown Spokane, 1935
#15

Downtown Spokane from a distance, 1949
#16

Drive, Coeur d'Alene Park, 1900s
#17

Drive, Manito Park, 1905
#18

Expo '74 World's Fair, Spokane, 1970s
#19

Football game at Gonzaga University, 1940s
#20

Fort Spokane stable, 1969
#21

Fort Spokane Visitor Center, 1969
#24

Great Northern Railway engine, Spokane, 1940
#25

John A Finch House, Browne's Addition, 1900s
#26

Laying the rafter, 1933
#27

Loon Lake near Spokane, 1930s
#28

Monroe Street bridge, Spokane, 1960s
#29

Mt. Spokane, chalet below summit, 1947
#30

Owen Pioneer Museum, main building, 1971
#31

Owen Pioneer Museum, post office, 1971
#32

Peeling the tamarack logs utilized in community cabin, 1930s
#33

Playground, A. M. Cannon Park, 1910s
#34

Pool, A. M. Cannon Park, 1910s
#35

A man and woman standing on a rock formation above a highway, 1940s.
#37

Spokane Civic Center, 1945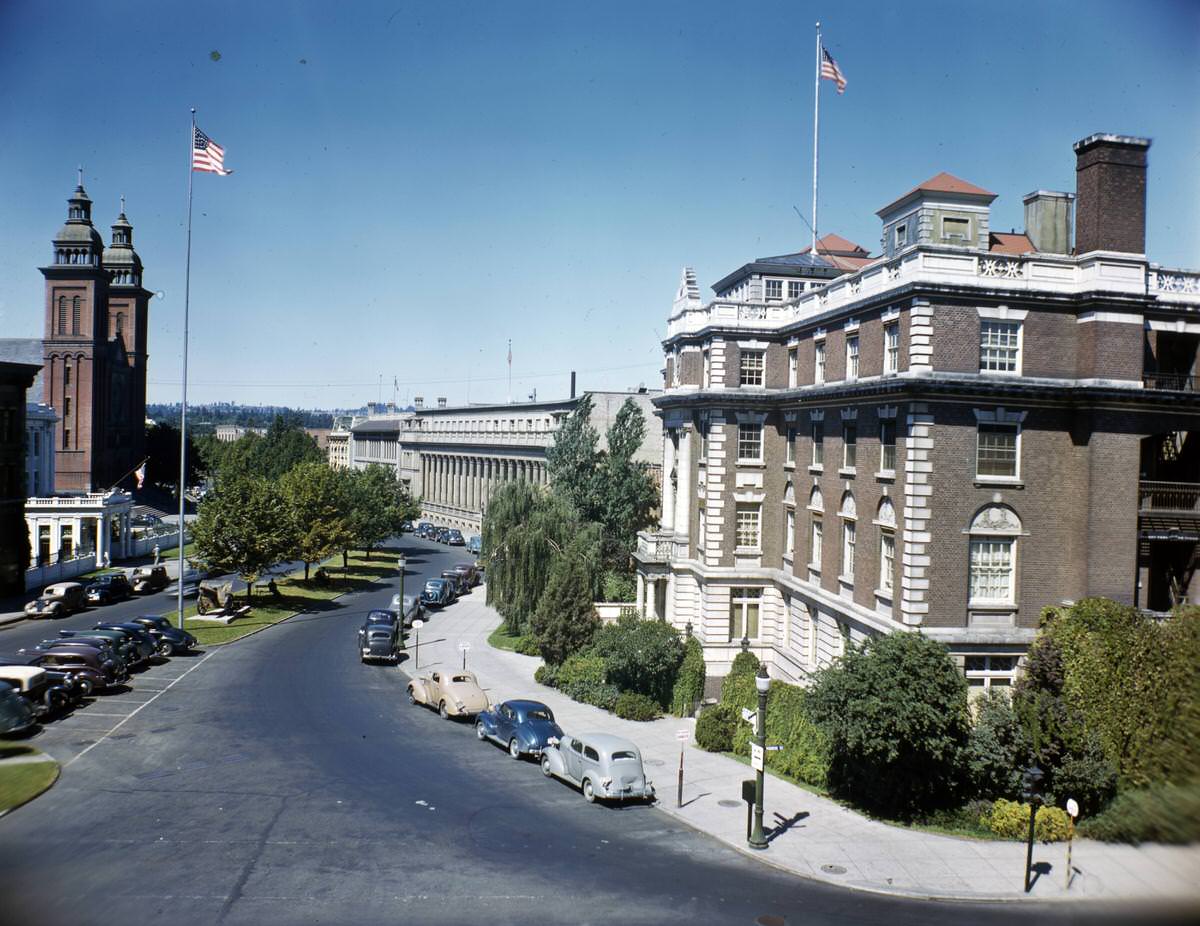 At left is Our Lady of Lourdes Catholic church. At right are the Sunset Club and the Masonic Temple. Parked cars line the street.
#38

Spokane Civic Center, 1940s
#39

Spokane County Courthouse, 1900s
#40

Spokane County Courthouse, Spokane, 1960s
#41

Spokane River Bridge, 1939
#42

Spokane, Howard Street, 1947
#43

Spokane, showing Riverside Avenue from East, 1940s
#44

Riverside Avenue from West, 1951
#45

Corbin house, Spokane, 1968
#46

Grand Coulee Dam construction, Spokane, 1937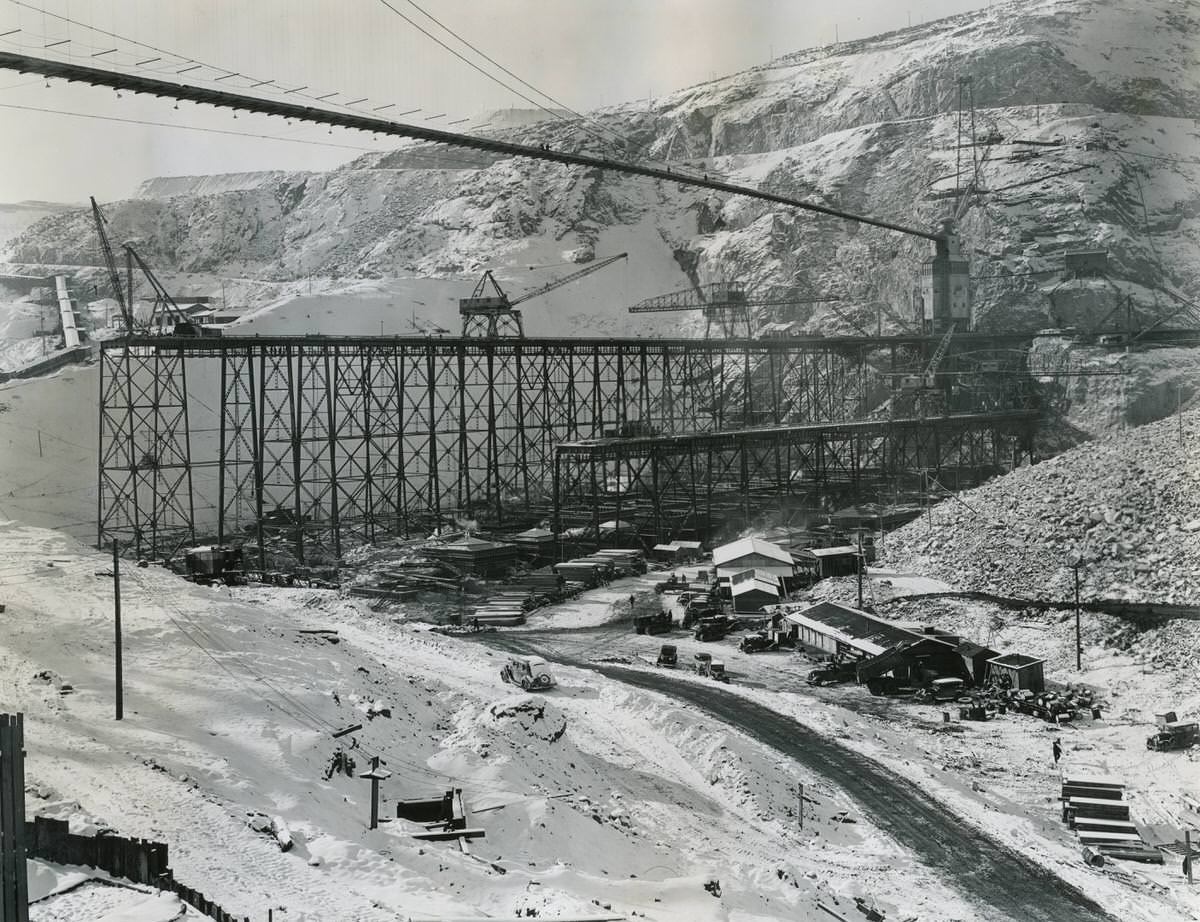 Including views of the cofferdam, excavation of the west bank of the Columbia River, cement mixing, and the suspension bridge over the project.
#47

State Patrol welcome lodges, 1938
#48

Stevens County Courthouse, Colville, 1950s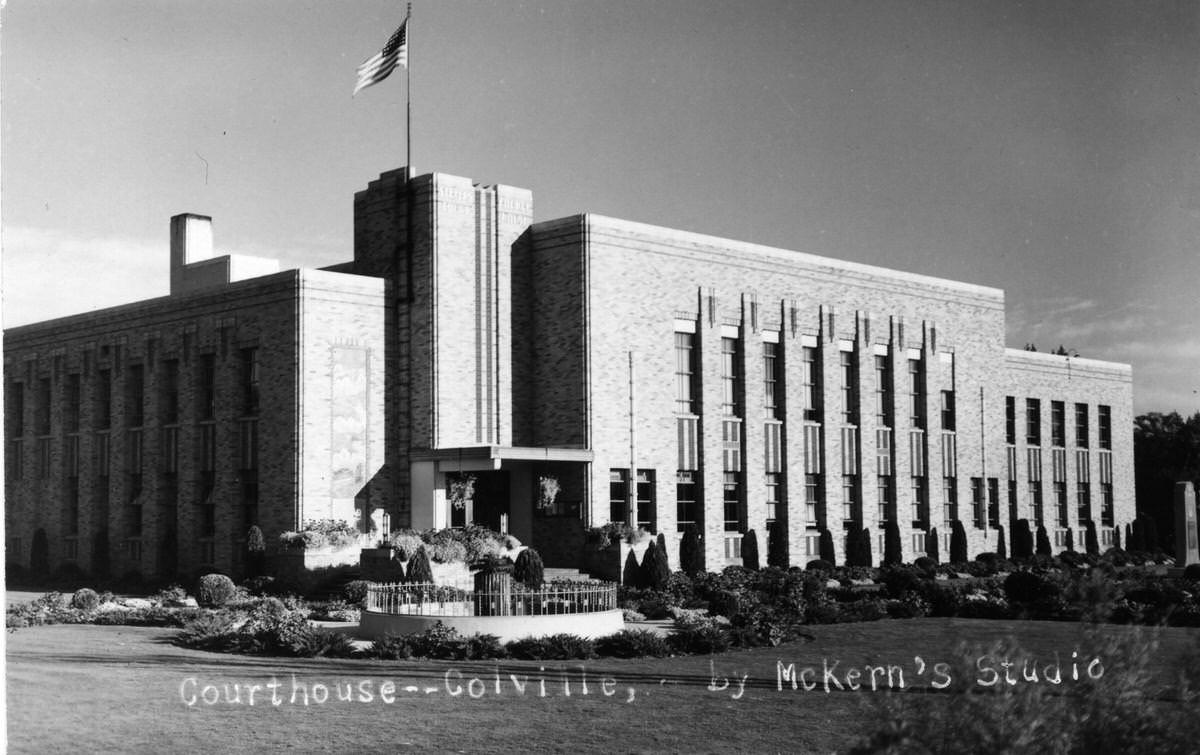 #49

Rancho Rambler at Second and Bernard, Spokane, 1960s
#50

Second Avenue between Lincoln and Monroe in Spokane, 1960s
#51

Second Avenue between Lincoln and Monroe in Spokane, 1960s
#52

Spokane Street Bridge, 1950s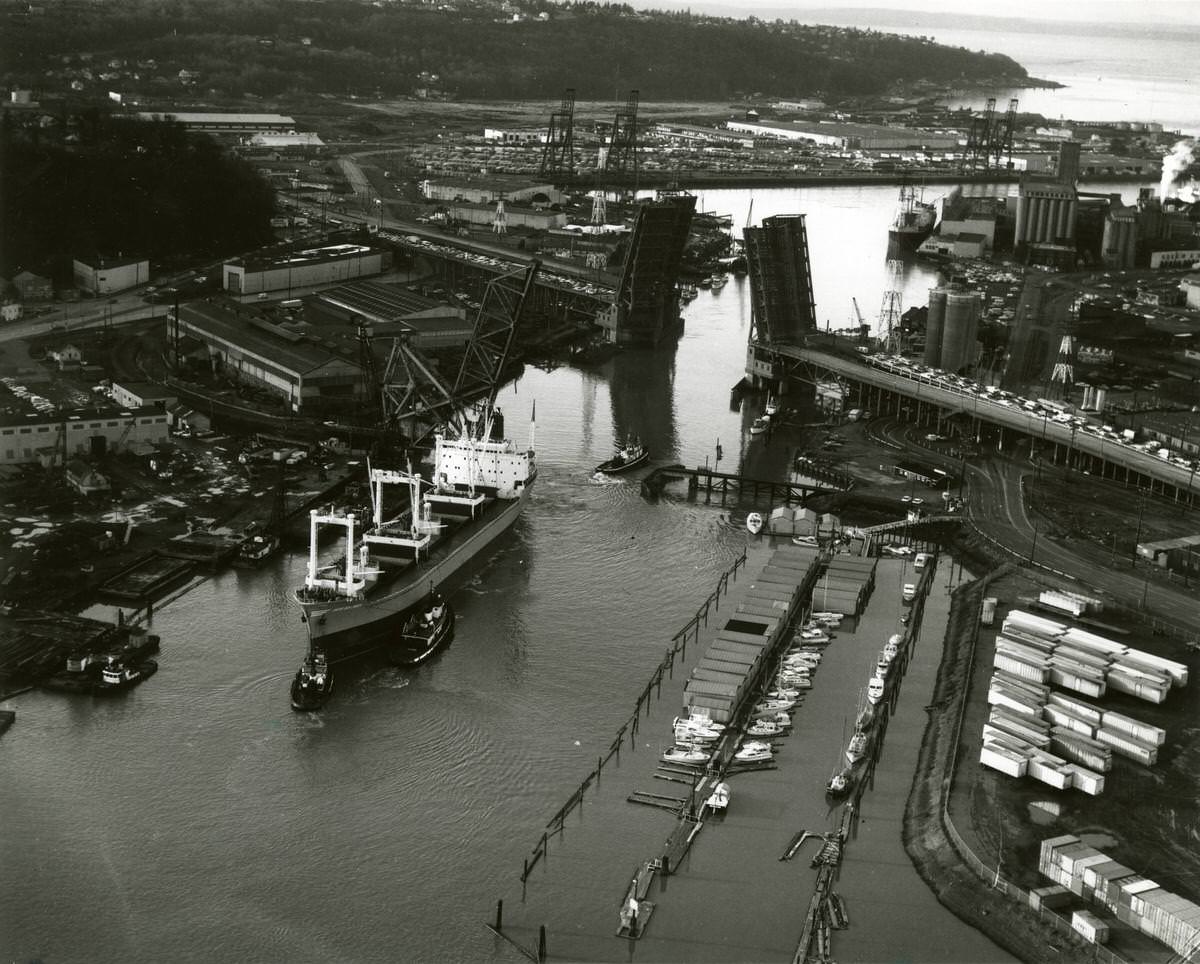 Photograph looking northwest of the old Spokane Street Bridge over the Duwamish Waterway between West Seattle and Harbor Island
#53

Abandoned buildings in Molson, 1963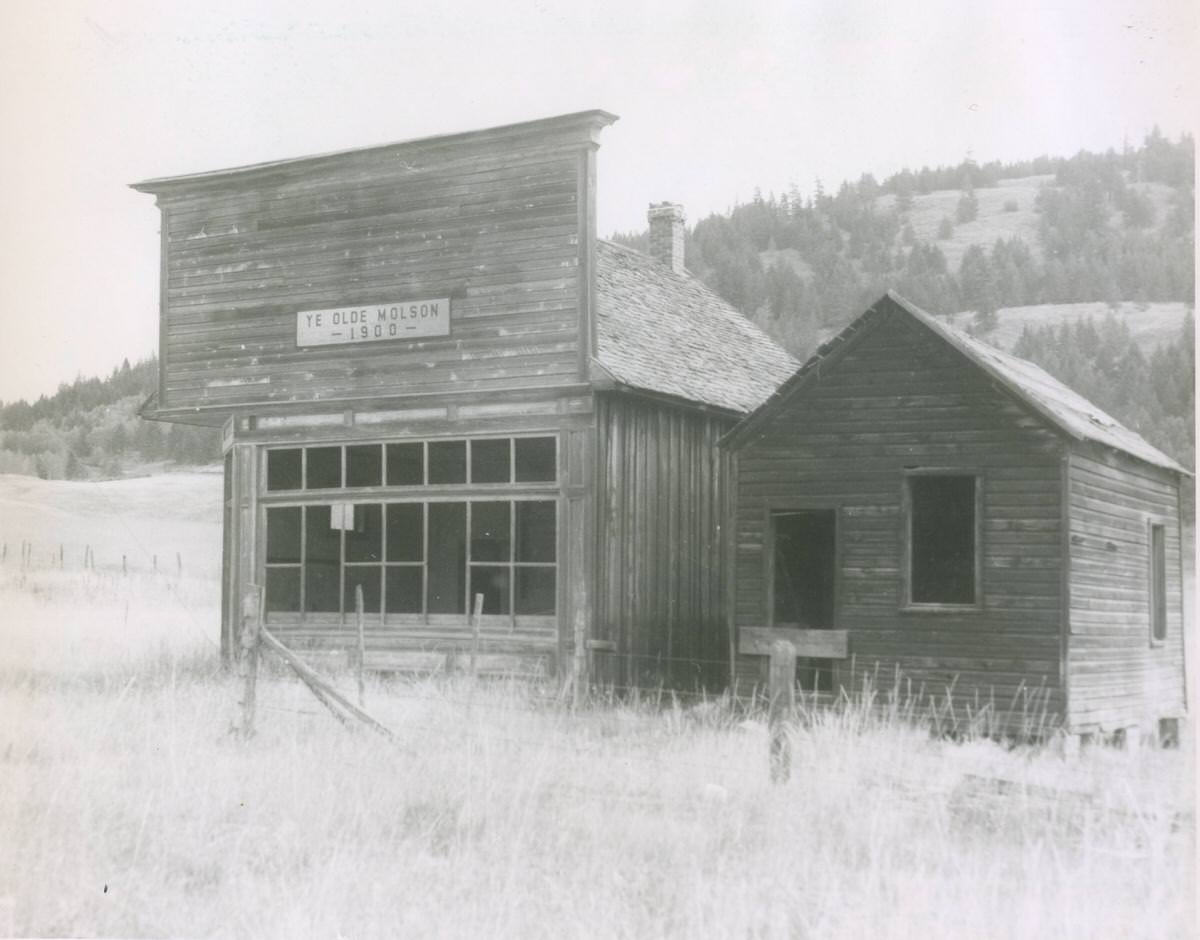 Ghost town Molson with former bank building, wallpaper in abandoned farmhouse, barn, outbuildings, farm equipment, windmill labelled Spokane Red Cross.
#54

Deadman Creek Valley, 1935
#56

Latrines at Old Cabin, 1934
#57

Spokane Street and Airport Way in Seattle, 1905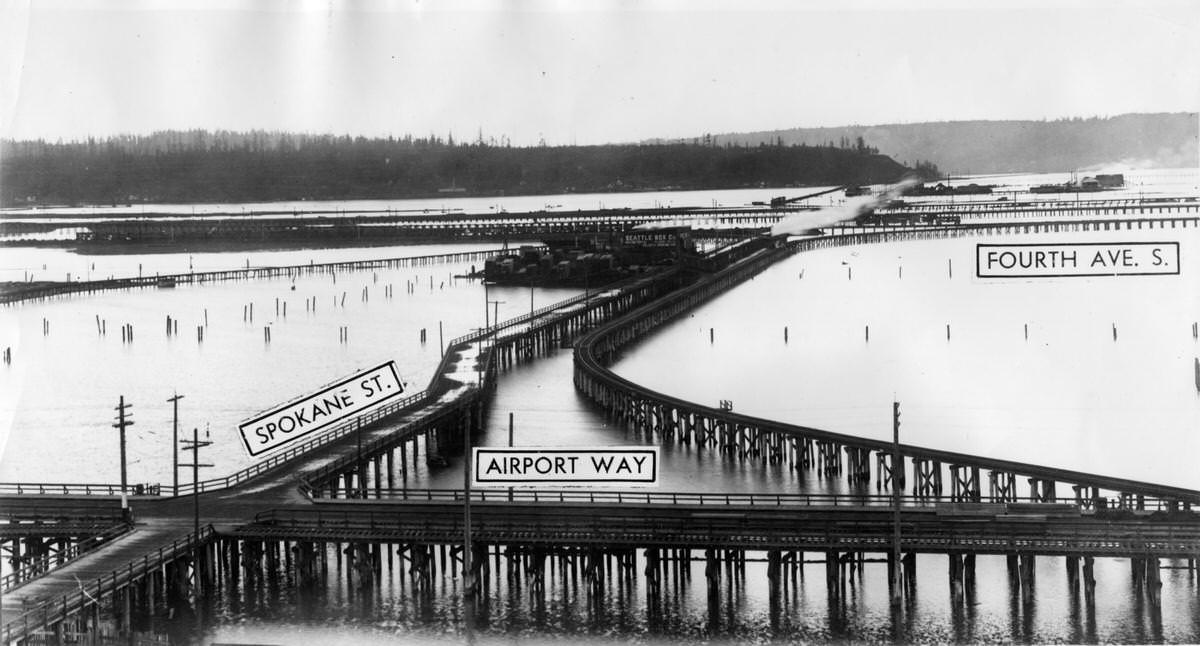 #58

Spokane Street and Airport Way in Seattle, 1920s