During World War II, the Port of Tacoma and Puyallup Valley experienced an increase in demand for shipbuilding work and agricultural products. The Puyallup Fairgrounds temporarily became an internment camp for many Japanese residents due to a national mood of fear and discrimination. Additionally, World War II led to a huge influx of African Americans to the region, notably shipyard workers and returning veterans. Tacoma, for example, grew from 650 African Americans in 1940 to 3,205 by 1945. Many of the diverse groups of people who discovered Pierce County stayed here for generations.
During World War II, Tacoma also participated in a postwar urban planning pilot program. In 1944, voters approved the construction of new schools, sewers, streets, a civic auditorium, and recreational facilities. As a result of urban renewal, parking garages and terraced walls were built downtown. Downtown businesses competed with shopping malls and once-rural communities such as Fife and Gig Harbor because of suburbanization and the automobile.
A historic preservation movement developed when urban renewal threatened the Old City Hall and Northern Pacific Headquarters. Tacoma has rediscovered the elegance of the past by preserving and renovating old buildings. Union Station was resurrected as the U.S. Courthouse. City Hall was converted into offices. Old music halls were converted into theatres. The University of Washington branch in Tacoma opened in 1990 in an old newspaper building and later moved to its campus.
Check out these fabulous photos that show Tacoma from the 1940s to the 1960s.
#1

Tacoma Narrows Bridge, 1940
#2

Tacoma Belt Line Railway Locomotive, Tacoma, 1957
#3

First Tacoma Narrows Bridge, 1940
#4

St. Paul and Tacoma Mill Co., 1953
#5

Broadway at 9th, Tacoma, 1940
#6

Tacoma City Light float, Daffodil Parade, Tacoma, 1966
#7

Engine House No. 6, Tacoma Fire Department, 1940
#8

Tacoma, Wash. skyline from Winthrop Hotel, 1940
#9

Waitress Strike, Winthrop Hotel, Tacoma, 1947
#10

Tacoma Narrows Bridge collapse, 1940
#11

Administration Building, Seattle-Tacoma Airport, 1945
#12

Tacoma Narrows Bridge Collapse, 1940
#13

Huletz Electric Co. / 746 Broadway / Tacoma, 1945
#14

Tacoma Narrows Bridge Collapse, 1940
#15

Pavilion and Boathouse – Point Defiance Park – Tacoma, 1944
#16

military parade in Tacoma, the 1940s
#17

1938-30 Pacific Avenue, Tacoma, 1945
#18

Henry Mill Co., 3001 Starr Street, Tacoma, 1940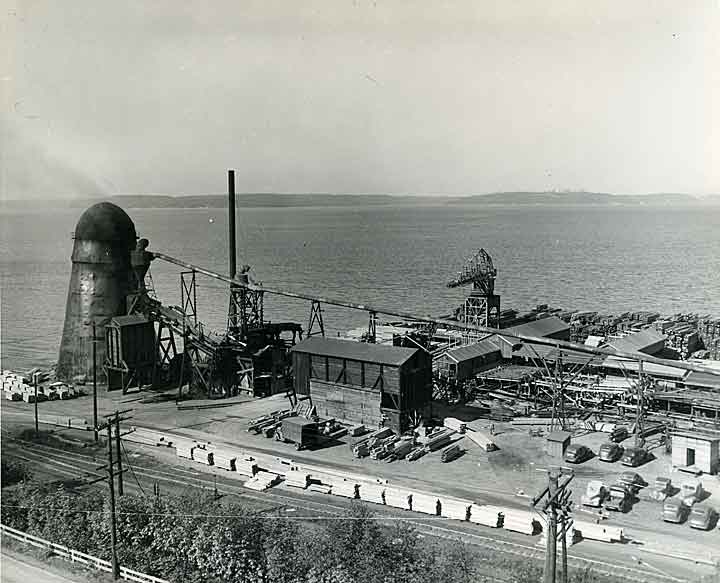 A diagonal line of stacks of lumber next to railroad tracks is in the image lower center. Automobiles are parked near the image lower right corner. Lumber mill buildings, including a sawdust burner, are across image lower center. A crane and stacks of lumber on a dock next to the Puget Sound area are right in the image centre.
#19

Northern Pacific Railway Depot at McCarver Street, Tacoma, 1960
#20

Indian Canoe – Old Fort Nisqually – Pt. Defiance Park – Tacoma, 1950
#21

William R. Rust House, North Sixth Street and Yakima Avenue, Tacoma, 1940
#22

McCarver St. Depot, Old Town Tacoma, 1957
#23

School Children Visiting Washington State History Museum, Tacoma, 1957
#24

1003 Pacific Avenue, Tacoma, StoreFront with Sign for Nippon Valley Exhibit, 1940
#25

Northern Pacific Locomotive 2626 (class A-1), near Tacoma, 1950
#26

Fawcett Avenue Urban Renewal Area, Tacoma, 1955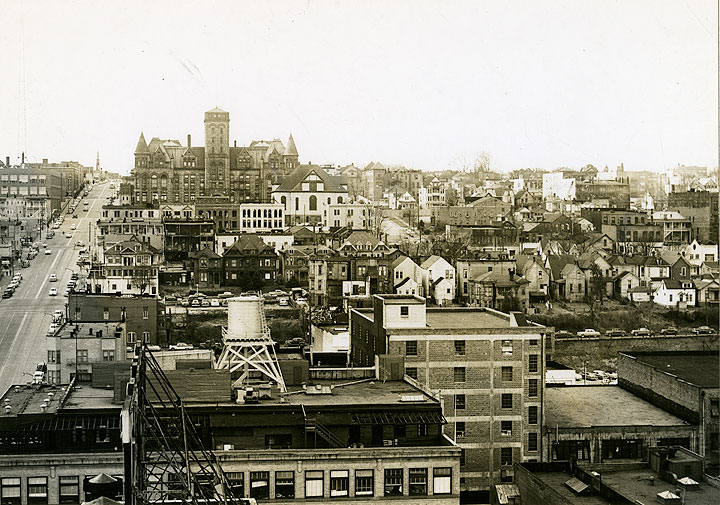 The view looks west, and Eleventh Street is ascending almost parallel to the image left edge. Rooftops, the side of a billboard, and a water tower on top of buildings are in the foreground. Dense single-, two- and three-story facilities are beyond. The old Pierce County Courthouse is on the horizon in image left-centre.
#27

Japanese American Girls in Kimonos Attend Street Dance, Tacoma, 1940
#28

Kay Street Business Dist. Tacoma, 1950
#29

Pacific Avenue looking north from 13th, Tacoma, December 1952
#30

Universal Service Station, 2301 South J Street, Tacoma.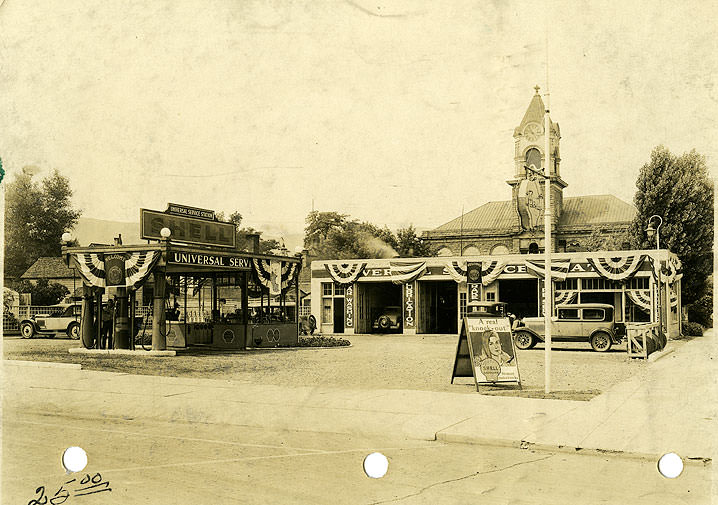 In the image left, a service station attendant is partially hidden by 3 gasoline pumps in front of the station building. Shell signs and a sign: Welcome American Legion, and bunting decorate the building. Bunting decorates the building with three service bays in image right background. A car is in one of the service bays, and two automobiles parked on the service station grounds are partially visible.
#31

Opening Day Crowd, 1996
#32

Washington State Historical Society building, 1960
#33

Washington State History Museum Grand Opening Celebration, 1996
#34

Scrap metal drive, World War II, 1943
#35

Eatonville State Bank, 1942
#36

Scrap Metal Recycling, 1943
#37

Nalley's Distribution Center, 1955