World War II was a disastrous global war, started just after two decades of The Great War. The conflict involved virtually every part of the world, with over 30 countries, directly and indirectly, involved in the deadliest war. 75 million people died, including soldiers and civilians, which counts for 3% population at the time. Many civilians died because of deliberate genocide, massacres, mass-bombings, war crimes, diseases, and starvation. The Soviet Union alone lost around 27 million people, including 8.7 million militaries and 19 million civilians. Millions more were injured, and still more lost their homes and property. Here below is a collection of colorized photographs from WWII. These photographs show soldiers on battlefields, women working in factories making weapons, and many more.
#1

American servicemen drive in jeeps through an unidentified and nearly completely destroyed town, Italy, May 1944.
#2

While a patrol moves in from the rear, two United States Marines cover a Japanese sniper hiding in a church, below Shuri Castle on Okinawa, 1945.
#3

broken down and deserted Soviet T-35 heavy tank of the 8th Mechanized Corps. On the Dubno – Plycza highway, Rivne Oblast (province) of western Ukraine.
#4

Two soldiers standing on the tank and assessing the destructions.
#5

A pair of servicemen and a quartet of schoolboys sit on bridge over the Thames, Henley-on-Thames, England, May 1944.
#6

Supreme Allied Commander American General Dwight D. Eisenhower, his deputy, British Chief Air Marshal Arthur Tedder , and the principal commander of Allied ground forces in Europe, British General Bernard L. Montgomery, stand in a US armored vehicle as they review a tank exercise, Salisbury, England
#7

The flight deck crew prepares planes for launch from the USS Lexington (CV-16), en route near New Guinea, early April, 1944.
#8

Close-up, in-flight view of a Douglas SBD Dauntless piloted by American Lt. George Glacken (left) with his gunner Leo Boulanger, near New Guinea, early April, 1944.
#9

American troops unloading supplies on the shores of Guadalcanal Island in 1943.
#10

American soldier sits and eats his meal (which includes chicken, mashed potatoes, bread, and pineapple) atop rows of a stockpiled ammunition shells, England, May 1944.
#11

British and South African soldiers hold up Nazi trophy flag while combat engineers on bulldozers clear a path through the debris of the bombed-out city of Cassino in 1943.
#12

A US Army Corps of Engineers solider packs 1/2 pound tins of the explosive TNT under one end of an abandoned German tank in preparation for detonation during military operations in the El Guettar Valley, Tunisia, early 1943.
#13

Cadets at Corpus Christie Naval Air Training Station.
#14

An American soldier sits behind the wheel of a Willys MB jeep, shortly before the United States joined World War II, 1941.
#15

Crew removing plane which has made a slight crash landing aboard the aircraft carrier Enterprise CV-6 during the US Navy's Pacific Fleet maneuvers in 1940.
#16

Crew aboard the aircraft carrier Enterprise CV-6 listening to instructions during the US Navy's Pacific Fleet maneuvers around Hawaii in 1940.
#17

Photographers standing in front of Pappy's Pram, a B-26 Marauder at base, 1943.
#18

An Avenger aircraft from the squadron VT-26, after engine failure and a catapult mishap on board the aircraft carrier USS Bataan CVE-29. March 13, 1944.
#19

Spectators from all over the world pick vantage positions on the deck of the USS Missouri, in Tokyo
#20

Wounded troops lying on stretchers aboard a lighter in Munda Point, New Georgia. There were more than 36 million casualties during the War in the Pacific.
#21

Captured wounded Japanese soldier surrounded by Marines on Kwajalein Atoll, Marshall Islands. During World War II, it's estimated that between 19,500 and 50,000 members of the Imperial Japanese military surrendered to the Allies.
#22

Marines torch a Japanese defensive in Iwo Jima's Mount Suribachi by using flamethrowers in 1945. These military tools were an effective weapon for burning out entrenched fighters who would have otherwise continued to fight, costing more lives. Pictured are Pvt. Richard Klatt and PFC Wilfred Voegeli
#23

A Supermarine Spitfire Vc 'Tropical' JK707 MX-P serving with 307th Fighter Squadron, 31st Fighter Group operated by 12th USAAF. The regular pilot was 1st.Lt. Carroll A.
#24

A Finnish soldier practices maneuvers in the winter snow at a military dog training school during the Finnish-Soviet Continuation War. Hämeenlinna, Finland. February 1941.
#25

A Chinese Nationalist soldier guards a row of Curtiss P-40 'Warhawks' flown by the 'Flying Tigers' of the American Volunteer Group (AVG). July, 1942.
#26

Squadron Leader J.A.F. MacLachlan, the one-armed Commanding Officer of No 1 Squadron RAF, standing beside his all-black Hawker Hurricane Mark IIC night fighter, 'JX-Q', at Tangmere in West Sussex, England
#27

T/5 William E. Thomas and Pfc. Joseph Jackson prepare a gift of special "Easter Eggs" for Adolf Hitler and the German Army. Scrawling such messages on artillery shells in World War II was one way in which artillery soldiers could humorously express their dislike of the enemy.
#28

Soviet artillerymen transporting a 76-mm divisional gun M1942 (ZiS-3) during the forced crossing of the Oder River, Germany, c. December, 1944
#29

The strain and fatigue of 23 days on the line is shown by Marines of Combat Team 'C', 2/7th US Marines, 1st Marine Division seen here displaying Japanese battle flags captured during the Battle of Cape Gloucester. 14-15th January 1944
#30

On October 1, 1940, Private Jack Bernard and other volunteers in The British Columbia Regiment (Duke of Connaught's Own Rifles) were marching smartly down Eighth Street in New Westminster to board a ship and sail off to war.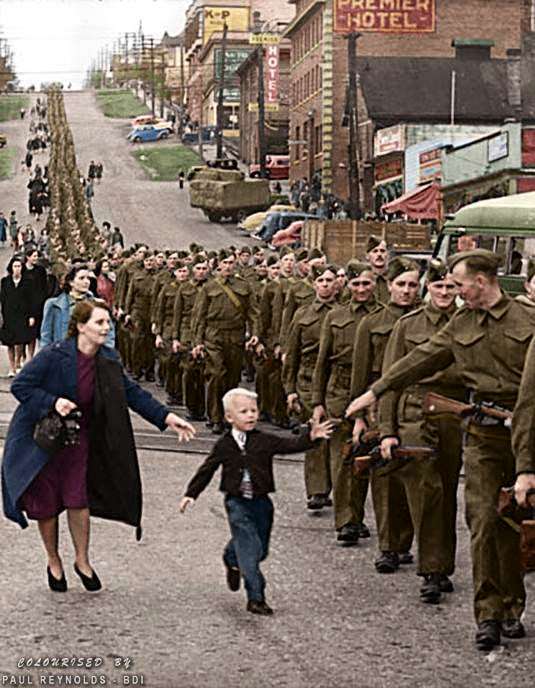 Suddenly, Bernard's five-year-old son broke free of his mother's grasp and sprinted into the military formation to take his smiling father's hand. In that instant, an alert Vancouver Daily Province photographer, Claude Dettloff, snapped the shutter. Soon, his unforgettable image of little Warren "Whitey" Bernard was being printed by leading publications throughout North America. It was later used in Canada's war bond drives with the plea, "help bring my Daddy home." Jack Bernard survived the war and was reunited with his son in 1945
#31

US pilot stands up in the cockpit of his plane on the tarmac on Midway Naval Base, Midway Islands, 1942.
#32

A group of Curtiss P-40 Warhawks escorted a pair of Consolidated B-24D Liberators on a flight near the Aleutian islands, Alaska, 1944.
#33

The crew of a B-26 Marauder outside their plane, nicknamed Ginger, 1944.
#34

American servicemen moving a large bomb at an ammunition dump in 1944.
#35

A soldier sleeping in the sun.
#36

American Army trucks parked next to the St. Lucia fountain in 1943.
#37

A worker at Electric Boat Co. in New London, Conn. in 1943.
#38

An American gun crew in camouflaged emplacement awaiting orders to fire during the desert fighting between German and American forces in the El Guettar Valley in 1943.
#39

El Guettar Valley, Tunisia in 1943.
#40

Members of the flight and ground crews of a B-17 bomber named 'Honey Chile II' make adjustments to their plane prior to a mission, Polebrook, Northamptonshire, England, fall 1942.
#41

Curtiss Wright's chief test pilot H. Lloyd Child (center) writes on a clipboard as he stands with other pilots on a tarmac near the companies manufacturing plant, Buffalo, New York, 1941.
#42

Three American Marines in dress uniforms talk aboard an unidentified ship during the US Navy's Pacific fleet maneuvers near Hawaii, September 1940.
#43

US soldiers of the 7th Infantry Division attacking a Japanese blockhouse on Kwajalein in the Marshall Islands in 1944. The troops began capturing the islands by landing their forces on the beaches.
#44

U.S. Marines firing an M1919 Browning machine gun during the fighting on the island of Peleliu.
#45

U.S. Army soldiers on Bougainville, an island in Papua New Guinea, taking cover behind an M4 Sherman tank in February 1943.
#46

Men of the US 1st Marine Division fighting just beyond White Beach, Peleliu in September 1944.
#47

US marines huddled on the beaches during the Battle of Tarawa in World War Two, Kiribati, 1943.
#48

Deceased US soldiers are wrapped in their national flag and carefully lowered down onto a ship by comrades ready for burial.
#49

Soldiers make their way across the barren landscape in Kwajalein, Marshall Islands, 1944.
#50

US 1st Cavalry Division crossing the Pasig River, Manilla in February 1945. Around 41,500 US troops were declared missing or dead during the Pacific War.
#51

US troops make their first strike on the Japanese Home Islands at Iwo Jima in 1945. The battle lasted for five weeks and contained some of the most bloody and brutal fighting of the whole war.
#52

Survivors of USS Indianapolis en route to hospital after being rescued in August 1945. After the sailor's ship was sank by Japanese tornadoes, sharks swarmed the survivors in the wreckage.
#53

A U.S. Marine shares his water bottle with a stray kitten found under a burned-out Japanese tank on Tarawa in 1943.
#54

This picture was taken during The Battle of Saipan, where the Allied invasion fleet left Pearl Harbor in 1944. Tragically, 30,000 troops and Japanese civilians were declared dead following the conflict.
#55

Alligator landing vehicles heading toward defenses on Peleliu in September 1944.
#56

Men wade through the water near Butaritari Beach, Makin Atoll in November 1943.
#57

US Marines under heavy fire from enemy Japanese positions during the beginning of the Battle of Peleliu in 1944.
#58

Two Marines from the 2nd Battalion, 1st Marine Regiment during fighting at Wana Ridge during the Battle of Okinawa, May 1945.
#59

Marines firing mortar shells in the Solomon Islands.
#60

US Marines on the beach of Namur Islet, Kwajalein Atoll.
#61

A US marine takes aim while sitting on Japanese ammunition boxes.
#62

Marines from the H Battery, 3rd Battalion set up artillery in the Solomon Islands just off Blue Beach
#63

Private First Class N. E. Carling stands beside the American M4 Sherman medium tank 'Killer' on Kwajalein Atoll.
#64

Men of the US First Marines Division at Cape Gloucester, New Britain, Bismarck Archipelago, late December 1943.
#65

A US Navy Douglas SBD-3 Dauntless of bombing squadron VB-8 on the deck of the aircraft carrier USS Hornet (CV-8) during the Battle of Midway in 1942.
#66

Troops and their tanks in New Guinea in April 1944.
#67

Focke Wulf FW-190A6 Nº20 of 4./Jagdgeschwader 54 (JG 54) on the airfield at Immola in Finland. 2nd of July 1944
#68

A crew member cleaning the barrel of an Sd.Kfz. 251/9 – Schützenpanzerwagen (7.5 cm KwK 37 L/24) "Stummel" on the East Front, c. Summer 1942.
#69

Boeing B-29 Superfortress 42-24592 "Dauntless Dotty" 869th Bomb Squadron, 497th Bomb Group, 73rd Bomb Wing, 20th Air Force. 24th of November 1944.
#70

Soviet Air Force officers, Rufina Gasheva (848 night combat missions) and Nataly Meklin (980 night combat missions) decorated as 'Heroes of the Soviet Union' for their service with the famed 'Night Witches' unit during World War II.
#71

A Kriegsberichter (war correspondent) holding an Arriflex 35 2 1942 camera 35mm ACR 0292 and he is leaning against a knocked out Soviet BT-5 light tank. c.1940/41
#72

S Air Force pilot 2nd Lieutenant Robert Wade Biesecker with his crew of the 569th Bombardment Squadron, 390th Bomb Group, US Eighth Air Force, standing by 'Honey Chile', their B-17 Flying Fortress bomber (serial 42-31027), at RAF Framlingham, a US Eighth Air Force Bomber Command station in England,
#73

F/L J. F. Thomas and the crew of Avro Lancaster Bomber 'B' MkI 'Victorious Virgin' RF128 QB-V of RCAF 424 Squadron "Tiger" Squadron on the 21st of March 1945.
#74

A paratrooper from the American 17th Airborne Division gets a light from a Churchill tank crewman of 6th Guards Armoured Brigade near Dorsten in North Rhine-Westphalia, Germany, 29th of March 1945.
#75

Troops of the 17th U.S. Airborne Division, First Allied Airborne Army, march past a blazing building in Appelhülsen, Germany, as they advance toward the city of Münster, nine miles to the northeast.
#76

Flying Officer Leonard Haines of No. 19 Squadron RAF sits by the cockpit of his Supermarine Spitfire Mk.Ia (QV-?) at Fowlmere, near Duxford. September 1940
#77

Dog Beach Patrol', (possibly on Parramore Beach, Virginia, US. October 1943)
#78

Allied Soldier takes a break during the approach to Tripoli, Libya beside a swastika and the words 'Heil Hitler' that have been carved into a rocky hillside during January 1943
#79

The crew of Avro Lancaster "C for Charlie" of No. 44 (Rhodesia) Squadron RAF, try to warm themselves in their Nissen hut quarters at Dunholme Lodge, Lincolnshire, England, after returning from a raid on Stuttgart, 2nd of March 1944
#80

United States Marines climbing down the nets into landing craft during the Battle of Peleliu, September-November 1944.
#81

Girls working on shell caps in a munitions factory, somewhere in England. 25th of May 1940
#82

Medics of the US. 5th Infantry Division examining GI clothing found with German-captured equipment after the liberation of the area, near Diekirch in Luxembourg on the 20th of January 1945
#83

A Finnish Brewster Buffalo 239 fighter (BW-352) of (Squadron) Lentolaivue/24 at Selänpää airfield. 24th June 1941
#84

Three troopers of the 507th Parachute Infantry Regiment, 17th Airborne Division taking a break after 5 days frontline fighting. From left to right : Pvt William H. Sandy (ASN 13032007) from Charlottesville, VA, Sgt Dehaven Nowlin (ASN 15046241) from Goshen, KY and Pvt Howard Fredericks (ASN 39241668
#85

Veronica Foster, (b.1922 – d.2000) popularly known as "Ronnie, the Bren Gun Girl", was a Canadian icon representing nearly one million Canadian women who worked in the manufacturing plants that produced munitions and materiel during World War II
#86

An American Marine aiming his Garand M1 rifle, whilst perched on Japanese ammunition crates on the Island of Iwo Jima, c. February/March 1945
#87

Royal Marines from 45 (RM) Commando, 1st Commando Brigade on the look-out for snipers among the ruins in Osnabrück, Lower Saxony, Germany. 4th of April 1945
#88

Marine Pfc. Douglas Lightheart (right) cradles his .30 caliber M1919 Browning machine gun in his lap, while he and Marine Pfc. Gerald Thursby Sr. take a cigarette break, during mopping up operations on Peleliu on 14th September 1944.
#89

A British Crusader tank passes a burning German Panzer IV tank during 'Operation Crusader'. Cyrenaica (the eastern province of Libya). Winter 1941
#90

Lucky Strike" c. 1944. The United States was the only country to equip its troops with an auto-loading rifle as the standard infantry weapon of WWII.
#91

Crew members of Nº537 Soviet IS-2 tank of the 87th Guards Heavy Tank Regiment take a break in Breslau (now Wrocław in Poland) 27th April 1945
#92

US troops from Combat Command B of the U.S. 14th Armored Division entering the Hammelburg Prison in Germany by opening the main gate with bursts of their M3 "Grease Guns". Hammelburg, Germany. April 6, 1945
#93

A US Marine wearing his camouflage suit fires a Thompson sub-machine gun during Jungle Training – 1942
#94

Australian soldiers mingle with a section of the crowd gathered in Martin Place during the Victory in the Pacific celebrations, Sydney, 15 August 1945
#95

British Prisoners of War celebrate their liberation from Stalag X1B, 16th April 1945.
#96

Two German members of the Organisation Todt (involved in the construction of the Atlantic Wall) are sitting on the Spitfire brought down on the wet sands at Calais by Flying Officer Peter Cazenove.
#97

A Sergeant of the Royal Army Veterinary Corps bandages the wounded ear of a mine-detection Labrador dog named 'Jasper' at Bayeux in Normandy, 5th of July 1944
#98

Two wounded soldiers from the 6th Durham Light Infantry, 50th (Northumbrian) Infantry Division, XXX Corps., during the Mareth line battle, 22-24 March 1943
#99

A Browning Automatic Rifle (BAR) man in the bow of the rubber landing craft provides covering fire as a 10-man boat crew of the US Marine 3rd Raider Battalion reaches the undefended beach of Pavuvu in the Russell Islands during 'Operation Cleanslate'. February 1943
#100

From Left to Right, B-25 crew members: Sgt. John C. Bellendir (Gnr.), Chicago; Sgt. Raymond J. Swingholm (Eng/Gnr.), Lebanon, PA; Sgt. Harris B. Pate (Rd/Gnr.), Hamlet, NC; Red Cross Clubmobile Worker, Peggy Steers from White Plains, NY. and T/Sgt. Aubrey Chatters (Rd/Gnr.), Milington MI. All from t
#101

King George VI and Queen Elizabeth visiting bomb damaged streets in the East End of London on the 18th of October 1940
#102

While his father chats with a customer at the hardware store, a uniformed Jimmy Stewart sets up a date to go fishing,1945
#103

The crew of an up-ended (M4A1) Sherman tank of the 7th Armoured Brigade enjoy a 'brew' beside their vehicle while waiting for a recovery team, on the 'Gothic Line' in Italy, 13th of September 1944.
#104

At 2.41am on the morning of 7 May 1945, at Allied headquarters in Reims, France, Chief-of-Staff of the German Armed Forces High Command, General Alfred Jodl, signed the unconditional surrender of all German forces to the Allies. The West awoke to the news the following day, with celebrations being h
#105

Margaret Sevilla, Los Angeles. May 7, 1945
#106

Two British sailors celebrate VE Day with their girlfriends in the fountains at Trafalgar Square. London, England. Tuesday the 8th of May 1945
#107

9th Army MPs reading of the surrender in the 'Stars and Stripes' in Germany on the 8th of May 1945
#108

Belgian soldiers after surrendering German troops 1940
#109

British soldiers captured in Dunkirk square, France, 1940
#110

German troops marching through Paris, June 14th 1940
#111

Messerschmitt Bf-110E Zerstörer after returning from combat flight, 1940
#112

German soldiers s in North Africa, 1941
#113

American soldiers and sailors unloaded ammunition and stores on the shore of Guadalcanal, 1942
#114

AutoTech ICA Hungarian army on a street in occupied Belgorod (the right is the Polish-Lithuanian Church), Russia, 1942
#115

Hungarian 29M 8 cm 80-mm anti-aircraft gun during the war, Stary Oskol part of Kursk region, now part of Belgorod region, Russia, 1942
#116

Hungarian soldier with cart of wood near the village of Ivanovka Hohol′skogo district of Voronezh region, Russia, 1942
#117

Hungarian soldiers transported by cart, Soviet eastern front, 1942
#118

Hungarian soldiers with a captured Soviet Voroshilovets heavy artillery tractor, 1942
#119

Rearming guns on a RAF P-400 Airacobra from 601 Squadron, it was the only British Squadron ever armed fighters, the P-400 from August, 1941 to March 1942
#120

40-mm automatic anti-aircraft gun at Finnish airfield, Leningradskaya oblast, August 26, 1943
#121

Hungarian Pilot climbs into cockpit of a Messerschmitt Bf 109F-4, 1943
#122

Women with children in a courtyard in one of the occupied village of the Belgorod region, Russia, 1943
#123

5 Rangers battalion in a troop ship LCA before departure to Normandy, Weymouth, England, 5 June 1944
#124

British fighter pilot and his best friend, Bazenville, Normandy, France, July 1944
#125

Canadian soldiers in the destroyed town of Falaise, August 1944
#126

Landing craft preparing for the landings in Normandy, Weymouth, June 1944