In 1939, American genealogist, and historian Lothrop Withington, Jr., reportedly bragged to his friends that he had once eaten a live fish. They bet him 10 bucks he wouldn't do it again. He was a freshman at that time. He took the challenge as most young college students would.
The moment of truth came on March 3, within the hallowed halls of Harvard. Withington swallowed the ill-fated goldfish in front of a crowd of grinning classmates and a Boston reporter. The word soon spread to other colleges. As more students took up the challenge, they swallowed more goldfish every time to top the last record. When students were downing live, wriggling goldfish to uphold their school's honor, the Massachusetts legislature passed a law to protect the fish. The U.S. Public Health Service warned that goldfish could pass tapeworms and disease on to swallowers. Within a few months of its start, the fad died out.
College students and other young people have revived goldfish by swallowing to prove their courage. In the 1970s, a student claimed to have swallowed 300 of the tiny fish.
#1

Man about to Eat a Goldfish at the University of British Columbia at Vancouver, 1930s
#2

A magician in a nightclub on the Reeperbahn in Hamburg tempts a spectator to eat a goldfish, 1950s.
#3

Woman About to Swallow Live Goldfish, 1930s
#4

A member of the Kappa Kappa Gamma sorority at Boston University tries eating a goldfish made of cake rather than the real thing in the fish tank, Boston, Massachusetts, March 31, 1939.
#5

Harvard Student Swallows Goldfish while laughing class mates look on.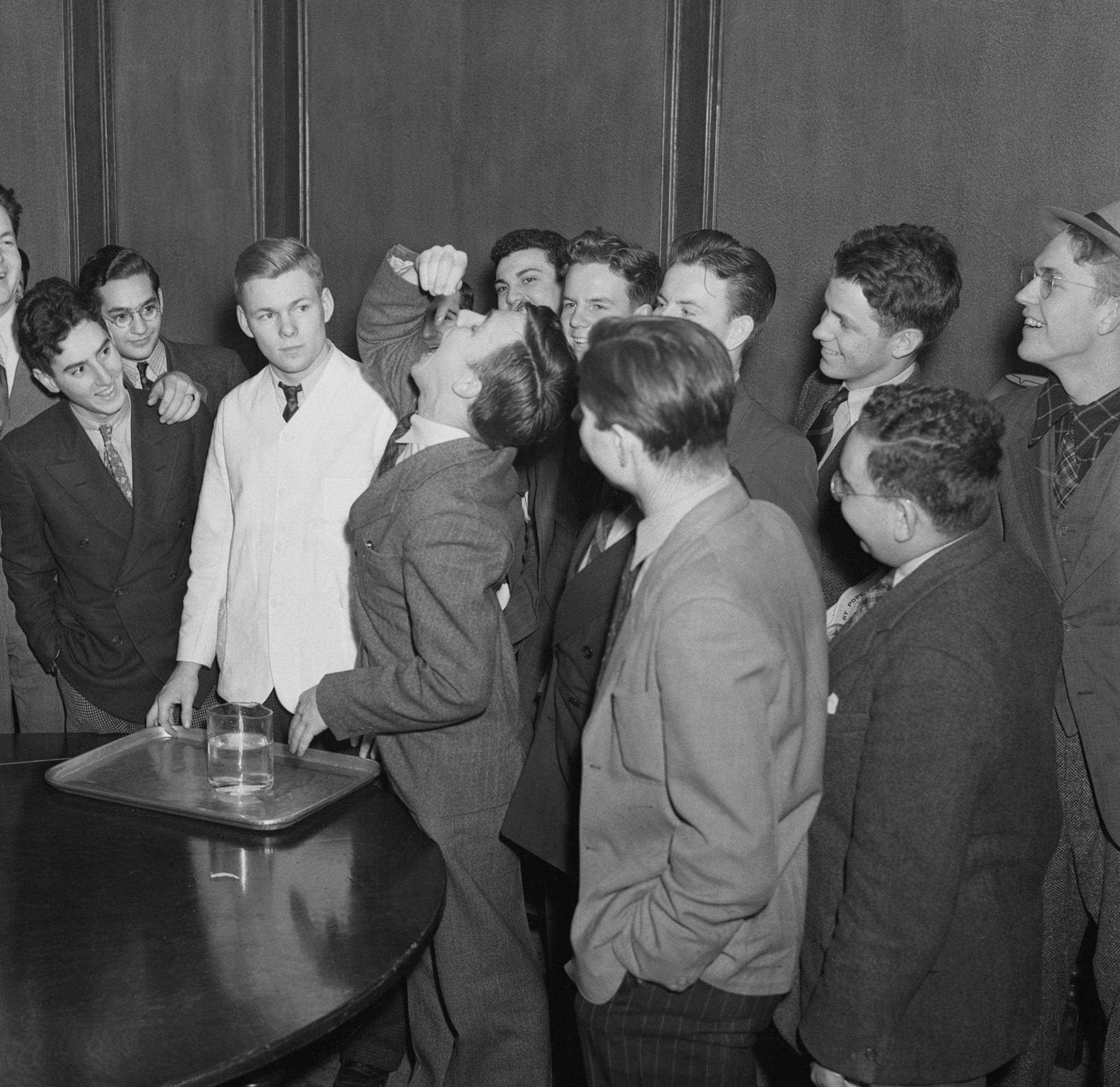 Lothrop Withington, Jr., Harvard freshman and son of a prominent Boston Lawyer, swallows a, live, squarming, 4 inch gold fish to win a ten dollar bet and to take "Revenge" for Jonah, for whom the process was reversed. he practiced for the great event for days, eating baby goldfish and tadpoles.