Transportation is one of the most crucial needs of our society. All types of transportation, like bicycles, automobiles, ships, and airplanes have changed our life. The automobile industry has rapidly developed and improved in terms of speed, design, comfort, cheap and overall aesthetic. However, to achieve perfection some solo-inventors worked on several ideas that seem bizarre and strange, but they contributed a lot to the automobile industry. For example, the Urbania 1964, was the smallest car invented by Marquis Piero Bargagli to solve the problem of limited parking space. But the idea failed so badly.
We here at Bygonely have compiled a list of some weird Vehicles from our past including, bubble cars, a giant wheel vehicle, the 12-wheel car only capable of carrying one man, and many more.
#1

The "aqua" car is German built, fitted with a Triumph Herald engine and can reach speeds of 7.5 k.
#2

Apple Lorry, A fruit importer's lorry at Covent Garden, London , with its driver's cabin in the shape of an apple.
#3

Pussycar Automodul 1968, designer J. P. Ponthieu driving at the the opening of the first Racing Car and Cycle show in Paris.
#4

Baker Mr. Sillitoe constructred a delivery van with the driver's cab and the van in the shape of loaves of bread.
#5

Car built with the body of a boat by Clive Talbot
#6

Students at Brooklyn High School in New York learn to handle the controls of a car and experience simulated traffic conditions flashed onto a screen by means of projected film, using the Aetna Drivotrainer.
#7

Holidaymakers riding the "train" at Butlin's Holiday Camp, Skegness, Lincolnshire .
#8

Mini Rytecraft Lorry, believed to be the smallest motor lorry in the world with one horsepower, on the North Circular Road with other traffic.
#9

All Terrain Vehicle (1931)
#11

An Adler Diplomat car Built in Germany in 1936, with its carburetor that uses wood instead of petrol, fitted during World War II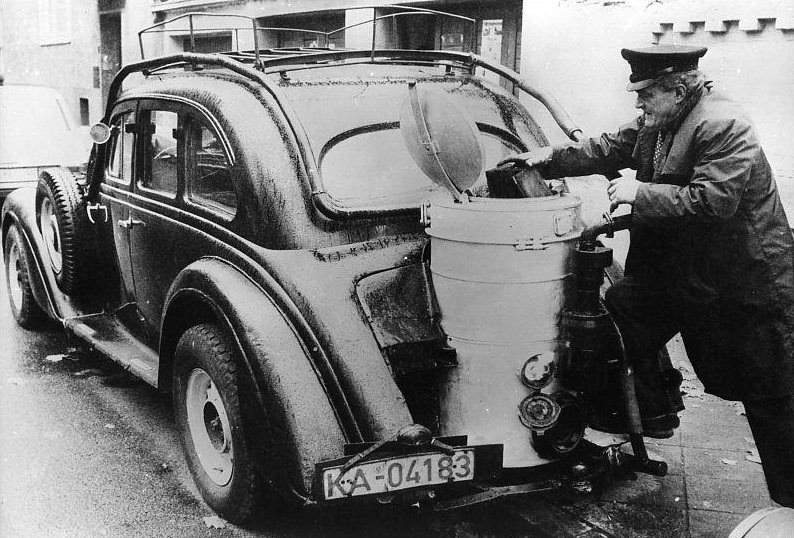 #12

Captain Malin with an amphibian Riley car going down the Severn.
#13

A man and a woman riding in an "Auto Red Bug", an electric 2-seater runabout, in a London street.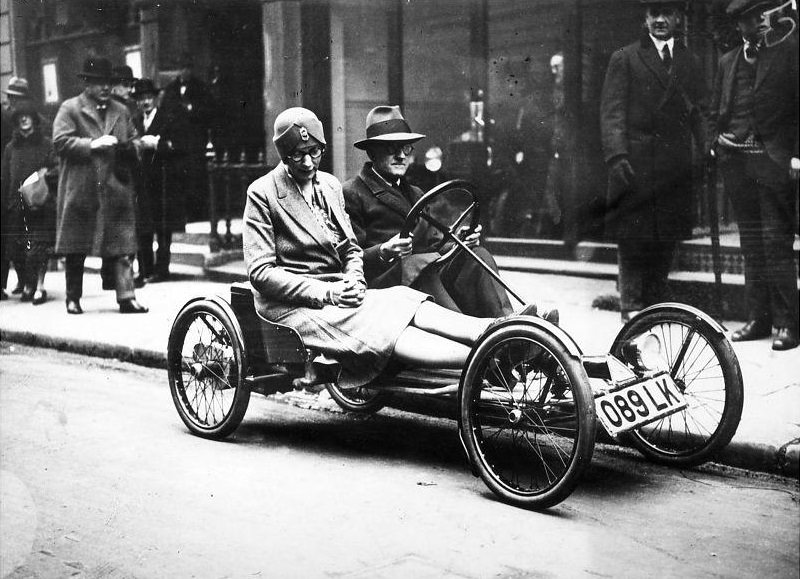 Driven by a 16 volt battery, it is capable of 12 mph.
#14

The Sizaire-Berwick Wind Wagon armored car from WWI.
#15

Based on the Mini, the Quasar-Unipower was produced by truck manufacturer Universal Power Drives.
#16

Navy recruits riding in car and trailer at the HMS Royal Arthur training centre formerly Butlin's holiday camp, Skegness.
#17

A caterpillar driven ferry with a 24 horsepower engine takes holidaymakers from the mainland at Bigbury in Devon to Burgh Island, a quarter of a mile away.
#18

Dr. Manfred Curry standing beside his invention, the Curry-Landskiff, a man-powered vehicle which can reach speed of up to 35 miles per hour.
#19

A one-man anti-gas ambulance and resuscitator, designed and made for use by the Home Guard.
#20

Douglas Vespa motorbike
#21

The Dynasphere, an electrically-driven wheel, invented by Mr. J. A. Purves of Taunton and his son.
#22

A Fulgar show-model car made by French car manufacturers, Simca.
#23

Gas-driven taxis in a street in Birmingham .
#24

Mr. Graham's novel three-wheel car designed to look like an armoured car, being used to take himself and his bride on honeymoon after their wedding.
#25

Haywire, one of the snowcats used by Dr. Fuch's and his Commonwealth explorers on their journey across the Antarctic continent, arrives at Tilbury from New Zealand, via Antwerp.
#26

Lord Brabazon, the pioneer British aviator, demonstrates the hover scooter at Long Ditton in Surrey .
#27

A motor iceboat invented by Dr. Thadeus D. Smith of Wisconsin reaches seventy miles an hour during its test on a frozen lake.
#28

Swiss engineer M. Gerder at Arles , France on his way to Spain in his "Motorwheel", a motorcycle with a wheel which runs on a rail placed inside a solid rubber tyre.
#30

A new "People's Car", with an entirely plastic body, designed to seat three adults and two children and marketed as the cheapest car on the road.
#31

The Peugeot motor-boat car, on a river bank. The front end is shaped like the bow of a boat, the middle part like a car and it has wheels.
#32

Volkswagen travelling along the tracks of the Long Island railroad.
#33

The Regal four-seater coupe, produced by the Reliant Engineering Co., Tamworth, Staffordshire, on show at the Cycle and Motor Cycle Show at Wasrl's Court in London.
#34

Mini runaround cycle.
#35

A Blackpool single decker tram
#36

A stunt car being rolled
#37

A submarine motor car, which can travel both on land and underwater and is equipped with a 4 hp engine and steel fins on both sides.
#38

Queen Mary (1867–1953) with Princess Mary, the Princess Royal (1897–1965) being driven across rough ground in a tracked car by Army officers.
#39

A trackless train leaving King George V Dock for London
#40

The "Urbania 1964", the world's smallest working car.
#41

A vehicle invented by George McLaughlin which was designed to travel on ice and snow.
#42

The Argentine Aerocar, with the top speed of 100 mph (160 kmh), 1955
#43

The legendary Schlörwagen Pillbug (1936) with a huge propeller and Soviet a five-cylinder air-cooled radial aircraft engine (100 or 125 hp), added during WWII.
#44

Helicron, France, 1932
#45

A car with wings and a propeller on TImes Square, New York, 1924
#46

Oak Leaf II, a hydro-glider, which is basically a motorboat propelled by a type of aircraft propeller.
#47

A blow-up motorized canoe, powered by an air-propeller, being tested by its inventor in 1935.
#48

Car With Shovel For Pedestrians (1924)
#49

Heinkel Kabine Bubble Car
#50

Model Gay McGregor shows off the latest 1956 model Bond Minicar three-wheeler, in London.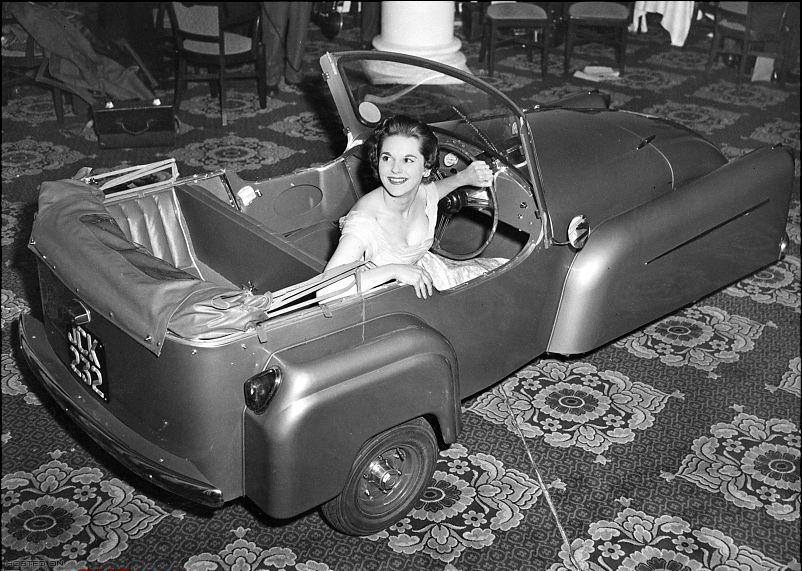 #51

Customers buying snacks at the bar of a bus.