The Vancouver shipyard produced 140 ships and two drydocks during World War II. The War brought a massive influx of new residents. The Vancouver Housing Authority was established to help house the thousands of people from around the country who poured into Clark County. The authority has constructed six significant housing developments: Fruit Valley, Burton Homes, Bagley Downs, Fourth Plain Village, Ogden Meadows, and McLoughlin Heights. McLoughlin Heights was the largest housing project west of the Mississippi during wartime. Douglas Elwood Caples, also Vancouver's city attorney, served as the housing authority's secretary. The housing authority, under Caples guidelines, did not discriminate in housing allocation, just as the federal government forbade discrimination in hiring.
Vancouver's African American population grew from 18 in 1940 to nearly 9,000 in 1945. At the end of World War II, the housing authority acquired an $80,000 mortgage and purchased the McLoughlin Heights project, which it dismantled so that new neighborhoods could be built. McLoughlin Heights was annexed into Vancouver on New Year's Eve, 1949. One by one, the other wartime developments were also integrated into the city.
Here are fascinating vintage photos that show Vancouver in the 1940s.
#1

A view of both the old and new Clark County Courthouse, 1941
#2

The residence of D.F. Schuele located at 8th and Esther Street in Vancouver. 714 Esther Street, 1940s
#3

Vancouver substation transformers, 1940
#4

Vancouver substation construction, 1940
#5

Catholic Church, Vancouver, 1945
#6

Ship, Kaiser Shipyards, Vancouver, 1944
#7

Aerial view of Kaiser Shipyards at Vancouver, 1942
#8

Kaiser Company shipyards, Vancouver, 1942
#9

Fruit Valley Homes – Vancouver, 1948
#10

4 Miles North of Vancouver, Washington on Pacific Hiway "99", 1940
#11

Area B Looking NW V.H.A. Construction Area, 1942
#12

Veterans Administration Hospital in Vancouver, 1946
#13

The exterior of an unidentified building, 1948
#14

Burton Homes off Burton Road and 4th Plain Boulevard, East of Andresen Road, 1944.
#15

City Hall, Vancouver, 1947
#16

4th and Esther Street, Vancouver, 1940s
#17

A family-owned rock business, 1940s
#18

Relief of the Buckskin Brigade featured on the court house in Vancouver, 1940s
#19

Tennis courts surrounded by cars and buildings at the Kaiser Hospital Facility in Vancouver, 1940s
#20

Men working on the demolition of a home. Vancouver Housing Authority, 1940s
#21

The exterior of the Elks lodge on 10th and Main Street in Vancouver, 1940s
#23

The exterior of the Faith Foundation Nursing Home in Vancouver, Washington, 1940s
#24

People inspect the damage caused by a fire at a army goods store in Vancouver, Washington, 1940
#25

The aftermath of a house fire in Vancouver, 1940
#26

Fire truck on the streets of Vancouver, 1940
#27

Men stand around a fire truck with a ladder parked near the train station in Vancouver, 1940
#28

First St. Joseph's Hospital, 1940s
#29

Exterior of Fisher's Landing school, Vancouver, 1940s
#30

Fort Vancouver High School, 1940s
#31

Fort Vancouver Officer's Row, 1948
#32

Fort Vancouver Officer's Row, 1948
#33

A dog team is photographed outside of St. Matthew's Hospital in Fairbanks, 1940s
#34

Housing in the Fruit Valley area of Vancouver, 1945
#35

Construction is carried out on the visitor center at the Fort Vancouver National Site, 1940s
#36

Headquarters Building, Vancouver Barracks, 1940s
#37

The Henrichsen home located on 16th Street between Broadway and Main Streets, 1940s
#38

Homes and a Warehouse on West 10th Street, 1940s
#39

Single span of the Interstate Bridge in 1948.
#40

The General Store at the Kaiser Shipyard in Vancouver, Washington, 1948.
#41

Exterior of Lieser Elementary School located on Lieser Road in Vancouver, 1942
#42

MacArthur Elementary School, 1943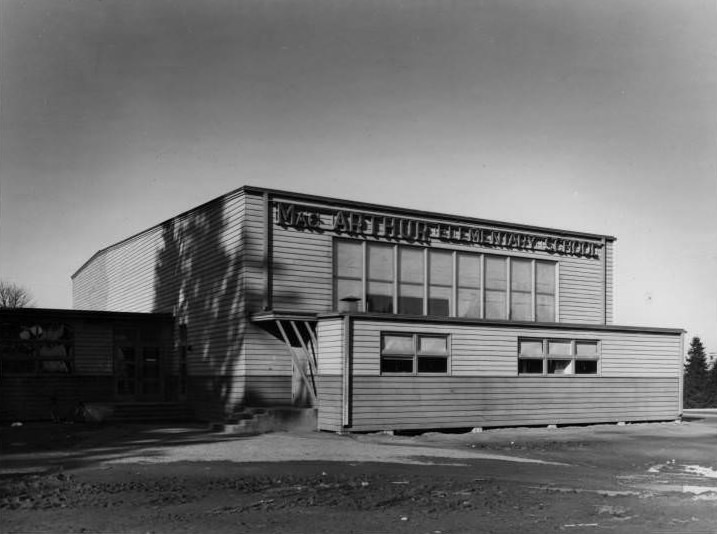 #43

Male Trapeze Artists, 1947
#44

The Marine Building in Vancouver, 1942
#45

The Marshall House on Officer's Row at the Vancouver, 1940s
#46

The exterior of an Masonic Temple in Vancouver, 1940s
#47

An area of newly constructed housing in the area of McLoughlin Heights. Vancouver, 1942
#48

McLoughlin Heights Commercial Center, 1942
#49

McLoughlin Heights Interjection, 1943
#50

Old Main St. Vancouver, 1948
#51

Opening Ceremonies of the Vancouver Housing Authority, 1940s
#52

Two women, one African-American and one Caucasian, hold protest signs outside a Vancouver Housing Authority building, 1940s
#53

Kaiser Company, Inc., Vancouver, 1942