Trust, harmony, compromises, commitment, and meaningful emotional connection can build an everlasting relationship. There is nothing more wonderful than a bond between two people that goes through many challenges and yet maintain the same instinctive feelings and gain strength with the passage of time. All the relationships require feeling, a small amount of effort every day to nurture the bond. The couples need to recognize that all relationships have their ups and downs, just as we can't be happy and sad all the time.
Here below are some fabulous before and after photos of the cutest couples that will make your day. It's pretty obvious that these lucky couples share a long-lasting bond that only a few lucky people will experience. Vote your favorites and don't forget to share.
#1

Holocaust survivor and soldier who rescued her spend more than 70 years together
#2

Flower girl and ring bearer (in 1995) get married 20 years later
#3

Holocaust survivor and soldier who rescued her spend more than 70 years together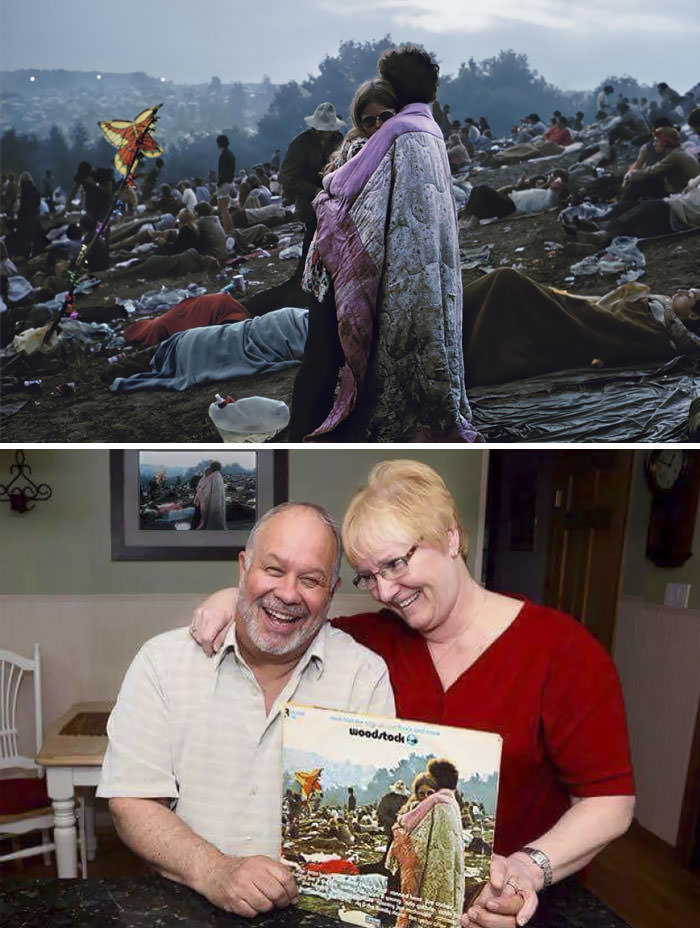 #4

Wedding day and 43 years later
#5

A couple on their 77th wedding anniversary
#6

After spending 74 years together Leonard and Hazel Cherry passed away within hours of each other
#7

Married the girl of his dreams- they met when they were 3
#8

Couple married for 81 years
#9

A married couple during a dance in sixth grade and on the wedding day.
#10

This couple passed away holding hands after 69 years of marriage
#11

A couple in 1975 and in 2016
#12

A married couple, 58 years ago and today.
#13

Celebrating 40th anniversary by recreating their wedding pics from 1975
#14

Herbert and zelmyra fisher would have celebrated their 87th year of marriage on may 13, 2011, but mr. Fisher passed away on february 27, 2011 at the age of 105. In 2008 they were recognised as the oldest living couple
#15

A couple on their wedding day, and one of the last pictures of them together before she died.
#16

A couple after 40 years later – and that's original high-school jeans jacket
#18

Almost 44 years after thje wedding. The wedding dress still fits. 1971 and 2015
#19

First love 1970. 44 years later still married
#20

Both 81 and widowed, women just married her prom date after starting to speak again 64 years later
#21

This couple recreate their wedding day after 70 years
#22

This couple recreate their wedding day after 60 years
#23

A married couple recreated the photo after 20 years, the girl was wearing the exact same dress
#24

A couple recreated their wedding photo.
#25

Aubrey and mike were born only 11 days apart in 1989. They started dating in 2012, and got married in july, 2015
#26

A married couple in the 50s, 60s, 70s, and today
#27

Katie met joseph at primary school. Now they are married and have a son
#28

A couple met in 1952 at my grandma's 14th birthday party. They will be celebrating their 60th wedding anniversary in june 2018
#29

A couple celebrating in 1983 and in 2013.
#30

This couple has been together for 70 years
#31

A couple together from 1975 – 2015.
#32

Married within a month of meeting, Women went blind 10 years in.
#33

A couple celebrated their 75th wedding anniversary
#34

A couple in 1951 when they eloped, and today, 62 years later. Still beautifully and irrevocably in love
#35

From carnival bride and groom in the gillingham carnival in 1926, to 70 years of marriage
#36

The man passed today, shortly after celebrating his 70th wedding anniversary. They are the strongest couple.
#37

Frank and Anita Milford in 2008, on their 80th anniversary
#39

70th anniversary wedding day photo, and today
#40

40-year vintage – like fine wine and love, some things only get better with time
#42

A married couple for 66 years on their anniversary.
#43

Together from Kindergarten class.
#44

A couple re-created wedding photo on their 60th anniversary
#45

Married 8 months after meeting, still married 40 years today
#46

Childhood sweethearts Thomas and Irene Howard have been married for 70 years
#47

Woman wearing her original wedding dress on her 60th anniversary with her husband. They are a testament to true love and commitment
#48

This couple celebrated their oak anniversary – 80 years in marriage
#49

A couple recreated their wedding photo after 45 years in the same dress.
#50

A couple on their wedding day and 60th anniversary
#51

A couple married 60 years ago
#53

A couple celebrating 52 years of marriage, 4 homes, 3 kids, 5 grandchildren.
#54

From honeymoon to 4 children and 6 grandchildren – it's been a wonderful first 39 years!
#55

Then & now, with 30 years in between
#56

A couple on their wedding day and on their 60th anniversary
#57

A couple then and now. They were high school sweethearts, and have been married over 50 years
#58

A couple on their 60th wedding anniversary.
#59

A couple their 60th wedding anniversary
#60

A happy couple on their 50th anniversary
#61

A couple on their 50th wedding anniversary. Here they are, age 15 in 1965 and now.
#62

Carol and Jerry – 48 years of marriage
#63

Fifty years apart, still absolutely smitten with each other