In the early 1880s, the population of San Jose was over 12,000, and the city was thriving. The San Jose Electric Light Tower was constructed in 1881 with the help of a fierce campaign led by the editor of the San Jose Mercury, JJ Owen, whose newspaper had illuminated downtown San Jose since 1861 with gas streetlights. By 1884, it was only used for ceremonial purposes since it didn't provide enough illumination.
The widow of William Winchester and heiress to the empire that manufactured the Winchester rifle, Sarah L. Winchester (née Pardee), moved to San Jose in 1884 and started a large construction project it occupied craftsmen and carpenters for thirty-eight years. The Winchester Mystery House reached a height of 7 stories before the 1906 earthquake in San Francisco; today, it stands three stories with approximately 160 rooms.
Here are some fabulous historical photos of San Jose, California, in the 1880s.
#1

San Jose State Normal School, 1885
#2

Santa Clara St., looking toward the electric light tower, San Jose, 1885
#3

California Nursery at Niles, 1888
#4

San Pedro Street, San Jose, CA looking north, 1880
#5

San Jose Chinatown, immediately to north of the new San Jose Post Office on south Market St, 1880s
#6

San Jose State Normal School, 1880
#7

San Jose High faculty, 1887
#8

View of San Jose from electric light tower, 1881
#10

Market Street Chinatown after 1887 fire
#11

View Down the Alameda, 1880s
#12

Horses and carts parked outside storefront, San Jose, 1880s
#13

Santa Clara Street, between Second and Third, 1882
#14

Lick Observatory, Mount Hamilton, near San Jose, 1880s
#15

West Santa Clara Street looking toward Market Street San Jose, 1888
#16

Horse car near Electric Light tower, San Jose, 1880s
#17

University of the Pacific (East Hall), 1880
#18

Agricultural Park off Race Street, San Jose, 1880s
#19

Market Street Chinatown fire, 1887
#20

Commercial & Savings Bank, San Jose, 1884
#21

Newhall Building, San Jose, 1880s
#22

Laying track for electric street car system, San Jose, 1887
#23

Electric Light Tower under Construction, 1881
#24

Aerial photo of San Jose from the Electric Tower looking South East, 1880
#25

St. Joseph's Roman Catholic Church (interior), 1885
#26

Overfelt Thresher at Doemsky Ranch, Hillsdale, 1887
#27

Ruin of Chinatown after the May 1887 fire.
#28

An Unusual building, San Jose, 1880s
#29

Front Entrance to Lick Observatory, 1884
#30

Alum Park Hotel, 1880
#31

Lick Observatory buildings, 1884
#32

Hacienda School, New Almaden. Santa Clara County, 1887
#33

View of grand house, 1880s
#34

Mule at work, New Almaden, 1880s
#35

Cyclists Lined up on Paved Street, 1880s
#36

Commercial Savngs Bank, 1880
#37

Lick Observatory seen in the distance atop Mount Hamilton, 1884
#38

Main entrance to the General Naglee estate, 1880s
#40

Dashaway Stables, 1880s
#41

Circus Wagon on Santa Clara Street, 1888
#42

Main Entrance, Lick Observatory, 1880s
#43

Quaker Meeting House, 1885
#44

Lick Observatory buildings atop Mount Hamilton, 1884
#45

Lick Observatory Construction, 1880
#46

Main Entrance to Hotel Del Coronado, 1886
#47

Lick Observatory Exterior, 1884
#48

Lick Observatory Office, 1884
#50

California Nursery at Niles, 1887
#51

Lick Observatory, 1885
#52

Lick Observatory Library, 1884
#53

Steam locomotive at Market Street Depot, 1880s
#54

Fredericksburg Brewery, 1885
#55

Southwest corner Market and Santa Clara, 1880
#56

School yard, girls basketball players identified as CUHS, 1880s
#57

General Fremont Tree and group, 1883
#58

P. H. Browning Veterinary Hospital waddress, 1880s
#59

Spanish town, New Almaden Mines, 1885
#60

Street railroad track construction, Santa Clara Street, 1887
#61

I.O.O.F. Hall 315 West Santa Clara Street, San Jose, 1880
#62

Mexican Camp from Upper Road, 1880s
#63

The Alameda, San Jose, California, 1886
#64

Wm. Geiger's Orchard, Willow Street & Cherry Avenue, 1880
#65

Quicksilver Furnaces Nos. 1 and 2, 1880
#66

Santa Isabel Shaft, 1880
#68

Victorian gothic farmhouse, with woman on horseback, 1880
#69

Battee Residence on Sunol Street, 1880
#70

Parade in San Jose, 1887
#71

Second Street Parade, San Jose, 1885
#73

Santa Clara Street, San Jose, 1880
#74

Steamer Zinfandel, owned by C. C. Carpee Company, 1885
#75

Manitou & Pikes Peak Railway (Colorado), 1880
#76

Excelsior Geyser and River (Yellowstone National Park), 1880
#77

Catholic Church at Spanish town, 1885
#78

Santa Fe, New Mexico, 1881
#79

University of the Pacific campus, 1886
#80

San Jose's Financial District, 1880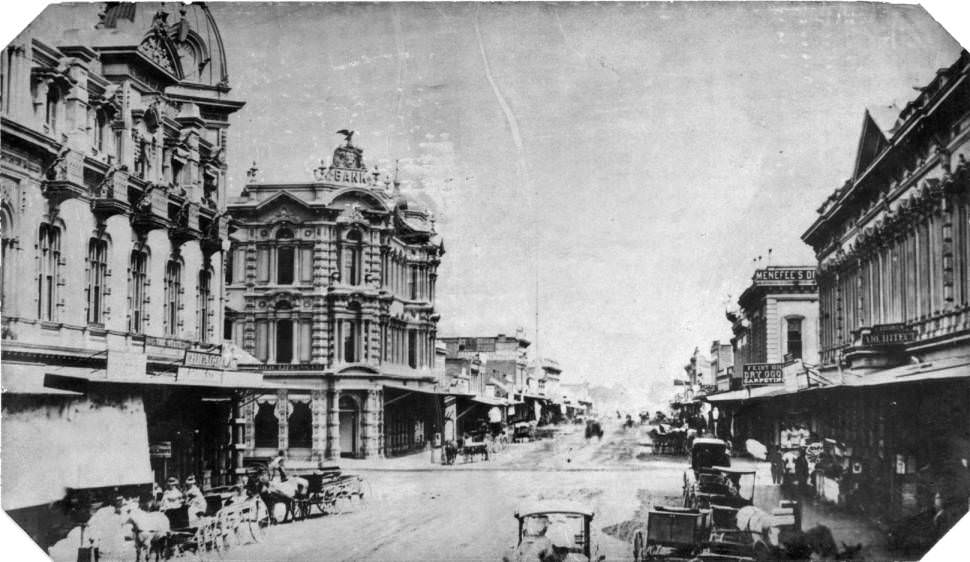 Looking southward through San Jose's Financial District, at the intersection of First Street and Santa Clara Street. Three banks and a large office building can be seen. On the left is the Bank of San Jose, with its four-way tower clock. Across the street, also on the left, is the Commercial and Savings Bank.
#81

Alum Rock House, San Jose, 1885
#82

Agnews Asylum under construction, 1888
#83

Bancroft Library, 1882
#84

John M. Battee House, 1887
#85

Lick Mill driveway, 1882
#86

Commercial and Savings Bank, 1880
#87

Kensington Post Office, 1888
#88

Agnews State Asylum for the Insane, 1888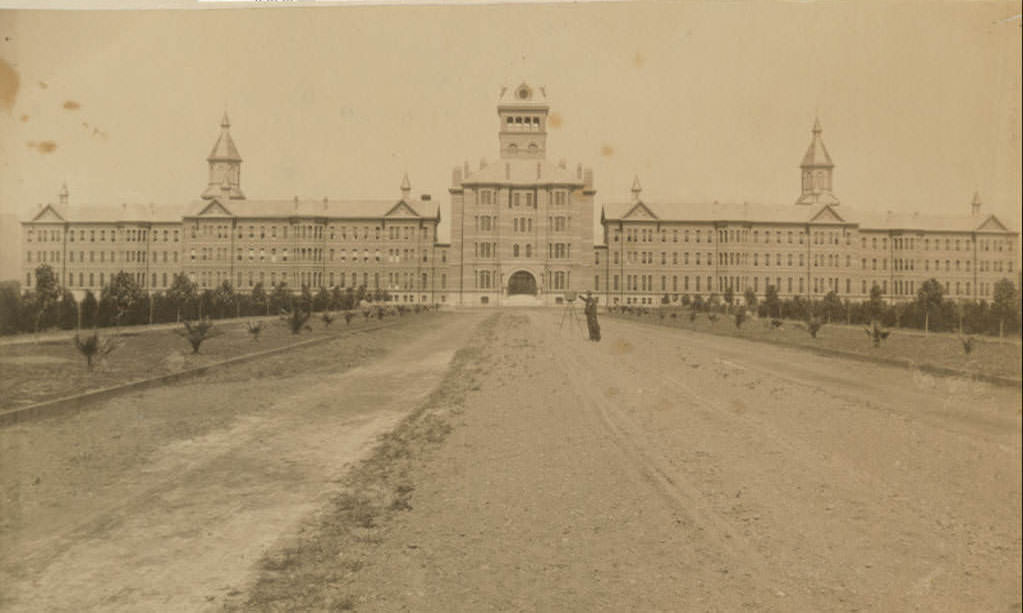 A photographer and camera stand in the dirt road leading to the main entrance of the asylum. The asylum consisted of an administration building in the center flanked on either side by wings housing more than 900 patients. The building was 750 feet long and was constructed at a cost of $750,000.
#90

San Joaquin County Courthouse, 1888
#91

Santa Clara, Agnews State Asylum for the Insane, 1888
#92

Mountain View Train Station, 1888
#93

Church, Mission bells, and Graveyard, 1885
#94

San Jose City Hall, 1889
#95

Hotel Vendome grounds, 1888
#96

Old City Hall, San Jose, 1855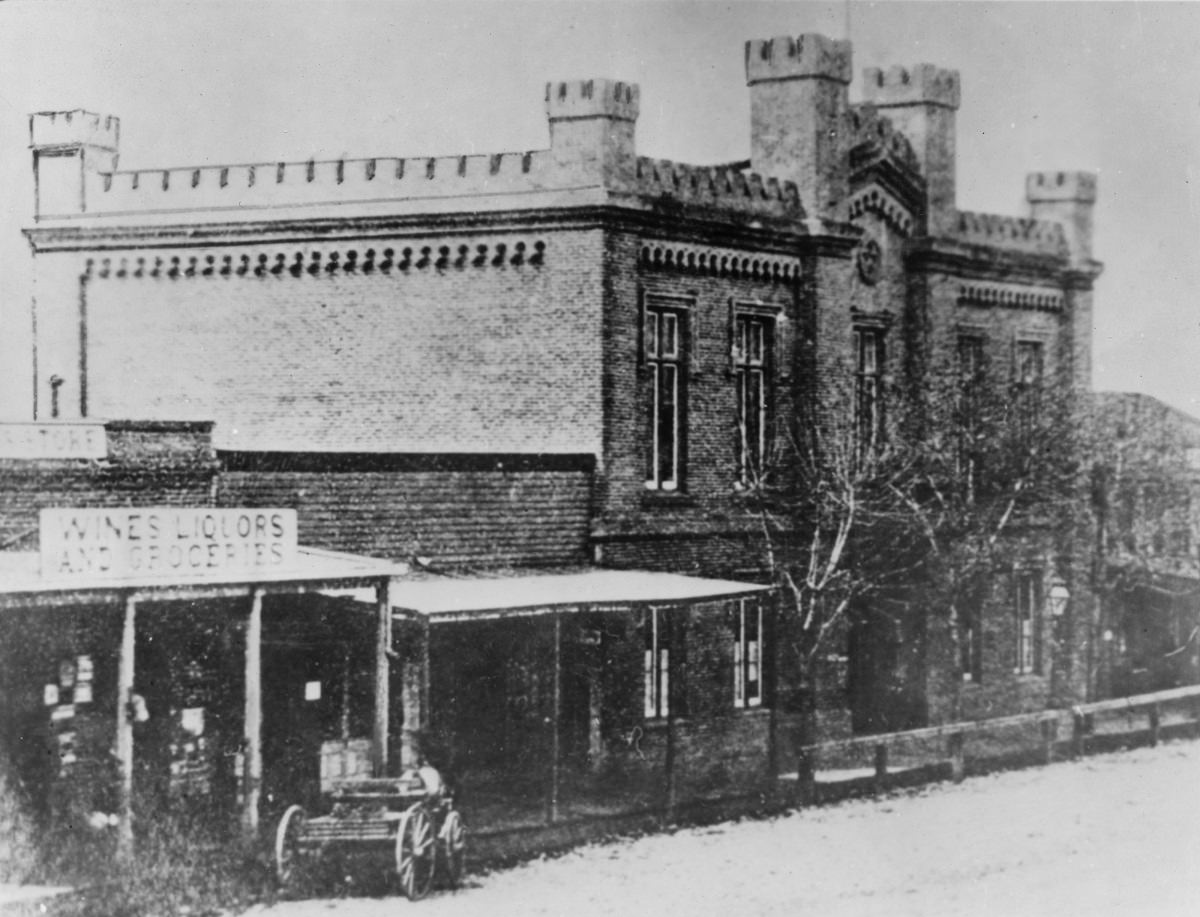 Designed by Levi Goodrich, this City Hall was constructed in 1855 at what later became 35 North Market Street. It was a two-story brick structure with council chambers on the ground floor and two small rooms and an assembly hall upstairs. The county leased the second floor as a courtroom for a short time but the lease was not renewed in 1862 because the city needed the space. In the 1890s the building was converted to a fire station and the castellations were removed. The building was demolished in 1951
#97

Safe Deposit Block, 1884
#98

Chinatown on east side of Market Street Plaza, 1887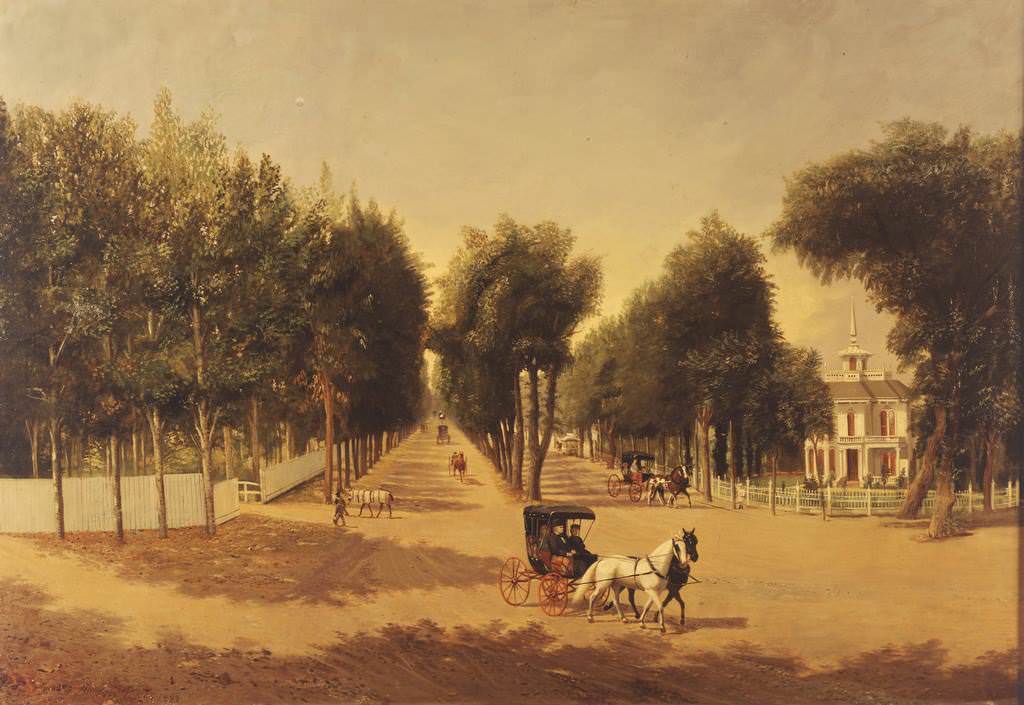 The Alameda was once merely a path that linked Mission Santa Clara and the Pueblo of San José. The trees lining either side of The Alameda were planted in 1799 by Father Magin Catala, using the labor of 200 Native Americans. Over time, the street was developed with Victorian mansions
#100

Laying the tracks for the trolleys, 1887
#101

Electric light tower under construction in San Jose, 1881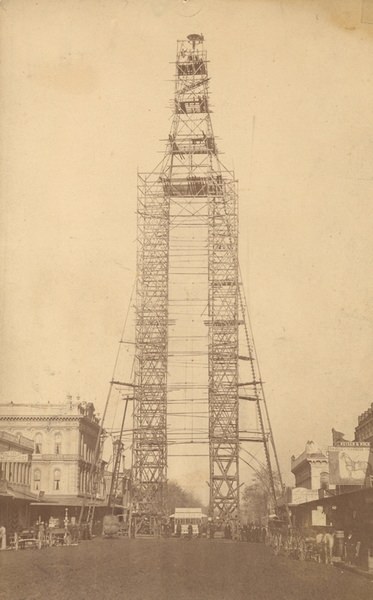 San Jose's Electric Light Tower under construction at Santa Clara Street looking north on Market Street. The two-story building in the lower left corner of the picture housed the San Jose News from 1889-1897. Editor James J. Owen led the efforts to build the 237-foot tower as a beacon to progress.
#102

Morning Times and Evening Herald building, 1880