Yokuts once inhabited Fresno, California. Until halfway through the 19th century, they were the only people in the area. The Yokuts irrigated the area to make it habitable. Yokuts chose fertile land for their home because it was perfect for agriculture. In 1848, the California Gold Rush began, resulting in a sudden increase in population. The city introduced the first irrigation system for farmers in 1876. It processed and marketed cotton, grain, fruits, wines, sugar beets, and dairy products. Despite the large number of settlers, Fresno was not officially settled until the late 1860s and was not incorporated as a city until 1872. Originally, Fresno was settled in an area abundant with white ash trees. Fresno means ash tree in Spanish.
During the nineteenth century, American frontier towns often suffered from fires because there was so much wood construction and no sophisticated firefighting resources were available. Fresno's greatest fire, in 1882, destroyed an entire block of the city. In 1883, another devastating fire struck.
Here are some stunning historical photos that show Fresno from the 1850s to the 1890s. Also, check Fresno in the 1890s.
#1

R. Baker General Merchandise store, 1890
#3

View of horse-drawn float decorated like the steamboat, Fresno, 1895
#4

Harry A. Greene mansion, 361 Lighthouse Avenue, 1886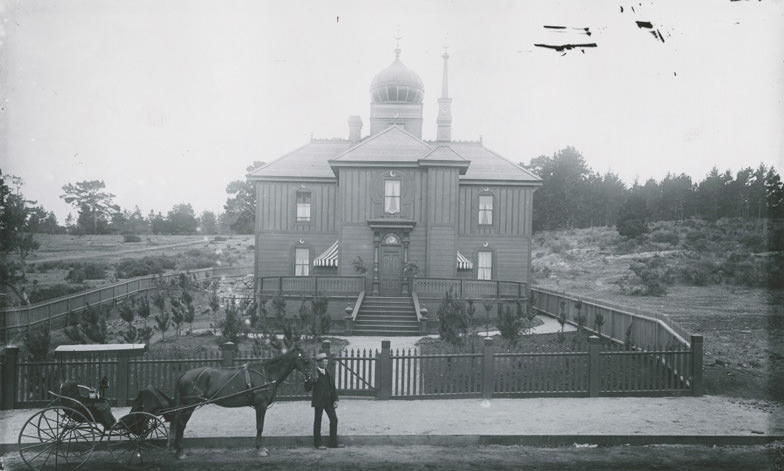 Harry Ashland Greene was born in San Francisco in 1852. Worked in San Francisco as broker on stock exchange. In 1886 moved to Monterey where he was active in real estate, owned several hotels (Hotel San Carlos, Hotel Monterey), active in Monterey & Fresno Railroad and the Monterey & Pacific Grove Street Railroad, Bank of Monterey.
#5

View of parade along Mariposa Street in Fresno. J & Mariposa St. Fresno Cal. No. 20., 1890
#6

Fresno Chinese Mission, 1884,
#7

Whitson Hotel at Second and Whitson Streets, 1888
#8

A Felled Tree, 78 feet circumference, 1870
#9

1 The Cross-Cut in the Big Tree, 1860
#10

A Felled Tree, 78 feet circumference, 1860
#11

Cutting Out a Section of the Big Tree, 1860
#12

Shows view of Fresno, looking north from the Courthouse, 1886
#13

Fresno Milling Co., 1866
#14

Grand Central Hotel, 1866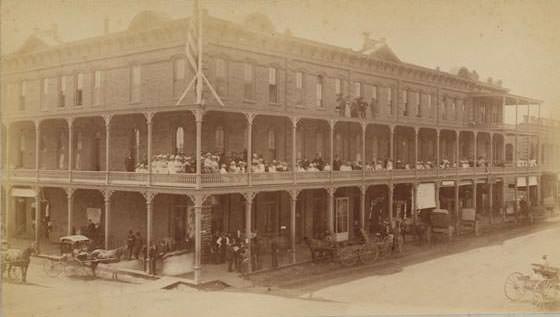 View of the hotel from the corner; shows women in light colored clothing seated along entire one side of the second balcony and a scattering of men; two women and three men standing on roof over second balcony; horse-drawn buggies on the street, men standing along street level porch.
#15

Big Tree in the Fresno Grove, 79 feet circumference–10 miles south, 1870
#16

Result of a Day's Rabbit-Drive, Fresno, 1893
#17

Cutting off section of Big Tree, 1870
#18

Sierra Lumber Flume, Fresno, 1890