During the 1880s, wheat prices dropped in Sacramento with the railroad's advent and refrigeration's introduction. However, the fruit became a significant cash crop due to the advent of the railroad and refrigeration. Because of this, grain ranches profiting from wheat began to bankrupt and close between 1883 and the turn of the 20th century; the ranches' original owners soon died, and their heirs gave their farms to people seeking them. During this period, there was a land boom, and hundreds of thousands of acres were irrigated by new fruit ranchers. Sacramento's agriculture, however, was noticeably hampered by the passage of the Chinese Exclusion Act in 1882.
#1

Sacramento Daily and Weekly Union newspaper office at 520 J Street about the 1880s. The newspaper started in Sacramento in 1851.
#2

Weisel's Block. Cor. K & 5th Sts. Sacramento, 1880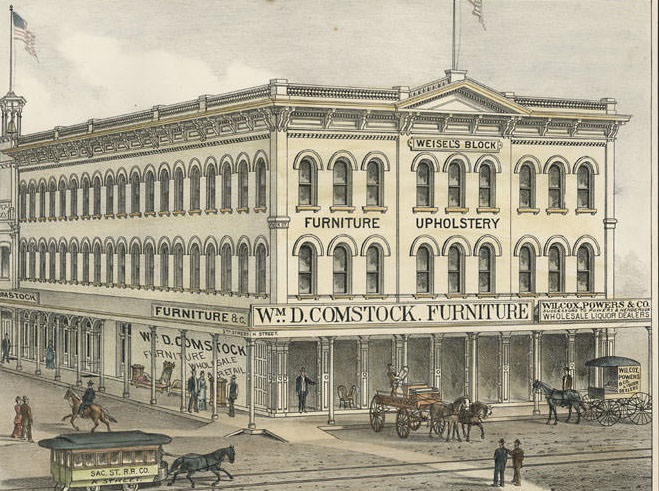 View of three-story Weisel's Block building housing Wm. D. Comstock, Furniture Dealer and Wilcox, Powers & Co. Wholesale Liquor Dealers. Horse-drawn Sacramento Street Railroad Company passanger car at left; wagons and carriages in the street; furniture on display along covered sidewalk along the building; people in the street and on the sidewalk; two American flags on top of the building.
#3

Sacramento Brewery on the NE corner of 28th and M Sts. Streetcar or railroad tracks go down center of dirt street, 1880
#4

Parade by the Turn Verein Club of Sacramento, 1885
#5

Sacramento River waterfront with the river boats "San Joaquin" and "Flora" and the barge, "Rio Vista", 1880s
#6

Sacramento River waterfront with the river boats "Dora" and "Flora, 1880s
#7

The image includes the Sacramento Courthouse near 7th and I street, 1885
#8

Parade of Turn-Verein group, "Elites Turn-Fest", on J Street, 700 block, looking east. Led by band including bandleader in shako hat. Group met in Sacramento on June 21-23, 1885.
#9

Sacramento Bee newspaper building at 1016 3rd Street, 1880
#10

Sacramento River adjacent to railroads, part of the greater network of trade and cargo transportation in the Central Valleym, 1880
#11

Sacramento City from the California state capitol looking northeast, 1880
#12

Central Pacific passenger depot in Sacramento, 1882
#13

A band marching down an unidentified street in Sacramento, 1885
#14

Sacramento Turn Verein CA. Second from the right, on the second row is Gustave Halgestein, 1880.
#15

acramento butchers gathered in front of Oakland Tribune building, posing with a banner, probably as part of a convention or meeting, 1885
#16

Sacramento water front, Sacramento City Wharf, American Fish Co., 1885
#17

Daily & Weekly Bee. Buildings, Third St. bet. J & K. Sacramento, 1880
#18

Sacramento City, Cal. north east, 1880
#19

Elevated view of the city looking north west from the State Capitol. Shows residents, churches, businesses, 1880
#20

Sacramento, Odd Fellows' Hall, 1880
#21

View of the Capitol building from 10th and N Streets; cathedral at left, 1885
#22

C.P.R.R. locomotive, 1889
#24

Drawing of Huntington Hopkins & Co. hardware store, 1880s
#25

Southern Pacific Railroad Bridge across the Sacramento River, 18880
#26

Sacramento and Placerville Railroad, 1882
#27

Childhood home of Charlie Gibson in Sacramento, 1880
#28

View of two story wood sided home. A man and a woman are on the stairs, 1880s
#29

Sacramento newspaper a building which looks like a hotel with staff in foreground, dated September 3, 1888.
#30

"The Old Corner", 601 K Street, 1887
#31

Exterior view of Edwin Bryan Crocker's house at 8th and F Streets in Sacramento, 1880.
#32

Downtown Sacramento, 1880
#33

Central Pacific Railroad bridge across the Sacramento River, 1880
#34

Twelve persons pose in front of Rudolph Weber's St. Louis Market at 1030 H Street (southwest corner of 11th and H Streets)., 1885
#35

Sacramento Daily & Weeklyl Union newspaper building, 1881
#36

State Capitol, Sacramento, 1882
#37

Angle view of the capitol building in sacramento, railroad tracks are seen in the foreground, and the rest of the city is seen spread out beyond, 1880
#38

Sacramento Box Factory on the northwest corner of M Street between Front and 2nd Streets, 1880.
#39

Five aerial views of Sacramento taken from the dome of the State Capitol, combined giving a panoramic view of Sacramento north of L Street, 1884
#40

Fallon's Hotel, 1880s
#41

Sutter Grammar School, 1889
#42

Exterior view of a house in an unidentified rurual location with fruit trees in bloom, 1881
#43

John Breuner Company, 1881
#44

A horse drawn street car passing the Sutter's Fort derelict building, 1881
#45

Capitol Grammar School, 1889
#46

Southern Pacific hospital, 1885
#47

Village in the foothills, 1880
#48

View of the Central Pacific (Southern Pacific) depot next to China Slough (Sutter Lake), 1882
#50

Sutter's Fort central building before rebuilding. View with a man and two boys standing next to the building, 1889
#51

Fifth Street looking south from Shawnee Street, 1884
#52

Virginia & Truckee R. R. locomotive Lyon, 1888
#53

View of the 20 Mule Borax Team No. 2 of the San Bernardino Borax Mfg. Co. in Mojave, 1880
#54

Johnm Breuner Furniture Ware Rooms, 1883
#55

Street scene; one building with sign "Capital Livery, 1883
#57

An elevated view looking over a city, 1880
#58

The Old Corner saloon, 1887
#59

Jacob Griesel, Harness Maker, 1887
#60

View of the Henry and Jane Montfort home at 1519 7th Street in 1887.
#61

Horses and Buggy in Front of Haystack, 1880
#62

The Agricultural Pavilion at 15th & L Streets, 1884
#63

Battelfield of Chckamauga, Union Mills, 1888
#65

Cityscape taken from atop the Edward Johnson home at 5th and M Streets; view southwest, 1884
#66

Exterior view of the California State Capitol, 1882
#67

Unidentified Victorian house with turret, 1880
#68

Christian Brothers College, 1884
#69

The Sierra foothills, 1880
#70

Victorian era house, 1880
#72

A building with several horse and mule drawn freight wagons parked around the building, 1880
#73

Leonard Kellogg hardware, 1883
#74

A twelve mule hitch freight wagon, 1884
#75

High resolution scan available, 1880
#77

Horse-drawn street car going by Sutter's Fort central building, 1889
#78

Home of Raphael Oppenheim, 1885
#79

State House Hotel. Attached to back of photo is a State House trade card, 1880
#80

Samuel Jackson's Hardware Store, 1884
#81

Interiior view of bar of The Old Corner saloon, 1887
#82

An unidentified church and two men standing in the street in front of the church, 1880
#83

Two story home with a horse and buggy in front, 1880s
#84

Drawing of Huntington Hopkins & Co. hardware store, 1880s
#85

Capital Furniture Sales Room at 178 J Street, 1883
#86

The Christian Brothers' College at 12th and K Streets, 1880
#87

Seven men stand on porch of a stables, one holds reins of horse, 1881
#89

Southern Pacific Co. locomotive #1254 at Soda Springs, 1886.
#90

View of dining table and buffet set with tea, scones, and fruit, 1888
#91

Union Restaurant and Capital Woolen Mills, 1881
#92

View of Windmill at McFarland House, 1889
#93

A. J. Pommer's Building, a piano, organ and musical goods business located at 829 and 831 J Street, 1880
#94

Central building of Sutter's Fort prior to rebuilding, 1889
#96

State Fair Pavilion, 15th and M streets, 1885
#97

Parade on J Street, 1881
#98

Two eight mule hitch freight wagons, 1880
#99

Exterior view of Samuel Luke Howe, Sr. camping in Nevada Scene shows people on horseback and horse drawn carriages, 1880
#100

Crowd gathers on sidewalk and balcony of brick building at corner of 10th and K Sts, 1880
#101

George Kuchler Bakery, 1885
#102

Central Methodist Church, 1886
#103

Washington Elementary School, 1886
#104

C. Kellogg Hardware store, 1886
#105

View of two grammar school buildings in Folsom, 1880
#106

Carlaw Brothers granite yard and J. W. Keating Grocery, 1888
#107

Motor Inn Garage, 1898
#109

The W.B. C. Brown family at home, 1880
#110

Henry Bennett Blacksmithing & Horseshoeing, 1880
#111

Central Pacific Railroad Depot with Western Hotel coach at the depot, 1880
#112

The interior of what appears to be a lodge meeting room, in an unidentified location and decorated in high Victorian style, 1881
#113

Congregational Church, 1881
#114

An eight horse hitch freight wagon, 1880
#115

The Margaurite [sic] Shows two-story residential building surrounded by wrought iron fence on corner of Seventh and Q Streets, Sacramento, 1884
#116

View of the Bell gardens and greenhouses at 10th and Y Streets (Broadway); curved path in foreground, house in distance at left, 1885
#117

View of locomotive, no. 177 and tender, on turnabout at roundhouse; roundhouse in background. Built at Sacramento in 1886.
#118

View of the one-story, brick warehouse; horse-drawn Breuner wagon in front; several men standing along wooden sidewalk; goods and boxes stacked on sidewalk, 1882
#119

Mrs. Samuel Conrad and family.between, 1883
#120

Shows west and north sides of Capitol building, from corner of 10th and M Streets, 1889
#121

View of the one-story building with corrugated siding located at 1118 4th Street, 1888
#122

View of the state capitol from 10th and L Streets; shows people walking on the sidewalk from the corner towards the capitol building, 1882
#123

Gregory, Barnes & Company store, 1885
#124

View of a horse-drawn wagon in front of Kellogg's store. Six men posed in front of the store, man on the left next to a bicycle, 1880
#125

View of the railroad engine, "The Governor," built by Sacramento Shops of the Southern Pacific Railroad, 1889
#126

The Five Mile House was the first remount station on the eastern leg of the Pony Express leaving Sacramento, 1880
#127

View of train wreck west of Folsom, June 15, 1889 involving engine and flat cars.
#128

Exterior view of Edwin Bryan Crocker's house at 8th and F Streets in Sacramento at about 1880.
#129

View from California State Capitol building identified on the original envelope as being a viw looking north east, 1880
#130

Buffalo Brewery Under Construction, 1889
#131

Southern Pacific Railroad Arcade Depot, 1882
#132

J Street between Twenty-seventh and Twenty-eighth, 1888