As the capital of Utah and a major cultural and economic center in the United States, Salt Lake City has long been a dynamic, evolving metropolis. The 1990s, in particular, represented a significant period of growth, development, and change for the city.
Growth and Expansion
The 1990s saw a significant population boom in Salt Lake City, with the city's population increasing by nearly 20% from the beginning to the end of the decade. This growth was driven largely by a thriving economy, as Utah's key industries – including technology, mining, and tourism – flourished during this time. In response to the population surge, Salt Lake City underwent a major expansion, with new residential and commercial developments springing up throughout the city.
Infrastructure Improvements
As the city grew, so too did its infrastructure. Major roadways, such as I-15 and I-80, were widened and improved to accommodate increased traffic. The city also invested in public transportation, with the Utah Transit Authority (UTA) launching the TRAX light rail system in 1999. This new transit option connected downtown Salt Lake City with the southern suburbs, making it easier for residents to commute to work and access the city's attractions.
Cultural Revitalization
The 1990s also saw a cultural renaissance in Salt Lake City, with the construction of new performance venues and the emergence of a vibrant arts scene. The city invested in the creation of the Rose Wagner Performing Arts Center and the Capitol Theatre, which hosted concerts, ballets, and theater productions. Local artists and musicians found a platform for their work in the city's growing number of galleries and performance spaces.
Sports and Recreation
Salt Lake City's natural beauty and proximity to the Wasatch Mountains have always made it a popular destination for outdoor enthusiasts. In the 1990s, the city expanded its recreational offerings, with new ski resorts, mountain bike trails, and hiking paths being developed. The 1990s also marked a period of growing interest in professional sports, with the Utah Jazz reaching the NBA Finals in 1997 and 1998.
One of the most significant events of the 1990s in Salt Lake City was its successful bid to host the 2002 Winter Olympics. In preparation for the Games, the city underwent a series of upgrades to its infrastructure, including the construction of new sports facilities and the expansion of its transportation network. This process not only helped to boost the city's international profile but also laid the groundwork for its continued growth and development in the 21st century.
Here are some fabulous photos that will take you back to the 1990s in Salt Lake City.
#1

Capitol Theater, Salt Lake City, 1990s
#2

ZCMI Department Store, Main Street, Salt Lake City, 1990s
#3

ZCMI along Main Street, Downtown Salt Lake City, 1990s
#4

Capitol Theater, Salt Lake City, 1990s
#5

Vacant Storefronts, Main Street, Salt Lake City, 1990s
#7

Utah Capitol from Temple Square, Salt Lake City, 1990s
#8

Looking east along 100 S from Convention Center, Salt Lake City, 1990s
#9

Historic Housing, downtown Salt Lake City, 1990s
#10

ZCMI Department Store, Main Street, Salt Lake City, 1990s
#11

Snappy Service Lunch, downtown Salt Lake City, 1990s
#12

City Creek Canyon, Salt Lake City, 1990s
#13

Looking West along Temple Street, 1990s
#14

Salt Lake City, 1990s
#15

Salt Lake Temple, 1990s
#16

Salt Lake Temple & Temple Square, 1990s
#17

Downtown Salt Lake City, 1990s
#18

First Security Bank (originally Deseret Building), 79 S Main Street, Salt Lake City, 1990s
#19

Main Street, downtown Salt Lake City, 1990s
#20

Display on Forthcoming Light Rail Transit System for Salt Lake City, 1990s
#21

Empty Storefronts along Main Street, downtown Salt Lake City, 1990s
#22

Main Street, downtown Salt Lake City, 1990s
#23

Downtown Salt Lake City, 1990s
#24

Boston & Newhouse Buildings, 9 & 10 Exchange Place, Salt Lake City, 1990s
#25

Salt Lake City Buildings from University Blvd, 1990s
#26

Downtown Salt Lake City, 1990s
#27

Looking west along 300 S Broadway to Rio Grande Depot, Salt Lake City, 1990s
#28

Salt Lake Temple, 1990s
#29

Main Street, downtown Salt Lake City, 1990s
#32

Looking across S Temple from Temple Square, 1990s
#33

Salt Lake Temple from Temple Square, 1990s
#34

Former Hotel Utah, Salt Lake City, 1990s
#35

Kearns Building, Salt Lake City, 1990s
#36

Downtown Salt Lake City, 1990s
#37

Capitol Theater, Salt Lake City, 1990s
#38

Salt lake City, 1990s
#39

Apartments in Salt Lake City, 1990s
#40

Salt lake City, 1990s
#41

City Creek, Salt Lake City, 1990s
#42

Utah State Capitol, Salt Lake City, 1990s
#43

City Creek Canyon, Salt Lake City, 1990s
#44

City Creek Canyon Park, Salt Lake City, 1990s
#45

City Creek Canyon, Salt Lake City, 1990s
#46

Homes in The Avenues District, Salt Lake City, 1990s
#47

Pocket Park in The Avenues, Salt Lake City, 1990s
#48

Home in The Avenues, Salt Lake City, 1990s
#49

Home in The Avenues, Salt Lake City, 1990s
#50

Anti-Light Rail Sign, Salt Lake City, 1990s
#51

Trolley Square, Salt Lake City, 1990s
#52

Courtyard for Rowhomes, near Trolley Square, Salt Lake City, 1990s
#53

City-County Building, Salt Lake City, 1990s
#54

City-County Building, Salt Lake City, 1990s
#55

Salt Lake City, 1990s
#56

Salt Lake City, 1990s
#57

Main Street, looking south, Salt Lake City, 1990s
#58

Main Street, downtown Salt Lake City, 1990s
#59

Boston & Newhouse Buildings, 9 & 10 Exchange Place, Salt Lake City, 1990s
#60

Salt Lake City, 1990s
#61

Main Street, downtown Salt Lake City, 1990s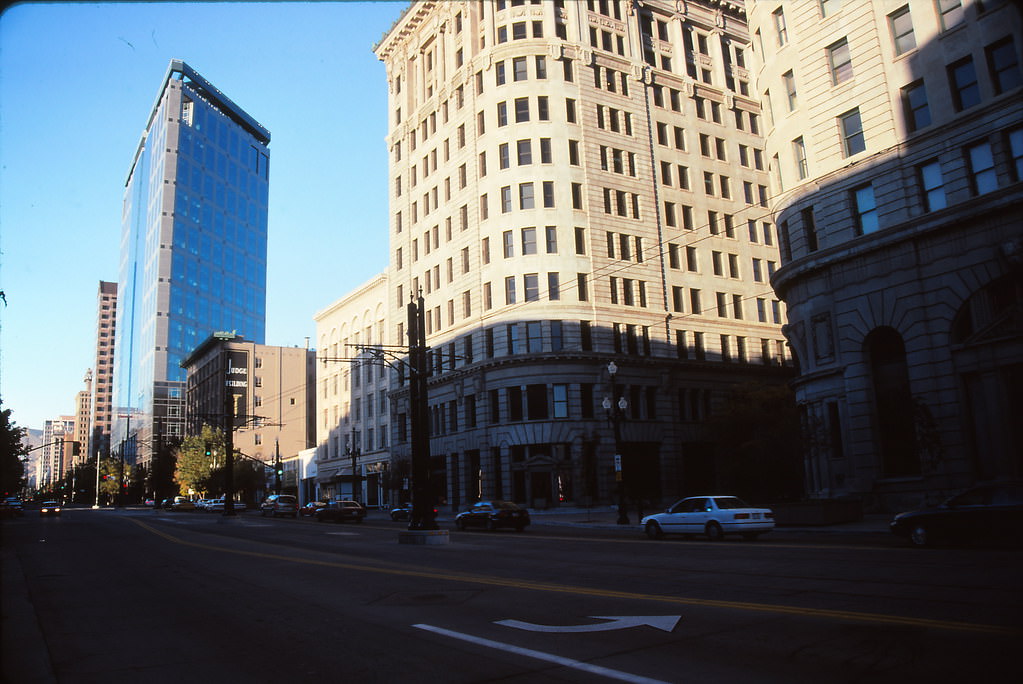 #62

Salt Lake City Buildings from University Blvd, 1990s
#63

Salt Lake City, 1990s
#64

Salt Lake City, 1990s
#65

Deseret News, downtown Salt Lake City — October 1999
#66

Salt Lake City, 1990s
#67

Salt Lake City, 1990s
#68

Main Street at Dusk, Salt Lake City, 1990s
#69

Downtown Salt Lake City, 1990s