New Orleans was founded in 1718 by French colonists. During the first half of the 19th century, the city was among the wealthiest city due to its geographical location and port. At the dawn of 20th century, the economy was booming the city was industrializing. River steamboats were replaced with railroads and streetcars were electrified. Wood pump systems were installed that drained vast tracts of swamp and marshland and expand into low-lying areas. A new form of music called jazz began and emerged in clubs and dance halls.
The outbreak of Yellow Fever in 1905, followed by hurricanes disrupted the rapid growth. The Great Mississippi Flood of 1927 also affected the city with waters almost topping the levees while heavy rain still flooded parts of the city. In 1923 the Industrial Canal opened, providing a direct shipping link between Lake Pontchartrain and the Mississippi River. During World War II, New Orleans was the site of the development and construction of Higgins boats which aided in the allied victory. After the War, the city was reshaped entirely with the development of New Orleans centre city suburbs.
These fascinating historic photos of old New Orleans from the 1900s will take you back.
#1

Jackson Square and St. Louis Cathedral, New Orleans circa 1905
#2

Haunted House (Warrington House), Royal and Hospital Streets, New Orleans circa 1906
#3

Chess, Checkers and Whist Club, Canal and Baronne streets, New Orleans circa 1903
#4

Old Absinthe House and the bar, New Orleans circa 1906
#5

The City from Algiers, At left, the centerwheeler ferry Thomas Pickles, New Orleans circa 1900
#6

Roller coaster and pier at West End, Lake Pontchartrain, New Orleans circa 1901
#7

The French Market, Decatur and Peters Streets, New Orleans circa 1900
#8

St. Charles Avenue, New Orleans, Louisiana, 1910
#9

Gayarre Place monument, Esplanade Avenue, New Orleans circa 1910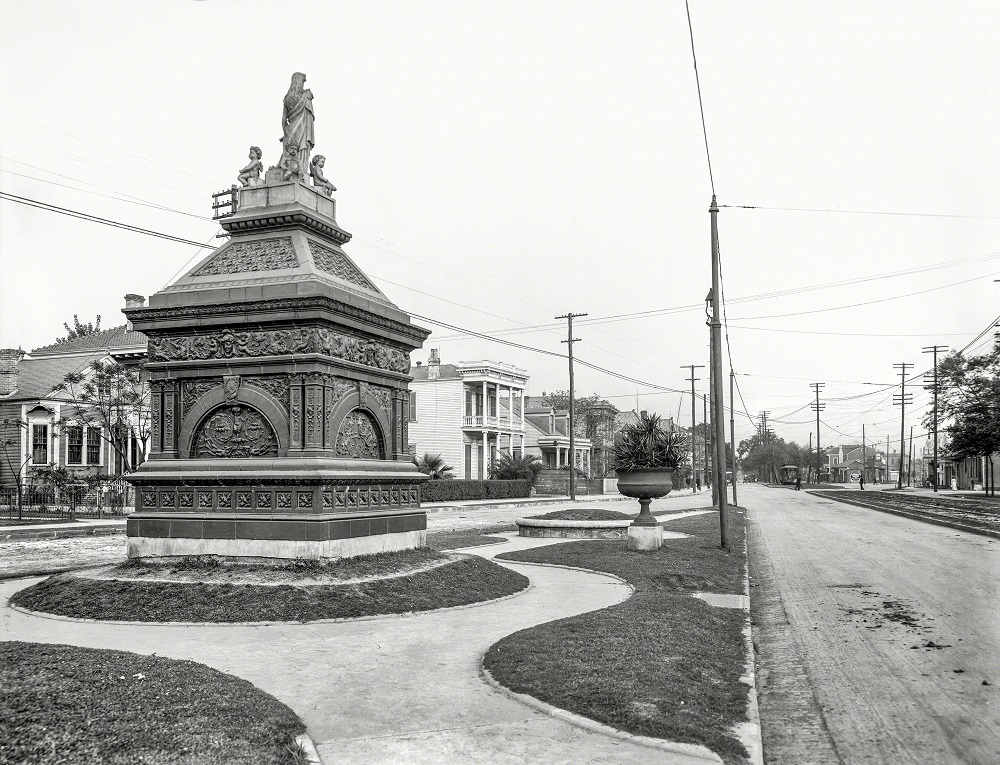 #10

Mardi Gras in New Orleans, 1906
#11

Canal Street in New Orleans circa 1910
#12

Steamer loading hides, New Orleans circa 1903
#13

Scottish Rite Cathedral, New Orleans, 1910
#14

Chartres Street, New Orleans circa 1906
#15

Mule teams and the levee, New Orleans circa 1903
#16

Cotton Exchange, New Orleans, 1900
#17

Old French courtyard, New Orleans circa 1903
#18

Unloading bananas at New Orleans, Louisiana, 1903
#19

Steamer loading grain from floating elevator, New Orleans waterfront circa 1906.
#20

Payday on the levee, New Orleans circa 1906
#21

New Hotel Denechaud, Poydras Street, New Orleans circa 1908
#22

Masonic Temple, New Orleans, 1910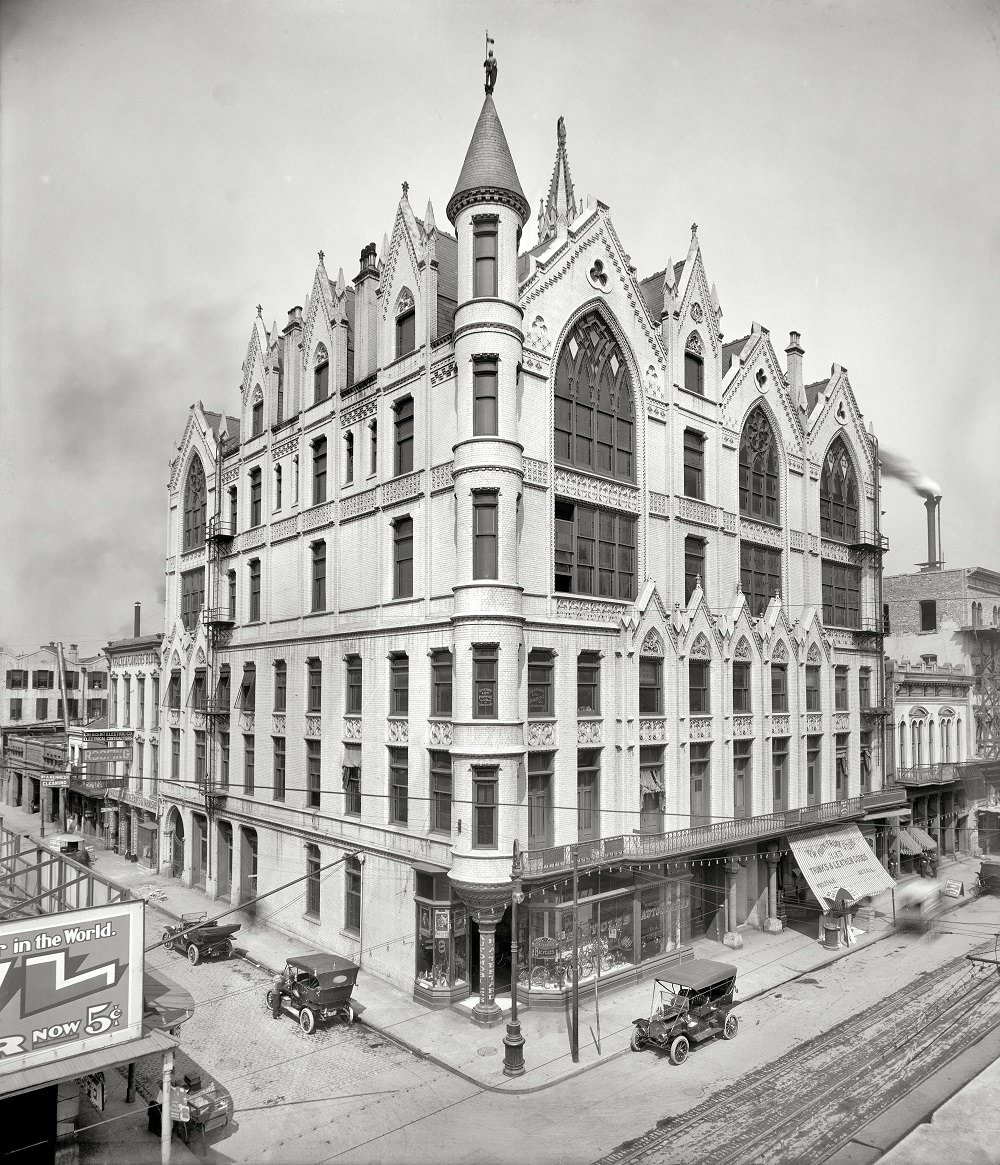 #23

Italian headquarters, Madison Street, New Orleans circa 1906
#24

Terminal Station, Canal Street,New Orleans circa 1910. Demolished in 1956
#25

Sternwheeler Imperial at New Orleans, 1910
#26

Henry Clay Monument, Canal Street, New Orleans circa 1900
#27

General Lee monument, Tivoli Circle, St. Charles Avenue, New Orleans circa 1900
#28

Foot of Canal Street and Riverboat at the levee, New Orleans circa 1900
#29

Washington Artillery Hall, St. Charles Avenue, New Orleans, 1910
#30

City Hall, Lafayette Square, New Orleans circa 1910
#31

St. Charles Avenue, New Orleans, 1900
#32

Packet steamer Natchez at New Orleans, 1903
#33

St. Charles Hotel, St. Charles Street, New Orleans, 1900
#34

Mardi Gras, New Orleans, The Mississippi River circa 1900
#35

Loading steamer Chalmette during high water, March 23, 1903, New Orleans
#36

Maison Blanche, Canal Street, New Orleans circa 1910
#37

Cotton on the Mississippi River levee, New Orleans circa 1903
#38

Old Spanish courtyard, New Orleans circa 1903
#39

Elks Place, New Orleans, Louisiana, 1906
#40

Mardi Gras procession on Canal Street, New Orleans, 1900
#41

The Archbishopric, New Orleans circa 1910
#42

Southern Pacific R.R. transfer boat Carrier at New Orleans, 1910
#43

Old Absinthe House and Bourbon Street, New Orleans circa 1903
#44

Visiting the torpedo boats, The Porter and the Dupont, New Orleans circa 1906
#45

New Orleans and the Mississippi River from Grunewald, 1910
#46

S.S. Proteus and High water at New Orleans levee, 1903
#47

Oyster luggers at New Orleans, 1906
#48

Oyster luggers at New Orleans, along the Mississippi, 1906
#49

New Orleans and Mississippi River from Hotel Grunewald, 1910
#50

A typical milk cart, New Orleans circa 1910
#51

Dock conveyors, New Orleans, 1906
#52

Oyster and charcoal luggers in the old basin, New Orleans circa 1908
#53

Unloading bananas at New Orleans, 1903
#54

St. Charles Avenue from Canal Street, New Orleans circa 1910
#55

Smallest news & post card stand in New Orleans, 103 Royal Street
#56

The French Market, New Orleans, The Crescent City circa 1906
#57

New Orleans milk cart, 1903
#58

Canal Street, New Orleans, Louisiana, circa 1907
#59

Mule teams on the levee, New Orleans, Louisiana, circa 1903
#60

French Opera House, New Orleans, February 1900
#61

Royal Street from Canal Street, New Orleans circa 1906
#62

Old French courtyard on Royal Street, New Orleans, Louisiana, circa 1906
#63

Carondelet Street, New Orleans, 1905
#64

Napoleon House, Chartres Street, New Orleans circa 1905
#65

Canal Street in New Orleans, 1903
#66

Camp Street, New Orleans circa 1905
#67

Esplanade Street, New Orleans, 1900
#68

Stuyvesant elevators, docks, R.R. terminal at New Orleans, 1900
#69

French Market, New Orleans, 1910
#70

A corner of the French Market, New Orleans, 1910
#71

Mardi Gras, New Orleans, the Red Pageant, 1900
#72

Royal Street, New Orleans, circa 1900
#73

French Opera House, New Orleans, 1910
#74

Maison Blanche, Canal Street, New Orleans in 1910
#75

Charcoal lugger in the Old Basin, New Orleans circa 1906
#76

Canal Street in New Orleans circa 1910
#77

A close-up of the H.A. Testard Bicycles & Automobiles storefront from the previous post, New Orleans circa 1910
#78

A New Orleans milk cart with a one-horsepower motor, 1903