In the stormy world of 1943, where uncertainty reigned and World War II held humanity in its fierce grip, there emerged an unlikely hero. From the bustling streets of Baltimore to the endless expanse of the Atlantic, a gray feline named Herman embarked on an unforgettable journey.
Baltimore Beginnings
Herman wasn't just any cat. He roamed the streets of Baltimore, a city filled with the whispers of war, the hustle of wartime production, and the silent prayers of families hoping for the safe return of their loved ones. The streets were his kingdom, and with striking green eyes, he'd survey his domain, unaware that destiny had marked him for greatness.
The Rodent Problem and An Unexpected Solution
Ships during this era faced a quiet menace – rats. These rodents weren't just a nuisance. They chewed through vital supplies, ruined equipment, and posed a health risk to sailors. The U.S. Coast Guard, always at the forefront of maritime challenges, was brainstorming solutions. It's hard to imagine the moment someone pointed out the obvious: Why not employ nature's finest rodent hunter? A cat.
The Inception of Herman's Maritime Career
A scout from the Coast Guard must've spotted Herman during one of his prowling escapades, recognizing in him the makings of an "Expert Mouser." Before he knew it, Herman was inducted into the service. This wasn't just a casual enlistment. Herman received an official identification card, stamped with the impressive serial number 05225058. No expiry date marked on his card.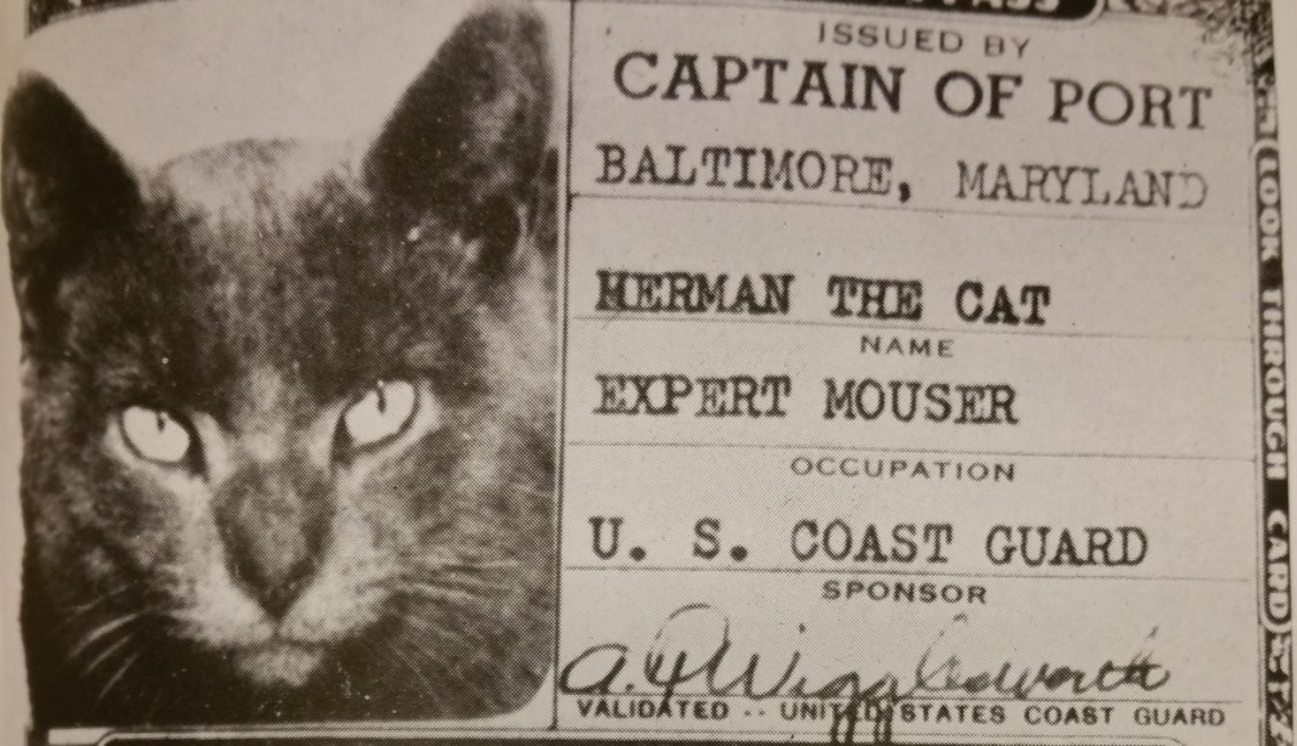 Navigating New Waters
Adjusting to ship life was no small feat. Herman had to familiarize himself with the labyrinthine corridors of the vessel, the constant thrum of engines, and the salt-laden sea breeze that was so different from the urban scents of Baltimore. But being a cat of mettle, he took to his new life with gusto.
Beyond Duty: Herman's Influence on Morale
Herman's nocturnal adventures became legendary. The sailors would often trade tales of his antics, adding a touch of levity to their otherwise grueling routines. He didn't just chase rats; he chased away homesickness, becoming a source of comfort and camaraderie for the crew. Sailors would pen letters home, mentioning their feline shipmate, and Herman quickly gained quite the reputation on both land and sea.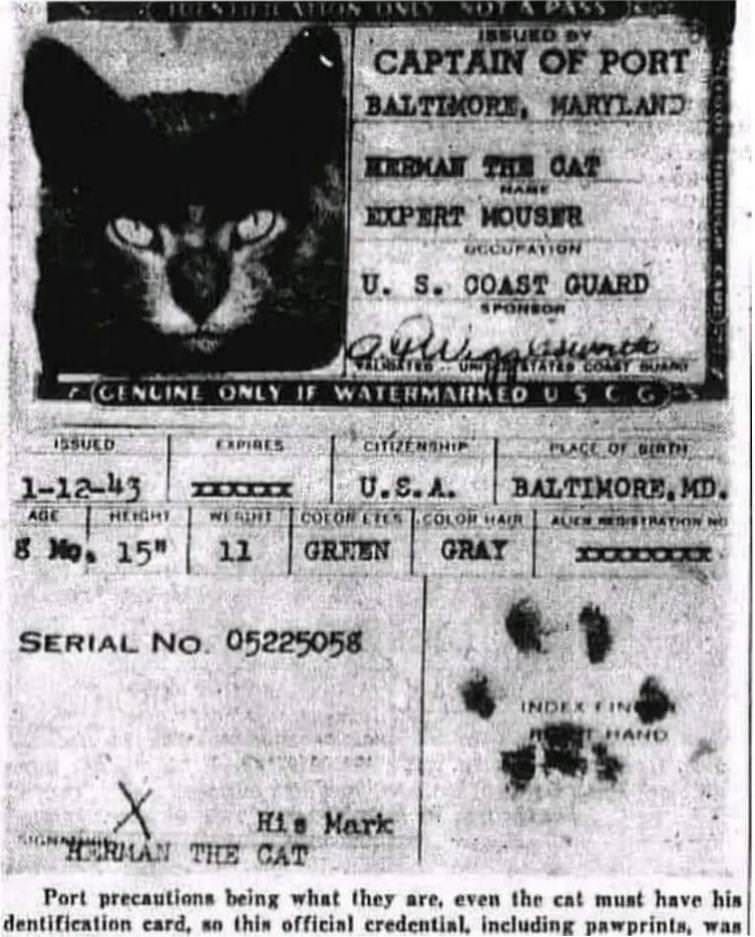 The Heartbeat of the Ship
Every ship has its rhythm, a heartbeat that resonates with every sailor onboard. Herman became an intrinsic part of this rhythm. Whether it was his determined chase of a particularly elusive rat, the soft cadence of his purrs, or his silhouette against the setting sun as he stood guard on the deck, Herman was everywhere. He was the guardian spirit, the embodiment of hope, and the daily reminder of the world beyond war.