The 1960s were a time of significant social and cultural change in Toronto. The city was undergoing rapid growth and development, and many new buildings and landmarks were constructed during this period. The Toronto Maple Leafs won the Stanley Cup in 1967, and the city played host to a number of major cultural events, including the opening of the Royal Ontario Museum. The city also saw an influx of immigrants from around the world, which added to its cultural diversity. Despite these positive developments, the 1960s were also a time of tension and conflict, as the city struggled with issues such as poverty and racial discrimination.
In the 1960s, Toronto was also home to a thriving music scene. Many popular bands and musicians got their start in Toronto during this time, including the legendary rock band Rush. The city was also home to many jazz clubs and other music venues, and it was a popular destination for touring musicians from around the world.
#1

The windows have changed somewhat, but I'm fairly certain that this is Saint Peter's Estonian Evangelical Lutheran Church, 1960s (completed 1955). East side of Mount Pleasant Ave., north of Eglinton Ave. E.
#2

View looking east on King St. W. at York St., 1960s.
#3

Looking south on York Street, from King. 91 York – New Prince George Hotel, 1961
#4

2 Carlton St. / Carlton Tower. NE corner of Yonge & College, 1960.
#5

Looking northwest towards Dundas & Parliament, 1960s.
#6

Withrow Park wading pool, looking northwest toward Logan Avenue, 1960s.
#7

Withrow Park, looking east (ESE) across the park from the wading pool toward the outdoor rink, 1960s
#8

928-938ish Dufferin Street, c.1960s. The houses were rental, owned by the Denison Estate and sold in the late 1920s, just south of what is now Croatia Street.
#9

N C Cameron & Sons, (Importers) 919 Dufferin St., 1960s. This is on the NE corner of Dufferin and Dufferin Park Ave. Now an apartment building. Houses to the north still stand.
#10

GO locomotive GP40TC #606 heads an eastbound train out of Scarborough GO station about to cross the busy St. Clair Ave. E. grade crossing in September of 1967, during the first few months of GO train operation.
#11

Dufferin Plaza Shopping Centre, 1960s. 782-906 Dufferin. This view, looking south down what would be the main corridor of the now-enclosed Dufferin Mall.
#12

Briar Hill and Duplex Avenue, the Anglican Church of St. Clement, 1960s.Some trees are gone, some new ones have grown, the benches have moved, the path has changed, but otherwise much the same today.
#13

Looking east from Spadina Avenue, right at the Spadina Roundhouse. Many locomotives, 1960s.
#14

The pool at Eglinton Park, 1960s. This view looking northwest, across the pool, towards the backs of houses on the east side of Oriole Parkway (north of Eglinton).
#15

Looking east along the tracks, from the Spadina Avenue bridge, towards downtown, 1960s.
#16

Looking west from the Spadina Ave. bridge along tracks leading to the Spadina Roundhouse (to the east), 1960s.
#17

Looking north along Sumach Street from Queen, 1960s. In the distance, two of Peter Dickinson's Maisonette Towers are visible.
#18

Eglinton Park, probably late 1960s
#19

Northeast corner, University and Edward, 1960s.
#20

West side of University Ave at Elm, 1960s.
#21

A great shot of St. Lawrence Market and Market Street, before the market's renovation and area development, 1960s
#22

385-391 Yonge Street in 1962.
#23

A nice look at 381 Yonge Street as it appeared in 1962.
#24

375-381 Yonge Street, in 1962.
#25

Apart from the facade of the Yonge Street Mission, this stretch of streetscape no longer exists. East side of Yonge St. just south of Gerrard St., 1962.
#26

A look back south towards the Biltmore Theatre, at 319 Yonge Street, 1962. Upstairs, at 321-325 Yonge, a sign indicating the opening of 'Club Nocturne'
#27

335 Yonge Street in 1962.
#28

Yonge & Gerrard, looking southeast at 373-391 Yonge, from the Rio Theatre to the Gerrard Bldg. in 1962. All now demolished, with some retained facades to be part of Concord Sky.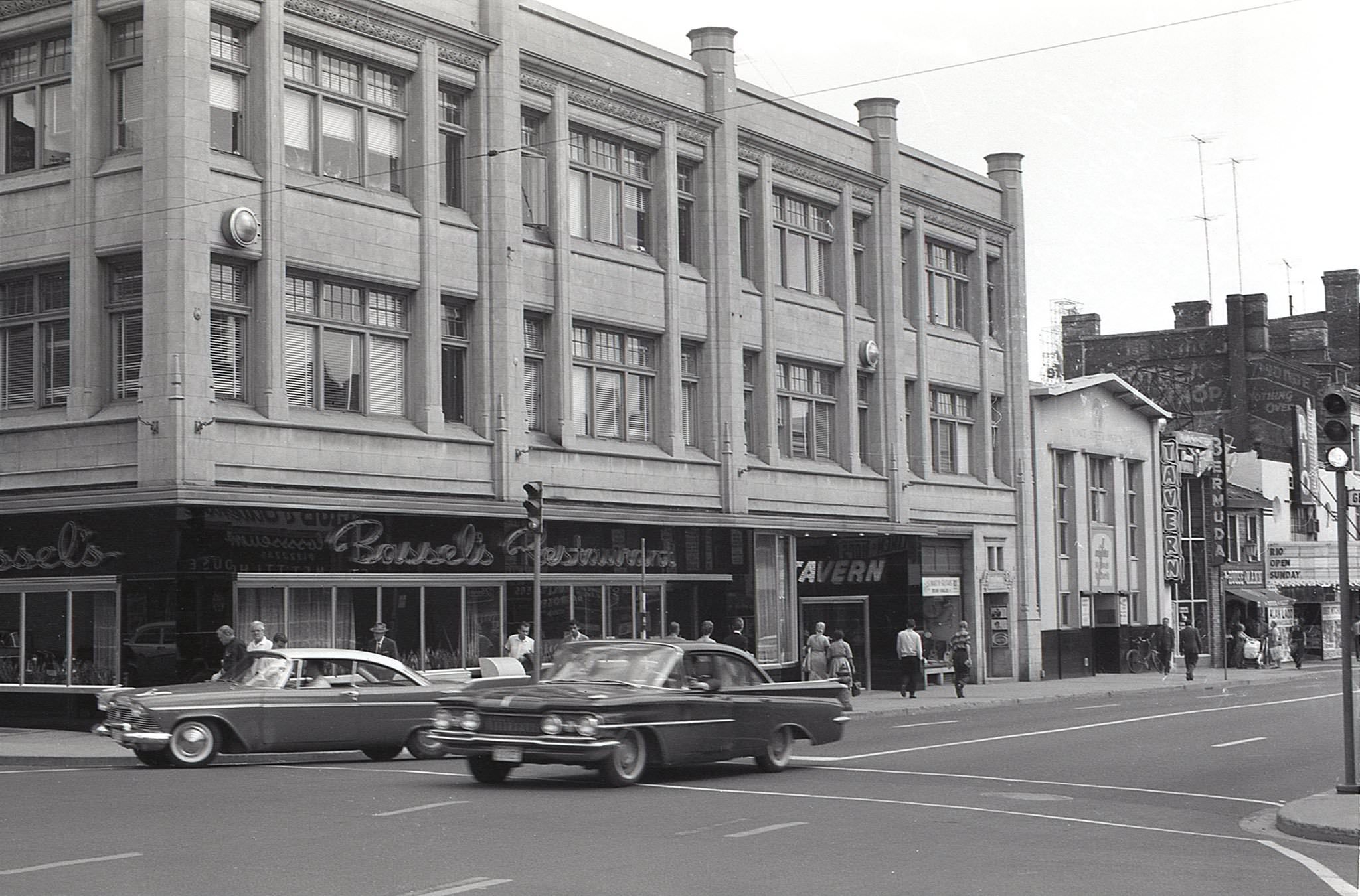 #29

363-365 Yonge Street in 1962
#30

A closer look at Steele's Tavern in 1962. Between Sam the Record Man and A&A. Where Gordon Lightfoot got started.
#32

Looking north from 327 Yonge in 1962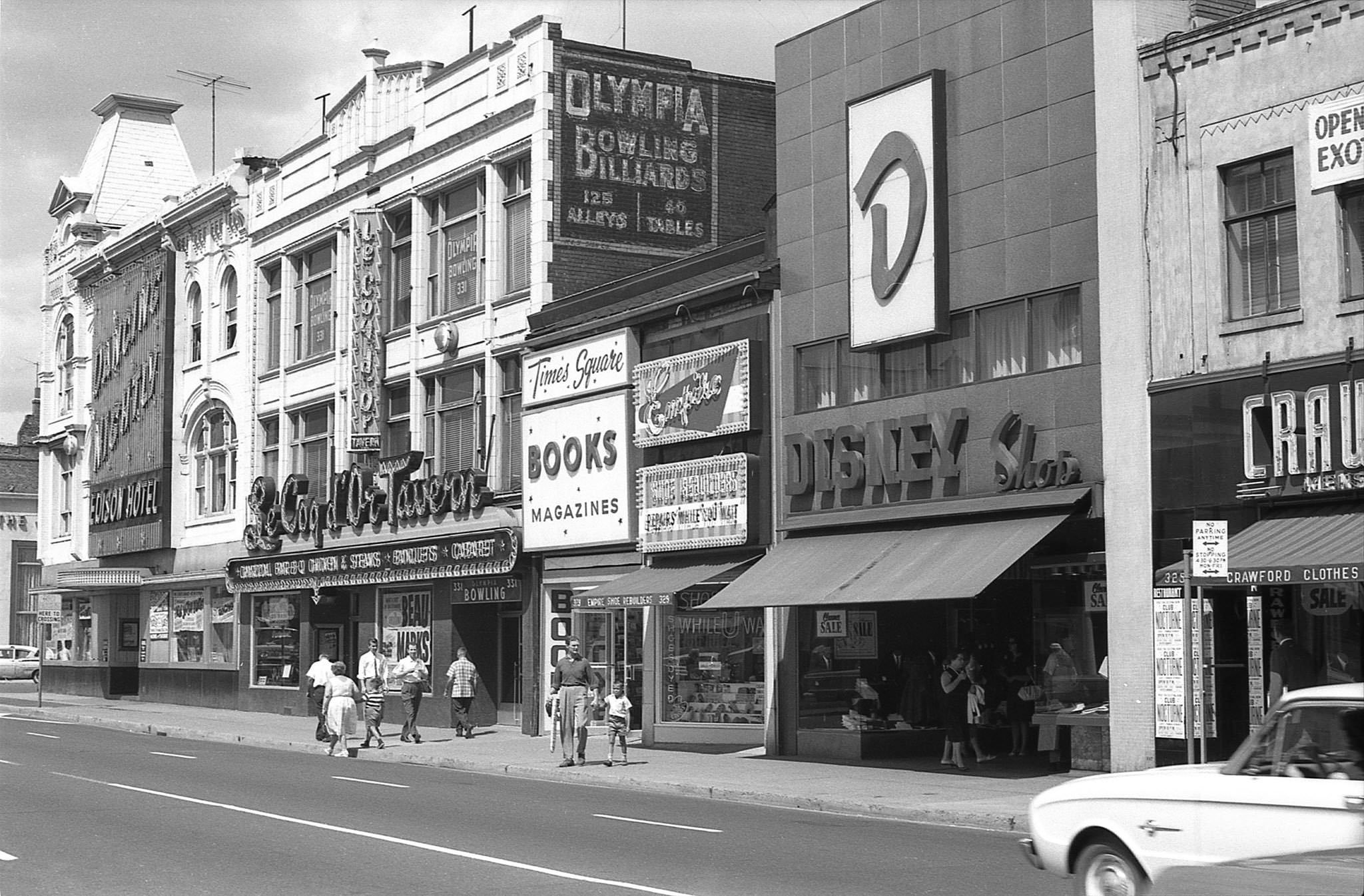 Disney Shop (men's wear) Empire Shoe Repairs Times Square Books and Magazines Le Coq D'Or Tavern (great signage!) Upstairs, Olympia Bowling(Olympian Recreation Club)Edison Hotel (originally the Empress Hotel - lost to fire)
#33

TTC Special Car on Sherbourne Street, view is looking north to King Street, 1961.
#34

267-275 Yonge Street in 1962
#35

The 929-seat Biltmore Theatre, 1962.
#36

TTC Subway fire. Davisville yard, 1963
#37

Toronto Marlboros Shopsys Pee Wee team. Mr. Sam Shopsowitz back row right. Photo taken in Maple Leaf Gardens, NHL Visitors dressing room. 1960
#38

Soldiers' Tower at Hart House, UofT taken from Whitney Hall, 1963
#39

University of Toronto, 1966
#40

Hopedale Ave. East York, 1967
#41

After a snowstorm, Elvaston Dr., 1960s
#42

West Prep, Old Park Rd Grade 6, 1963
#43

Coxwell Ave. and Danforth Ave – photo taken across from Earl Haig PS – You can see the TTC streetcar barns at the top right of photo, 1960
#44

A couple in front of the house they were building on Pharmacy Ave just south of Lawrence Ave, 1960s
#45

Harbord Street, taken from Whitney Hall residence on St. George Street in the winter of 1963
#46

Easter on Warvet Cres., East York, My Grandmother's house, 1960
#47

House at Dundas W. at the corner of Coolmine, 1960s
#48

Oxford street near Lippincott st., 1963
#49

Toronto Marlboros League Champions, 1960s
#50

A deli on Roncesvalles, 1960s
#52

Downtown Toronto, probably taken from Simpsons department store, 1967
#53

Downtown Toronto, 1967
#54

Downtown Toronto facing east along what street, 1966
#58

Santa Claus parade 1965
#59

Santa Claus parade 1965
#60

Centre Island 1968 with Mario Dias
#61

Don Valley ski hill was on Lawrence Avenue at the Don Valley Parkway, 1962
#62

Don Valley ski hill was on Lawrence Avenue at the Don Valley Parkway, 1962
#63

Don Valley ski hill was on Lawrence Avenue at the Don Valley Parkway, 1962
#64

Don Valley ski hill was on Lawrence Avenue at the Don Valley Parkway, 1962
#65

Maple leaf gardens' extension over street line on Wood and Carlton Sts.; to add 4;000 seats; was approved by city works committee yesterday. Looking at model are Gardens' vice-president H. Ballard; architect P. Allward, 1963
#66

Manning Boys and Girls Branch, Toronto Public Library, located on the grounds of Charles G. Fraser School, Manning Avenue, northeast corner of Robinson Street, 1960
#67

Canadian Tire Store that used to be at 71 Main Street North (the address changed to 1973 Weston Road in 1960
#68

Mini-Skirted girls were among 10 students who walked out of Danforth Technical School yesterday, 1968
#69

TTC Bus 1112 on Blondin, looking northeast in 1962.
#70

TTC Bus 1112 on Blondin, looking northwest in 1962.
#71

TTC bus 1729 heading east along Eglinton Avenue West in 1964 at Avenue Road.
#72

TTC bus 1729 heading east along Eglinton Avenue West in 1964, approaching Avenue Road.
#73

Graydon Hall apartments under construction in 1966
#74

1966 Warden Woods Campus site : 651 Warden Ave. After Canadian Arsenals Ltd. closed its factory at 651 Warden Avenue in 1964, the Government of Canada regained ownership.
#75

A different view from the CNE Shell Tower than I shared a year or so ago. This time, looking north. From a Kodachrome slide, shot by my father in the early 1960's
#76

South east corner of Yonge and Dundas, 1962
#77

Originally the Rossin Hotel built in 1856. Southeast corner of King & York. Prince George Hotel demolished in 1969.
#78

Yonge and Dundas, 1962.
#79

Looking northeast on Yonge St. to the 1,059-seat Downtown Theatre, 1962.
#80

Parliament & King – HW bacon cartage panel truck, 1960s
#81

A pair of heritage designated buildings, as they were in 1962
#82

243-255 Yonge Street in 1962 Clark Shoes State Grill Tip Top Tailors Superior Tea Rooms Imperial Theatre sign visible a few shops to the north
#84

A nice look at the Imperial Theatre on Yonge St., 1962.
#85

Another look at the Ryrie Building on the northeast corner of Yonge and Shuter Streets, this time from the north, providing a good view of the ground floor shops in 1962.
#86

Yonge & Shuter, 1962.
#87

A view southeast, picking up marine terminals, the Redpath Sugar plant, and the broader commercial port, 1960s
#88

Looking north from 199 Yonge, 1962.
#89

A Tale of Two Roundhouses. 1960s.
#90

Supertest at 1646 Victoria Park looking north. Zingburger behind the car. Apartment building on the right is 1651 V.P., 1960s
#91

Looking east along Front Street East, late 1960s.
#92

Looking straight down Gloucester Street, out to Yonge, 1964.
#93

Gloucester Street, a little west of Church, looking west toward Yonge, 1964.
#94

Above-ground connection between two buildings at the west end of Pears Avenue, framing a view of a couple houses on Bedford Road, 1964
#95

Looking east along Pears Ave. toward Avenue Rd., 1964
#96

A mid-town industrial streetscape that no longer exists. Looking west along Pears Ave. toward Bedford Rd., 1964.
#97

Chicora Avenue, looking east toward Avenue Road, 1964
#98

Looking east along Davenport Rd., towards Avenue Rd., 1964. For context, if you zoom in, that metal fire escape in the distance still exists, and is on the side of the building that is now Avenue Diner at 222 Davenport. The diner was 'Avenue Coffee Shops' in 1964
#99

Another view of the laneway behind 3180-3202 Yonge Street, 1964. Looking north from above Bedford Park Avenue, taken from the east edge of the Blessed Sacrament Catholic School property.
#100

Dawes bus coming west through laneway from dawes to Loblaws parking lot loop, 1960s
#101

Dawes bus in Loblaws store parking lot loop March 1966.
#102

Looking up slushy Davenport Rd., past Bedford Rd., 1964.
#103

Laneway behind 3180-3202 Yonge Street, 1964.
#104

North side of Davenport Rd., between Bedford Rd. and Avenue Rd., looking nw towards Bedford, 1964.
#105

Loading the trunk in the laneway behind 3368 Yonge Street, 1969.
#106

The gap between the buildings is 439 University Ave (east side of the street, south of Dundas), 1964.
#107

Rear laneway behind 3328-3336 Yonge St., looking south from below St Germain Ave., 1969.
#108

The same location as it looked in a later slide that I purchased from John Bromley. TTC Streetcar 4552 WB on Rogers at Blackthorn – 7th July 1966
#109

The old Rogers Oakwood route, 1960s
#110

Castlefrank ttc stn. Parliament bus, 1969
#111

Northwest corner of Danforth and Ferrier Ave., April 1969.
#112

Looking east from Brookdale Ave., the laneway behind the west side of Yonge, April 1969.
#113

Looking north from Brookdale Ave., the laneway behind the west side of Yonge, April 1969. The rear of 3284 Yonge Street in the middle of the frame.
#114

The laneway behind 3228-3250 Yonge (west side of the street), looking north from Cranbrooke Ave., April 1969.
#115

The laneway behind 500-514 Danforth Ave., April, 1969. View looking southeast – a little of the Danforth/Ferrier BMO branch peeking out towards the left.
#116

Spadina near lakeshore, 1960s
#117

College and university ave sw corner, 1965
#118

Yonge looking south towards Dundas, early 1960s
#119

I think the white car in front of the inn on the park was our 1965 Pontiac laurentian