Tanzania (formerly Tanganyika) became independent from the British Empire in 1961. On 26th April 1964, Tanganyika and Zanzibar united to form the United Republic of Tanzania. Tanzania's first president was Mwalimu Julius Kambarage Nyerere, and its current president was Dr. John Pombe Joseph Magufuli. As an idealistic socialist by instinct, Nyerere guides his country along ideological lines. The emphasis is on local self-sufficiency. For local problems, traditional and simple solutions are sought rather than technological imports. Much emphasis is placed on education and literacy, which has produced excellent results. Nyerere outlines his political philosophy in the Arusha Declaration, a document issued in 1967. This announces the introduction of a socialist state and is accompanied by the nationalization of critical elements in the economy. As a result of such policies, Nyerere is inevitably forced to rely on the eastern bloc, particularly China, for assistance. However, he maintains his non-alignment stance on the international stage.
Tanzania has mountains and dense forests in the northeast, where Mount Kilimanjaro can be found. Tanzania is home to three of Africa's Great Lakes. Lake Victoria is Africa's largest lake, and Lake Tanganyika is the continent's deepest lake, known for its unique fish species. The southernmost point of the country is Lake Malawi. The Zanzibar Archipelago is just offshore, on the east shore. Zanzibar's largest marine protected area is Menai Bay Conservation Area. At the Zambian border, Kalambo Falls is the second-highest uninterrupted waterfall in Africa.
Tanzania has more than 100 languages, making it the most linguistically diverse country in East Africa. Swahili is the national language, but there is no de jure official language. About 10% of Tanzanians speak Swahili as their first language, and up to 90% speak it as a second language. There are substantial minorities of Muslims and Animists in Tanzania, but Christianity is the most common religion.
Here are some stunning historical photos showing Tanzania's life in 1969.
#1

A street in Zanzibar, 1965
#2

Local residents stand outside Colito Barracks, where mutineers are imprisoned, in Dar es Salaam, 1960s
#3

Members of the British Royal Marines (possibly 45 Commando Royal Marines) clear out the armory at Colito Barracks in Dar es Salaam, 1960s
#4

Local residents seated on a bench to watch the Royal Navy light fleet carrier HMS Centaur (R06) on patrol off the coast of Dar es Salaam, 1964
#6

View of a herd of wildebeest as they gallop across a grassland, Tanzania, 1962.
#7

A shepherd as he holds a spear, Tanzania, 1962.
#8

A man as he stands on an ant or termite hill and looks across a field, Tanzania, 1962.
#9

A young boy as he holds a goat kid in his arms in a small village, Tanzania, 1962.
#10

A shepherd as he holds a spear, Tanzania, 1962.
#11

A man and his son as they smile and stand in an open field, Tanzania, 1962.
#12

On the roof of a bus, Tanzanians protest against US imperialism with a banner that reads 'Yankees, stop infiltrating Africa', in Tanzania, August 4, 1967.
#13

Buildings for curing tobacco in an Ujamaa, a village socialist community in the village of Kivere, Tanzania, October 23, 1969.
#14

A small group of Masai women and children standing near Ngorongoro Crater, Tanzania.
#15

Demonstration for the Independence pf Zimbabwe in Dar Es Salam, 1963
#16

Independence War In Mozambique : Tanzanian Training Camp, 1965
#17

Tanzanian Training Camp, 1965
#18

Tanzania Parliment, 1961
#19

Tanzania, Dar es Salaam, 1960s
#20

Tanzania, Dar es Salaam, 1960s
#21

Tanzania, Dar es Salaam: town hall with flag of Tanzania, 1960s
#22

Tanzania, Dar es Salaam: Karimjee Hall, seat of the parliament, 1960s
#23

Tanzanian President Julius Nyerere inspecting a contingent of young national service women who carry long knives over their shoulders, in Dar es Salaam, Tanzania on May 2, 1968.
#24

Jane Goodall appears in the television special "Miss Goodall and the World of Chimpanzees" originally broadcast on CBS, Wednesday, December 22, 1965.
#25

Bathers on a Dar es Salaam beach, 1960
#26

Passers-by in downtown Dar es Salaam, 1960
#27

Covered market in Dar es Salaam, 1960s, Tanzania.
#28

Crossroads in the city center of Dar es Salaam, 1960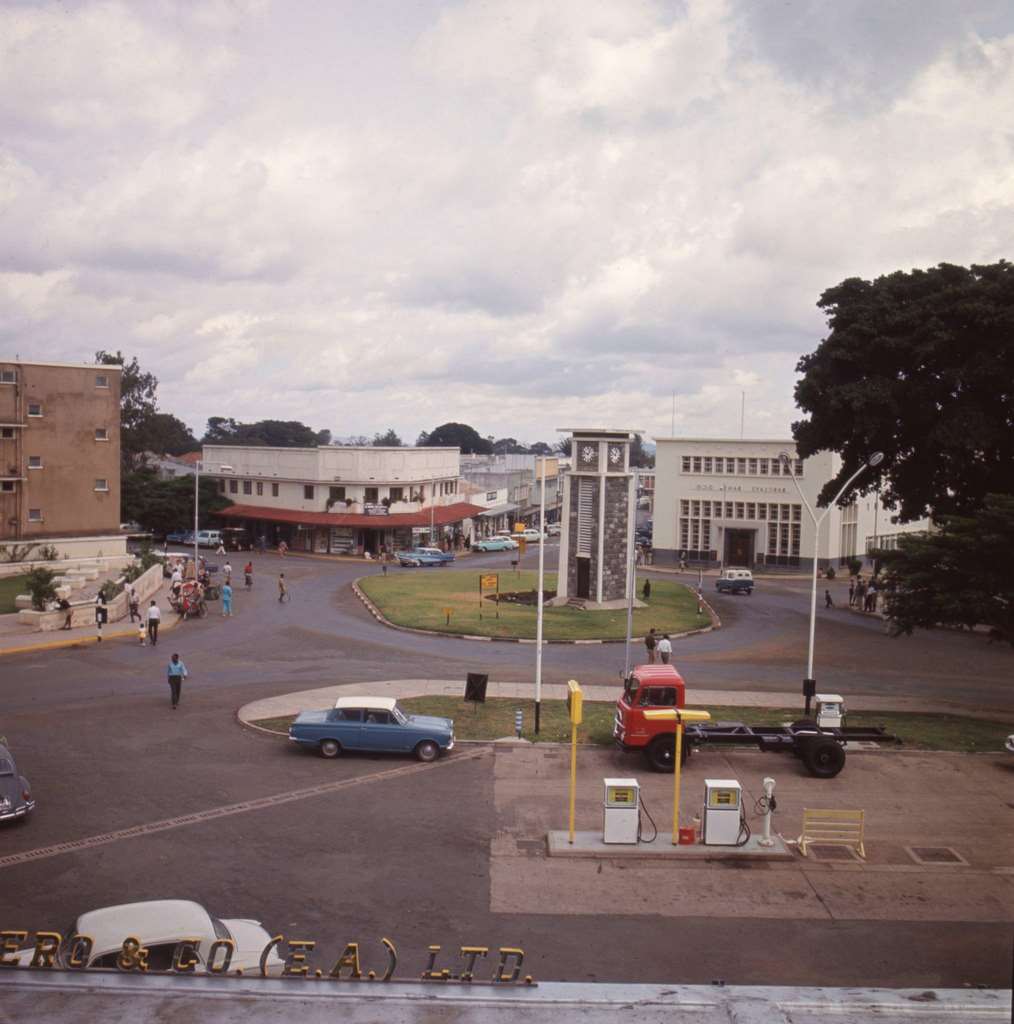 #29

Crossroads in the city center of Dar es Salaam, 1960
#30

Handicraft shop in Dar es Salaam, 1960s
#31

State visit President Nyerere of Tanzania, 1695
#32

Women waiting to sell their goods on display on mats at the market. Africa, 1960s
#33

A newly built terminal building at the Zanzibar airport. A five-passenger plane of DH-89-Dominie type connects Daresalam, Zanzibar, Pemba, and Tanga, October 1963.
#34

A traditional dancers celebrating the independance of Tanganyika from British colony, now part of Tanzania.
#35

American comic actor Red Buttons during the filming of 'Hatari!' (directed by Howard Hawks), Tanzania, 1962.
#36

Zambian copper being offloaded at the port of Dar es Salaam,Tanzania from where it will be exported.
#37

Stewart L. Udall, 1960s
#38

Politics Africa, Tanzania, 1965
#39

Life In The Village of Ipiri In Tanzania, 1967
#40

The village of Ipiri and its inhabitants, the United Republic of Tanzania, 1967. P
#41

A market somewhere in Mwanza Region, 1969
#42

A busy scene in the Tanzanian town of Mwanza as the bus to Musoma is loaded prior to departure, 1969
#43

A fishing beach in Musoma on the eastern shore of Lake Victoria in Tanzania, 1969
#44

A typical scene–boats have landed with fish for sale from the beach, 1969
#45

Bananas by the stalk, 1969
#46

Bananas for sale, 1969
#49

Boys and musician, 1969
#50

Captain of the fishing boat at the Fisheries Station, Mwanza, Tanzania, 1969
#51

Crouching player, flying music, 1969
#52

Dried fish laid out on a table made from reeds in the Mwanza region of Tanzania, 1969
#53

Drinking together, August 1969
#55

Feathered men dancing, 1969
#59

Greengrocer smile, 1969
#60

Kids with Makonde carving, 1969
#62

One of the beaches where fish was landed by canoe from Lake Victoria, 1969
#66

Put your fists up!, 1969
#67

Reluctant subjectKids in Kunduchi (near Dar es Salaam, Tanzania) with a Makonde carving fashioned nearby, 1969
#68

Riding the waves in the Tanzanian Lake Victoria fishery, 1969
#69

Scramble to buy fish, 1969
#71

Sorting the nets, 1969
#76

Tanzanian girls dressed up, 1969
#78

The bus is delayed, 1969
#79

The entertainer, 1969
#80

The train to Dar es Salaam, 1969
#82

Two men traveling along the shore of Lake Victoria in Mwanza, Tanzania, 1969
#84

Walk along a railway line, 1969
#86

Whistle and hoe, 1969
#87

Women in Kitenge (or Kanga are wrap garments from East Africa, sold in matching pairs) on a Lake Victoria fishing beach in Tanzania, 1969
#90

Young girl traders, 1969