The wealth of Victorian-era gold began to flow to Queensland in the late-19th century. The first railway lines from Ipswich to Dalby and Warwick became operational in 1870. More than 200,000 Europeans lived in Queensland in 1880, with the most significant cities being Brisbane, Townsville, Toowoomba, Mackay, and Rockhampton. Darling Downs became a centre for pastoral industry in the 1860s and '70s. Queensland had around three million cattle and seven million sheep by 1880. Sugar and cotton production increased in the 1860s.
During the Great Shearers' Strike at Barcaldine in 1891, the Australian Labor Party was formed. Employers were arguing over whether they could use non-union labor during the strike. The police and troops were called in, some sheds were fired, and mass riots. The second shearers strike occurred in 1894. At the Queensland elections of 1893, sixteen union candidates won seats. The 1893 Brisbane floods caused much damage, including the destruction of the Victoria Bridge. The first cricket match was played at the Brisbane Cricket Ground in December 1896, on the land where it now stands. Native Police (Aboriginal Police) were disbanded in 1897. World's first Labor government, led by Premier Anderson Dawson, lasted less than one week in power in 1899. During the Second Boer War (Second Anglo-Boer War) in July 1899, Queensland sent 250 mounted foot soldiers to aid Britain. Charters Towers gold production also peaked that year. Natural gas was first discovered in Queensland and Australia at Roma in 1900 during a water well drilling.
In 1899, the Mahina Cyclone struck the Cape York Peninsula and destroyed a pearling fleet in Princess Charlotte Bay. The cyclone killed approximately 400 people, making it Queensland's worst maritime disaster.
#2

AMP society building, corner Queen and Edward Streets, Brisbane, 1898
#3

Victoria Bridge from Treasury Building towards South Brisbane and Mt Coot-tha, Brisbane, 1897
#4

General Post Office, Queen Street, Brisbane, 1897
#5

The First Horse Tram in Brisbane, c1880.
#6

Charlotte Street, Brisbane during 1893 Floods
#7

Boats grounded within the Botanic Gardens, 1893
#8

View of Brisbane, 1862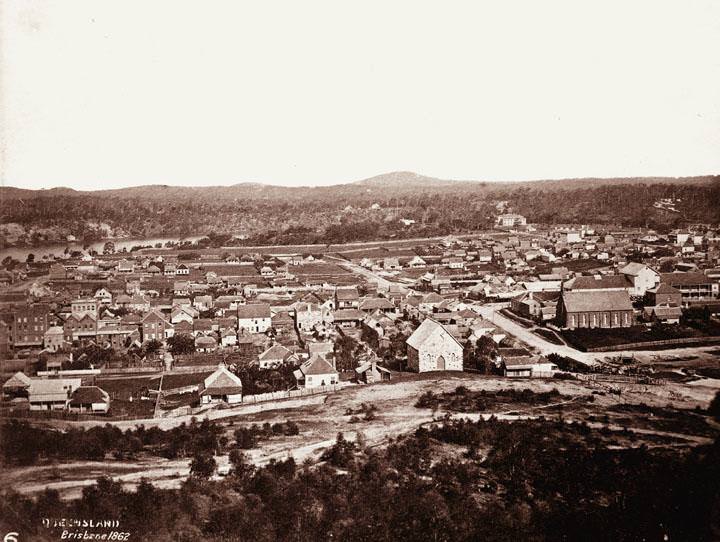 #9

Victoria Bridge from Queen Street, Brisbane, 1880
#10

Threshing at Wallumbilla, 1899
#11

'Artemisia' – First Government Sponsored Immigrant Ship.
#12

James Street, Fortitude Valley during The Brisbane Flood of 1893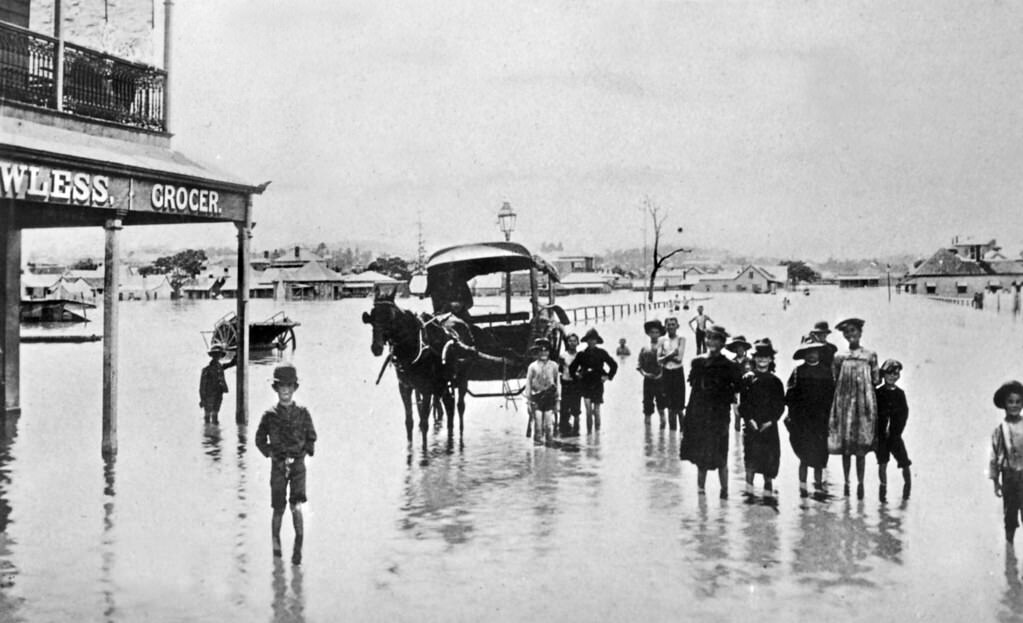 Crossing from the North Quay to South Brisbane the sight which meets the eye is appalling. The streets themselves covered to a depth of inches by a thick foul smelling mud were on Tuesday partially blocked by half-demolished houses, telegraph poles and posts with the wires (forming a trap for those who were not sufficiently careful in getting about), crockery-ware, dead animals, and articles of broken furniture. It was of course impossible to obtain anything like an accurate estimate of the number of houses destroyed, but it is safe to assert that quite two-thirds of the houses between Montague-road and the river has been carried away.
#13

Gympie Goldfield (No.2 S.G. Eastern Underground). 1897
#14

Shipwreck of the 'Young Australia' off North Point, Moreton Island, 31 May 1872
#15

The Brisbane Flood of 1893
#16

Victoria Bridge, Brisbane, 1871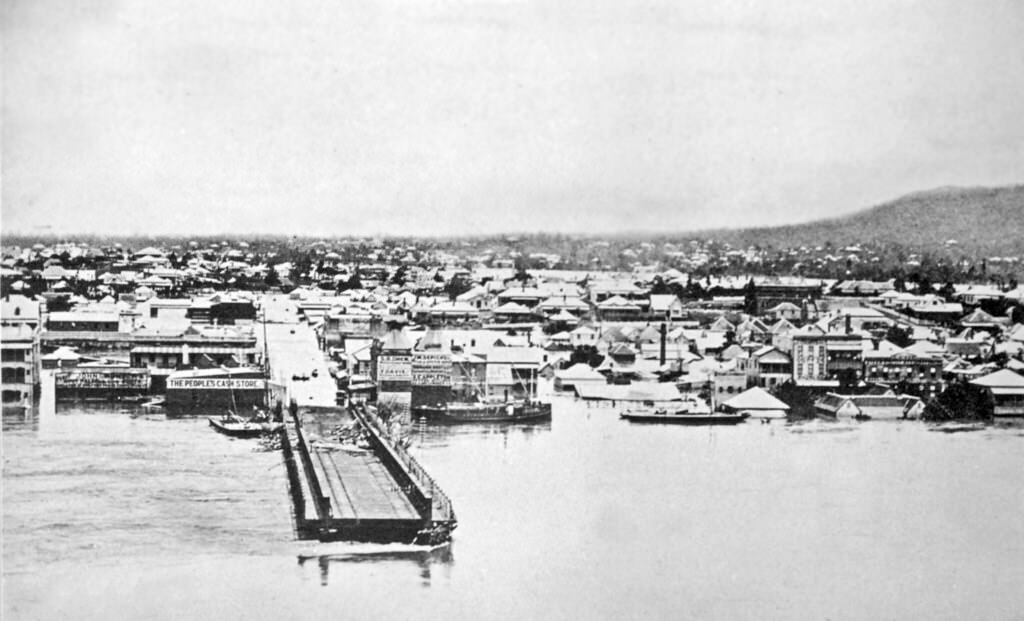 A new crossing, opened on 15 June 1874 by the Governor of Queensland, the George Phipps, 2nd Marquess of Normanby, was an iron structure and a toll bridge. The bridge was paid for by significant council borrowings that were to be recouped by tolls. However a lack of revenue forced its transfer to the Colonial Government. The tolls were abolished at this time. It included a turning span to allow tall masted river traffic to pass upstream. The position of the swinging span was fixed when the tram-lines were laid along the bridge. It carried a 6 in (0.15 m) and a 9 in (0.23 m) diameter pipe which supplied mains water to South Brisbane. This bridge was partially washed away in the 1893 Brisbane flood.
#17

Edward Street, Brisbane, 1890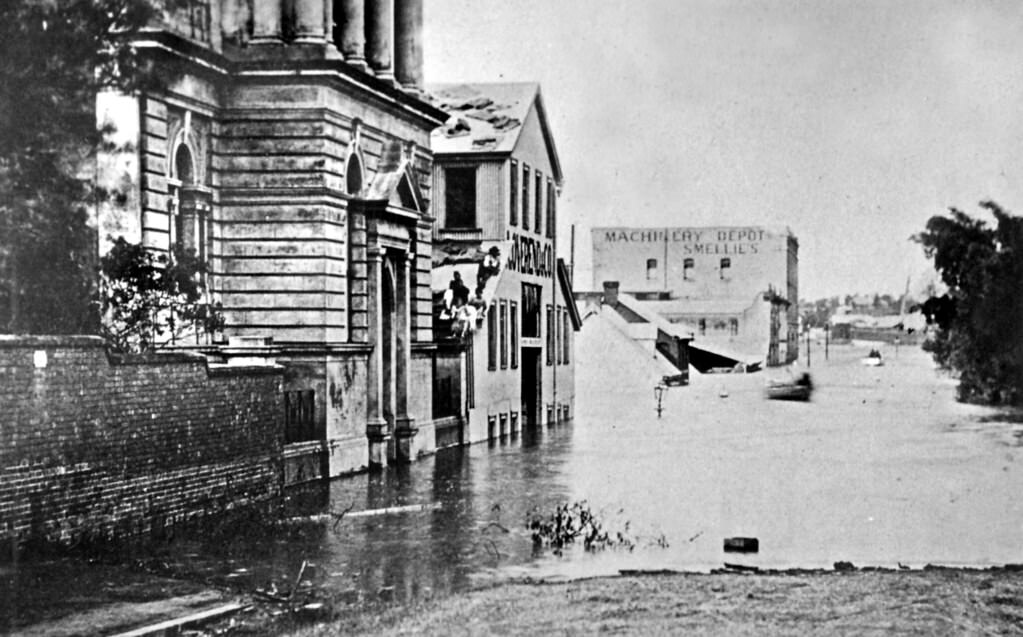 The flood reached its highest level on Sunday, was it was 9ft. 6in. above the flood mark of 1890 that being the highest previously on record. This measurement was taken at the corner of Edward and Queen streets. The machinery in the basement of the Brisbane Courier office was still 16ft. under water at noon on Wednesday. The loss of life, so far as ascertained, does not exceed 20 in Brisbane and Ipswich.
#18

The Brisbane Flood, 1893
#19

Edward Street, Brisbane during the 1893
#20

Charlotte Street, Brisbane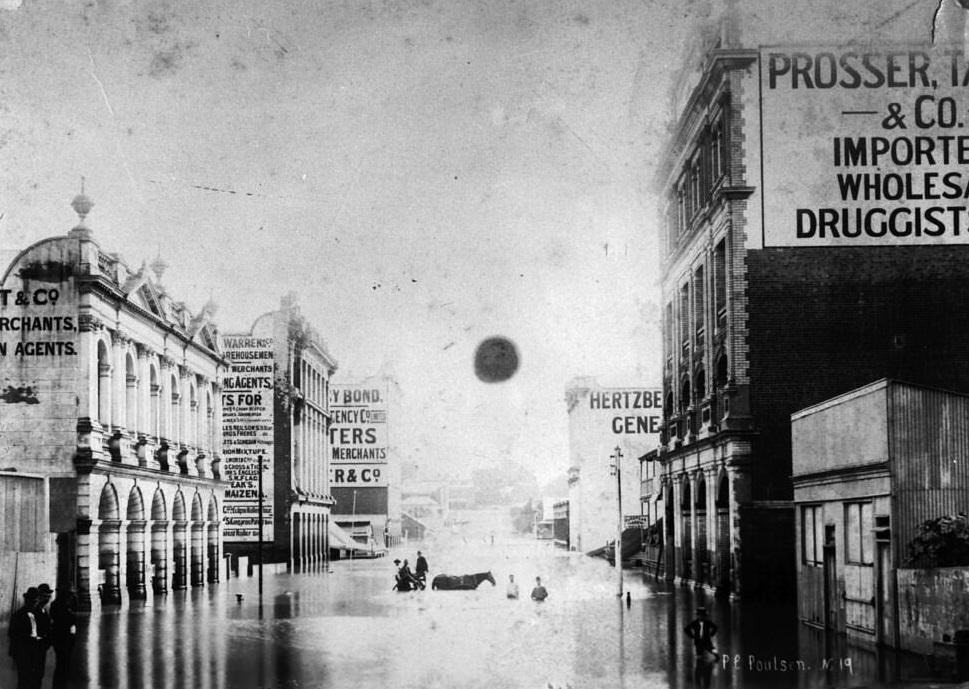 One of the most important reactions to the 1893 flood was recognising the need for a comprehensive river observation and warning network. This was demonstrated at the time by the prominent pioneer, and later member for Stanley (1904-20), H.P. Somerset. Overlooking where the Brisbane and Stanley Rivers combine, Somerset saw a 'wall of water' crashing past his Caboonbah homestead in early February. He subsequently sent a man to Esk with the following telegram message addressed to the post master general in Brisbane:
#21

Victoria Bridge, Brisbane, 1893
#22

Adelaide Street, looking from the Old Lands Office on George Street, Brisbane, 1860
#23

Flooded Margaret Street, Brisbane, February 1893
#24

The Brisbane Flood, 1893
#25

Main Street, Kangaroo Point, Brisbane, 1890s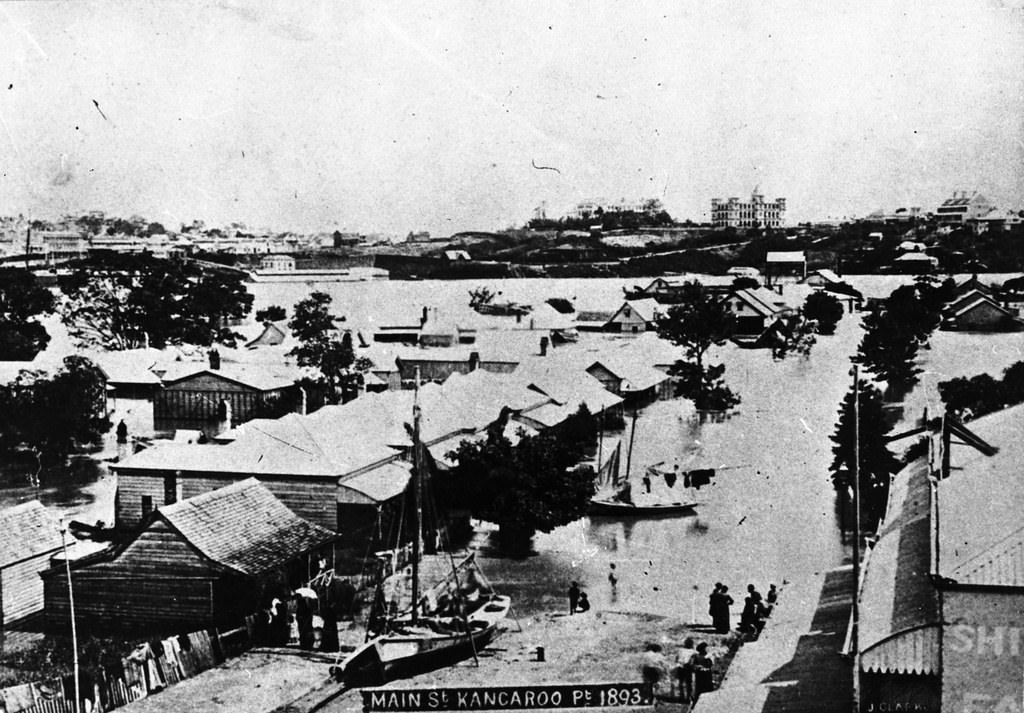 As the bells of the steamers tolled the hours the anxiety increased, for with the departure of each hour the river encroached foot by foot. Apprehensive, yet apparently unmindful, of their own danger families piled their furniture on the tables, and then raised the more valuable articles by degrees as the waters rose, hoping that with the receding tide of the early morning the flood would subside. But inch by inch the water rose upon them, until they were forced to forsake their homes and take to the rescue boats, which plied with difficulty, for the current was strong and the piles of debris which came down floated from the town reach across the narrow neck of land and made boating extremely dangerous.
#26

Albert Bridge (railway), Brisbane River, between Indooroopilly and Chelmer which was washed away during the 1893 flood
#27

Queen Street, Brisbane during the 1893 flood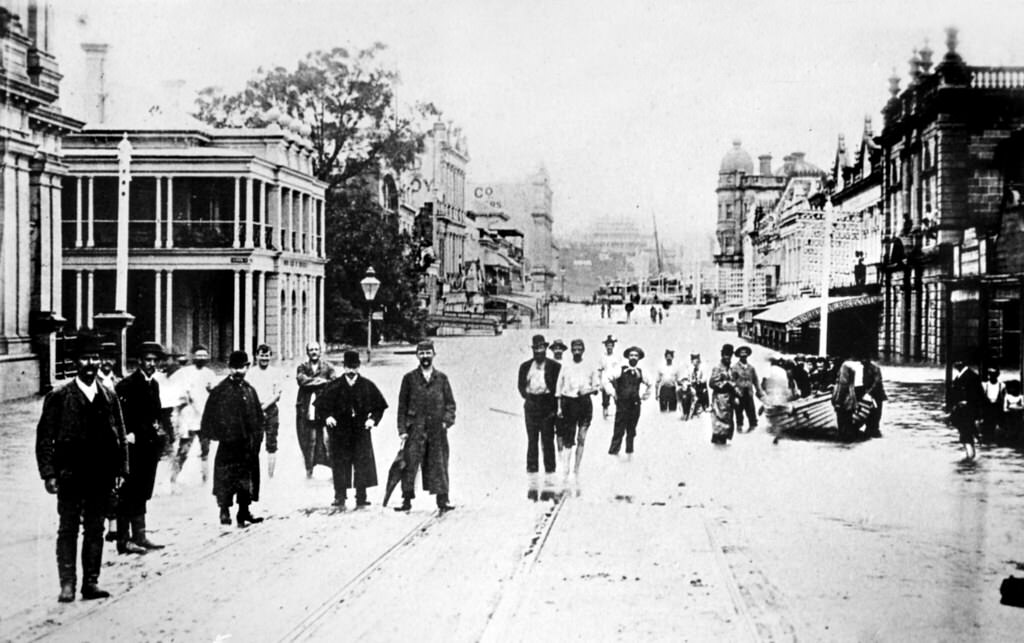 The damage done will amount to hundreds of thousands of pounds. It is estimated that 500 houses had passed down the river from within a few miles of Brisbane. One man counted a hundred houses come down and strike against the bridge within an hour. Six houses in a row came down the stream together, and were smashed to pieces against the structure with a loud report. They were thrown high into the air, and as the shattered timbers fell, they were engulphed below the bridge and passed through on the other side.
#28

View of South Brisbane during the flood of 1893
#29

Panorama of flooded Brisbane
#30

No traffic jams, just boats.
#31

First permanent Victoria Bridge across the Brisbane River, 1877
#32

Parliament House, Cnr Alice and George Streets, Brisbane, 1890
#33

View of Brisbane from chimney of Bartons Electric Works and vicinity of Adelaide Street towards Treasury Building, 1897
#34

Roma Street Railway Station looking towards Mt Coot-tha, Brisbane, 1898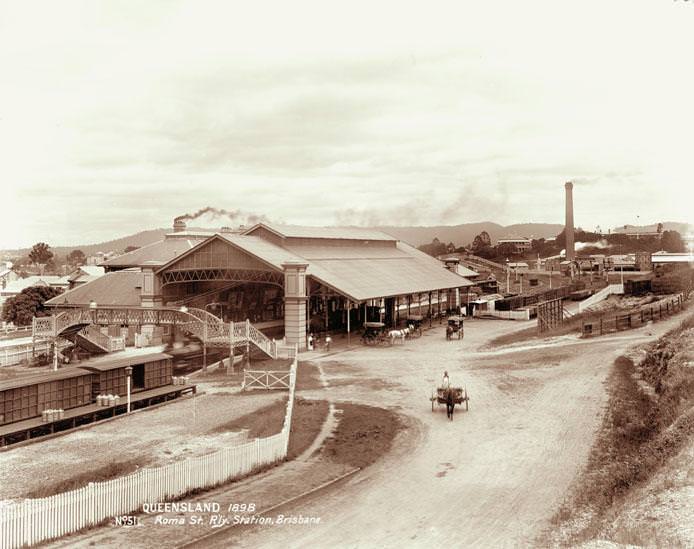 An alarming occurrence in the shape of a locomotive explosion happened at the Roma-street Railway Station last evening. As in the case of the recent explosion in the same vicinity, there was fortunately no loss of life, nor was there serious injury done to anything except the engine. The accident happened under especially fortunate circumstances. The engine was detached, and the lines were practically clear at the time. If by any chance the conditions had been different, it is difficult to conceive how a most serious catastrophe would have been avoided. The engine in question was No 62, one of the Baldwin type, manufactured in Philidelphia.
#35

Brisbane from Parliament House towards Victoria Bridge, 1898
#36

Roma Street Railway Station, railway construction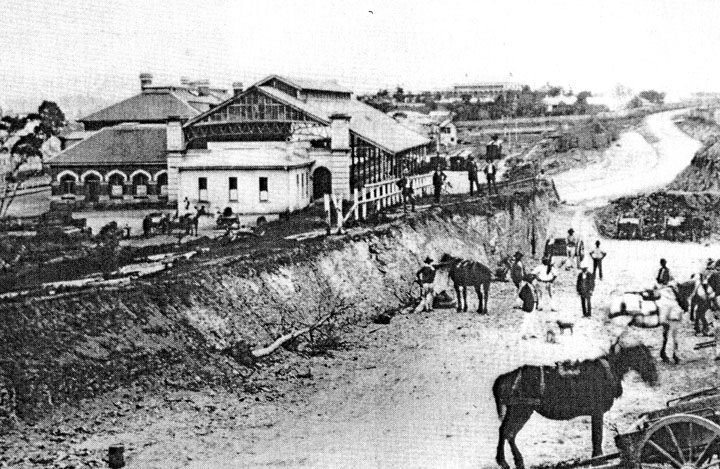 The first train carrying passengers from the Brisbane terminus started at half-past 6 o'clock yesterday morning, and, in spite of the earliness of the hour, a number of persons had assembled on the platform to witness this historical event. The utmost exertions of a large body of men had only sufficed to make the line fit for travelling, without being able to make a really finished job of it, the ballasting being only laid under the sleepers at considerable distances. The motion was, consequently, greater than will hereafter be the case. Work in ballasting was being continued all day yesterday with noticeable results.
#37

The Brisbane River, 1890s
#38

Ploughing Queen Street, 1890s
#39

The London Chartered Bank of Australia, 1890s
#40

Archer Household outside Brisbane military barracks, 1870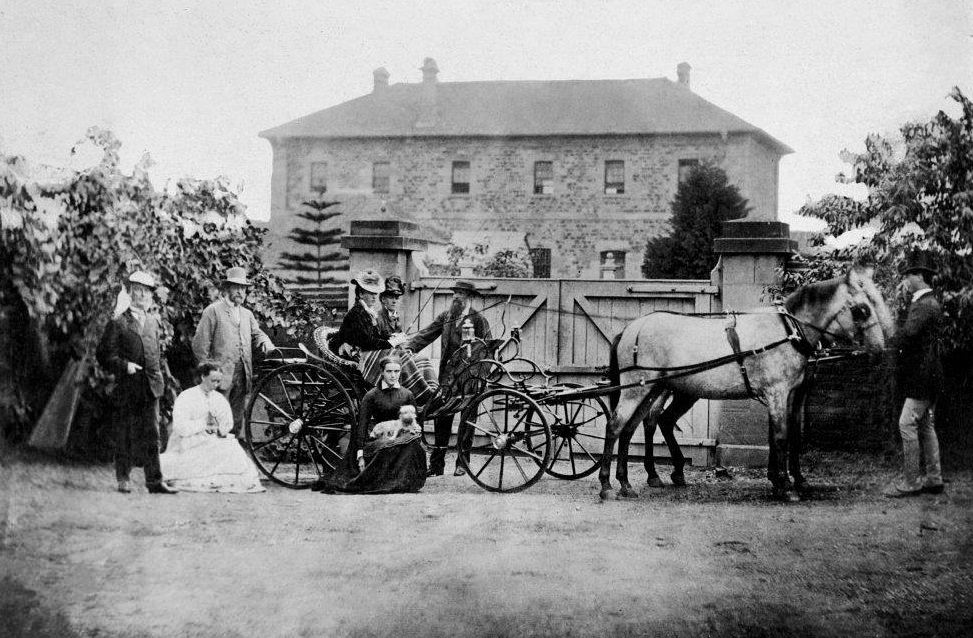 Three of the Archer brothers and their families. The Archer brothers were among the earliest settlers in Queensland. They were explorers and pastoralists. Seven sons of William Archer, a Scottish timber merchant, spent varying amounts of time in the colony of New South Wales, mainly in parts of what later became Queensland.
#41

Queen St, Brisbane, 1879
#42

George St, Brisbane, 1890s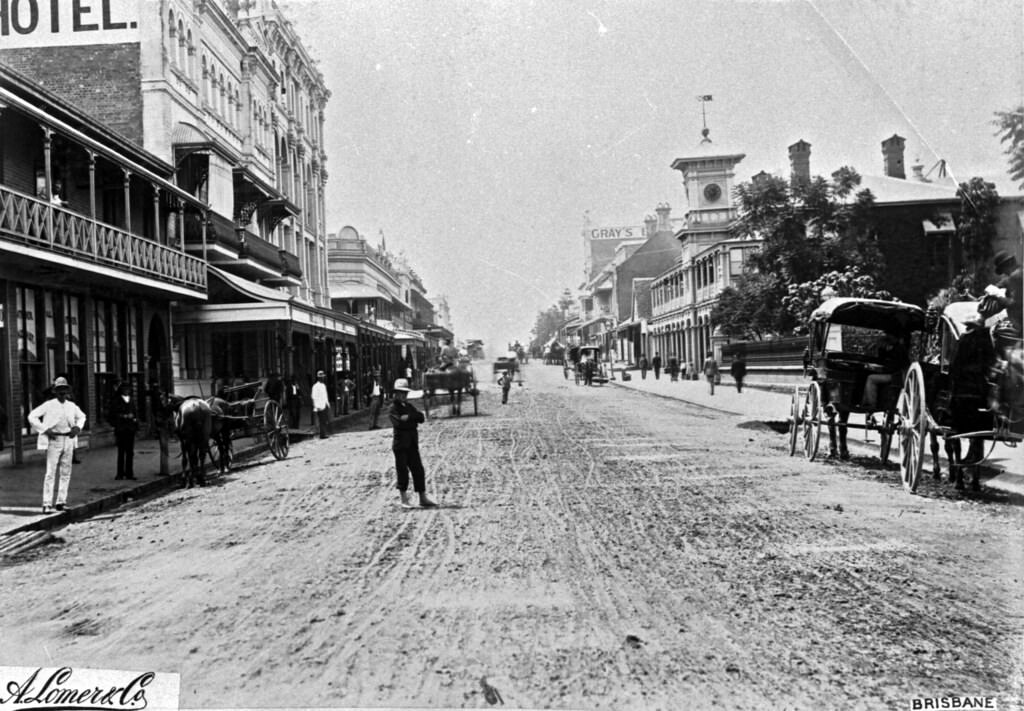 George Street as well as Queen Street, Wickham Street and the area known as Petrie Bight were unsealed and often dusty before 1899. In 1897, the North Brisbane Council held an election on whether a loan should be raised so the streets could be woodblocked. Agreement was given after a close decision by only a third of registered voters, however the results were limited as the surface was very slippery during the rain and buckled during heavy rains.
#43

Traffic Journeying Down Queen and Eagle Street in Brisbane, 1880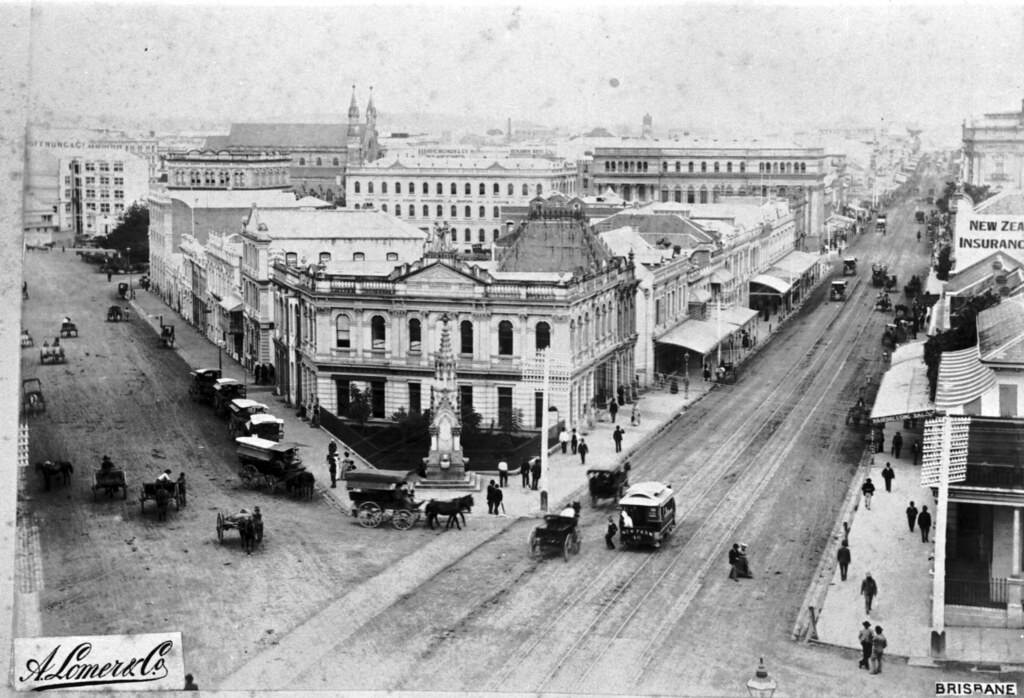 The then Municipal Council funded the majority of the work and the remainder of the funds required was raised by public subscription. However, there was confusion as to the original purpose of the fountain, as donations were also being sought around the same time for a memorial to James Mooney, a young volunteer fireman who died in 1877 in the line of duty.
#44

Tram and crowd scene in Queen Street near George Street, Brisbane, 1899
#45

View of South Brisbane and Highgate Hill, 1870s
#46

A Brisbane Omnibus, 1880
#47

Old Roma street markets, Brisbane 1886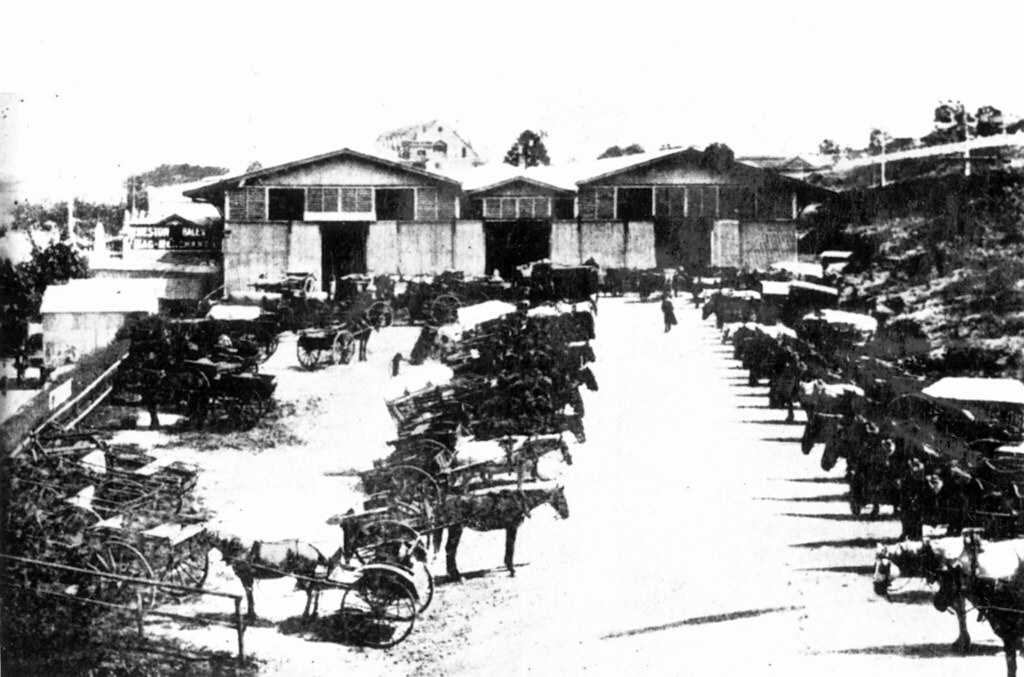 The incidence of railway construction particularly that which then terminated at Roma Street had an influencing part in determining the site of a new Brisbane market. A loan of £6000 for the erection of a new wholesale market was offered to Brisbane Municipal Corporation on a site in Upper Roma Street (near the original Roma Street Railway Station) and adjoining the (old) Albert Grammar School Reserve.
#48

Looking south along Queen Street, Brisbane, 1880
#49

Sunday School Procession in Stanley St, Brisbane. 24 May 1887
#50

Victoria Bridge, Brisbane, 1890s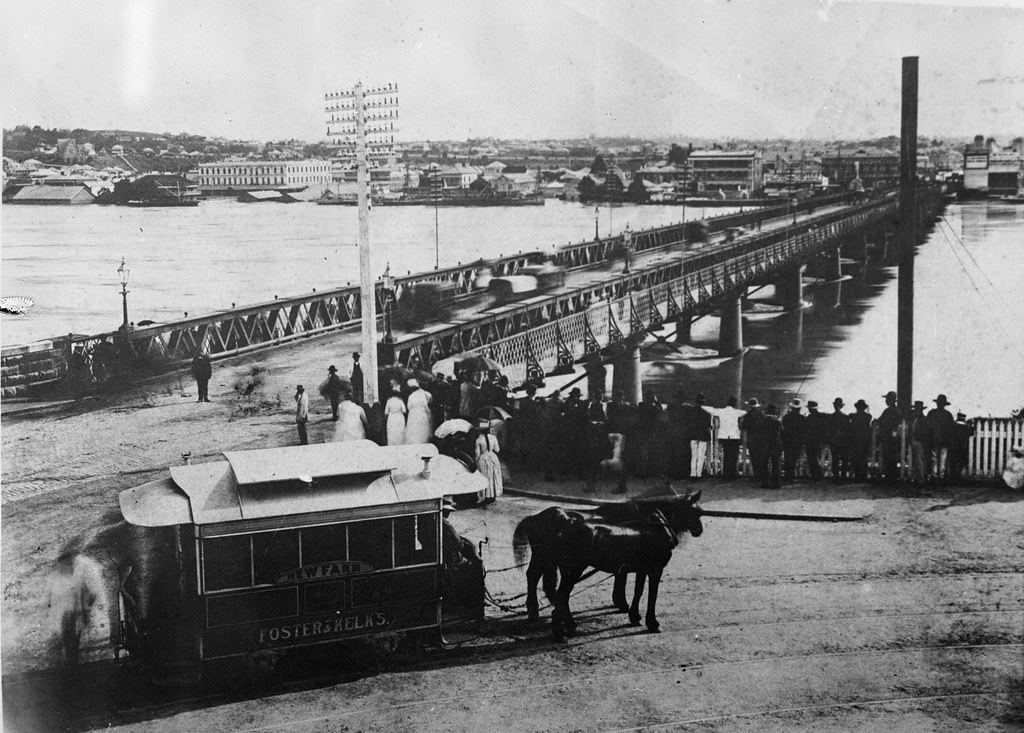 As a conduit for the colony's exports, the river remained boon for the Queensland capital. But it was a fraught relationship. Development of the flood plain accompanied Brisbane's rise and by the late 1880s a major a collision was imminent as the Brisbane Valley entered an unusually wet cycle. Low lying areas were inundated in 1887 and 1889 followed by a larger flood in 1890. Those who thought they had seen the last of this extreme weather were mistaken. Peaking over 30 feet at the post office gauge, the February 1893 floods eclipsed this by around three metres.
#51

Petrie Bight showing National Hotel and Customs House, Brisbane, 1898
#52

Trams at North Quay, Brisbane, 1898
#53

General Post Office, Queen Street, Brisbane, 1870
#54

Sherwood Road, Toowong, Brisbane, 1890
#55

North Quay – Repairing wall on River Bank 1889
#56

Wickham Terrace from Wharf Street.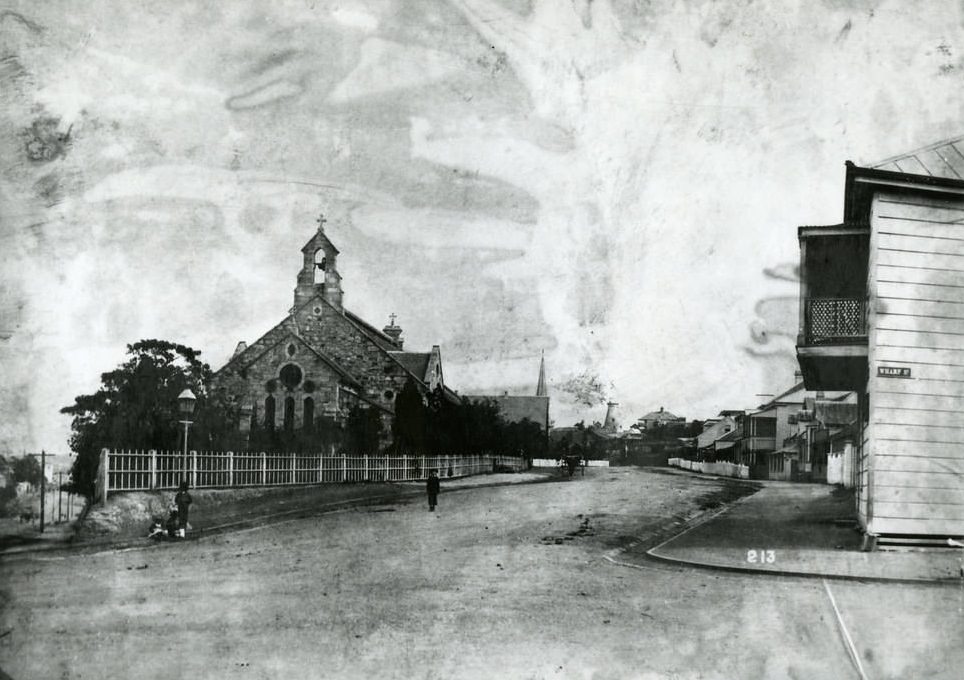 This single-storeyed porphyry stone church, the oldest Anglican Church in Brisbane, was erected in 1861, and rebuilt in 1869, for the Wickham Terrace District Anglican congregation. It is one of the few remaining parish churches in Queensland owned under the colonial provision of private trustees of church property.Courtesy of Queensland Heritage Register
#57

Brisbane from Chimney of Bartons Electric Works Queensland, 1890s
#58

Brisbane from Observatory, First Bridge Across River 1866
#59

Adelaide St From George St. The Methodist Church is on the right 1865
#60

View of Upper Edward and Leichardt Streets 1862
#61

Brisbane Hospital, George Street, Brisbane, 1865
#62

Mrs White, with three children and members of domestic staff, on the verandah of Old Beaudesert Homestead
#63

Homestead and yards of East Talgai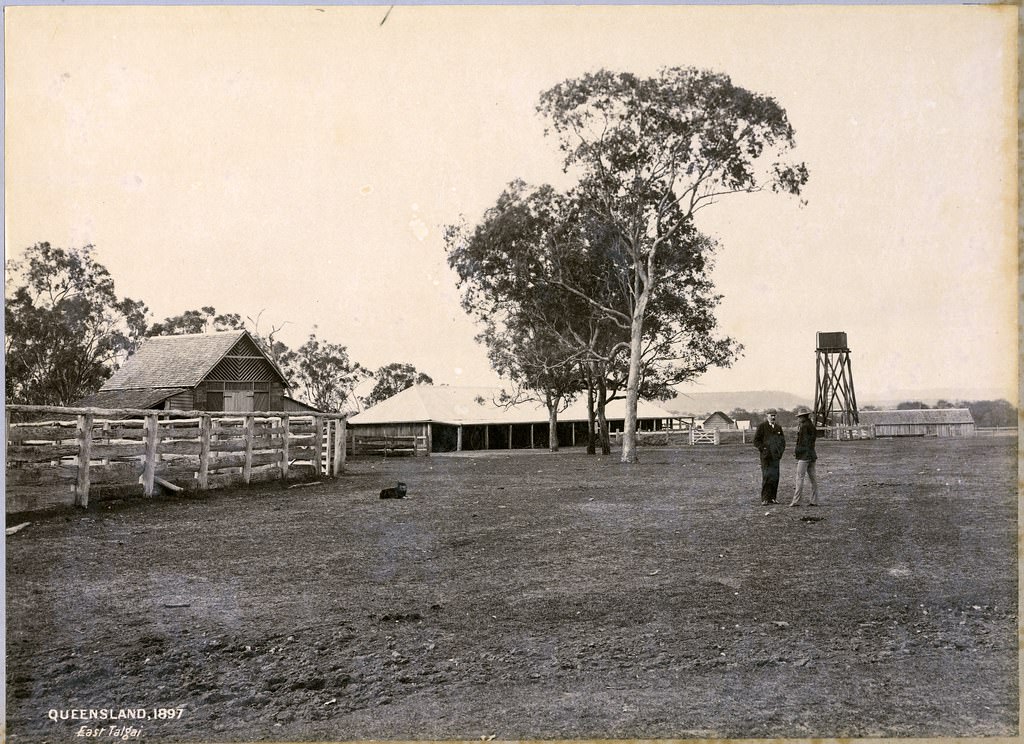 After bounding along by railway from Warwick for a distance of seventeen miles, we debark at a rustic siding known as Clark's Crossing, the guard having previously admonished that there was a passenger for that point. At this place we are in the immediate vicinity of East Talgai, a name and locality too well known to all breeders of sheep to need any description here.
#64

Ploughing for late crop of corn at F Warne's Homestead, Teutoberg, Blackall Range
#65

Selectors homestead. No 160, 1897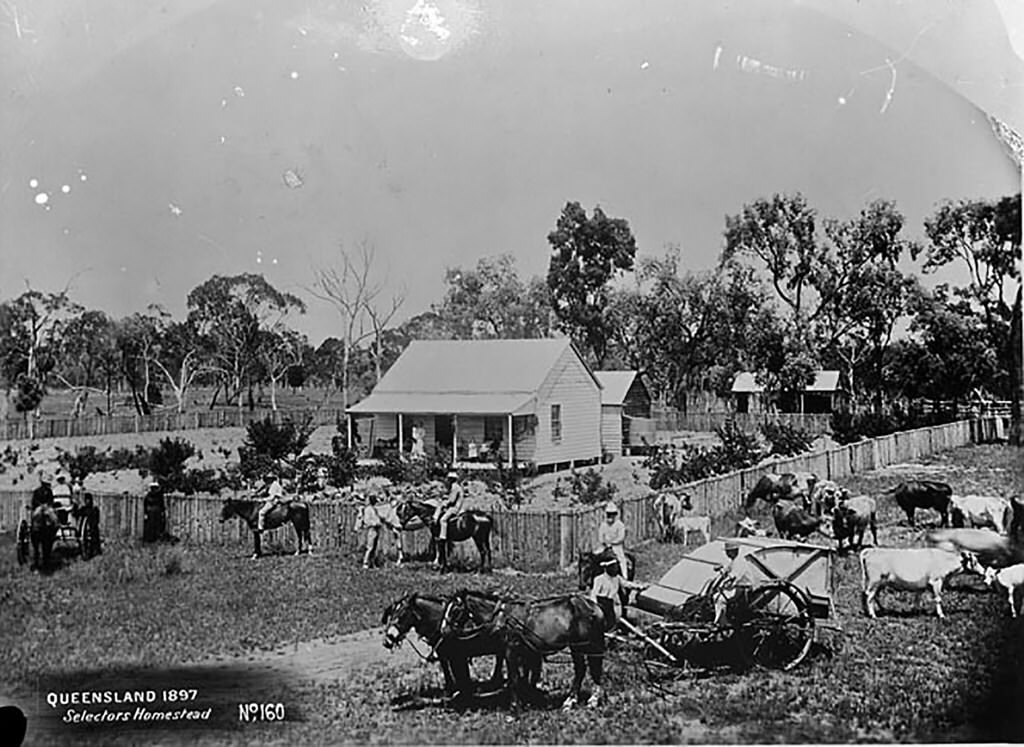 Selection referred to "free selection before survey" of crown land in some Australian colonies under land legislation introduced in the 1860s. These acts were similar to the United States Homestead Act and were intended to encourage closer settlement, based on intensive agriculture, such as wheat-growing, rather than extensive agriculture, such as wool production. Selectors often came into conflict with squatters, who already occupied the land and often managed to circumvent the law.
#66

Paul Beks Vineyard, Roma, 1890s
#67

Brilliant Extended Mine, Charters Towers, 1890s
#68

Gathered miners at Brilliant Mine, Charters Towers
#69

Brilliant St George Mine, Charters Towers, 1897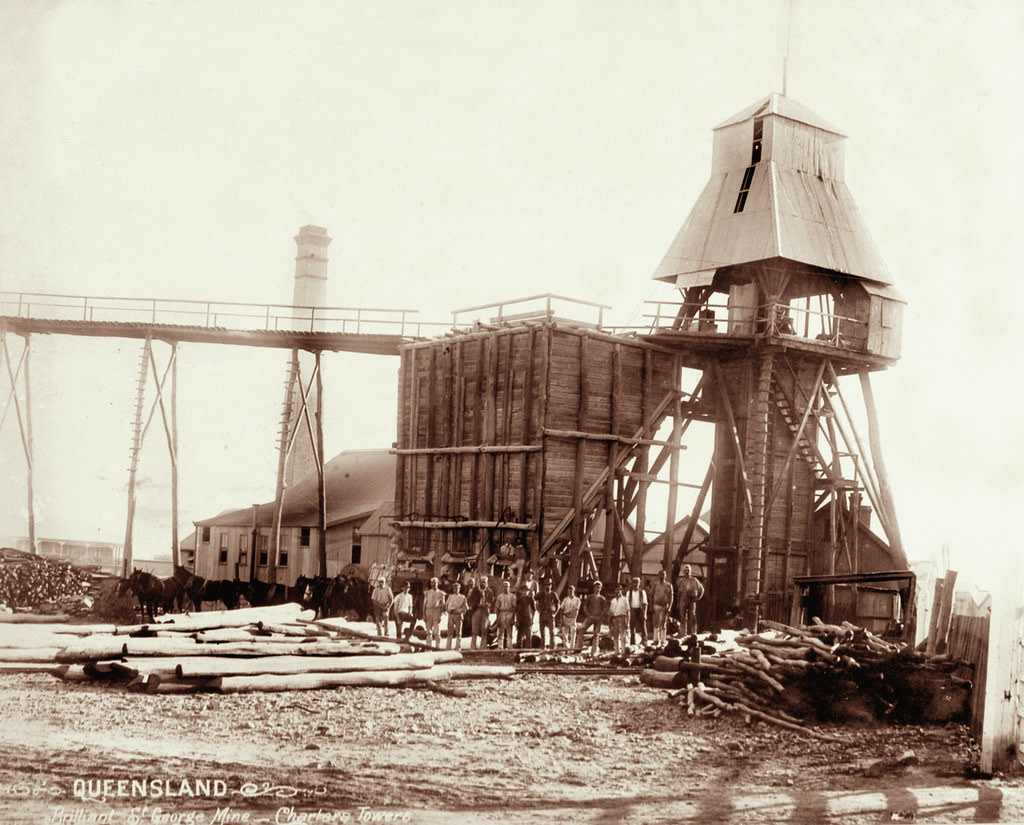 The initial discovery of gold in the greater Charter Towers area was followed by a migration of 30,000 miners, speculators and entrepreneurs, they converged on Queensland's most important goldfield seeking a piece of the enormous fortune during the height of one of Australia's major historical gold rushes of the early era.
#70

Charters Towers goldfield, Day Dawn Black and Wyndham. No 139, 1897
#71

Charters Towers Pyrites Works, 1890s
#72

Six furrow plough, two horse driller, and four horse harrow at Green Hills Farm near Warwick, 4 May 1894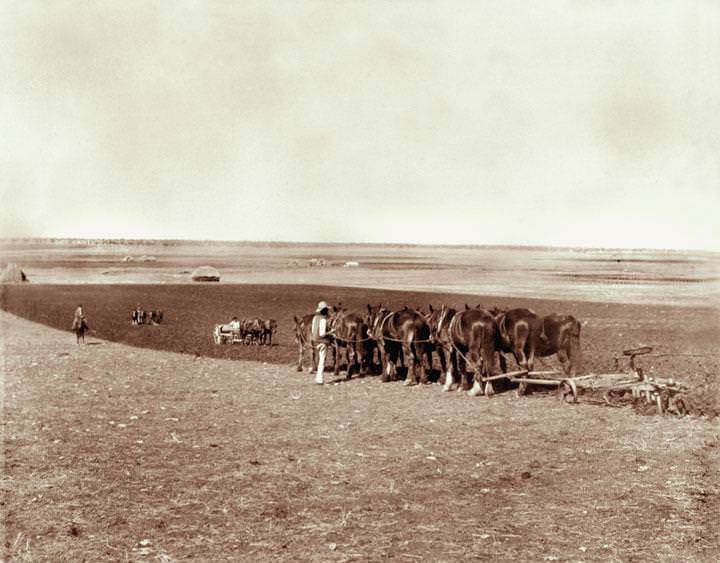 As evidenced in this photograph, the main power of the farm in the 19th century was the horse. Its strength was multiplied many times to draw the ploughs, harrowers and drillers which were made of wood and iron. Prior to drilling to plant the seeds, the field was ploughed to till the soil with the harrow following behind to break up and smooth the surface of the soil. The harrow created a parcel of furrows; using his horseman skills, an expert ploughman goal was to make furrows as level and straight as possible. The drills had to withstand the heaviness of the soil and the depth of the furrows.
#73

Hay stacking, Green Hills Farm near Warwick, 16 November 1894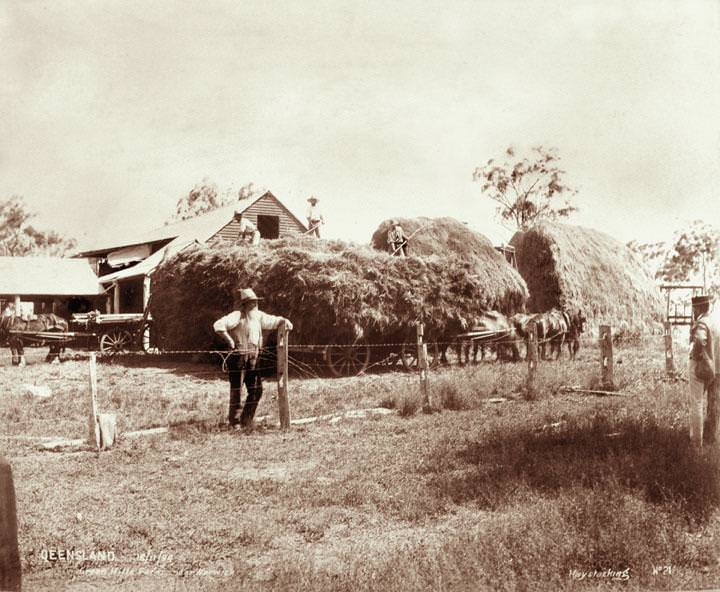 During the 19th century, hay carters used horse drawn carts and pitchforks to move the fodder they grew and cut for the winter and drought months. In addition, if there was not enough feed for the grazing animals, the animals were moved from the unproductive land to greener pastures. The Warwick stock movements published in The Queensland on Saturday 8 September 1894 recorded that drovers moved 6000 ewes from Green Hills to Barcaldine.
#74

Reaper, binder and stooks at Green Hills Farm near Warwick, 16 November 1894
#75

Merino sheep ready for shearing, Jondaryan, 2 November 1894
#76

Interior of wool shed, Jondaryan, 2 November 1894
#77

Vineyard and grapepickers with house in background at Nudgee, 1897
#78

McLean's Station, Redford, 1897
#79

Cherry orchard with horsedrawn plough, Accommodation Creek, 1897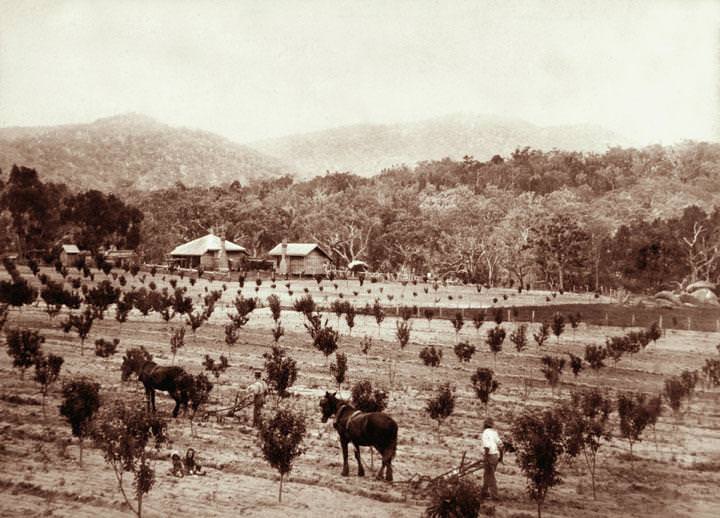 The smaller house is likely to be a separate kitchen (it was wise to separate the fire hazard the kitchen presented from the main dwelling). The smallest 'house' is the dunny. In the relatively cool climate of Accommodation Creek (some snow in winter) this farmer was pioneering cherry trees. These are relatively young trees (only about 6 feet high). The horse-drawn ploughs are possibly being used to prevent weed growth by turning the soil. The lush forested slopes must have been hard work to clear fell. However in the picture the clear-felled field was rich soil, and today we know the experiment came to fruition.
#80

Greenhills farm (Addison Free's), near Warwick, 1897
#81

Bales of wool from Claverton Station loaded on dray with workers nearby, 1897
#82

Wool bales from Claverton Station at Wyandra Railway Station, 1897
#83

Cornfield at Wilson's farm, Warwick, 1897
#84

Sheep Shearing at Yandilla, 1898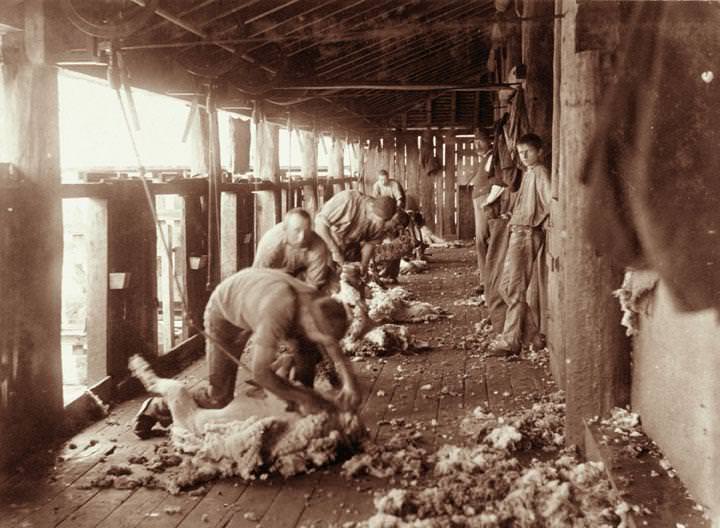 If you were the youngster leaning against the woodshed dividing wall you would have grown up considering the massive tall timber posts to be part of your landscape. The schooling you had may be in large part from your mother, an incredibly able woman. You might model yourself on the strong men in front of you, skilfully extracting their livelihood from tough dawn-to-dusk seasonal labour requiring high technical skills and physical skills and courage. You will have probably assisted to deliver new born lambs and hand-reared orphan ones, set broken legs of calves, have ridden half-wild horses and learned how to muster various animals. There is a brutal beauty about the harsh upbringing of outback people. The high market value of the merino fleeces is only one kind of value - the other values are harder to measure.
#85

Lofgren's Farm at Mount Crosby, 1898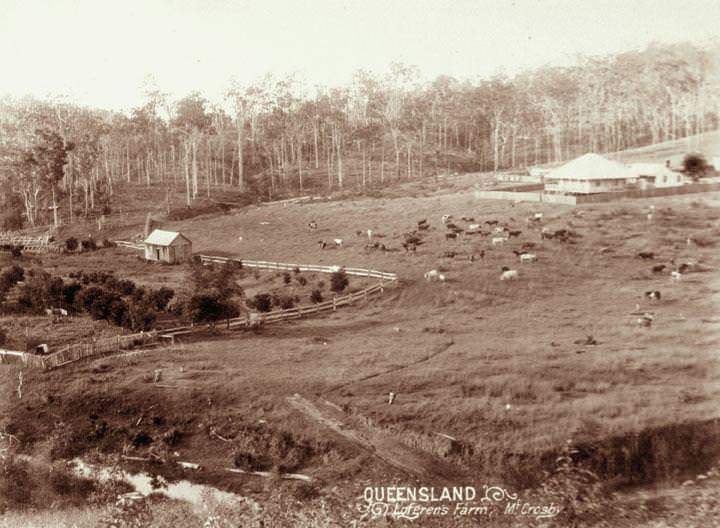 It s surrounded by a palistrade fence to stop the cows from getting near the house. Down below, at the foot of the cow pasture, is a wooden milking shed near the river with a fence extending from either side to keep the dairy cows up in their paddock. This farm is a part of the history of a community and land which, 75 years later, became a suburb of Brisbane. This history of this farming area, called Mount Crosby, is the subject of a University of Queensland MA thesis written by Judith Anne Nissen "Creating the landscape: A history of settlement and land use in Mount Crosby":
#86

Wheat Stack, Roma, 1898
#87

Repsteine's orchard at Mount Sylvia, Gatton, 1898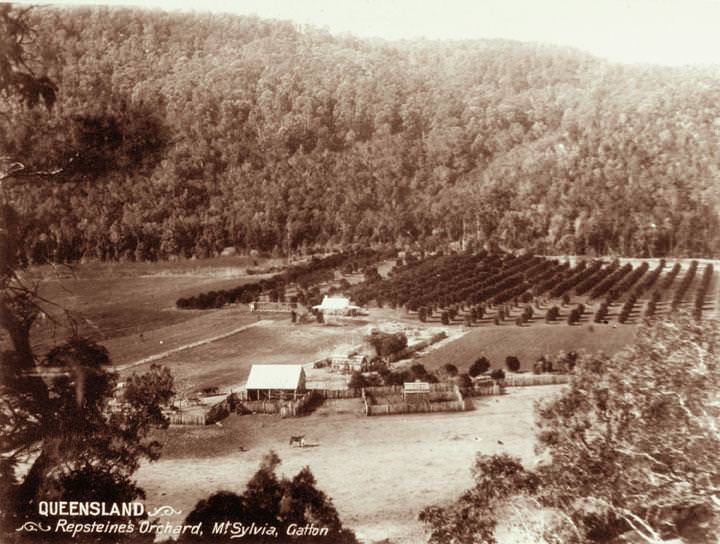 However it must have been a journey from Ipswich that took considerable logistics in the 1890s (compared with 80Kms in just over an hour that it takes to travel this distance today). In the nineteenth century when this photograph was taken it would have been an expedition using horses or bullocks and would certainly also have required the planning, stocking up and carrying of provisions. Avoidance of rainy weather would have been a consideration too. There would not have been any coach service to this remote forested place.
#88

Two horse single furrow plough and farmhouse near Rosewood, 1898
#89

Echa's Farm, Inglesburg, 1898
#90

Handmilking at a dairy farm near Walloon, 1898
#91

Packing grapes at Atkins vineyard, Roma, 1898
#92

Atkins' farm and vineyard, Roma Region, 1898
#93

Smith's farm and vineyard at Roma, 1898
#94

Hay carting at Clarke's farm, Danderoo, 1899
#95

Workers in field stacking wheat, Yangan, 1899
#96

On Moffat's Farm Headington Hill Estate, 21 May 1898
#97

Veritz Farm near Peachester, Date Palms, Orange Trees, 1899
#98

Orange Trees near Peachester, 1899
#99

Jenner's Farm, near Crohamhurst, 6 acres under oranges and lemons, 1899
#100

A woman with a stack of cheeses at Mrs Bergann's Farm, Teutoberg, Blackall Range, 1899
#101

Strawberry field group picking at Simpson's strawberry field, Blackall Range, 1899
#102

Sweet potatoes, sugar bananas, farmhouse and people on horseback at Simpson's farm, Maleny, Blackall Range, 1899
#103

Hilling potatoes, Laidley, 1899
#104

Four miners at face of reef in Gympie Goldfield, 1897
#105

Cutting, Mt Morgan, 1894
#106

Gold mine, Lucky Valley. c.1897
#107

Gympie goldfield, One Mile and Monkland. No 271, 1895
#108

Cootharaba Mill, Gympie Goldfield, 1897
#109

Gympie goldfield, Monkland. No 272, 1897
#110

Columbia – Smithfield Gold Mine, Gympie, 1897
#111

Four miners at head of winze, Columbia and Smithfield at Gympie Goldfield, 775 feet level, 1897
#113

Sending boxes of gold 1890's
#114

Croydon King Mine, Croydon 1890
#115

Gold miners outside a bark hut, Queensland, 1870
#116

Monkland mine and surroundings, Gympie Goldfield, 1897
#117

Interior of Quartz crushing battery, Gympie Goldfield, 1897
#118

Gold Sluicing, Mary River, near Gympie, 1896
#119

Case of rich gold specimens from Gympie, Queensland International Exhibition, Brisbane, 1897
#120

Queensland International Exhibition. Mining Court. Two tons of tin ingots produced at Irvinebank Smelting Works, 1897
#121

Charters Towers from the railway station
#122

Gill Street, Charters Towers
#123

Central State School, Charters Towers, 1890s
#124

View of Charters Towers, 1897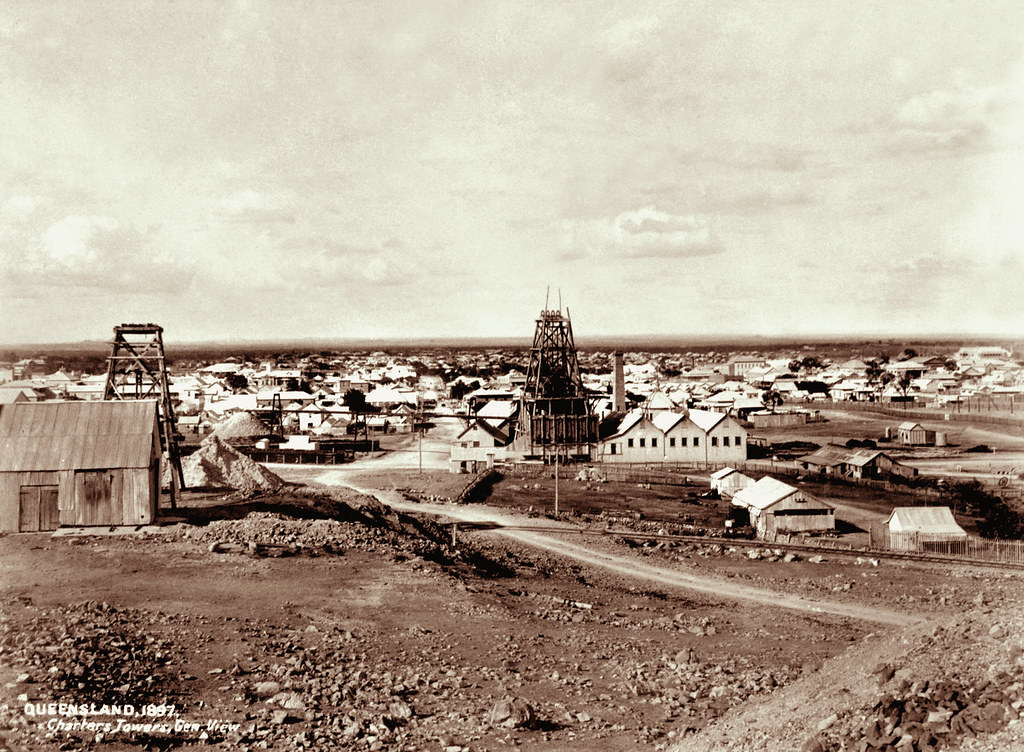 By the end of the 19th century, Charters Towers gold mines and mills were producing their maximum yields. Over a hundred poppet legs rose above the town and the quality of life was unexcelled in Colonial Queensland. All this had happened in a period of twenty-five years. In 1897 the Editor of the Northern Mining Register wrote:
#125

Richmond Hill State School, Burdekin Street, Charters Towers
#126

Girls Central State School, Bundaberg, 1890
#128

Central State School for Boys, Brisbane, 1890