As the bootleg liquor industry thrived during the Prohibition era in the 1920s, Italian-American gangs in New York and Chicago became the driving force behind the organized crime network. In the 1930s, it was under the control of mob boss Charles "Lucky" Luciano. He established a commission to supervise the Mafia's various racketeering activities and maintain harmony among its component crime families.
The mid-1950s saw the escalation of tensions between rival Mafia factions threaten to erupt into a full-blown gang war. The U.S. government pursued mobsters more aggressively and on a larger scale during the 1960s and 1970s due to a series of developments. The 1968 Wiretap Act gave investigators a vital (and controversial) weapon in the war against organized crime when it allowed wiretap evidence in federal courts. In February 1985, future New York mayor Rudy Giuliani, then a federal prosecutor, used these new tools to bring to justice 11 Mafia leaders, including the heads of New York's five dominant crime families.
Here below are some of history's most notorious mob hits. These photographs depict how organized crime has persisted and flourished throughout history.
Also, check crime scene photos of gruesome murders from 20th century New York City.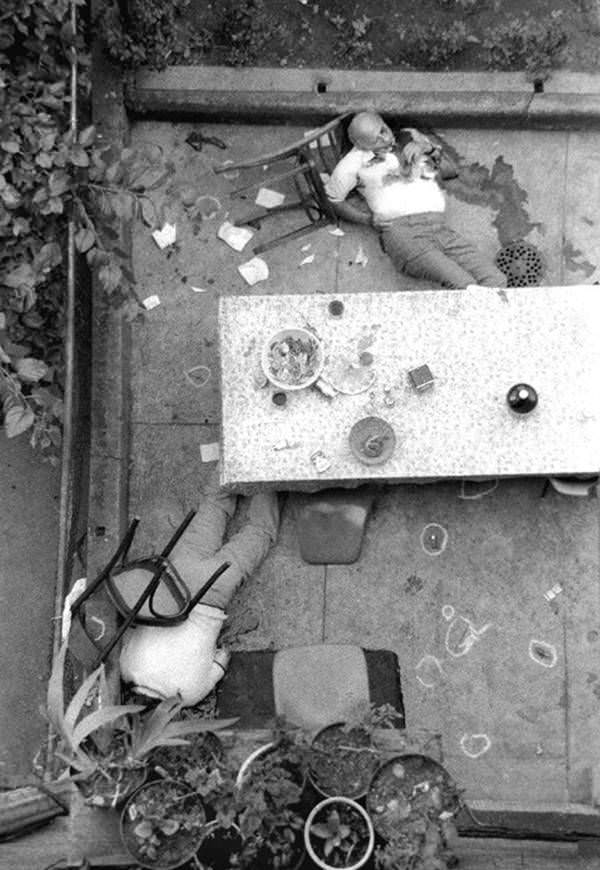 The body of Carmine "Lilo" Galante (top right), boss of the Bonanno crime family, lies outside of Joe & Mary's Italian-American Restaurant in Brooklyn. Galante was murdered by some of his own men, acting on orders from a collection of rival mob families upset over Galante's power grabs.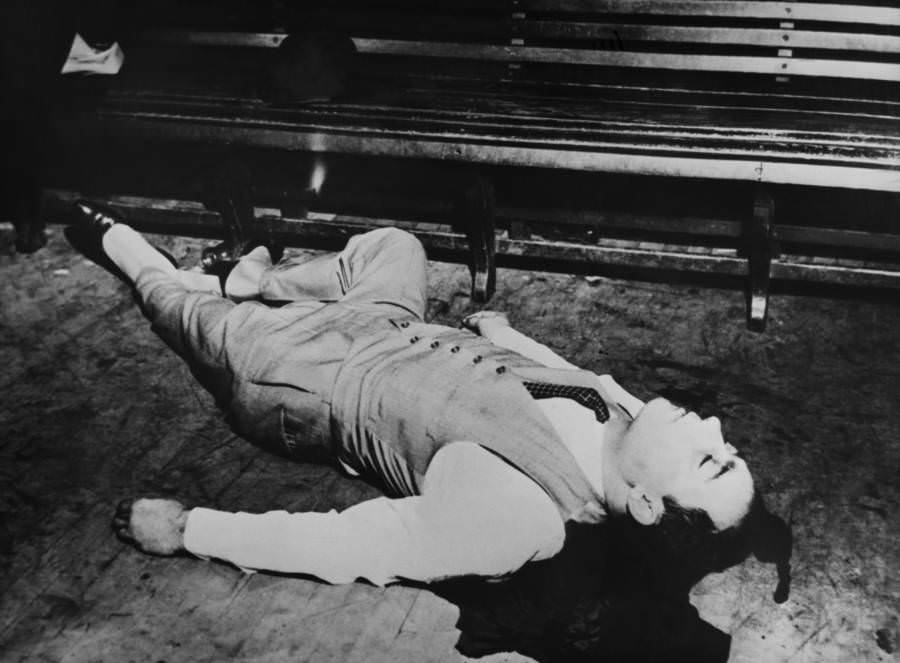 Jack "Machine Gun Jack" McGurn was a member of Al Capone's gang, the Chicago Outfit, and was suspected to be one of the people who carried out the St. Valentine's Day Massacre. He was himself murdered in 1936 in a Chicago bowling alley on the anniversary of the attack, likely as revenge for the massacre seven years earlier.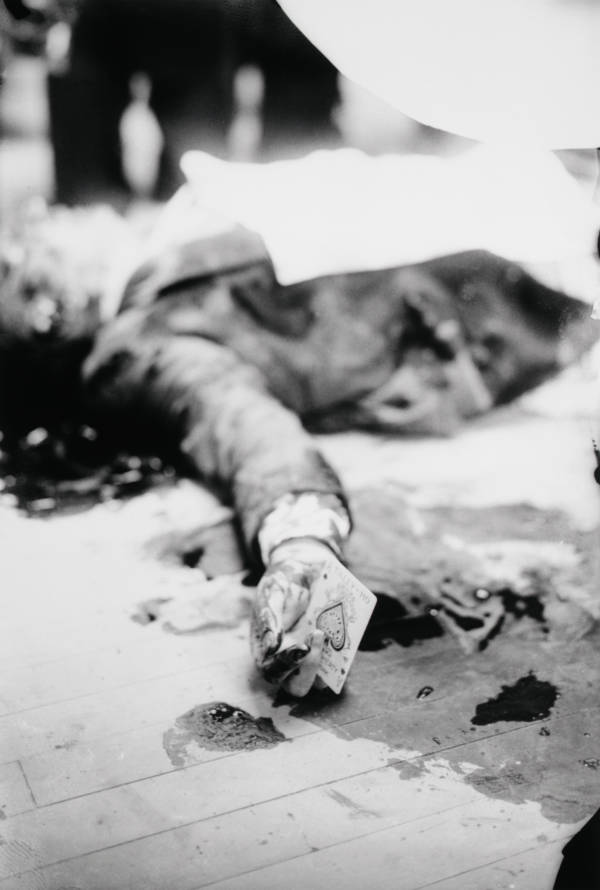 In 1930, a Sicilian faction led by Salvatore Maranzano waged war against a Sicilian-American group led by Joe Masseria for control of Mafia activity in the United States. Ultimately, in 1931, Masseria allies led by Charles "Lucky" Luciano cooperated with Maranzano and betrayed Masseria in order to end the war. Masseria was shot to death in a Coney Island restaurant, the war ended, and Luciano forged the basic structure of the American Mafia as we know it today.
#5

Albert Anastasia, 1957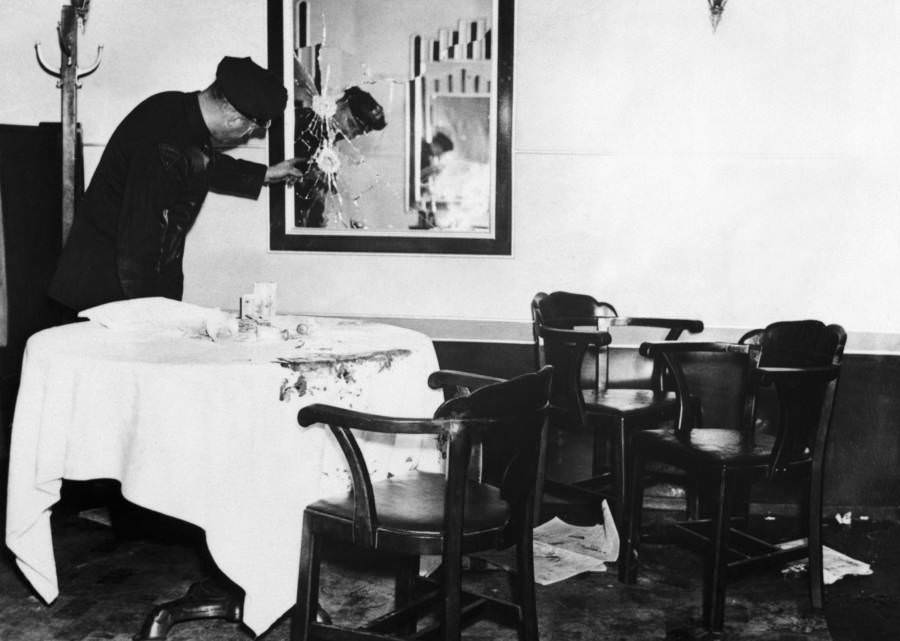 Arthur "Dutch Schultz" Flegenheimer, a powerful New York mob boss in the 1920s and '30s, was ultimately killed in Newark, New Jersey by an assassin hired by the Mafia Commission, which opposed his attempts to kill a special prosecutor who was coming after Shultz on racketeering charges.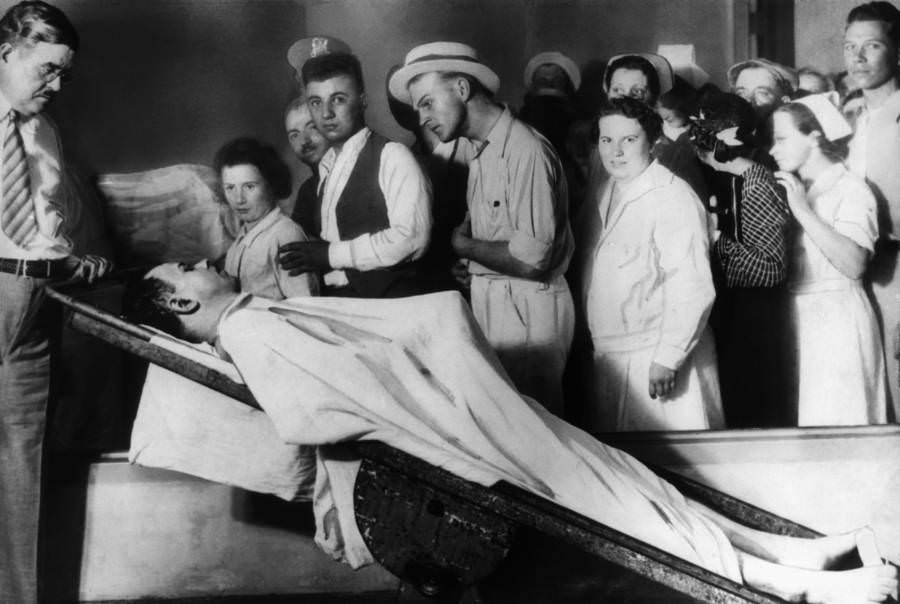 The body of bank robber John Dillinger is put on display in a Chicago morgue after he was shot to death by the FBI and police. Dillinger, one of the most infamous gangsters of the 1920s and '30s, robbed banks across the Midwest with a group that included the likes of "Baby Face" Nelson and Homer Van Meter.
#9

Baby Face" Nelson, 1934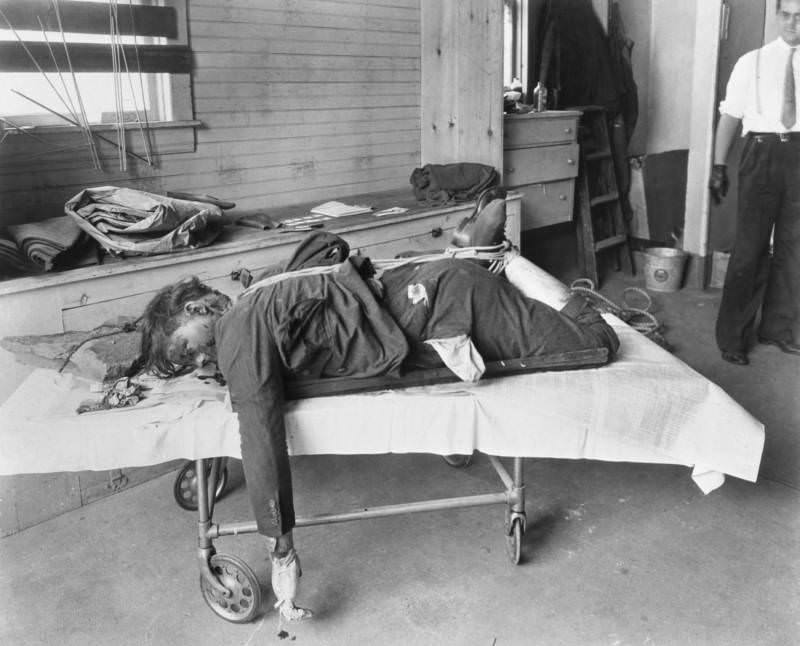 Walter Sage, a hitman and racketeer in the Murder Inc. crime syndicate in the 1930s, was stabbed to death with icepicks by two of his fellow syndicate members, Irving "Big Gangi" Cohen and Jacob "Jack" Drucker while they were driving through New York's Catskill Mountains for skimming money from the organization. They tied his body to a slot machine and threw it into a river.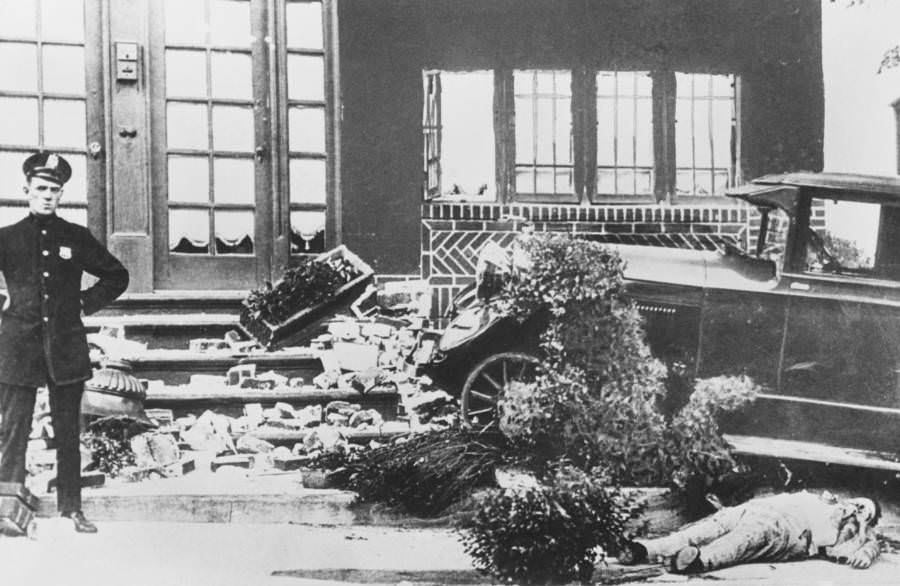 Frankie Yale was a Brooklyn mob boss known for being the original employer of Al Capone. He was killed when he was lured away from his club with a cryptic phone call about his wife, then gunned down in his car on the way home. Many people suspect that the hit was ordered by Capone himself.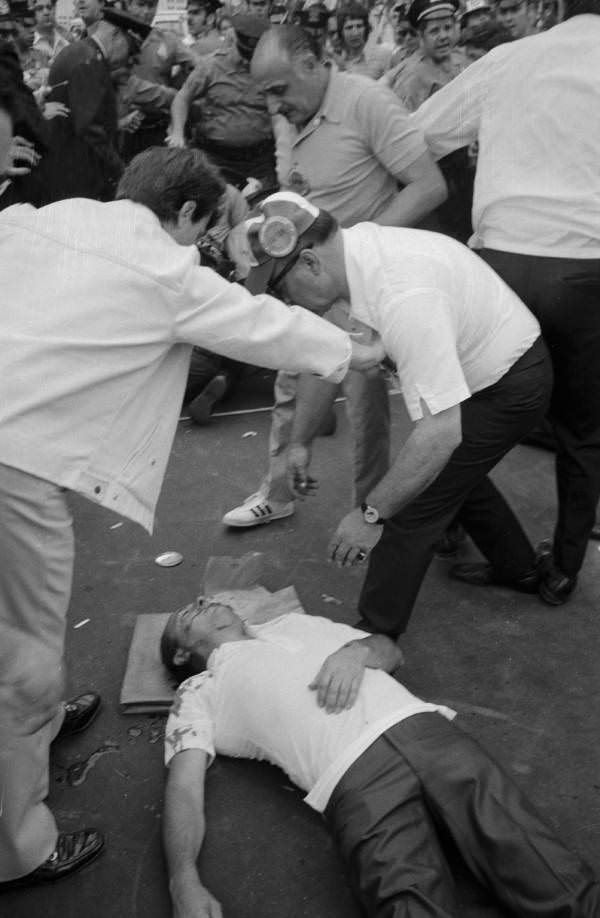 Joseph Colombo, boss of the Colombo crime family and the founder of the Italian-American Civil Rights League, was shot in 1971 while on a speakers' platform for an Italian-American Unity Day ceremony in New York. Though the bullet didn't kill him, he was left fully paralyzed and died seven years later in a hospital bed. It remains unclear which rival mob family had ordered the hit.
#15

The Saint Valentine's Day Massacre, 1929
#16

Paul Castellano, 1985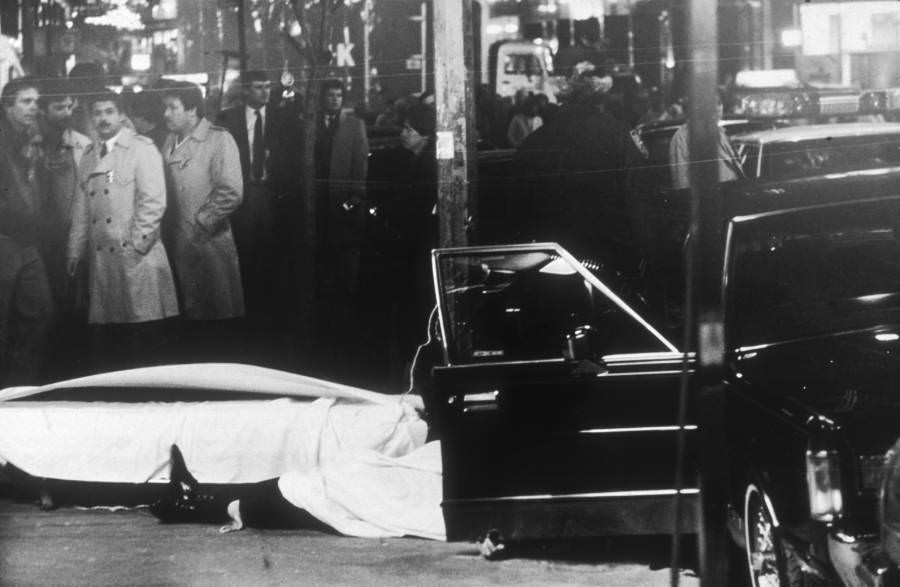 The body of Paul Castellano lies covered with a sheet after he was gunned down on a New York City sidewalk. Castellano, the boss of the Gambino crime family in the late 1970s, was killed by a faction within his own family led by John Gotti, who felt Castellano had disrespected the Mafia by focusing on white-collar crime and by not attending the wake of a senior Gambino figure weeks earlier.
#18

Homer Van Meter, 1934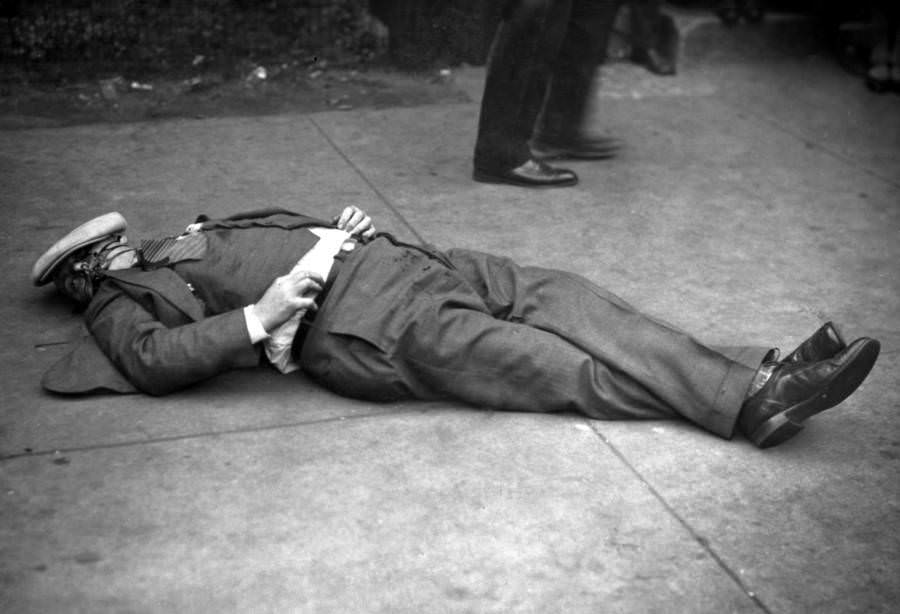 Earl "Hymie" Weiss was the leader of the Chicago North Side Gang and known as the "only person Al Capone feared." Nevertheless, Weiss was killed when Capone's men opened fire with a submachine gun on him and his associates while they were visiting a courthouse where an ally of his was on trial.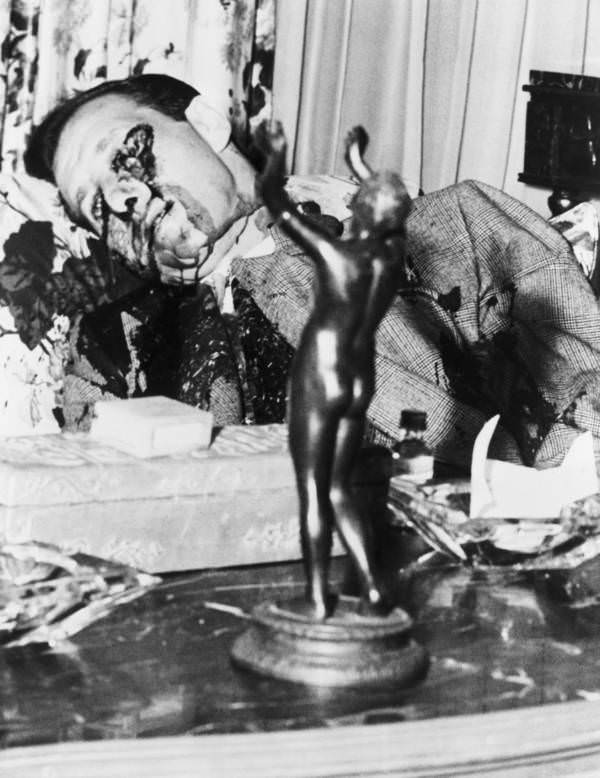 Benjamin "Bugsy" Siegel, whose criminal empire essentially created Las Vegas in the 1940s, was a powerful figure in both the Jewish mob and the Italian Mafia. In the end, he was killed by an unknown assailant who shot him through a window with an M1 Carbine while he was staying at an associate's house in Beverly Hills.