These photos give a glimpse of some of the most notorious killings from the 20th century in New York City. Victims stuffed in suitcases, sprawled on the streets, thrown in the trash, and the corpses are surrounded by crowds of detectives in trench coats and fedoras without any thought for crime scene contamination. Crime scene photographs play an important role in investigations and documenting history. The victims of these ruthless killings were mostly mobsters and gang members. These photographs are vicious and haunting, but they also depict the dark history of organized crimes.
#1

Mafia kingpin Joe Masseria holds the ace of spades, "the death card," in his hand following his 1931 murder on the orders of infamous gangster "Lucky" Luciano in a Coney Island restaurant.
#2

Mafia boss Paul Castellano lies dead after being killed in front of Sparks Steakhouse at 46th Street and Third Avenue, 1985
#3

Gangland murder on East 102nd Street. 1937.
#4

The body of Arnold Schuster, 24, – a Brooklyn pants salesman – who had tipped off police on the whereabouts of American robber Willie Sutton after spotting him on a subway train following the criminal's daring jail escape, 1952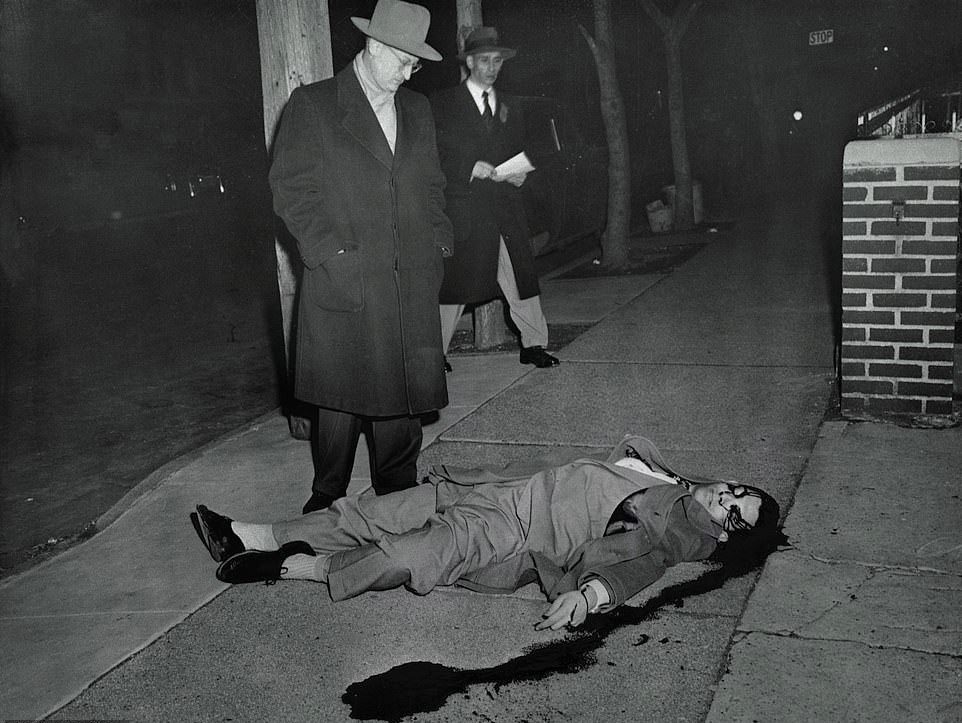 #5

A murder of two men at the feast of San Gennaro in 1939. Joseph 'Little Joe' La Cava and Rocco 'Chickee' Fagio were both found dead on Mulberry Street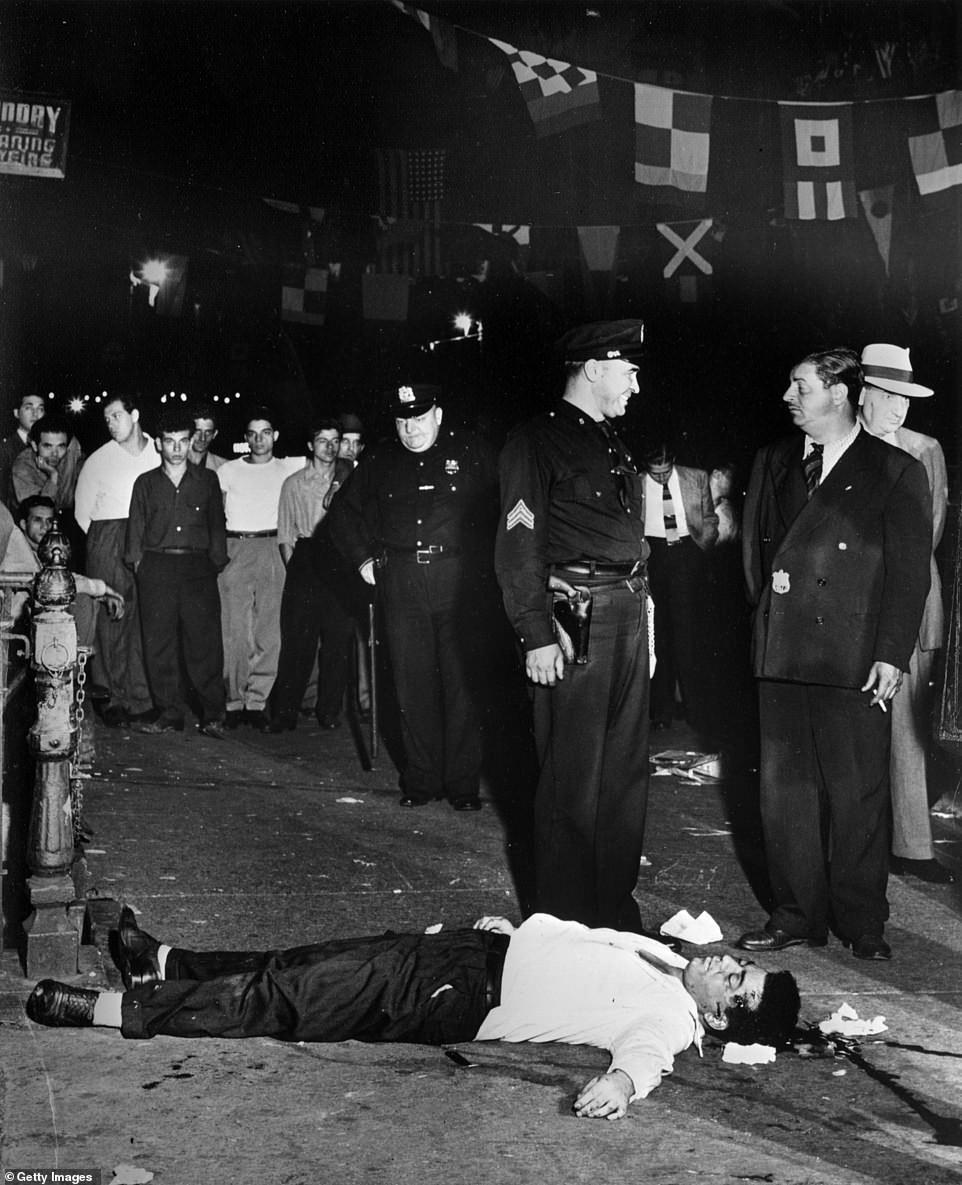 #6

Louis Lombardy was shot dead as he drank beer in a bar on Third Avenue
#7

This Bronx killing took place in 1962. The shoeless victim was found covered in blood sprawled across a living room floor after being shot in his chair
#8

The body of gangster Dominick Didato on the sidewalk outside a restaurant on Elizabeth Street, New York, August 6, 1936
#9

A policeman inspects the body of a murder victim covered with newspaper in New York City, 1943
#10

Bullet holes line the back of the stage at the Audubon Ballroom, where Malcolm X was assassinated. 1965.
#11

Murder victim and gangster David Beadle, also known as "David the Beetle," in front of Spot Beer Tavern in Manhattan, 1939.
#12

David Beadle's murder scene, 1939.
#13

Watched by a curious crowd, a policeman straddles the body of a murder victim lying on the pavement outside a New York City bar, 1942.
#14

A police officer crouches under the rear end of a taxi jacked up on a crate and garbage can as the dead body of a man who was hit by the cab lies underneath, 1943
#15

Police examine the murder scene of infamous mafioso Albert Anastasia, gunned down in the barbershop of the Park Sheraton Hotel, 1957
#16

Forensic detectives take the fingerprints of murdered store owner Joseph Gallichio, as he lies on the roof beside his cage of racing pigeons. 12 East 106th Street, 1941
#17

A double murder in Central Park at 106th Street East. A forty-five caliber pistol was found nearby
#18

George Silva, 19, lies on the steps of a rooming house, dead after inhaling heroin, 1954
#19

Crime scene rope stretched across the intersection of Hester and Mulberry Streets in Little Italy, blocking off Umberto's Clam House, where reputed mobster Joseph "Crazy Joe" Gallo was killed, 1972
#20

The body of Frankie Yale lies on the ground just after he was killed on July 1, 1928
#21

The body of Thomas Bilotti, associate of Mafia boss Paul Castellano, lies on the ground following their doudle murder on Dec. 16, 1985
#22

The scene outside 'O Sole Mio following a murder there, Circa 1939
#23

Morgue attendants carry the body of Carmine Galante out of Joe & Mary's Restaurant on July 12, 1979
#24

Detectives examining a body in a suitcase, the officers are not even wearing gloves as they handle the evidence
#25

Long Island man Thomas N.Innes was found bound and gagged at the bottom of the tidal basin. Investigating officers sift through his belongings without gloves as curious spectators peer over them
#26

A policeman looks at the body of Louis Riggiona, found dead in the gutter of Mulberry Street with two bullets in his heart and the two murder weapons abandoned nearby
#27

Crowds around the body of a man dumped on New York sidewalk, Mott street
#28

A medical examiner peering over the body of a man found floating in the East River in 1963. Bullet holes were found in the man's head
#29

A woman's body is found washed up on marshes in Brooklyn in 1947
#30

Police guarding the body of 15-year-old schoolgirl Ellen O'Connor who disappeared from her home before being found murdered and dumped in Massapequa woods
#31

Policemen gathered at the scene of the murder of Johnny La Polla, 1937
#32

A priest attending the bodies of Thomas J Hogan and Fred Romer in 1961. Hogan shot dead Romer before turning the gun on himself
#33

A brother's raw emotion after identifying his sibling's body.
#34

A homicide victim lying dead in a New York bar around 1916, were unearthed during renovations of the former NYPD headquarters in 2012
#35

A woman lying dead in a squalid New York room, have now been collated in a new book called 'Murder in the City, New York, 1910-1920
#36

The body of a murder victim is found inside a barrel in New York circa 1916 to 1920
#37

A piece of paper over the body of a man in a bar says 'trust no more', early 1900s New York
#38

A man lies dead outside a cafe in the Kips Bay area of Manhattan circa 1910
#39

Domenico Mastropaolos was stabbed and slashed to death in a wine cellar on 294 Elizabeth Street, New York, circa 1916 to 1920
#40

A murder victim with a devastating head wound, early 20th century, New York
#41

A body of a man found dead in a hallway
#42

The body of Antonio Pemear in Hudson Ave, Brooklyn, New York, who was murdered in his residence on December 19, 1915
#43

The bodies of Robert Green (left), an elevator operator, and Jacob Jagendorf (right), a building engineer, lie at the bottom of an elevator shaft November 24, 1915, following the pair's alleged failed robbery attempt
#44

A gruesome close-up of a male homicide victim, who appears to have had his face slashed
#45

A homicide victim lying in a bar or restaurant
#46

Murder victim Owen Owen was found lying on 35 Brooklyn Street, with a bottle of whisky on May 2, 1917
#47

A skeleton fitted with features made from wax. It was used by detectives to help them identify the slain party
#48

Homicide scene at a store or restaurant interior, 1916-1920
#49

Onlookers lean out of tenement windows to view a man's body on the sidewalk, 1916-1920
#50

A woman's body found in the Bronx next to a concrete structure. Trolley tracks can be seen in the background, June 24, 1917
#51

A female victim slumped in a parlor chair, 1916-1920
#52

The body of the victim lying on the sidewalk, Mott Street, New York, 1925
#53

Body of Dominick Didato, Elizabeth Street, 7 August 1936
#54

Police officer and lodge member looking at blanket-covered body of woman trampled to death in excursion-ship stampede, 18 August 1941
#55

The body of William Hessler, had been stabbed to death and his body put into the trunk.
#56

Photographer Weegeephotographs a human head at the scene of a murder, 1945
#57

A murder at the feast of San Gennaro. Police take over at the scene of a gang killing at 119 Mulberry Street, in the heart of Little Italy, New York. The two victims were Joseph 'Little Joe' La Cava and Rocco 'Chickee' Fagio.
#58

Homicide squand and a group of detectives examining an unidentified body in New York City in 1935
#59

The brown 1968 Buick Skylark, belonging to Robert Violante, parked in Bath Beach, Brooklyn, New York City, where Violante and Stacy Moskowitz were shot by American serial killer, David Berkowitz (a.k.a. "Son of Sam").
#60

Murder scene outside an "amusement arcade" in downtown Brooklyn. 1959.
#61

A crowd gathers around the body of John Masseria, Joe "The Boss" Masseria's brother, as police arrive at the murder scene on 19th Street. 1937.
#62

A bloodied couple lying dead in bed was titled 'Double Homicide', 1910
#63

Body of hooker killed by serial killer Joel Rifkin and placed inside an oil drum is investigated by police, 1992
#64

The body of Walter Sage, a hitman working for the mob gang Murder Inc, is pictured after his bound body was pulled from Swan Lake in the Catskills. He was allegedly killed for skimming cash from the mob's slot machine profits
#65

Horrific injuries to a disemboweled boy in a shabby apartment