Crime scene photographs play an important role in investigations and documenting history. Nowadays, everyone has a pocket camera on mobile phones. For people who witness an accident or an emergency, instead of helping the victims, most people prefer capturing photos or videos. This principle is also known as diffusion of responsibility. when several people are present at an incident, and individuals believe that someone else would offer help. These photographs are bloody and horrible, but they also open a seldom-seen window into what life was like at the time. These photos of crime scenes truly bring the past to life.
#1

Forensic detectives take the fingerprints of murdered store owner Joseph Gallichio, as he lies on the roof beside his cage of racing pigeons. New York, 1941.
#2

Mafia kingpin Joe Masseria holds the ace of spades, "the death card," in his hand following his murder on the orders of infamous gangster Charles "Lucky" Luciano in a Coney Island restaurant, 1931.
#3

The body of mobster Benjamin "Bugsy" Siegel, who was killed by an unknown assailant who shot him through a window with an M1 Carbine while he was staying at an associate's house in Beverly Hills, 1947.
#4

The bodies of two would-be thieves named Robert Green and Jacob Jagendorf after a failed robbery attempt that ended when they accidentally fell down the building's elevator shaft. New York, 1915.
#5

Close-up of a corpse's battered and bloodied face. Angres, France, 1912.
#6

A police officer crouches under the rear end of a taxi jacked up on a crate and garbage can as the dead body of a man who was hit by the cab lies underneath, 1943.
#7

The body of Earl "Hymie" Weiss, leader of Chicago's North Side Gang. He was killed when Al Capone's men opened fire with a submachine gun on him and his associates while they were visiting a courthouse where an ally of his was on trial, 1926.
#8

A young woman dead in her bed, 1930.
#9

Scene of a murder-suicide in New York's Central Park, 1952.
#10

The dead body of Andrew Borden, father of Lizzie Borden, in his house in Fall River, Mass, 1892.
#11

An unidentified dead man in New York City. Circa early 20th century.
#12

A New York police officer takes a peek at a dead body covered with newspapers, 1943.
#13

Two police officers with a dead body in a New York apartment stairwell, 1957.
#14

The Saint Valentine's Day Massacre, in which seven members of the North Side Gang were trapped in a garage, lined up against the wall, and shot to death by members of Al Capone's rival gang during a power struggle for control of Chicago, 1929.
#15

The dead body of Homer Van Meter, an associate of John Dillinger and a notorious bank robber, who was killed after fleeing police in St. Paul, Minn, 1934.
#16

The body of Brooklyn mobster Frankie Yale. He was killed by unidentified rival gangsters following a car chase through the streets of New York, 1928.
#17

Weegee photographs a human head at the scene of a murder. Circa 1945.
#18

An unidentified murder victim, early 20th century.
#19

Unspecified New York murder scene, 1916.
#20

The dead body of Al Capone associate Charles "Cherry Nose" Gioe, who was shot through the head by mafia hitmen hired by a Chicago mob boss whose plans Gioe had unknowingly interfered with, 1954.
#21

The dead body of Joseph Rosen, a candy shop owner who was killed by Murder Inc. leader Louis "Lepke" Buchalter in his own store in Brooklyn. 1936.
#22

A French crime scene, 1930.
#23

Murdered gangster David Beadle, also known as "David the Beetle," in front of The Spot Bar and Grill in Manhattan, 1939.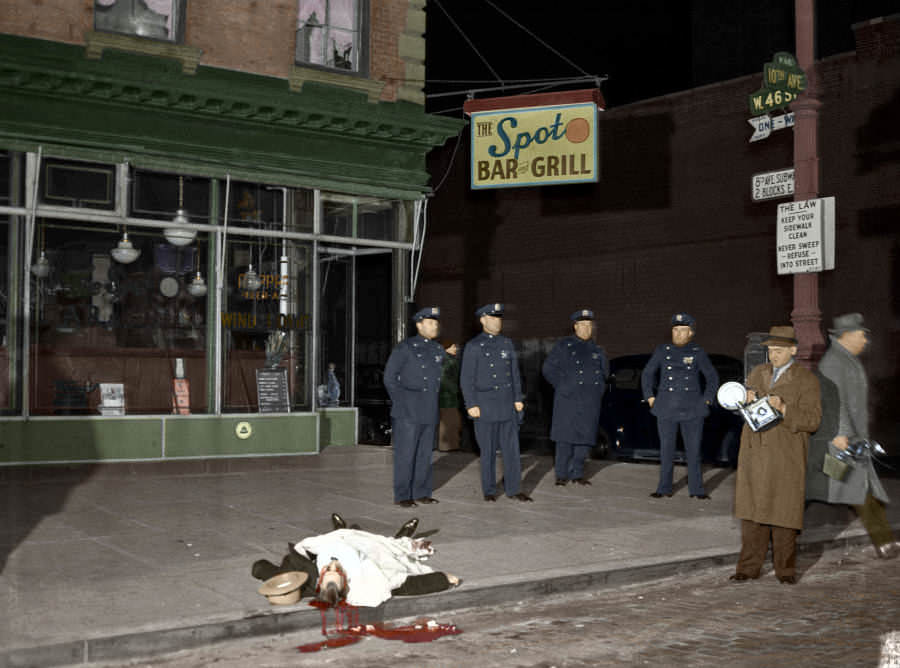 #24

The body of a man named Antonio Pemear, who was found murdered in his bed in Brooklyn, 1915.
#25

A dead boy with his intestines visible. Date unspecified.
#26

The murder scene of Arthur "Dutch Schultz" Flegenheimer, a powerful New York gangster in the 1920s and '30s who was ultimately killed in Newark, New jersey by an assassin hired by the Mafia Commission.
#27

Newspaper photographer Arthur Fellig, better known as Weegee, examines a body stuffed into a trunk and deposited on a patch of waste ground in New York, 1945.
#28

The burnt body of gangster Irving Feinstein, who was set on fire by Murder Inc. killers Harry Strauss and Martin Goldstein and left exposed in a lot in New York City, 1938.
#29

A dead man at the foot of a staircase in a French crime scene. 1912.
#30

A photo of a bloodied couple lying dead in bed in New York, 1915.
#31

The naked corpse of American aspiring actress and murder victim Elizabeth Short, known as the "Black Dahlia," lying in a vacant lot in Los Angeles, 1947.