High crime rates and police corruption characterized the 1990s in New Orleans. Marc Morial, son of Dutch Morial, served as mayor for two terms consecutively between 1994 and 1998. The tourism industry became a great contributor to the economy of New Orleans during the late 1990s.
On May 8, 1995, Louisiana Flood, heavy rains dumped over a foot of water on parts of the city faster than pumps could remove it. Particularly in lower-lying parts of the city, the streets were filled with water. More automobiles were declared totaled than in any other incident in the U.S. A Freightliner/bulk cargo vessel collided with the Riverwalk mall and hotels on the Poydras Street Wharf in the afternoon of Saturday, December 14, 1996. The accident didn't result in any deaths, but 66 people were injured. Fourteen shops and 456 hotel rooms were destroyed. The Freightliner was not removed from the crash site until January 6, 1997, by which time it had become something of a tourist attraction.
Below are some fascinating photos by Todd Jacobson that show what New Orleans looked like in the 1990s.
.
#2

Magazine Po-Boy Shop, 1st & Magazine St, New Orleans, 1990s
#3

St Charles Streetcar, New Orleans, 1990s
#5

Audubon Park, New Orleans, 1990s
#6

Jackson Square, French Quarter, New Orleans, 1990s
#8

Riverfront Streetcar, New Orleans (near Ursulines Station, French Quarter), 1990s
#9

French Quarter Balcony, New Orleans, 1990s
#14

Canal Street, New Orleans, 1990s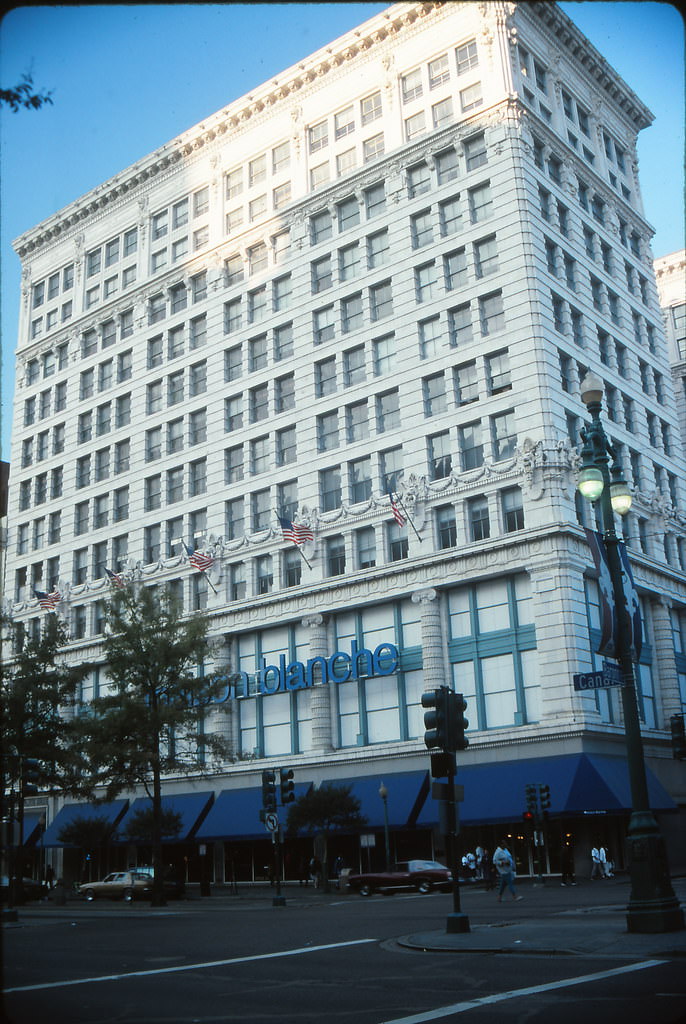 #15

Carondelet Street at Canal Street, New Orleans, 1990s
#16

Canal Place Mall-Downtown New Orleans, 1990s
#17

Canal Street, New Orleans, 1990s
#18

Camp Street, New Orleans, 1990s
#19

Aboard the St. Charles Streetcar, New Orleans, 1990s
#22

Chartres Street, Looking to St. Louis Cathedral, New Orleans, 1990s
#24

Downtown New Orleans from Algiers Point, 1990s
#25

Homes in Algier's Point, New Orleans, 1990s
#26

Home on Delaronde Street, near Algiers Point, New Orleans, 1990s
#27

French Market, French Quarter, New Orleans, 1990s
#29

Barracks Street from French Market Place, New Orleans, 1990s
#30

french Quarter (Barracks at Decatur Street), New Orleans, 1990s
#33

Outside the Convention Center, New Orleans, 1990s
#36

Canal Street, New Orleans, 1990s
#37

St. Charles Avenue, looking southwest of Canal, New Orleans, 1990s
#38

Aboard the St. Charles Streetcar, New Orleans, 1990s
#40

Balcony Dining, French Quarter, New Orleans, 1990s
#41

One Shell Square & Place St. Charles (lower right), downtown New Orleans, 1990s
#42

Homes in Algier's Point, New Orleans, 1990s
#43

Algiers Point Ferry, New Orleans, 1990s
#44

French Market, French Quarter, New Orleans, 1990s
#45

French Quarter (Barracks at Decatur Street), New Orleans, 1990s
#46

Maison Blanche Department Store, Canal Street, New Orleans, 1990s
#47

Kress Building, Canal Street, New Orleans, 1990s
#48

Canal Street, New Orleans, 1990s
#49

Dauphine Street at Canal, downtown New Orleans, 1990s
#50

Canal Street, New Orleans, 1990s
#51

Canal Street, New Orleans, 1990s
#52

Canal Street, New Orleans, 1990s
#53

Canal Street, New Orleans, 1990s
#54

Canal Street, New Orleans, 1990s
#55

Canal Street, New Orleans, 1990s
#56

New Orleans at Twilight, 1990s
#57

Sunset over New Orleans, Nov 1994
#58

Canal Street, New Orleans from International Trade Mart, 1990s
#59

Looking to the French Quarter, New Orleans, 1990s
#60

Looking to Jax Brewery & Jackson Square, French Quarter, New Orleans, 1990s
#61

Riverfront, New Orleans, 1990s
#62

Canal Street, New Orleans, 1990s
#64

Third & Magazine, Near the Garden District, New Orleans, 1990s
#67

Absinthe House Bar on Bourbon, French Quarter, New Orleans, 1990s
#68

New Orleans Cityscape, 1990s
#69

Algiers Point Ferry, New Orleans, 1990s
#70

French Quarter, New Orleans, 1990s
#71

French Quarter, New Orleans, 1990s
#72

A Tale of Two Cities: Murder in N.O. vs Boston, French Quarter, New Orleans, 1990s
#78

St. Louis Cathedral, Jackson Square, New Orleans, 1990s
#79

Spanish Plaza along the Mississippi at Canal Street, New Orleans, 1990s
#80

old warehouses, Girod Street, New Orleans, 1990s
#82

Old Warehouses, New Orleans, 1990s
#83

Downtown New Orleans, 1990s
#85

Girod & Commerce, New Orleans, 1990s