Helena Rubinstein was a Polish-American businesswoman and she was the world's first self-made female millionaire. She emigrated from Poland to Australia in 1986 and launched her business of face creams. And in 1915, she opened a beauty salon at 715 Fifth Avenue in New York City.
She incorporated many other entertaining facilities in her salon including, gym, movie theatre, restaurant and library. Women coming to Rubinstein's beauty salon could book in for individual treatments or a complete 'Day of Beauty'.
#1

They day of beauty would start with an assessment.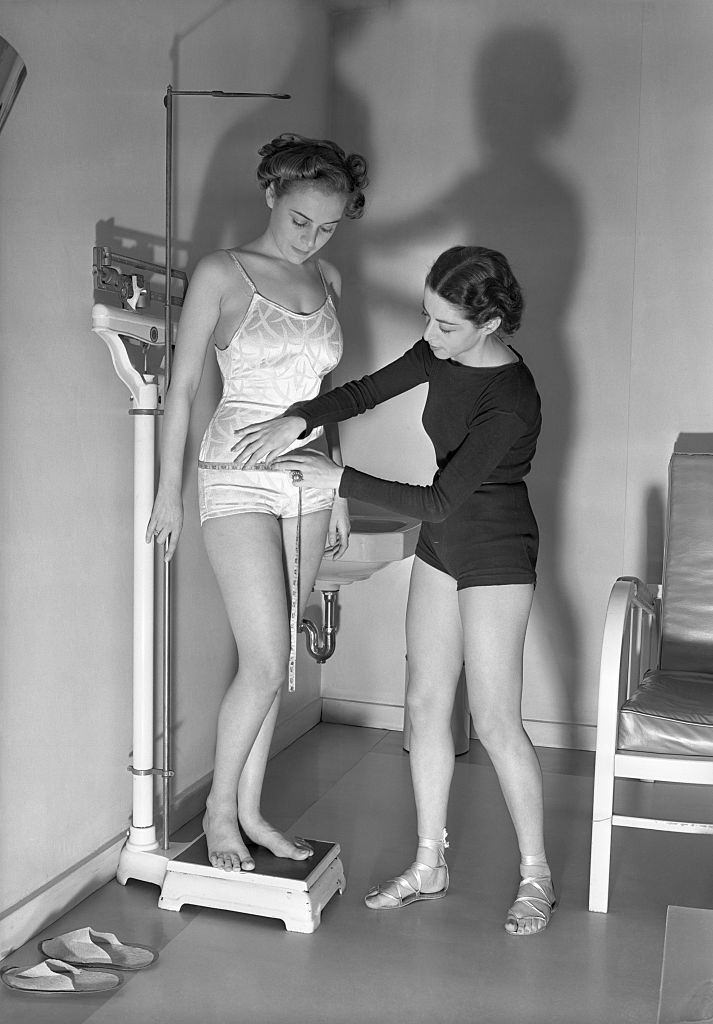 The client's basal metabolic rate (BMR) was calculated and her blood pressure, height, weight and other vital statistics were also taken down for future reference.
#2

After the assessment the clients would engage in series of exercises.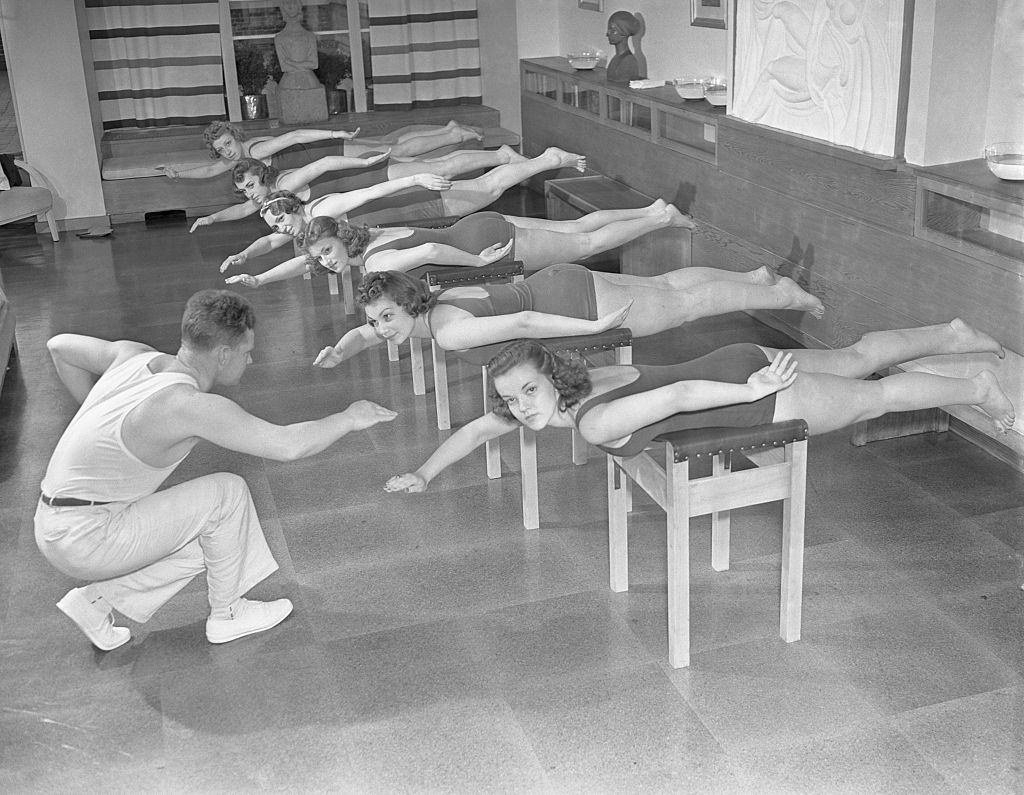 Dressed in a playsuit provided by the salon, the client could then engage in a series of exercises in the gymnasium equipped with a sprung floor, bars, gym mat, fitness bicycles, rowing machines and other sports equipment.
#3

If physical exercise was ruled out then she could take deportment or other classes.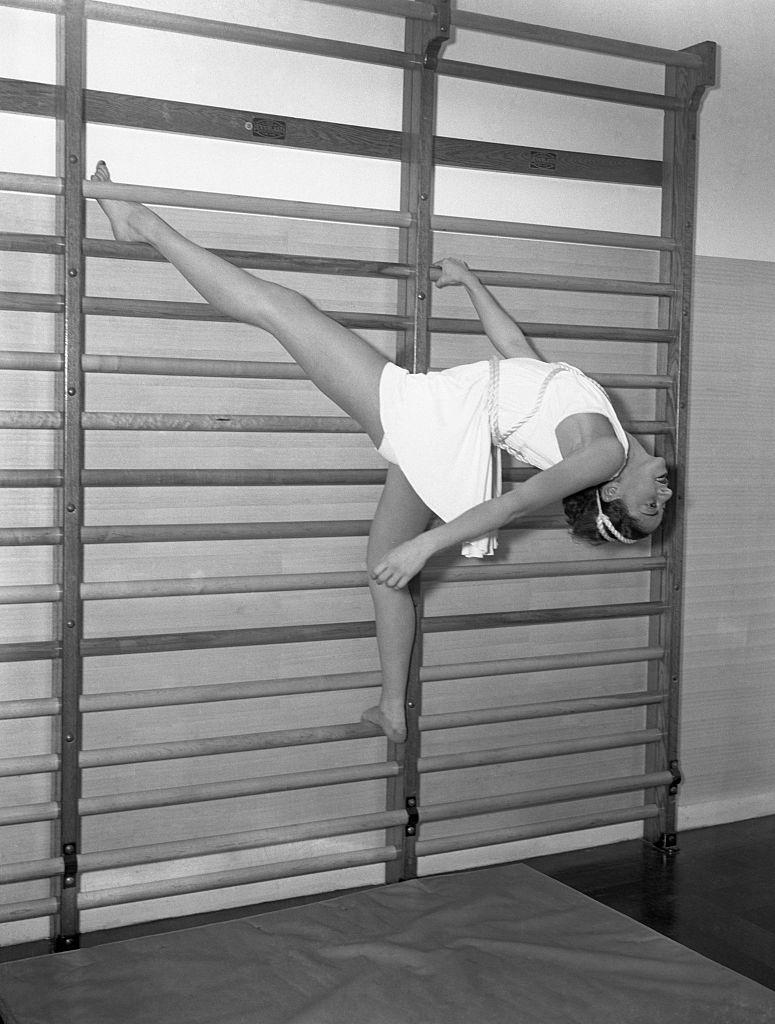 The particular callisthenic shown above slims the hips, contracts the abdominal and thigh muscles.
#4

The morning activities were followed by a quick shower and a massage.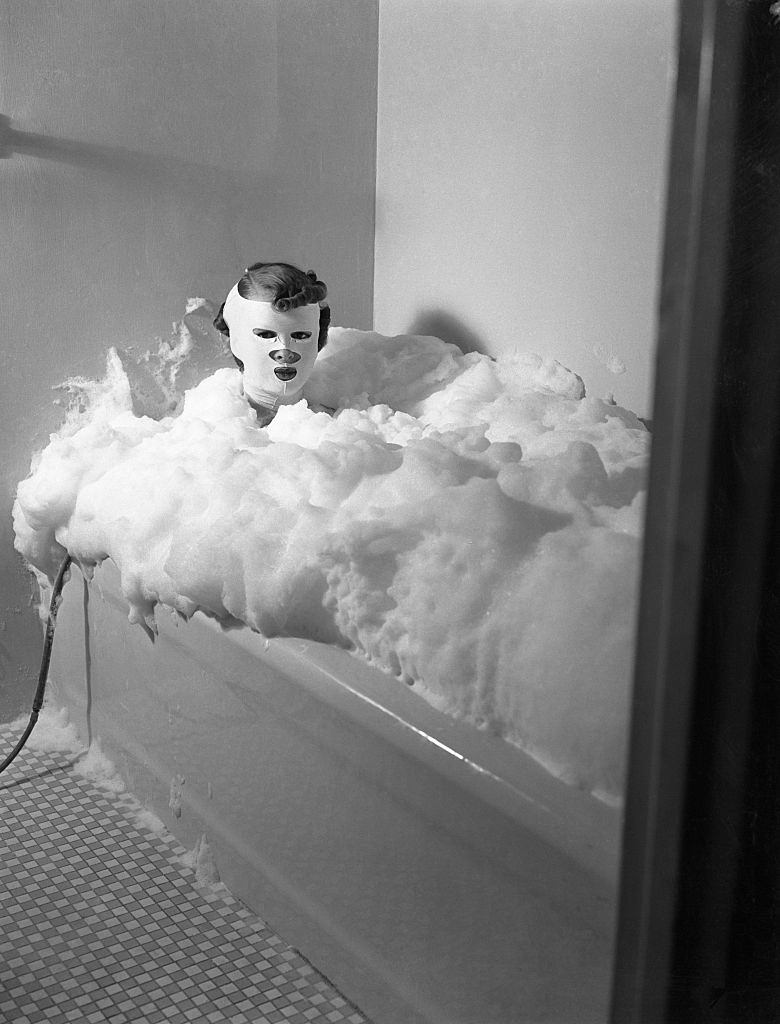 Other options a selection of baths – 'pasteurized milk', mineral salts or herbal – paraffin wax treatments, needle showers and body scrubs.
#5

The type of massage depended on the client.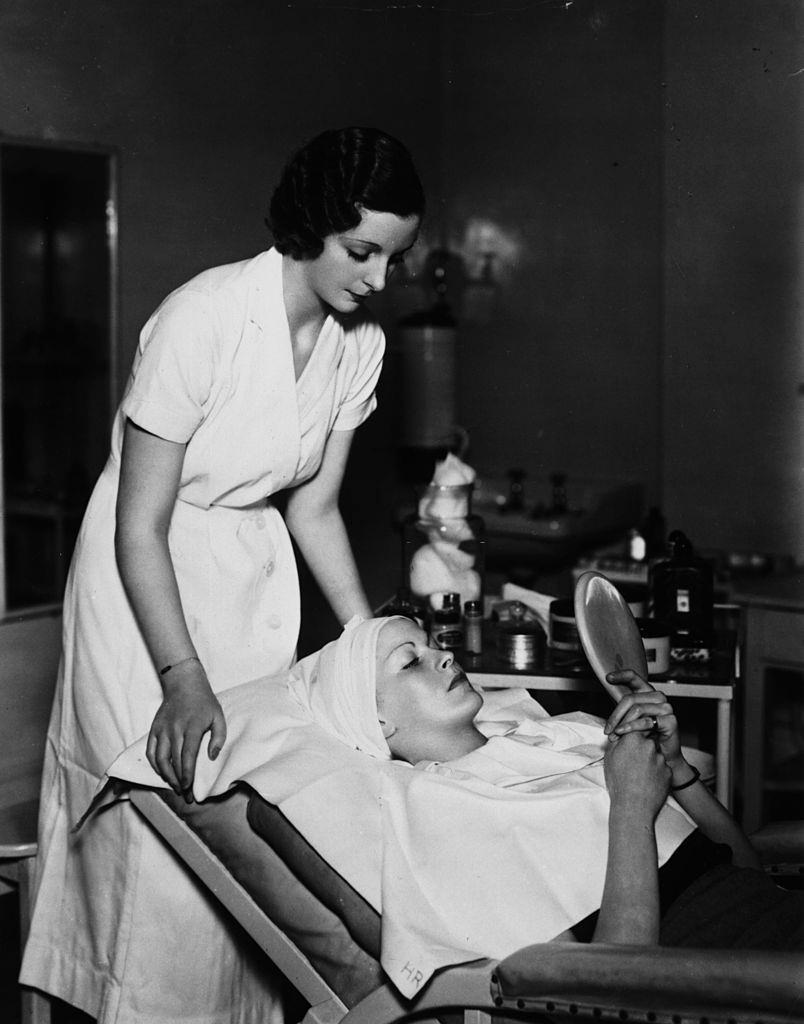 A beautician attends to her client at Helena Rubinstein's beauty salon.
#6

Before the massage, clients could elect to have a San-O-Therm treatment.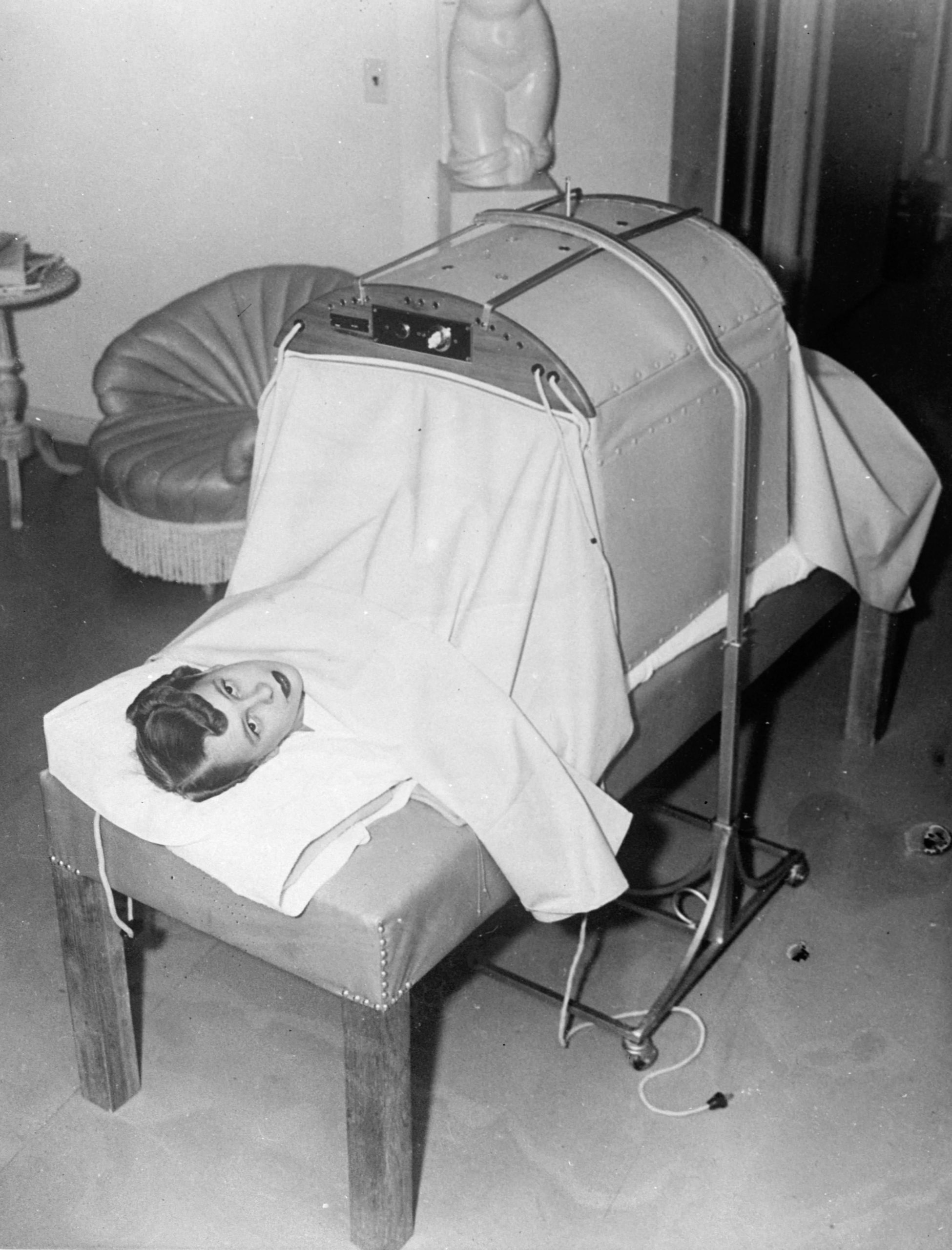 The treatment involved the client lying on a massage table covered with an electric blanket under a cabinet warmed with an infra-red heater. This was said to increase circulation, facilitate skin elimination (i.e. increase sweating), relieve pain and relax tense muscles and ligaments.
#7

Clients could also take a 'restorative vitamin sun-bath' in the Sun Ray Clinique stretched out on beds of sand bathed in ultra-violet light.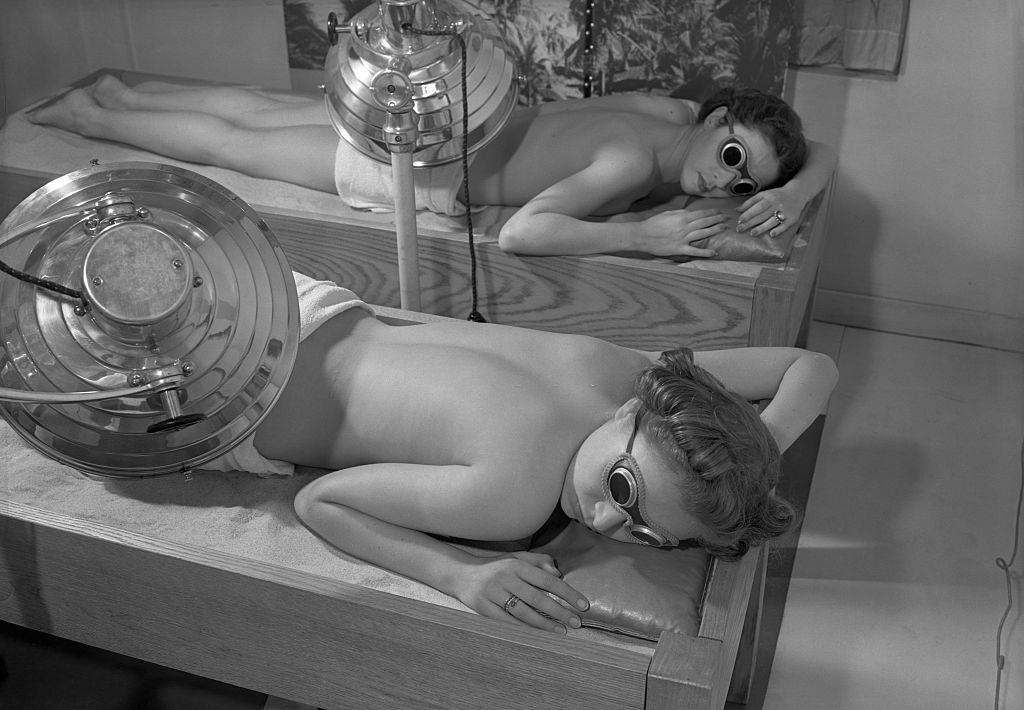 Sun ray lamps are placed like indirect lighting around the tops of the walls. The rays are reflected back from the aluminum surface so that they are distributed with evenness over the entire body. The infra-red lamps directly above the bodies of these sun bathers heat the sand and envelope the body in a warm, penetrating glow.
#8

Facial treatments were selected according to skin-type and any problems picked up in the facial assessment.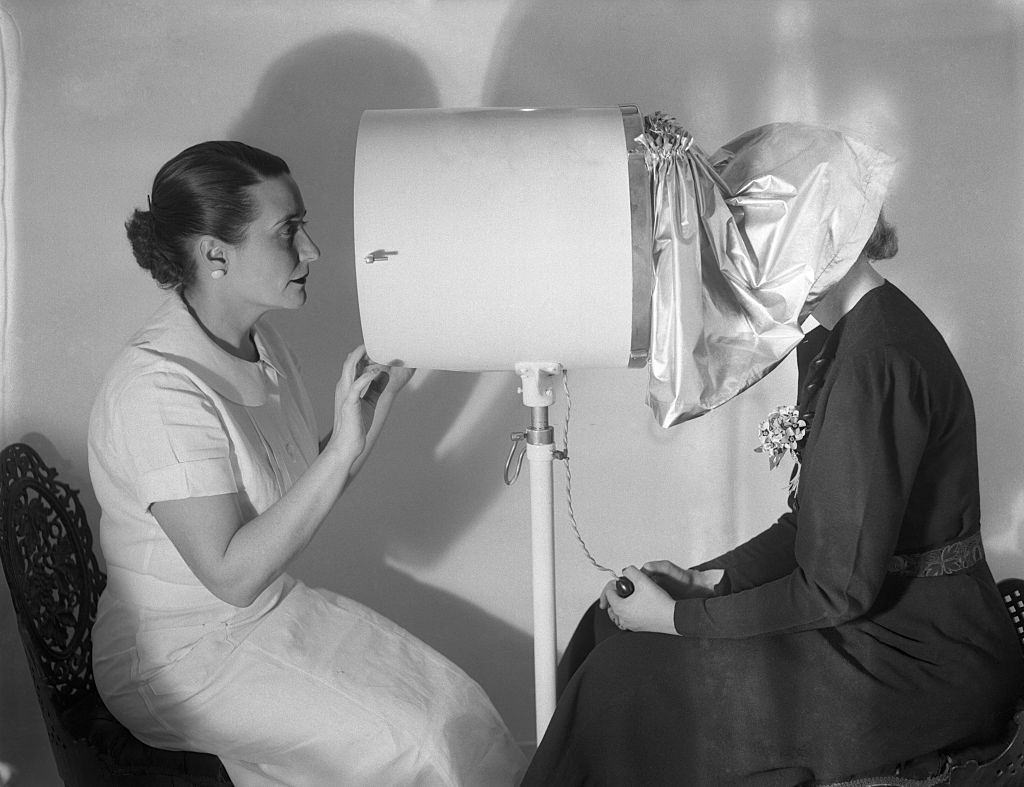 Clients would put their head under this hood, press a switch held in the hand, and, in this device, your defects are magnified. An expert examines your skin at the same time.
#9

As part of a full facial the client would also be recommended to have a mask or could elect to have an Electro-tonic Treatment to activate circulation, tighten tissues and firm her skin.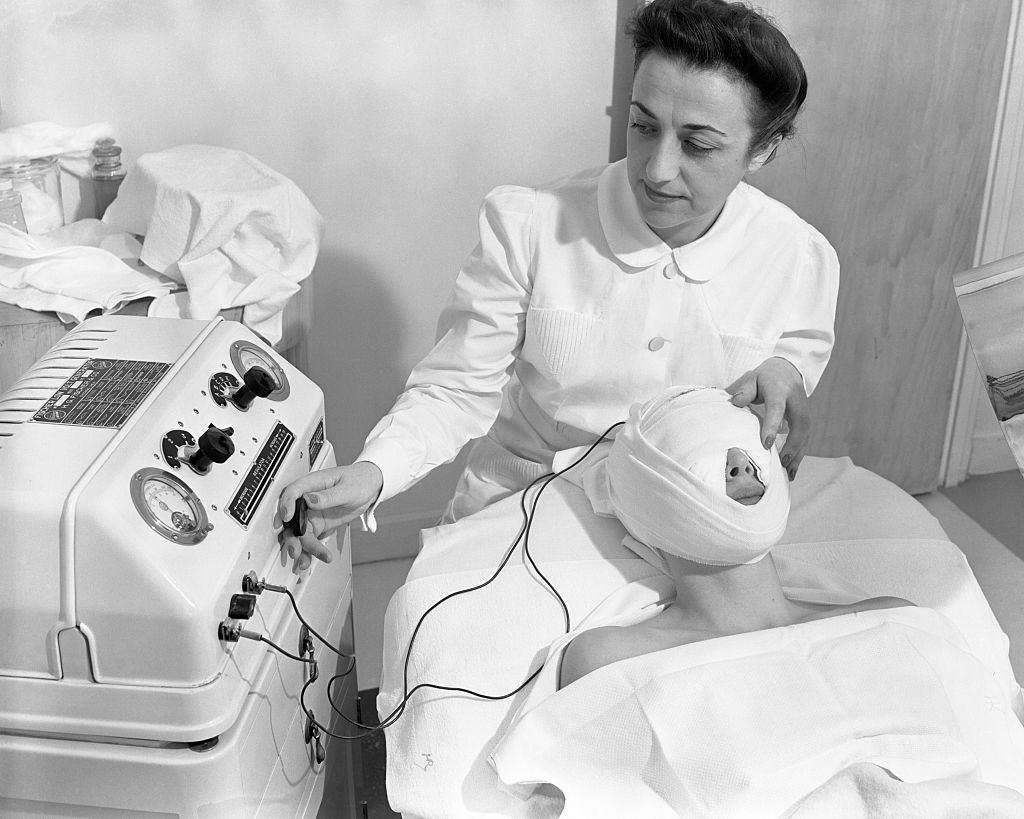 Electricity is used in the electro-tonic treatment which is recommended for blurry facial contours or aging skin. The client's head is wrapped up as shown and the 'juice' turned on, carefully regulated, of course. There is nothing to stop the client from taking a nap while undergoing this session.
#10

Having completed her facial treatments the client would wait in the Salon Health Bar drinking a fruit goblet until a hairdresser was available.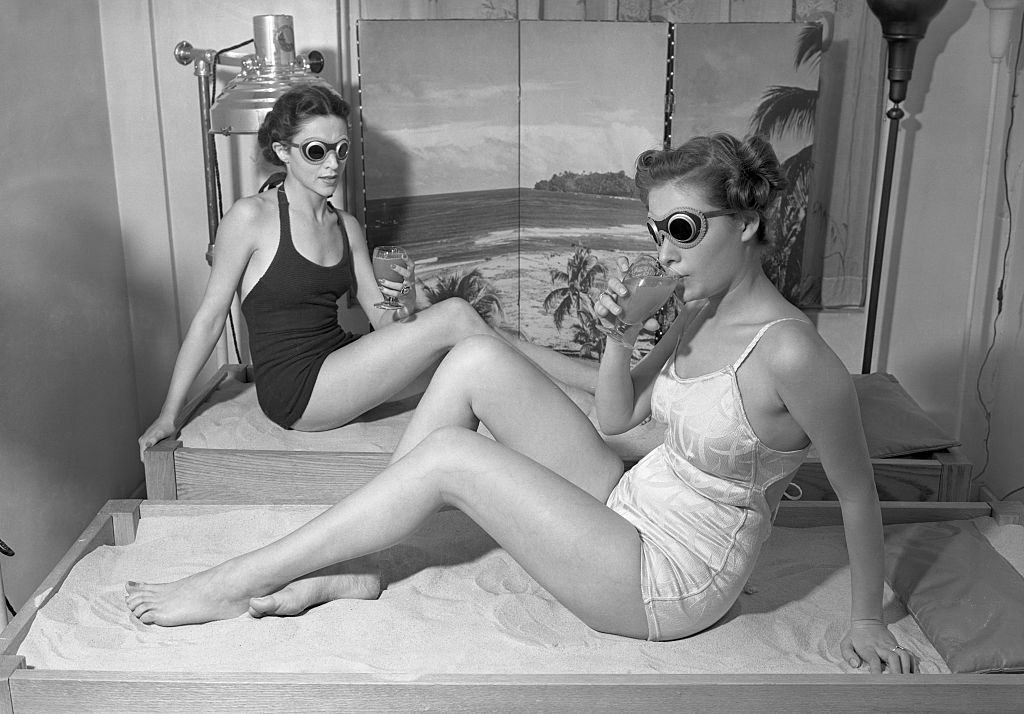 #11

The Salon used steamerb to get balsam oil forced into the scalp and hair. It helps make a permanent soft and brilliant.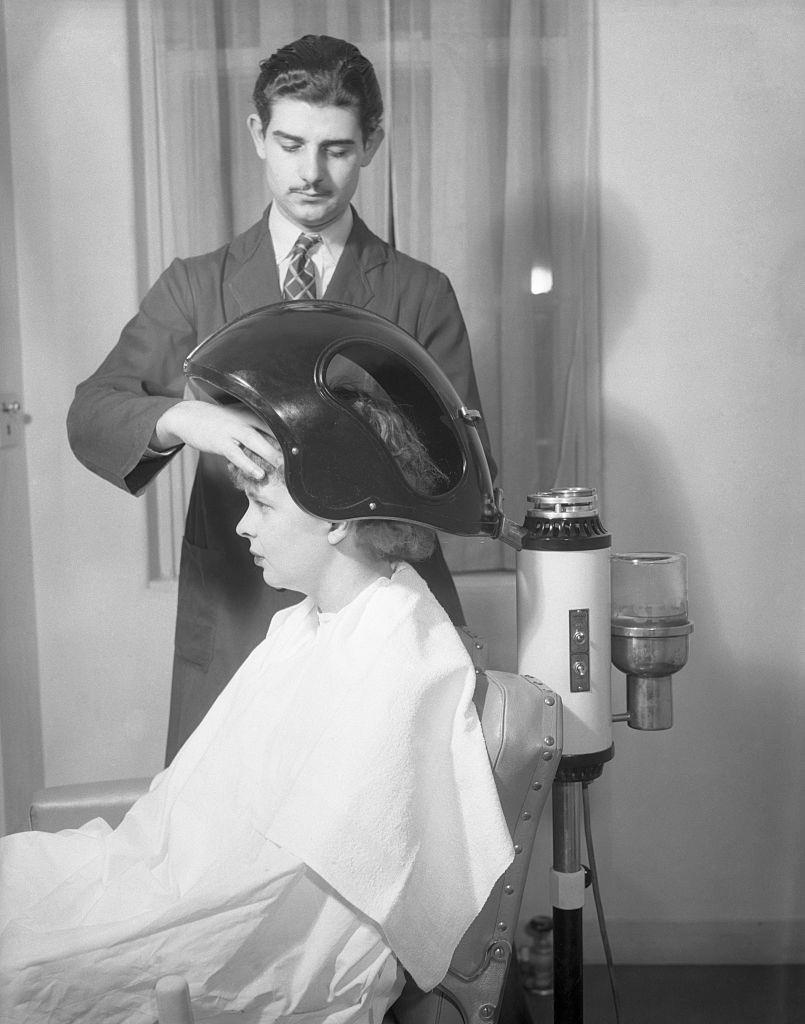 In the hairdressing salon the client's scalp was massaged with a Balsam Oil Steamer and then her hair was cut and set in the latest Paris style while her hands and feet were manicured. She was then ushered into a make-up cubicle where she was made up while receiving advice about the best Rubinstein powder, rouge, lipstick and eye make-up to use for her particular colouring.
#12

Carolyn Lang applies lotions to Billie Gloss' suntanned back, bleaching it down so that Miss Gloss will be the same pale shade all over.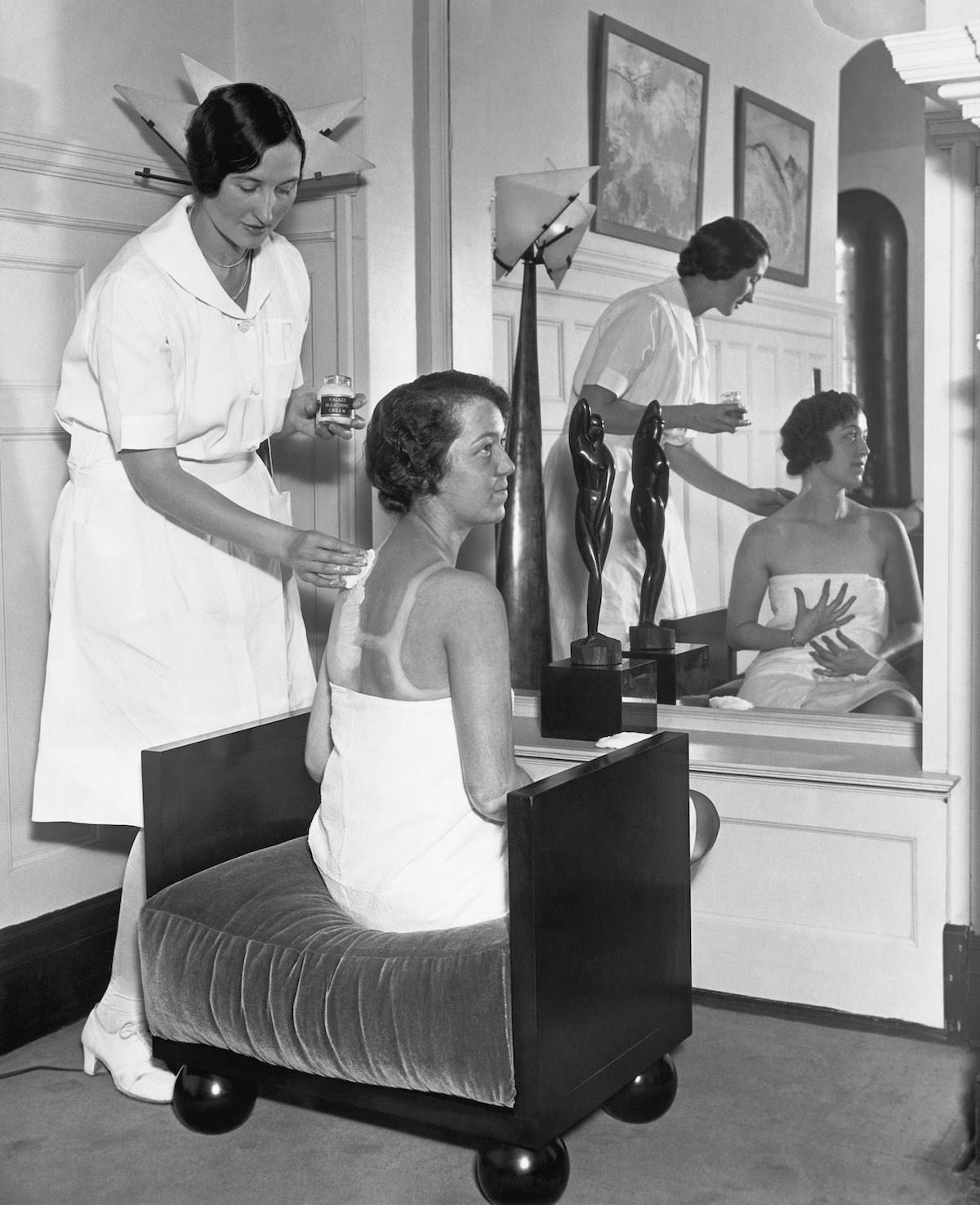 #13

A consultation with Helene Rubinstein herself, world famous beauty authority, who consults with the clients as a climax to the Day of Beauty.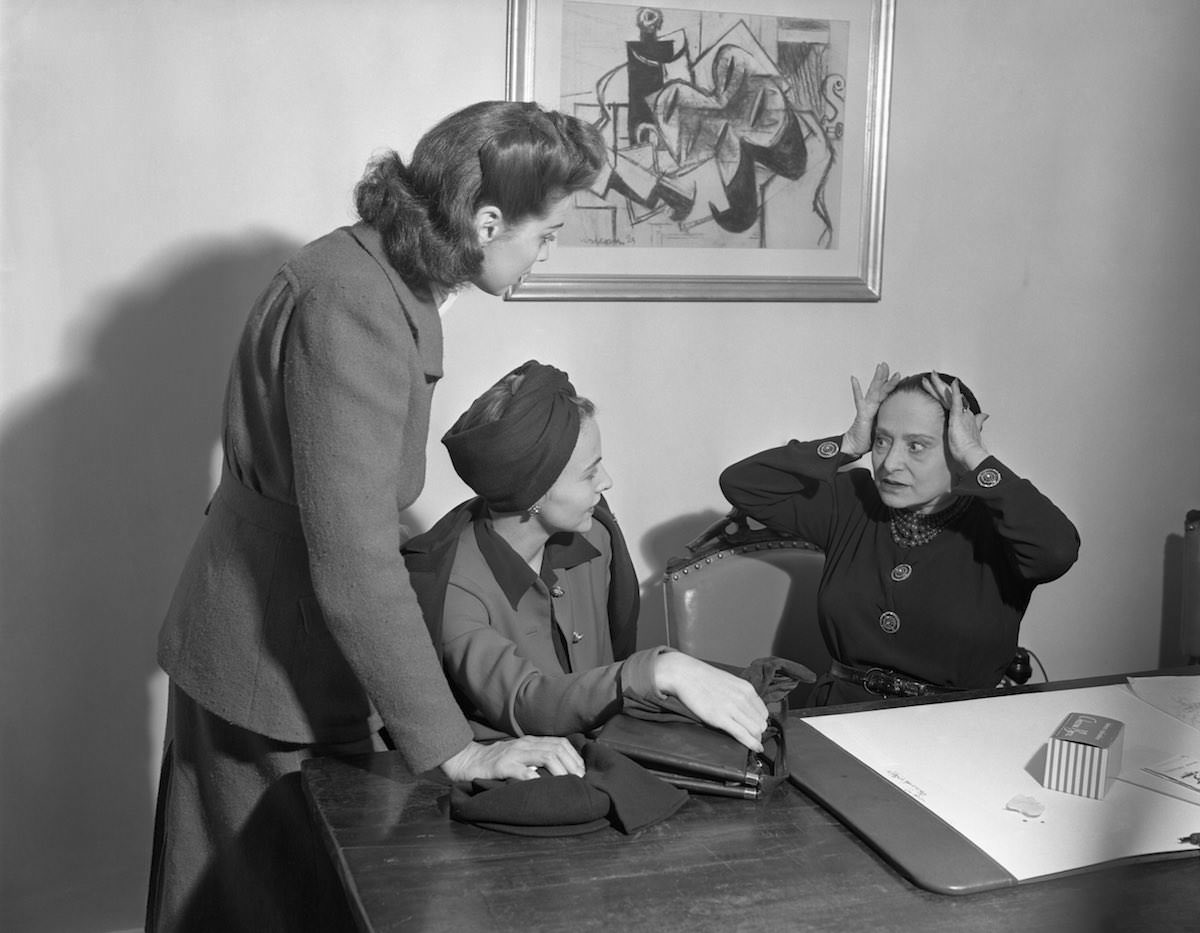 She advises the clients on their home beauty care. She shows them movements which will keep their eyes young and fresh and unlined into an advanced age and a chin slapping movement which will guard their facial silhouettes against dropping.
#14

The full line of Helena Rubinstein beauty products.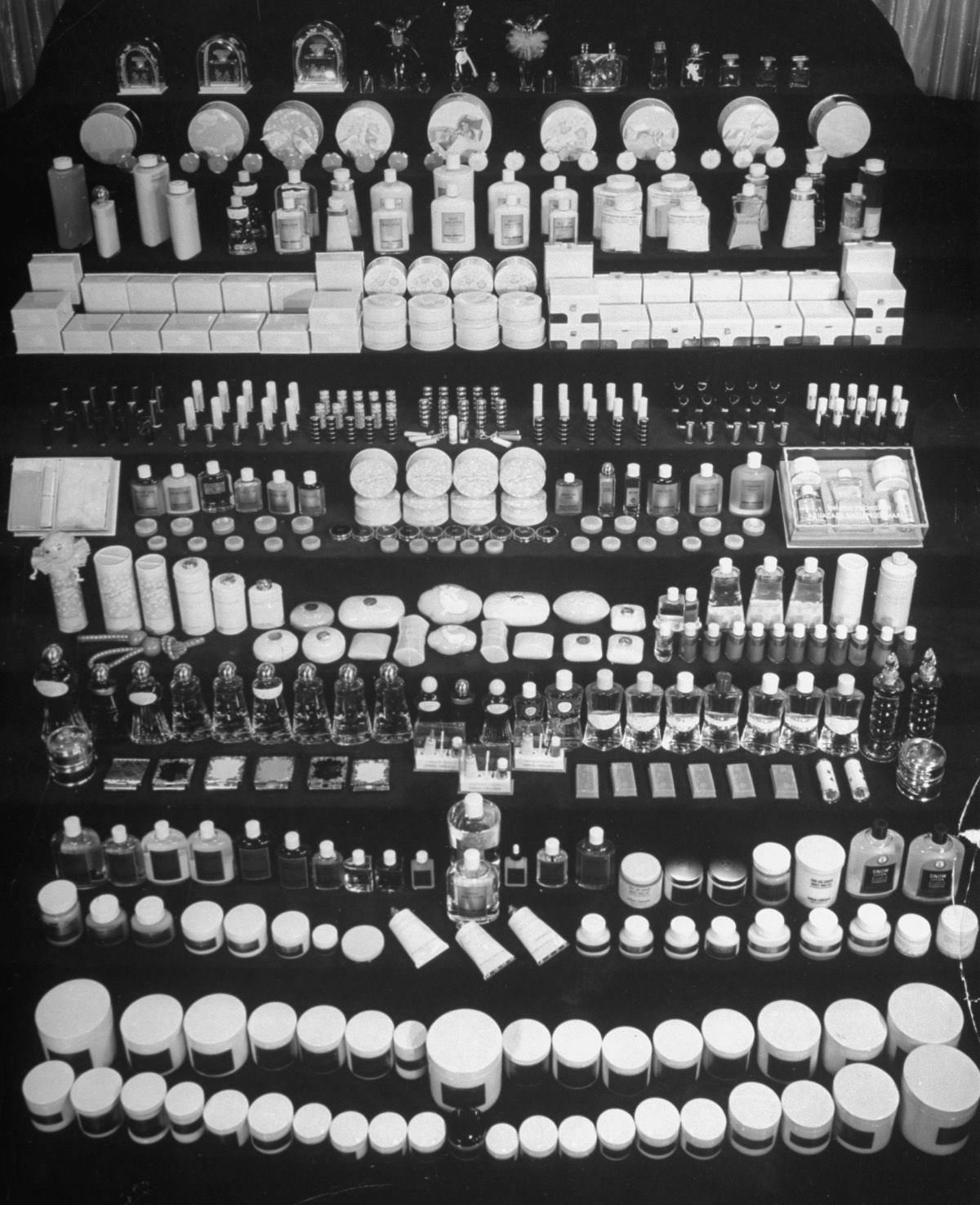 #15

Four American Beauty types Showing Rubinstein's Life Red Make-up.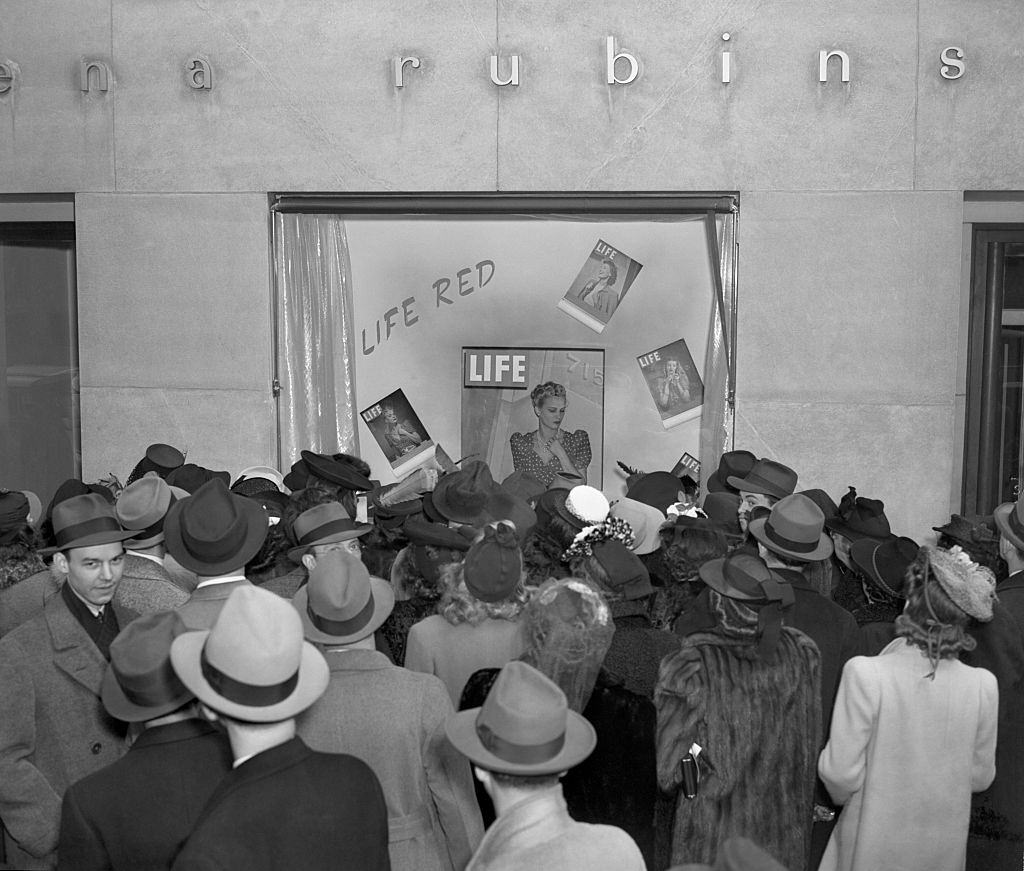 A red head, a blonde, a brunette, and medium type, as still life in competition with wax models, in the window of Helena Rubinstein's beauty shop.