Frances Shea was a stunning Irish girl born in Bethnal Green, East London. Her father, Frank, ran the gambling at the Regency Club in Stoke Newington, and Frances met the notorious Kray twins there. Ronnie Kray and Reggie Kray were the foremost perpetrators of organized crime (gangsters) in the East End of London during the 1950s and 1960s.
The Beginning of the love story
Frances Shea was only sixteen when she met Reggie Kray. Despite their age difference, with Reggie being 27 years old at the time, their mutual attraction was undeniable. In 1961, Reggie proposed to Frances, but she declined, feeling too young for marriage. Undeterred, Reggie continued to pursue her, even writing letters to Frances while he was in prison. Four years later, Reggie tried his luck again, and this time Frances accepted his proposal.
The Controversial Marriage
In 1965, Reggie and Frances married at St. James's Church in Bethnal Green, despite the disapproval of Frances' parents. The priest initially refused to officiate the marriage due to Reggie's criminal connections, but a second priest agreed to perform the ceremony. The wedding was extravagant, with celebrities and criminal figures in attendance, reflecting the Kray twins' notoriety and influence.
The Short-Lived Honeymoon
Following their wedding, the couple planned a honeymoon in Athens, Greece. However, two months into their marriage, Frances left Reggie and returned to live with her parents. Struggling with depression and the weight of her new life as a gangster's wife, she attempted suicide by overdosing on barbiturates. Reggie, unable to let her go, continued to pursue her, and by 1967, they reconciled as a couple, though they did not live together. They planned a second honeymoon in Ibiza that summer, but it never came to fruition.
A Life Filled with Abuse and Tragedy
Reggie Kray abused Frances physically and emotionally. On one occasion, he cut his hand and forced her to watch it drip blood. Reggie Kray's brother Ronnie Kray was homosexual, and even Reggie was claimed to be bisexual. After their death, documents revealed that they had an incestuous relationship. Despite this, Reggie Kray was married twice, with his second marriage to Roberta Jones occurring while serving his life sentence.
On the 7th of June, 1967, Frances Shea attempted suicide by overdosing on sleeping pills and took her life at the young age of 23. Reggie Kray paid for her funeral, which included substantial floral displays, including one over six feet tall in the form of a wreath spelling out her name. Her parents told Reggie Kray that their daughter's last wish had been to revert to her maiden name, but he insisted that she be buried under her married name and wear her white satin wedding dress. However, Mrs. Shea persuaded the undertaker to clothe the corpse in tights and a slip so that as little of her body as possible would be in contact with the hated dress.
Reggie Kray's Life After Frances
After a few months, Reggie Kray murdered Jack D. McVitie, a minor criminal, and he was arrested the following year and received life imprisonment, with a minimum term of 30 years. Before his arrest, Reggie visited Frances' grave several times. When he was allowed to attend the funeral of his brother Charlie in 2000, he visited her grave and kissed the tombstone.
During his time in prison, Reggie Kray found a new path and converted to Christianity. He started to paint as a way to cope, discovering comfort and peace in the world of art. Reggie didn't stop there; he went on to write several books, sharing his experiences and thoughts. Among them, he penned his autobiography, "Born Fighter," and a book about his life of crime and his journey to redemption. These works gave readers a glimpse into the mind of a notorious gangster who turned his life around, seeking forgiveness and finding solace in the creative process.
#1

Frances Shea and gangster Reggie Kray on their wedding day, April 20th, 1965
#2

Frances Shea on her wedding day, April 20th, 1965
#3

Reggie Kray and wife Frances sunbathing on the beach in November 1964 in southern Spain
#4

Reggie Kray and Frances Shea outside the Kray home in Valance Road after he and Ronnie are acquitted of all charges of demanding money with menaces, 5th April 1965
#5

The funeral card photo of Frances Shea, 1967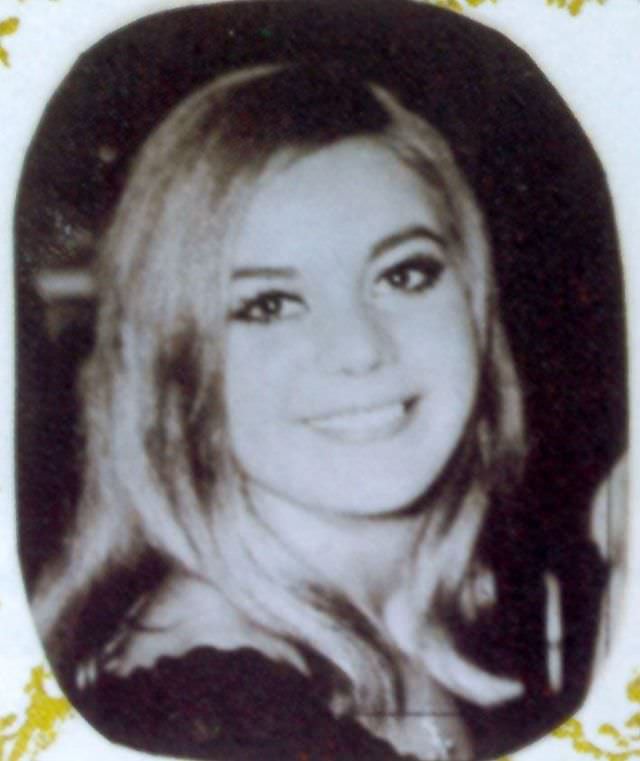 #6

Reg Kray and Francis pose for a group photo with two unknown people, circa 1963, in Tangier, Morocco
#7

Frances Shea and gangster Reggie Kray on their wedding day, April 20th, 1965
#8

Frances Shea and gangster Reggie Kray on their wedding day, Ronnie Kray on the left, April 20th, 1965
#9

Frances Shea and gangster Reggie Kray on their wedding day, Ronnie Kray on the right, April 20th, 1965
#10

Frances Shea on her wedding day, April 20th, 1965
#11

Frances Shea on her wedding day, April 20th, 1965
#12

Frances Shea and gangster Reggie Kray on their wedding day, April 20th, 1965
#13

Young Frances Shea, wife of gangster Reggie Kray, 1962
#14

Frances Shea and gangster Reggie Kray on their wedding day, Ronnie Kray on the right, April 20th, 1965
#15

Frances Shea and gangster Reggie Kray with friends at a London nightclub, 1962
#16

Frances Shea and gangster Reggie Kray on their wedding day, April 20th, 1965
#17

Frances Shea and gangster Reggie Kray on their wedding day, April 20th, 1965
#18

Frances Shea and gangster Reggie Kray on their wedding day, April 20th, 1965
#19

Frances Shea and Gangster Reggie Kray On Their Honeymoon In Greece, 1965
#20

Frances Shea and Reggie Kray on their honeymoon at the Acropolis, Greece, April 1965
#21

Frances Shea and gangster Reggie Kray on holiday in Jersey, 1960s
#22

Frances Shea and Gangster Reggie Kray at a London nightclub, 1962
#23

Reg and Francis sunbathing in 1962, in Southern Spain
#24

A dressed-down Reggie, in unbuttoned shirt and sandals, takes a walk with his wife Frances while holiday in November 1964 in southern Spain
#25

Frances Shea taken by Reggie Kray while on holiday in November 1964 in southern Spain
#26

Reggie (left) and his young wife Frances on holiday together in November 1964 in southern Spain
#27

Reggie Kray and Frances Shea outside the Kray home in Valance Road after he and Ronnie are acquitted of all charges of demanding money with menaces, 5th April 1965
#28

Reggie Kray and Frances Shea outside the Kray home in Valance Road after he and Ronnie are acquitted of all charges of demanding money with menaces, 5th April 1965
#29

Frances Shea on her wedding day, April 20th, 1965
#30

Frances Shea on her wedding day, April 20th, 1965
#31

Frances Shea and Reggie Kray on their honeymoon at the Acropolis, Greece, April 1965
#32

Reggie Kray and Frances Shea on their honeymoon in Athens, Greece, April 1965
#33

Frances Shea and gangster Reggie Kray on holiday in Jersey, 1960s
#34

Frances Shea and gangster Reggie Kray on holiday in Jersey, 1960s
#35

Frances Shea and gangster Reggie Kray (third and fourth from left) with friends at a London nightclub, 1962
#36

Frances Shea and gangster Reggie Kray with friends at a London nightclub, 1962
#37

(l-r) Johnny Squibb (very good friend of the Krays, particularly Reg), Reggie Kray and Frances Kray in Nov 1964 in Southern Spain
#38

Frances Shea and gangster Reggie Kray on their wedding day, April 20th, 1965
#39

Frances Shea and gangster Reggie Kray on their wedding day, Ronnie Kray on the left, April 20th, 1965
#40

Frances Shea and gangster Reggie Kray on their wedding day, April 20th, 1965
#41

Frances Shea and gangster Reggie Kray on their wedding day, Ronnie Kray on the right, April 20th, 1965
#42

Frances Shea and gangster Reggie Kray on their wedding day, Ronnie Kray on the left, April 20th, 1965
#43

Frances Shea and gangster Reggie Kray on their wedding day, April 20th, 1965
#44

Frances Shea and Gangster Reggie Kray at a London nightclub, 1962
#45

Frances Shea and Gangster Reggie Kray at a London nightclub, 1962