On the night of November 28, 1942, A huge fire broke out in the Cocoanut Grove night club which killed 492 people and injured hundreds. It was one of the deadliest fires in American history which resulted in significant improvements in safety laws and also significant changes in the rehabilitation and treatment of burn victims globally.
Cocoanut Grove Club
The Cocoanut Grove was a nightclub in Boston, Massachusetts. It was first opened in 1927 and was originally owned by two orchestra leaders, Mickey Alpert and Jacques Renard. The club had a restaurant, a dance area, pubs, many lounge areas, a rooftop place for dance under the stars, floor displays, and piano-playing entertainers. They sold the club to the bootlegger Charles "King" Solomon. Following Solomon was gunned down in 1933, the club's ownership passed to his attorney, Barney Welansky. He was a tough businessman who was not going to allow even one penny to slide off. He hired youngsters for minimum wage and he secured and bricked up emergency exits to prevents his clients from fleeing the premises without paying. This greed and ignorance resulted in the deaths of hundreds of people.
The Cause of flames
Different theories blame different people. One of them indicates that it was the fault of a 16-year-old busboy named Stanley Tomaszewski. Shortly before the fire began, a young guy unscrewed a light bulb in the Melody Lounge downstairs because he wanted to kiss his girlfriend in privacy. He instructed, Tomaszewski instructed to twist the light bulb back in and he lit a matchstick to see the lamp. After the light bulb was screwed back in, Tomaszewski extinguished the match. Immediately afterward, some people saw flames on the fake palm trees just beneath the ceiling. However, the official investigation ruled out the possibility that the fire was started by Tomaszewski.
How People tried to escape
Many Patrons tried to exit through the primary entrance, the same way they had entered. The building's main entrance was just one revolving door, which was rendered useless because the crowd stampeded in panic. Bodies piled up behind each side of the revolving door, jamming it until it broke. Other paths of escape were similarly useless; side doors were bolted shut to stop individuals from leaving without paying. A plate glass window, that might have been crushed for escape, was boarded up and unusable as an emergency exit. Other unlocked doors, such as those at the Broadway Lounge, opened inwards, making them useless against the crush of people trying to escape. Fire officials would later testify that had the doors swung outwards, at least 300 lives might have been spared.
Cocoanut Grove fire victims
Actor Buck Jones also died in this catastrophe. He was in the club along with his wife and the couple initially escaped but Jones went to premises to locate his agent producer Scott R. Dunlap. He was severely burnt and died of his injuries two days later. Coast Guardsman Clifford Johnson suffered extensive third-degree burns over 55% of his body but survived the tragedy. He was a severely burned person ever to survive his injuries at the time. A honeymoon couple died in the incident. Three bartenders, cashier Jeanette Lanzoni, and entertainer Goody Goodelle also died. A total of 492 people died and hundreds of wounded and a few of them were severely burned.
Investigation
An investigation report revealed that the Cocoanut Grove had been inspected by a captain in the Boston Fire Department, only ten days ahead of the fire and he declared it safe. The club had not acquired any licenses for operation for several years. Tomaszewski testified at the inquiry and was exonerated, as he was not responsible for the flammable decorations or the life safety code violations.
Here below Are some photos that show a glimpse of the Cocoanut Grove club catastrophe.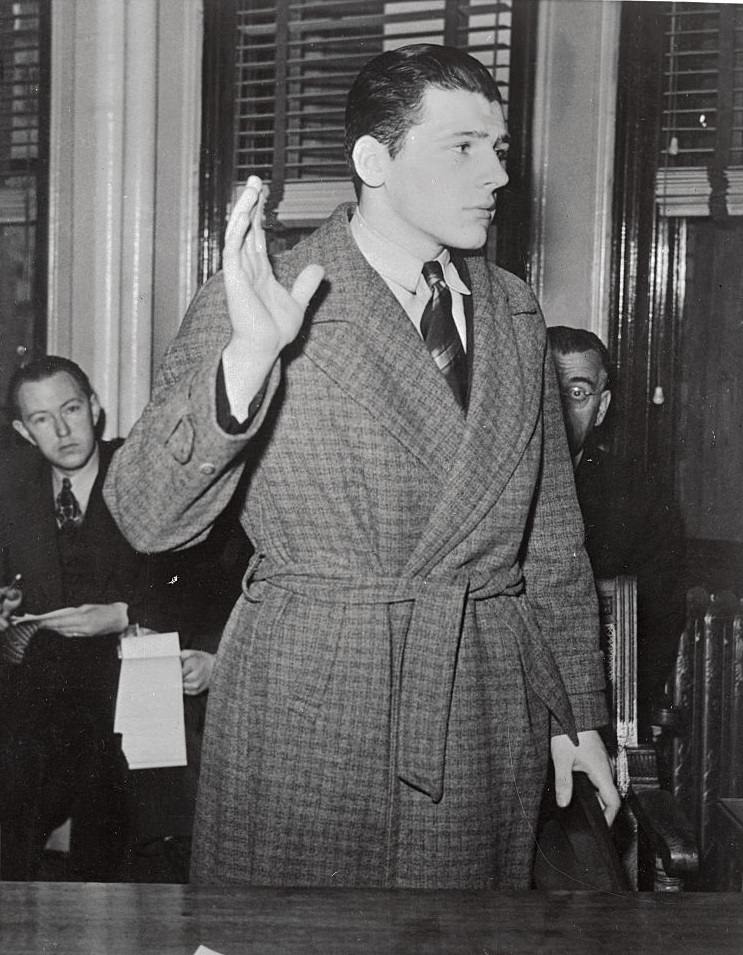 Stanley F. Tomaszewski, 16, busboy employed at Cocoanut Grove, is sworn in prior to testifying at a hearing at fire headquarters. Tomaszewski, who is a model high school student, and star athlete, was changing a light bulb turned off by a prankster when a match set fire to the make-believe palm trimmings.