Chicago was thriving and developing in the 1970s. Downtown was a bit quieter and the density of buildings on the Near North Side, especially around River North, was far lower. There were many homeless people living on the streets and the crime rates were also high. Poor neighborhoods were being replaced with massive public housing that solved a few of the problems of poverty and violence. By the late '70s, the city was beginning to develop its reputation for festivals, starting with ChicagoFest, it changed how people felt about the Pier.
The Chicago Transit Authority ran old and noisy buses that spewed huge clouds of black smoke from their exhaust pipes each time they started moving. Many streets in Chicago in the 1970s, particularly under viaducts and bridges, still showed streetcar tracks that had never been paved over after the last streetcars ran in 1958.
Here below are some stunning photos that show what Chicago looked like in the 1970s. These photographs were captured by Charles William Brubaker, who was a member of the Chicago-based architecture firm Perkins & Will from 1950 until 1998. Vote your favorites and don't forget to share.
#1

Pedestrians walking in Grant Park with the Loop skyline in the distance, 1970
#2

Reliance building, 1977
#3

Michigan Avenue from the northern end of the North Michigan Avenue bridge, 1972
#4

View looking north across West North Avenue at a Dominick's grocery store, part of the Pipers Alley Mall complex, 1978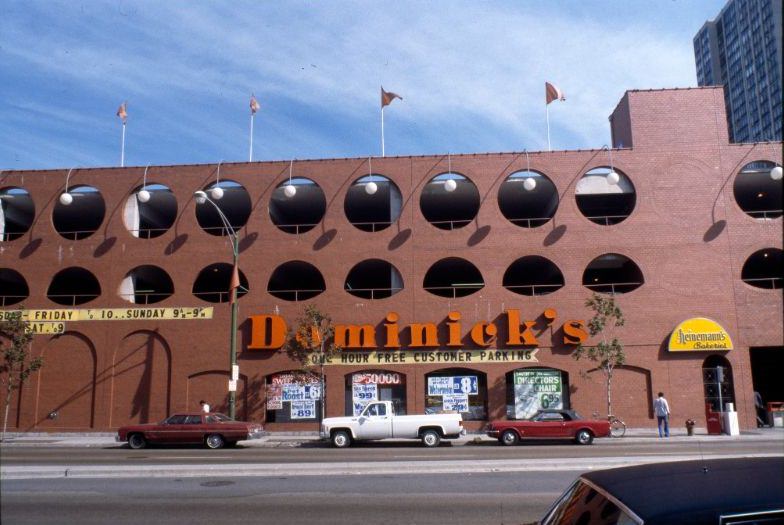 #5

Two- and three-story buildings along the north side of West Chicago Avenue, with businesses on the ground floor and apartments above, 1970
#6

North Sedgwick Street from south of the CTA elevated train tracks, 1971
#7

Looking east along Grand Avenue from Michigan Avenue toward the high-rise Time-Life Building (541 North Fairbanks Court), 1971
#8

South Commercial Avenue and Immaculate Conception Church, 1972
#9

Looking north along a thriving commercial strip on South Michigan Avenue, 1972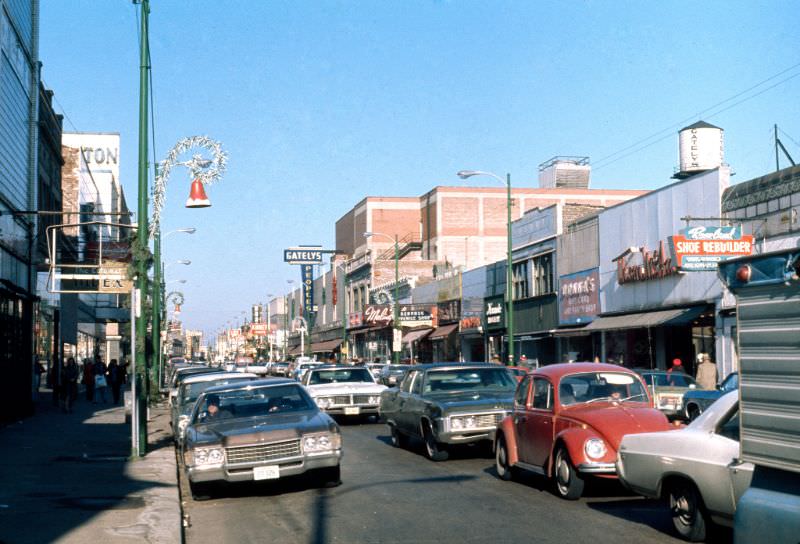 #10

Greenstone Church, 1972
#11

Chicago skyline in winter, looking northwest from near the Adler Planetarium, 1972
#12

Calder sculpture, Chicago Federal Center, 1973
#13

Touhy Avenue and elevated train tracks, 1971
#14

Auditorium building and Congress Hotel along Michigan Avenue, 1972
#15

Warehouse demolition, North Pier Terminal, and McClurg Court Center apartments, 1973
#16

South Champlain Avenue, a residential street in Pullman lined with brick duplex row houses, 1974
#17

The sidewalk on the north side of East Chicago Avenue towards North Rush Street, 1976
#18

View looking north along North Michigan Avenue from just south of the intersection with East Superior Street, 1970
#19

Looking east along Ohio Street towards the Time-Life Building (541 North Fairbanks Court), 1971
#20

Boats in the Diversey Harbor, located within Lincoln Park, 1971
#21

View looking northwest from Calumet Marina, 1972
#22

Newberry Plaza condominium tower during construction, looking west along Bellevue Place, 1972
#23

West 95th Street, 1974
#24

Chicago Avenue from North Michigan Avenue, 1976
#25

Gino's East pizzeria sign and parking lot, 1976
#26

Hanley Dawson Cadillac and Lawry's restaurant, 1976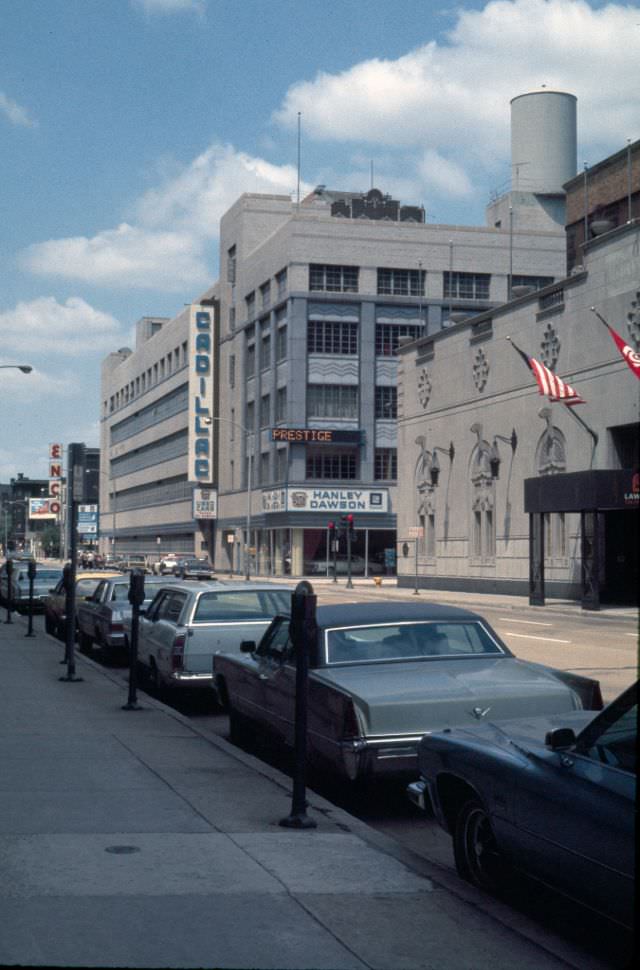 #27

North Michigan Avenue at Chicago Avenue, 1976
#28

State Street at Madison Street, 1976
#29

North Michigan Avenue towards the high-rise buildings located on the west side of the street south of the intersection with East Superior Street, 1976
#30

The sidewalk on the north side of East Huron Street from east of Rush Street, 1976
#31

East Huron Street, 1976
#32

View northeast from the intersection of North Wabash Avenue and East Huron Streets, 1976
#33

William Green Homes, high-rise apartment buildings in the Cabrini-Green public housing development, 1976
#34

Chicago Avenue at Hudson Street, 1976
#35

Adlake Building (320 West Ohio Street) located at the northeast corner of the intersection of North Orleans and West Ohio Streets, 1978
#36

View to north from West Kedzie Street, 1972
#37

Standard Oil Building (now Aon Center) under construction, 1973
#38

Germano-Millgate Apartments, a public housing complex located at 8808 South Burley Avenue, 1974
#39

Argyle Street and Winthrop Avenue, 1975
#40

North Paulina Street just north of Howard Street, 1975
#41

Apparel Center under construction, 1976
#42

East Erie Street at Rush Street, 1976
#43

East Ohio Street between Rush Street and Michigan Avenue, 1976
#44

Pedestrians crossing North Michigan Avenue at the intersection with East Chicago Avenue, in front of the Chicago Water Tower, 1976
#45

Residential neighborhood at North Halsted and Blackhawk Streets, 1976
#46

Restaurants on Rush Street, 1976
#47

East Walton Street towards the entrance to The Drake Hotel, 1976
#48

West side of North State Street, looking north from West Ontario Street, 1976
#49

Looking northwest along North Kingsbury Street, from south of the intersection with West Eastman Street, 1976
#50

Kennedy Expressway on-ramp towards industrial buildings along North Orleans Street, 1976
#51

East Illinois Street, from east of the intersection with North Rush Street, 1976
#52

East Oak Street from North Michigan Avenue, 1976
#53

East Ontario Street, 1976
#54

The north side of East Ohio Street, at the intersection with North Rush Street, 1976
#55

A nineteenth-century house located at 42 East Superior Street, 1976
#56

East Chicago Avenue, with the Hotel St. Benedict Flats (42-50 East Chicago Avenue) on the left, 1976
#57

North State Street to the block of North Dearborn Street between West Ohio and West Ontario Streets, with a large parking lot in the foreground, 1976
#58

Jackson Park station, at the end of the CTA Jackson Park line, 1977
#59

Reliance building, 1977
#60

North Franklin Street, from the intersection with West Erie Street, 1978
#61

View looking northwest from the intersection of South State Street and Congress Parkway, 1978
#62

Franklin Street towards the intersection with West Kinzie Street and the Merchandise Mart, 1978
#63

South Archer Avenue, 1978
#64

Harper Court, a development project that included clusters of small businesses and artisan shops, located on South Harper Avenue between 53rd and 52nd Streets, 1978
#65

Standard Oil Building (now Aon Center) under construction, 1978
#66

Brunswick-Balke-Collender Building, 1978
#67

Chicago Fire Department station, West Illinois Street, 1978
#68

Shopping mall, East 55th Street, 1978
#69

South State Street and Follies Theater, 1978
#70

South State Street at West Harrison Street, 1978