In the 1960s, the population of Chicago shrank dramatically. White residents in several neighborhoods left the city for suburban areas, and the real estate industry made vast sums by blockbusting. Skilled workers and factory workers lost their jobs during the crisis. The living conditions of slum areas and ghettos were worst because the crime rates were high, shootings, robberies, rapes, fires, dreadful schools, and high dropout rates, joblessness were at its peak.
During the late 60s, the anti-war protesters disrupted the 1968 convention and ended up in a Daley-led police riot. The assassination of civil rights activist Martin Luther King led to violent riots and protest in the streets of Chicago. The unrest in Chicago led to eleven deaths and over a hundred destroyed buildings.
Take a look at these stunning historical photos of Chicago in the 1960s that shows the street, roads, transport, nightlife, and everyday life.
#1

Looking south on State Street, 1964
#2

Randolph Street theaters, 1967
#3

California Zephyr silver solarium at Chicago trainyard, 1967
#4

Chicago view of skyline and parking lot, 1967
#5

Children looking at toy store,Chicago, 1967
#6

Paperboy delivering of Chicago Tribune, 1967
#7

Shops on State Street at night, 1967
#8

View from 333 North Michigan St., Chicago, 1967
#9

The Chicago Merchandise Mart, Christmas 1960
#10

Woods Theater, Oriental Theatre, Sherman Hotel, Chicago, 1967
#11

Casino Royale marquee on State Lake Theater, 1967
#12

Chicago and Northwestern train on bridge, 1967
#13

Chicken man on Maxwell Street, 1967
#14

City view from Prudential, Chicago, 1967
#15

Maxwell Street vendors, 1967
#16

Railway station in Chicago, 1964
#17

Apartment buildings along lake, Chicago, 1967
#18

Astor Street, Chicago, 1967
#19

Astor Street, Chicago, 1967
#20

Chicago city homes, 1967
#21

Chicago city skyline, 1967
#22

Chicago from top of building, 1967
#23

Chicago News building and Bertals store on State Street, 1967
#24

Chicago River with Marina City and Equitable Building, 1967
#25

Dearborn Ave. and W. Burton Pl., Chicago, 1967
#26

Dirty alley off Maxwell St., Chicago, 1967.
#27

Eve Arden in Hello Dolly ticket window, Chicago, 1967
#29

Homeward Bound traffic, 1967
#30

Lake Street traffic and pedestrians, 1967
#31

Mark IV bus driving over bridge Chicago, 1967
#32

Melody Freeze ice cream truck, Chicago, 1967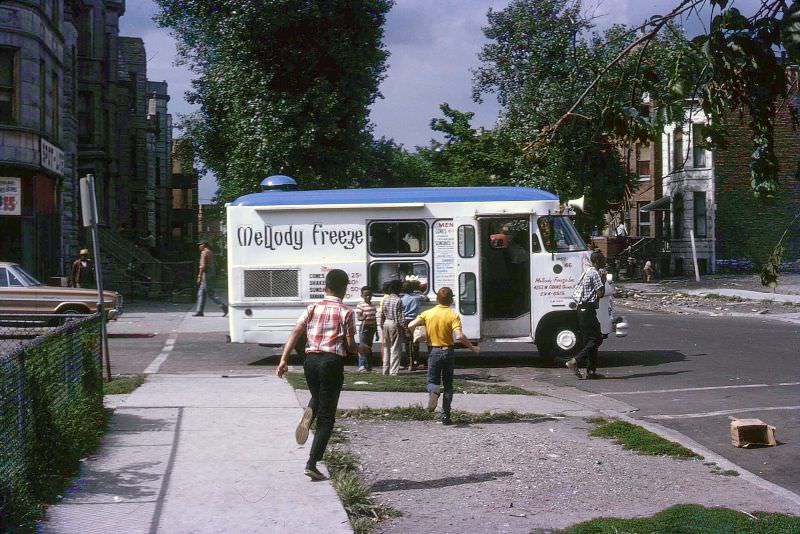 #33

Traffic near Damen and Armitage Ave., Chicago, 1967
#34

Traffic on the Kennedy Expressway, 1967
#35

View of Marina Towers from State Street, 1967
#36

Yellow cab and Marina Towers, Chicago, 1967
#37

Chicago downtown, 1964
#38

Chinatown, Chicago, 1964
#39

Lincoln Park, Chicago, 1964
#40

The Shangi-La, Chicago, 1964
#41

London House & Wrigley Building, 1965
#42

Tribune Tower, Chicago, 1965
#43

Water Tower and Palmolive Building, 1965
#44

Wrigley Building & Chicago Tribune, 1967
#45

Chicago and Northwestern train passing alongside, 1967
#46

Federal Savings Bank Building on Michigan Ave., Chicago, 1967
#47

Terry's on Roosevelt Rd. and Halsted St., Chicago, 1967
#48

View of Chicago from Prudential Building, 1967
#49

Walgreens Drug drugstore on State Street, 1967
#50

Rush Street, Chicago, circa 1960
#51

State Street, Chicago, 1962
#52

Rush Street at night, Chicago, 1964
#53

The Woods Theatre, Chicago, 1964
#54

Chicago at night, 1965
#55

Chicago at night, 1965
#56

Chicago at night, 1965
#57

Coca Cola Sign on Michigan Avenue, 1965
#58

The Wrigley building, 1965
#59

Chicago at night, 1966
#60

The Kansas City Chief awaiting departure from Dearvborn Station, Chicago,February 2, 1968
#61

The United Artist's Theater, Chicago, 1969
#62

El Cap, Chicago, 1967
#63

Hubcaps for sale on Maxwell Street, 1967
#64

Pipes on a train, 1967
#65

Randolph Street, 1967
#66

Randolph Street, 1967
#67

State Street, Chicago, 1967
#68

Chicago downtown, 1964
#69

Chicago downtown, 1964
#70

Coca Cola Sign on Michigan Avenue, 1965
#71

London House, Chicago, 1965
#72

Marina City, Chicago, 1965
#73

Michigan Avenue, Chicago, 1965
#74

Michigan Avenue, Chicago, 1965
#75

Sun-Times Daily News Building (now the site of the Trump Tower), 1965
#76

CSS&SB Pullman 5 at Randolph Street in Chicago, June 29, 1966
#77

Rush Street, Chicago, 1967
#78

Chicago in winter, 1969
#79

Astor Street, Chicago, 1967