Many new kitchen ideas were introduced in the 1940s, especially after the Second World War. As the manufacturing and supply of different materials and accessories were restored, new ideas took hold, and the kitchens were transformed.
The 1940s Kitchen designs focused on color, texture, themes, and accessories. Dark and vivid colors were trendy during the 1940s. And the kitchen designers got inspiration from these colors. Many kitchens of this era used tile on the countertops – one color for the main area and a second as the border and trim. Glass or acrylic knobs, colorful kitchen linens, enameled bread boxes, and canisters were popular in the 1940s. Window treatments were made with red cherries and many other different patterns. The dining table and chairs were mainly of sunny yellow or mist green colors.
The appliances of the 1940s were typically enameled. White was a popular color for ovens, but other colors like blue, red, and yellow were also popular. Here below are some fantastic American Kitchen styles from the 1940s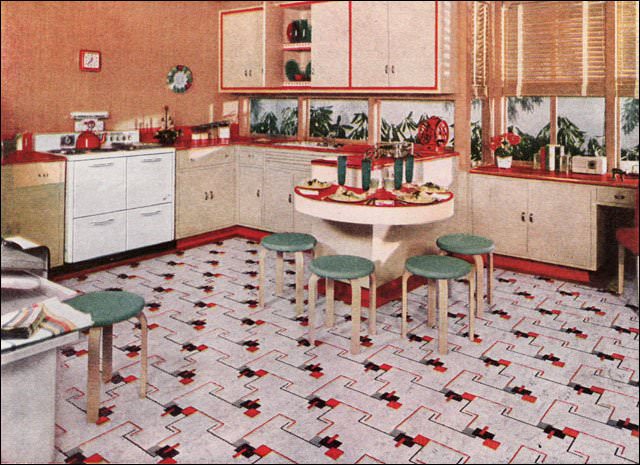 Shown in an American Home magazine, this classic red, light tan, and green scheme has lots of clean modern elements. As an ad for Nairn, one of the oldest flooring companies in the US, the linoleum was the featured element, but the tan walls and red linoleum counters make a nice counter point to the green-topped Aalto stools. Also seen regularly were the window walls under the cabinets. We should be so lucky to have more of those today!