In the 1990s, St. Louis, Missouri continued to be a major industrial and transportation hub in the Midwestern United States. The city had a population of around 700,000, and it was home to several Fortune 500 companies, including Monsanto, Anheuser-Busch, and Emerson Electric.
During this time, St. Louis faced several economic challenges, as the city struggled to adapt to changes in the global economy. Many manufacturing jobs were lost, and the city's industrial base declined. In an effort to revitalize the local economy, city leaders focused on attracting new businesses and tourists to the area. One of the major initiatives of this period was the development of the Gateway Mall, a large outdoor shopping and entertainment complex located in downtown St. Louis.
Despite these challenges, St. Louis remained a vibrant and diverse city in the 1990s, with a rich history and a strong sense of community. The city was home to a wide range of neighborhoods, each with its own unique character and culture. The arts and culture scene was also thriving, with a number of museums, galleries, and performance venues. The St. Louis Art Museum, located in the city's Forest Park, was home to a wide range of works of art, including European paintings, American and contemporary art, and decorative arts. The city was also home to the St. Louis Symphony Orchestra, which was founded in 1880 and was one of the oldest and most respected symphonies in the United States.
Overall, the 1990s were a time of change and challenges for St. Louis, but the city continued to be an important center of culture and commerce.
#2

Interior View of Union Station, St. Louis,
#3

Gaslight Square St Louis, 1990s
#4

Market St – Downtown St. Louis, 1991
#6

Cape Girardeau (Model),1980
#7

A moving van, part of a convoy of trucks carrying,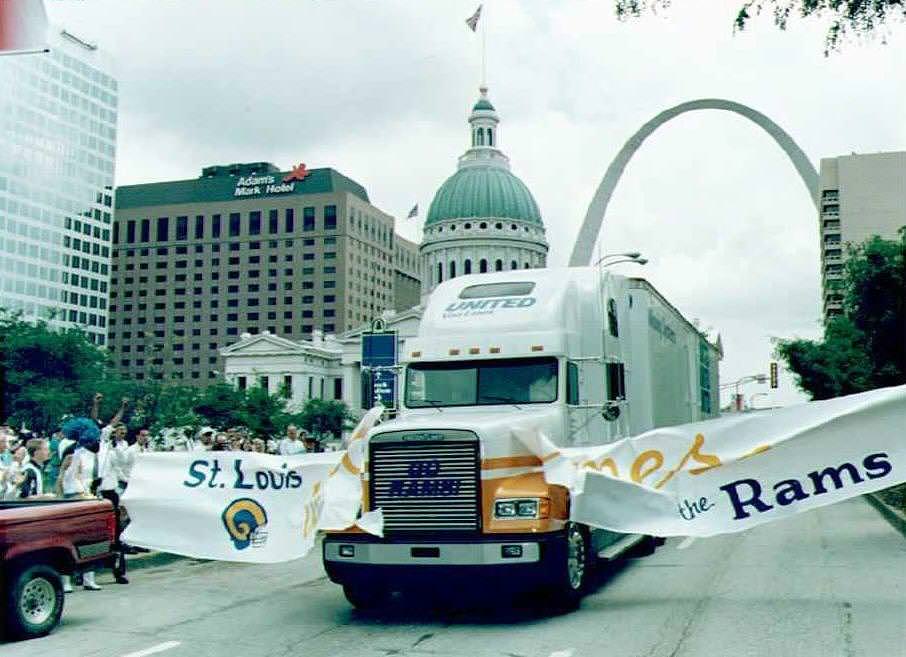 ST. LOUIS, MO - JUNE 25: A moving van, part of a convoy of trucks carrying the equipment of the newly transplanted St. Louis Rams football team, breaks through a welcoming banner as the trucks arrive in St. Louis 26 June after their trip from the team's former Los Angeles home. The move of the Rams leaves Los Angeles with only one team, the Los Angeles Raiders, and they are intending to move back to their former home in Oakland, California. AFP PHOTO
#8

Boulevard Police Station, 1990s
#9

St. Louis Centre, 1991
#10

Busch Stadium from the Arch, 1991
#11

Interstate 44 East at Exit 289, Jefferson Ave exit, 1991
#13

Amoco Gas Station corner of Skinker, 1991
#14

Busch Stadium from the Arch, 1991
#15

Bank of America Plaza, 1999
#16

4C Phantom of Alabama ANG over St. Louis, 1993
#17

A St. Louis MetroLink car at the Central West End station, 1993
#18

Flooded Chesterfield Airport, 1993
#19

A view of St. Louis Missouri, during the 1993 floods.
#20

Flooded Chesterfield Airport, 1993
#21

Aerial view of St. Louis during the great flood, 1993
#22

Residents and volunteers work to fill sandbags in an effort to stop the flood from causing further damage, 1993
#23

St Louis Missouri skyline over arch, 1994
#24

House and Jazz Bistro in Grand Center, St. Louis, 1994
#25

Anniversary Celebration, St. Louis, 1998
#26

Broadway, 7th St exit from Interstate 64, 1994
#27

Interstate 55 at Arsenal St exit – St. Louis, 1999
#28

Jefferson Ave exit approaching from Interstate 64, 1999
#29

Interstate 64, US 40 at Hanley Rd north exit, 1999