During the 1960s, City Manager A. P. "Dutch" Hamann led San Jose in an effective growth campaign. For suburban development, the city annexed adjoining areas, such as Alviso and Cambrian Park. A reaction against rapid development emerged in the 1970s, led by Norman Mineta and Janet Gray Hayes. Although the city established an urban growth boundary, imposed development fees, and incorporated Campbell and Cupertino, development did not slow but was instead directed into already-incorporated areas.
Uncontrolled growth resulted in a high municipal debt load, degraded public services (including double sessions at public schools and overburdened fire and police departments), and environmental degradation, resulting in a populist revolt against Hamann's growth machine. Several anti-growth candidates were also elected to the City Council in the late 1960s.
Here are some fascinating photos that will take you back to the 1960s in San Jose, California.
#1

Moonlite Drive in Theater sign, 1966
#2

San Jose Hospital, 1964
#3

Town and Country Theatre, located in the Town and Country complex, now Santana Row, San Jose, 1966
#4

East San Jose Carnegie Library, 1960
#5

Fox California Theatre, San Jose, 1967
#6

The intersection of Hobson Street and Coleman Avenue, 1967
#7

San Jose Civic Center, City Hall, 1960
#8

Winchester Mystery House. Santa Clara-Los Gatos Road near San Jose, 1960
#9

South First Street looking north, San Jose, 1961
#10

Murphy building, Market and Post Street, 1962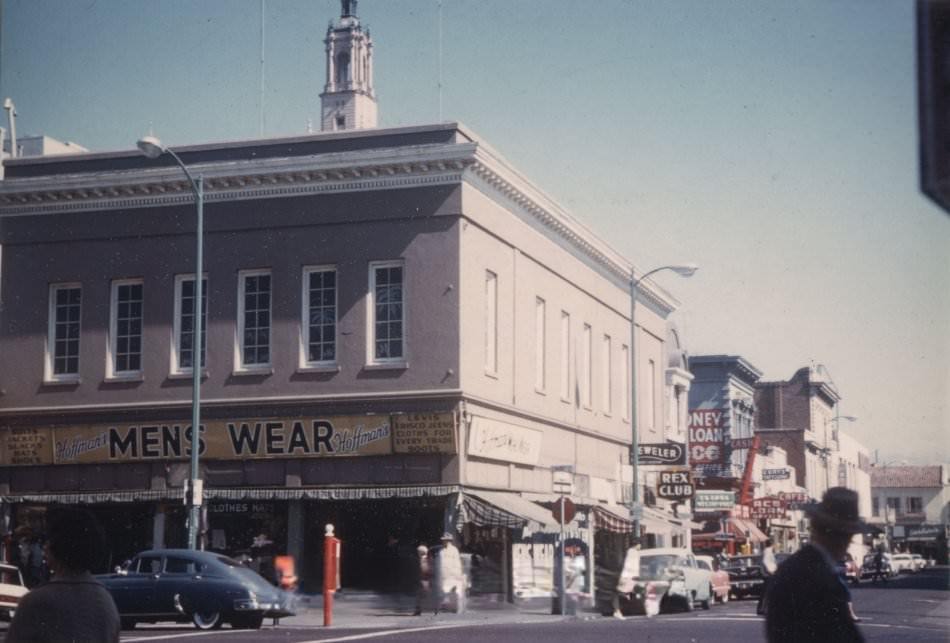 The Murphy building on the corner of Market and Post Streets in San Jose. For a time it housed the 1862 Santa Clara Courthouse upstairs.
#11

Beech-Nut Lifesavers Plant, San Jose, 1962
#12

Garden Theatre, Lincoln Avenue in Willow Glen district of San Jose, 1966
#13

Parde Theater, First National Bank, Herold's, Zukors, National Dollar Store, 1961
#14

Bicyclists at opening of Guadalupe Freeway, 1960s
#15

Downtown San Jose, 1965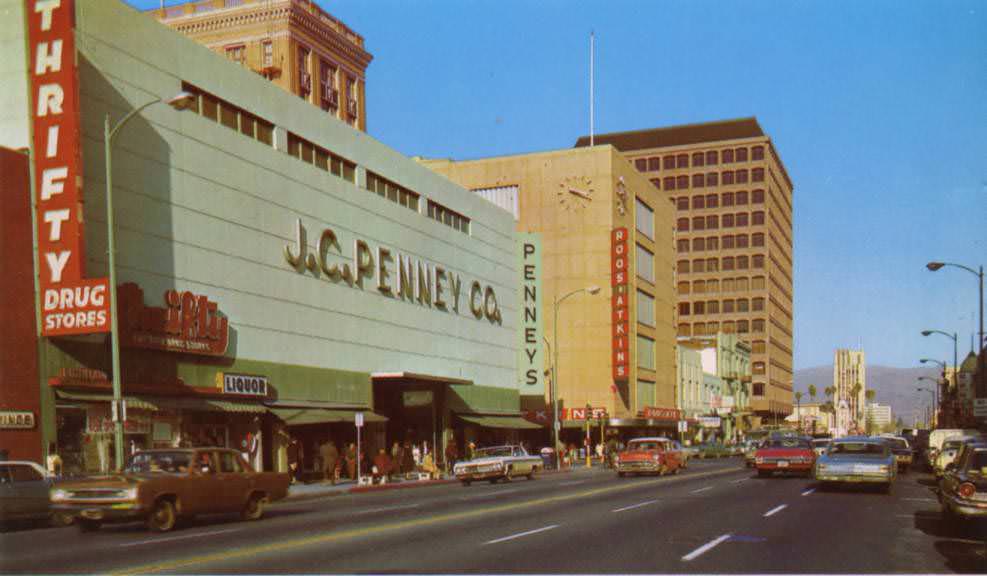 The view east on Santa Clara Street toward the intersection of First and Santa Clara Streets. Two major stores sit at the northern corner of First and Santa Clara: J.C. Penney and Roos Atkins Clothing Store. Both stores would eventually abandon downtown San Jose for the suburban malls.
#16

Old Italian Hotel, 1967
#17

San Jose Municipal Airport, 1968
#18

Flying A Service station at corner of 7th and Taylor, 1964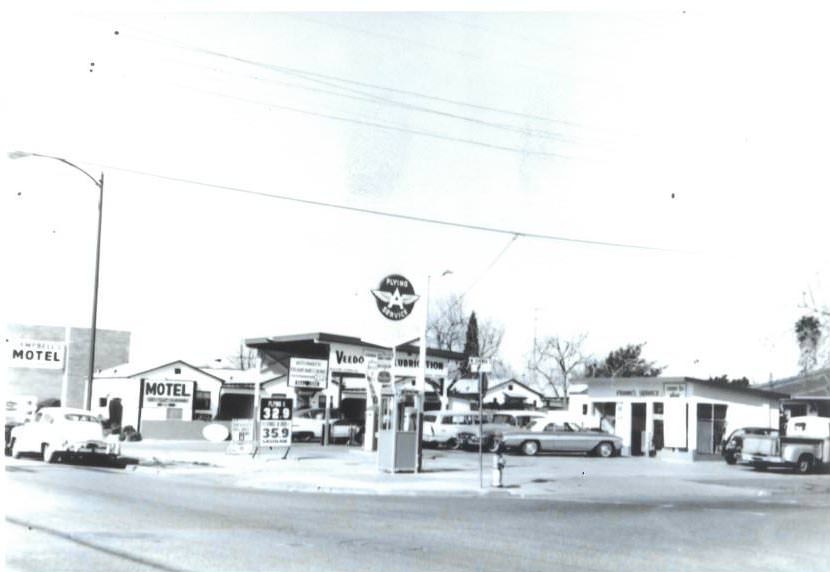 Frank's Service station at the corner of East Taylor Street and North Seventh Street, San Jose.
#19

Aerial view of San Jose downtown, 1967
#20

Trucks parked in the yard of the San Jose Water Company, 1962
#21

House at 112 Alma Avenue, San Jose Residence of Mrs. Emma Rios 1955 Found in 1955 San Jose City, 1960
#22

Front of postcard shows San Jose City Hall on a beautiful day in 1963.
#23

San Jose Hospital neighbourhood, 15th and Santa Clara Street, 1965
#24

Frontier Auto Movie, San Jose, 1966
#25

The Fox Bayshore Drive-In was located at First and Brokaw Streets, San Jose, California, 1966
#26

Speech & Drama Building, San Jose State College, 1962
#27

Redevelopment Agency Photos San Jose Chamber of Commerce Convention / Visitors Bureau on Market St, 1960s
#28

Looking north on South First Street near the Fox Theatre, San Jose, 1960
#29

Town & Country Theatre, San Jose, located in the Town & Country shopping center on Stevens Creek Boulevard, 1960
#30

Beech-Nut Lifesavers factory, 1962
#31

Newhall railroad yard, San Jose, 1960
#32

The Alameda Building at 1625 The Alameda, San Jose, 1968
#33

YMCA building corner of 3rd and Santa Clara Streets, San Jose, 1965
#34

Park Center Redevelopment, 1967
#35

Park Center Redevelopment, 1967
#36

Corner of East San Carlos Street, 1960
#37

Dicks 150 Club Tavern, 1960
#39

San Jose Museum of Art building, 1965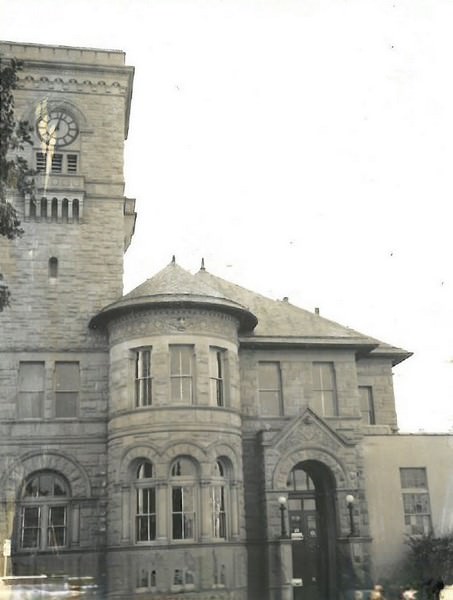 The 19th century former library building currently housing the San Jose Museum of Art. The art museum opened in 1969.
#40

Reconstruction of First National Bank Building, 1963
#41

Stagecoach ride, Frontier Village, 1961
#42

Canoe ride at Frontier Village, 1961
#43

T & M Club, Last Bus Trip from Franklin Street, 1967