San Jose has a long history spanning more than 200 years. The Spanish founded it in 1777 to provide food for the military settlements in San Francisco and Monterey. The settlers were attracted to the area because of the nearby supply of drinking water and because the water provided connections to nearby cities planned by the Spanish government. Historically, much of the region's residents were fed from agriculture and farming. Spanish government scaled back plans for more people to settle in the San Jose area as the area grew slowly. Americans arrived in the early 1840s and were intrigued by the land's possibilities. As word spread that the land was fertile and available, the area increased. San Jose was named the first capital of California in 1849 as a result of the area's rapid growth over the years. Sacramento later became the state's 48th capital. Through the years, San Jose has experienced an up-beat economy with products that have evolved from farming and agriculture to materials used in space and high-performance electronics.
During the first half of the 19th century, San Jose was a small town surrounded by ranches raising cattle and horses. San Jose was chartered in 1850, and it became a vital goldfield trading center east of Sacramento. The arrival of the San Francisco railroad in 1864 improved trade connections in San Jose and made it easier for farm products to be shipped to San Francisco. The Santa Clara Valley then became known for its orchards and fruit processing.
#1

Aerial view of San Jose taken from the roof of Hensley House, 1868
#2

Rancho Santa Teresa south San Jose, Bernal grant, 1860
#3

San Jose to Santa Clara. The Alameda Road, 1865
#5

College of Notre Dame, 1863
#6

Businesses on Market Street, 1860
#7

San Jose Depot and San Jose Railroads, 1864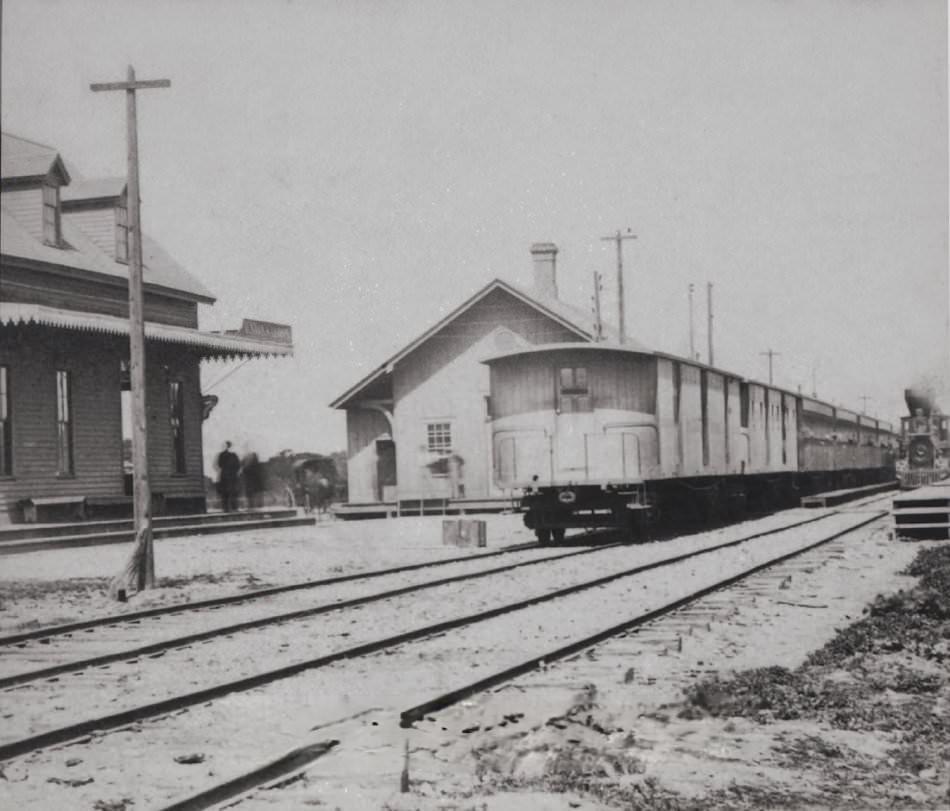 depot, shown with a tall chimney, was replaced by another structure in the 1870s. The flat top construction of the railroad cars date the image to be between 1864, when the railroad opened, and 1870. The building on the far left is the freight house, which ironically stood at the site until the 1960s.
#8

The Bank of San Jose on the northeast corner of Santa Clara and First streets, 1866
#9

Looking N. E. From Court House, San Jose, 1866
#10

City Market and Livery Stable, South First Street, 1860
#11

Auzerais House, San Jose California 1866. Santa Clara Street near First Street.
#12

T. Ellard Beans home, San Jose, 1867
#13

Santa Clara County Courthouse, 1869
#14

Loading wagon with people, 1860s
#15

Possibly a parade, young men pulling hose, Lodge building, 1860
#16

San Jose, Beaty's Hotel, 1860
#17

Fonda Mexicana, one of the out-buildings of Mission San Jose de Guadalupe, 1867
#18

San Jose Mission – Alameda County, 1860s
#19

San Jose railyard of the SF & SJ RR, 1860s
#20

First Street, San Jose, CA. unpaved and muddy, 1868
#22

Market Street Chinatown, towers of McKenzie Iron Foundry, San Jose Brewery and San Jose waterworks are visible in background, 1866
#23

Fallon House in distance, San Jose, 1868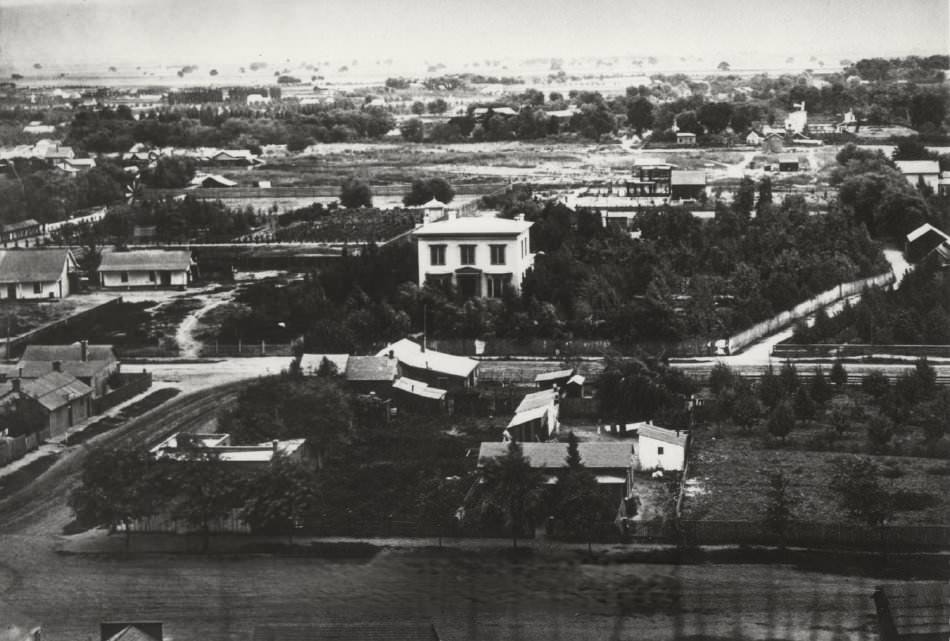 In the center is the home of Captain Thomas Fallon, who raised the American flag over San Jose in 1846. To the left is the Peralta Adobe, the only pre-1800 structure still remaining in the city. The Louis Pellier home and City Gardens Nursery can be seen to the right, the site of today's Pellier Park.
#24

St. James Park and surroundings, San Jose, 1866
#26

San Jose Institute and Commercial College, 1869
#27

San Francisco & San Jose railroad depot, 1864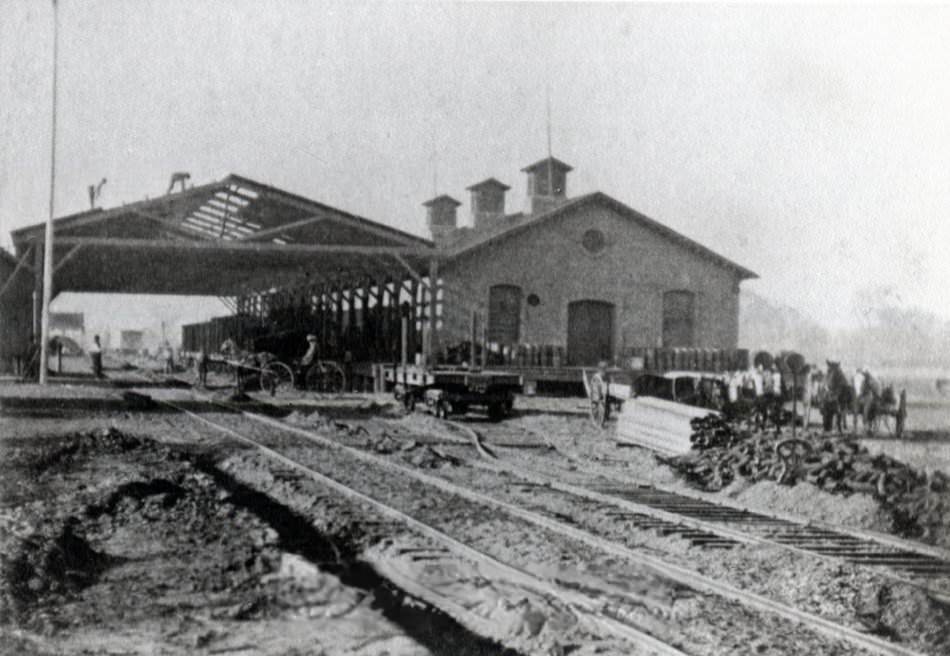 Construction of a overhead arcade structure above the tracks of San Francisco & San Jose Railroads. This structure was built west of San Pedro Street and adjacent to the railroad's freight house. Passengers complained about the muddy mess of boarding trains in the wintertime. This is the only known image of this structure which was short-lived and does not appear in 1870 maps.
#29

San Jose Militia on Market Street, 1860
#32

South Market Street, San Jose, 1868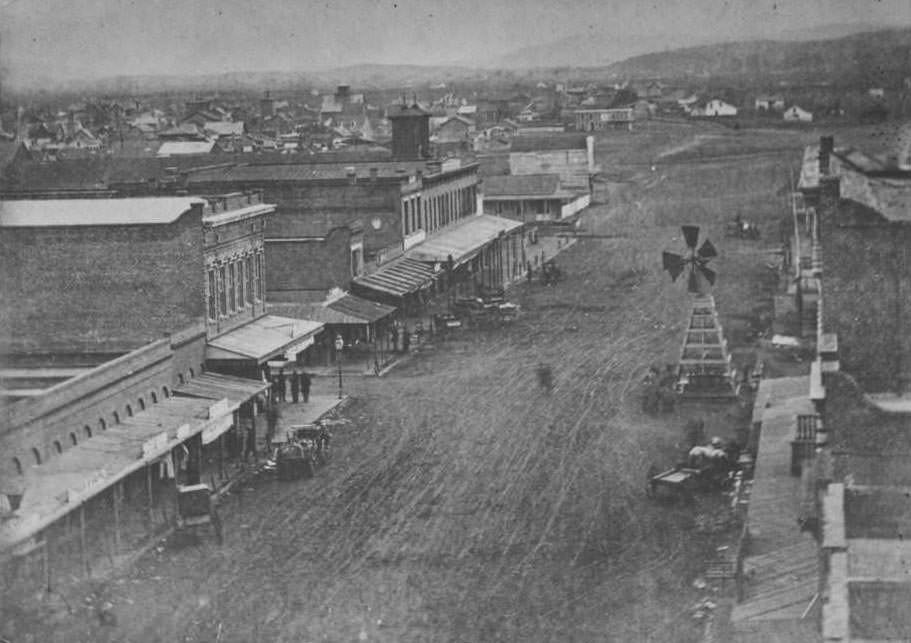 View of Market Street looking south from Santa Clara Street shows businesses, Saint Joseph's church, a windmill and rolling, open land beyond it.
#33

San Jose, Adolf Pfister's General Store, 1867
#34

Adams residence, San Jose, 1860
#35

Grandmother Bray's living room, 1860
#36

Mine Office on the Hill, 1865
#37

New Almaden scene. Workers excavating a hillside, 1860
#38

New Almaden scene. Large two-story building, 1860
#39

Santa Clara County Courthouse, 1869
#40

Mission San Jose, 1867
#41

San Jose, Bergmann's Wagon Manufactory, 1867
#43

Main entrance to City Hall, 1860s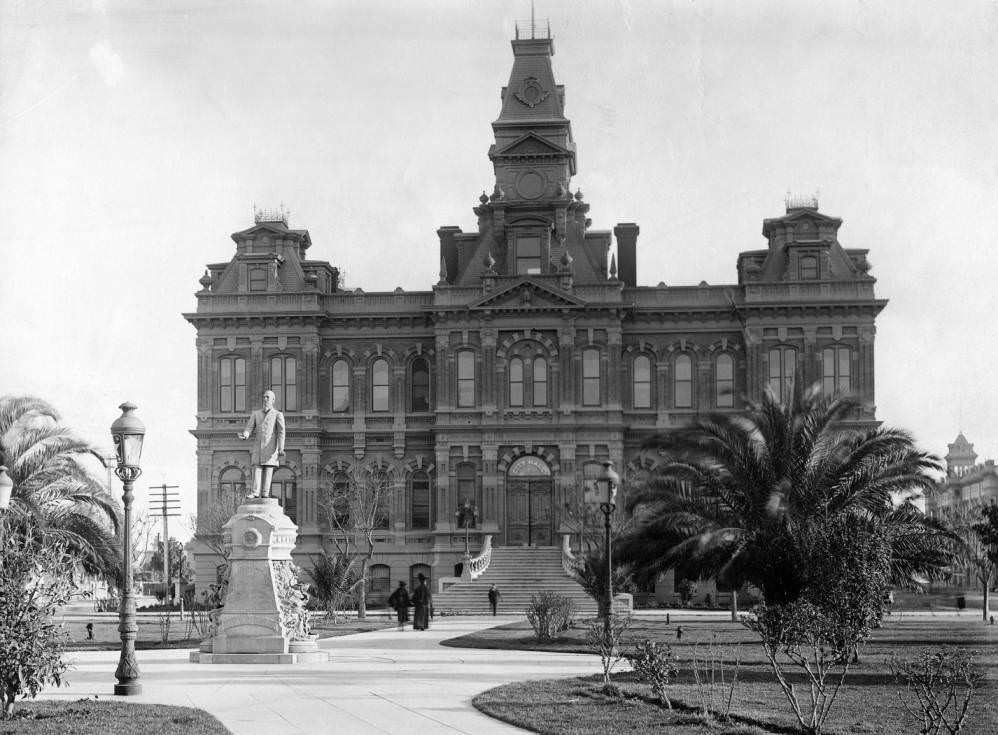 Women walk toward City Hall. This was San Jose's Old City Hall built in before 1849 demolition in 1958. It stood in Plaza Park, now known as Plaza de César Chávez, where the children's fountain is located. The building housed city offices and the police department used the basement. In use since 1889, the building was demolished in June 1958. Statue in foreground is of Dr. Henry D. Cogswell, a prohibitionist. It stood atop the drinking fountain he donated to the city.
#44

Santa Clara County court house, 1868
#45

Pfister's General Store, 1860
#46

Intersection of First Street and El Dorado Street, 1862
#47

Exterior view of the Mission San Jose de Guadalupe (St. Joseph of Guadalupe), 1865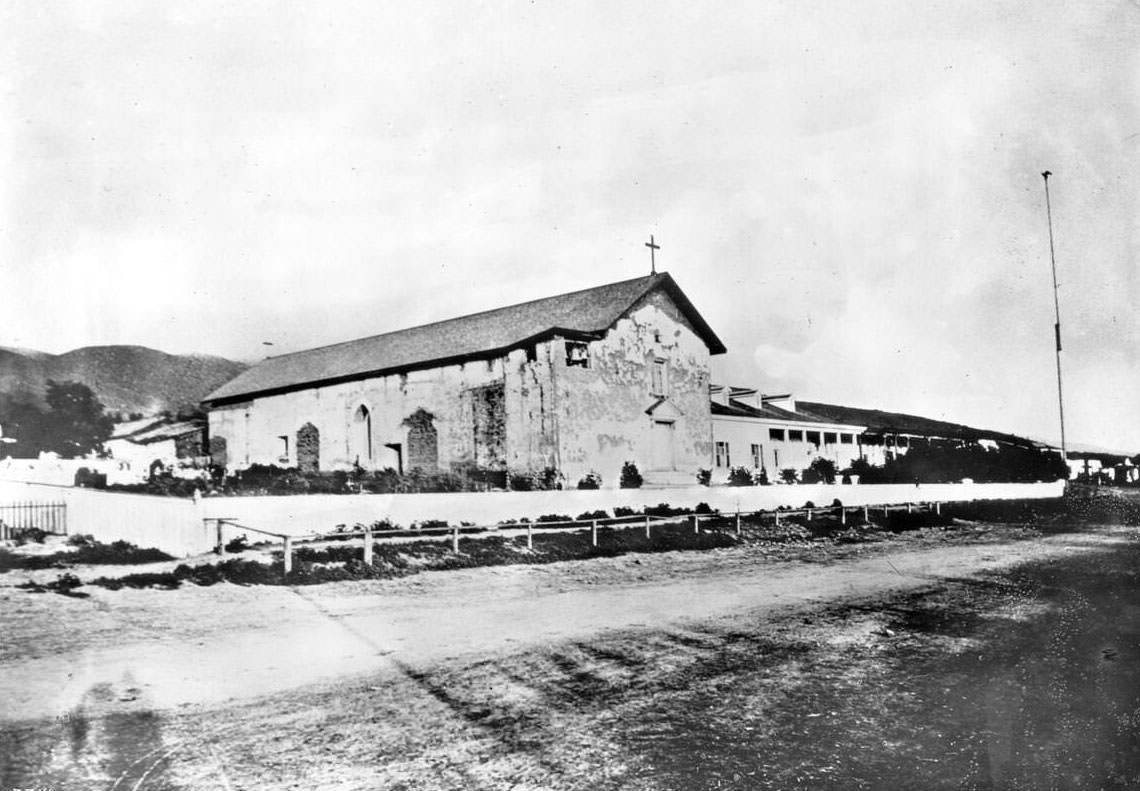 The two-story adobe of the mission stands pictured at center, its main entrance visible on the broad left side and a smaller, unarched single door on its front narrow side. A cross is affixed to the peak of the roof. A post-and-rail fence demarcates the property. A shorter, more modern looking building is partially visible to the right, next to a flagpole. The road in front is unpaved.
#48

Washington Hotel, Mission San Jose, 1860
#49

Auzerais House, San Jose, 1865
#50

The Town on the Hill, New Almaden, 1860s
#51

San Jose from Convent Notre Dame, 1867
#52

Vendome carriage in front of houses, 1860s
#53

Auzerais House, San Jose, Santa Clara County, 1868
#54

South Market Street, San Jose, 1864
#56

San Jose Turnpike Toll House, 1860