As we traverse through the chapters of Richmond's history, the 1990s stand out as a decade of remarkable evolution and growth. From flourishing art scenes and the emergence of new cultural hotspots to the city's growing technological prowess, the '90s proved to be a decade that saw Richmond taking strides towards an exciting future. Let's jump into this fascinating period and see how Richmond was reshaped during this time.
The Technological Renaissance
As the world enthusiastically embraced the Digital Age in the '90s, so did Richmond. The city witnessed a technological boom, with the rise of numerous tech startups. Major corporations and governmental departments in Richmond began to heavily invest in upgrading their infrastructure to make the most of the new digital tools at their disposal. High-speed internet, new software tools, and advanced hardware transformed the city's workspaces, paving the way for Richmond's successful transition into a new era.
Revival of the Arts
While technology was a major theme of the decade, the '90s also marked a renaissance in Richmond's art scene. The Virginia Museum of Fine Arts, an already established beacon of culture, underwent an extensive expansion and renovation. This brought new exhibits and collections to the city, enriching its cultural landscape. A thriving music scene emerged as well, with genres like punk, rock, and jazz gaining popularity and contributing to Richmond's burgeoning reputation as an arts hub.
Reclaiming the Waterfront
One of the most significant developments of the decade was the transformation of Richmond's waterfront. The James River, which had long been an underutilized natural asset, took center stage in the '90s. Thanks to several ambitious urban development initiatives, the riverfront was revitalized with parks, trails, and recreational facilities. This created a perfect blend of urban life and natural beauty, which continues to be a defining feature of Richmond.
The Rise of the Food Scene
The culinary scene in Richmond also witnessed an exciting evolution. The '90s saw a rise in multicultural cuisine as restaurants serving diverse food from around the world sprung up across the city. As a result, Richmond began to establish itself as a foodie's paradise, a reputation it proudly holds today.
Looking back, it's clear that the 1990s was a transformative period for Richmond, Virginia. As the city embraced technology, nurtured its artistic talent, redefined its relationship with the James River, and indulged in culinary creativity, it marked a path towards a future of, growth, and modernization.
#1

Tracy 'Supernintendo' Turner of Silver Spring, MD. hangs onto the rim after a slam dunk in the Hoop it Up Slam Dunk Contest at Festival Park, 1995
#2

Sixth Street Marketplace between East Grace and East Broad Streets photographed Monday, September 11, 1995.
#3

Sixth Street Marketplace's Food Court, 1995.
#4

Interior of the Sixth Street Marketplace bridge, September 11, 1995.
#5

A boat load of fire fighters come down the flume as Busch Gardens, Williamsburg opens its newest attraction 'Escape from Pompeii' a fire and water ride located in the Italy section of the park, 1995
#6

Richmond city skyline shot from the ramp on the Lee Bridge, 1995.
#7

Cyclists in the Tour de Trump rode through Port Deposit, Md., on their way to Virginia. The cyclists were scheduled to arrive in Richmond the next day, where they would run a 38.4-mile team trial, 1990.
#8

Charles Pope of Emporia crossed the finish line as winner of the Juniors race in the Tour de Richmond, 1990
#9

Several hundred nurses from around Virginia marched along downtown Richmond streets to the state Capitol, 1991.
#10

The Westover Hills Neighborhood Association held a dedication ceremony for the recently erected bronze markers in the median on Westover Hills Boulevard in South Richmond, 1991
#11

Constructionon the mausoleum in historic Hollywood Cemetery in Richmond. The facility, built to accommodate 735 caskets and 160 cremation urns, was dedicated in May 1992.
#12

A Richmond Ballet dancer stretched before rehearsal of "The Nutcracker", 1990
#13

The Ringling Bros. and Barnum & Bailey Circus took its traditional animal walk through downtown Richmond en route to the Coliseum, 1990
#14

Kevin Cherry got an eye-catching look from Richmond hair stylist Shelira Morrison, who said the sculpture – columns, beasts, parasols and more – sprung to her imagination, 1991
#15

Tracy Ward (left) and John Ottarski squared off in the left-handed competition at the Virginia Classic Arm Wrestling Championship, held at Joe's Place in Petersburg, 1991
#16

A band led the procession to the new Belle Isle pedestrian bridge during its dedication ceremony in Richmond, 1991.
#17

Hockey fans Billie Mottley (left) and Berny Parton tied the knot during intermission of a Richmond Renegades game at the Richmond Coliseum, 1990
#18

Veterans at Sally Bell's Kitchen in Richmond – Lucille Zimmerman (from left), Mary Newcomb, Dorothy Daniels and Anne Mulfinger – posed with one of the countless cakes they had prepared over decades of working together, 1990
#19

Tim Finnegan, chairman of the Finnegan & Agee Inc. ad agency in Richmond, served customers at a McDonald's in Mechanicsville, 1990.
#20

Housekeepers Josephine Scott (left) and Joy Brown competed in a regional Super 8 Motel bed-making competition at a Radisson Hotel ballroom in downtown Richmond, 1991
#21

The Virginia State Penitentiary in downtown Richmond was nearing the end of its service, 1991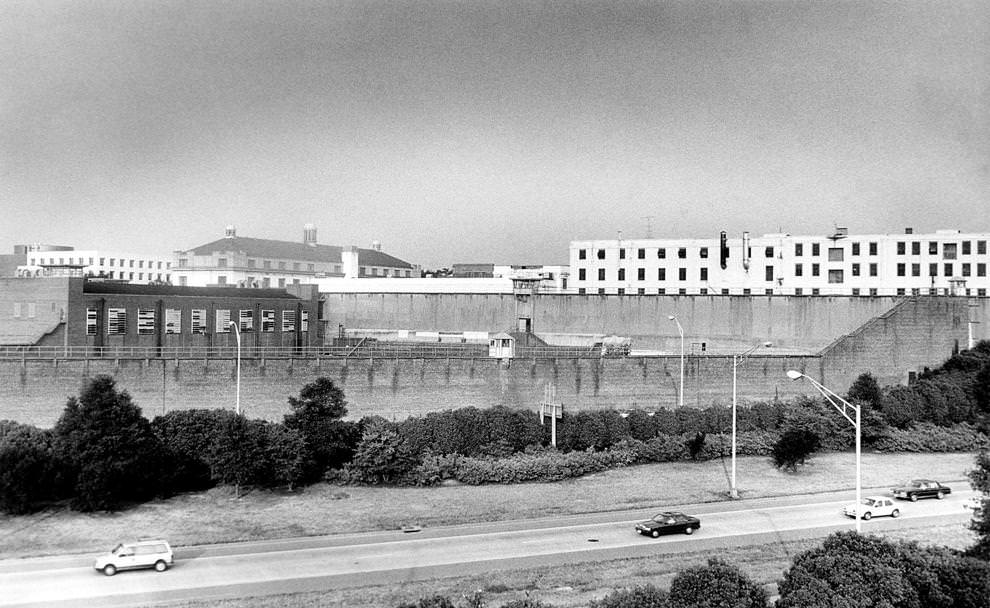 The prison – home to Virginia's death row and an electric chair known as "Old Sparky" – occupied 17 acres around Byrd, Spring, Belvidere and Second streets and had been in service for almost 200 years before closing late that year. Death row moved to Greensville Correctional Center near Jarratt; the former penitentiary site is owned by NewMarket Corp.
#22

Andy Farmer, an information officer with the Virginia Department of Transportation, captured video of a crack on the westbound Interstate 64 bridge over Shockoe Valley leading into downtown Richmond, 1990
#23

Richmond fire officials (from left) Ronald Lewis and Harold Beavers Jr. joined Robert El stood in front of a billboard El designed, 1990
#24

Wrestlers Hulk Hogan (left) and Ric Flair battled in front of a huge crowd at the Richmond Coliseum, 1991
#25

Chamberlayne Co. Inc. workers Wesley Boyette and Craig Simpson put finishing touches on a parking garage in Richmond's Carytown area while the ribbon-cutting ceremony for the Crenshaw Avenue facility was held at street level, 1991.
#26

RoboCop, the virtually indestructible police officer from the 1987 hit film, was in Richmond at the Salvation Army Boys and Girls Club as part of SMART Moves, 1990
#27

Comedian-actors Chevy Chase (right) and Steve Martin helped tether a balloon during the Jaycees Christmas parade in Richmond, 1990.
#28

Quality assurance technician Blake Dingler examined Coca-Cola cans as they moved through Mid-Atlantic Coca-Cola Bottling Co.'s new production plant in eastern Henrico County, 1990.
#29

Owner-chef Howard Awad prepared a meal at Vitello's, then located near Richmond's Fan District, 1990.
#30

Pitcher Jay MacMillan of Douglas Freeman High School in Henrico County joined teammates in celebrating a 3-0 victory over Hampton High School in a Group AAA baseball playoff game, 1990
#31

Rena Tsengas leads the beat from the stage while patrons dance in front of the large crowd at the 1992 Greek Festival in Richmond, Va. on May 31.
#32

The monument to the late professional tennis star Arthur Ashe Jr. was dedicated on Monument Ave 1996.
#33

Jockey Troy Lively falls off horse before jump during fourth race at Strawberry Hill Races, 1997.
#34

A wreath is placed at The Richmond Police Memorial Statue in Festival Park as part of a memorial service for police officers killed in the line of duty, 1996
#35

While a guiding rope keep him from swinging, a 7-foot tall Big Boy statue is lifted into the sixth floor office of Kelly O'Keefe with Cadmuscom advertising in the 700 block of East Franklin Street Saturday morning, 1998
#36

Broad Street looking west from Sixth Street. September 17, 1997
#37

Tomas Stanek, of the Czech Republic, shows a customer at Busch Gardens what she could win if she hammers a frog into a lily Thursday, June 18, 1998.
#38

Zuzana Jalcova, of Slovakia, talks to a customer at Busch Garden's Bella Casa Gift Shop Thursday, June 18, 1998.
#39

Governor George F. Allen tried out some of the playground equipment Monday, March 27,1995, at Richmond's Mary Munford School
#40

A line of carriages rolls down Cary Street on its way to the Capitol to kick off the Strawberry Hills Races this weekend. April 10, 1998
#41

Curtis Littun,17; Mike Walkoski,18; Andrew Breborowicz, 17; Tomi Huttunen,17; talk to Cary Langhorne,21 (back to camera) at Friday Cheers. The 4 males are exchange students, 1998
#42

Ross Perot, Bill Clinton and George Bush at the presidential debate held at the University of Richmond, October 1992.
#43

Virginia Union University basketball Coach Dave Robbins, 1992
#44

Front to back: Catherine Fleishman and her friends walk down Monument Ave. Catherine will have their bonnets in the Easter Bonnet competition, 1992.
#45

A city Fire Bureau aerial ladder truck poured water onto the flaming row houses in 16-degree temperatures last night, 1992.
#46

Wind-Blown sparks from the fire at 702 N. 24th St. (center) set the two adjoining house afire, 1992
#47

Virginia Gov. George Allen accepts a six-point buck as tax payment from the Mattaponi and Pamunkey tribes during the annual Indian tribute ceremony Wednesday, Nov. 23, 1994 in Richmond.
#48

Cracker band member Johnny Hickman shaves before a show at the 9:30 Club in Washington, D.C. The band's van broke down so they had little time for hygiene before the performance, 1992
#49

Richmond Mayor Walter T. Kenney clasped the hand of Marian Brown yesterday outside Mosby Middle School, as supporters Sharon Menefee (center) and Laura Miles smiled their greetings, 1992
#50

Over 200 Richmonders helped christen "Miss Scott's Alley," including Richmond's top officials, 1992.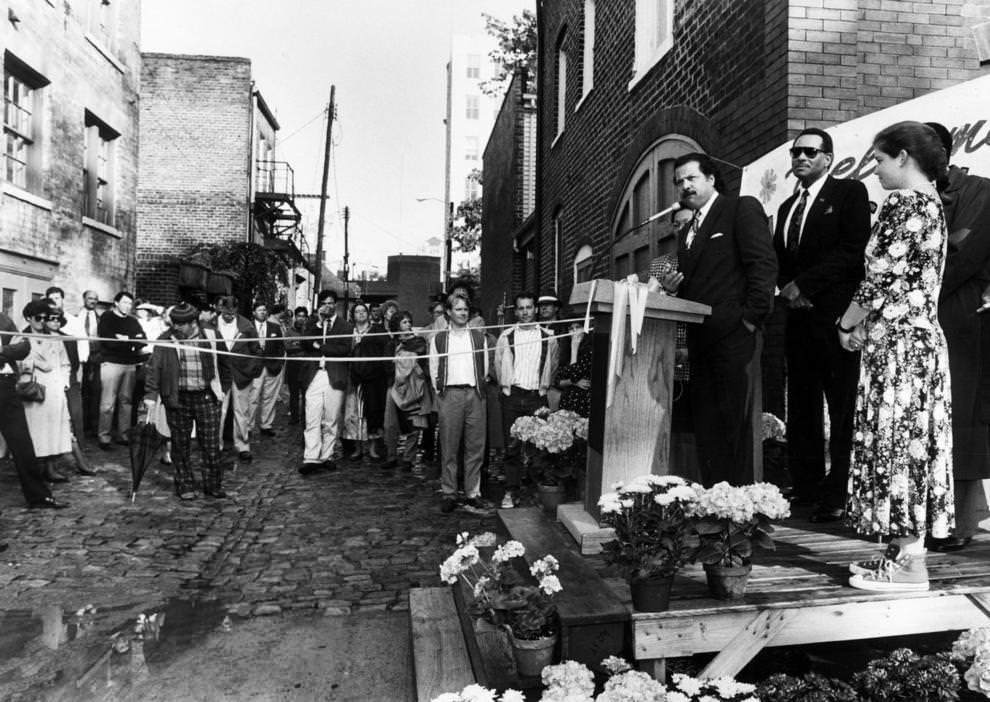 Her great-niece (right) wore high-topped sneakers, just like her namesake. But it will be her last public appearance as Mary Wingfield Scott - she will soon marry, becoming Mary Wingfield Scott Walters. Chuck Richardson at the microphone with Mayor Walter T. Kenney and Mary Wingfield Scott with the crowd in the alley.
#51

Richmonder Kurt Link looked fresh after his 4:01 marathon, 1991
#52

Richmond Marathon 1992.
#53

Richmond Marathon 1993.
#54

Richmond Marathon 1993.
#55

A pedestrian bridge leads from Tredegar Street to Belle Isle, a new section of the James River Park system, 1991
#56

Carytown was awash with visitors to the annual Watermelon Festival held Sunday, 1999
#57

After walking in the March for Jesus, Sandra Brown (left) and Marjilette Brown (in yellow) pray with hundreds of others in Festival Park, May 30, 1998.
#58

Gary Michael directs Virginia Power's emergency response system from the utility's Central Division Operations Center in Henrico County, 1991.
#59

Survival of the fittest–Waitress Julie Penna arranges a table on the third floor of the 19th century tobacco warehouse-turned four-floor restaurant and nightclub complex, 1992
#60

The Strawberry Street Cafe's salad bar is one of the best in town. Waitress Rhonda Ashby (left) and co-manager Julia Zenone flank the tub of treats. The cafe has an inviting atmosphere, a diverse menu and moderate prices.
#61

Jennifer Smith and her husband, Scott, members of the band Naked Blue, perform at Festival Park on Friday Cheers, 1999
#62

Crowd at Friday Cheers, 1999
#63

A strong tornado that hit the Tri-Cities and killed three people at the Colonial Heights Walmart. A fourth person died about a mile away, 1993
#64

A strong tornado that hit the Tri-Cities on Aug. 6, 1993, killed three people at the Colonial Heights Walmart. A fourth person died about a mile away.
#65

Virginians for Justice, a gay lobbying group, had a press conference followed by a rally for 'equality begins at home,' at Festival Park Saturday, 1999.
#66

Groups of children from Head Start were treated to a clown show at Festival Park as part of an anniversary celebration of Head Start, 1996
#67

Members of the Honor Guard from American Legion Highland, Highland Springs Post 144 fire a 21 gun salute just before 'Taps' is played after the Veterans Day ceremony at the Virginia War Memorial Monday, 1996
#68

Former British Prime Minister Margaret Thatcher walks into the hall of the Virginia House of Delegates in Richmond, 1995, to address a joint session of the Virginia Legislature.
#69

Wendy Wagner is transported across the lake at Paramount's Kings Dominion's Anaconda ride by Henrico firefighter Larry Bourne Wednesday, May 17, 1995, during a practice rescue.