Newcastle upon Tyne is the largest city in northern England, situated on the River Tyne's northern bank. For hundreds of years, Newcastle has been regarded as the regional capital of the North East of England because of its importance, significance, and quality. Only in a few parts of the country does one settlement form a solid focal point for an entire region. The Tyne was Britain's second most crucial river by 1860. During the Golden Age of Coal, Iron, and Steam, coal mining, railway engineering, and shipbuilding constituted an interdependent network that supported Britain's prosperity, industrial power, and global leadership.
Newcastle's economy has historically been reliant on its port. Specifically, its status as one of the world's largest shipbuilding and repair centers. The arrival of the railways into Newcastle brought with it two of the country's most delicate railway structures – Newcastle Central Station, widely acknowledged as one of the country's finest stations, and the High-Level Bridge, the world's first combined rail and road bridge. Today, the High-Level Bridge, Armstrong's Swing Bridge, the iconic Tyne Bridge, and the Gateshead Millennium Bridge are all remarkable individually and collectively.
The 1970s were marked by sweeping changes in social, economic, cultural, and political norms. It was a time of transition, and these photos from the 1970s depict what life was like in Newcastle Upon Tyne at the time.
#1

A nice lineup of Northern buses at Worswick Street bus station in 1976
#2

Newcastle Quayside, 1978
#3

A hysterical tartan army invade Newcastle to watch the Bay City Rollers at the City Hall in 1975.
#4

Between Beresford Road (left) and Avondale Road in 1974.
#5

A 1976 view of the Haymarket area of Newcastle. The ABC cinema is showing the new blockbuster film 'Jaws'.
#6

Signs of the times – Scotswood Road 1978
#7

Probably Raby Street, but open to correction.
#8

Westmorland Road, Newcastle opposite Marlborough Crescent bus station in 1977
#10

Railway Street Newcastle 29-10-78
#11

Sunday market on the Quayside in 1978
#12

Neville Street and Central Station in 1976
#13

Newcastle end of Metro Bridge, 1978
#14

Marlborough Crescent Newcastle, 1977
#15

Newcastle Central Station, 1977
#16

The crowds are out in force at Tynemouth to see the departure of the 'Esso Northumbria' on 9th February 1970, the first of the 'supertankers' to be built on the Tyne
#17

The skyline at North Shields has changed a bit since this 1975 view was taken, looking over from South Shields
#18

View to Newcastle from Gateshead in 1975, with a queue waiting to cross the Swing Bridge
#19

Pottery Lane, Newcastle, looking towards the end of the old Redheugh Bridge (to the left) in 1978
#20

The old Cattle Market Keeper's House, plus some contemporary cars, in 1977
#21

The 'Tyne Pride' being built at Swan Hunter's yard in Wallsend in 1975 – it was launched on 6th October
#22

Carville Road, Byker, 1975
#23

Newcastle Bigg Market in 1976, with open air market stalls in the foreground
#24

Massive construction work for the Tyne & Wear Metro in 1977 – building the tunnel for the line through Byker
#25

Demolition in Byker in 1974, although I did not make a note of the street.
#26

The 'Evening Chronicle' seller in an apt sheltered spot in Byker in 1975.
#27

Fishing boats at North Shields fish quay in 1975
#28

Another view of Carville Road, this time from 1974.
#29

This farmer's field near Ryton, to the west of Gateshead, had a rather dramatic background of the cooling towers of Stella North Power Station over the river in Newburn.
#30

Ouseburn Viaduct & Byker Bridge Newcastle, 1975
#31

A 1976 view in Newcastle from St. Mary's Place towards the Haymarket.
#32

A 1987 view from the end of Neville Street, Newcastle, towards the junction of Westmorland Road and Clayton Street West.
#33

Conversation piece at the Byker Wall in 1975
#34

North Shields Fish Quay in 1975
#35

A view of the skyline including the Tyne Bridge, Newcastle, 1970.
#36

Firemen clad in protective clothing were called to neuralise the acid, 1970s
#37

Some of the cast of Newcastle's 35th Gang Show outside the Theatre Royal in 1978.
#38

Prince Charles, The Prince of Wales during his visit to the North East 31 May 1978
#39

Army personnel take over the duties of the firefighter during the firemen's strike in 1977
#40

For generations girls in their last term at Newcastle's Church High School flung their uniform bonnets into the Tyne.
#41

Washing day in St John's Street, Percy Main, 1970s
#42

Traffic is drenched in the flood on the A1 at Gosforth, Newcastle in 1978
#43

The Woolworth's shop on Northumberland Street, Newcastle, 1971
#44

Derelict housing in an area of Newcastle – A little girl and her pet dog play in the street, 1970s
#45

The St George's Day parade, 1979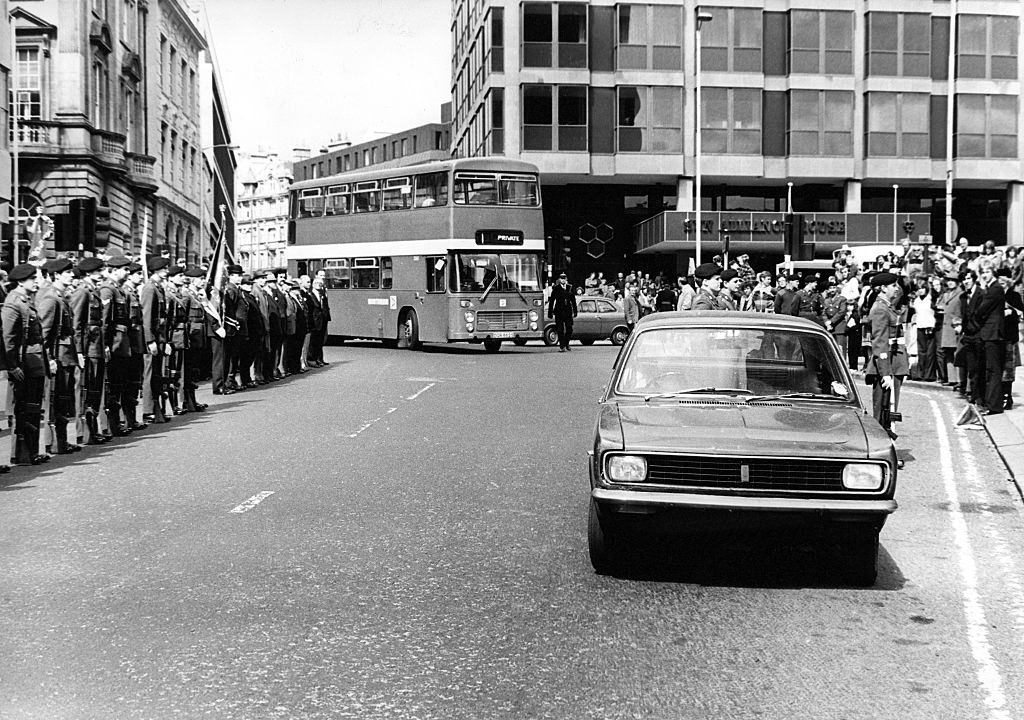 The St George's Day parade, in which the soldiers of the 6th Battalion Royal Regiment of Fusiliers and the Old Comrades of the 4th, 5th, 6th and 7th battalions negotiated the obstacle of a Hillman Avenger car parked illegally in the middle of the route outside of St Nicholas Catherdral, Newcastle.
#46

Passengers on the first Dan-Air flight from Newcastle Airport caught a glimpse of the service's new-look air hostesses, 1977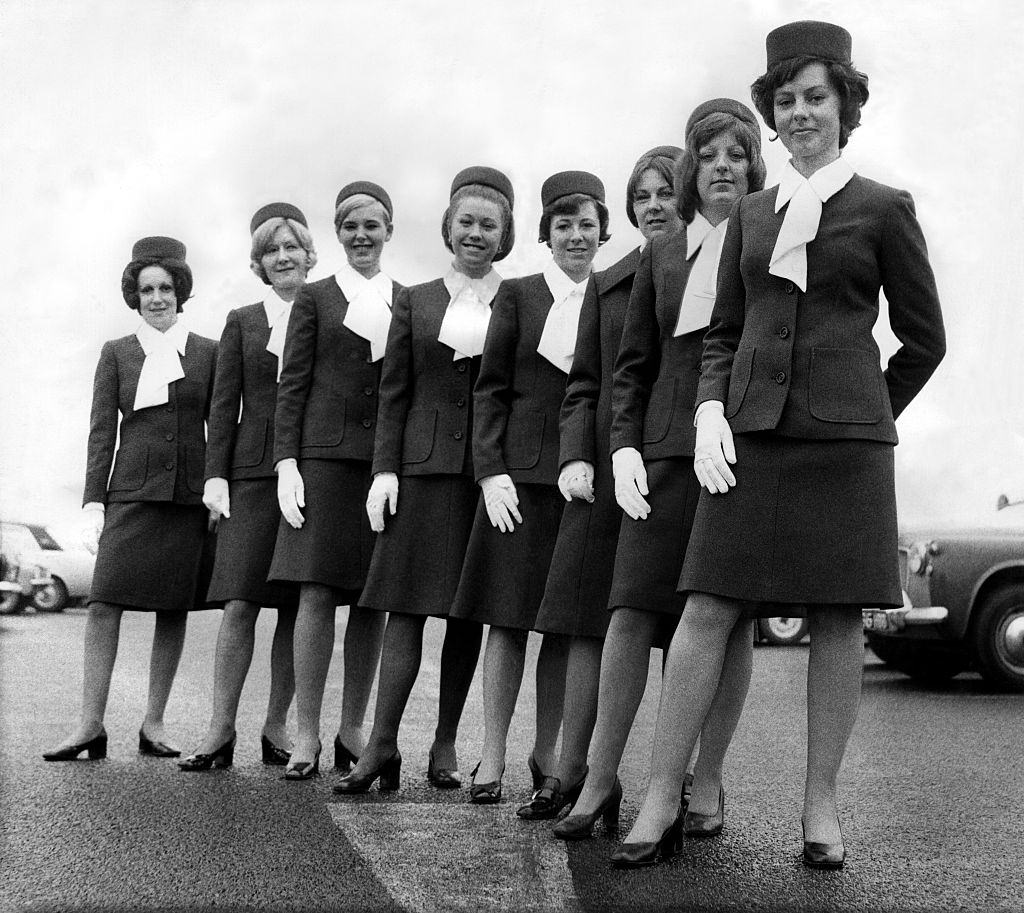 The ladies switched their red uniforms for French Navy on Easter Sunday and the London flight was the first chance to show them off. "They are great." was the general opinion of the girls. "Much smarter and the simple lines are going to suit more girls," said Jean Hepple, fleet stewardess. The new uniform consists of sleeveless pinafore dresses, single breasted coats and jackets and pill box hats. White crepe blouses, with tie neck-lines, complete the uniforms. The hostesses are (left to right) Angela Wakeling, Jean Robertson, Lynda Byers, Maureen Kelly, Helen Dodds, Marie Cahill, Evelyn Dingwall and Jean Hepple.
#47

David Jason and Leah Bell who are in the pantomime Cinderella at the Theatre Royal, Newcastle with four of the choldren, 1970s
#48

Queen Elizabeth II – North East Leg of The Jubilee Tour 1977 to celebrate the Silver Jubilee
#49

Queen Elizabeth II and Prince Philip on the North East Leg of The Jubilee Tour 1977 to celebrate the Silver Jubilee.
#50

The international airline Dan-Air which operates from Newcastle Airport, 1977
#51

Actor Michael Caine and girlfriend Minda Feliciano on location for the film 'Get Carter', Newcastle-upon-Tyne, 1970.
#52

British Amateur championships at Royal County Down, 1970
#53

Transport in Newcastle on Tyne, England. 1970.
#54

The Swallow hotel is located just one mile from the famous Newcastle quayside. Interior Restaurant shot 15th July 1970
#55

War Memorial, Eldon Square, Newcastle Upon Tyne, 1973
#56

Houses undergoing demolition, Eldon Square, Newcastle upon Tyne, 1973.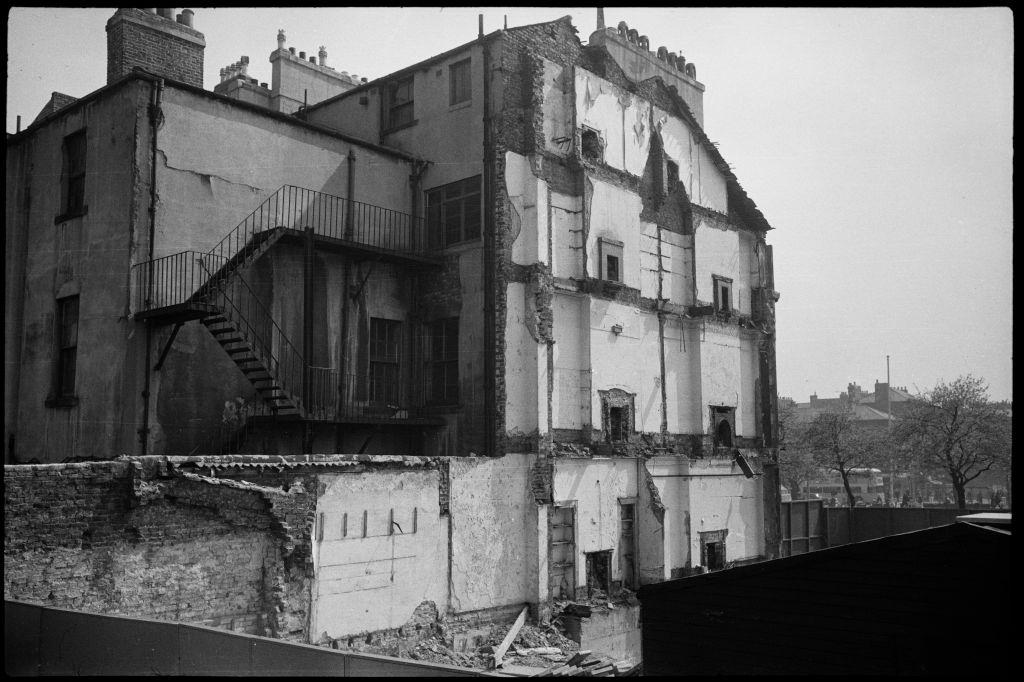 A view of a range of Eldon Square being demolished, possibly the west range, seen from the rear, with a partial view of the square in the background and showing a cross-section of the interior of the range. Eldon Square had three ranges of terraced houses, built between 1825 and 1831 by Thomas Oliver and John Dobson for Richard Grainger. The north range has five central bays that project and the ground floor is raised above the street level. The east range, still standing, has 33 bays in total, and three storeys with basement and attics, with the five bays on either end slightly projecting, and the west range most likely mirrored this facade. The north and west range were demolished in 1973, and the Eldon Shopping Centre was constructed on the site in 1973.
#57

Newcastle General Hospital, 1973
#58

Police outside Crime Scene, Wynburgh Drive, Southfield Lea, Cramlington New Town, 1973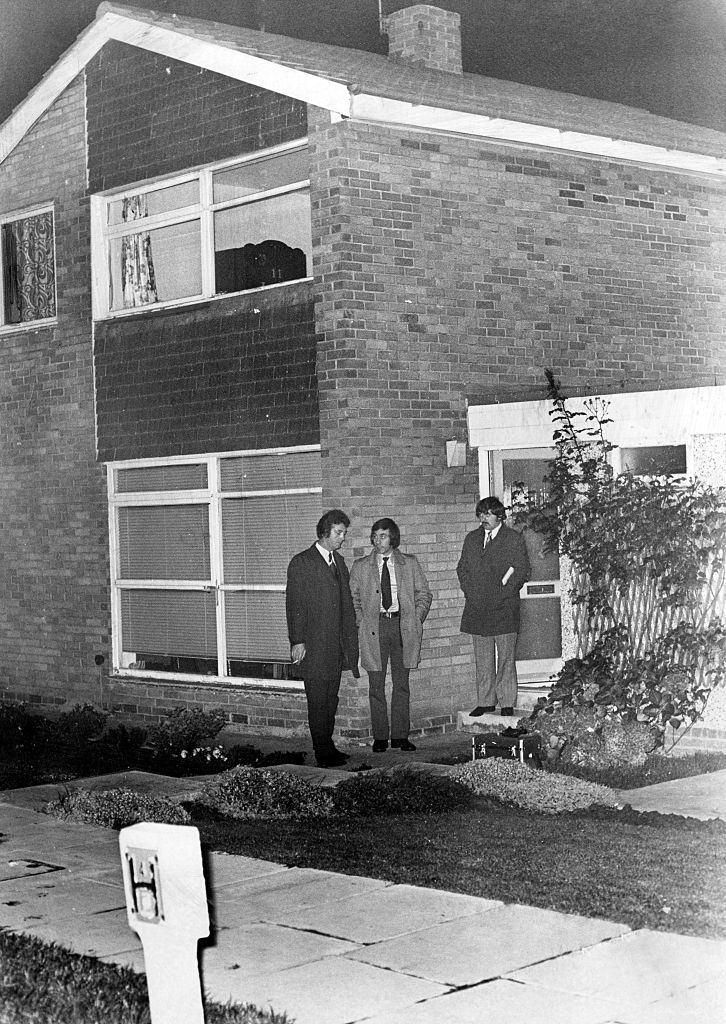 Where Keith Turner bludgeoned to death his mother Georgina and sister Karen during a frenzied attack at their family home in Cramlington in 1973. The then 21-year-old admitted carrying out the killings after becoming involved in a "trivial quarrel" with his 18-year-old sister. Turner was jailed for life at Newcastle Crown Court in 1975 and served 19 years behind bars before he was released on licence.
#59

The exterior of Byker & St. Peters Working Men's Club on Sunday morning in Newcastle Upon Tyne, 1973.
#60

Saturday night at Byker & St. Peters Working Men's Social Club in Newcastle Upon Tyne, 1973.
#61

Saturday night out at the Byker & St. Peters Working Men's Social Club in Newcastle Upon Tyne, 1973.
#62

A little girl in a drum majorette costume with her mother, who is carrying another Majorette's military style hat, in Newcastle Upon Tyne, 1973.
#63

The dinging room of the carriage, 1972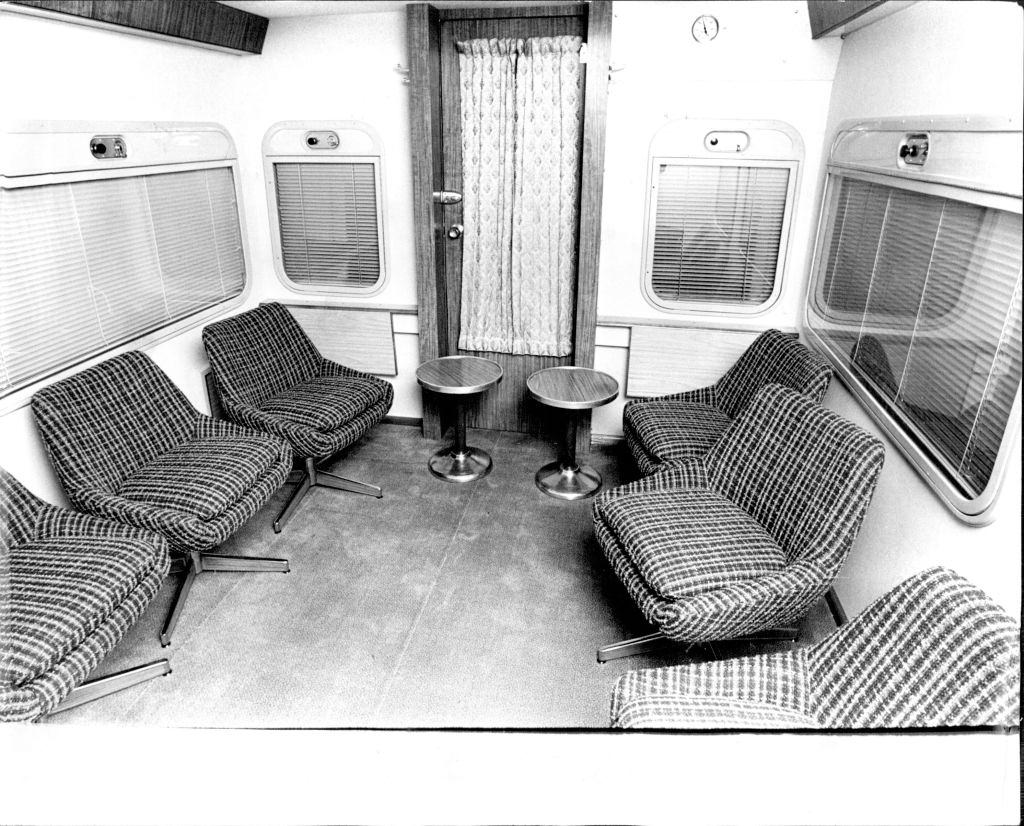 The dinging room of the carriage.The new Transport Commissioner Mr. P. Shirley held a press conference in the new Commissioner's carriage at Central Railway today.The luxury railway carriage built by former Railway Commissioner Mr. McCusker was used for the first time today.The carriage, inherited by the new Transport Commissioner, Mr. Phillip Shirley, made its inaugural trip to Newcastle.Aboard was a group of officials, including two State ministers.And when it's not on official junkets, It will be on hire to the public.
#64

St James' Park football stadium in Newcastle upon Tyne, the home of Newcastle United F.C, 1972
#65

The the luxury liner Vistafjord under construction at the Neptune Yard of Swan Hunter on the Tyne, 27th January 1972.
#66

Newcastle Civic Centre, a local government building located in the Haymarket area of Newcastle upon Tyne, England, 30th January 1972.
#67

Cranes standing idle next to an empty dry dock at the Swan Hunter shipbuilding complex located on the River Tyne at Wallsend near Newcastle upon Tyne, 1972.
#68

Newcastle City Centre And Tyne Bridges, 1972
#69

Chilean Navy destroyer undergoing a re-fit in a dry dock at the Swan Hunter shipbuilding complex located on the River Tyne at Wallsend near Newcastle upon Tyne, 1972
#70

Bourgognes Public House, Newgate Street, Newcastle, 23rd October 1971.
#71

Chillingham Road School, Ninth Avenue, Heaton,Newcastle upon Tyne, 1971
#72

Burnside Highlanders Juvenile Jazz Band, Newcastle, 30th July 1971.
#73

New giant sign at St James Park, home of Newcastle United Football Club, Fallowgate end, 27th July 1971.
#74

Optician with Visual Survey Telebinocular, Newcastle, 22nd July 1971.
#75

Newcastle United Team Group, 1971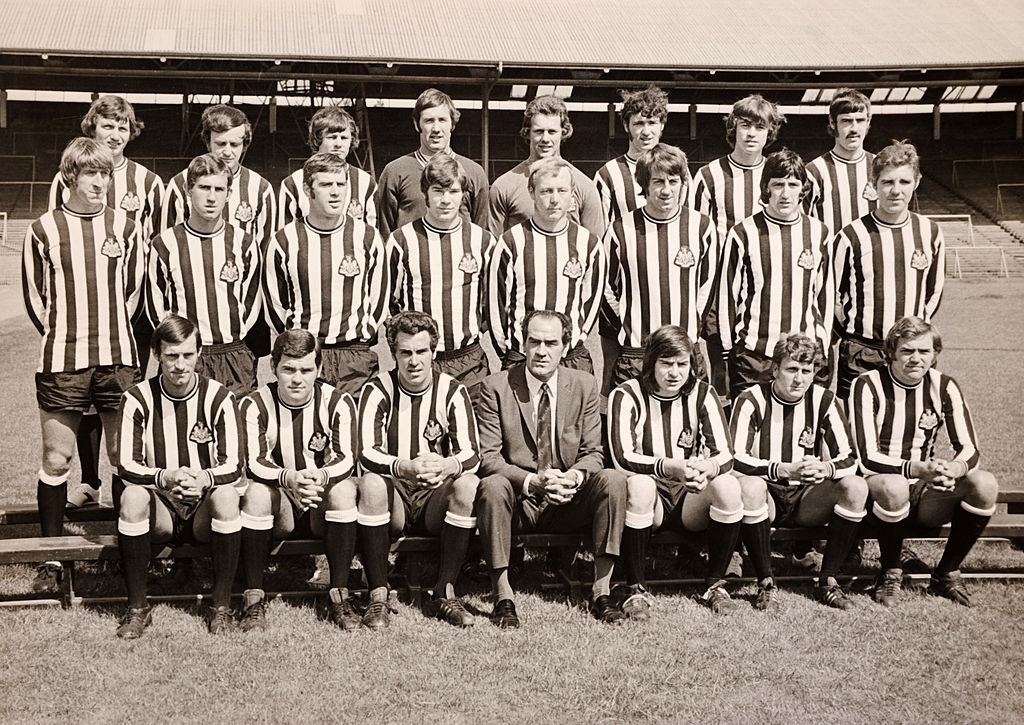 Back row, left to right: Dave Craig, Ian Mitchell, Stewart Barrowclough, Martin Burleigh, Tommy Cassidy, Irving Nattrass and Tommy Gibb; middle row, left to right: Wyn Davies, Keith Dyson, John McNamee, Malcolm MacDonald, John Tudor, Frank Clark, Jimmy Smith and Ollie Burton; front row, left to right: David Young, John Craggs, Bobby Moncur, Joe Harvey (manager), Alan Foggon, Preben Arentoft and Ron Guthrie.
#76

Herald News The Commissioner of Police Mr N.T.W. Allan, 1971
#77

The Bishop of Durham Dr Ian Ramsey at a Disco, Newcastle upon Tyne, 1971
#78

Brother and sister riding a motorcycle on a child's roundabout at the Northallerton May Fair 1971.
#79

Rolling Stones: Bill Wyman and Charlie Watts at their hotel in Newcastle upon Tyne, 1971
#80

Newcastle 0-2 Stoke, League match at St James Park, Saturday 9th January 1971.
#81

RAF Battle of Britain Exhibition in the Tyneside Summer Exhibition. Exhibition Park, Newcastle, 28th August 1970.
#82

1970 Miss United Kingdom Final – Blackpool
#83

NSW Badminton championships at North Sydney Boys High.Helen Lennan, of Newcastle. August 01, 1970.
#84

Film – Michael Caine and Britt Ekland – 'Get Carter', 1971
#85

Buses in New Bridge Street, Newcastle. 14th July 1970.
#86

Percy Hedley School, 1970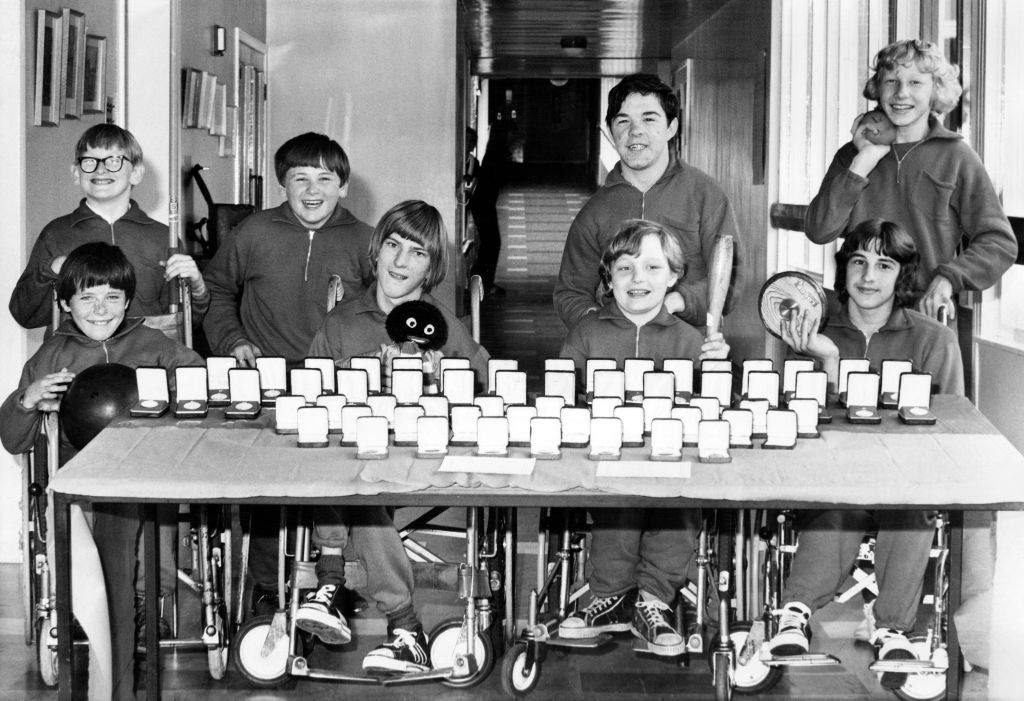 Percy Hedley School with their medals galore, 12 members competed in the second National Spastics Society Games held at Stoke Mandeville. They won 32 gold medals, 20 silver and 7 bronze with two certificates in events including discus, javelin throwing, putting the shot, medicine ball, Indian clubs, wheelchair dash, slalom and tricycle races. Pictured with their medals are (left to right, front row) Norman Rhodes, Andy Mitchell, David Forshaw, Dennis Sproate. Back row, left to right, Gary Dixon, Joe Armstrong, Gerard Pattison and Paul Marshall, 7th July 1970.
#87

Bagpipes played to horses, 1970
#88

Allan Graham murder scene, 1970s
#89

A lone man walks across the cobbled street in view of the Tyne bridge, Newcastle, 1970.
#90

High Level Bridge, Newcastle Upon Tyne, 1970s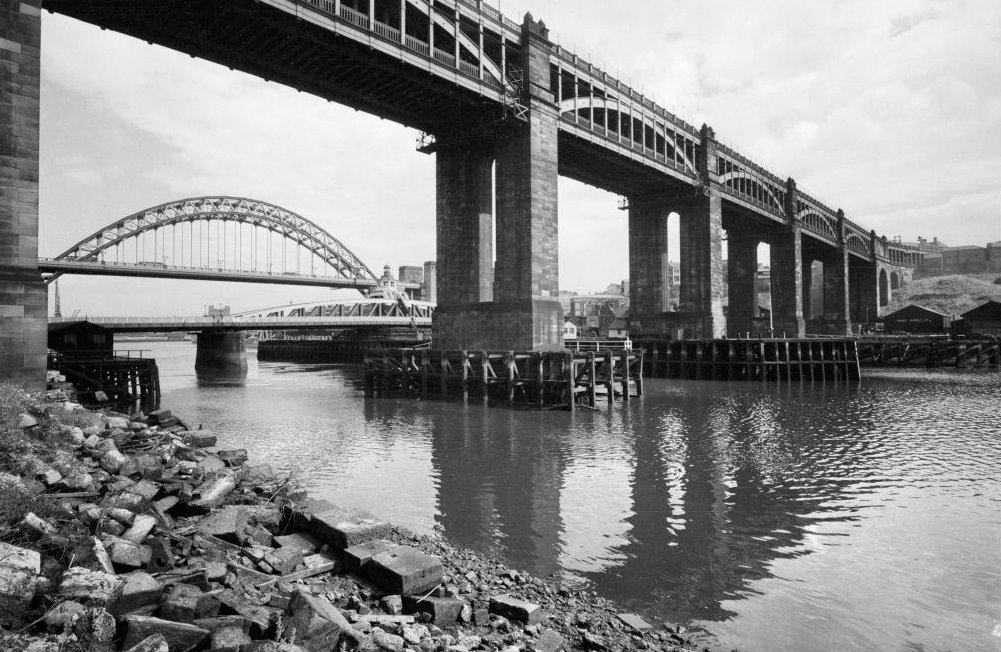 A general view from the north bank of the River Tyne, showing the High Level Bridge in the foreground and the Swing Bridge and New Tyne Bridge in the background, seen from the west. The High Level Bridge is a combined road and railway bridge completed in 1849. The roadway is on the lower beam, and the railways above, supported by six segmental arches of cast iron, and five stone piers.
#91

Pearl Assurance Building, Northumberland Street, Newcastle upon Tyne, 1970s
#93

The new Intercity Tetalisater installed at Broadmeadow Racecourse by the Newcastle Jockey Club. June 26, 1979.
#94

The Rothmans National Sports Foundation, 1977
#95

La Dolce Vita, Nightclub, Newcastle, Newcastle upon Tyne, Tyne and Wear. 28th July 1979.
#96

Royal Victoria Infirmary Hospital, 1979
#97

Fashion shots of gymnasts from Warratah High School, Newcastle, 1978
#98

Lloyds Bank on Newcastle Quayside, 9th July 1978.
#99

A snow covered St James Park in February 1978.
#100

HMS Illustrious Swan Hunter Shipbuilders yard 1977
#101

Graffiti at Heaton railway station, Newcastle upon Tyne, England, 10th July 1977.
#102

A view from the high level bridge, looking over the Swing Bridge to the Tyne Bridge.
#103

St James' Park football stadium in Newcastle upon Tyne, the home of Newcastle United FC, An interior view of the West Stand, 1976
#104

Clothes Shop owned by Malcolm MacDonald, Newcastle United Striker, located in Newgate Street Shopping Centre, Newcastle upon Tyne, Tyne and Wear, exterior of shop pictured 25th May 1976.
#105

Metro Radio D J James Whale seen here at work in the studio, 1976
#106

Newcastle Civic Centre, a local government building located in the Haymarket area of Newcastle upon Tyne, England, 29th March 1976.
#107

Royal Victoria Infirmary Hospital, 1975
#108

A crowd of Newcastle United supporters in Trafalgar Square, London, 1972
#109

Christmas Eve, Children reading bedtime stories as they wait for Santa, Newcastle, Tyne and Wear. Posed picture taken 18th December 1974.
#110

Newcastle General Hospital, 1974
#111

Newcastle public houses – A section of the famous Douglas Buffet which was incorporated in the Geordie Prid, 1974
#112

Newcastle Banks, 1974
#113

Liverpool FC 1974 FA Cup Victory Parade
#114

English footballer Malcolm Macdonald of Newcastle United FC, UK, 4th April 1974.
#115

Excavations on the corner of King and Day St, Darling Harbour, to make way for the new Western Distributor Rd, 1970s
#116

Elton John performing on stage at City Hall, Newcastle upon Tyne, 1973
#117

Newcastle Banks, 1973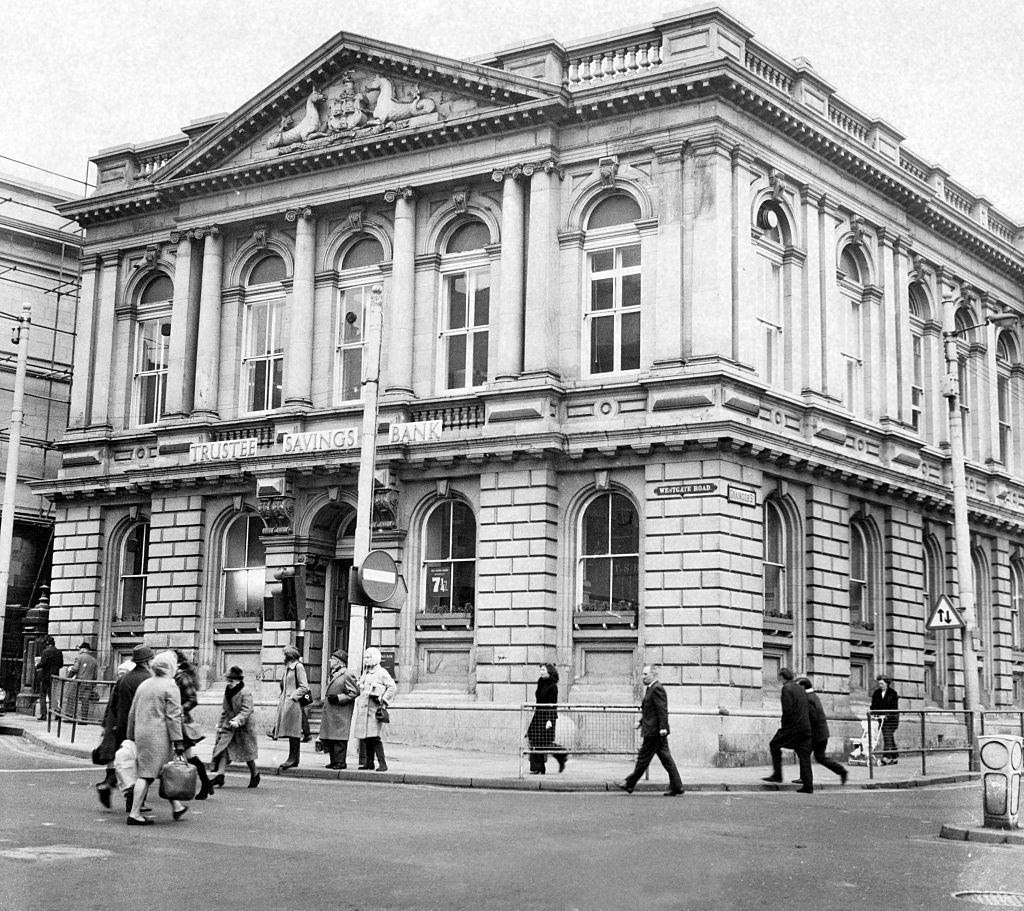 The graceful 19th century building is the headquarters of the Northumberland and Durham Trustee Savings Bank and was revealed to the bank's annual meeting in Newcastle today by the chairman, Mr H. Peter Bell. He said the Bill is passed in its present form would give the Tyneside Passenger Transport Executive the power to purchase the building compulsory and the Gateshead premises as well. 11th January 1973.
#118

An aerial view of Newcastle upon Tyne, 1970s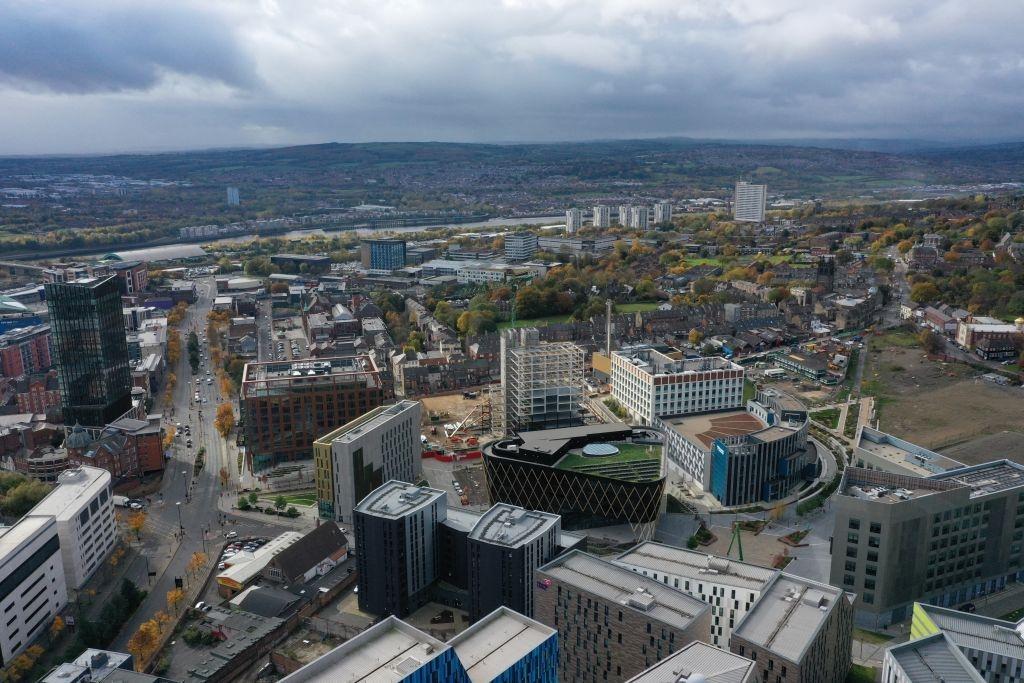 #119

Margaret Thatcher gives a speech during a visit to Newcastle, 1970s
#120

The Prince of Wales during his visit to the North East 31 May 1978