Morgan Fairchild is an actress, model and television personality. She began her acting career at the age of 10 when her mother enrolled her in drama classes. Fairchild began her television career in 1973 with the role of Jennifer in the daytime soap opera "Search for Tomorrow." Fairchild made her screen debut as Faye Dunaway's double in "Bonnie and Clyde (1967)". In 1978 Morgan moved to L.A, where she appeared on the primetime soap opera Dallas as Jenna Wade. She also appeared on several other T.V. shows such as Barnaby Jones, Happy Days, The Bob Newhart Show and several others. Fairchild continued to make appearances in films and television series throughout the 1970s and 1980s.
The elegant lady with big blonde hair named "One of the 10 Most Beautiful Women in the World" by Harper's Bazaar in 1982. Fairchild has revealed some of her beauty secrets in her book "Super Looks". In addition to her television and acting career, Morgan is also a member of the Entertainment Industry AIDS Task Force and she is an active speaker on environmental issues. To this day, Fairchild's career remains much of the same, and she still regularly appears on the big screen.
Here below, we have compiled a list of some fabulous photographs of young Morgan Fairchild, from her television, acting and modeling career.
#1

Morgan Fairchild at a party hosted by Wilhelmina Cooper at the Excelsior Club, New York, New York, June 23, 1975.
#2

Morgan Fairchild at a party, 1975
#3

Morgan Fairchild at 6th Annual People's Choice Awards
#4

Fairchild in a Bathing Suit
#5

Morgan Fairchild at Bob Hope's Spring Fling, 1981
#6

Morgan Fairchild at 54th Annual Academy Awards
#7

Morgan Fairchild Lying on Bed Wearing Negligee
#8

Morgan Fairchild Sighting at Ma Maison Restaurant, 1979
#9

Morgan Fairchild having dinner at American Ballet Theatre, 1981
#10

Beautiful Morgan Fairchild, 1980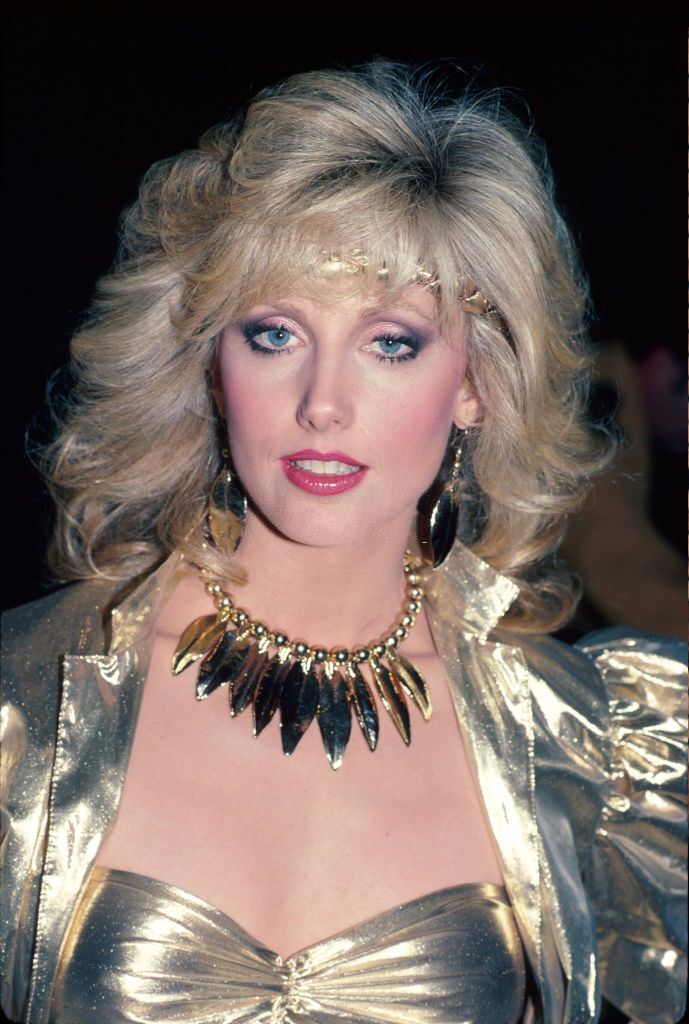 #11

Morgan Fairchild during 1982 American Movie Awards at Hollywood Palladium in Hollywood, California
#12

Beutiful Morgan Fairchild, 1988
#13

Morgan Fairchild during Birthday Party for Stella Stevens, February 21, 1981 at Chasen's Restaurant in Beverly Hills, California
#14

Actress Morgan Fairchild wearing mesh hat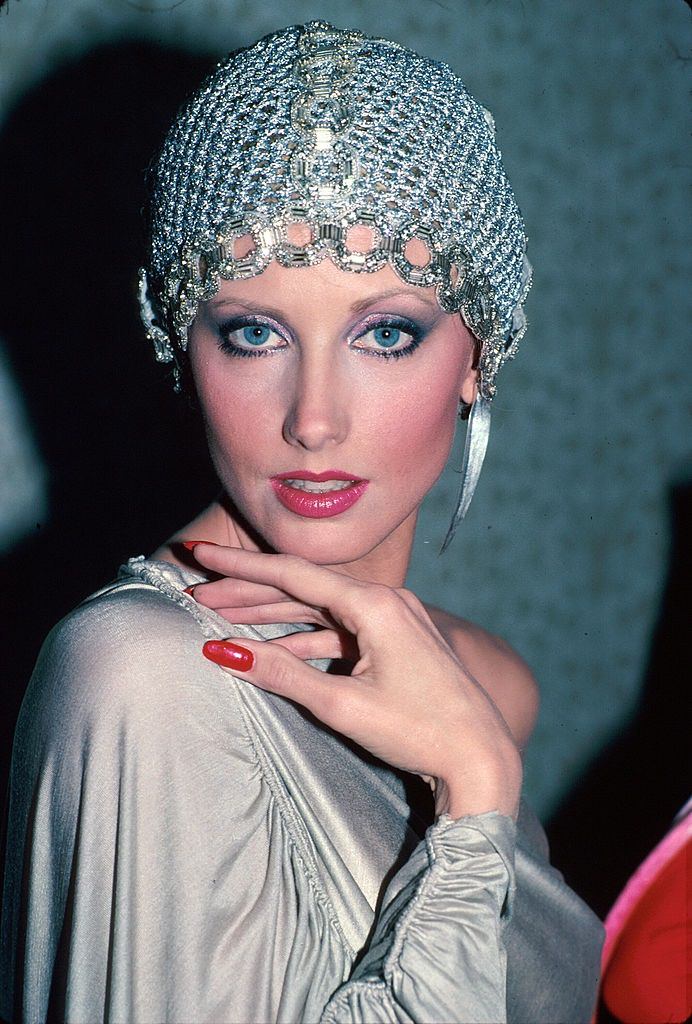 #15

Morgan Fairchild in a stunning dress, 1980
#16

Morgan Fairchild with Dr. Frank Veteran Sighting at Spago, March 10, 1983
#17

Morgan Fairchild poses for a portrait in 1985 in Los Angeles, California.
#18

Morgan Fairchild during Academy Awards Benefit, at Le Mondrian Hotel in West Hollywood, April 11, 198
#19

Atlanta – Circa 1980: Actress Morgan Fairchild performs at The Fox Theater in Atlanta, Georgia Circa 1980
#20

Morgan Fairchild in shiny green dress, 1981
#21

Morgan Fairchild at a Taping of "The Merv Griffin Show" at Metromedia Square in Los Angeles, California
#22

Morgan Fairchild at a Taping of "The Merv Griffin Show" at Metromedia Square in Los Angeles
#23

Morgan Fairchild wearing silver dress and mesh hat
#24

Morgan Fairchild sitting on a sofa
#25

Morgan Fairchild with her sister Cathryn Hartt, 1982
#26

Morgan Fairchild during 39th Annual Golden Globe Awards at Beverly Hilton Hotel in Beverly Hills, California
#27

Morgan Fairchild during AFI Life Achievement Awards Dinner Honoring Frank Capra at Beverly Hilton Hotel in Beverly Hills, California
#28

Morgan Fairchild with Milena Canonero and Robert Hays at 54th Annual Academy Awards, 1982
#29

Morgan Fairchild at Joanna's Restaurant, September 28, 1982
#30

Morgan Fairchild with Deborah Raffin
#31

Morgan Fairchild in a pink dress, reflected by mirror
#32

Morgan Fairchild Wearing Aerobics Outfit
#33

Actress Morgan Fairchild, 1983
#34

Morgan Fairchild reclining wearing a pink outfit
#35

Morgan Fairchild with Nicollette Sheridan and Laurie Caswell during Paper Dolls, 1984
#36

Morgan Fairchild at Spago in West Hollywood, California, 1985
#37

Morgan Fairchild in Los Angeles, 1985
#38

Morgan Fairchild as Jordan Roberts, a San Francisco attorne in "Falcon Crest", 1985
#39

Morgan Fairchild during Tel Aviv Gala Honoring Goldie Hawn at Century Plaza Hotel in Century City, California
#40

Morgan Fairchild during Fundraiser For Senator Gary Hart, April 15, 1987 at Hollywood Palladium in Hollywood
#41

Morgan Fairchild at the 14th Annual People's Choice Awards
#42

Morgan Fairchild in "The Starlight Annual Foundation Benefit", 1988
#43

Morgan Fairchild on Satin Sheets
#44

Morgan Fairchild with other actresses, 1980
#45

Morgan Fairchild with Ron Galella, 1976
#46

Ron Galella photographing Morgan Fairchild, 1976
#47

Morgan Fairchild as Susan in " Mork goes Erk", 1979
#48

Morgan Fairchild with Cathy Lee Crosby at an extravagant party circa 1980s in New York City
#49

Morgan Fairchild with Loni Anderson
#50

Morgan Fairchild at the love boat, 1981
#51

Morgan Fairchild with Craig Denaul
#52

Morgan Fairchild posing for Life Magazine, 1980
#53

Morgan Fairchild sitting in a car in New York, 1982
#54

Morgan Fairchild in NYC, 1982
#55

Morgan Fairchild in red dress, 1983
#56

Morgan Fairchield Carrying Rose Bouquet in the dramatic production of The Seduction
#57

Morgan Fairchild during Filming an Episode of "Flamingo Road" at Burbank Studios in Burbank, California
#58

Actress Morgan Fairchild poses backstage during the 54th Academy Awards at Dorothy Chandler Pavilion in Los Angeles, 1982
#59

Actress Morgan Fairchild in a blue dress, 1982
#60

Morgan Fairchild with her sister Catherine Hart during "I Love New York" Celebration, September 30, 1982
#61

Morgan Fairchild at NBC Studios at Rockefeller Center in New York
#62

Morgan Fairchild with Jenilee Harrison at Spago's Restaurant, November 17, 1983
#63

Morgan Fairchild with Ana Alicia at Spago Restaurant, September 28, 1985
#64

Morgan Fairchild in North and South, 1986
#65

Morgan Fairchild during a photoshoot at L.A., 1987
#66

Morgan Fairchild at Spago's Restaurant, October 16, 1987
#67

Morgan Fairchild in a red satin babydoll nightie with matching panties, 1985