Milwaukee began to lose its wheat trade market to Minneapolis and St. Paul, Minnesota, during the 1870s. The grain passing through the Port of Milwaukee had greatly declined by 1880. Milwaukee's economy is based on manufacturing steel and iron, which remains a major industry. The city has benefited from the growth of manufacturing in recent decades.
The city's steel industry was largely fueled by iron-ore deposits discovered nearby Dodge County in the 1840s. The largest steel mill in Wisconsin was opened in 1868. The mill employed over 1,000 workers and produced railroad rails. There was a tremendous amount of construction of iron foundries and manufacturing facilities
#1

St. Stanislaus Polish Catholic Church. Milwaukee, Wisconsin, 1875
#2

Two men are standing on the platform outside of Kiel's first Depot, 1870
#3

Myers House Hotel, 1875
#4

Myers House Hotel built in 1859 on the corner of Main and Milwaukee Streets by Peter Myers. U. S. Grant is said to have stayed overnight at the hotel on September 8, 1870.
#5

Built by Charles Durkee in 1843 and burned January 31, 1871.
#6

Wisconsin Avenue in Milwaukee, 1870
#7

The Milwaukee & St. Paul Railway Company grain elevator at the Milwaukee harbor, with a sailing ship anchored nearby, 1870
#8

Elevated view of Milwaukee River with large sailing ship – a two-masted schooner – entering the port, 1870
#11

Main Street – north end – Old Main Street bridge, 1875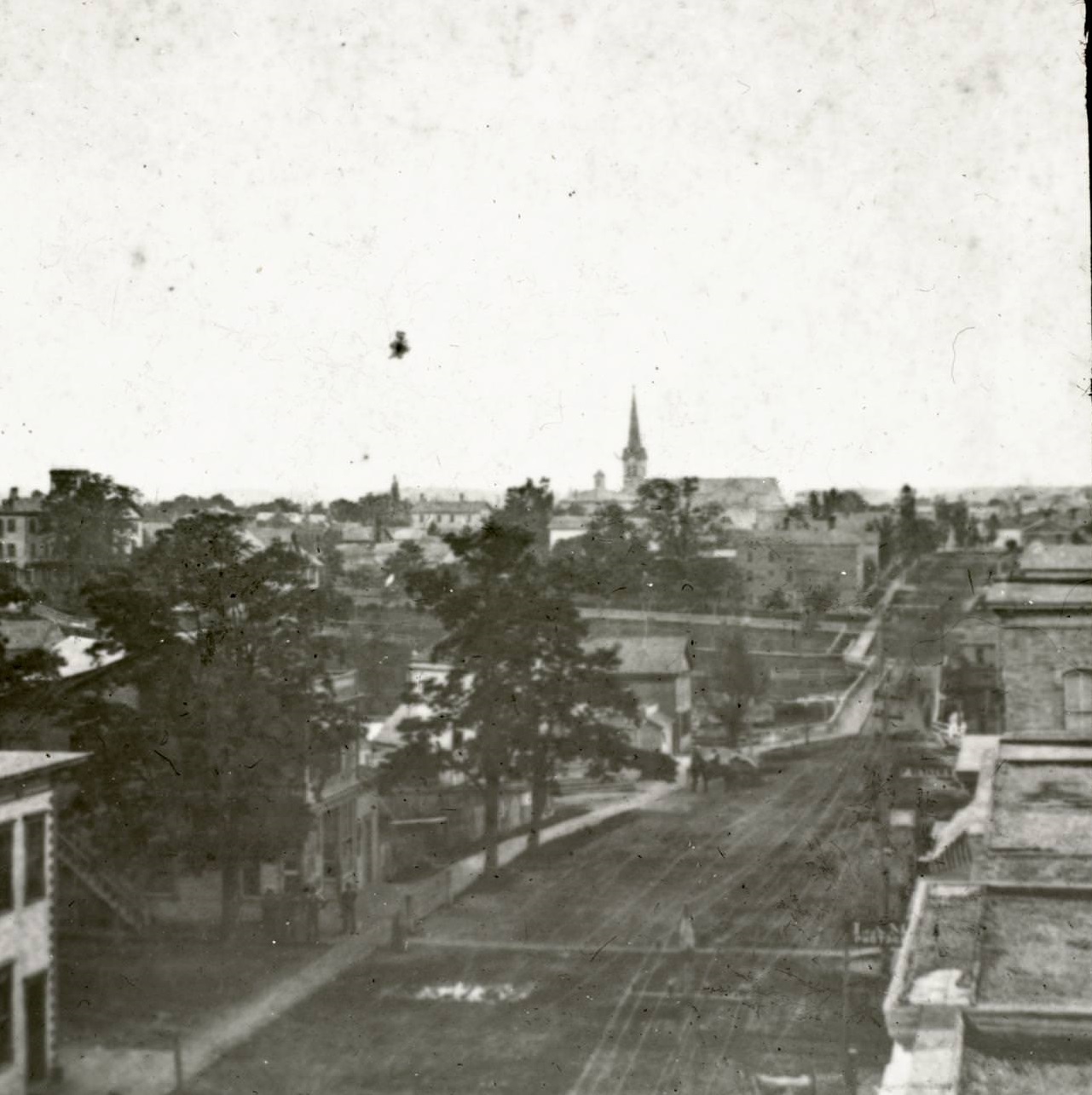 This photograph was taken from a high point on the Bain Wagon Company property facing north up Main Street, showing the bend in the street to the left to meet Milwaukee Avenue. The lawn of the Pennoyer Water Cure can be seen on the left, just at the north end of Main Street bridge. The church spire is that of St. George's Catholic Church.
#12

Alex McGregor, 1870s. Milwaukee and Prairie du Chien Railroad Company.
#13

View down road towards the Western Hotel on the left, 1870
#14

Milwaukee County Buildings, 1870
#15

Dousman Warehouse, East Water Street. Originally located on the wharf parallel with the river, 1870
#16

Chamber of Commerce at the corner of Broadway and Michigan Streets, 1870
#17

State Fair Grounds, 1870
#18

Elevated view from rooftops of what was known as Watertown Plank road, looking west from about North 35th Street, 1870
#19

Axtell House, located at Walker's point on the corner of S. Water and Ferry Streets, 1870
#20

Metal bridge over river with three men standing near the railing, 1870
#21

Chapman's Dry Goods Emporium, 1870
#22

Childs-Paul House,Located at 321 Hanover Street, 1870
#23

City Hall with a flag flying from the roof, 1870
#24

Milwaukee County Court House, 1870
#25

Birchard Furniture Store, 1870
#26

Milwaukee River, 1870.
#27

Water tower of the Milwaukee water works, North Point, 1870
#28

Pabst Residence, 1870
#29

Pfister House at 429 Jefferson Street, 1870
#30

Bradley & Metcalf building in the 300 block of East Water Street, 1870
#31

National Home for Disabled Volunteer Soldiers, 1870
#32

Notre Dame Convent, 1871. The building has a fence around it and the yard is filled with trees. Pedestrians are in the road, as well as a man riding a horse.
#33

Corner of Mitchell and S. 5th Street, 1875
#34

Wisconsin Street seen from Spring Street, 1875
#35

The brick home of Judge Andrew Galbraith Miller at 174 Wisconsin Street, 1875
#37

Elevated stereograph of East Water Street showing City Hall, 1875
#38

View across the Milwaukee Harbor, 1876
#39

Neighborhood Near Lake Michigan, 1876
#40

Winter scene of a residential area, looking down a snowy sidewalk near a retaining wall and a fence in Milwaukee, with a horse-drawn carriage or sleigh in the distance, 1876
#41

Melms-Schandein Residence, 1876
#42

Building also housed the Custom House. Corner of Milwaukee and Wisconisn Streets, 1876
#43

Milwaukee River, 1873
#44

View of bluffs and buildings on the shore of Lake Michigan, Milwaukee, Wisconsin, 1877.
#45

High angle view of a ship moored at a wharf on the Milwaukee River in Milwaukee, Wisconsin, 1875.
#46

Elevated view of a deck of a schooner hauling lumber, Milwaukee, Wisconsin, 1875.
#47

Stereoview of Broadway in Milwaukee, Milwaukee, Wisconsin, 1874.
#48

View looking northwest from Exposition Building, Milwaukee, Wisconsin, 1874.