Manchester underwent massive transformations in the 1970s, a decade marked by disarray, a loss of purpose, new music, and the introduction of an enormous city center monster. The City Council lost most of its remaining essential responsibilities in the 1970s. After WWII, communities like Manchester lost control of their local gas and electricity supplies and a significant portion of their revenue. Under a more extensive transportation authority, all power of municipal transportation was taken away, and the city's famed red buses were replaced with hideous pop orange and brown buses.
Greater Manchester County was formed in 1974 when south-east Lancashire and north-east Cheshire were combined. As a result, the city of Manchester lost control of its police and fire departments. It also lost control of water and sewage services when the North West Water Authority was formed. Even the airport was taken away from Manchester and given to the new Greater Manchester administration to share. The Manchester Ship Canal began a dramatic fall at its headwaters in Salford and Trafford during this decade, when container traffic made it unviable. Manchester lost 150,000 manufacturing jobs between 1961 and 1983.
Check out these vintage snapshots from Manchester Metropolitan University Special Collections from the 1970s.
#7

Building at the junction of Bridge Street and Motor Street.
#9

Piccadilly Station Approach and Gateway House.
#12

Liverpool Road Station.
#13

Liverpool Road Station.
#14

Whitworth Park Student Residences.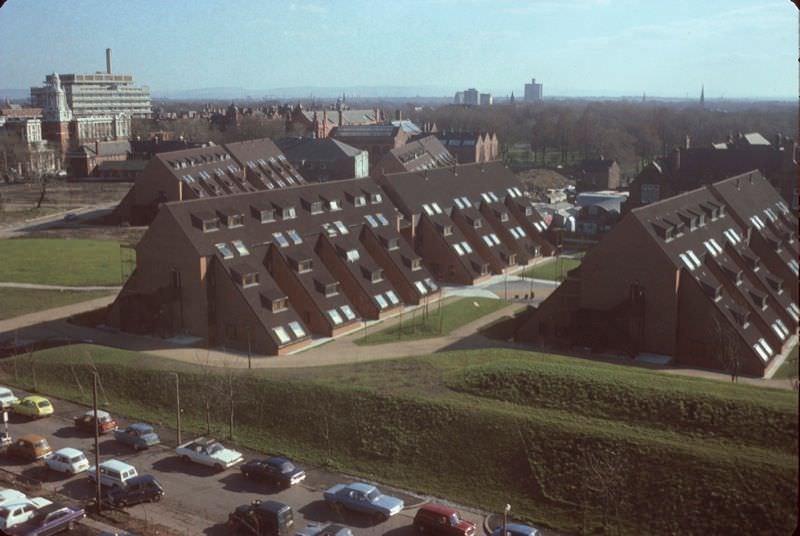 #16

Grosvenor Picture Palace.
#17

Architecture and Planning Building.
#18

Charles Barry Crescent.
#19

Charles Barry Crescent.
#20

Clopton Walk and the Crescents.
#23

Piccadilly Station Office Block.
#25

Studio 1 to 5 cinema.
#26

Clopton Walk shopping precinct.
#28

Telecommunication House.
#35

The Old Curiosity Shop.
#36

Midland Bank building.