There is always something bizarre, funny, and creepy subjects and objects in the old photographs that vary from supernaturally disturbing to mysteriously intriguing to straight-up terrifying. Perhaps it's grainy black and white, sometimes sepia feel to them. These are the traits that make these historical photographs so chilling. And we are all curious about knowing what happened.
Here are some of the creepiest photographs from history that depict evil experiments, serial killers, paranormal things, and some of humanity's darkest sides.  In some cases, the story behind the photo calms the viewer's mind by making sense of the strange image before you. But most of the time, the story only adds new layers of terror that would have been unimaginable at the outset.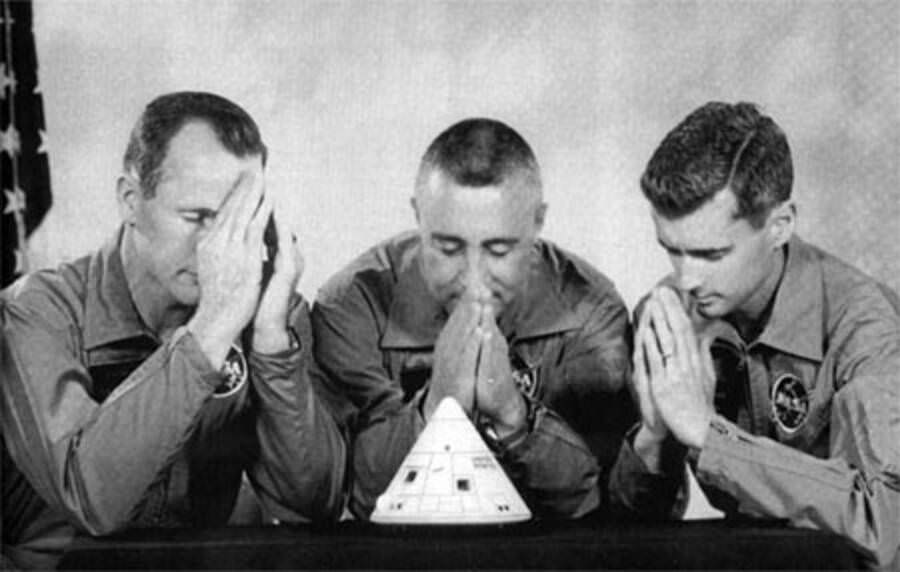 Although this photo was taken as a lighthearted gag, the image of the Apollo 1 crew jokingly praying over a miniature of their command module turned deadly serious in retrospect. The three men — Roger Chaffee, Virgil Grissom, and Ed White — would burn to death during a test launch on January 27, 1967.
Tragically, the three men had even voiced concerns about the craft's amount of flammable materials to Joseph Shea, manager of the Apollo Spacecraft Program Office. They then took this portrait and presented it to Shea shortly before the fatal accident with a caption that read: "It isn't that we don't trust you, Joe, but this time we've decided to go over your head."