Betty Grable was an actress, dancer, fashion model, and singer whose movies grossed more than $100 million during the 1930s and 1940s. She was the most iconic pinup girl of the World War II era, and her bathing suit photograph was included in the 'Life' magazine project "100 Photographs That Changed the World." As a wholesome, good-natured screen actress, she starred in many musicals with formulaic plot lines that showcased her shapely legs as she performed athletic dance numbers. Her legs were so beautiful that her studio had them insured for $1 million, earning her the moniker "the girl with the million-dollar legs."
Acting career
Grable's mother enrolled her in dance and music classes from a young age, setting her on the path to stardom. She was chosen for the chorus in 'Let's Go Places. The law at the time required all chorus girls to be over 15 years old. Despite being just 13, Betty's mother arranged for her to get fake identification papers so she could perform. She was disqualified when her deception was uncovered. At the age of 13, she became one of the original Goldwyn Girls and appeared in several films.
Grable made her debut as a chorus girl in the film 'Happy Days' in 1929 when she was 12 years old. In the following years, she played uncredited minor roles in several films. During the 1930s, she appeared in many B-movies, including 'Pigskin Parade (1936)', 'This Way Please (1937)', 'College Swing (1938)'. In most of these films, she portrayed college students and was thus typecast in that role. Grable got her famous nickname after appearing with Jackie Coogan in the movie 'Million Dollar Legs' in 1939. After the film failed to meet expectations, Grable appeared in the musical drama 'DuBarry Was a Lady' on Broadway.  Grable became a star after the play was embraced by audiences and critics alike.
Grable's got her breakthrough in 1940 when was starred in the blockbuster 'Down Argentine Way. The success led her to other superhit movies, including 'Moon over Miami (1941)', 'Sweet Rosie O'Grady (1943)', 'Pin Up Girl (1944)', and 'The Dolly Sisters (1946)'. In 1947, she was cast opposite Dan Dailey in the highly successful film 'Mother Wore Tights.' In her role, she played a vaudeville performer whose daughter was ashamed of her mother's profession. The film was one of the highest-grossing films of that year.
In 1953, she appeared in the romantic comedy 'How to Marry a Millionaire' alongside Marilyn Monroe and Lauren Bacall. The screenplay was adapted from two plays by Zoe Akins, Dale Eunson, and Katherine Albert. She made her final appearance in the 1955 comedy 'How to Be Very, Very Popular.' In this movie, two showgirls witness a murder but resist the urge to get involved in investigating the crime.
Pinup modeling
Grable collaborated with Frank Powolny regularly for a studio photo session in 1943. She took several photos in a tight bathing suit during the shoot. Grable playfully smiled over her right shoulder with her back to the camera during one of her poses because she was several months pregnant with her first child at the time. This picture was released as a poster and became the most requested photograph by troops stationed overseas. Grable's portrait sold millions of copies, eventually surpassing Rita Hayworth's famous 1941 photograph in popularity.  She became the favorite pinup of the US military, and her image was displayed on bomber planes during World War II. In addition, the photograph was named one of Time's 100 Most Influential Photographs of All Time.
Personal life
Grable married actor Jackie Coogan in 1937, and the marriage lasted only for two years.  Harry James, a trumpeter, was her second husband in 1943. They had two daughters. They divorced in 1965 after enduring a difficult marriage plagued by alcoholism and infidelity. She also had a long-term relationship with the much younger dancer, Bob Remick, until her death.
Betty Grable's death
Grable died of lung cancer in 1973, at the age of 56, in Santa Monica, California. Her funeral was held two days later, and several Hollywood stars attended, including her ex-husband, Harry James. In the months following Grable's death, Neil Sedaka dedicated a song to her on his 1974 album Laughter in the Rain.
Below are some glamorous photos of Betty Grable when she was young.
#1

The famous pinup poster of Betty Grable, 1940s.
#2

Betty Grable dancing in scene where she is dancing the "Jitterbug", 1941.
#3

Betty Grable as a Young Girl, 1920s.
#4

Betty Grable as an Infant, 1917.
#5

Betty Grable in pink dress, 1930.
#6

Betty Grable sits on rail, 1973.
#7

Bob Crosby lights a cigarette for Betty Grable, 1935.
#8

Betty Grable in an evening gown and a white fur wrapped around her body, 1935.
#9

Betty Grable, and Robert Woolsey publicity portrait for the film 'The Nitwits', 1935.
#10

Betty Grable in a publicity shot for the film 'Collegiate,' Hollywood, 1935.
#11

Betty Grable in a Scene from Collegiate, 1935.
#12

Betty Grable is weighed by her personal trainer, 1936.
#13

Betty Grable with Jackie Coogan, 1936.
#14

Betty Grable in roller skate, 1936.
#15

Beautician applying Makeup on Betty Grable, 1937.
#16

Betty Grable relaxing on the beach, 1937.
#17

Betty Grable Roller Skating, 1937.
#18

Betty Grable wears a beaded chiffon evening gown designed by Edith Head for the 1937 musical 'This Way Please'.
#19

Betty Grable golfing, 1938.
#20

Betty Grable being prepared prior to filming a scene, 1938.
#21

Betty Grable, as she appears in the movie 'Give Me a Sailor', 1938.
#22

Betty Grable feeding her husband in a show, 1938.
#23

Betty Grable with Susan Hayward and Ellen Drew, 1939.
#24

Betty Grable holding Fur Stole, 1939.
#26

Betty Grable, smiling at the camera while seated and writing in a chair, 1939.
#27

Bertty Grable, wearing a satin robe and applying lipstick in a mirror, 1939.
#28

Bertty Grable leans out hotel window and take a gander at Fifth Ave, 1939.
#29

Betty Grable sitting on the sofa, 1939.
#30

Betty Grable colorized photo, 1940.
#31

Betty Grable on a grand piano, 1940.
#32

Betty Grable in a yellow playsuit, 1940.
#33

Betty Grable wearing a yellow bikini as she leans against a fish ornament, 1940.
#34

Betty Grable wearing a plaid shirt, sitting behind a child's drum kit, which has 'Mrs James Jivin' Jills', 1940.
#35

Betty Grable wearing a short red dress as she holds a dance pose, 1940.
#36

Betty Grable laying back on a pillow in a day dream, 1940.
#37

Betty Grable poses in a swim suit and hat, 1940.
#38

Betty Grable with Susan Hayward and his friends, 1940.
#39

Betty Grable poses on a street in Los Angeles, 1940.
#40

Betty Grable in a scene from the movie 'Tin Pan Alley', 1940.
#41

Betty Grable poses wearing a red-and-black bodice as she leans back with her legs legs in the air at an angle, 1940.
#42

Betty Grable in black dress and high-heeled shoes, 1941.
#43

Betty Grable Playing with her Poodle, 1944.
#44

Betty Grable in a scene from the movie, "My Blue heaven," posing in an elaborate gown and holding a perfume bottle, 1950s.
#45

Betty Grable posing on the sofa, 1944.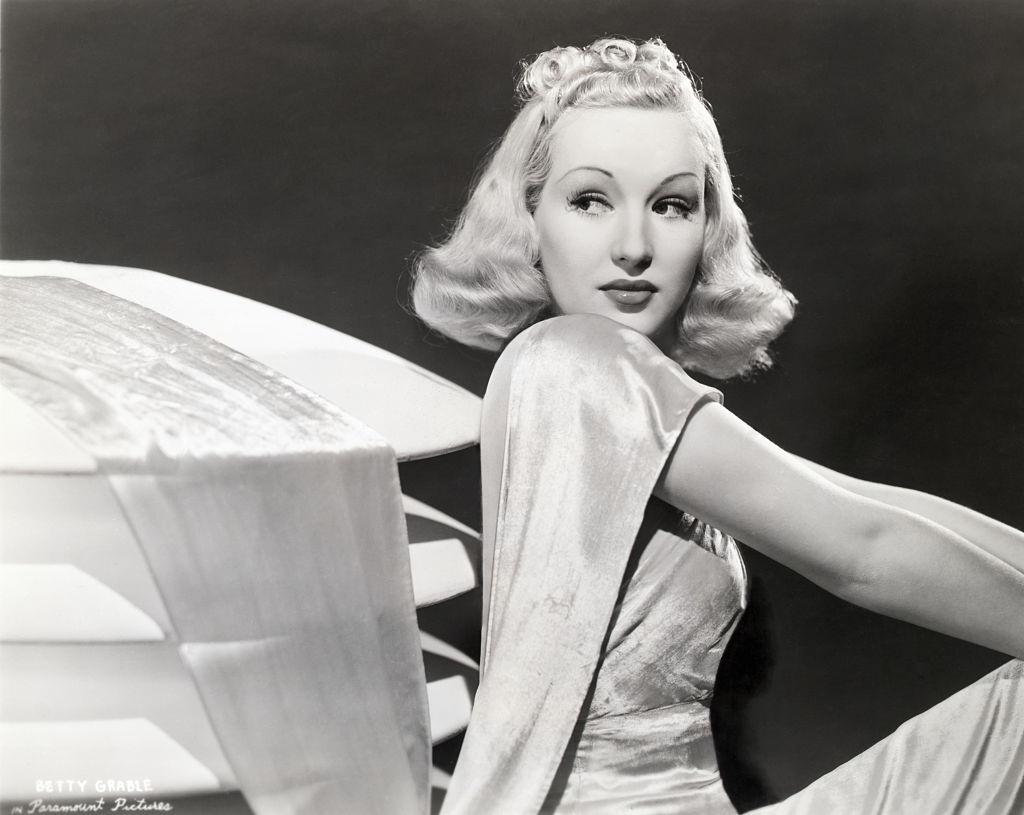 #47

Betty Grable in wool sports dress in black and white pin stripes, 1934.
#48

Betty Grable on the bike, 1935.
#49

Betty Grable balancing on a pair of roller skates, 1935.
#50

Betty Grable in Collegiate, 1935.
#51

Betty Grable puts her hand up as Cesar Romero holds his heart in a scene from the film 'Coney Island', 1943.
#52

Betty Grable publicity in the movie 'Coney Island', 1943.
#53

Betty Grable singing from bath tub in a scene from the film 'Sweet Rosie O'Grady', 1943.
#54

Betty Grable and Cesar Romero in Coney Island, 1943.
#55

Betty Grable posing in a slit sequined dress, 1945.
#56

Betty Grable wearing a halter top and shorts while holding a baseball bat on a lawn, 1940s.
#58

Betty Grable with Douglas Fairbanks Jr. on the set of 'That Lady in Ermine', 1948.
#59

Betty Grable Sitting in Chair, 1950.
#60

Betty Grable wearing a cropped top with matching shorts, and a red neckerchief, 1950.
#61

Betty Grable posing in black dress, 1950.
#62

Betty Grable in a gold dress, 1950.
#63

Betty Grable lifts her robe to look at her legs in a mirror, 1950.
#64

Betty Grable squinting in the sun while seated on a pinto horse with brown patches in a corral, 1952.
#65

Betty Grable pose with Marilyn Monroe and Lauren Bacall in the movie 'How to Marry a Millionaire', 1953.
#66

Betty Grable wearing a short, white, pleated dress, 1945.
#67

Betty Grable with a script for Diamond Horseshoe on the CBS Radio program Hollywood Star Time, Sunday, April 14, 1946.
#68

Betty Grable with Dan Dailey in a scene from the film 'Mother Wore Tights', 1947.
#69

Betty Grable with her 10-weeks-old daughter, 1947.
#70

Betty Grable reading a telegraph while Dan Dailey is look it, 1948.
#72

Betty Grable steps out of a wash basin wearing a towel, while Thelma Ritter holds her hand to give her support, 1953.
#74

Betty Grable posing with one leg up and arms behind her head, 1950s.
#75

Betty Grable wearing a one-piece swimsuit in a dressing room, 1945