The 1970s was an era of transition from a relatively quiet, industrialized, mostly Anglo-Saxon city to a financial and head office city with enormous economic power and a diverse ethnic population for Toronto. During the 1970s, the population of the city continued to grow and surpassed that of Montreal by the end of the decade. The main factor behind the rapid growth in the population of Toronto was strong immigration, increasingly by Asians and people of African descent, and the increasing size of the auto industry in Southern Ontario.
Toronto replaced Montreal as the main financial of Canada as head offices moved there from Montreal, notably the Royal Bank of Canada and other major banks. New skyscrapers were built, mostly by banks, including the Royal Trust Tower, Canadian Place, CN Tower, Royal Bank Plaza, and South Tower. The loss of many of the old buildings in the downtown saw a new interest among Toronto's citizens to preserve heritage buildings.
Toronto was also dirtier, sleazier, more industrial, and less sanitized than now and it didn't have a lot of good restaurants in the early 1970s. The subway was a lot smaller, extending to Warden in the east, Islington in the West, and only reaching Eglinton in the North. There were big plans for highway expansion that were finally done away within the 1970s.
Toronto has certainly become a more interesting and diverse place to live in over the last fifty years. Here below are some stunning vintage photos that show what Toronto looked like in the 1970s.
#1

Snowy Toronto Street, 1974.
#4

Railways and trains in March 1974 in Toronto.
#5

Railway network in the city of Toronto, September 1974.
#6

Fairmont Royal York hotel, Toronto, September 1974.
#9

Canadian National Exhibition
#10

Sam the Record man storefront, 347 Yonge Street
#11

Flower vendor, Yonge Street
#12

Toronto City Hall, 1975.
#13

Regent Park, Parliament and Dundas Streets, 1972
#14

CN Tower under construction, November 1973
#15

Aerial view, 1973-1975
#16

Maple Leaf Gardens, 1977
#17

Lancaster Bomber on display at Coronation Park, Lake Shore Blvd. W.,1970
#18

Stock-exchange of the bourse of Toronto, Ontario, in 1975
#19

Court of Justice in Toronto, 1975.
#20

View of Queen Street West in Toronto, 1975.
#21

Cars on the highway in September 1974 in Toronto.
#22

Hannelore Princess of Auersperg, friend Heino, strolling on a concert tour on May 15th, 1978 in Toronto
#23

"Fan, Heino, Ralf Bendix, walk before the 1st Heino concert on December 1st, 1975 in Toronto
#26

Northwest corner of Esplanade and Hahn, 1973-74
#27

St. Lawrence Market, as seen from the King Edward Hotel, July 1974
#31

St. Lawrence Market, 1976
#32

Hard Rock Cafe, 1978-80
#33

Dundas Square, 1978-80
#34

Opening week, New City Hall
#35

Yonge Street and Eglinton Avenue
#36

O'Keefe Centre opening
#37

Waiting at traffic lights
#38

King Street West and Yonge Street
#39

Westbound streetcar, Dundas and Bathurst Streets
#40

630 Queen Street West
#43

Yonge and Carlton Streets
#46

The Esplanade, rear of St. Lawrence Market
#47

Front and Princess Streets
#49

Southbound on the Don Valley Parkway
#51

Dundas Square, Yonge Street
#52

South-east corner Dundas Square, Yonge Street
#53

Coronet Theatre, Yonge and Gerrard Street
#54

Yonge and Bloor Streets, Uptown Theatre
#55

Imperial Theatre, Yonge Street
#56

Yonge Street looking north
#57

Crowds in front of Old City Hall. Note the old streetcar.
#58

Woodbine beach looking west.
#59

A skyline view from the Islands, 1970s.
#60

Another postcard, this one of Yonge Street
#61

A 1970s scene on a postcard of Toronto.
#62

The infamous red subway trains, 1971.
#63

The CN Tower under construction.
#64

Nathan Phillips Square in 1973.
#65

Approaching Yonge and Bloor (ca. 1971).
#66

University Theatre in the background of a street scene.
#67

City Hall (ca. 1970). Photo from Toronto History.
#68

Joy Oil gas station from above (ca. 1970-73).
#69

Flatiron building and skyline.
#70

Here it comes! The CN Tower at the beginning of construction.
#71

Pre-CN Tower skyline and Pier 6, 1970s
#72

Maple Leaf Gardens with the Odeon Theatre in the background, 1970.
#73

Gone but not forgotten, 1970s record shops at Yonge and Gould.
#74

Yonge and Adelaide, looking across the intersection towards the distinctive concrete exterior of the Lumsden Building, 1970s
#75

Bloor Street West and Keele, 1970s. Looking north up Keele, streetcar headed west along Bloor.
#76

Mirvish Village, around 1970. Looking south along the east side of Markham Street. Gaston's French Restaurant, Tiffany's, Poster Palace, and the Pollock Gallery.
#77

An interesting view of King & Bay, looking down from the top of the Canadian Bank of Commerce building, 1970s
#78

Chinatown in the 1970s
#79

Mayor Mel Lastman and new The City with Heart sign February 1979
#80

A & A Records Yonge St. 1976
#81

Zanzibar, Toronto, 1970s
#82

320 Durie Street in Bloor West Village, 1974
#83

Record store on Yonge Street in 1979
#84

Lawrence Avenue East & Don Mills Road, 1973
#85

A kid tempting a swan with a Ritz cracker at the Centre Island, 1970s
#86

Valleyfield Public School, 1971
#87

Don Mills Bus. Gateway & Don Mills looking south, 1972
#88

Valleyfield Public School, Etobicoke 1970
#89

Family building house on Keele Street, 1970s
#90

A busy day along Mount Pleasant Road near Manor during the last few days of streetcar operation in July 1976
#91

Main Street Library – 1977
#92

CN Tower – construction view from King West and Widmer, view looks south past houses on Mercer St., 1974
#93

CN Tower – construction view from King St W, in front of the Royal Alex, 1974
#94

TTC Bus 7563 heading east on Eglinton West, at Kane Avenue TTC bus 7721 can be seen in the background in the second image, heading west on Eglinton Av W., 1974
#95

TTC Bus 7563 heading east on Eglinton West, near Kane Avenue TTC bus 7721, 1974
#96

Yonge and Woodlawn avenue, looking north, 1970s
#97

Glendon College – York University, 1970
#98

Watching the action of a live TV broadcast at the CNE is fun for crowds who gather at the CBC tent near the west end of the Better Living Building, 1972
#99

Looking southwest towards Yonge & Sheppard, 1975
#100

TTC Tour Tram trips as it headed south on McCaul Street near the streetcar loop. Photo by J. Bryce Lee, June 10, 1978.
#101

Tour Tram trips. TTC Streetcar 2766 heads east on Queen near Bay, July 1973.
#102

The future Macdonald Block / 900 Bay Street site, looking east toward Bay. The building with the Studebaker sign in the distance is at 945 Bay, 1970s
#103

College Street @ Yonge St., – 1971
#104

Al Laceby's Garage and Sunoco service Station, Parke and Main Street North (Weston Road), 1970s
#105

Mimico & Lakeshore, 1979
#106

Mimico & Lakeshore, 1979
#107

Dawes Road Bus – Credit John Carlson, 1973
#108

Old Mimico Go Station, 1978
#109

A view looking north east from the TD Centre, 1971.
#110

Police chase- O'connor & St. Clair looking east, 1971
#111

136 and 138 Riverview Drive, now demolished. 140 survives, 1970s
#112

Another year of the C.N.E. has come & gone. Not much to talk about the last couple of years, 1971
#113

18 Semi-detached houses being built on the north side of Highway 401 near CFTO television station on Snowhill Cres, 1975
#114

Portuguese family in Toronto – 1970s
#115

The Rolling Stones at the El Mocambo, 1977
#116

Surrounded with antiques; Joy and Neil Dixon preside at the counter of their coffee house; Grumbles; at 71 Jarvis St., 1970
#117

Early recycling – Three men in the truck are pointing to the name on the side; Glass Gobbler; which defines its job, 1977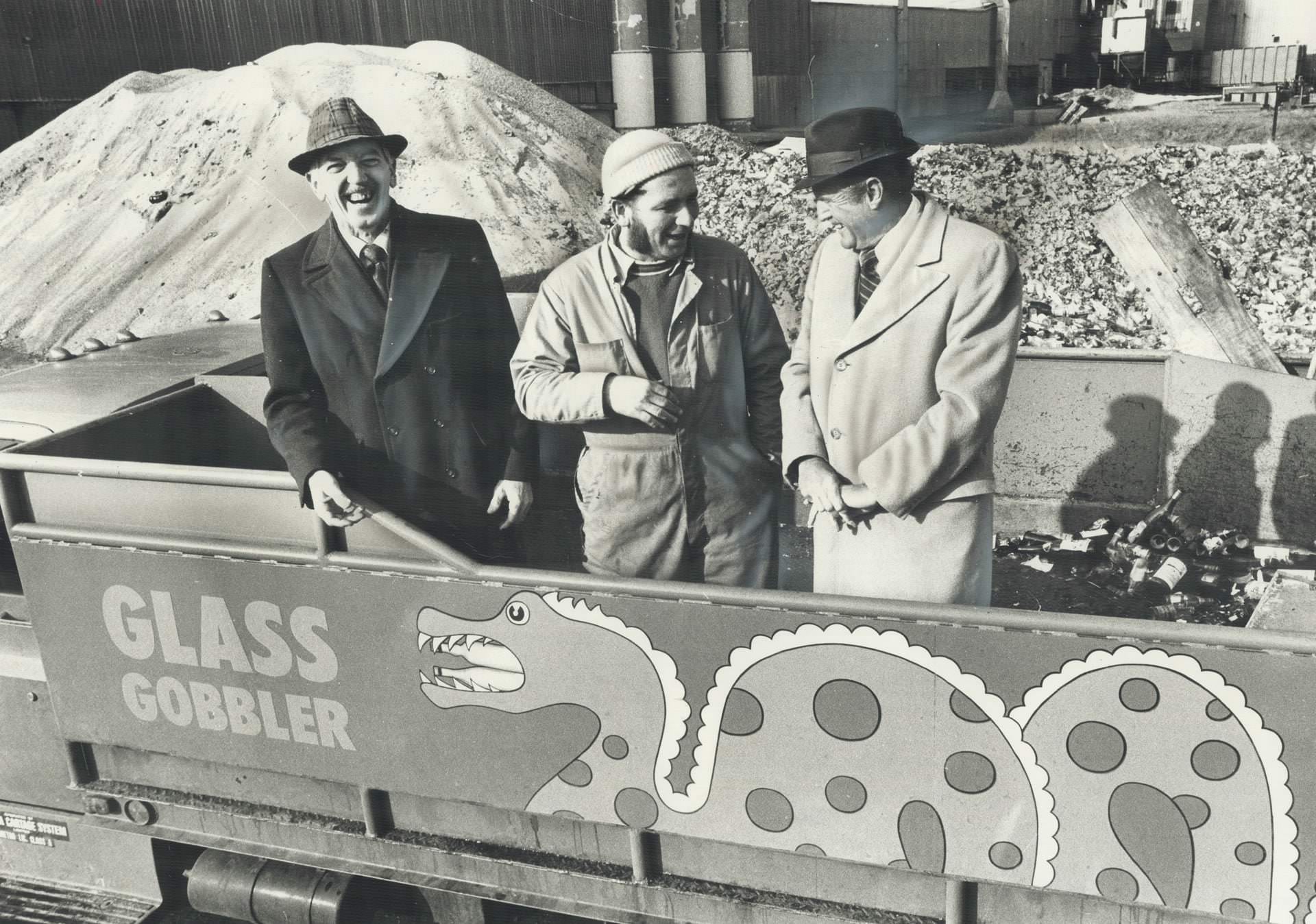 The truck picks up glass containers from 35 hotels and taverns and takes them to glass factories in Metro for re use. Centre is Happy Harry Atherley; driver; at right; Elliot Dalton; executive director of the Glass Container Council of Canada; left; Ted Meitz; project director.
#118

Roof of the Music Building at the CNE. Dad's slides, Feb 1977
#119

Saunders Ave., Toronto.
#120

Metro incinerator on Commissioner St., 1973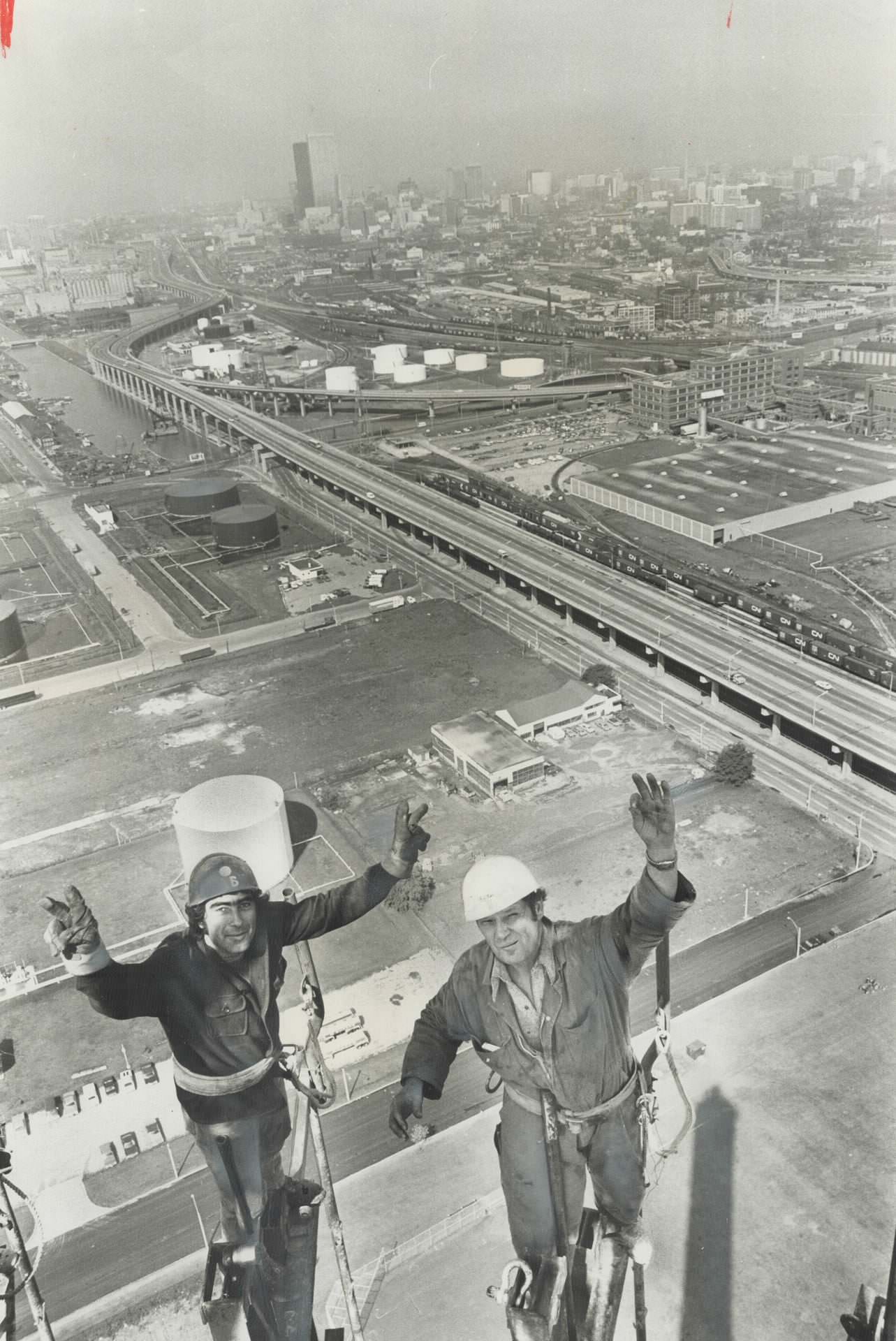 Okay sign from 450-feet up. Riggers Fern Morin; left; and Emile Lebond; gave okay signs yesterday as they finished the last foot of the 450-foot incinerator chimney being built at the Metro incinerator on Commissioner St. The chimney which took Taylor Engineering took Taylor Engineering employees seven weeks to build; still has to have a steel jacket built inside. It will replace two smaller chimneys.
#121

Queen St. W. and Portland St., summer of 1976.
#122

Page Bros manufactured soaps, other cleaning supplies, and industrial chemicals, 1970s
#124

Miles For Millions 1970s
#125

Texaco station, 1970s. Toronto city hall in the background.
#126

Looking north toward 335 Jarvis, then the Keystone Hotel. Jarvis Street Baptist Church tower peeking out behind, 1970s
#127

Another view of the Premium gas station at 789 St. Clair West, back in 1976
#128

Premium gas station, 789 St. Clair West, 1976.
#129

A house at 94 Walpole Avenue, back in 1978.
#130

Kingsway Theatre on Bloor Street, 1970s .It was double bill with Mansion of the Doomed and the Texas Chainsaw Massacre.
#131

Subways of Toronto, 1970s