Ernest Howard Shepard, also known as E.H. Shepard, was a British artist and illustrator best known for his drawings of Winnie-the-Pooh and the other characters from A.A. Milne's classic children's books. Shepard's illustrations were first published in 1926 and have become an iconic representation of the beloved characters.
Shepard's illustrations of Winnie-the-Pooh and his friends, Piglet, Eeyore, Tigger, and Kanga, were characterized by their simple, clean lines and expressive, cartoon-like style. He drew the characters in a way that was both childlike and sophisticated, capturing the innocence and wonder of childhood while also conveying a sense of humor and playfulness.
Shepard's illustrations were also noted for their attention to detail and realism. He took great care to depict the characters and their surroundings in a way that was true to life while also adding his unique artistic vision. For example, his illustrations of the Hundred Acre Wood, where Pooh and his friends live, were based on the real-life Ashdown Forest in Sussex, England, where A.A. Milne lived and wrote the Pooh stories.
Shepard's illustrations of Winnie-the-Pooh and the other characters have become an enduring symbol of childhood and have been widely reproduced in books, toys, and other merchandise. Shepard's illustrations are considered an essential part of the legacy of A.A. Milne's classic stories. They have helped to make Winnie-the-Pooh one of the most beloved and recognizable children's characters of all time.
In addition to his illustrations for Winnie-the-Pooh, Shepard also illustrated other books, including "The Wind in the Willows" by Kenneth Grahame, "When We Were Very Young" and "Now We Are Six" by A.A. Milne, and many more. He was also an accomplished landscape artist and had exhibitions of his works in London. He was awarded the Order of Merit in 1976 and passed away in 1976.
#2

He nodded and went out …and in a moment I heard Winnie-the-Pooh bump, bump, bump – going up the stairs behind him.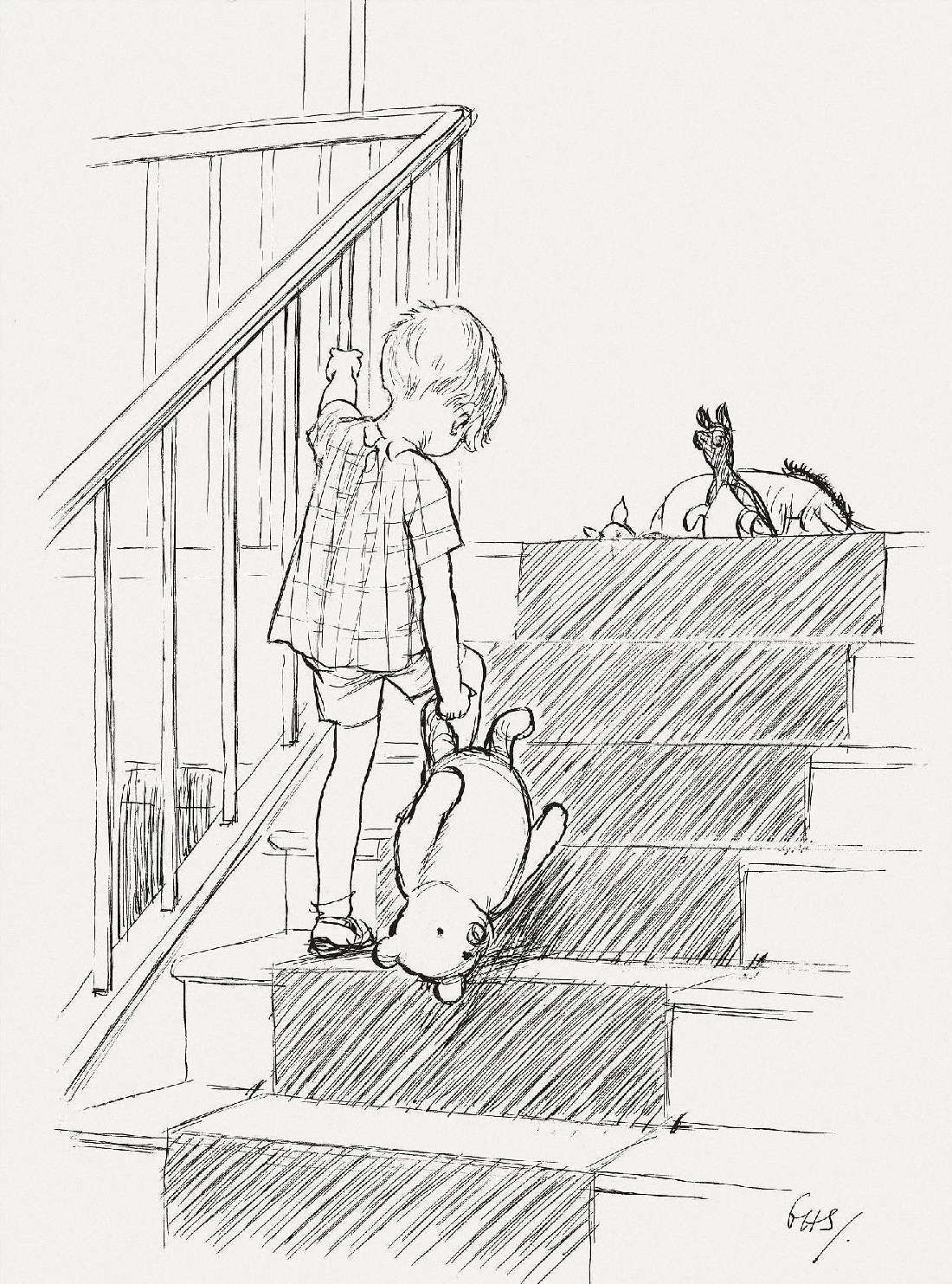 This original illustration is reproduced on page 159 of Winnie-the-Pooh and comprises a full-page illustration in the published volume. It represents one of the iconic images of Winnie-the-Pooh and comes from the final chapter in which Christopher Robin gives a Pooh party, and we say good-bye.
#3

What do you see there, Tracks, said Piglet. "Paw-marks…"
#4

What? said Piglet, with a jump.
#6

This illustration of Eeyore with holly, Pooh with a jar of honey and Piglet with a Christmas cracker comprises the original illustration for the only known Christmas card
#7

Do You See Piglet? Look At Their Tracks!
#8

There was a little left at the very bottom of the jar,and he pushed his head right in
#9

With these few words he went on tracking, and Piglet,after watching him for a minute or two, ran after him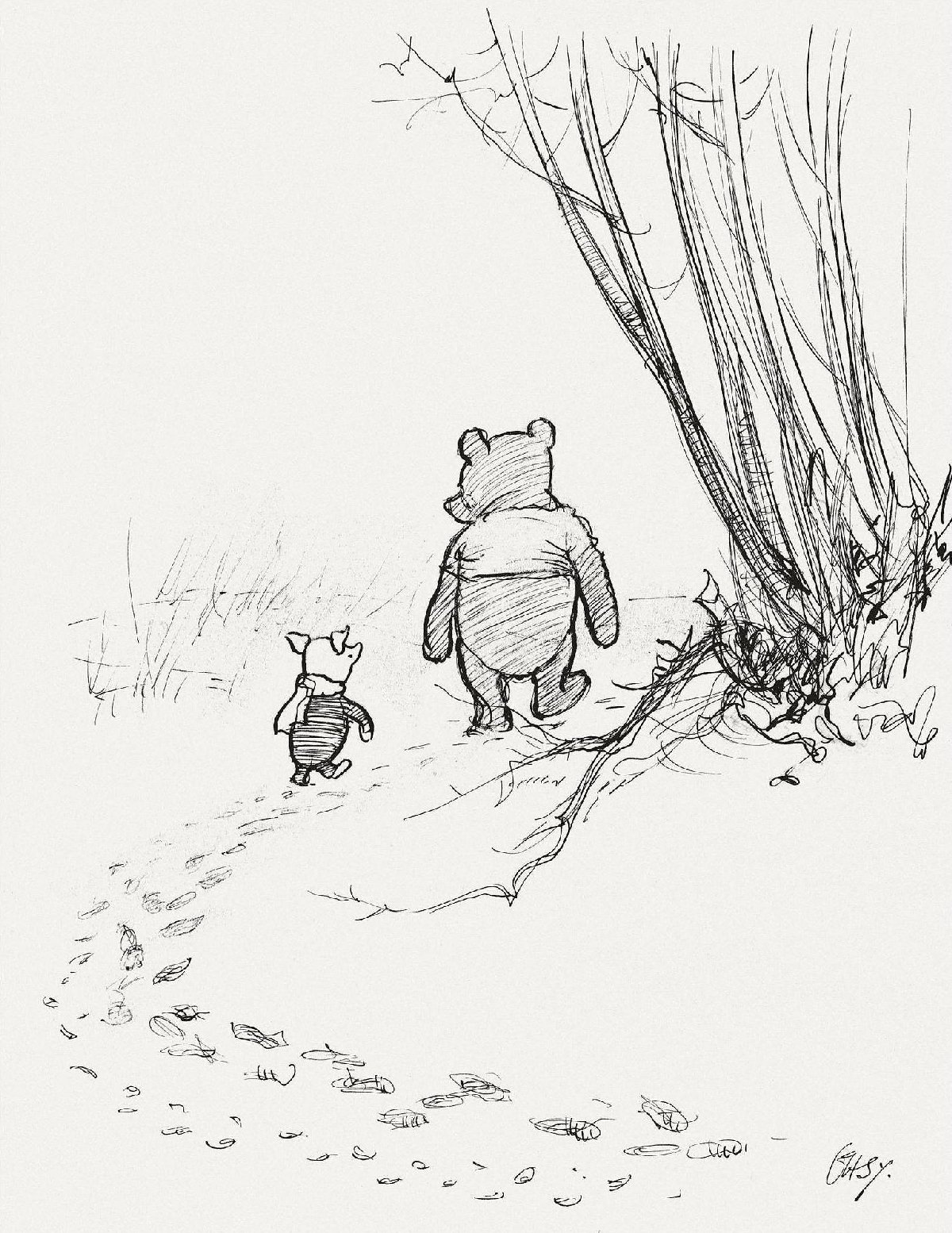 This original illustration is reproduced on page 35 of Winnie-the-Pooh and comprises a full-page illustration in the published volume. It is from the chapter in which Pooh and Piglet go hunting and nearly catch a woozle. It is the second drawing in the sequence of hunting illustrations.
#10

Christopher Robin finished the mouthful he was eating and said carelessly
#11

I'm not throwing it, I'm dropping it Eeyore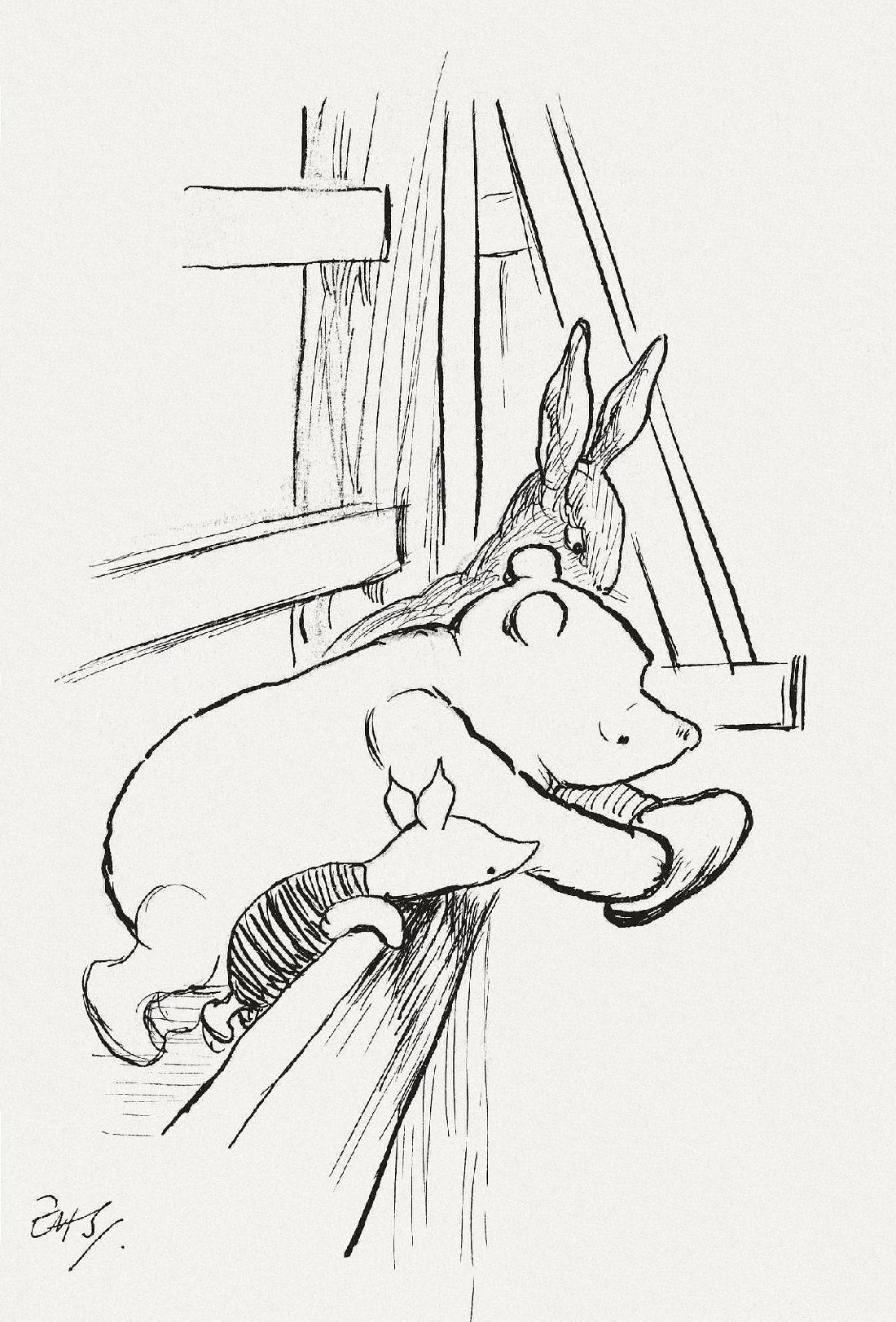 Pooh had got the biggest stone he could carry, and was leaning over the bridge, holding it in his paws. This original illustration was reproduced on page 98 of The House at Pooh Corner and is from the chapter in which Pooh invents the game of Poohsticks. At this point Eeyore had fallen into the river and Pooh, Piglet and Rabbit were attempting to make waves to wash him to the bank.
#12

Just the house for owl. Don't you think so, little Piglet
#13

Lucky we know the forest so well or we might get lost.
#14

Piglet gets ready for the party.
#16

The Bathmat Christopher Robin gave a deep sigh… At the door he turned and said, "Coming to see me have my bath?"
#21

"Pooh!" he cried. There's something climbing up your back.
#22

Then they went on to Kanga's house, holding on to each other
#23

And when Christopher Robin had nailed it on in its right place again, Eeyore frisked about the forest
#24

Tailpiece illustration to AA Milne's 'Wind on the Hill
#25

As soon as he got home, he went to the larder; and he stood on a chair, and took down a very large jar of honey from the top shelf.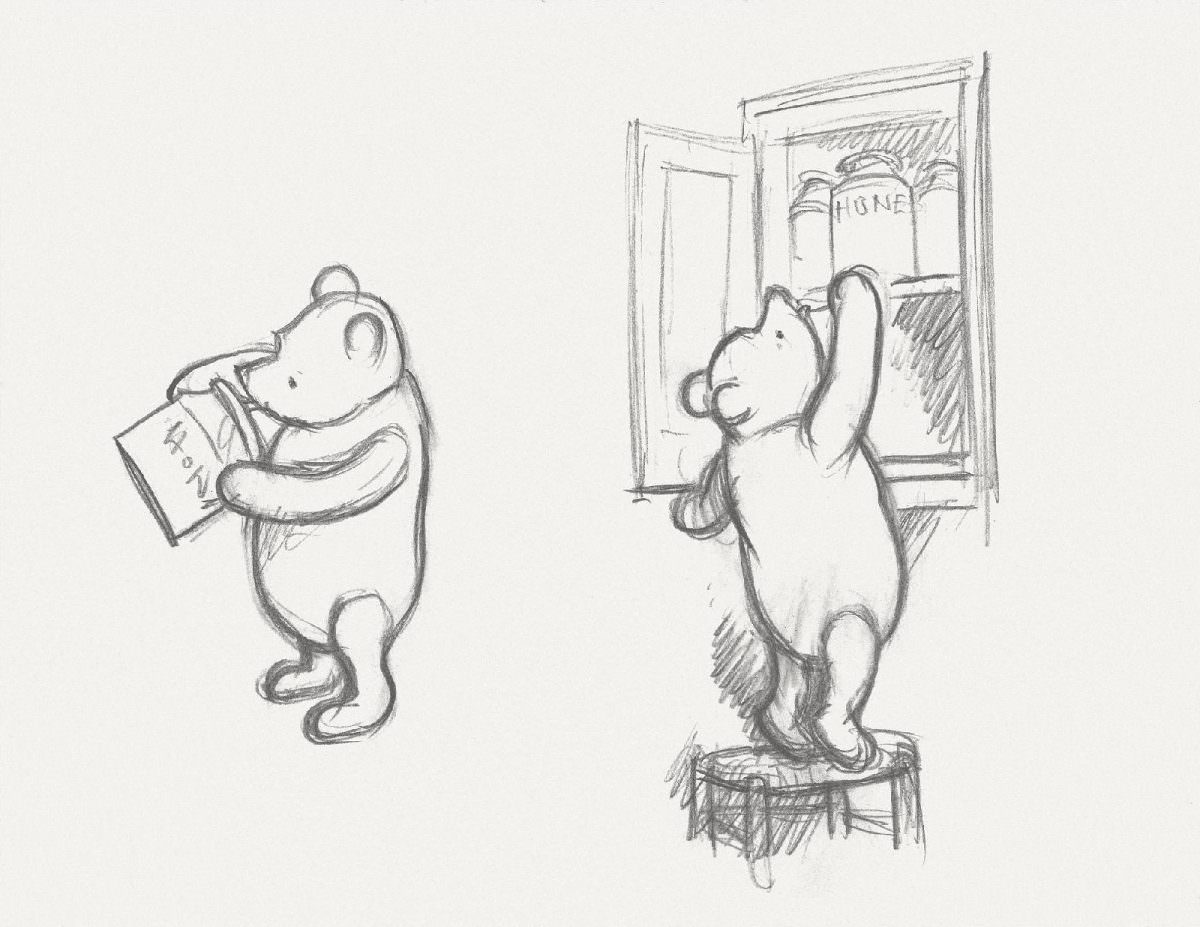 These preparatory sketches reveal Shepard's typical working practice with the reverse of the leaf prepared with pencil rubbing for transfer of outlines. The images show some heavy pencil markings where Shepard has heavily pressed down on his pencil for the process. The images are early since the spelling of Hunny has not yet been adopted within the illustration.
#26

Winnie-the-Pooh lived in a forest all by himself under the name of Sanders."What does 'under the name' mean? asked Christopher Robin. It means he had the name over the door in gold letters, and lived under it…
#28

There was a little left at the very bottom of the jar,and he pushed his head right in