Margaret Nolan was a glamour model and actress; she was briefly known as Vicky Kennedy in the early 1960s. Margaret made her screen debut with the role of Julie in "Saturday Night Out" in 1964. She was known for her role as Dink, in the James Bond film Goldfinger. In the 1970s, Norland worked in several Carry-on films that perfectly illustrated her acting and comedy skills. She also appeared in several TV shows and theatre productions.
In 1967 Margaret Nolan married to English playwright Tom Kempinski, the marriage lasted for five years and ended in a divorce. In 2011, Nolan returned to screen after a long gap of thirty years. She starred as Dame Margaret in Yvonne Deutschman's "The Power of Three."
Margret Nolan's death
Margret Nolan died on 5 October 2020 at the age of 76. She is survived by her two children, Deeks, and Luke O'Sullivan.
Take a look at these fabulous photos of young Margaret Nolan over the years.
#1

Margaret Nolan posing on a sofa, 1960s
#3

Margaret Nolan posing in black top
#4

Margaret Nolan in her garden
#5

Margaret Nolan in a tiger print halterneck top, 1965
#6

Margaret Nolan on location in Brighton for the filming of 'Carry on at your Convenience', UK, 4th May 1971.
#7

Margaret Nolan with Bernard Bresslaw during the filming of 'Carry On at Your Convenience', Brighton, 1971
#8

Beautiful Margaret Nolan, 1960s
#9

Young Margaret Nolan, 1963
#10

Margaret Nolan showing her skirt, 1965
#11

Beautiful Margaret Nolan, 1967
#12

Margaret Nolan in a bikini, 1968
#13

Margaret Nolan and Barbara Windsor in the film 'Carry On Girls', 1973.
#15

Margaret Nolan sitting on a donkey in Carry on Girls, 1973
#17

Margaret Nolan photographed in her house, 1960s
#18

Margaret Nolan in red dress, 1965
#19

Margaret Nolan during he television drama 'Compensation Alice' in 1967.
#20

Margaret Nolan with Bernard Bresslaw, during the filming of 'Carry On', 1971
#21

Margaret Nolan with Maurice Ronet, 1965
#22

Margaret Nolan with Leon Thau and Clive Dunn in the 'Filthistan Trio' sketch from the television show 'The World of Beachcomber', January 15th 1968.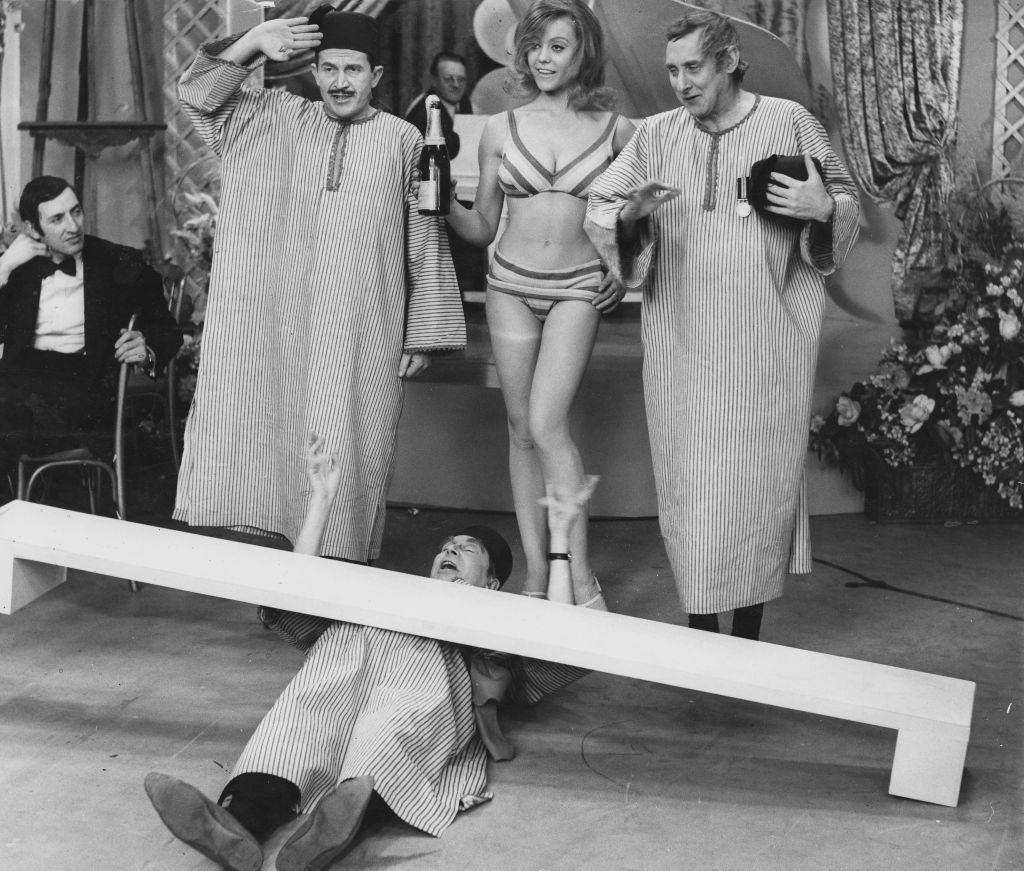 #23

Margaret Nolan with Sean Conneryin Goldfinger, 1964
#24

Margaret Nolan in Carry on Girls, 1973
#25

Margaret Nolan in black dress, 1960s
#26

Margaret Nolan getting out of a car to attend a party
#27

Margaret Nolan in red pant and shirt, 1960s
#28

Margaret Nolan during a fashion photoshoot
#29

Margaret Nolan at a Charles County, 1998
#30

Margaret Nolan in a basque and red heeled shoes whilst performing a striptease routine on stage circa 1965.
#31

Margaret Nolan in UK, 1971
#32

Margaret Nolan with Valerie Leon and Barbara Windsor in Carry on Girls, 1973
#33

Margaret Nolan posing on the beach
#34

Margaret Nolan in Carry on Girls, 1973