William James Hall was a prominent photographer in Australia during the early 20th century. Born in Sydney in 1877, Hall was the son of William Frederick Hall, a butcher and fingerprint expert who established a photographic studio in Sydney in 1890. After being schooled locally, young William joined his father to learn the art of photography and eventually took over the business around 1902. He set up Hall & Co. at 44 Hunter Street in 1904.
Hall was a keen sailor and developed a strong interest in sailing craft, resulting in one of the most valuable marine photographic collections in Australia. His collection of 3000 glass plates, now housed in the archives of the Royal Sydney Yacht Squadron, provides an in-depth and fascinating look at competitive and recreational sailing on Sydney Harbour, as well as the associated social activities. Hall's photographs are notable for their attention to detail, both in terms of the boats and the backgrounds, and his technical proficiency, given the limitations of his equipment at the time.
In addition to his maritime photography, Hall was known for his work in livestock photography, which he was widely considered to have pioneered in Australia. Some of his best works appeared in a four-volume record of pastoral life, "The Pastoral Homes of Australia" (1910-14), and were published in leading pastoral journals, including the Pastoral Review and Graziers' Record. In 1928-1929, Hall made a tour of South Africa to photograph merino studs.
Hall's portfolio was not limited to marine and livestock photography, as he was also experienced in other genres, including landscape photography, portraiture, city and rural life, aerial photography and military work. He married twice in his lifetime, with his second wife, Edith Hannah Gilkes, whom he married in 1940. He lived in Mary Street, overlooking the Lane Cove River, and passed away in 1951 at St Luke's Hospital, Darlinghurst.
William James Hall was a versatile and skilled photographer who made a significant impact in the photography industry in Australia. He was admired for his artistic eye, technical proficiency and his wide-ranging interests in different photography genres, which have left a lasting legacy for future generations to appreciate.
#1

Portrait of mother and child, possibly of the surname 'Gordon'
#2

Children playing in Victorian era clothing
#3

Aboriginal people in bark canoes, location unknown
#4

Aboriginal people in bark canoes, location unknown
#5

Children dressed in Victorian era clothing
#6

Portrait of a wedding party on the steps of St Marys Cathedral, Sydney
#7

Portrait of a bride and groom
#8

Bride and groom walking down St Marys Cathedral steps, Sydney
#9

Bride and groom leaving St Marys Cathedral, Sydney
#10

Mrs J Wilson and Miss Hastie winning the Ladies Double Sculls at the Pittwater Regatta
#11

Three people in a rowing boat, possibly Sydney Harbour
#12

Swimmers at Bondi Beach
#13

The launch Australia with spectators sailing on the harbour
#14

Portrait of two women seated
#15

Portrait of a man mounted on a horse
#16

Group portrait featuring two ladies and a man reading a paper
#17

Group portrait of three women wearing glasses
#18

Group portrait of spectators waiting for a race
#19

Women sitting on beached skiffs at the Pittwater Regatta
#20

Portrait of four men and women aboard a ship on Sydney Harbour
#21

Two men seated in a motor launch, MISS PHYLISS, on Sydney Harbour
#22

Cadets of the Imperial Japanese Navy on a steam pinnace
#23

Women participating in the American Australian League of Help War Chest Day
#24

Spectators watching a sailing race aboard the ferry Newcastle
#25

Portrait of jockeys at a clubhouse
#26

Motor launch Miss Phyllis docking next to a larger launch
#27

Photograph of a jockey on a horse
#28

Portrait of a bagpipe band
#29

Portrait of a male and female performer 'De Coppola'
#30

Portrait of a two performers
#31

Portrait of two young girls
#32

Motor launch carrying a group of spectators on Sydney Harbour
#33

Women with rowing oars, Sydney
#34

Group portrait of an unknown family
#35

Two girls in fancy dress, one holding a sign saying 'Keep off the grass'
#37

Spectators watching a presentation of Queen of the Harbour, Clark Island
#38

Yacht crew on a beach, Sydney Harbour
#39

Crew of the yacht Gerard on Sydney Harbour
#40

Spectators onboard Naomi, Sydney Harbour
#41

Crew and officials of the Pittwater Regatta on Naomi, Sydney Harbour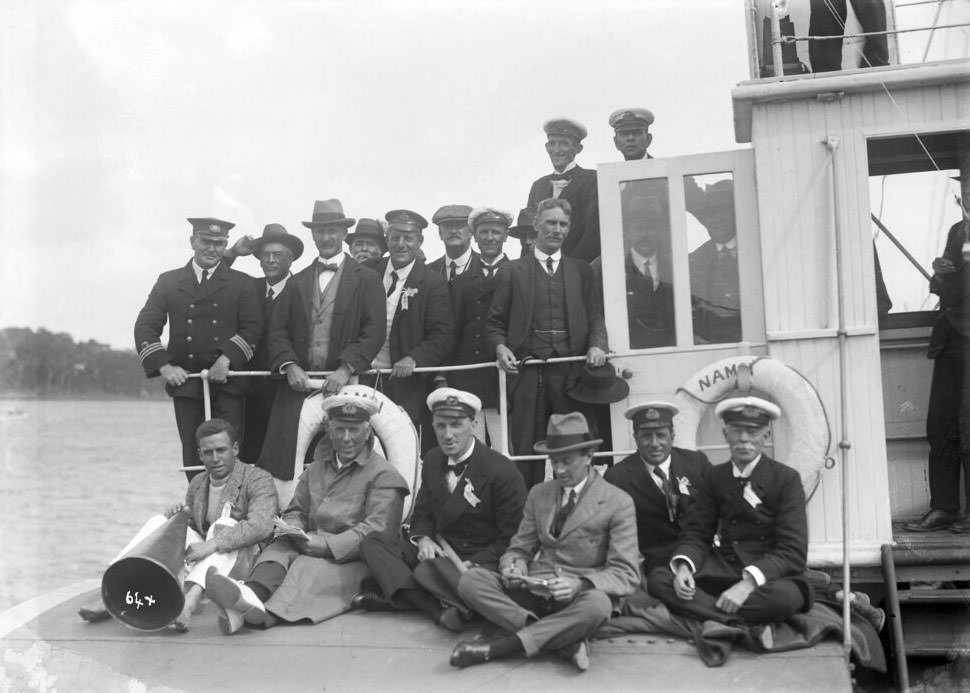 #42

Mr John Roche (left), Mr F. J. S. Young (right) and an unidentified man onboard Naomi, Sydney Harbour
#43

A wooden church, Australia
#44

Portrait of six men standing outside SCEGS Boatshed, Berry's Bay
#45

Four men outside SCEGS boatshed, Berrys Bay
#46

Men in yachting uniforms standing on the verandah of an unidentified yacht club
#47

Portrait of a woman with a young girl on her lap
#48

Cars parked at Pittwater for a sailing event
#49

Portrait of a two performers
#50

Portrait of a two performers
#51

Portrait of a two performers
#52

Portrait of three women, 1930.
#53

Portrait of a two performers
#54

Portrait of a two performers