Pearl Harbor was attacked by the Imperial Japanese Navy Air Service just before 08:00 on December 7, 1941, on the naval base at Pearl Harbor in Honolulu, Territory of Hawaii. While planning the attack, the Japanese military leadership referred to it as the Hawaii Operation and Operation AI. The next day, the United States formally entered World War II.
During the summer of 1941, the Japanese government decided to attack Pearl Harbor after the United States cut off its oil exports to Japan. With the United States providing 80 percent of its oil, Japan's navy would not operate. During the Japanese attack on Pearl Harbor, they hoped to cripple or destroy the US Pacific Fleet, thereby allowing their navy free access to the Pacific.
Congress declared war on Japan that day, as Roosevelt requested in his speech. Three days later, Japan's allies Germany and Italy declared war on the United States, and Congress reciprocated the same day. US entry into the war was no longer opposed domestically. America was now engaged in two simultaneous wars in the Pacific and Europe.
Here are some rare photos were taken by LIFE photographer Bob Landry from Hawaii and the mainland following the 1941 attack.
#1

Exposed wreckage of the American battleship U.S.S. Arizona, most of which is now resting at the bottom of Pearl Harbor following a surprise Japanese attack on Dec. 7, 1941.
#2

A rally at the Brooklyn Navy Yard, December 1941.
#3

B-17 Bomber planes soaring through the sky, December 1941.
#4

Vice Admiral Joseph "Bull" Reeves, Waikiki Beach, December 1941.
#5

A poster at the Brooklyn Navy Yard calls for vigilance, December 1941.
#6

The Brooklyn Navy Yard by night, 1941.
#7

A Naval officer — dwarfed by the vessel in his view — gazes at a cruiser's propeller at the Brooklyn Navy Yard, 1941.
#8

A worker on break at the Brooklyn Navy Yard, 1941.
#9

One of the earliest vessels on display at the Brooklyn Navy Yard: the Intelligent Whale, a 19th-century hand-cranked submarine.
#10

A hastily constructed defense bunker, Hawaii, early 1942.
#11

Training with gas masks in Hawaii, early 1942.
#12

American troops in Hawaii, days after the attack on Pearl Harbor.
#13

Troops in Hawaii, early 1942.
#14

Men dig a post-Pearl Harbor defensive trench in Hawaii, December 1941.
#15

Troops shore up defenses in Hawaii in the weeks after Pearl Harbor.
#16

Post-Pearl Harbor training and patrol in Hawaii, early 1942.
#17

Young defenders beside a mounted machine gun, Hawaii, December 1941.
#18

Aboard an American warship, Pearl Harbor, early 1942.
#19

A sailor chalks a message to America's fighting men from the Office of the Chief of Naval Operations on a warship at Pearl Harbor.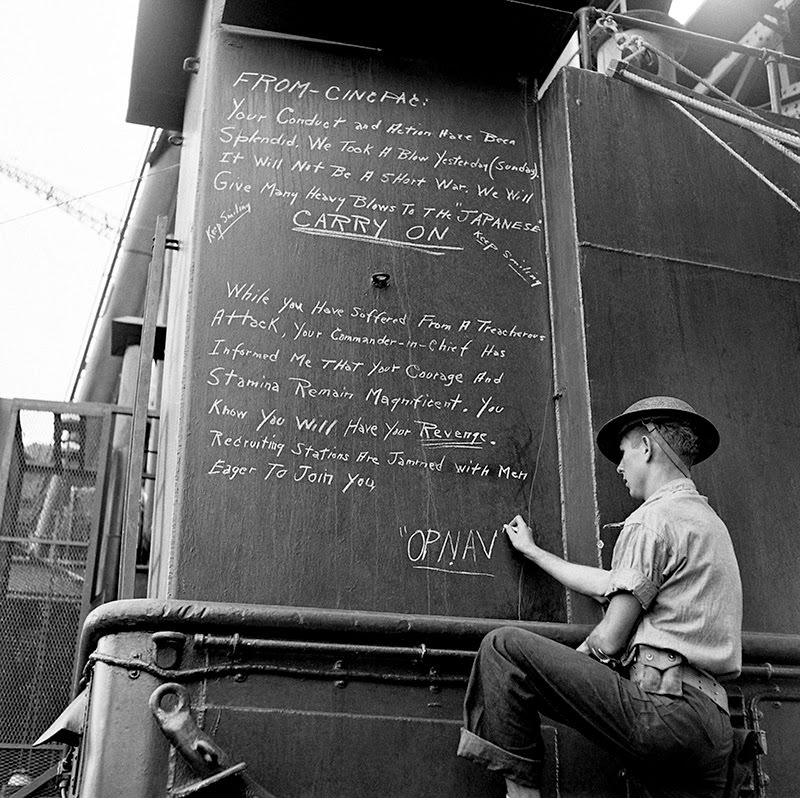 Your conduct and action have been splendid. While you have suffered from a treacherous attack, your commander-in-chief has informed me that your courage and stamina remain magnificent. You know you will have your revenge. Recruiting stations are jammed with men eager to join you.
#20

An American warship's crew shows its spirit, Pearl Harbor, early 1942.