Classic America bombshell Marilyn Monroe, whose name was Norma Jeane. One of the most attractive actresses of the 1950s was emblematic of the era's attitudes towards sexuality. Her movies grossed $200 million by her death in 1962, equivalent to $2 billion in 2018. Marilyn's life was complicated, her father was absent throughout her life, and his identity is unknown; she often used Baker as her surname. She was sent to an orphanage when she was nine years old and had 11 sets of foster parents after her mother Gladys was institutionalized. She was married to her first husband, Jim Dougherty when she was only sixteen years old, and the marriage lasted for four years. Her private life also received much attention, especially her second and third marriages. She attempted suicide for the first time after the death of Johnny Hyde and the second time after she lost pregnancy. She started her career as a pinup model, and after that, she entered Hollywood.  Her figure was deemed more suitable for pin-up than fashion modeling. After a series of minor film roles, she became one of the most popular Hollywood stars. Today, she is recognizable for her performances in several movies and her unique elegance and style. Her dresses are worth millions today. She wore the dress she wore when she sang "happy birthday Mr. President" to John F. Kennedy sold for a world-record price at auction, bringing in $4.8 million. She also owned her own production company, Marilyn Monroe Productions. It only released one movie, The Prince and the Showgirl (1957). Marilyn Monroe loved to read. She loved James Joyce, Walt Whitman, and poet Heinrich Heine. According to Open Culture, when Monroe died in 1962, she left around 400 books behind, "many of which were later cataloged and auctioned off by Christie's in New York City."  She wrote her autobiography My Story at the height of her popularity (with help from her friend screenwriter Ben Hecht). The book was not published until a decade after her death. Marilyn was found dead in her Los Angeles bungalow on August 5, 1962, with an empty bottle of sleeping pills by her side. The exact events surrounding her death are still a mystery. We here at Bygonely have compiled a list of several moments of her life, starting from childhood to her deathbed, to pay tribute to one of the greatest actresses of all time. Let us know in the comments what do you think.
#1

Marilyn (born Norma Jeane Mortenson) at one year old, 1927.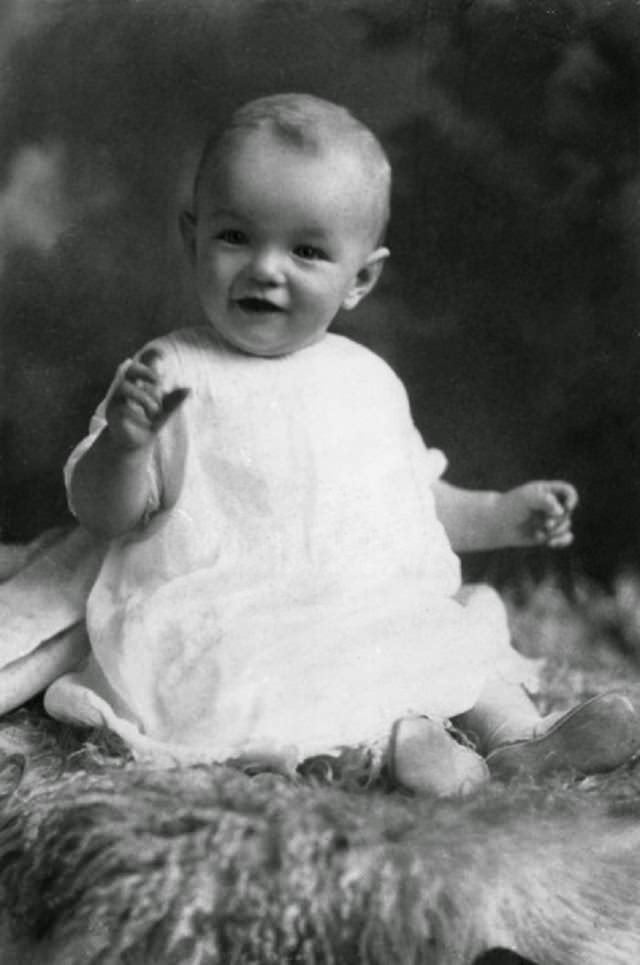 #2

3-Year-Old Norma Jeane with her mother at the beach, 1929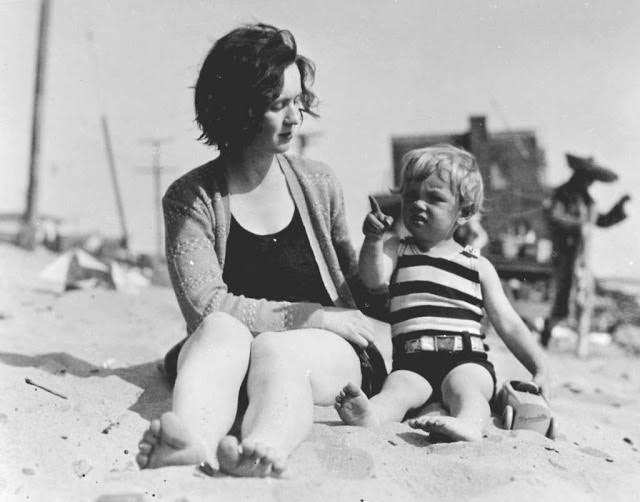 #3

Standing with other girl, 1929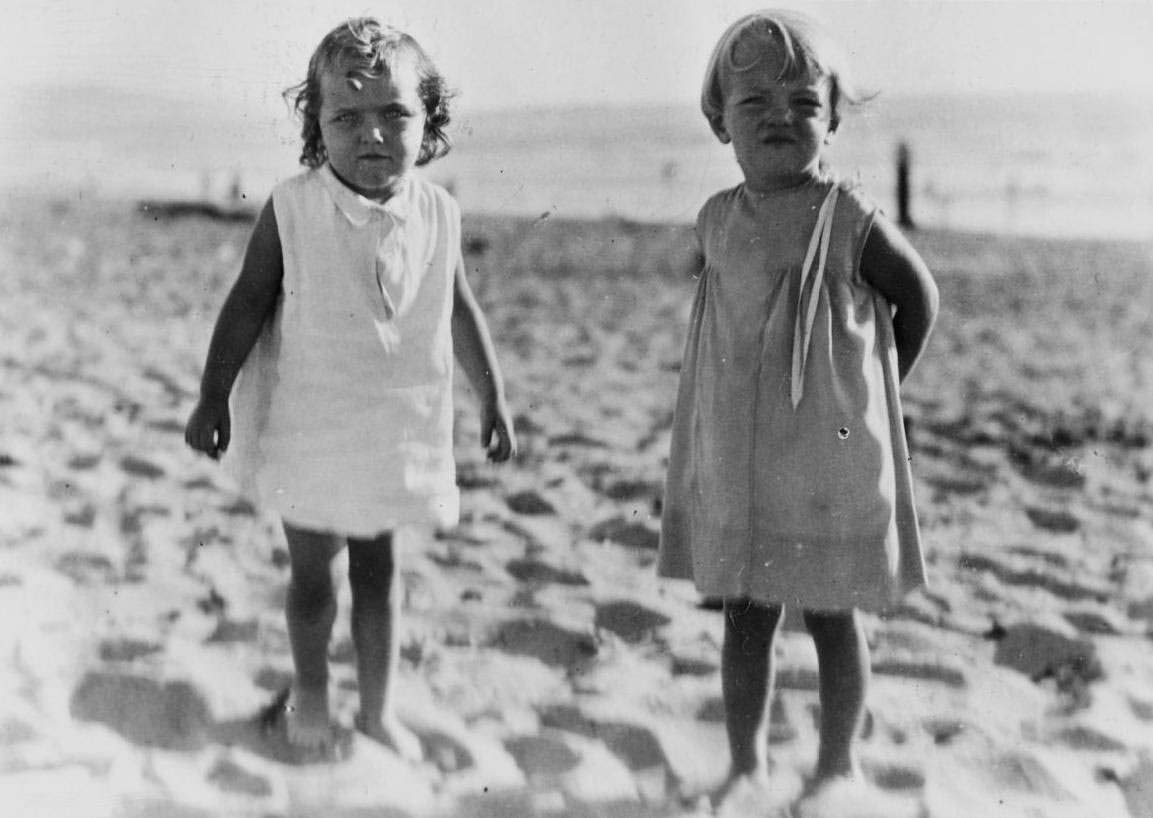 #4

Norma Jeane with a family, 1929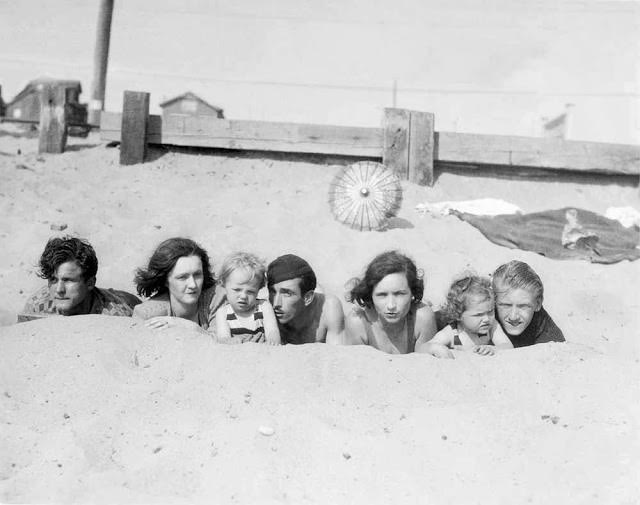 #5

At five years old, she had the bright blonde hair, 1931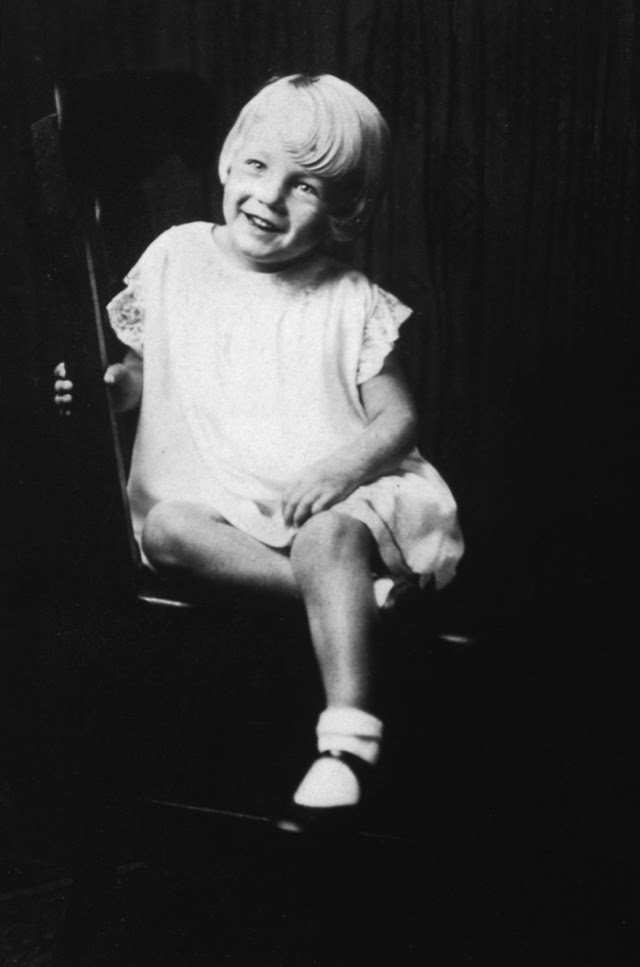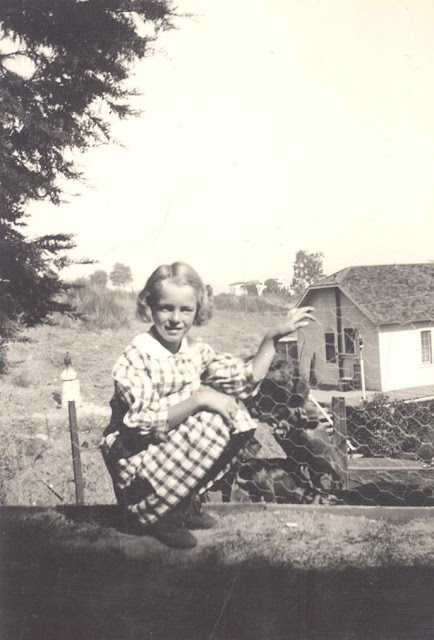 #7

6-year-old cute Norma Jeane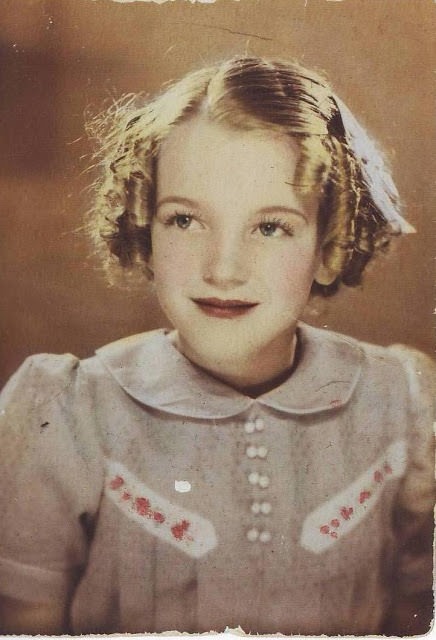 #8

Norma Jeane with her friend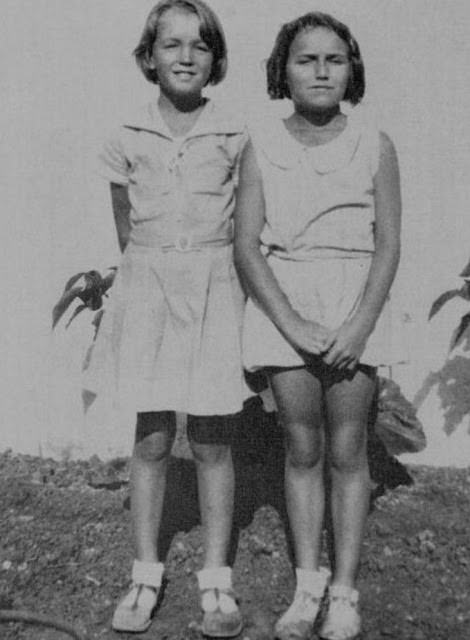 #9

15-year-old Marliyn, 1941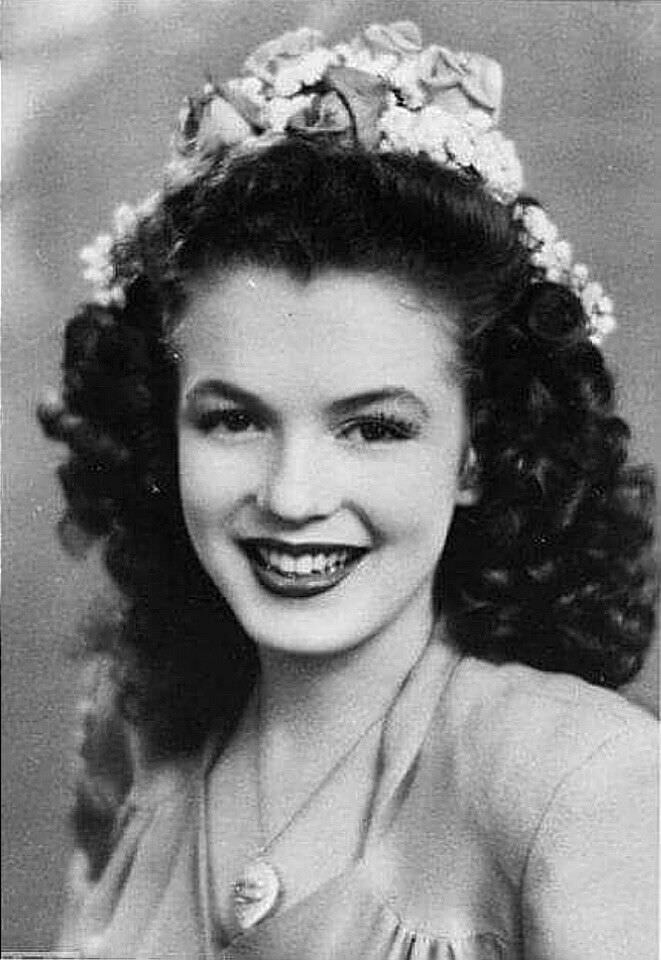 #10

Marilyn with her first husband James Dougherty, She was only 16 years old. The marriage lasted for four years.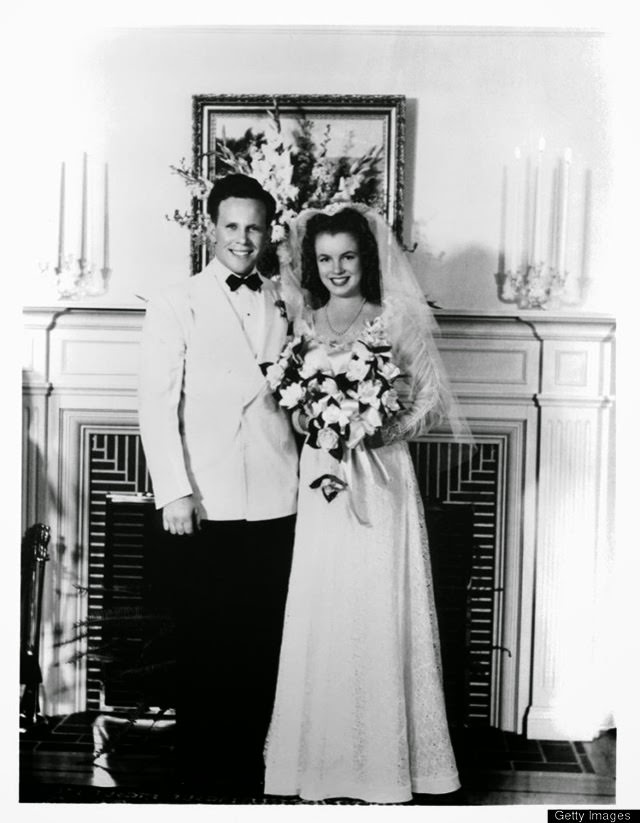 #11

Norma Jeane and Jim Dougherty's certificate of marriage.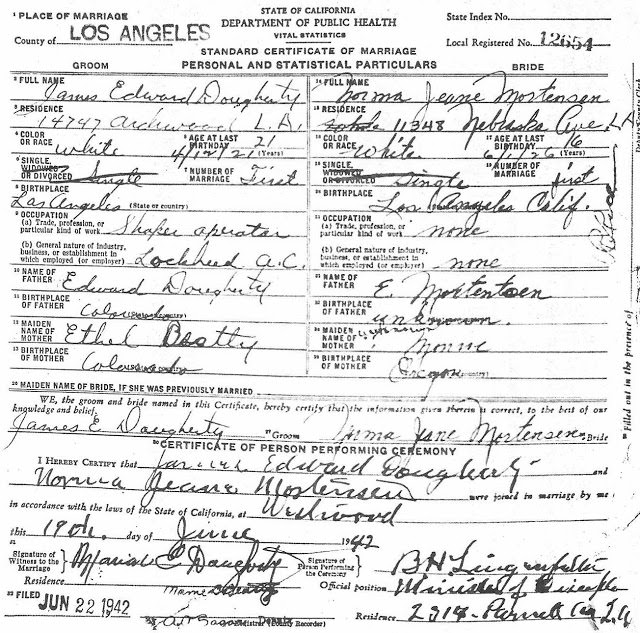 #12

19-year-old Norma Jean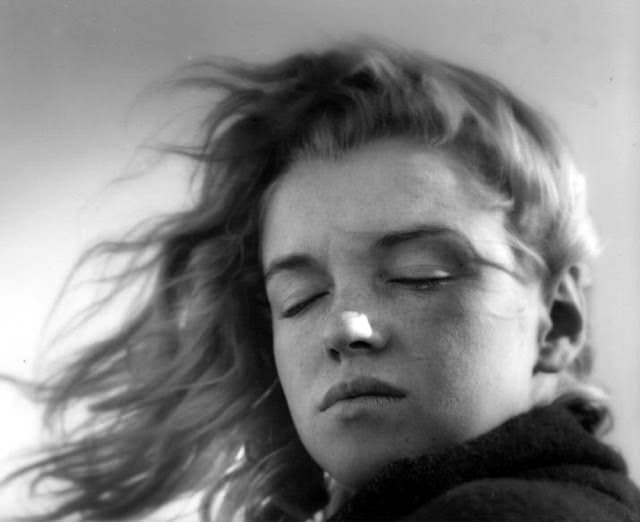 #13

Her first self-portrait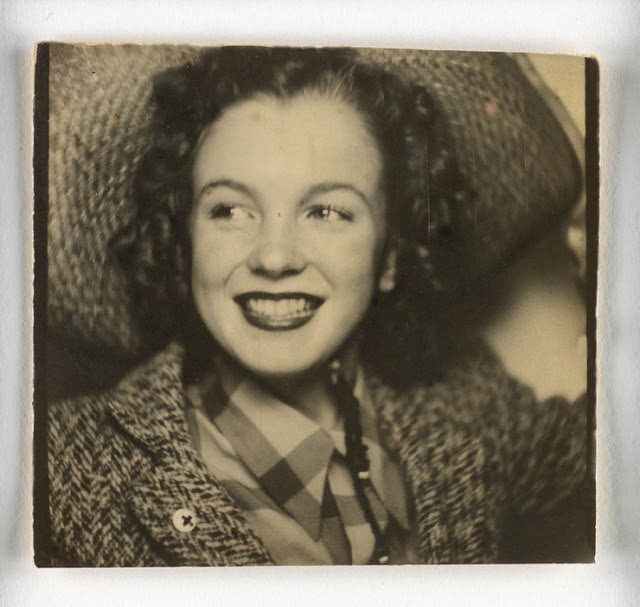 #14

Marilyn Monroe Hanging Out in the Pumpkin Patch, 1945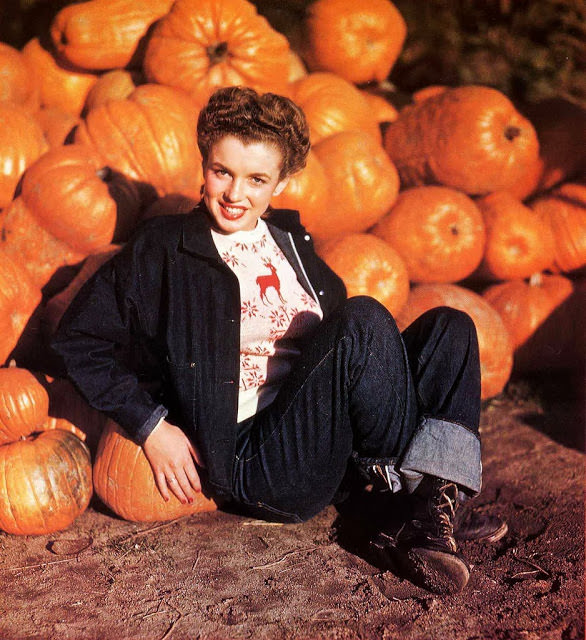 #15

Marilyn Monore assembling mini radio-controlled anti-aircrafts in1945, when she was 19 years old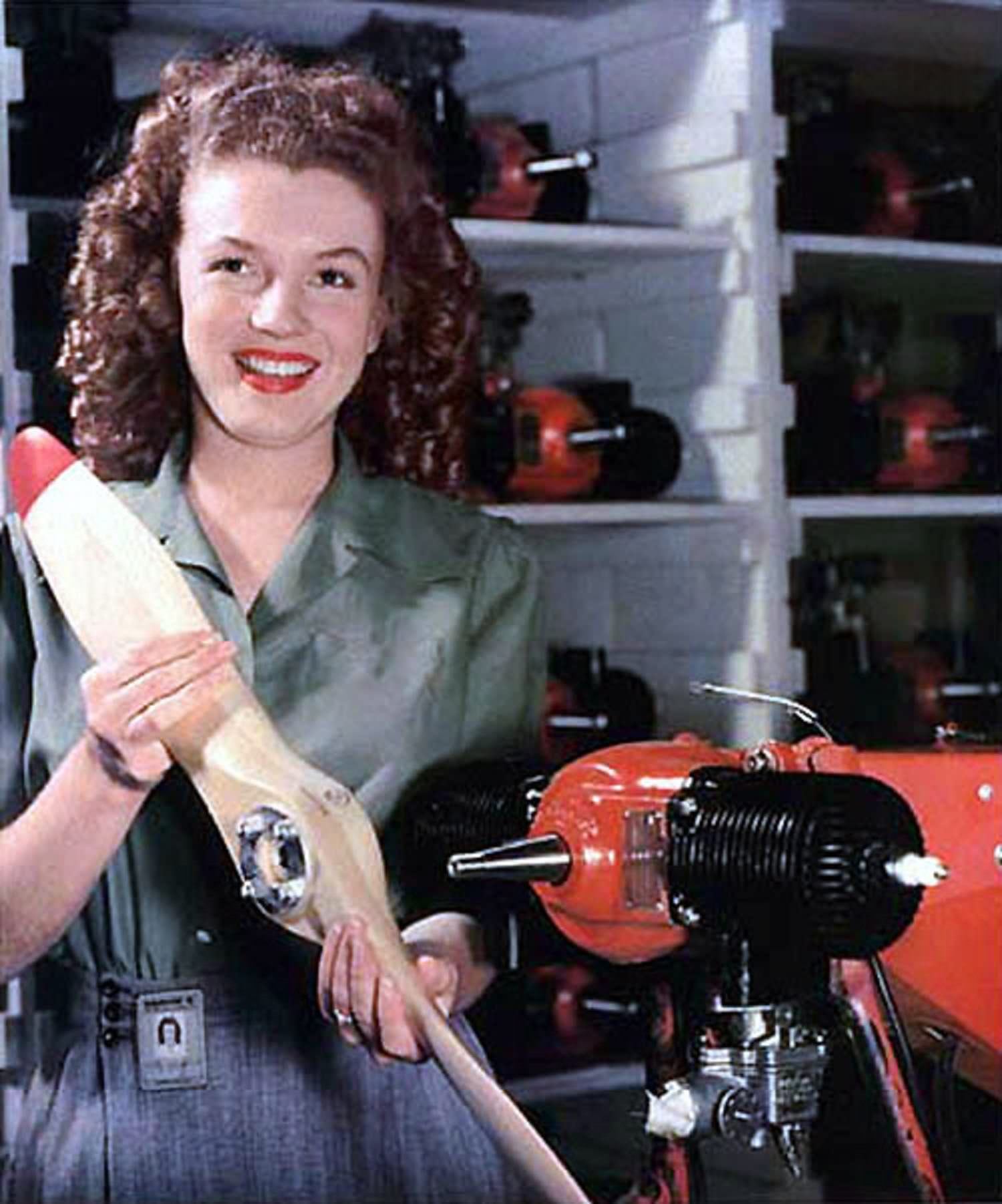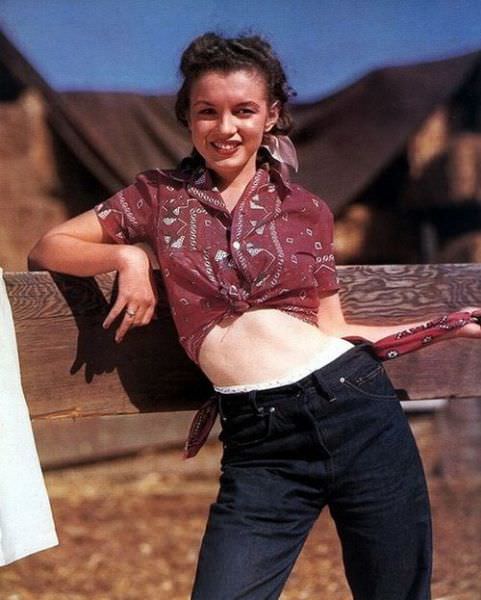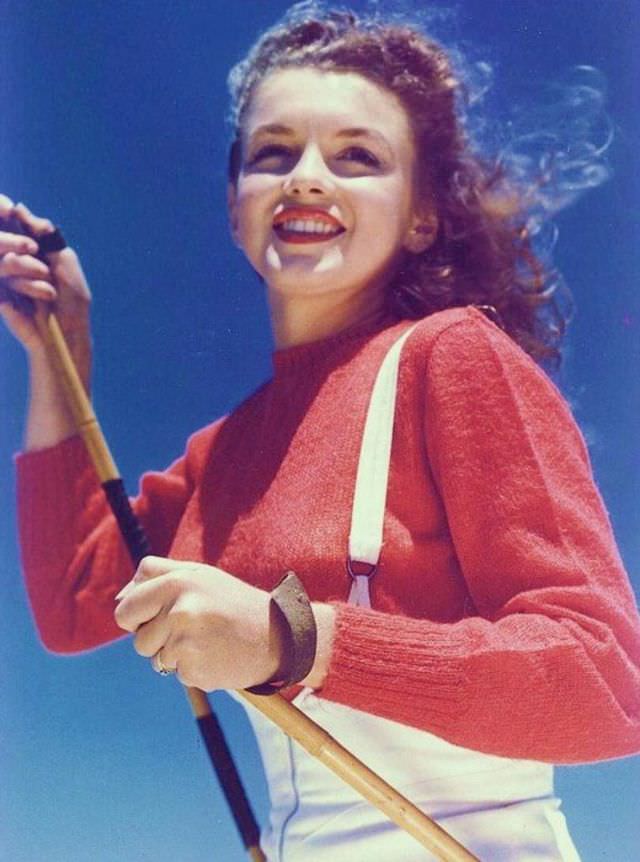 #18

Marilyn Monroe's Very First Photoshoot by Joseph Jasgur, 1946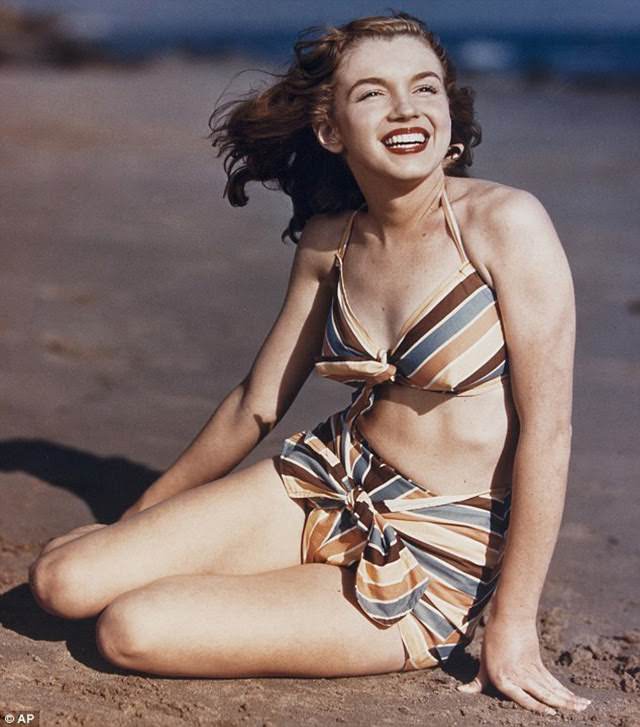 #19

Marilyn's First Professional Modeling Pictures by photographer Bill Carroll, 1946

#20

Goodbye Norma Jeane; Hello, Marilyn. Monroe circa 1947, shortly after she signed with 20th Century Fox and changed her name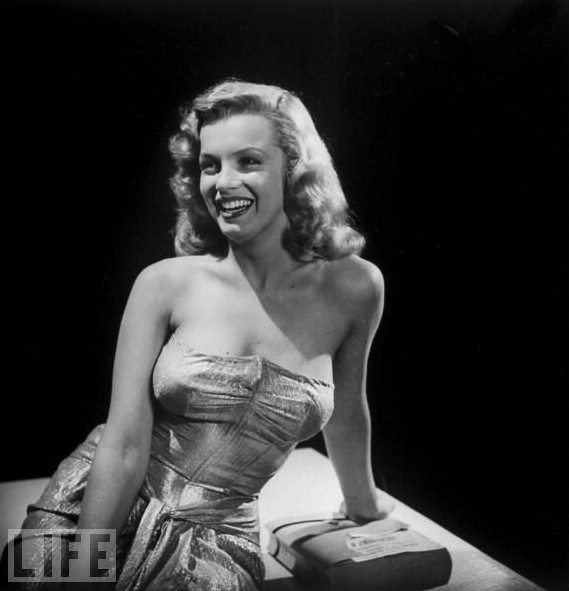 #21

Marilyn Monroe in a movie 'Dangerous years', 1947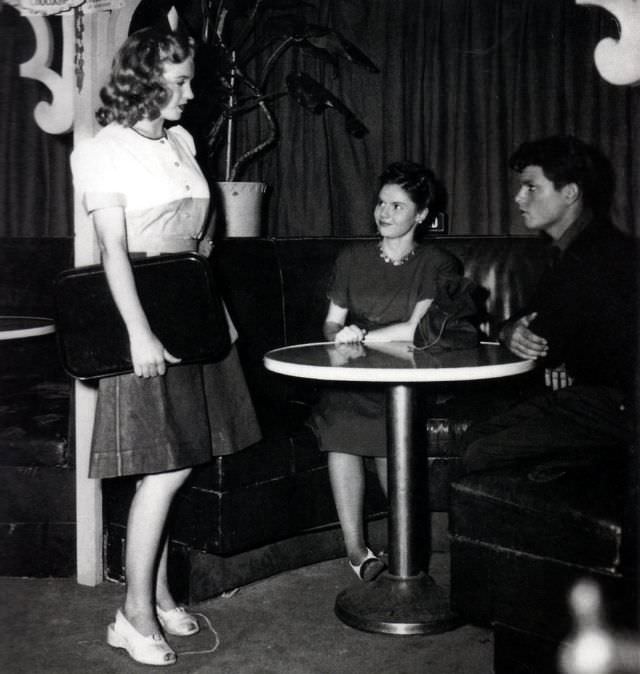 #22

She went back to blonde before taking this publicity shot for 20th Century Fox, 1947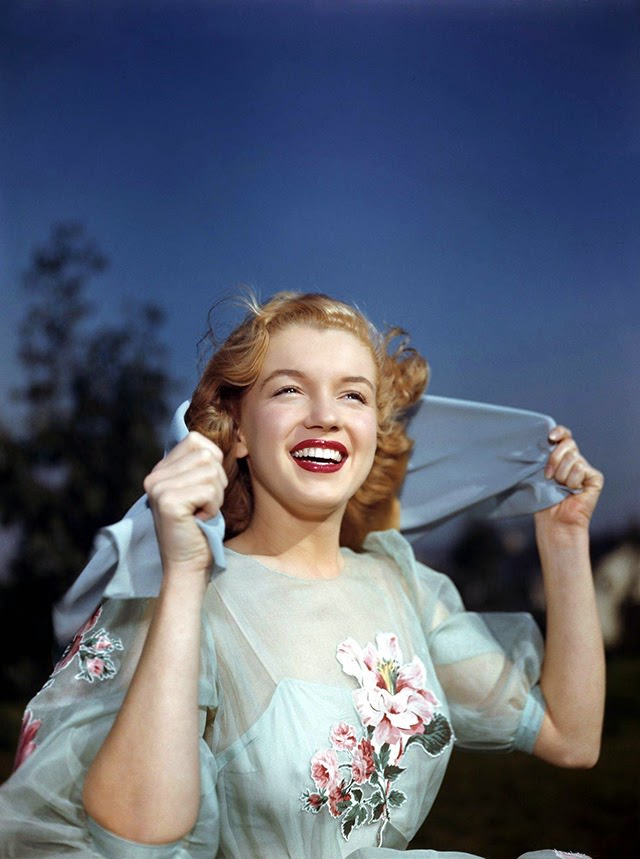 #23

Marilyn preps her skin with a skin brush before applying makeup, 1948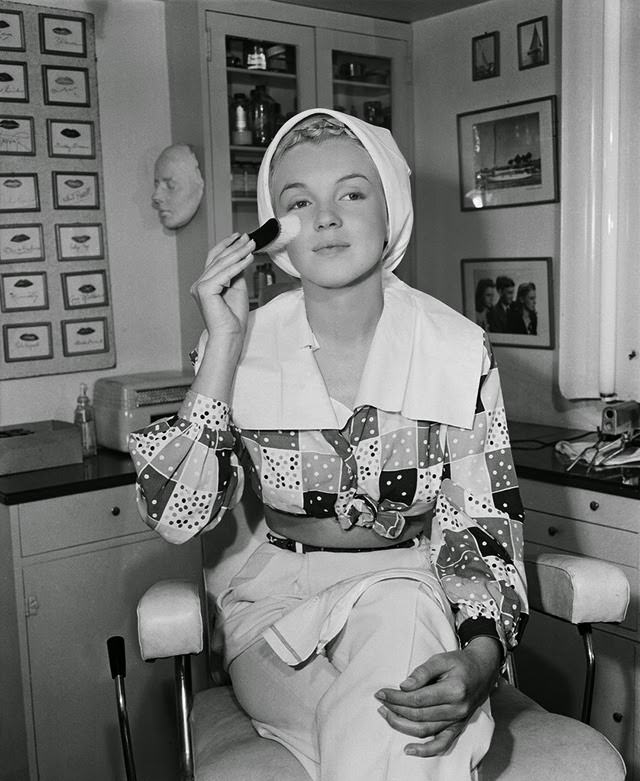 #24

Marilyn Monroe erotic photoshoot, 1948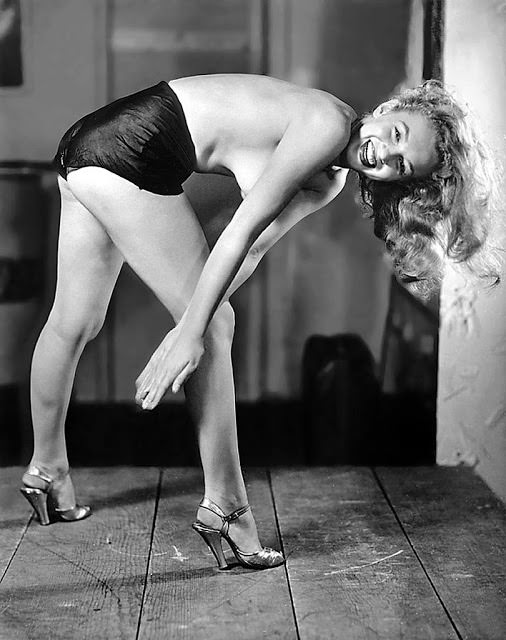 #25

Marilyn Monore in a dance class, 1948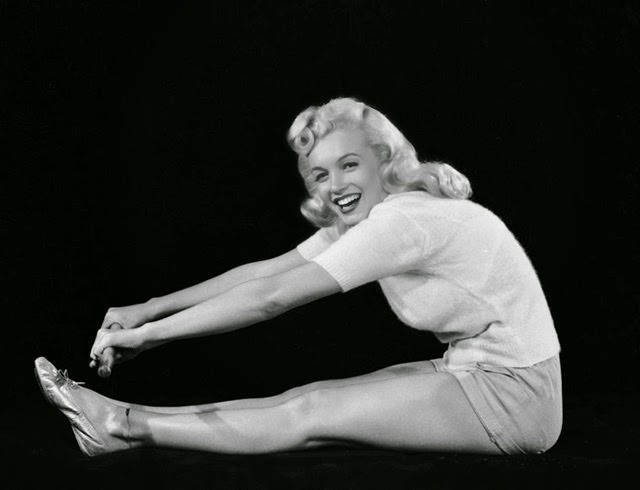 #26

Posing for perfect portrait, 1948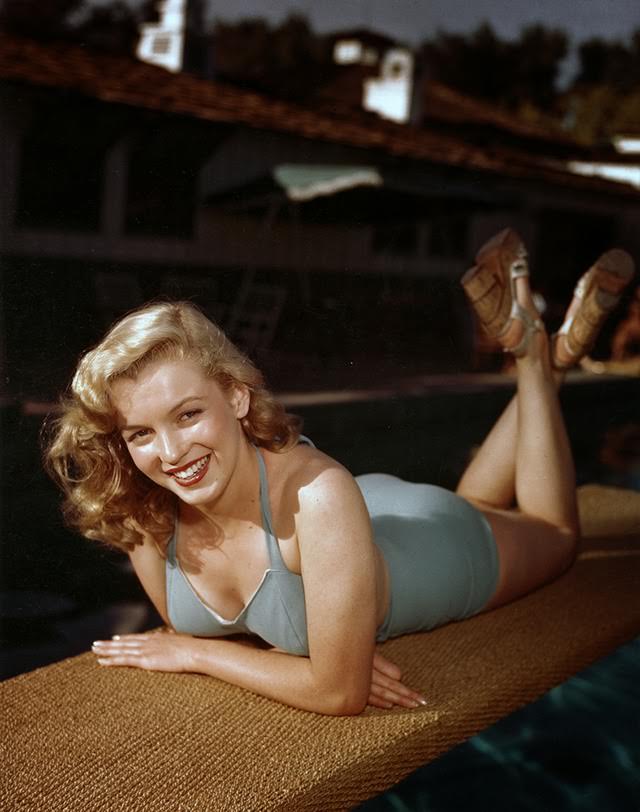 #27

Marilyn Monroe on a penny-farthing bike in 1949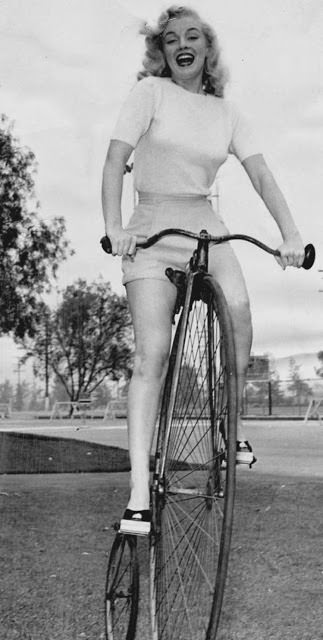 #28

Marilyn Monroe at Tobay Beach, Long Island, 1949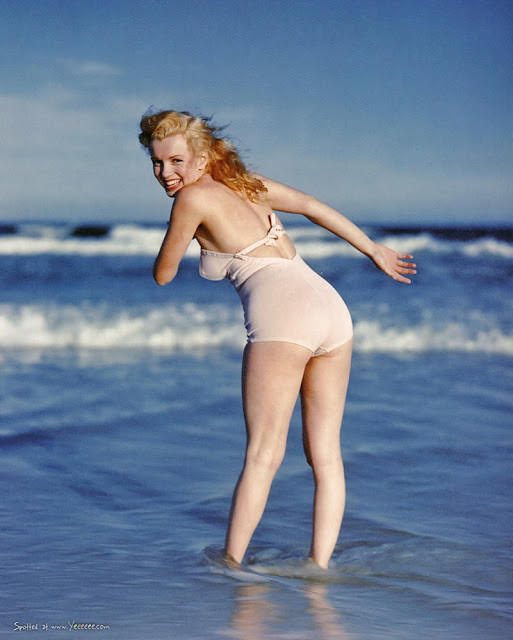 #29

Monroe In Dance Class. Feb. 11, 1949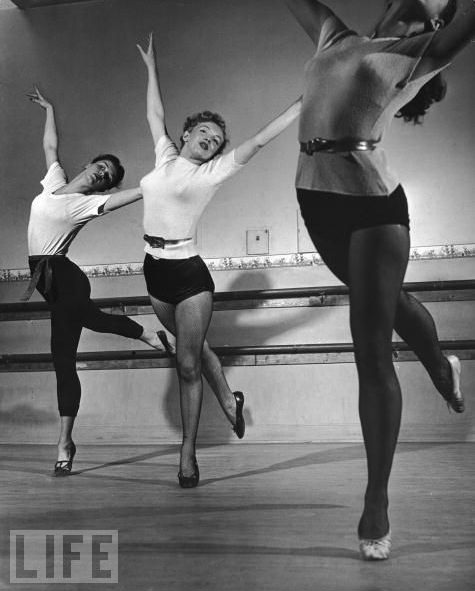 #30

Marilyn jokes around with two male friends in Los Angeles, 1950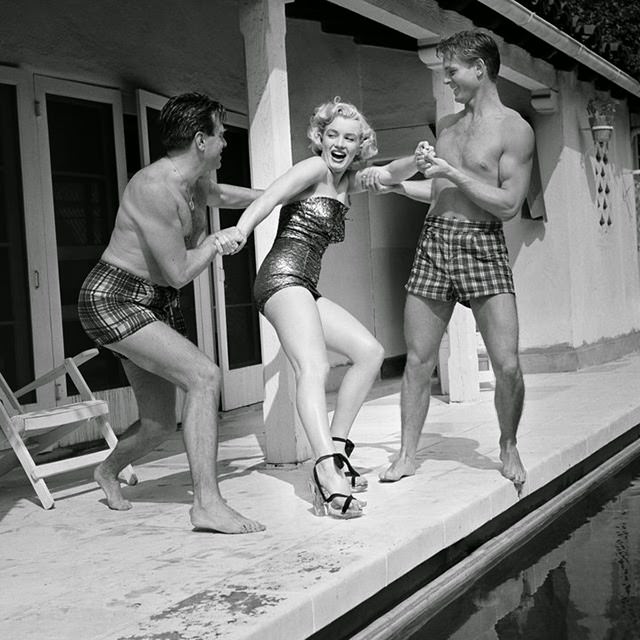 #31

Marilyn in strapless dress, 1950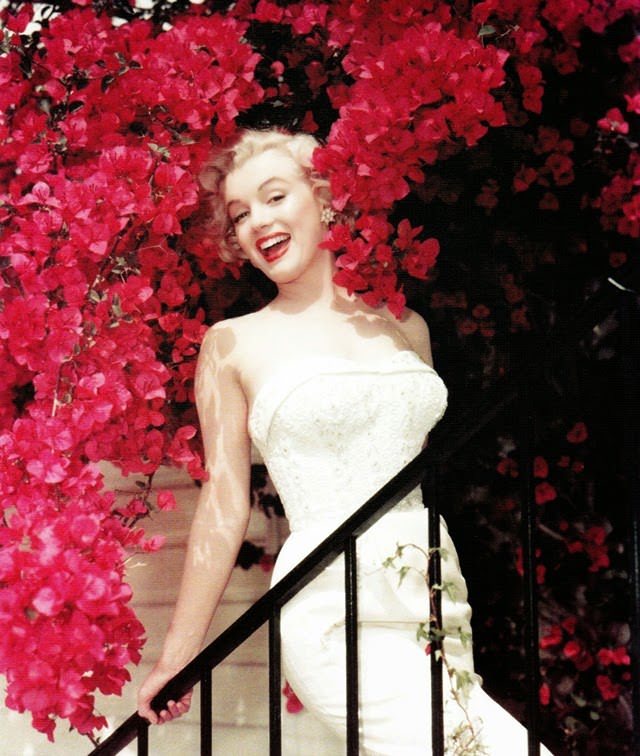 #32

This photo was part of a session done in her agent's backyard, 1950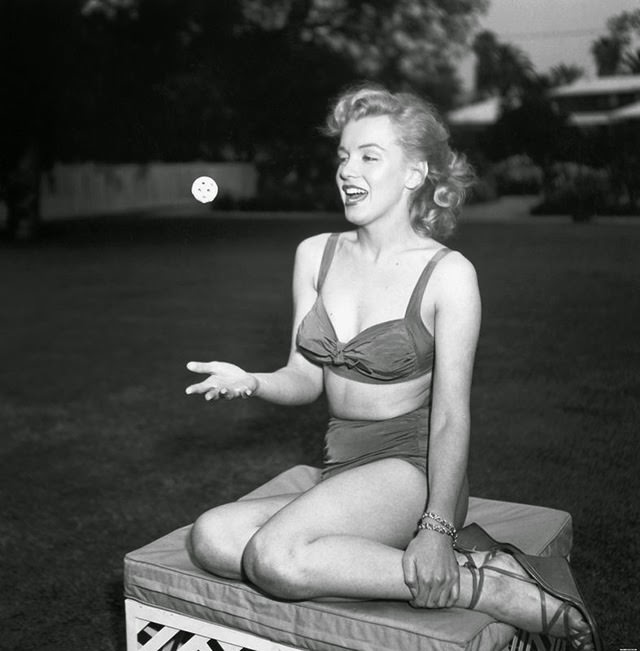 #33

Marilyn Monroe, 1950, portrait taken by Edward Clarke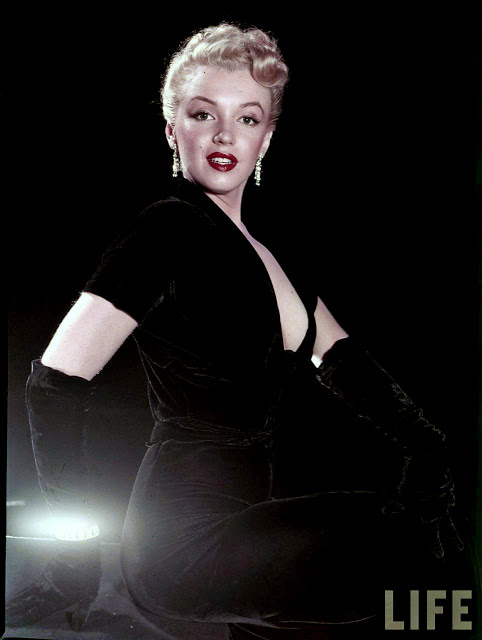 #34

Marilyn Monroe in Griffith Park, Los Angeles in 1950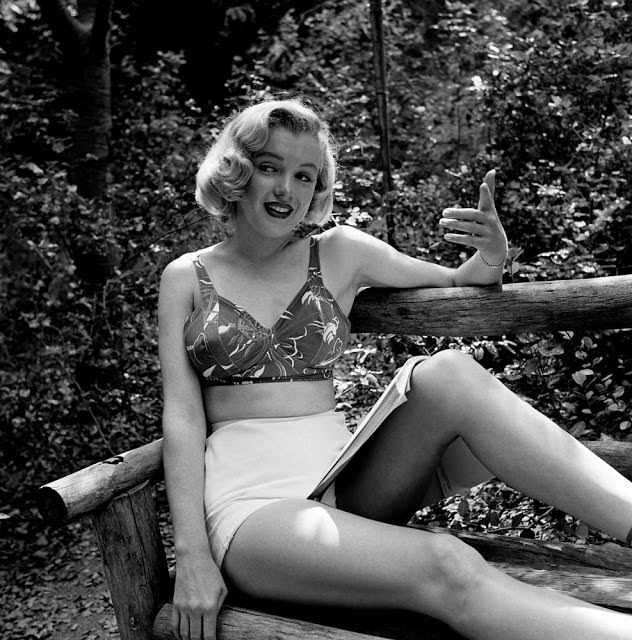 #35

Marilyn Monroe Hiking in the Woods, August 1950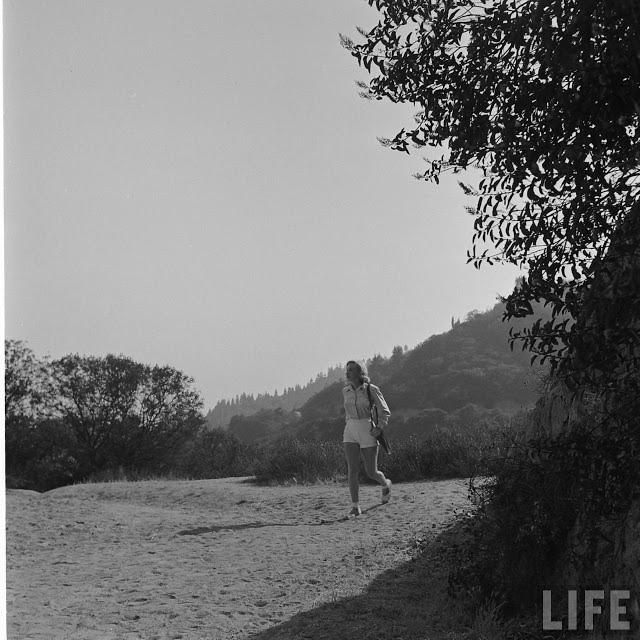 #36

Another photo from the backyard session, 1950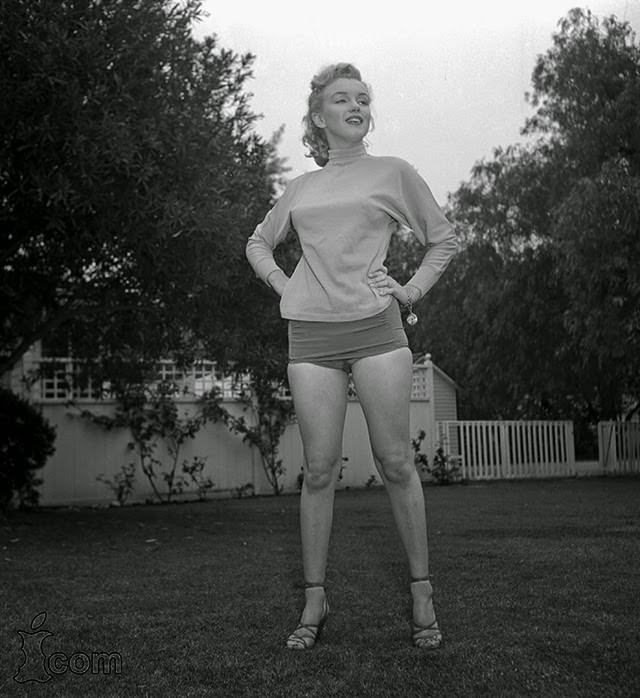 #37

Marilyn snuggles up to a puppy during her photo shoot, 1950
#38

Marilyn Monroe as a Pin-up Pilgrim for Thanksgiving, 1950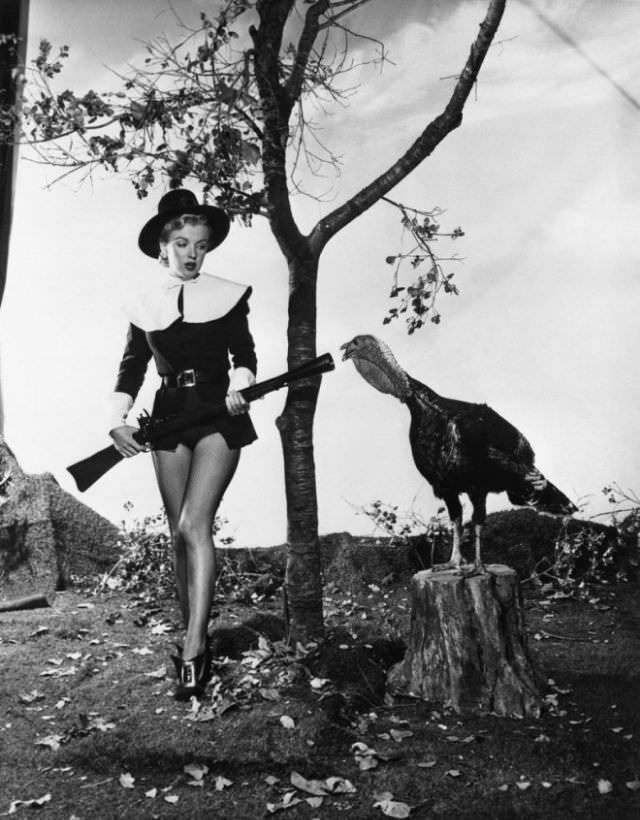 #39

Marilyn checking her infamous culrs, 1951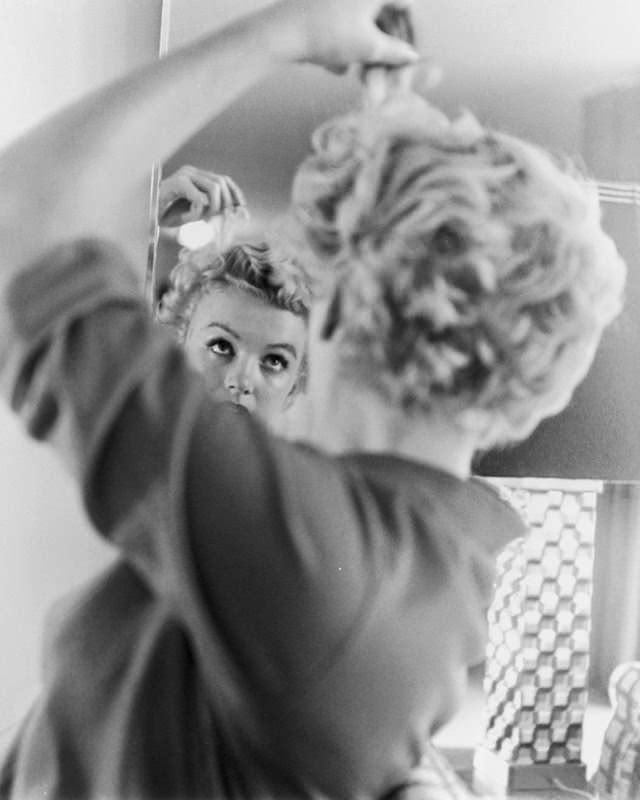 #40

Marilyn posing in two-piece bathing suits, 1951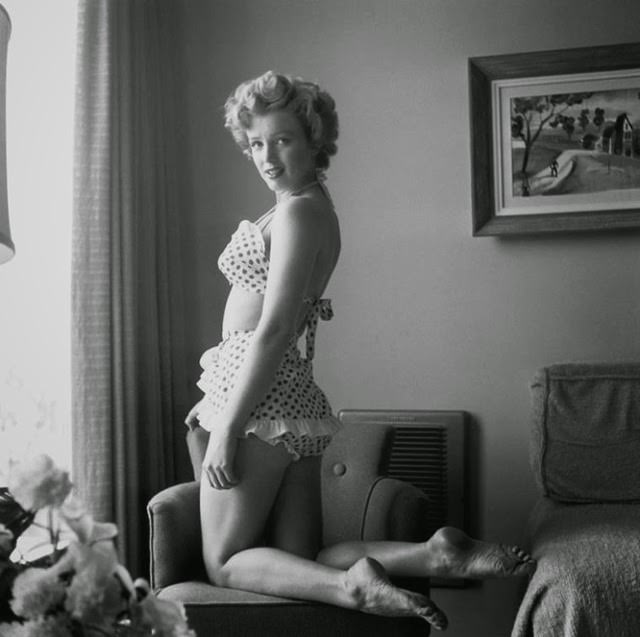 #41

Pretty Marilyn Monroe in Pink Suit, 1952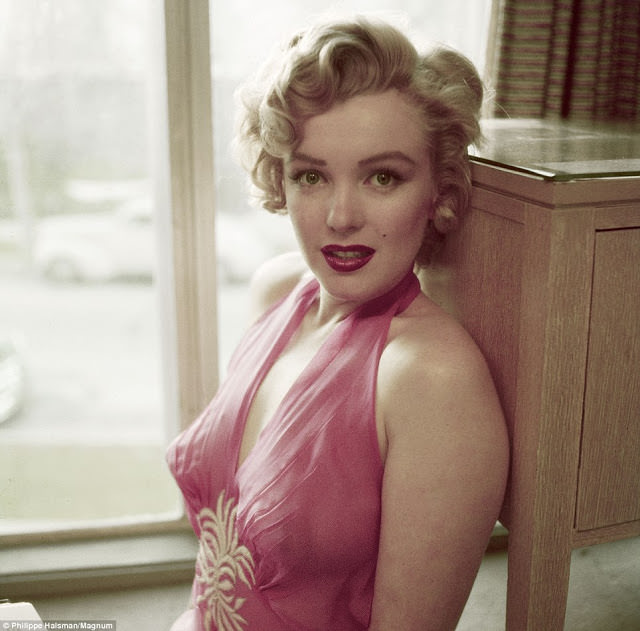 #42

This photo was taken inside her home, 1952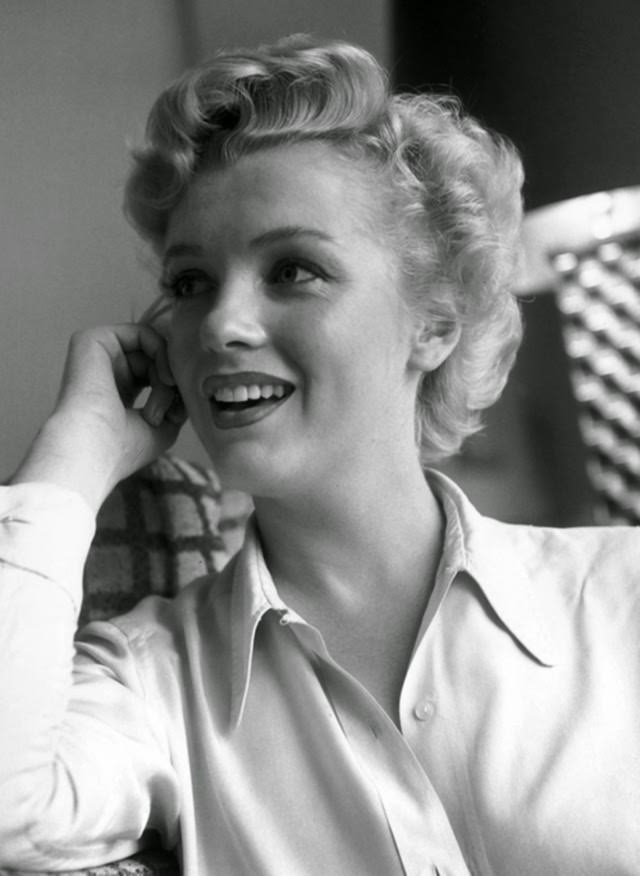 #43

Marilyn with photographer Earl Theisen at a party celebrating Ray Anthony's song "Marilyn.", 1952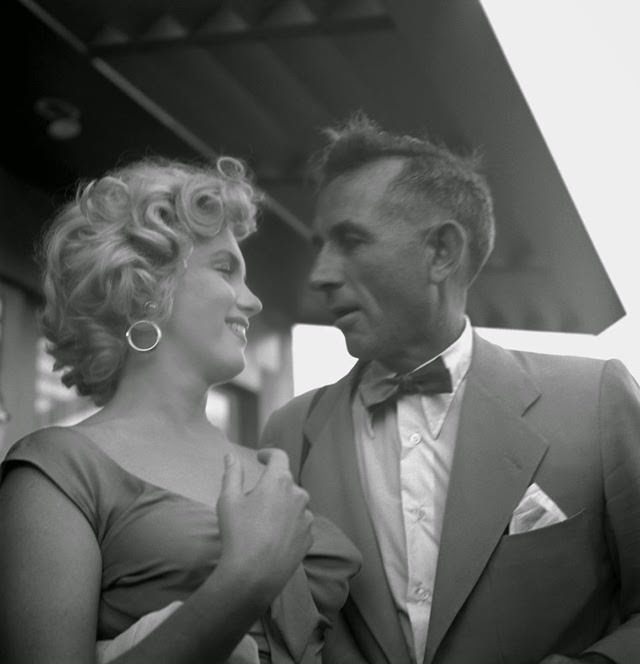 #44

Marilyn posed for this pictured in her dressing room, 1952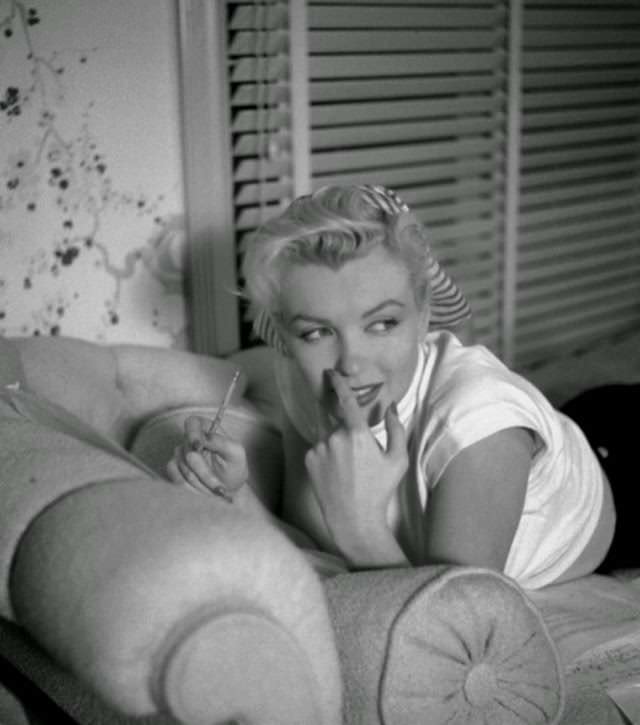 #45

Marilyn preparing herself for movie set in her 20th Century Fox dressing room, 1952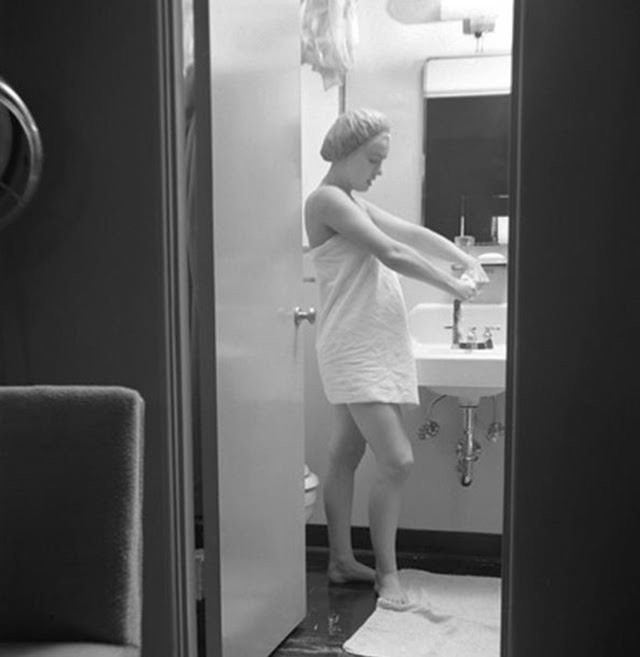 #46

Marilyn Monroe and Jane Russell, May 1953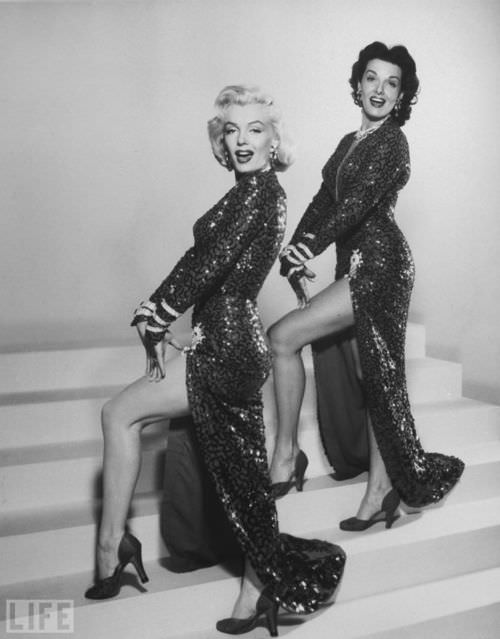 #47

Marilyn Monroe in 'Gentlemen Prefer Blondes,' 1953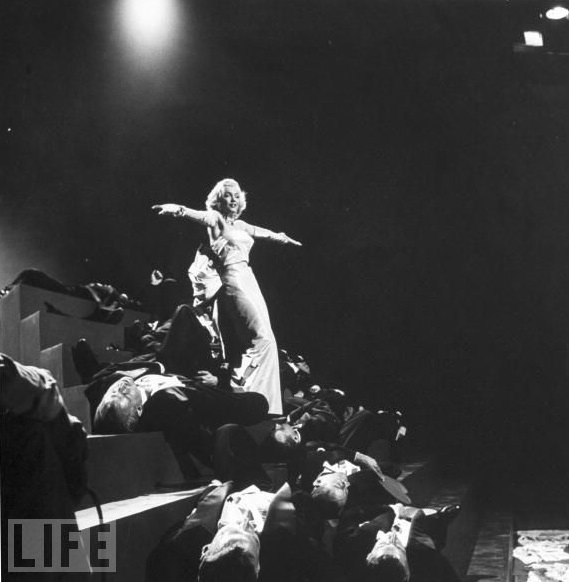 #48

Marilyn Chats With Dame Edith Sitwell, 1953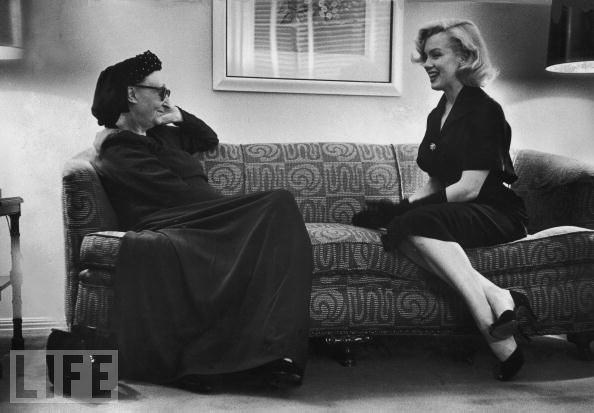 #49

Marilyn poses with Lauren Bacall and Betty Grable on the set of "How to Marry a Millionaire.", 1953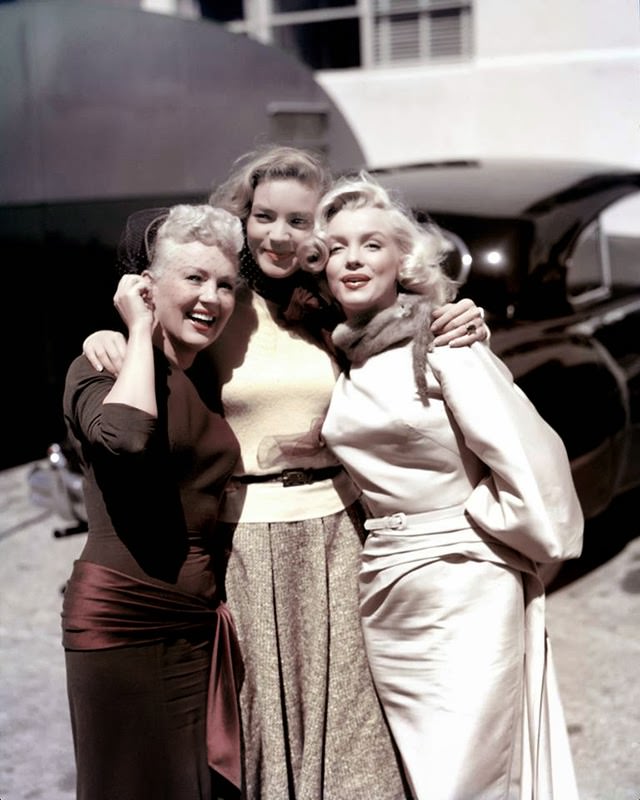 #50

Marilyn with co-stars Humphrey Bogart and Lauren at the premiere of their movie, 1953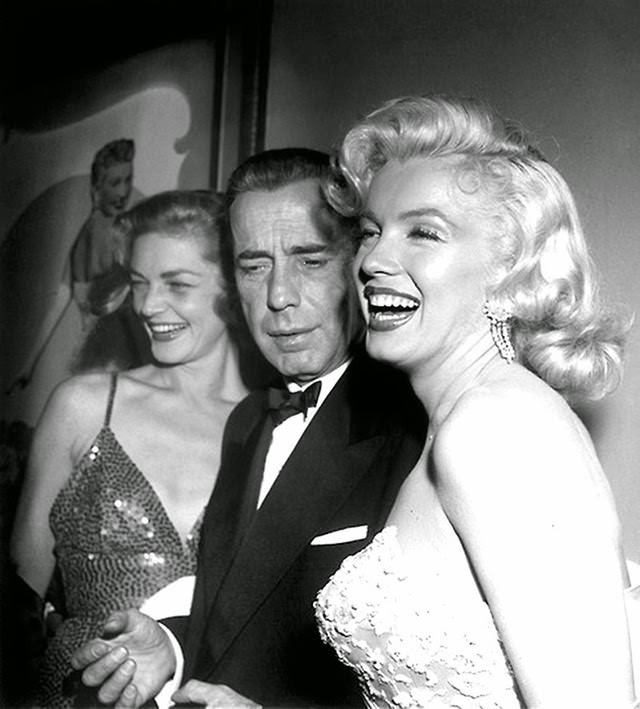 #51

Marilyn Monroe's ID Card, 1954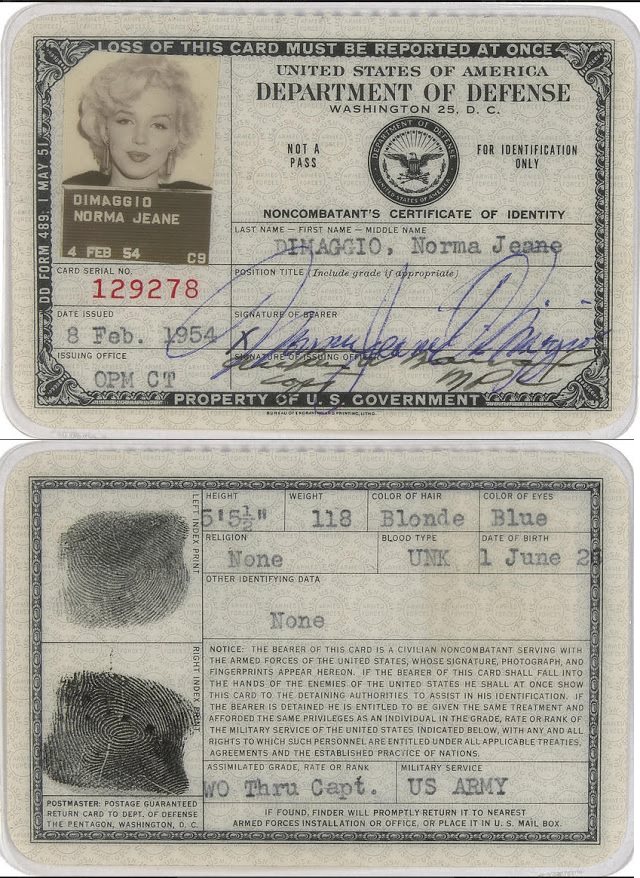 #52

Marilyn smoking, 1954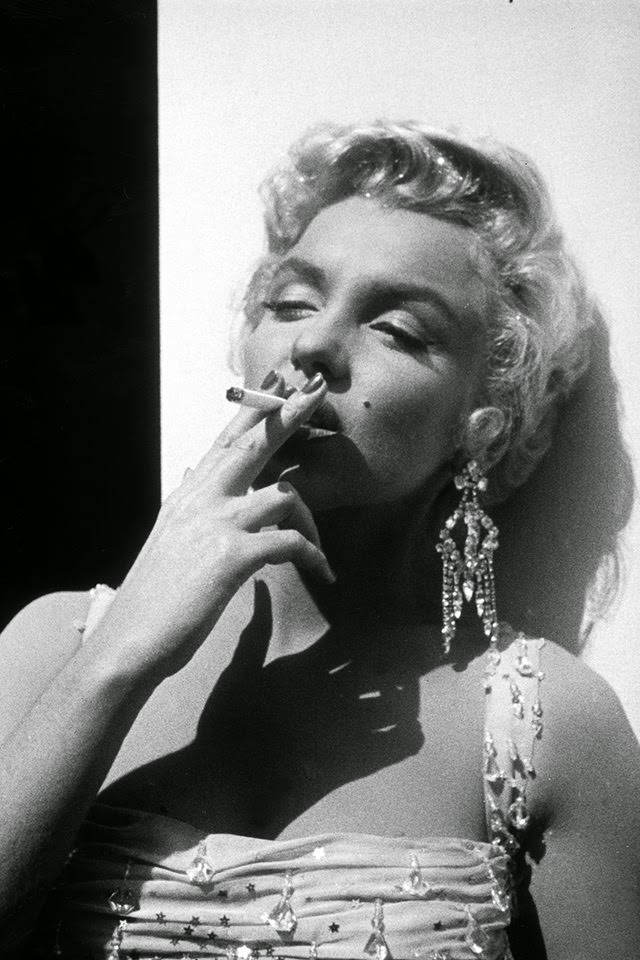 #53

Marilyn Monroe crying during media gathering outside her home after Joe DiMaggio packed his bags and moved out, 1954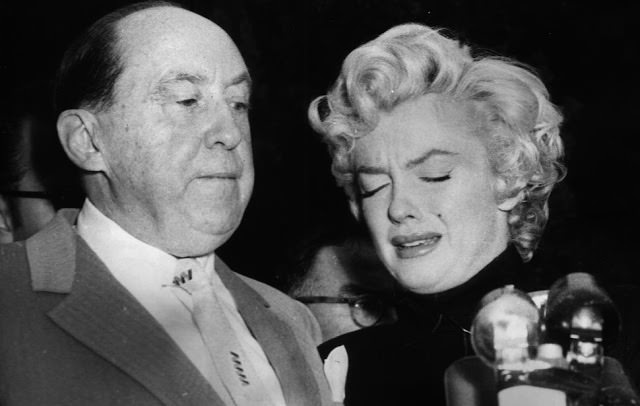 #54

Marilyn Monroe waves to fans while leaving court following divorce from Joe Demaggio, 1954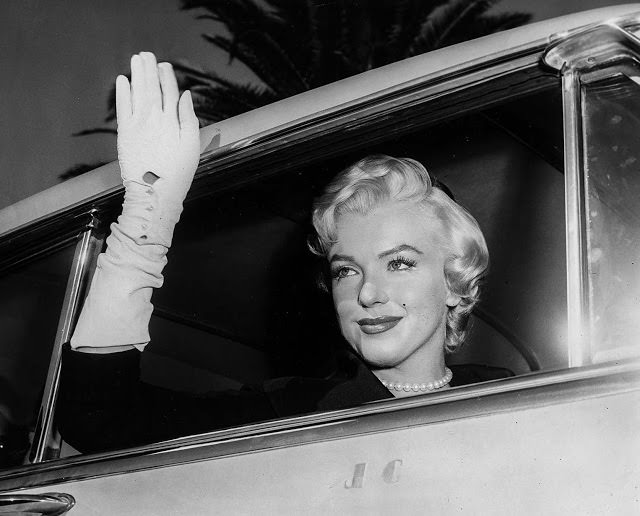 #55

Monroe in Korea in 1954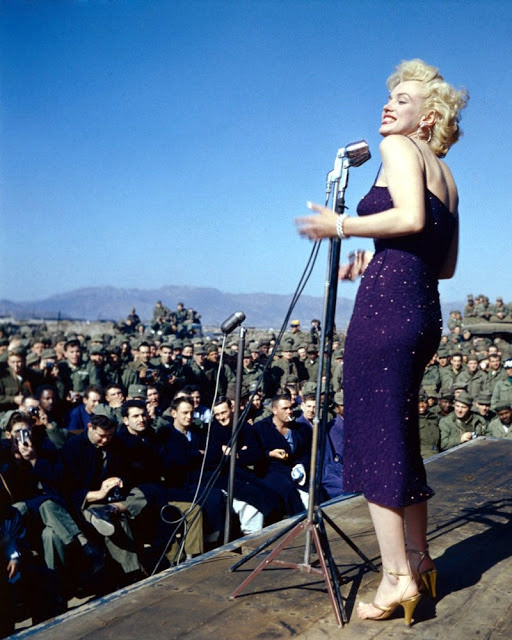 #56

This photo of Marilyn is taken in the back of a car, 1955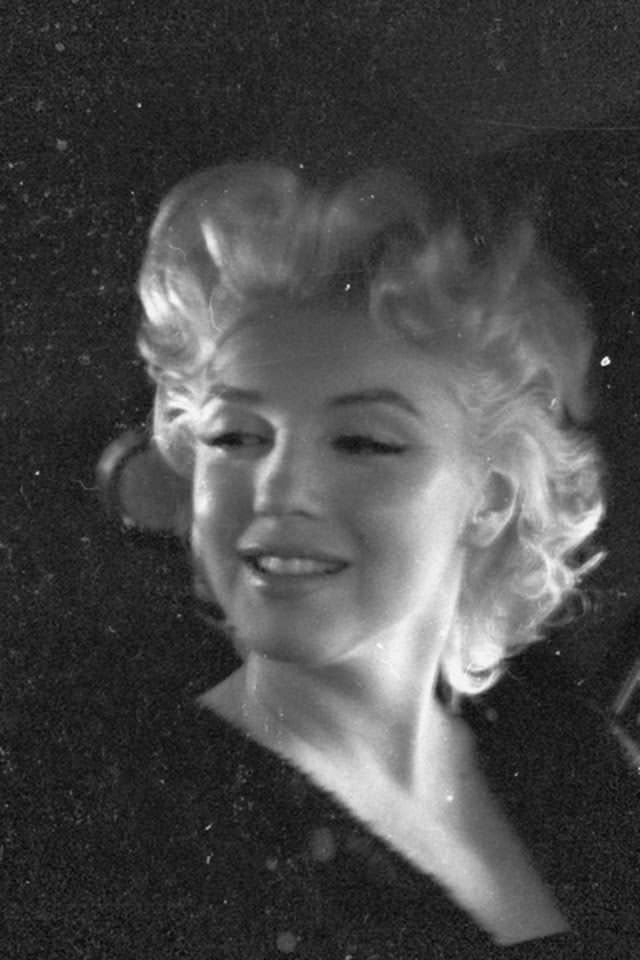 #57

Marilyn monore in the restaurant, 1955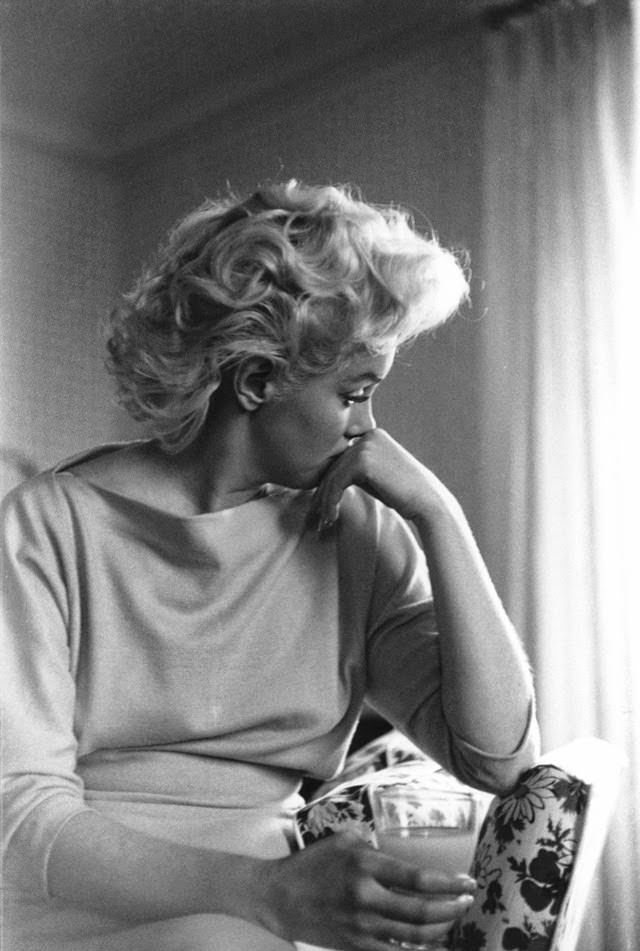 #58

This photo captures a moment of frustration during a costume fitting, 1955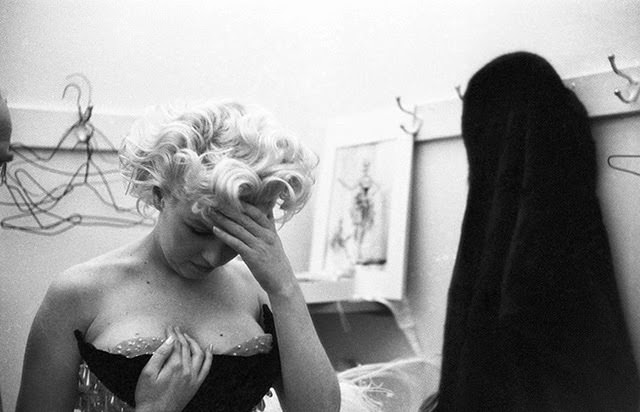 #59

At the New York City subway station, 1955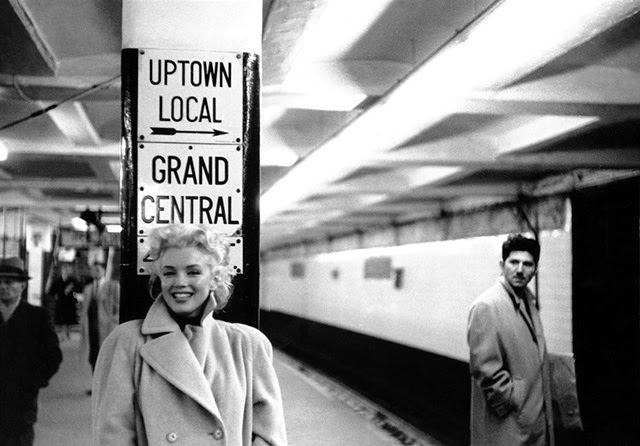 #60

Marilyn blows out candles on her 30th birthday, 1956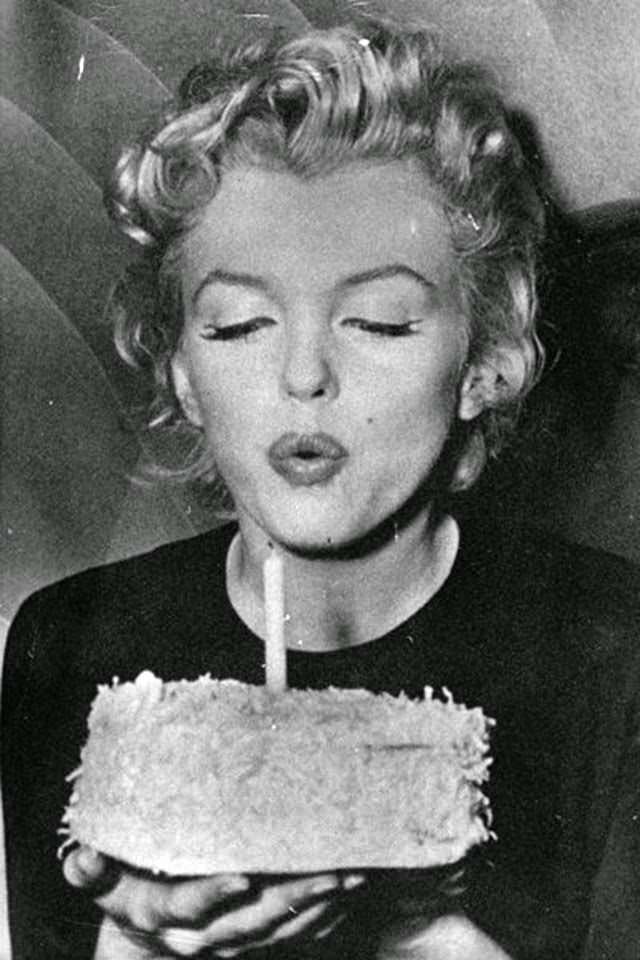 #61

Marilyn Monroe's Handwritten Turkey-and-Stuffing Recipe From the 1950s

#62

Marilyn Monroe helps get the festivities underway during a ceremony for the soon-to-be-built Time & Life Building in New York, 1957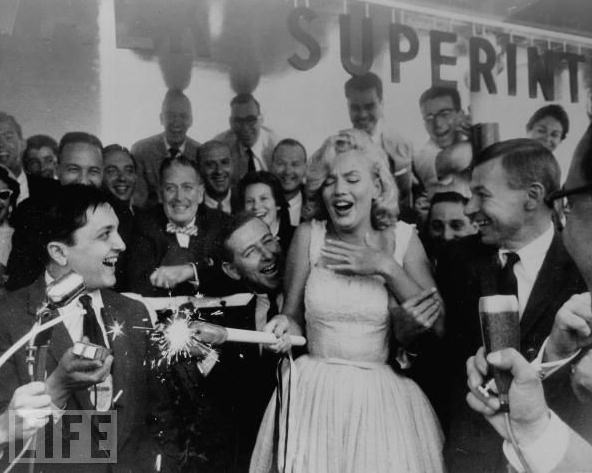 #63

Marilyn Monore with Aruther Miller and US ambassador, 1957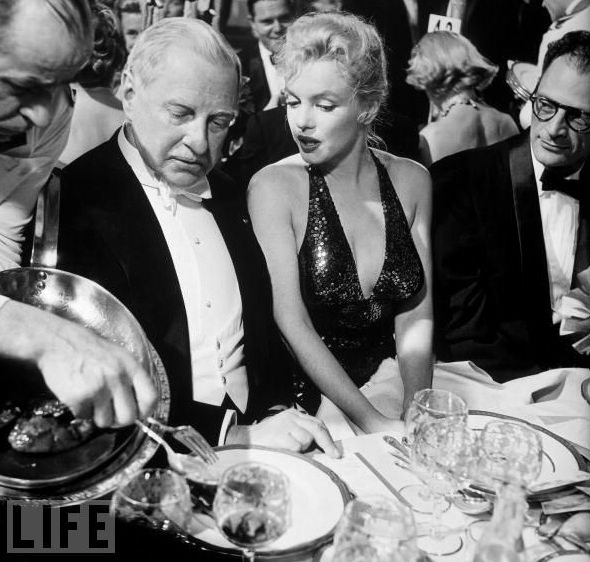 #64

Marilyn and Arthur Miller Entertaining a guest, 1958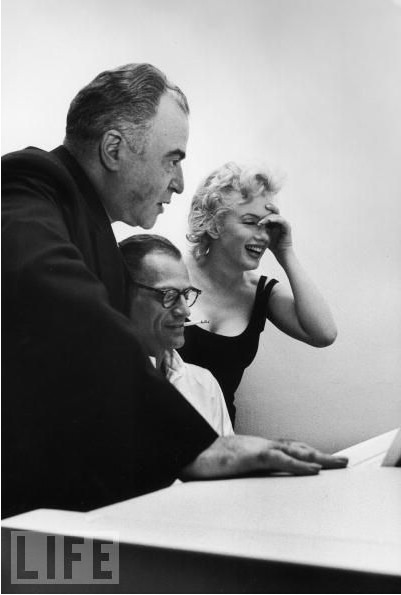 #65

The lifeless body of Marilyn Monroe, in the bedroom in which she was found dead on August 6, 1962