Classic Hollywood celebrities have been known for their extravagant and lavish lifestyle, and their Christmas celebrations were no exception. During the Golden Age of Hollywood in the 1930s, 1940s, and 1950s, the entertainment industry was at its peak, and its biggest stars lived life to the fullest. Christmas was a time for these celebrities to come together, exchange gifts, and celebrate the holiday season with their loved ones.
One of the most famous Hollywood actresses of the time, Marilyn Monroe, was known for her love of Christmas. She was often seen decorating her home with festive lights and ornaments and enjoyed spending time with her friends and family. Monroe was also known to throw grand Christmas parties, where she would invite her closest friends and colleagues, including fellow actors and actresses. She would also make sure to send her fans holiday cards, wishing them a Merry Christmas and a Happy New Year.
Another famous actress, Elizabeth Taylor, was also known for her love of Christmas. She would often spend the holiday season at her luxurious home in Bel-Air, surrounded by her friends and family. Taylor was known for her generosity, and she would often host lavish Christmas parties, where she would treat her guests to an extravagant feast and exchange gifts. The actress was also known to give back to her community during the holiday season, donating to various charities and helping those in need.
Famous actors, such as Frank Sinatra, Bing Crosby, and Dean Martin, were also known for their love of Christmas. Sinatra was known for his famous Christmas parties, where he would invite his closest friends and colleagues to celebrate the holiday season with him. Bing Crosby was famous for his Christmas specials, where he would sing holiday classics and bring joy to millions of viewers around the world. Dean Martin, on the other hand, was known for his laid-back approach to Christmas and his love of holiday cheer.
In addition to actors and actresses, famous directors, such as Alfred Hitchcock and Billy Wilder, were also known for their love of Christmas. Hitchcock was known for his love of holiday traditions, and he would often spend the holiday season surrounded by his friends and family. Billy Wilder was known for his love of holiday films, and he would often host movie screenings and Christmas parties, where he would treat his guests to an evening of laughter and holiday cheer.
Despite their busy schedules, classic Hollywood celebrities made sure to make the most of their holiday celebrations. They would exchange gifts, enjoy feasts, and come together to celebrate the season with their loved ones. These celebrities brought their own unique style and flair to their Christmas celebrations, making the holiday season one of the most exciting and memorable times of the year.
#5

Bob Hope and and Doris Day appeared with Santa in Hollywood in 1948 the day before he performed in Berlin for troops working on the airlift.
#6

Actress Anne Jeffreys pops out of a package, 1946.
#21

Audrey Hepburn cuddled up to Santa Claus in 1953.
#24

Claire Trevor, ca. 1930s
#27

Shirley Temple on Christmas in 1935
#30

Bette Davis dressed up as Santa Claus, 1930.
#31

Ginger Rogers chats with actor Boris Karloff next to a Christmas tree at a Hollywood charity gala, 1932.
#32

Jane Russell stows away wrapped presents ahead of her holiday festivities, 1941.
#33

Guests of honor Bob Hope and Doris Day at a Christmas parade in 1948.
#34

Little Liza Minnelli chowing down on ice cream and candy, 1948.
#35

Ginger Rogers surrounded by multiple Santa Clauses, 1950.
#36

Lauren Bacall and Humphrey Bogart celebrate Christmas Eve with their son, Stephen Bogart, in their home in California, 1951.
#37

Sophia Loren puts together her Christmas nativity scene while at home in Rome, 1953.
#38

Newlyweds Tony Curtis and Janet Leigh with their tree, 1953.
#39

Jayne Mansfield and her daughter rode through the Christmas parade in Hollywood in 1958.
#40

Judi Dench sews Christmas stockings for her nephews, December 1967.
#41

Dean Martin and Frank Sinatra joined by daughters Gail Martin and Nancy Sinatra for a Christmas segment on The Dean Martin Show, 1967.
#44

Actor Glenn Ford, left, dressed up as Santa Claus, along with four other actors, for the 1949 film 'Mr Soft Touch.'
#45

John Lennon and Yoko Ono bought a large billboard in Times Square in 1969 declaring that 'War is over if you want it.'
#46

Bob Hope is seen with actress Helen Wood in this 1938 gagshot of him climbing out of a chimney.
#48

Anna Maria Alberghetti
#54

Priscilla Lane on Christmas in 1941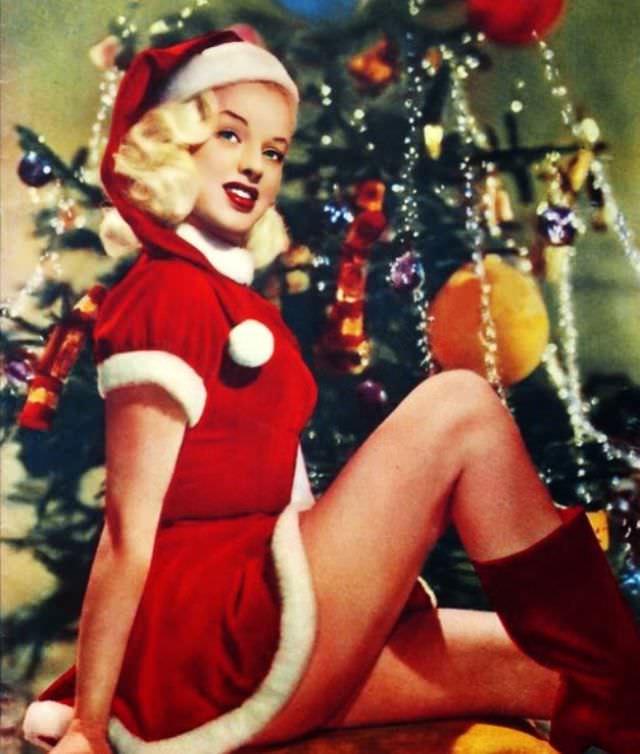 #73

Shirley Temple modeled a new Christmas dress in 1935.
#74

Marilyn Monroe posed in her stockings for this seductive 1951 photo. That year she was voted 'the present all GI's would like to find in their Christmas stocking.'
#75

Actress Jayne Mansfield danced with U.S. soldiers stationed in Canada for a Christmas 1961 appearance.
#76

Ida Lupino, a Warner Brothers star, spanks Saint Nick, 1942.
#77

Diana Doris, a British actress, is seen in 1947 with a Christmas greeting written in French.
#80

Clara Bow poses for a Christmas promotional photo in 1920.
#81

Dolores Del Río wears a mink fur coat and carries Christmas presents, 1925.
#82

Joan Crawford sits atop a chimney with a sackful of presents in 1926.
#83

Anna May Wong opens present under the tree at a Christmas celebration for Hollywood stars at the Christy Hotel in 1932.
#84

Bob Hope holiday shopping, 1940.
#85

Audrey Hepburn standing in front of a huge Christmas tree while visiting Rome over the holidays, 1950.
#86

Ingrid Bergman celebrates Swedish traditions with her two-year-old son, Renato Roberto Rossellini, 1952.
#87

Audrey Hepburn smiles with Santa at a charity event in New York City during the holidays, 1953.
#88

Josephine Baker trims her tree with her children in her French chateau, 1956.
#89

Jayne Mansfield puts finishing touches on a colorful holiday tree, circa 1960.
#90

Sammy Davis Jr. visited Dean Martin on The Dean Martin Show for a Christmas special in 1967.
#91

Debbie Reynolds dressed as Santa Claus for the Golden Apple Awards in Los Angeles in 1969.
#92

Ella Fitzgerald joins Tom Jones on the set of his show for a special holiday episode in 1970.
#93

Nat King Cole sings carols with daughter Natalie Cole, 1970.
#94

Gloria Swanson wearing a Santa wig while attending a holiday party, 1978.
#95

Aretha Franklin with her Christmas presents at her Detroit home, 1980.
#100

Rosemary and Priscilla Lane
#103

Frank Sinatra and his family came together with Dean Martin and his family for a 1967 appearance on the 'Dean Martin Show.'
#105

Joan Crawford, ca. 1920s
#106

Queen Elizabeth II makes her annual Christmas Day broadcast from a recording studio inside Auckland, New Zealand's Government House, on December 25, 1950.