During the late 19th and early 20th centuries, St. Louis' population grew steadily. By the 1930s the population of the city was around 821,960, and the Great Depression had stopped economic growth. The manufacturing output fell by 57 percent between 1929 and 1933, slightly more than the national average of 55 percent. As of 1939, St. Louis' industrial production was only 70 percent of what it was in 1929, while national industrial production was 84 percent in 1929.
The brewing industry recovered after Prohibition was repealed in 1933, but this still wasn't enough to compensate for the losses in industrial production in St. Louis. In the 1930s, mandatory minimum wage laws made it illegal for black workers to be appointed to the same jobs as white workers, and many black workers were fired and replaced by white workers. Many Black workers were only paid room and board in the domestic service industry, and skilled Black craftsmen were usually excluded from joining local unions and finding work as construction workers.
A total of $ 1.5 million of the city's funds were allocated for relief operations during the early years of the Depression, while $300,000 was given to the Salvation Army and another $1 million to the St Vincent de Paul Society. The city voted in late 1932 to issue a $4.6 million bond issue so that additional relief funds could be provided, and the Board of Aldermen and Mayor Dickmann balanced the budget in 1933 by cutting expenditures by 11 percent. Thousands of St. Louisans were employed by New Deal programs such as the Public Works Administration, which provided food and shelter.
African Americans created a growing share of the newcomers during that period. Over the following decades, the population of St. Louis declined rapidly. Most of those leaving the city were of European ancestry who fled to the suburbs; these communities quickly grew.
Below are some fascinating historical photos that will take you back to 1930s St. Louis.
#1

A Truckload of Cheer- As Famous Brewers Resume Old Role. St. Louis, 1933.
#2

August Anheuser Busch Sr of St Louis, Missouri, driving a horse drawn carriage in April of 1933.
#3

Model house, probably in St. Louis Hills, built by the Cyrus Crane Willmore Organization. Signs in the front yard advertise that the house is for sale, February 1931
#4

Workers at the Slavin Hat Company factory at 1117 Washington, April 1931
#5

African-american settlement near steel foundry workers homes east St. Louis, 1934.
#6

Produce displays outside of Jim Remley's Market at 6213 Easton in Wellston (later renamed Dr. Martin Luther King Drive), June 1931
#7

General Motors "First Streamliner" bus leaving the Greyhound bus depot in St. Louis, 1932.
#8

Automobiles Parked on Side Street in St. Louis, 1930s.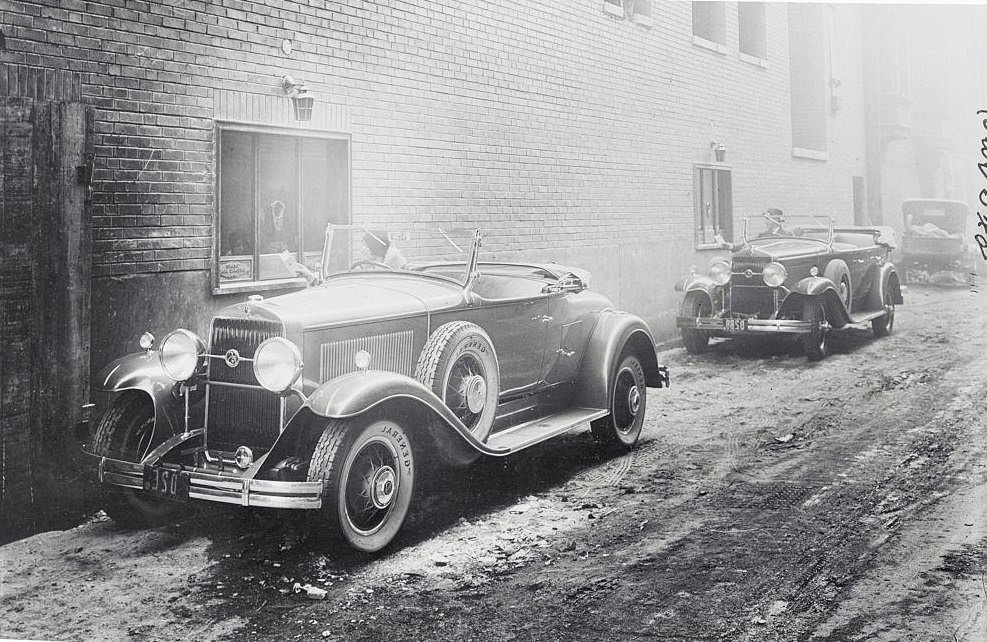 Cruising up and down side streets in the eternal quest for parking space is no longer a tribulation of patrons of this modern banking institution, in Grand National Bank. Depositors are shown driving up to the special windows which now provide curb service along a private drive.
#9

Shack made of barrels and tar paper, St Louis, 1931.
#10

Bureau for homeless women in Saint Louis december, 1932.
#11

"Then and now" photo of two Oldsmobile cars. The vintage 1897 model Oldsmobile is parked next to a new 1931 Oldsmobile. June 1931
#12

A speaker addresses the crowd at the dedication of the new Castle Point subdivision at the corner of Halls Ferry and Chambers roads in north St. Louis County. June 1931
#13

Banquet held at the Forest Park Hotel for the nurses of St. John's Hospital. May 1931
#14

Dodge half-ton truck decorated with signs complaining about its poor quality, May 1931
#15

Family group gathered for the golden wedding anniversary of Conrad G. and Augusta Kempf. The party was held at 6324 Mardel, the home of their daughter, Bertha Meyer, and her husband, Adolph E. Meyer. March 1931
#16

Group of school children posing with instruments on the steps of the Immaculate Conception parish school at 2912 Lafayette, June 1931
#17

Group portrait of Chase Hotel waiters, posed on the hotel's roof, May 1931
#18

Group portrait taken during the First Annual Convention of the Young People's Federation of the Episcopal Diocese of Missouri.
#19

Large crowd waiting outside the doors at the grand opening of Elliott's Cut Price Department Store at 5206 Gravois, June 1931
#20

Large group posed around three members of the clergy on the steps of the Holy Trinity Serbian Eastern Orthodox Church at the corner of Geyer and McNair, April 1931
#21

Man in the cab of a Columbia Terminal Company truck. Photo by Sievers Studio, April 1931
#22

Monsanto Chemical Works employees posed in a chemical laboratory at the Monsanto plant at the corner of 2nd and Lafayette, June 1931
#23

Product shot showing a 7UP soda display, June 1931
#24

Star Theater at 16 South Jefferson, at the corner of Market and Jefferson, June 1931
#25

Street car union members voting on a strike at Unity Hall, May 1931
#26

Winners holding flowers after a marathon bicycle race held in O'Fallon Park, June 1931
#28

Metal Lathers Local 73 at the St. Louis Zoo, 1930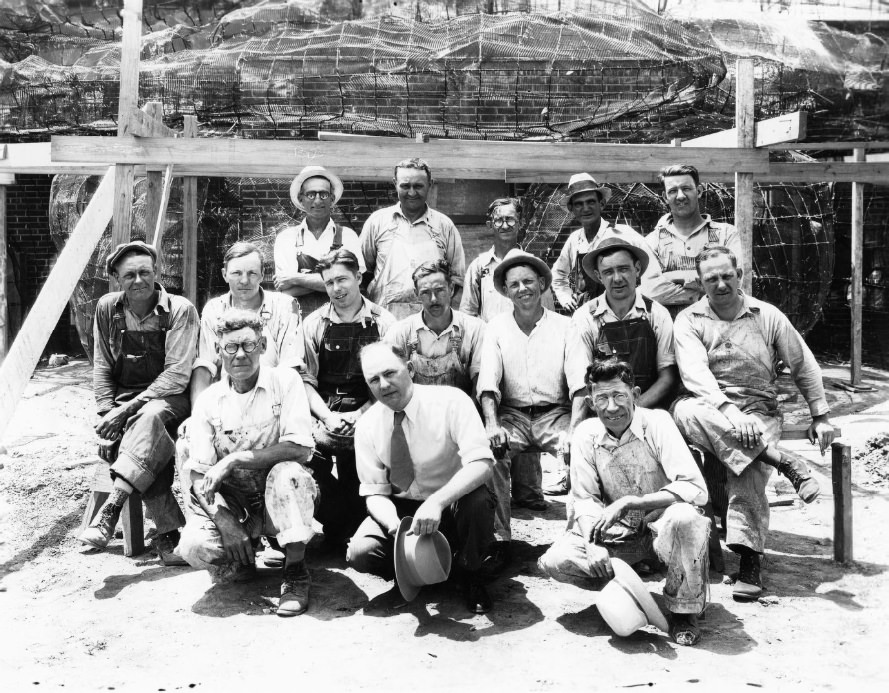 Included in the photo are Harry Hagen, Herman Beermann, Henry Beerman, Brian Frederickson, Tom Frederickson, and Joe Cook. Henry Beerman, who is the son of Herman Beermann, had the spelling of his last name changed. Photograph donated to the St. Louis Mercantile Library by the Gymnastic Association Sokol.
#29

St. Louis Riverfront, 1930s. Eads Bridge in background.
#30

Fourteenth and Carr, 1953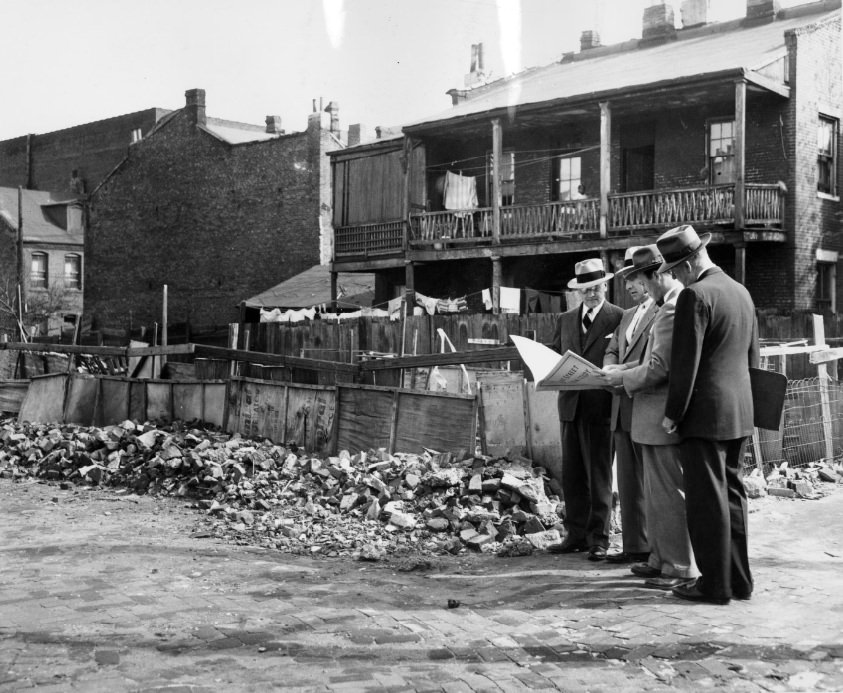 A tour to inspect the redevelopment program was part of the itinerary here yesterday of a Pittsburgh civic leader, Arthur B. Van Buskirk (left). He inspects area at Fourteenth and Carr streets with, from left, Saul Dubinsky, chairman of the City Plan Commission; James E. Crowe, city-counselor, and Ethan A. H. Sheplay of Civic Progress, Inc. The site is being considered for industrial redevelopment.
#31

Missouri Botanical Gardens, 1935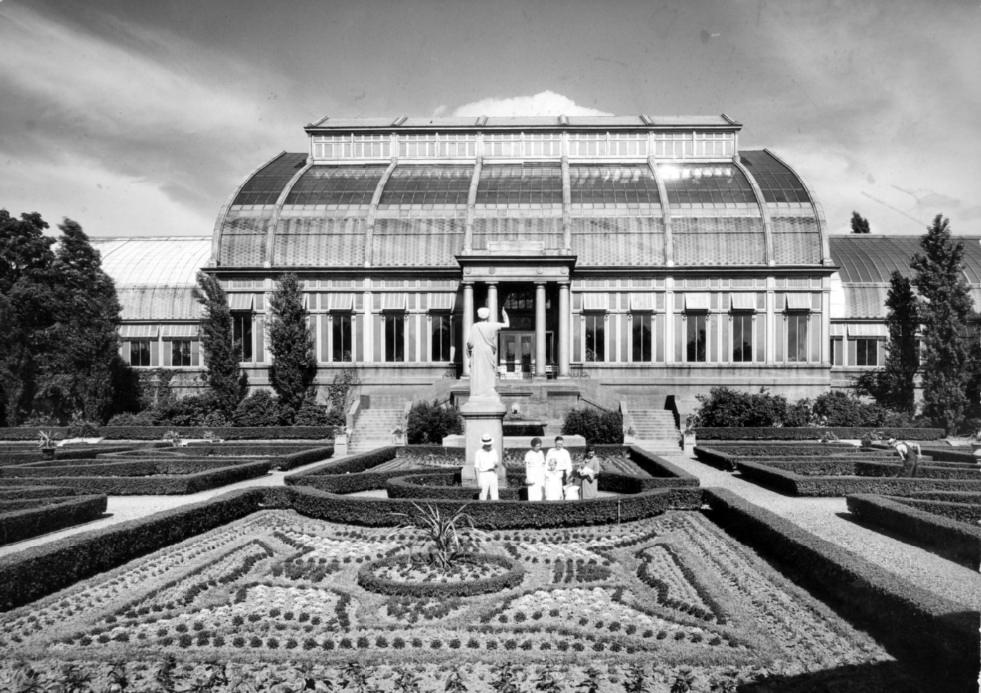 The Missouri Botanical Gardens - Known the world over as Shaw's Garden, this is one of the finest such units in the world, second only in size to the famous Kew Gardens in London. It is the gift to the city from Henry Shaw, who started it in 1859 and by his will provided for its perpetuation. Its greenhouses alone cover more than 2 acres and its collection of orchids is the finest in the world.
#32

St. Louis University, 1935
#33

Paul Dean, Mrs. Dizzy Dean and Dizzy Dean, 1934
#34

Streckfus steamer, the Admiral, while under construction in May 1937
#35

Miss Jim and her keeper, Phil Rost, giving children a free ride at the St. Louis Zoo, 1932
#36

Admiral Construction,1938
#37

The Chase Park Plaza Hotel, located in St. Louis, Missouri, 1935
#38

North St. Louis from Grand and Olive – taken from Penthouse apartment of Continental Life Building, formerly occupied by Ed Mays, 1934
#39

The Knobbe family gets together for a family reunion, 1932.
#40

The fourth deck cafeteria of the President steamboat, 1933
#41

The interior of the second deck of the Admiral steamboat as it was under construction, 1939
#42

This new "Rocket" of the Rock Island Lines was on exhibition at Union Station yesterday prior to beginning scheduled twice-a-day round trips between Chicago and Peoria, 1937
#43

Dizzy Dean and Grover Cleveland Alexander, 1936
#45

Jefferson Barracks Soldiers, 1938
#46

Private Bredemeyer thought he would take this machine gun apart to see what made it "tick." An apparent case of "spring fever" is handicapping his efforts to get it back together again, 1937
#47

Rookie Training at the Jefferson Barracks, 1935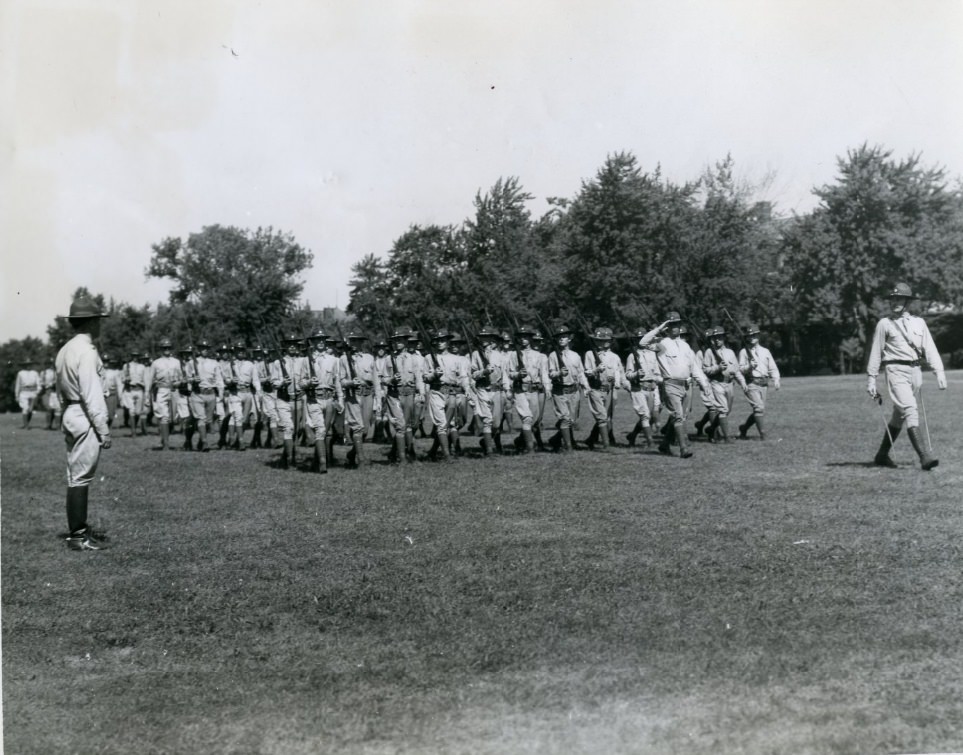 These rookies have been in the army less than a month but under the intensified training schedule at Jefferson Barracks they are rapidly being converted into soldiers. They are shown here marching in review on parade grounds. Lieut. R.C. Huggins, in charge of the training of recruits is shown marching with drawn sword in front of the troops while Major Walter C. Philips reviews them from the sidelines.
#48

Tanks Down The Road, 1939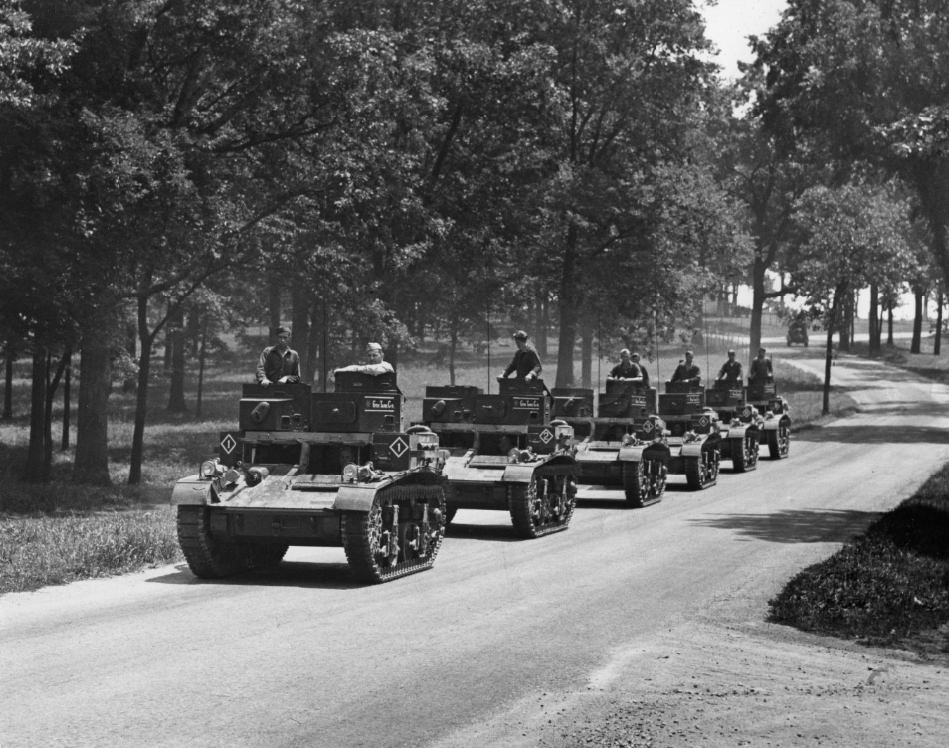 The light tanks of the Sixth Tank Company at Jefferson Barracks, under command of Capt. J. H. Gilbreth, departed last night for Arcadia, MO., where combat problems will be worked out by 41 officers of the 420th Infantry, Reserves, as the final part of their tank training at Jefferson Barracks this season.
#49

A Communications Unit Advances Into The Woods, 1938
#50

Watching The March, 1938
#51

Jefferson Barracks – Westbound Recruits, 1939
#52

A train steaming in the overflow at Eads Bridge, 1939
#53

Construction work on the new $1,250,000 National Guard Armory on the south side of Market street just west of Grand boulevard is progressing rapidly, 1937
#54

An Artist sketchof the proposed new $1,200,000 Armory for the One Hundred and Thirty-eighth Infantry, Missouri National Guard, as it would look if built under present tentative plans, 1934
#55

Automatic stokers are going to feed coal into three big boilers to provide low-pressure steam heat for the drill-roomacreage, 1938
#56

Anheuser-Busch Brewery, 1934
#57

A Hundred Years Ago, A Militiaman slept on the Ground, 1938
#58

The first Missouri militiamen swam in Mill Creek and the Mississippi River, but the members of the 138th, after the chlorinated water is put in, are going to have a swimming pool, 1938
#59

Grand Avenue St. Louis, 1935
#60

Opening of the vault door at the Mercantile Trust Company, 1939
#61

What Would You Do?' Asks Maj.-Gen. Drum–Jefferson Barracks, 1938
#62

Members of Sixth Infantry preparing to leave for Arcadia, MO., on motorized hike, 1937
#63

Army men are being lead by bass drummers of a marching band, 1939
#64

Griesedieck Brothers Brewery Storage Cellar, 1937
#65

The opening gunof the social season for the Citizens' MilitaryTraining Corps is a dance at Jefferson Barracks, 1939
#66

The trainees took time out at noon for a hearty meal of baked beans, tomatoes, salad, bread and apple butter, served cafeteria style and with a minimum loss of time, 1939
#67

New South St. Louis Apartment, 1930
#68

New quarters of the Mercantile-Commerce National Bank in St. Louis at 3608-16 Washington boulevard, 1935
#69

Bank Holdup Scene and Two Victims, 1931
#70

Easton Taylor Trust Co. Exterior Crime Scene, 1931
#71

The Old Franklin Bank Becomes the United Bank and Trust Company, 1935
#72

The old Klausmann Brewery at South Broadway and Loren street, which in pre-prohibition days was one of the largest operating in St. Louis, will be razed to save taxes, 1937
#73

The line may be a bit ragged and the step a trifle uncertain, but it must be remembered that these C.M.T.C. youths at Jefferson Barracks first got acquainted with army hoonail shoes July 2, 1930
#74

Franklin-American Bank, 1933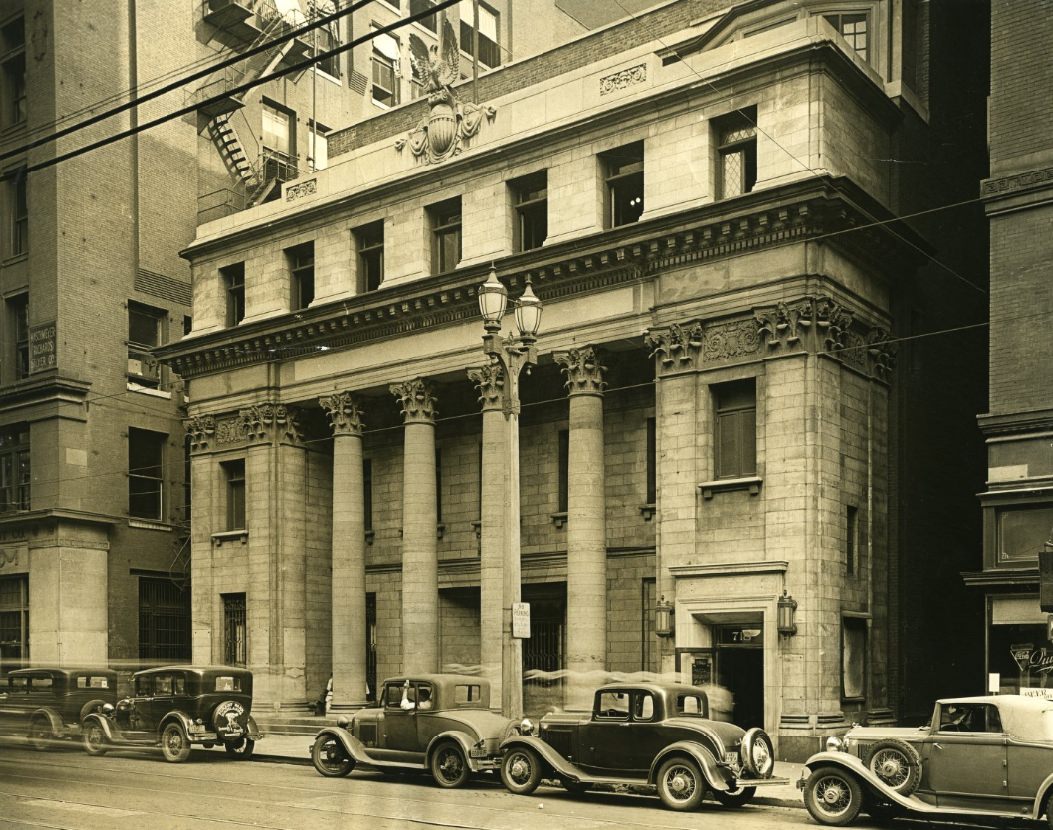 The former quarter of the Franklin-American Company at 716-18 Locust Street, purchased by a new bank, as yet unnamed, headed by Byron Moser, who resigned last week as president of the Security National Bank Savings and Trust Company. The four-story building was aquired from the Franklin-American Trust Company with a leasehold assignment. The structure is apprasied at 1155,00 for assessment purposes. It is planned to remove the stone columns and bring the entire front of the structure out to the street level.
#75

Grand Avenue National Bank (exterior) after Robbery, 1930
#76

Grand National Bank deposit boxes after the robbery, 1930
#77

Grand Avenue National Bank (exterior) after Robbery, 1930
#78

Grand Avenue National Banks (exterior), 1930
#79

Neighborhood Gardens Apartments – Exterior cut, 1935
#80

Neighborhood Gardens Apartments – Main entrance, exterior, 1935
#81

Neighborhood Gardens Apartments – Stairwell, 1935
#82

Neighborhood Gardens Apartments – Balconies, exterior, 1930
#83

Exterior of Neighborhood Gardens Apartments. Construction is nearing completion, 1930
#84

Neighborhood Gardens Apartments – Window view ,1935
#85

The various apartments will be heated from a central supply system, will have hot and cold running water, gas or electricity for cooking, bath, and each tenant will be assigned space in the basement for laundry purposes.
#86

Neighborhood Gardens Apartments – Interior view, 1935
#87

Neighborhood Gardens Apartments – Private playground, 1936
#88

Daniel Boone Apartments, 1935.
#89

St. Louis National Bank Building, 1938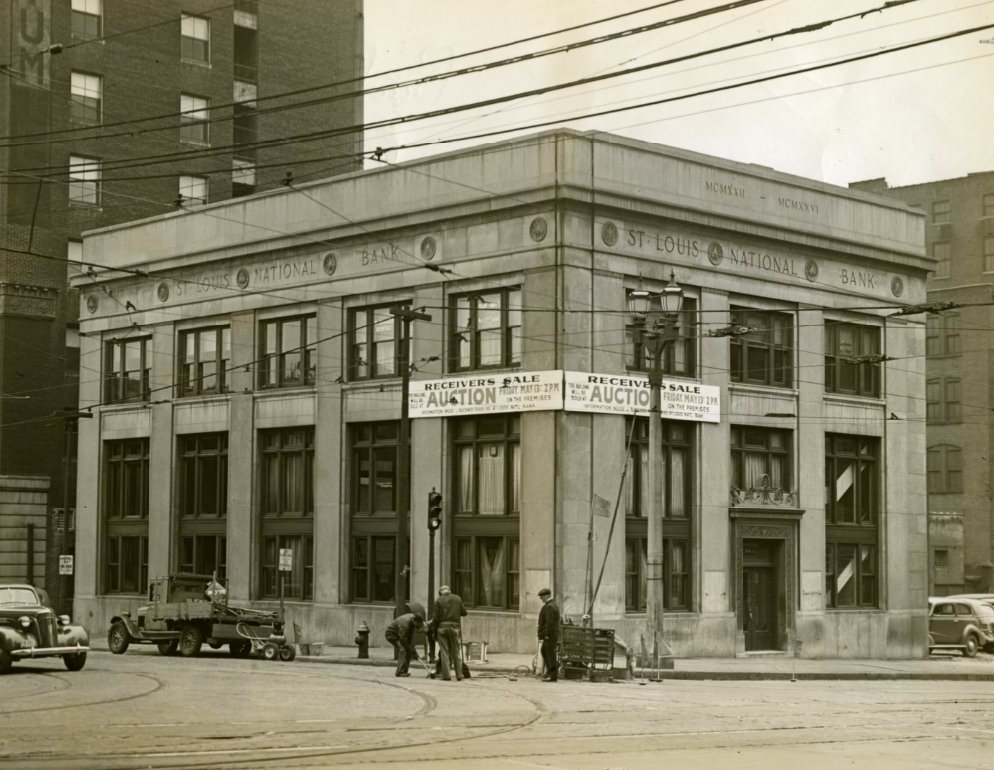 The old St. Louis National Bank Building, on the south west corner of Eighteenth and Olive streets, was bought at a receiver's auction sale yesterday for $25,000 by Conrad L. Schopp, real estate man and painter. Schopp said he plans to use the building for a real estate office, private art gallery and studio.
#90

Donaldson Court Apartment After Remodeling, 1937
#91

Donaldson Court Apartment Shops, 1937
#92

A street view of the Donaldson Court Apartments at Delmar and Westgate, where the courtyard can be seen, 1935
#93

Netherby Hall Apartments – Exterior, 1933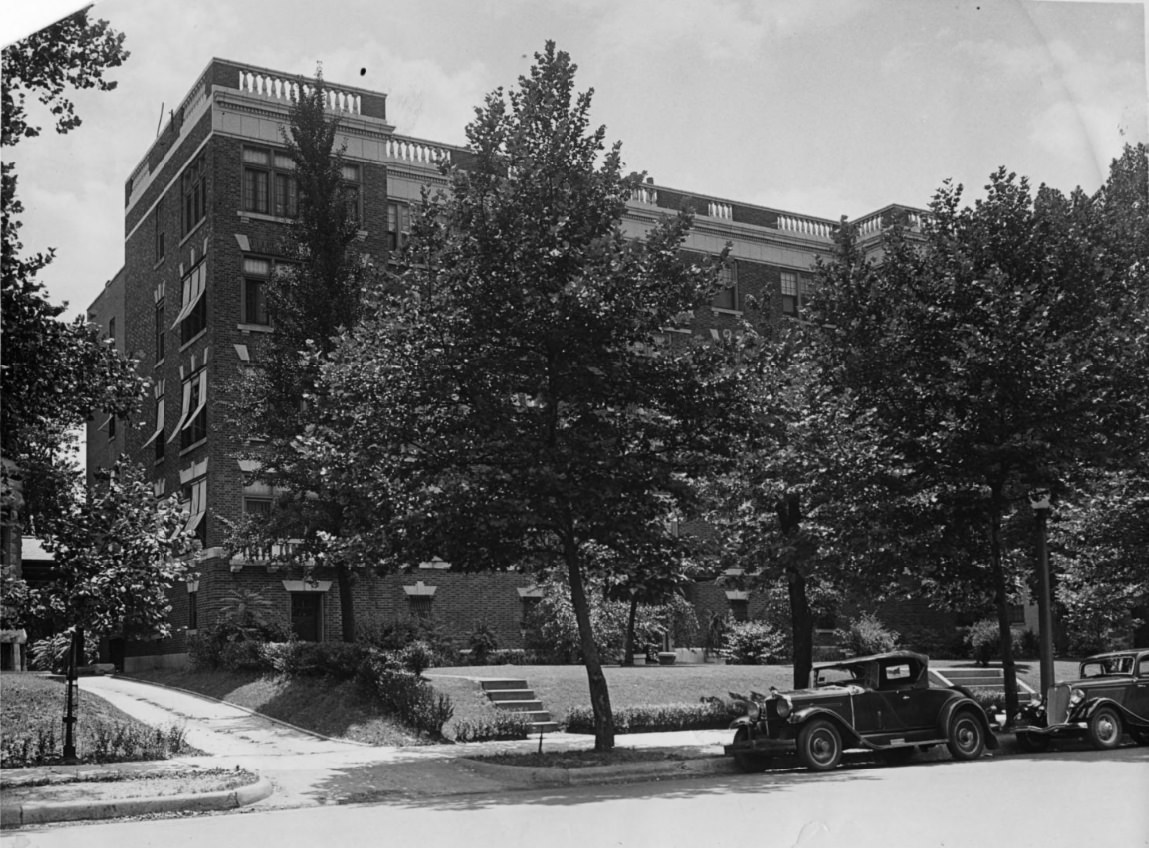 Netherby Hall Apartments, 4540 Lindell boulevard, aquired by the Missouri State Life Insurance Company in a trade in which the insurance company company conveyed five small properties to Samuel Ginstine, real estate speculator. The Nehterby Hall has eight apartments of nine rooms and three baths.
#94

Neighborhood Gardens Apartments – Architectural drawing, 1930
#95

Neighborhood Gardens Apartments – Construction view, 1930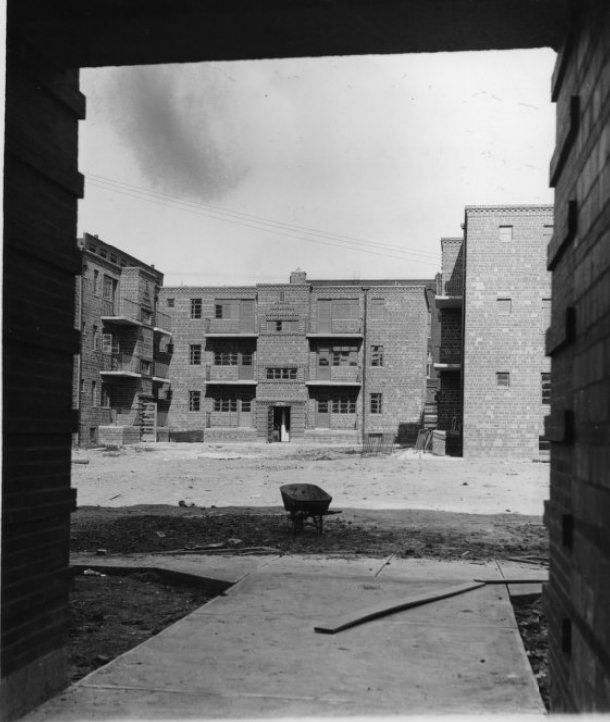 It is estimated that when all the apartments at Neighborhood Gardens are filled, as present indications are they will be, more than 1000 persons will be housed in the eleven units that comprise the three-story structures with ample basements. Rents range from $18 a month for the one-room apartments to $38.50 for the larger suites.
#96

The 252-family Neighborhood Gardens development is nearing completion in the block between Sevent, Eighth, Biddle, and O'Fallon streets, 1930
#97

The Sarah-Olive Bank, 4055 Olive street, where three robbers obtained $6,000 in a holdup shortly after noon yesterday, 1931
#98

Midland Savings Bank, 1931
#99

Citizens' Military Training Camp at Jefferson Barracks ,1936
#100

Strike Up The Band–Jefferson Barracks, 1937. The band is playing as the guard of the day is changed in an impressive ceremony.
#101

A View of a Historic Spot, 1935
#102

Sixth Infantry on Parade, 1938
#103

Members of the Congressional Committee, inspecting army posts on a nation-wide scale are shown with officers at Jefferson Barracks in a visit there yesterday afternoon, 1939
#104

Tanks In Field #2, 1939
#105

A part of the line of war veterans eho estched as the Sixth Infantry passed in review during the Memorial Day program at Jefferson Barracks yesterday, 1935
#106

Lafayette National Bank, 1931
#107

Jefferson Barracks Sixth Infantry, 1937
#108

Jefferson Barracks Sixth Infantry, 1938
#109

Officers Play Golf on the Jefferson Barracks Course, 1935
#110

Jefferson Barracks Army Day Parade ,1937
#111

The Only 'Casualty', An Overturned Tank–Jefferson Barracks, 1938
#112

General Inspects Jefferson Barracks' Sixth Infantry, 1937
#113

Recruits from Jefferson Barracks ride the train to the Pacific Coast, 1939
#114

Men in suits visit a man with either long legs or short pants, 1937
#115

Back of the Reconstruction, 1935
#116

A Private Matter, 1937
#117

Army Day at Jeffeson Barracks, and the Sixth Infantry is at its best, 1938
#118

Jefferson Barracks Training Camp, 1931
#119

It looks like the old 138th but it is the St. Louis Officer personnel of the CMTC encampment at Camp Joseph T. Robinson, Arkansas, which concludes a two-week period of training today, 1939
#120

A section of the student army at Jefferson Barracks donning campaign uniforms, 1932.
#122

McKinley Bridge Roadway on Fire, 1936
#123

Trains on the Track of the McKinley Bridge, 1931
#124

The Park Royal Apartments (also known as the President Apartments), fifteen stories in height and containing fifty-six large suites, has just been completed at 4605 Lindell Boulevard, 1930
#125

The three-story building that has stood at the southeast corner of Grand boulevard and Olive street for almost sixty years is being torn down to make way for a new two or three story structure, 1933
#126

The buildings on Fourth and Chestnut streets, 1938
#127

Two sets of stone pillars flank the entrances to this squat and substantial building at 14-16 South First street, 1935
#128

An in-between snack was distributed to those who arrived too late for breakfast and couldn't wait for noon mess, 1939
#129

This quintet of Citizens' Military Training Camp students was photographed had been passed and rationed their equipment, 1935
#130

The Pierre Chouteau Apartments, 1934. The structure contains about 60 units, consisting mainly of six rooms and two baths and five rooms and one bath apartments.