During the late 19th and early 20th centuries, St. Louis' population grew steadily. By the 1930s the population of the city was around 821,960, and the Great Depression had stopped economic growth. The manufacturing output fell by 57 percent between 1929 and 1933, slightly more than the national average of 55 percent. As of 1939, St. Louis' industrial production was only 70 percent of what it was in 1929, while national industrial production was 84 percent in 1929.
The brewing industry recovered after Prohibition was repealed in 1933, but this still wasn't enough to compensate for the losses in industrial production in St. Louis. In the 1930s, mandatory minimum wage laws made it illegal for black workers to be appointed to the same jobs as white workers, and many black workers were fired and replaced by white workers. Many Black workers were only paid room and board in the domestic service industry, and skilled Black craftsmen were usually excluded from joining local unions and finding work as construction workers.
A total of $ 1.5 million of the city's funds were allocated for relief operations during the early years of the Depression, while $300,000 was given to the Salvation Army and another $1 million to the St Vincent de Paul Society. The city voted in late 1932 to issue a $4.6 million bond issue so that additional relief funds could be provided, and the Board of Aldermen and Mayor Dickmann balanced the budget in 1933 by cutting expenditures by 11 percent. Thousands of St. Louisans were employed by New Deal programs such as the Public Works Administration, which provided food and shelter.
African Americans created a growing share of the newcomers during that period. Over the following decades, the population of St. Louis declined rapidly. Most of those leaving the city were of European ancestry who fled to the suburbs; these communities quickly grew.
Below are some fascinating historical photos that will take you back to 1930s St. Louis.
#1

A Truckload of Cheer- As Famous Brewers Resume Old Role. St. Louis, 1933.
#2

August Anheuser Busch Sr of St Louis, Missouri, driving a horse drawn carriage in April of 1933.
#3

Model house, probably in St. Louis Hills, built by the Cyrus Crane Willmore Organization. Signs in the front yard advertise that the house is for sale, February 1931
#4

Workers at the Slavin Hat Company factory at 1117 Washington, April 1931
#5

General Motors "First Streamliner" bus leaving the Greyhound bus depot in St. Louis, 1932.
#6

Automobiles Parked on Side Street in St. Louis, 1930s.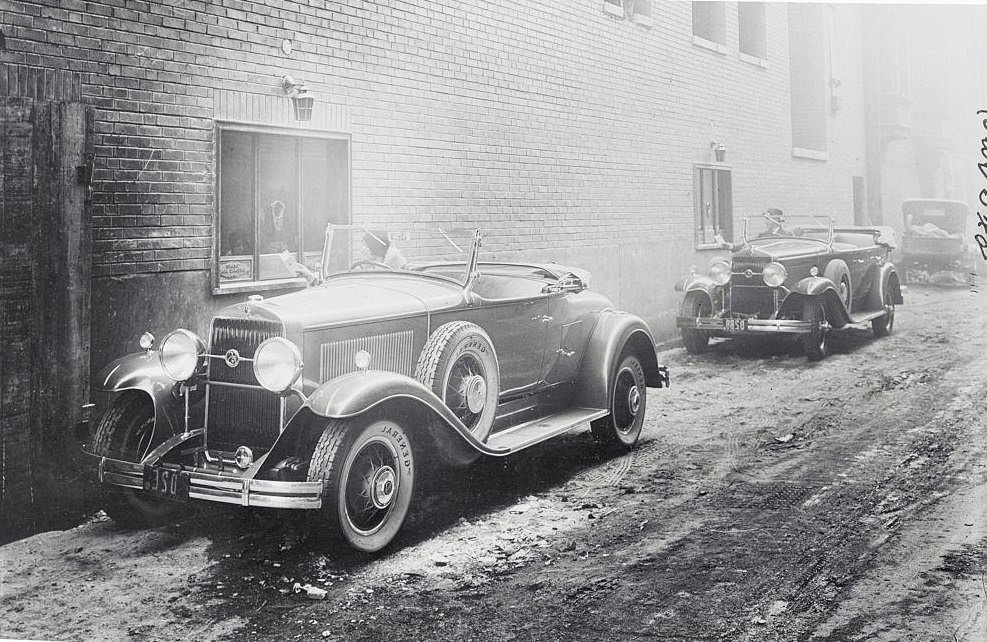 Cruising up and down side streets in the eternal quest for parking space is no longer a tribulation of patrons of this modern banking institution, in Grand National Bank. Depositors are shown driving up to the special windows which now provide curb service along a private drive.
#7

Shack made of barrels and tar paper, St Louis, 1931.
#8

Bureau for homeless women in Saint Louis december, 1932.
#9

African-american settlement near steel foundry workers homes east St. Louis, 1934.
#10

"Then and now" photo of two Oldsmobile cars. The vintage 1897 model Oldsmobile is parked next to a new 1931 Oldsmobile. June 1931
#11

A speaker addresses the crowd at the dedication of the new Castle Point subdivision at the corner of Halls Ferry and Chambers roads in north St. Louis County. June 1931
#12

Banquet held at the Forest Park Hotel for the nurses of St. John's Hospital. May 1931
#13

Dodge half-ton truck decorated with signs complaining about its poor quality, May 1931
#14

Family group gathered for the golden wedding anniversary of Conrad G. and Augusta Kempf. The party was held at 6324 Mardel, the home of their daughter, Bertha Meyer, and her husband, Adolph E. Meyer. March 1931
#15

Group of school children posing with instruments on the steps of the Immaculate Conception parish school at 2912 Lafayette, June 1931
#16

Group portrait of Chase Hotel waiters, posed on the hotel's roof, May 1931
#17

Group portrait taken during the First Annual Convention of the Young People's Federation of the Episcopal Diocese of Missouri.
#18

Large crowd waiting outside the doors at the grand opening of Elliott's Cut Price Department Store at 5206 Gravois, June 1931
#19

Large group posed around three members of the clergy on the steps of the Holy Trinity Serbian Eastern Orthodox Church at the corner of Geyer and McNair, April 1931
#20

Man in the cab of a Columbia Terminal Company truck. Photo by Sievers Studio, April 1931
#21

Monsanto Chemical Works employees posed in a chemical laboratory at the Monsanto plant at the corner of 2nd and Lafayette, June 1931
#22

Produce displays outside of Jim Remley's Market at 6213 Easton in Wellston (later renamed Dr. Martin Luther King Drive), June 1931
#23

Product shot showing a 7UP soda display, June 1931
#24

Star Theater at 16 South Jefferson, at the corner of Market and Jefferson, June 1931
#25

Street car union members voting on a strike at Unity Hall, May 1931
#26

Winners holding flowers after a marathon bicycle race held in O'Fallon Park, June 1931
#27

Boat-shaped car used by Anheuser-Busch to promote the brand. May 1931