Shelley Duvall is a former multi-award winning actress, singer, producer, and writer. She was one of the biggest celebrities of the '70s and '80s, known for her ability to portray quirky and eccentric characters. Her stunning looks, including prominent front teeth, quizzical eyes, and toothy smile made her impossible to forget.
Acting Career
During her high school, Shelly became a cosmetics salesperson. Director Robert Altman spotted her during an engagement party of an artist. He offered her a role in his upcoming movie 'Brewster McCloud (1970). Altman also cast her in his next upcoming films. With each role, Duvall's acting talent flourished and by the late 1970s, she was a well-known Hollywood actress. She also won the Best Actress award, at the 1977 Cannes Film Festival. Her career-changing role came in 1980 when Duvall appeared opposite to Jack Nicholson in "The Shining". During the shooting of 'The Shining', Altman offered him the role of 'Olive Oyl' in the big-screen adaptation of Popeye opposite Robin Williams. Throughout the 1980s and 1990s, Duvall appeared in many movies and TV Shows. She also brought her talents to the small screen and worked in some low-budgeted movies. In the 1990s, Duvall took on a number of guest roles in programs such as Frasier and Aliens for Breakfast. In October 1991, Duvall released her two albums 'Hello, I'm Shelly Duvall' and 'Sweet Dreams'.
Personal life
Duvall married artist Bernard Sampson at the beginning of her career in 1970. However, the marriage lasted only four years, and the couple divorced in 1974.
Shelley Duvall Now
In the 2000s, Duvall portrayed some minor roles, her last appearance was in the 2002 independent film Manna from Heaven. After that, she retired from her acting career after years of failing to find work. In 2016, she gave an interview to Dr. Phil McGraw in which Duvall disclosed her mental illness. In the segment, she refused the offered treatment. After the interview, she never made any public appearance.
Here below are some stunning photos of young Shelly Duvall from her early life and career.
#1

Shelley Duvall with Daryl Hannah, 1987.
#2

Shelley Duvall as Olive Oil with Robin Williams, as Popeye, 1981.
#3

Shelley Duvall in McCabe and Mr's Miller, 1971.
#4

Sissy Spacek and Shelley Duvall in a scene from Three Women., 1977.
#5

Shelley Duvall with Woody Allen on the set of his film 'Annie Hall,' 1977.
#6

Shelley Duvall with Beatles drummer Ringo Starr at Heathrow Airport in London, 1978.
#7

Shelley Duvall posing while smoking, 1979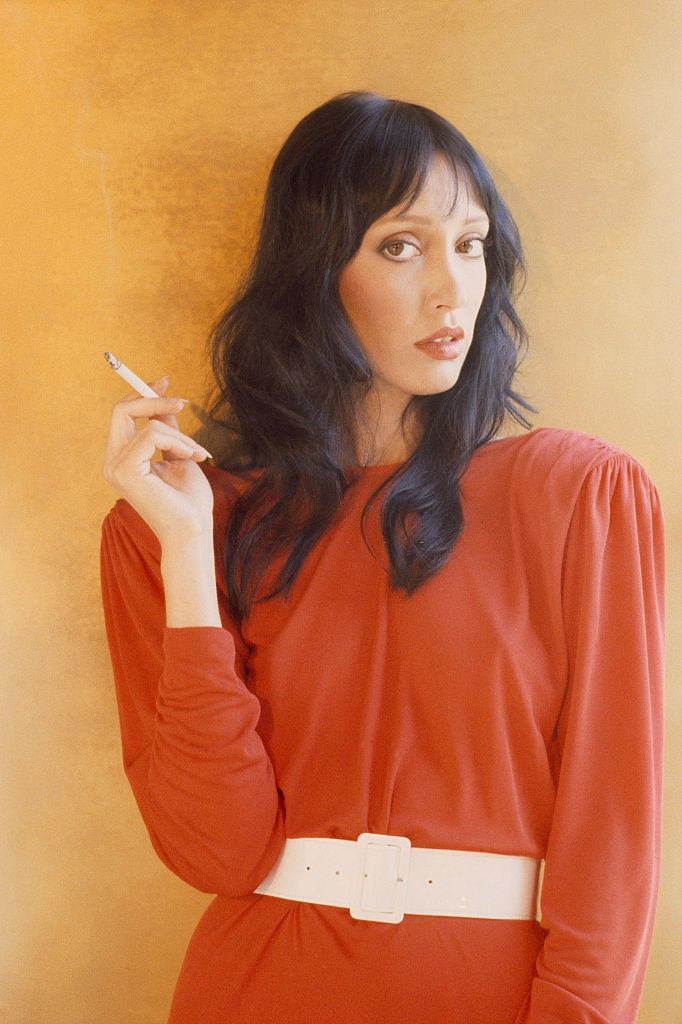 #8

A casual Shelley Duvall, 1977.
#9

Shelly Duvall with composer Paul Simon, leave theater after having seen the husband-wife acting team, 1977
#10

Shelley Duvall in scene from the move 'The Shining', 1980
#11

Jack Nicholson and Shelley Duvall in a scene from the Warner Bros movie 'The Shining' in 1980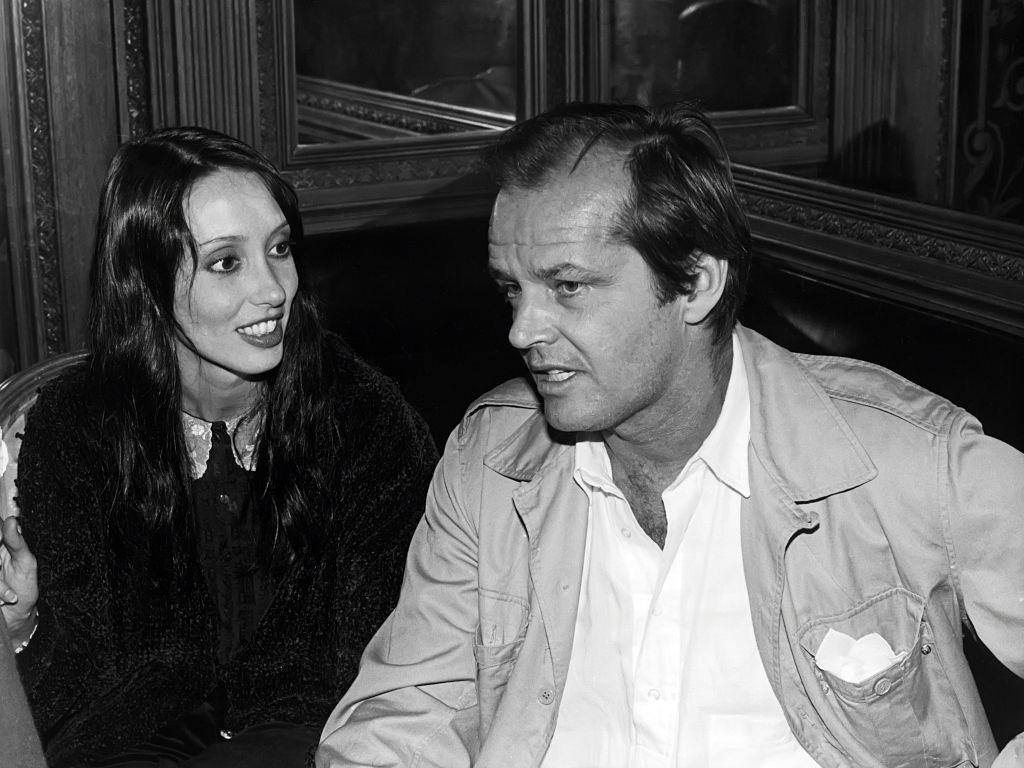 #12

Shelley Duvall with Michael Palin in a scene from the film 'Time Bandits', 1981.
#13

Actress Shelley Duvall, 1982.
#14

Shelley Duvall wearing straw hat, 1988.
#15

Shelley Duvall smoking a cigarette, 1960s.
#16

Shelley Duvall dressed as a rag doll in a scene from 'Brewster McCloud', 1969.
#17

Shelley Duvall signing autographs, 1970.
#18

Shelley Duvall and Roberto Rossellini at the Cannes Film Festival in 1972.
#19

Shelley Duvall with director Robert Altman at Cannes Film Festival, 1974.
#20

Shelley Duvall with Sissy Spacek in a scene from the film '3 Women', 1977.
#21

Young Shelly Duvall, 1977.
#22

Shelley Duvall with Jane Curtin, Gilda Radner, and Laraine Newman during the 'Video Vixens' skit on May 14, 1977
#23

Dan Aykroyd as husband, Shelley Duvall as wife during the 'Steak House' skit on May 14, 1977
#24

Shelley Duvall at 30th Cannes Film Festival, 1977.
#25

Shelley Duvall receiving the best actress award from Monica Vitti, 1977.
#26

Shelly Duvall in red dress, 1977.
#27

Shelley Duvall with Andy Warhol, 1981.
#28

Shelley Duvall with actor Dan Gilroy, 1988.
#29

Shelley Duvall with her mother, 1988.
#30

Shelley Duvall with Danny Elfman and Robby McDowall, 1988.
#31

Shelley Duvall on May 14, 1977
#32

Shelley Duvall with Geraldine Chaplin and Lauren Hutton at a party honoring film director Robert Altman, 1977.
#33

Shelley Duvall with Robin Williams Attending a party celebrating the release of "Time Bandits" at the Underground Disco in New York City. January 4, 1981
#34

Shelley Duvall, 1988.
#35

Shelley Duvall and Daryl Hannah, 1988.
#36

Shelley Duvall on the set of her film, 'Brewster McCloud', 1969.
#37

Shelley Duvall with Sally Kellerman in a scene from the movie 'Brewster McCloud', 1970.
#38

Shelley Duvall in knitted white coatdress, Vogue 1971.
#39

Shelley Duvall in crepe de Chine shirtdress, 1971.
#40

Shelley Duvall as Moonie, Garrett Morris as deprogrammer during the 'Night Of The Moonies' skit on May 14, 1977
#41

Shelley Duvall in New York City, 1981.
#42

Shelley Duvall in London, 1981.
#43

Shelley Duvall with Terry Gilliam at the premiere of "Time Bandits"o n November 4, 1981
#44

Shelly Duvall with Michael Richards, 1981.
#45

Shelley Duvall with Terry Gilliam attend "Barnum" Opening on February 14, 1982.
#46

Shelley Duvall with Nick Meyer, 1984.
#47

Shelley Duvall with activist Tom Hayden, 1985.
#48

Shelley Duvall, 1988.
#49

Shelley Duvall in Los Angeles, 1988.
#50

Shelley Duvall with Marlee Matlin, 1988.