The poisoning of the six children of Nazi propagandist Joseph Goebbels remains a mystery. In 1949, a doctor confessed that he had been an accomplice of the murder, but judges let him go unpunished in the case.
Helga, 12, has her father's dark hair and brown eyes, Joseph Goebbels. Hilde, 11 years old, is more of a brunette; anyone who looks at her quickly realizes that she is about to blossom into a true beauty. Then there is Holde, eight years old, Hedda, six years old, and the youngest of the girls, Heide, age four. H for Hitler. Every child's name evokes the name of the Führer, for whom Goebbels serves as propaganda chief. Helmut, the family's only child, is a slightly languorous nine-year-old.
Under the Chancellery of the Reichstag, the bunker was a grey concrete space with narrow passageways, iron doors, and cold lighting. Nothing was welcoming about this place. This was incredibly distressing for the children playing with cats and dogs on a farm far away from Berlin only a few weeks earlier. At the fall of Berlin, Russian soldiers were just a few hundred meters away. Everyone in the bunker urged the parents to take the children somewhere safe finally. German aviator Hannah Reitsch said: "My God, Mrs. Goebbels, the children cannot stay here even if I have to fly in twice to remove them." Their mother, Magda, said, My children would rather die than live in humiliation and disgrace. Their father is concerned that Stalin plans to take the children to Moscow, where they would be brainwashed into becoming communists.
Many stories of brutality and rape by the advancing Soviet troops circulated in Berlin. There was much discussion about suicide to escape punishment or humiliation by the Soviets. Joseph Goebbels added a postscript to Hitler's last will and testament, stating that he would disobey the order to leave Berlin: "For reasons of humanity and personal loyalty," he had to stay. In addition, his wife and children supported his decision not to leave Berlin and die in the bunker. Magda and Joseph Goebbels had SS dentist Helmut Kunz inject morphine into their six children the following day to be unconscious when cyanide was crushed in their mouths. According to Kunz's later testimony, he gave the children morphine injections, but Magda and SS-Obersturmbannführer Ludwig Stumpfegger, Hitler's physician, administered the cyanide.
The bunker's telephone/radio operator, Roch Misch, stated that Werner Naumann told him he had seen Dr. Stumpfegger give the children something to drink that was "sweetened." Another account says that the children were told they would be leaving for Berchtesgaden in the morning, and Stumpfegger was said to have provided Magda with morphine to sedate them. In an interview with Erna Flegel, Flegel claims that Magda reassured the children about the morphine by reassuring them that they would have to get inoculations since they would be staying in the bunker for a long time. According to James P. O'Donnell, even though Stumpfegger probably drugged the children, Magda killed them herself. He speculated that witnesses blamed Stumpfegger for the deaths because he was a convenient target, having passed away the following day. In addition, as O'Donnell noted, Stumpfegger may have been too intoxicated at the time of the deaths to have played a significant role.
There is evidence that Magda contemplated and discussed killing her children at least a month in advance. Eleanore Quandt, Günther Quandt's sister-in-law, recalled Magda telling her she didn't want her children to grow up knowing their father had been a notorious criminal and that reincarnation could help them in the future. Reitsch stayed in the bunker after Luftwaffe General von Greim met with Hitler and said she was asked to help ensure Magda did not back away from killing the children during the last days of their meeting. Albert Speer offered to take the children out of Berlin, but she refused. Even though the children seemed unaware of the impending danger, the oldest child, Helga, sensed that the adults were lying to her about the war's outcome and asked what would happen to them. Misch was among the last to see the children alive. As their mother combed their hair and kissed them, they sat around a table in his work area wearing nightgowns because it was getting close to bedtime. Heide, the youngest, had scrambled up onto the table. Helga, whom Misch called the brightest of the children, was "crying softly" just before bedtime on that final night and wore a glum expression. Misch felt Helga had little fondness for her mother. Magda had to push Helga up the stairs that led to the Vorbunker. Heide, a four-year-old with tonsilitis and a scarf around her neck, turned to look at Misch, chuckling, teasingly said, "Misch, Misch, you are a fish," just before her mother led her and her siblings upstairs. Misch recalled later that he suspected what would happen and would always regret not intervening.
When Soviet troops entered the bunker a day later, they found the children's bodies in nightclothes, with ribbons in their hair. The Soviet autopsy of Helga's body noted "several black and blue bruises," indicating that she probably woke up and struggled with her killer. The photo taken during the autopsy showed heavy bruising on the child's face. Injuries were caused by forcing cyanide capsules into her mouth.
#1

The Goebbels children.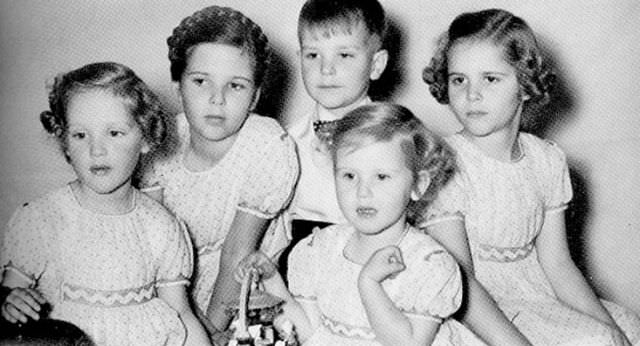 #2

Heidrun Elisabeth Goebbels (1940-1945)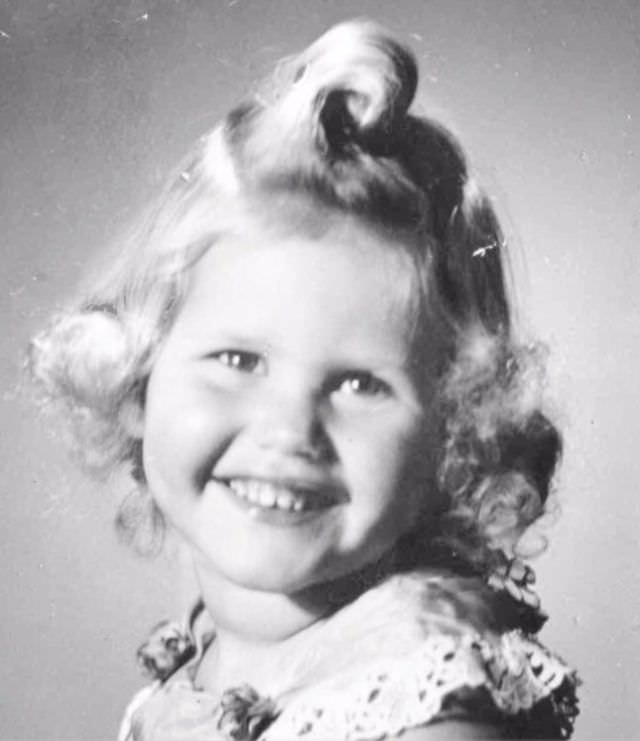 #3

Holdine Goebbels in 1939.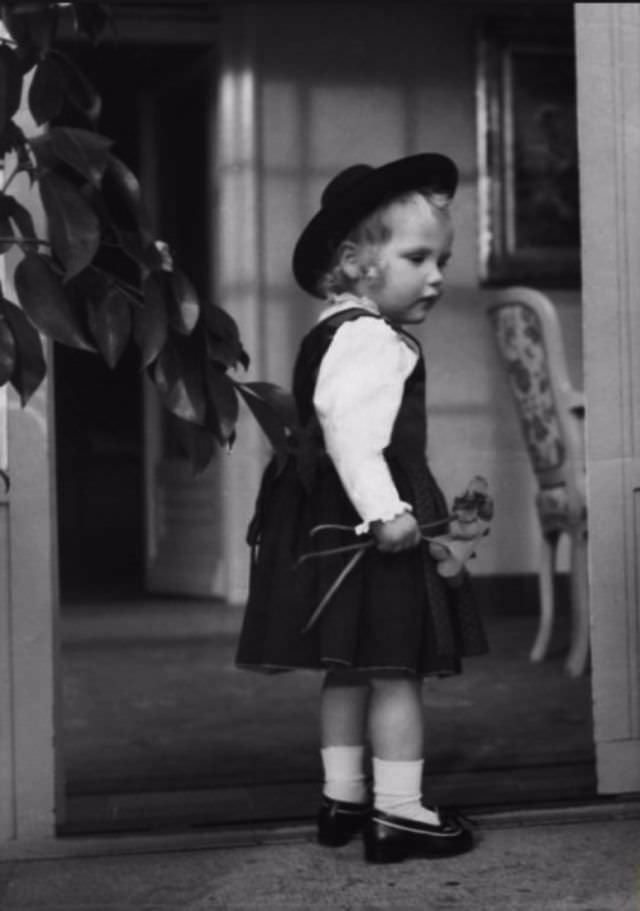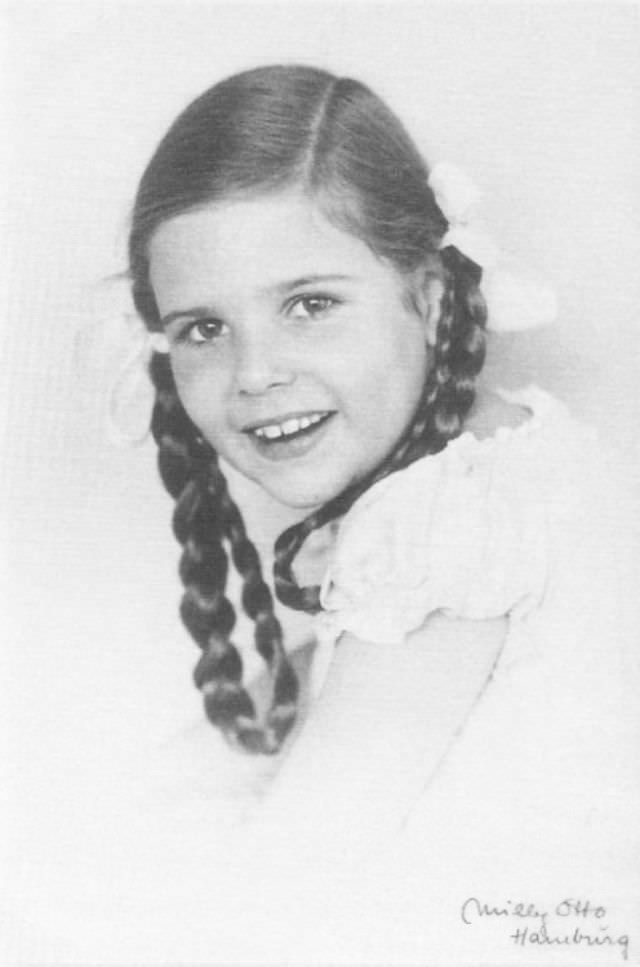 #5

Holdine Goebbels, December 1938.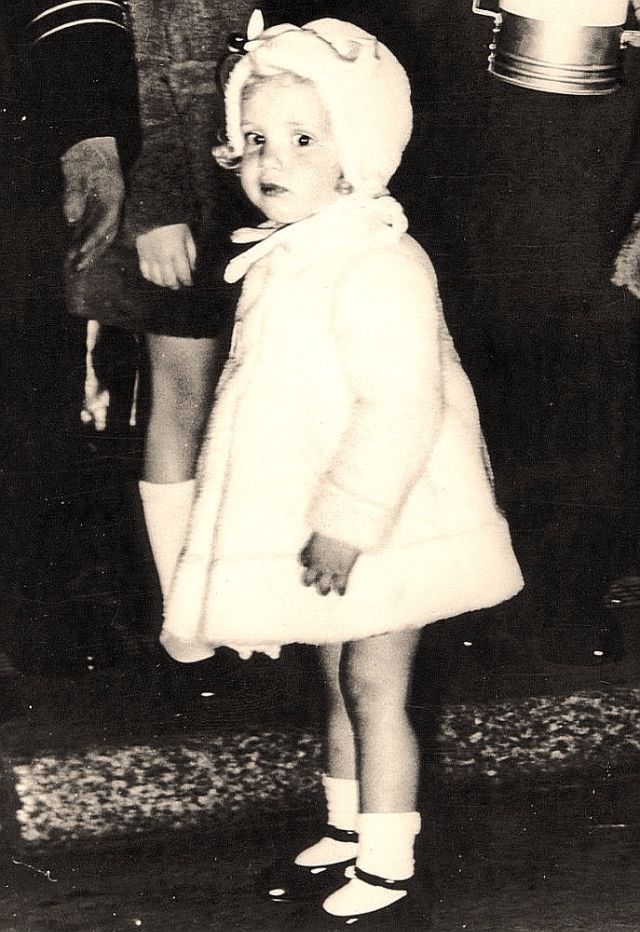 #6

Helga with Prinz, Hitler's dog.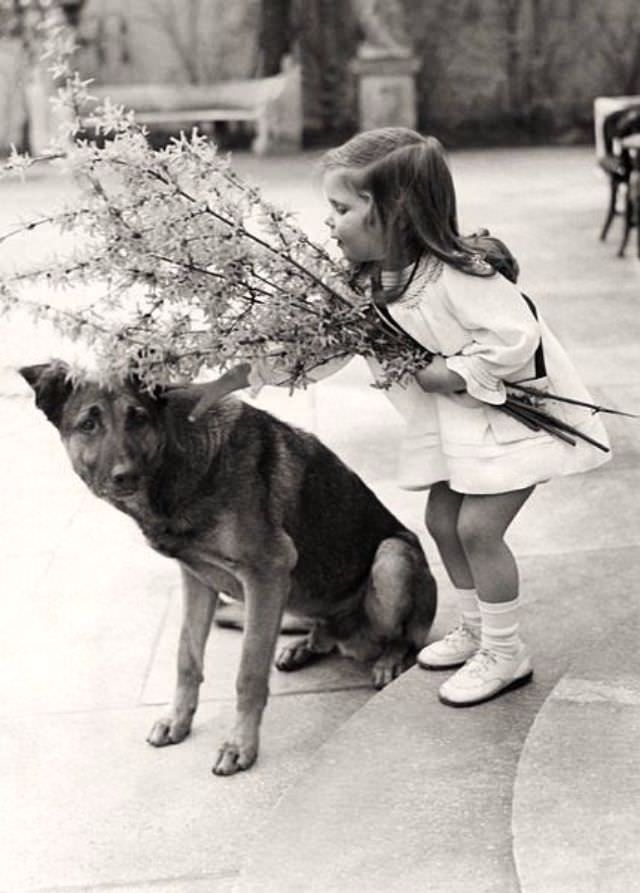 #7

Joseph Goebbels in a park with his children.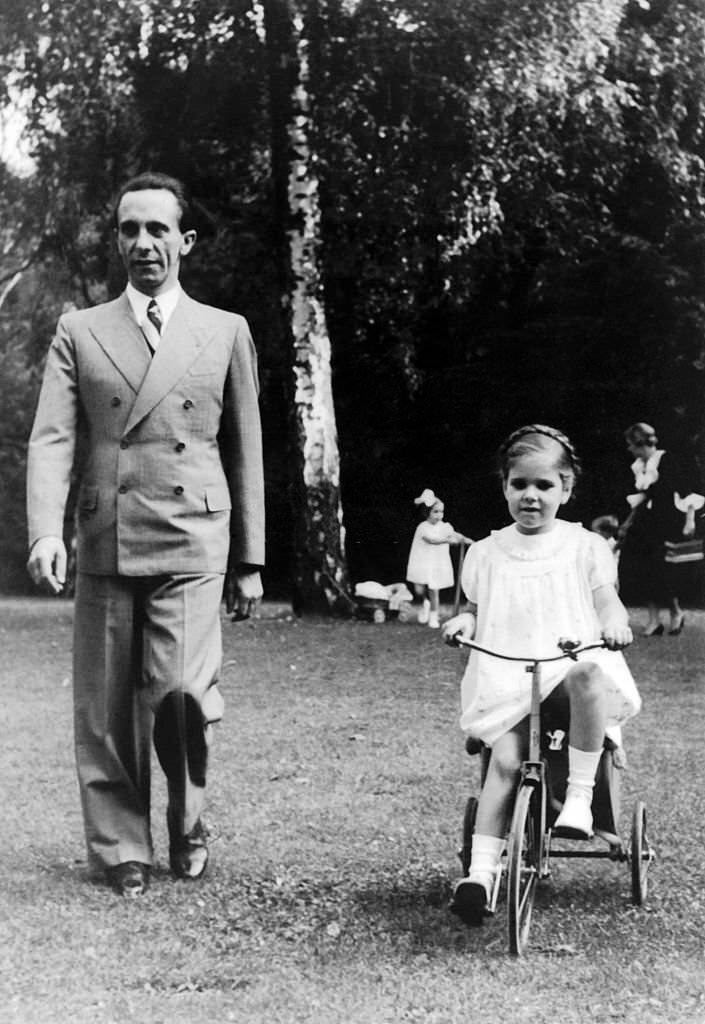 #8

Joseph Goebbels playing with the children Hilde,, Hellmut and Helga (from left), 1938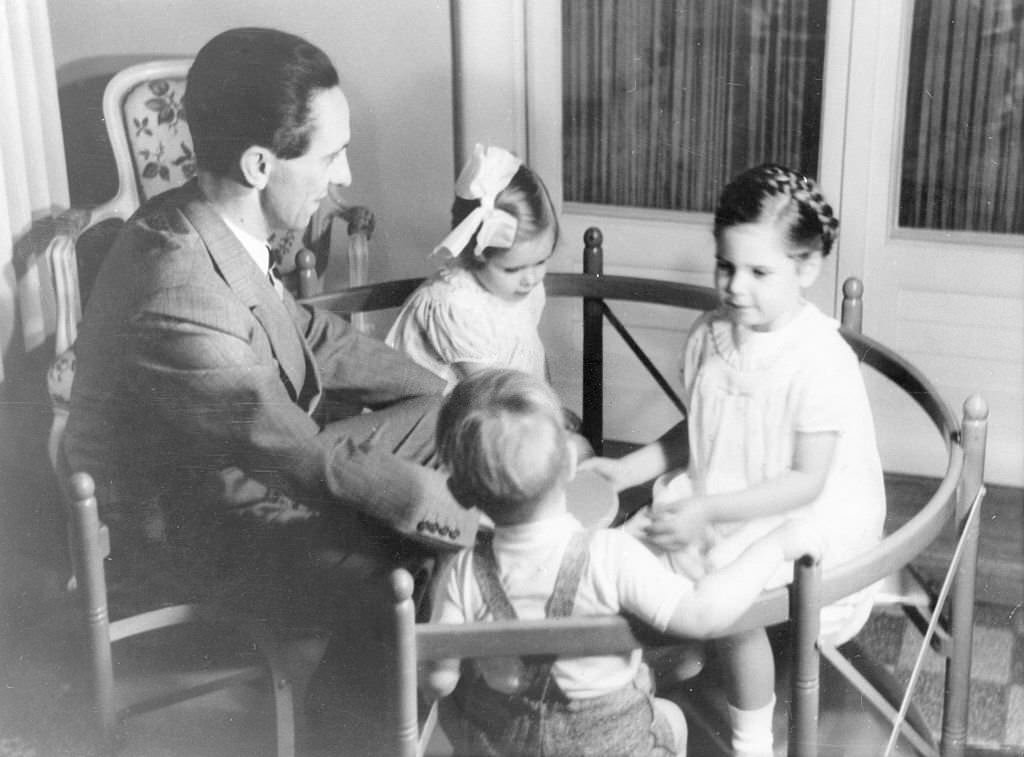 #9

with her daughter Helga with a bouquet of forsythia, 1937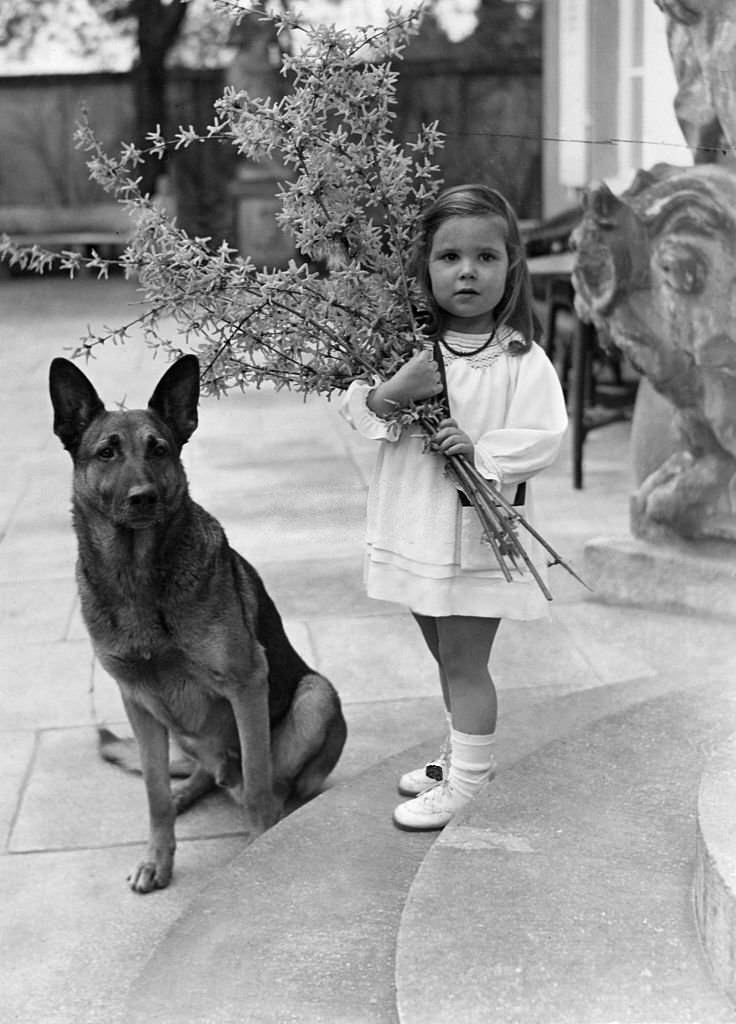 #10

Joseph Goebbels with his wife Magda and the children, Hilde , Hellmut, Holde and Helga (from, left) in front of the house on Schwanenwerder in, expectation of Prince Paul of Yugoslavia, who is staying in Berlin for a state visit.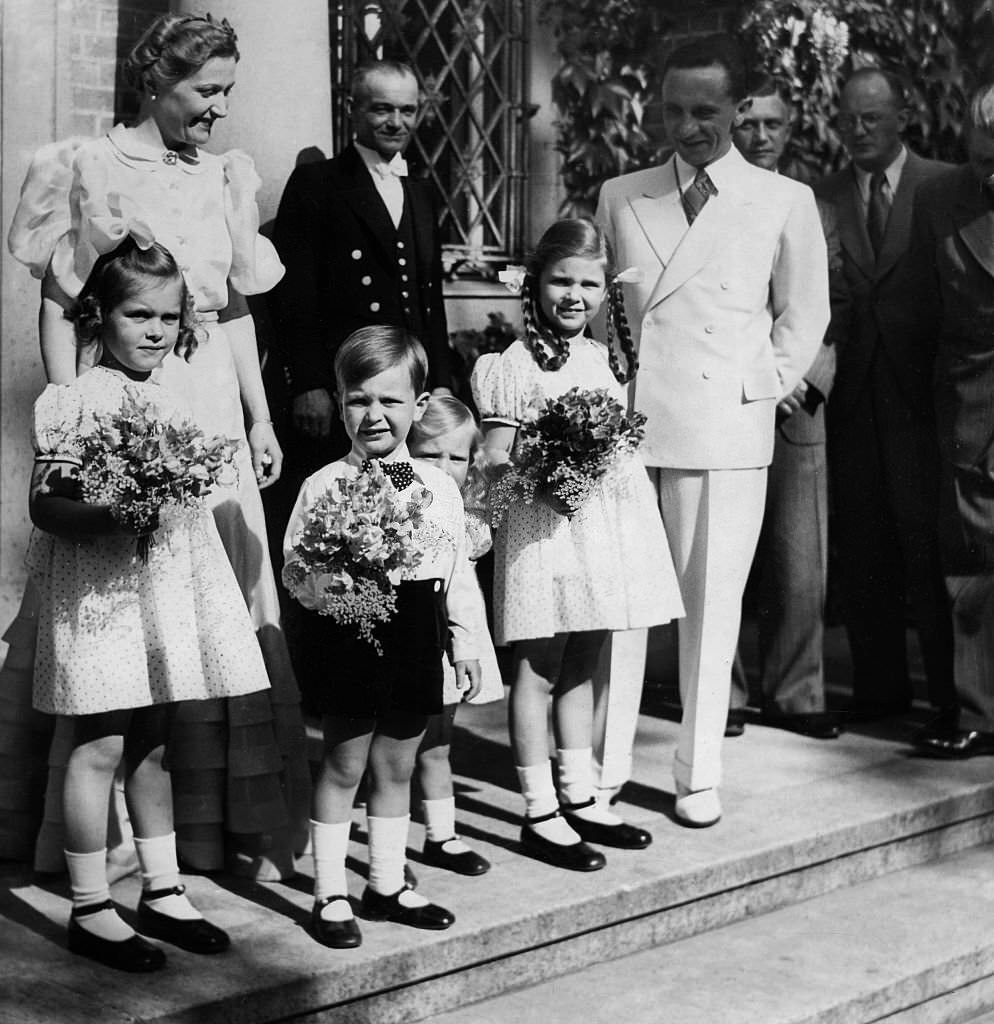 #11

Joseph Goebbels with two little girls at a Christmas party Coffee table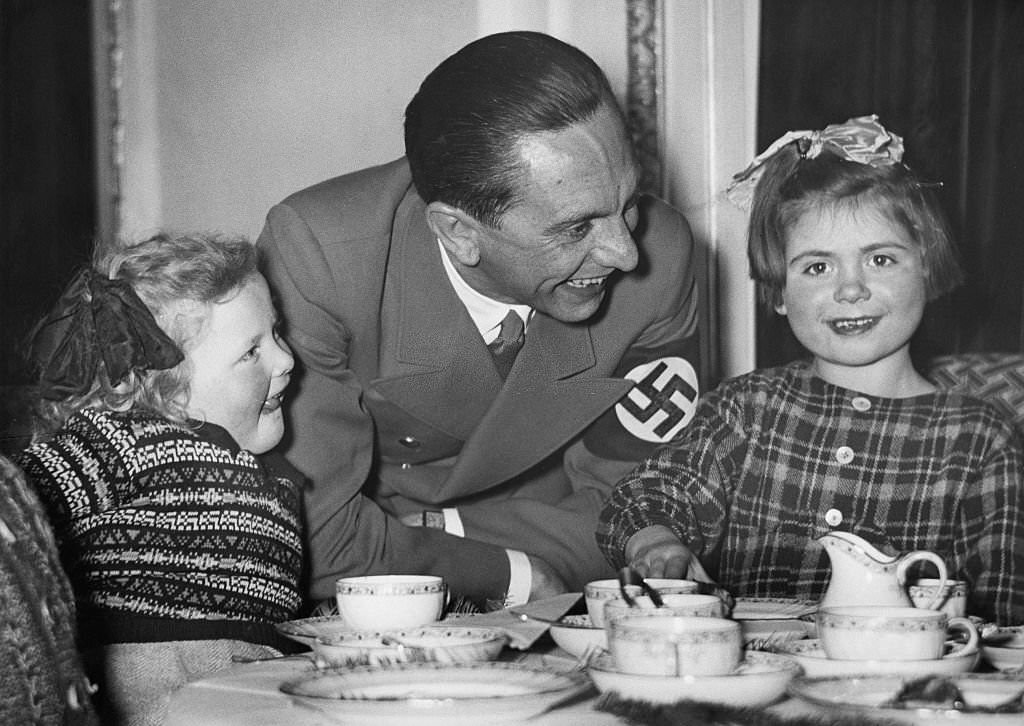 #12

Joseph Goebbels with his children Helga, Hilde, Hellmut, und Holde doing Christmas handicrafts, 1938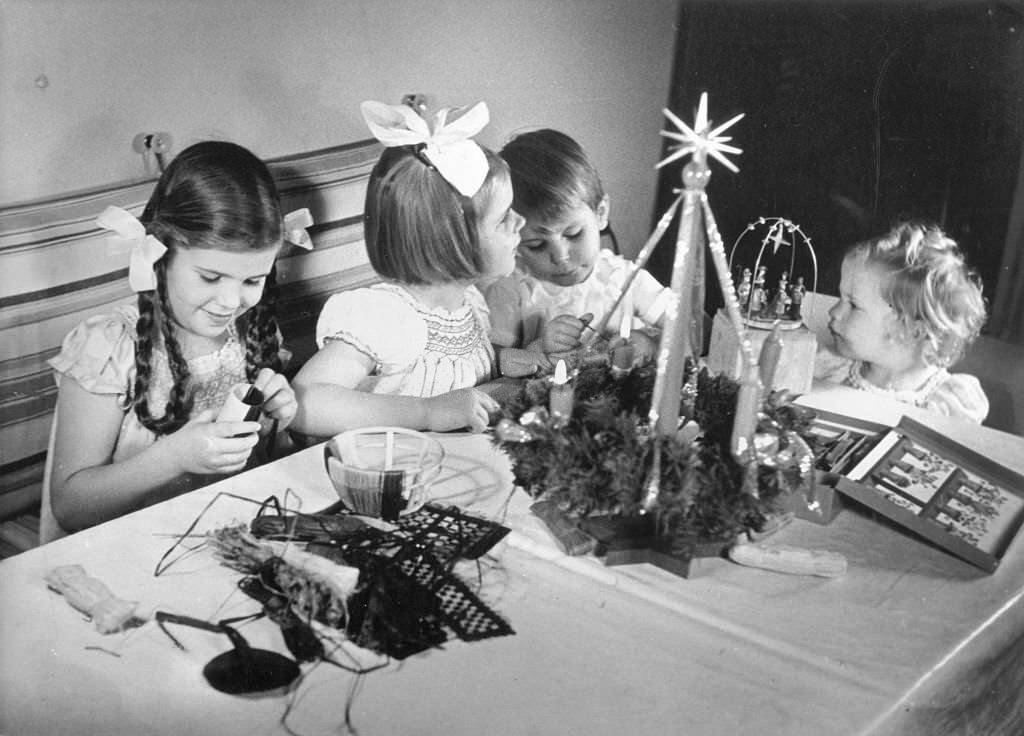 #13

Joseph Goebbels welcomes a girl from the open, car out during a drive through Rheydt, 1934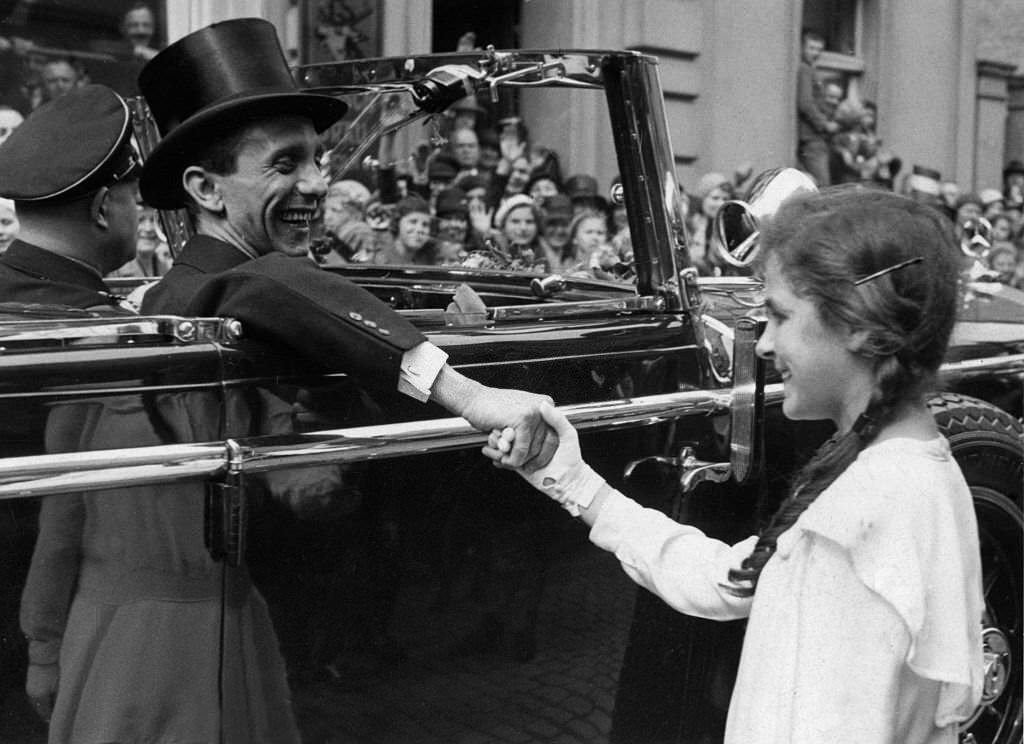 #14

Joseph Goebbels with his wife Magda and children Hellmut, und Holde in front of the house on Schwanenwerder, in anticipation of Prince Paul of Yugoslavia, who is staying in Berlin for a state visit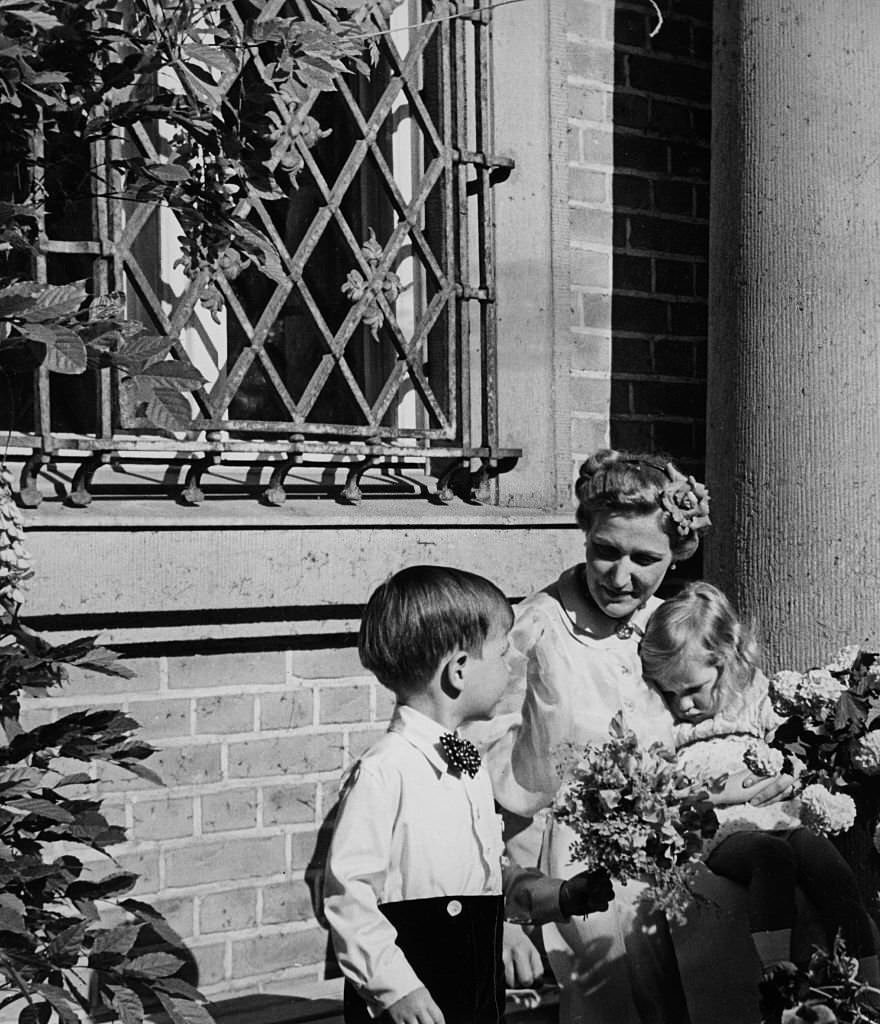 #15

Magda Goebbels with Helga, Hilde, Hedda ( in the arm ), Holde,, Hellmut and Harald Quandt (from first marriage), 1938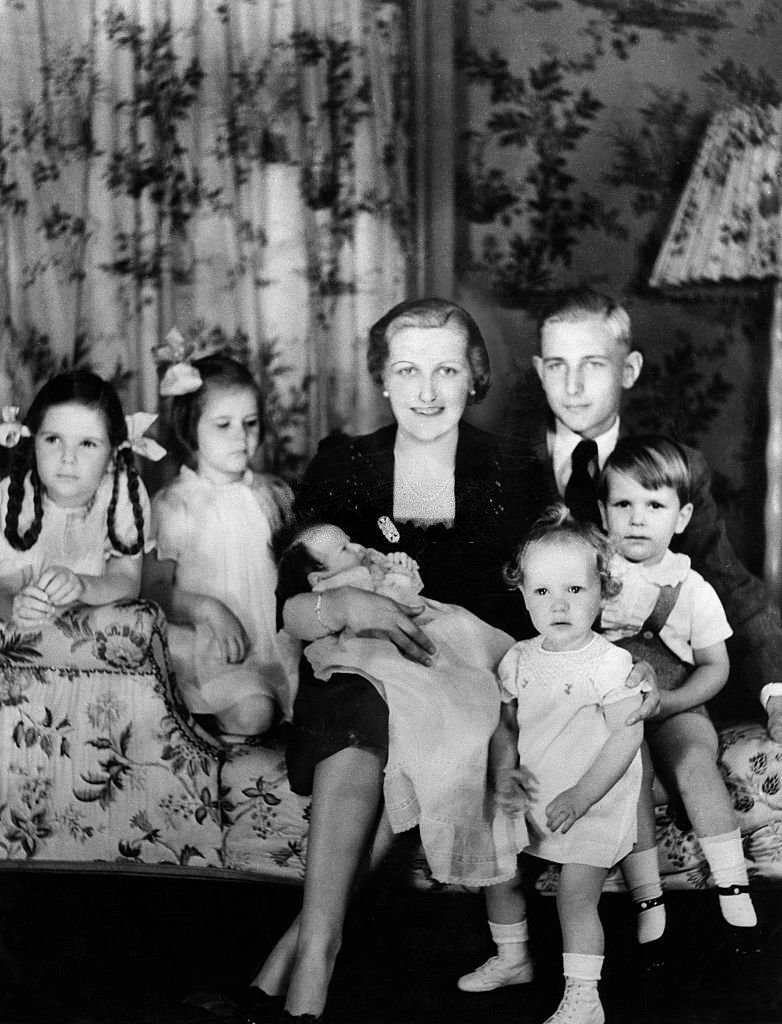 #16

Joseph Goebbels stepson Harald Quandt (middle), die, Daughters Helga and Hilde (in white dresses, from left) with playmates, 1935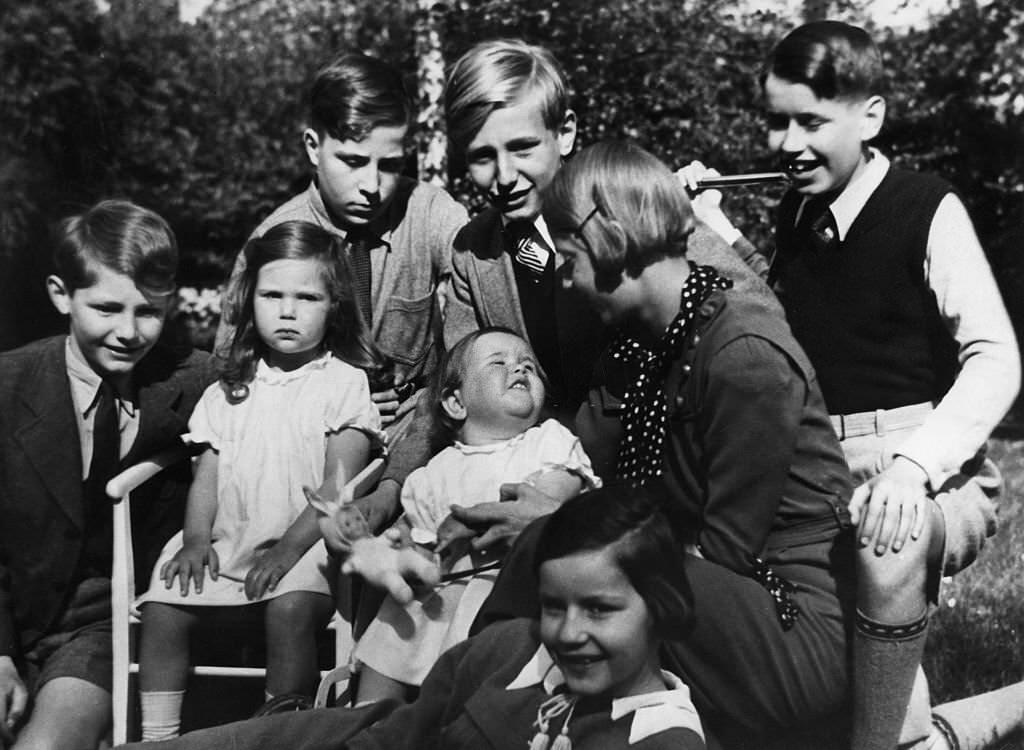 #17

Magda Goebbels wife of Joseph Goebbelswith daughters Hilde and Helga, 1935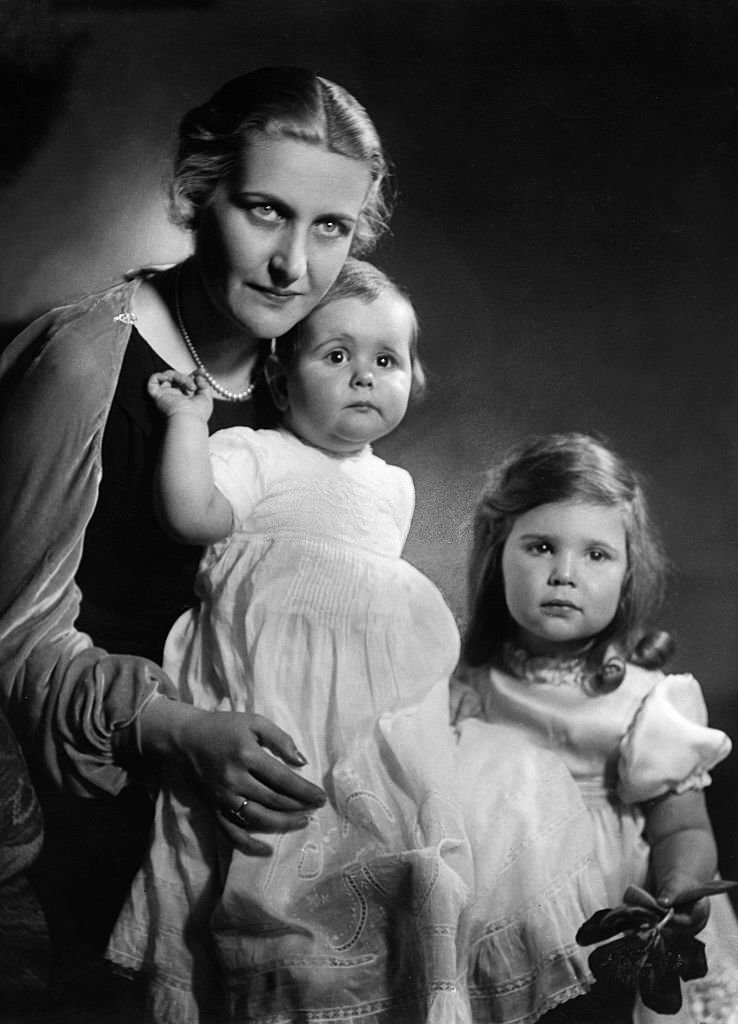 #18

Goebbels, Joseph on a boat trip with his, 1937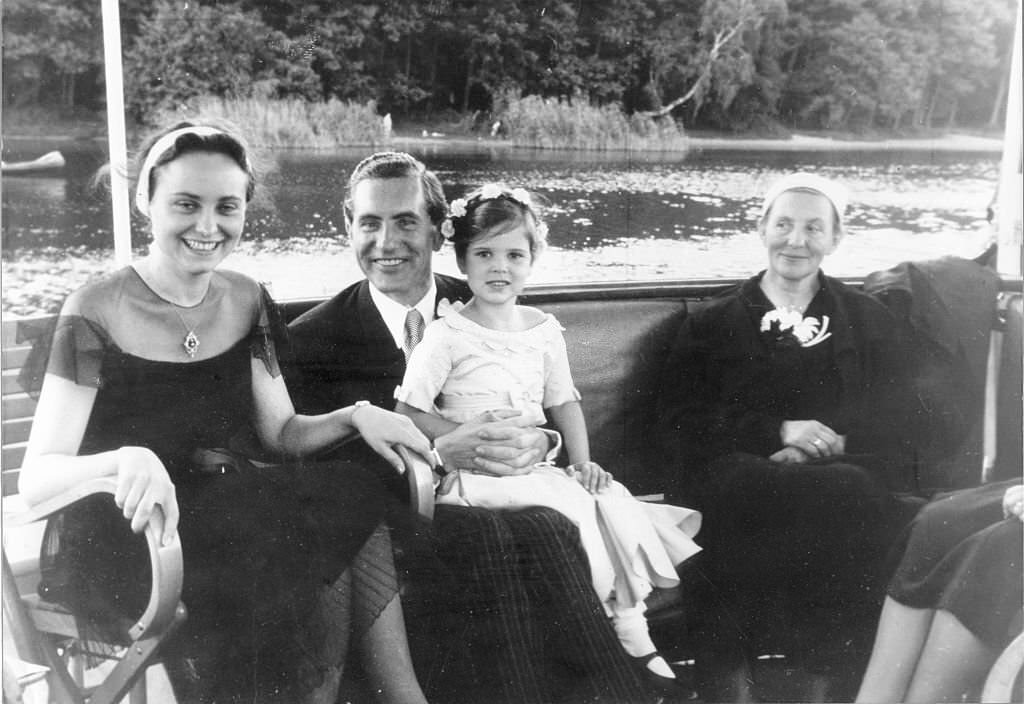 from left: Goebbels sister Maria , Max Kimmich, daughter Helga, and Goebbels mother Katharina Goebbels- Published in 'Berliner Illustrirte Zeitung.
#19

Joseph Goebbels reads to her daughters Hilde and Helga, 1935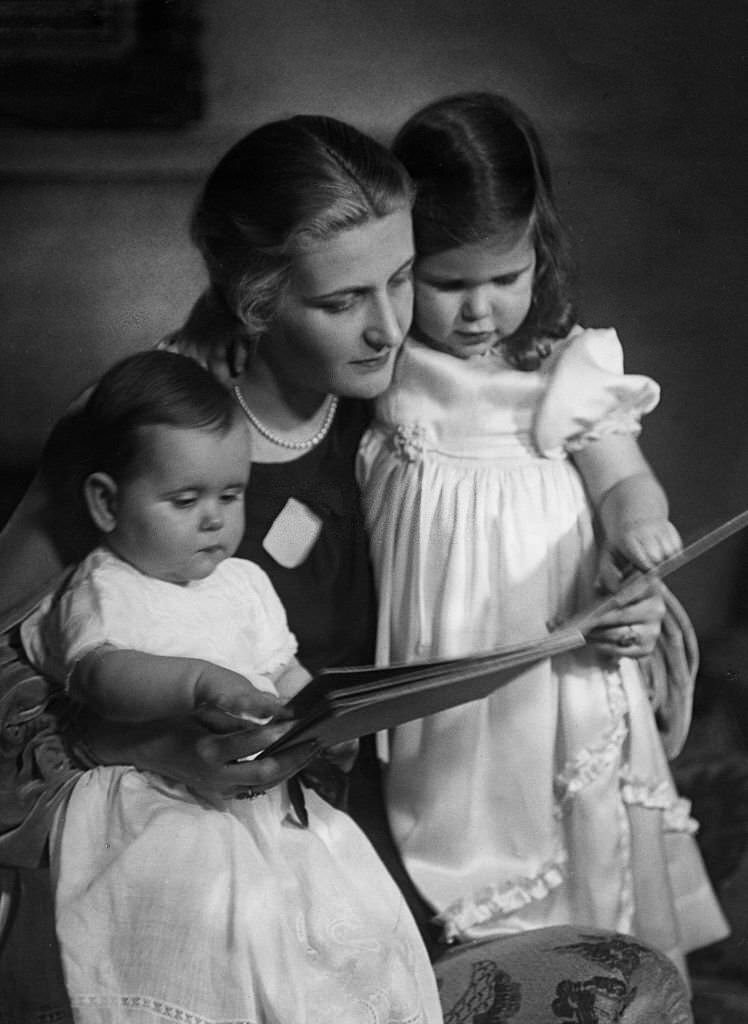 #20

Joseph Goebbels near Parchim (Mecklenburg); next to the bridal couple.
Harald Quandt, son of Magda Goebbels' first marriage to industrial magnate Guenther Quandt; in the background best man Franz Ritter
#21

Joseph Goebbels Hildegard, Helmut and Helga Goebbels, 1938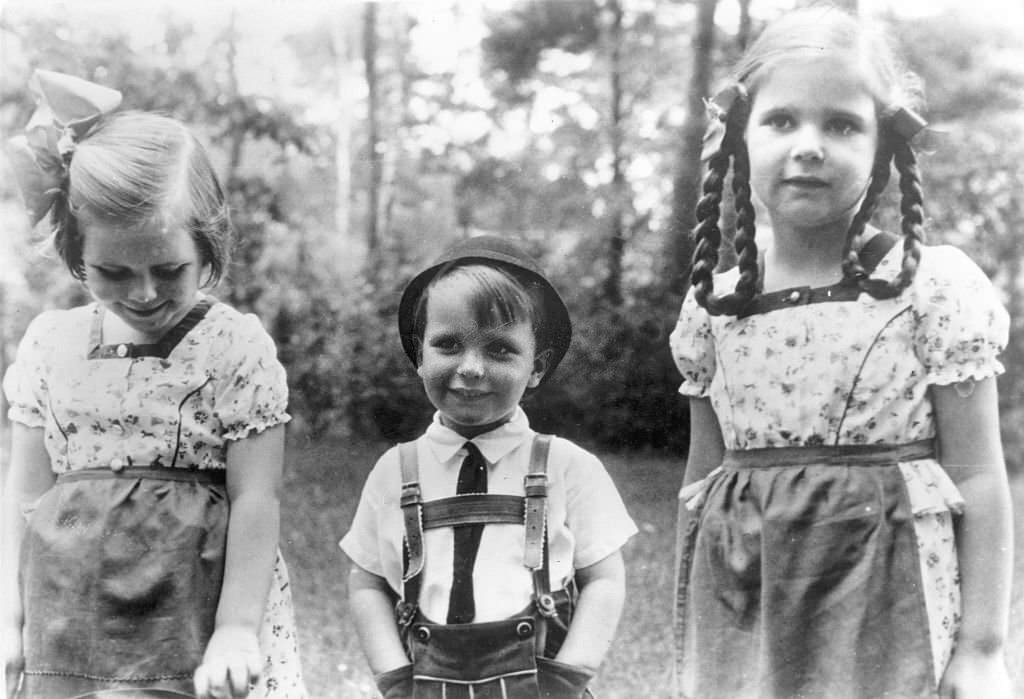 #22

Joseph Goebbels with wife Magda, daughters Hilde and Helga and stepson Harald from the first marriage Magda Goebbels' with the industrialist Günther Quandt, 1935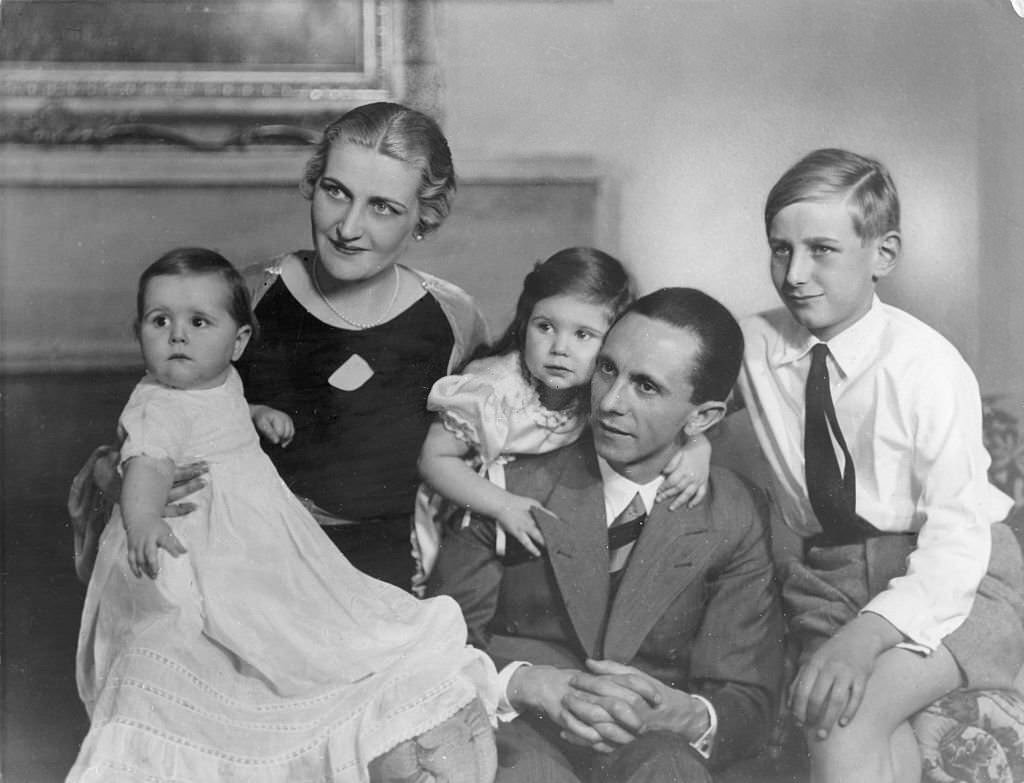 #23

Joseph Goebbels with his daughter Helga during a holiday on the pier of the Mecklenburg Baltic Sea resort of Heiligendamm, 1935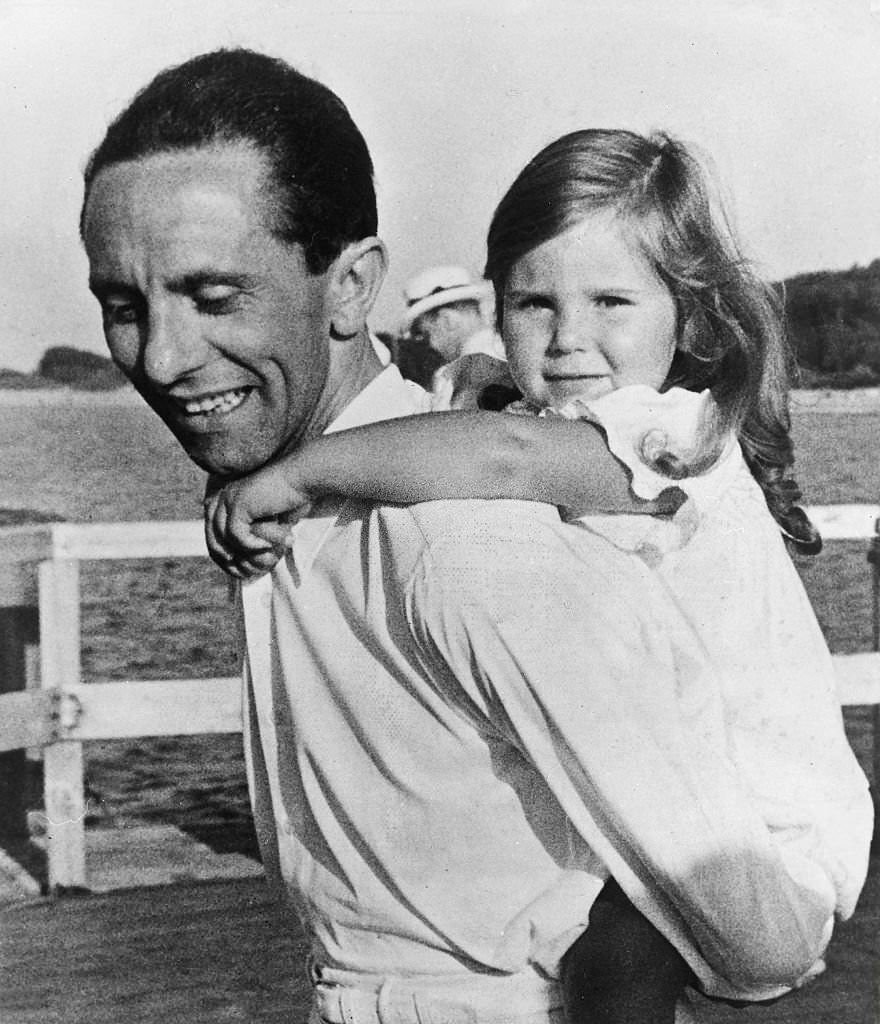 #24

Joseph Goebbels with their children visiting a performance of the Circus Krone, 1938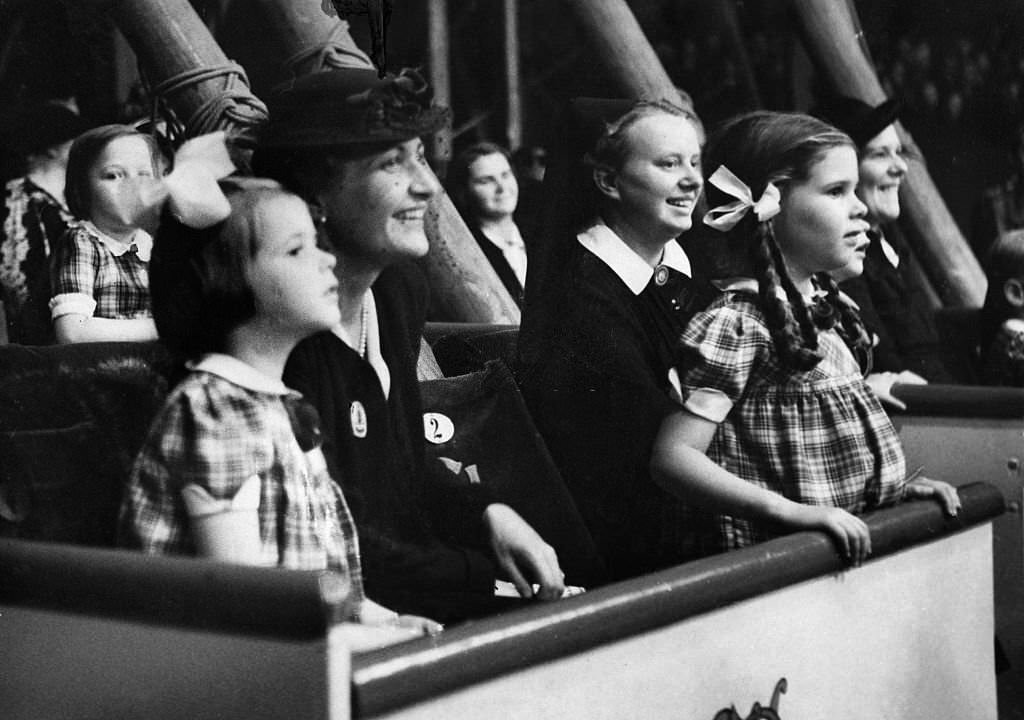 #25

Joseph Goebbels with their daughter Helga doing homework, 1939
#26

Joseph Goebbels with their children in the Krone circus, 1938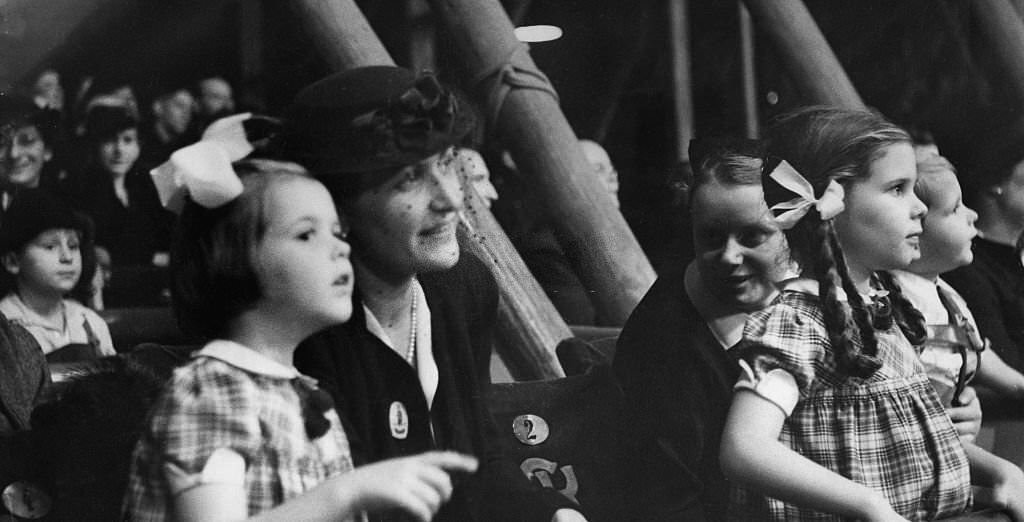 #27

Joseph Goebbels with his daughter Helga, 1937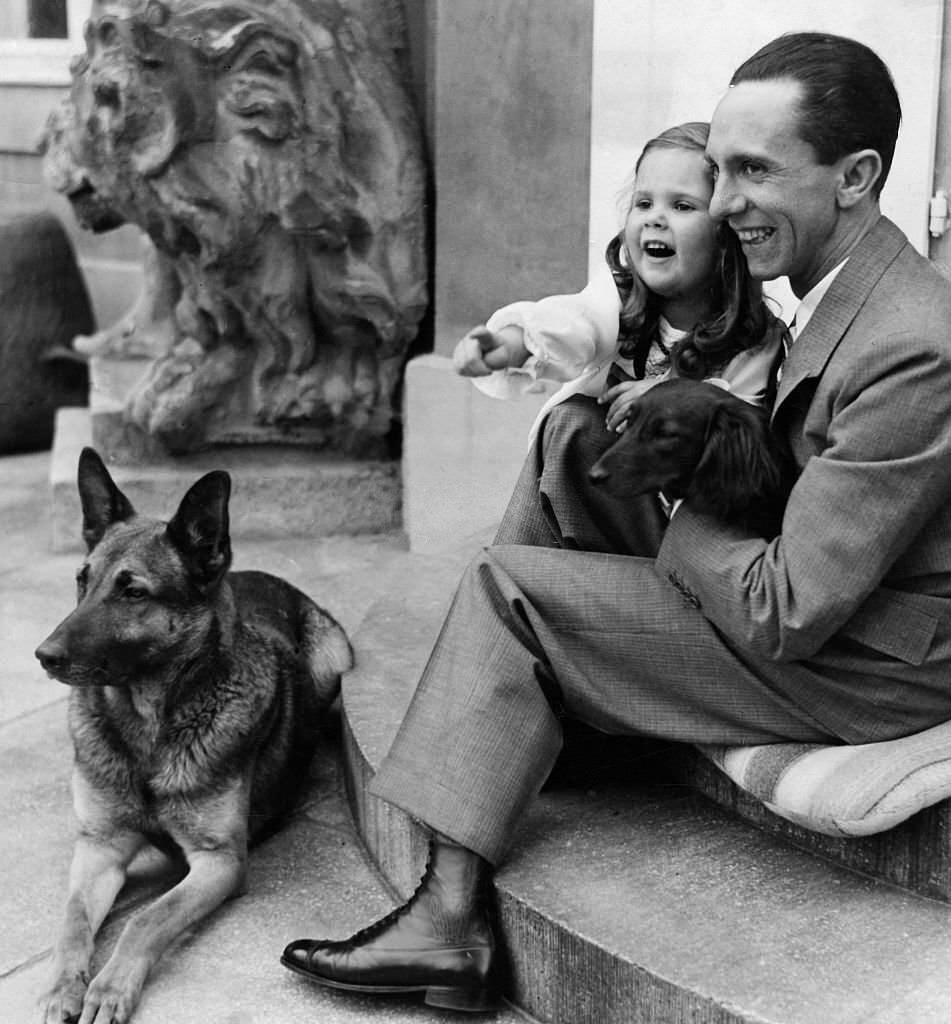 #28

Magda Goebbels with her children (from left): Helga, Hellmuth, Hedda, Hilde and Holde.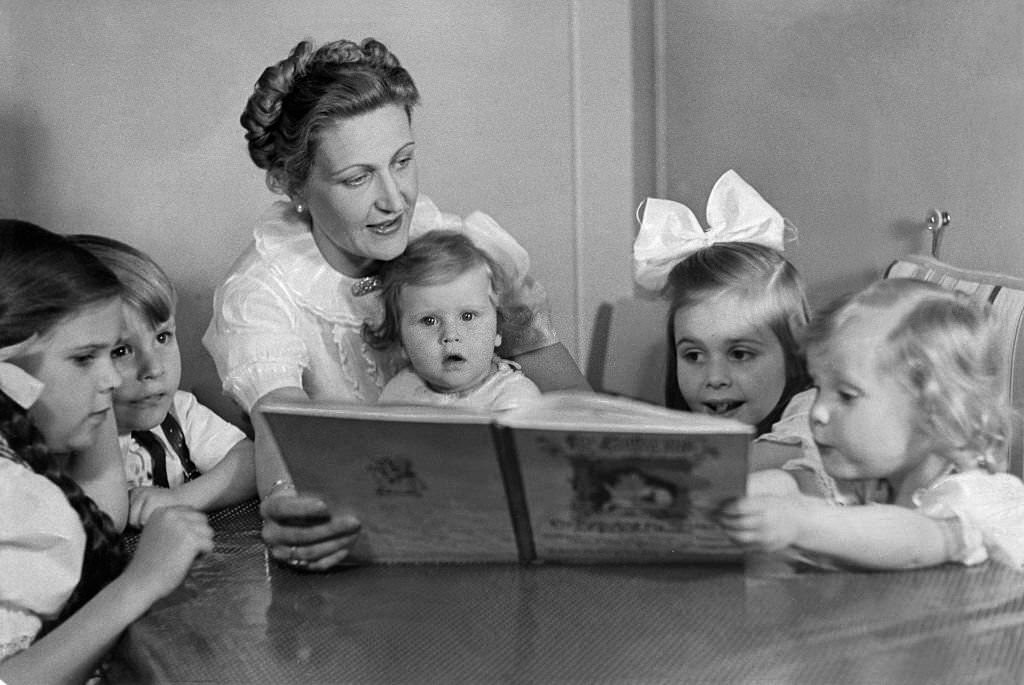 #29

Joseph Goebbelswith the daughters Hilda and Helga at the piano, 1937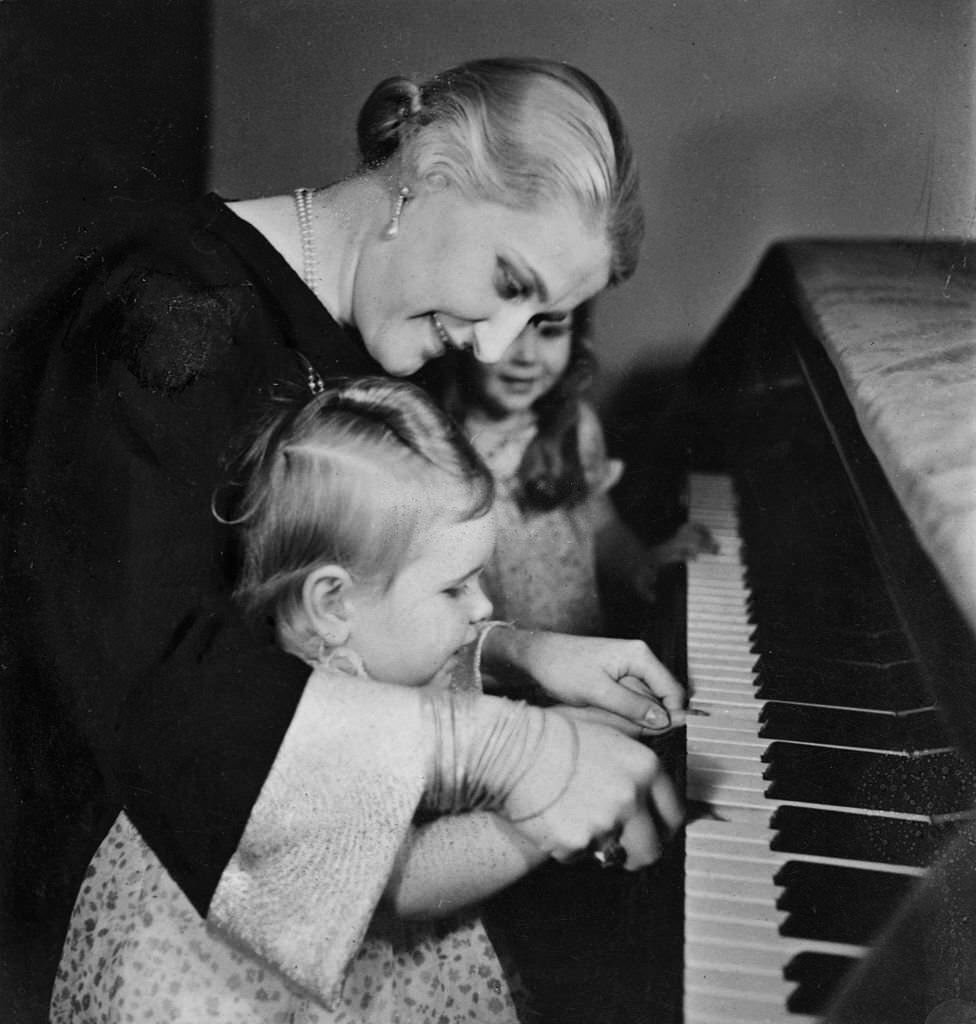 #30

Magda Goebbels with her daughter Helga, 1933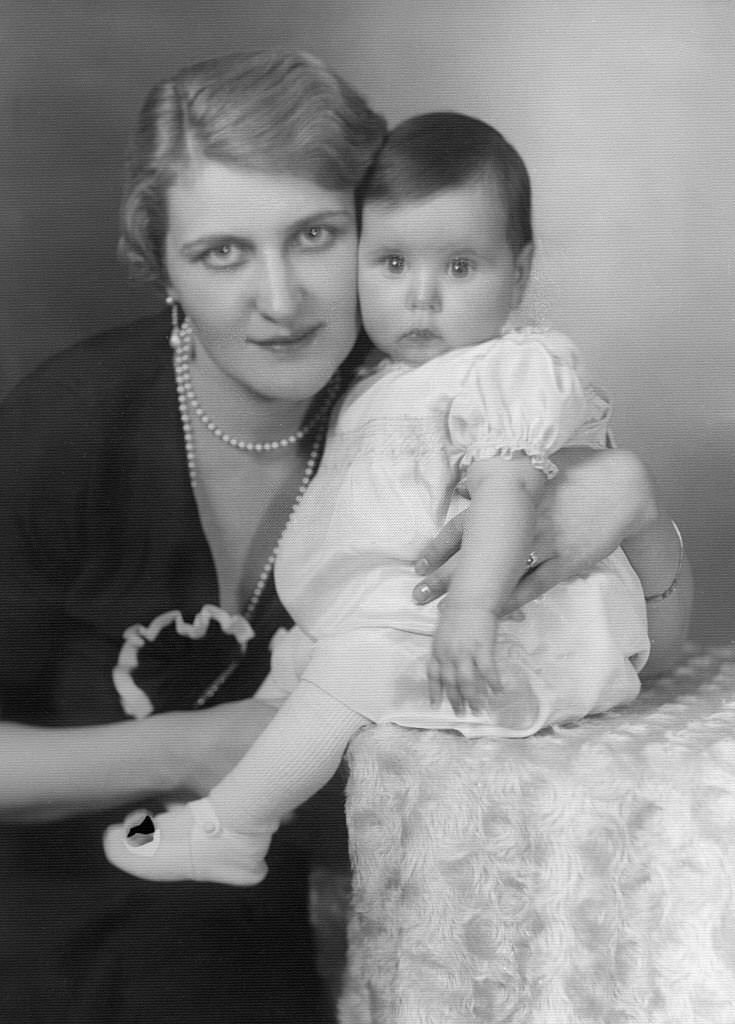 #31

Magda Goebbels with her daughter Helga, 1933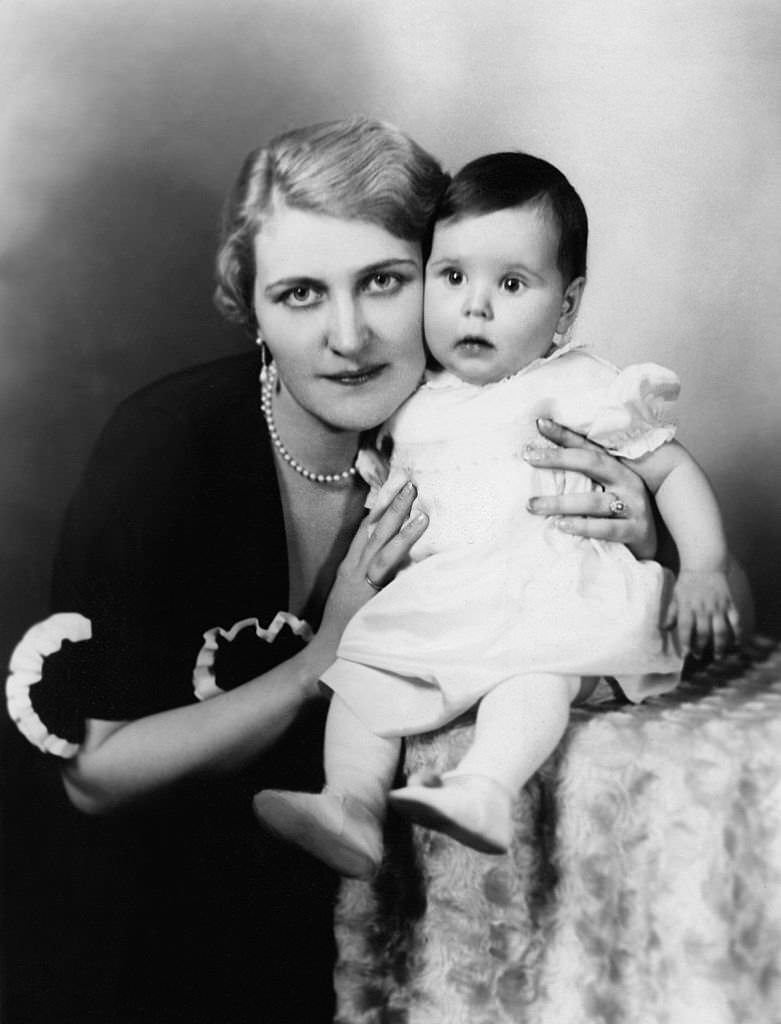 #32

Adolf Hitler with Joseph Goebbels and his daughter Hildegard in Heiligendamm, 1939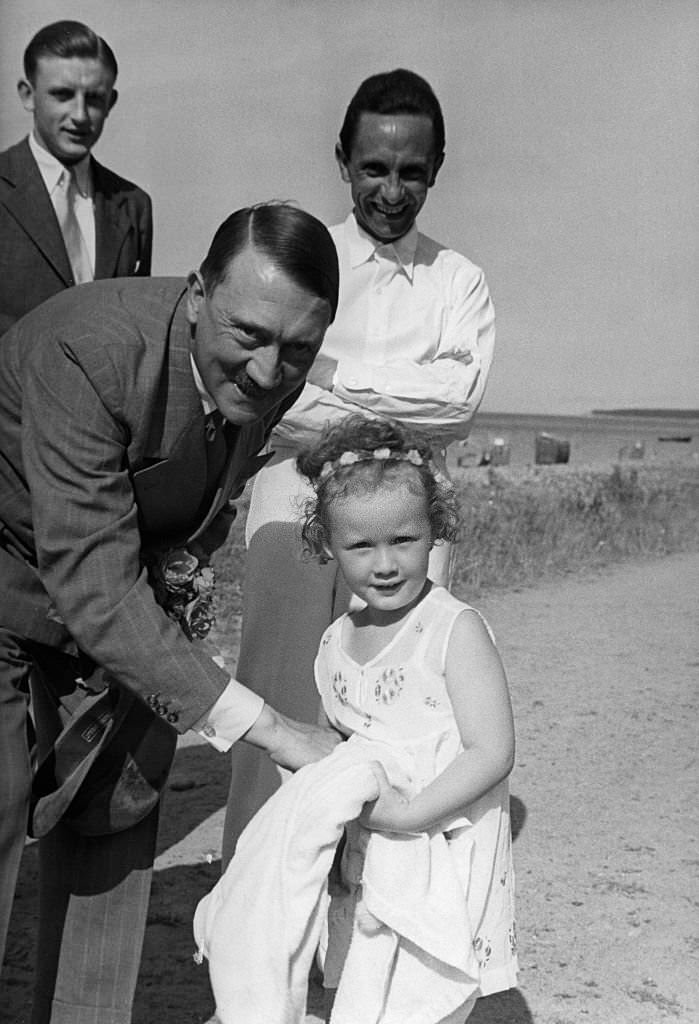 #33

Joseph Goebbels with his daughter Helga on the Seebruecke Heiligendamm, 1935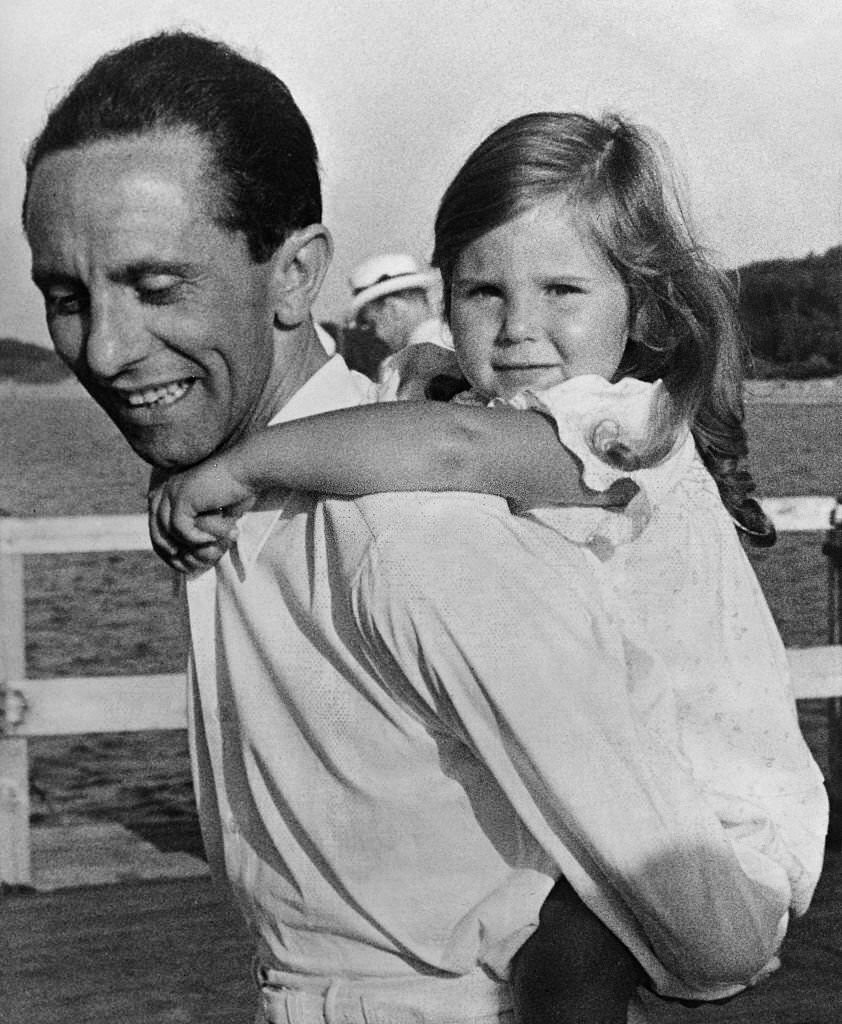 #34

Joseph Goebbels on the occasion of his sisters marriage, his sister Maria and her husband, film director Max Kimmich, getting flowers from Goebbels' daughter Helga, 1938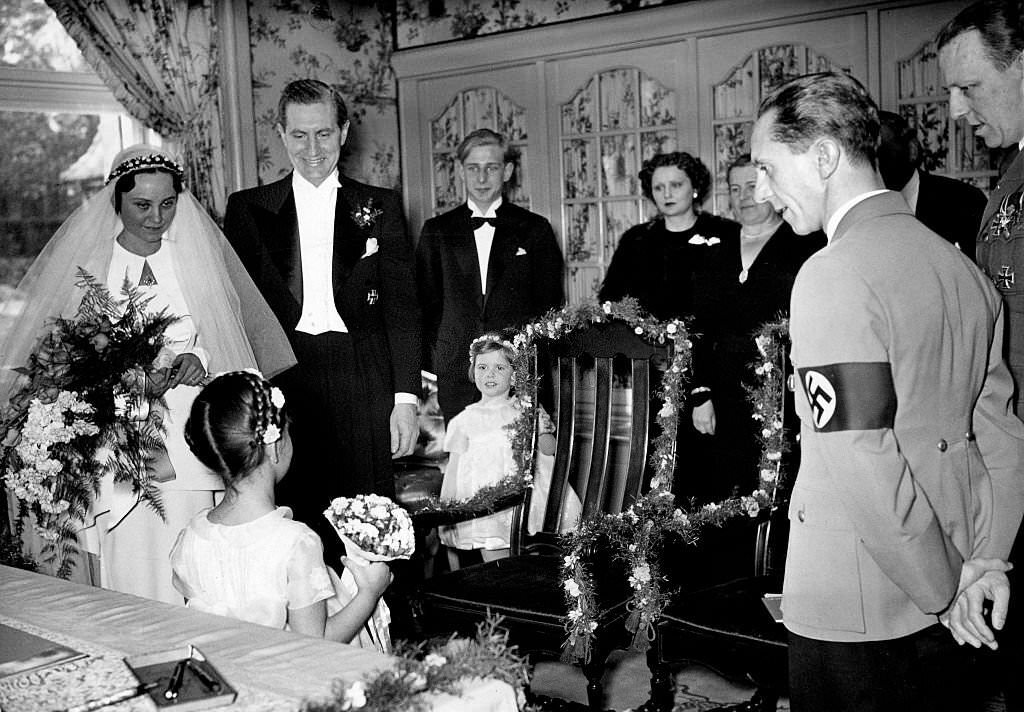 #35

Visit from Paul V. Yugoslavia in Germany – the Prince Regent couple visiting the Goebbels family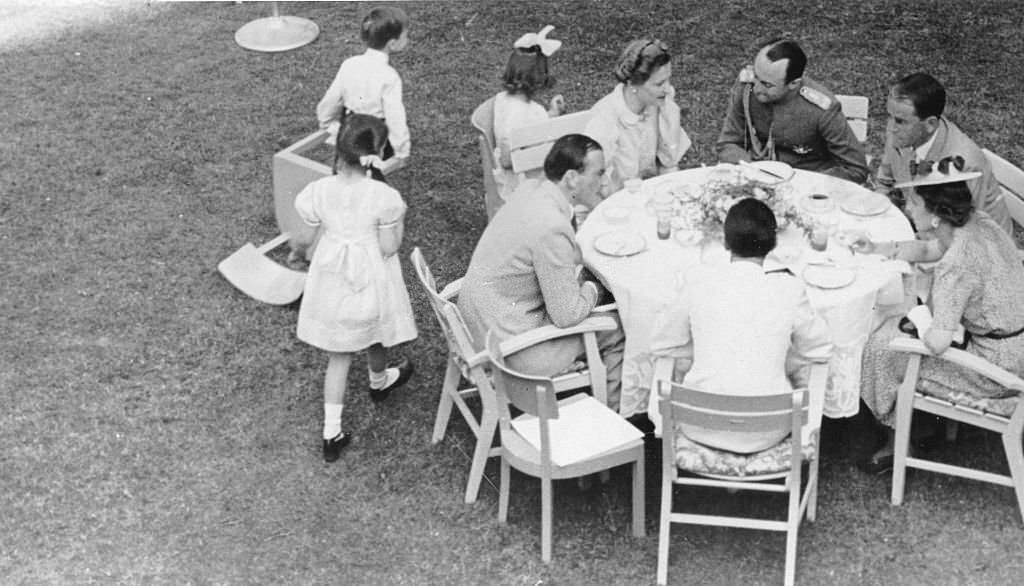 #36

Nuremberg Rally 1938 Joseph Goebbels is surrounded by excited girls from Nazi-occupied Austria during a parade at the Adolf-Hitler-Square in Nuremberg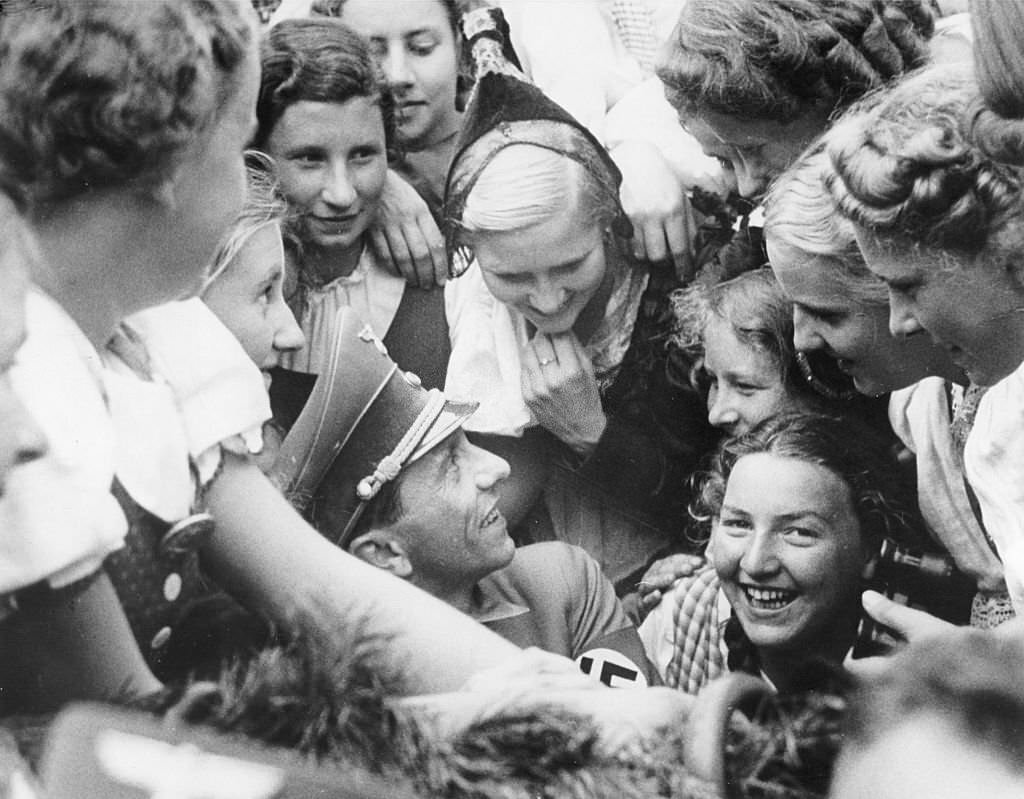 #37

Magda Goebbels With Austrian children of the school Reich School of the Reich League of the Rich in Children ' at the lake Griebnitzsee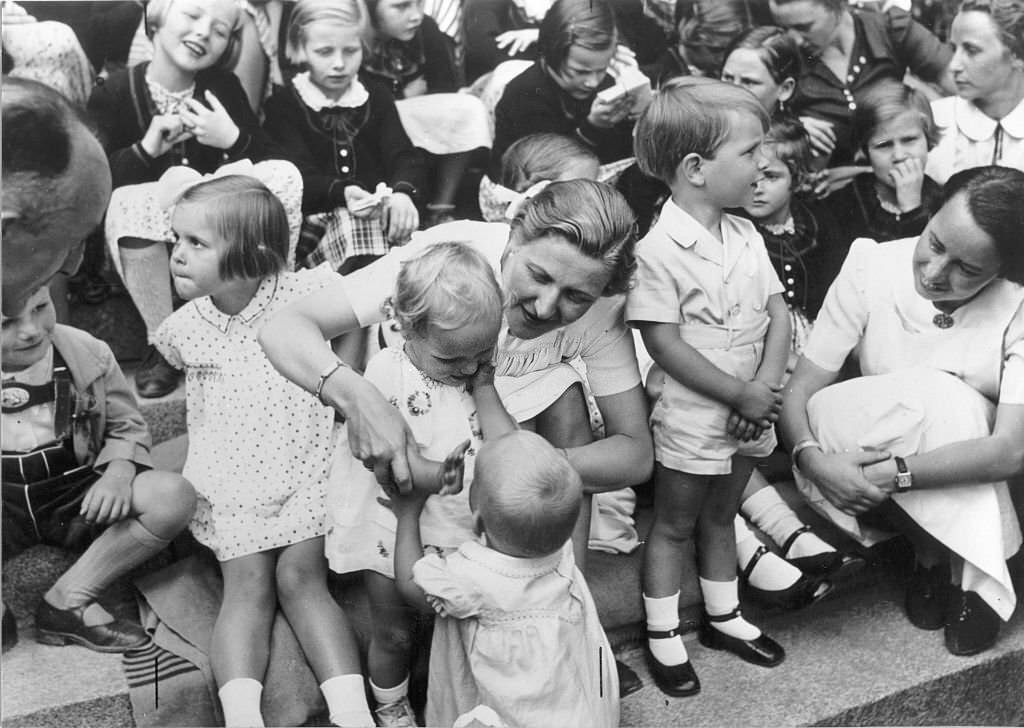 #38

Goebbels is received by to girls at the airport Frankfurt.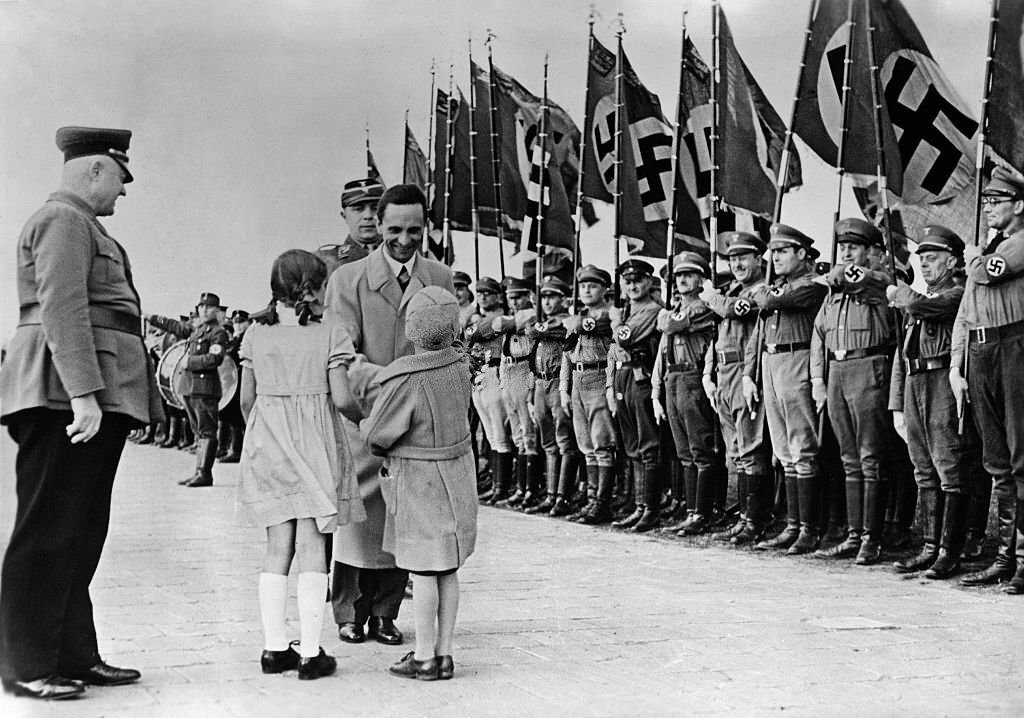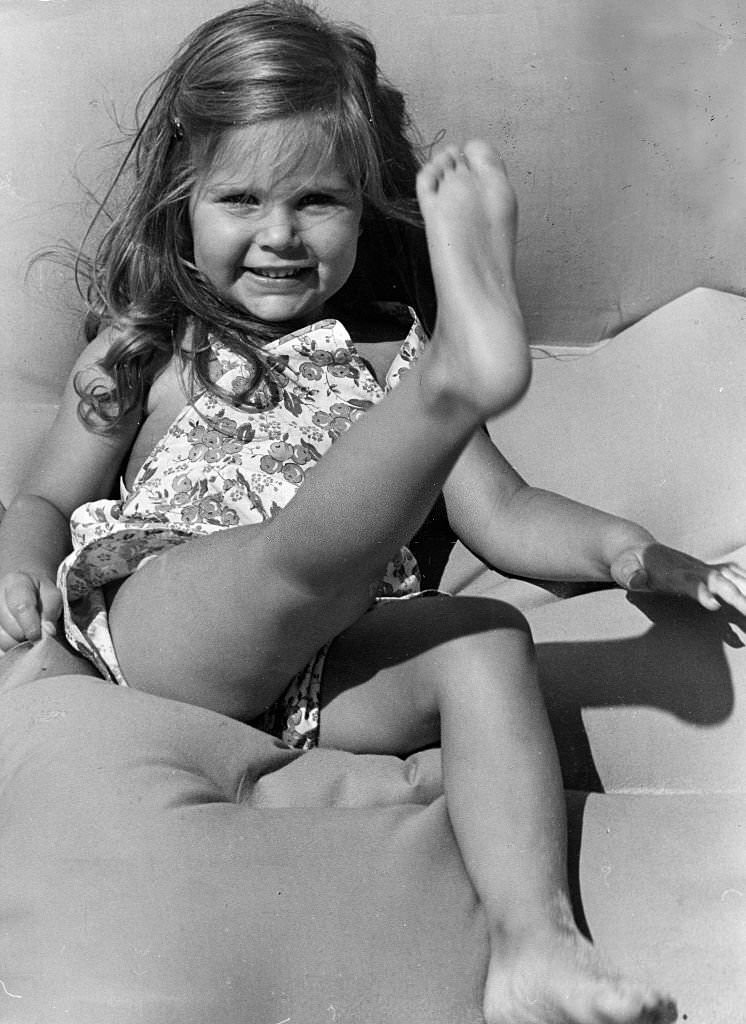 #40

German Chancellor Adolf Hitler, left, chats to his Propaganda Minister Dr, Goebbels who is holding his daughter Helga, during Hitler+s visit to their home in Berlin, 1934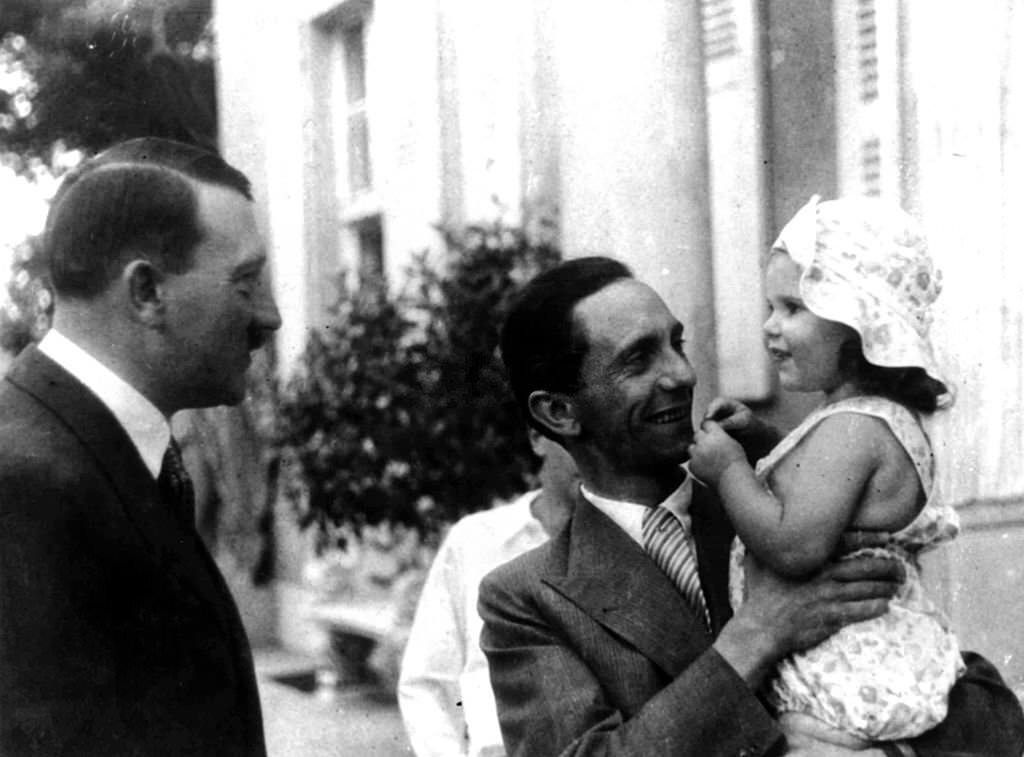 #41

Joseph Goebbels in conversation with children in front of Haus Wachenfeld on the Obersalzberg Berchtesgaden, 1933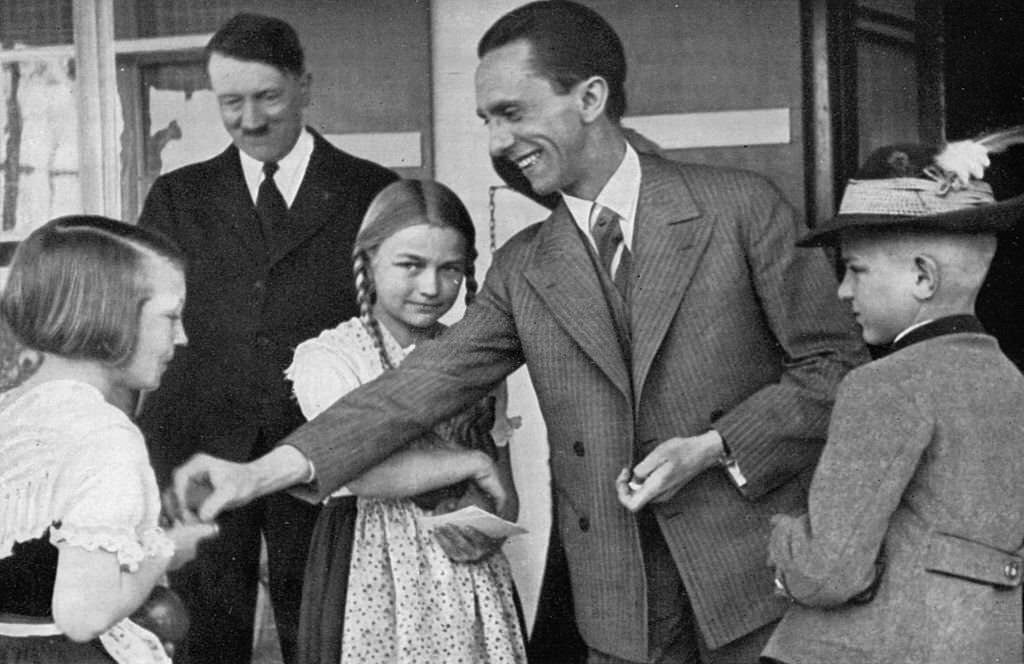 #42

Joseph Goebbels speaking to a boy of the Hitler Youth (Jungvolk)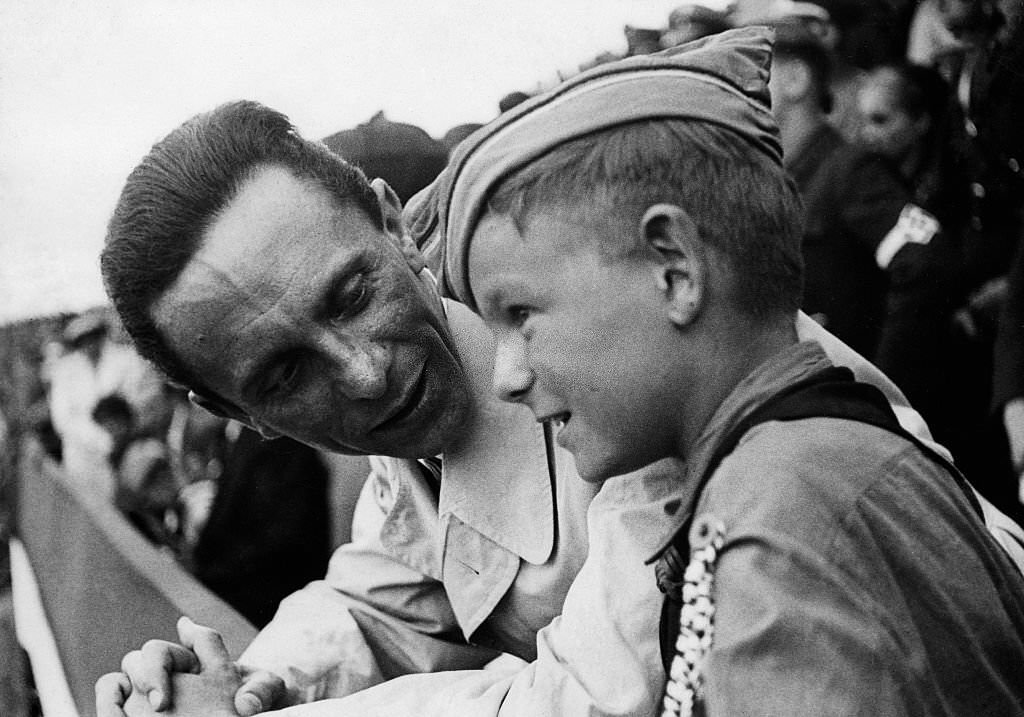 #43

Magda Goebbels with Johanna Maria Magdalena Behrend- With their children (left to right) Helga, Hilde, Hedda (on her arm), Holde, Hellmut and Harald – 1938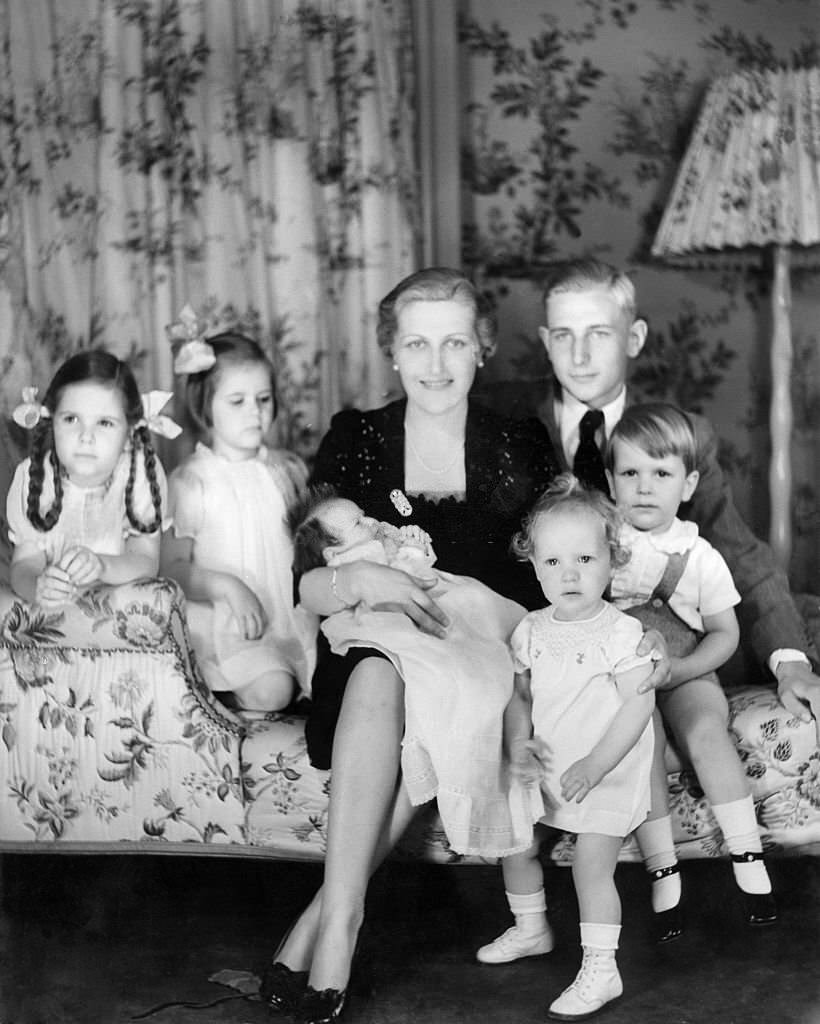 #44

Erwin Rommel, Offizier, Generalfeldmarschall, mit Kindern von Joseph Goebbels, 1943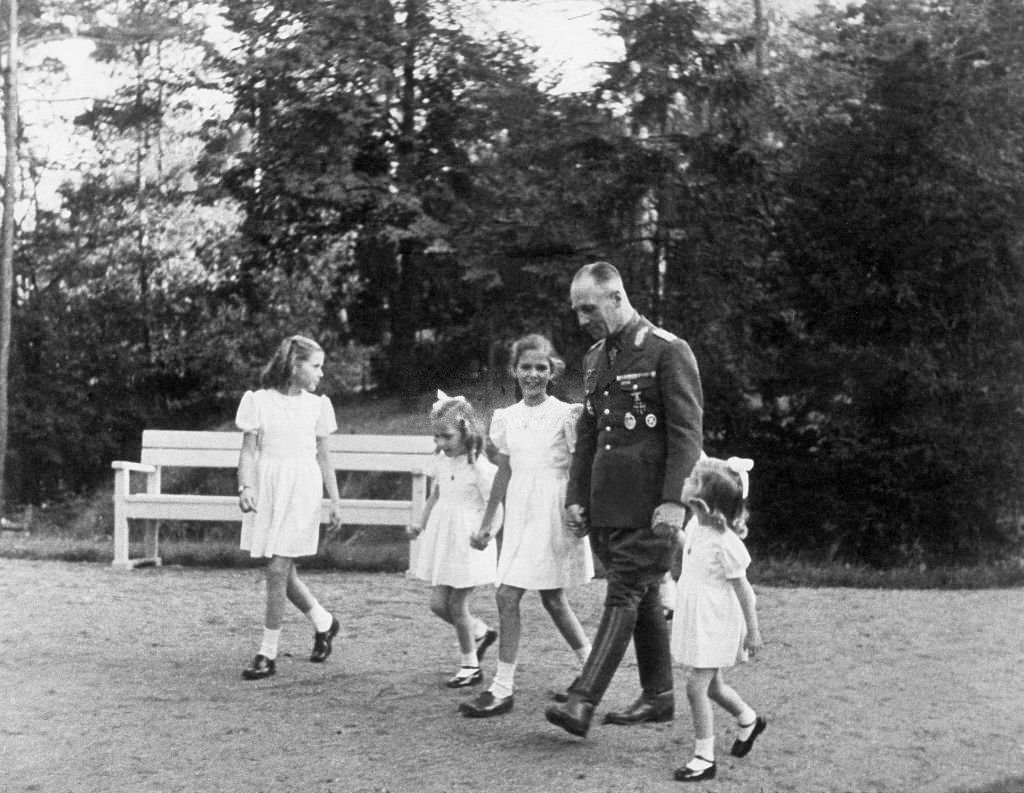 #45

Joseph Goebbels with his wife Magda and their children, from left: Helga, Hilde, stepson Harald Quandt (back row), Hellmut, Holde, Hedda and Heide.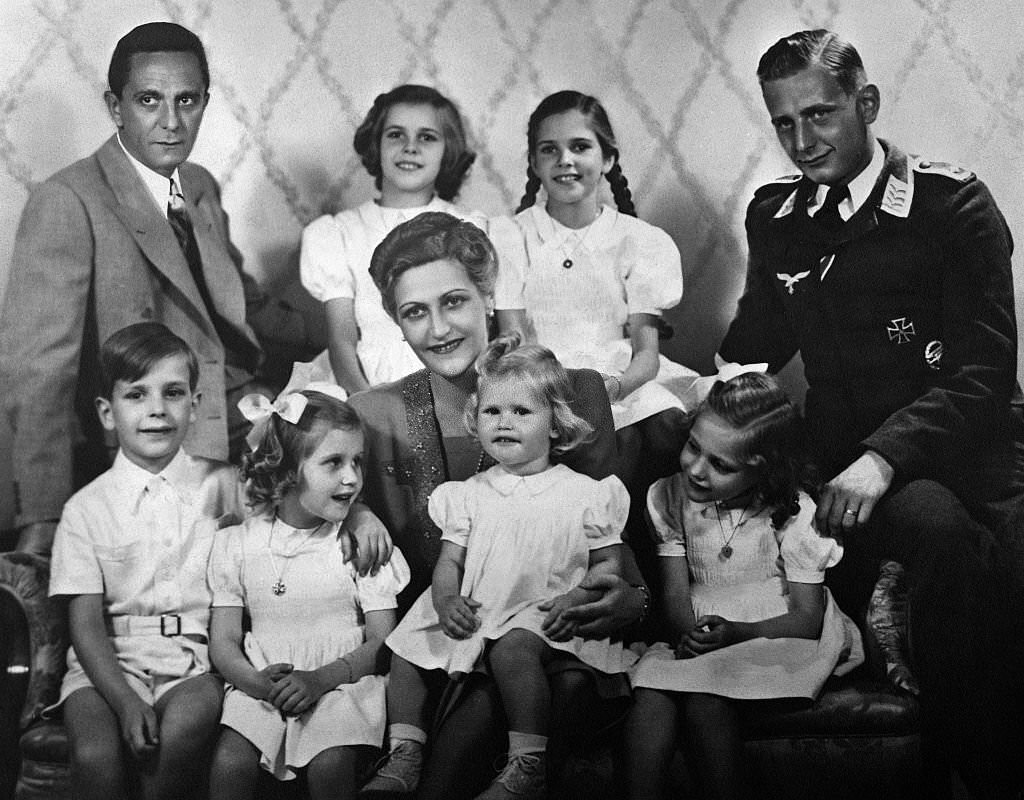 #46

Adolf Hitler with Joseph Goebbels and his wife Magda and their three oldest children, left to right, Hilda, Helmut, and Helga, 1930s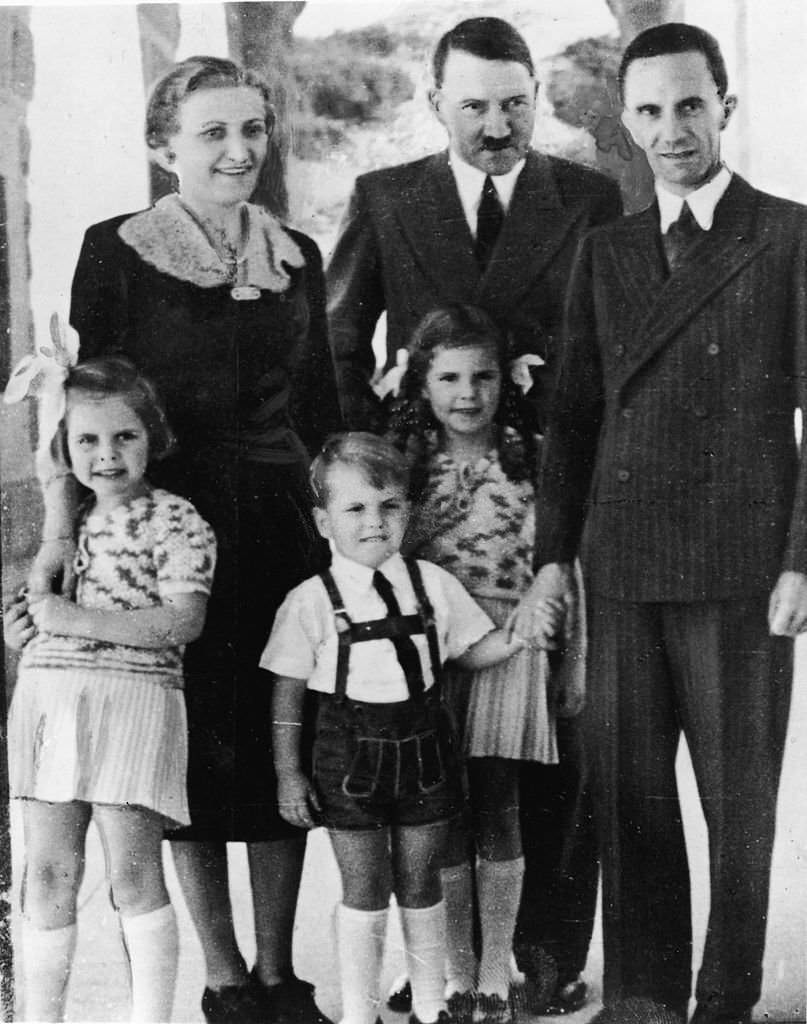 #47

Joseph Goebbels with his wife Magda, their first child, Helga Susanne, and Magda Goebbels' son by her first marriage, Harald Quandt, 12th March 1933.
#48

German Nazi politician and minister of propaganda Paul Joseph Goebbels with his wife Magda and their children Helga, Hildegard and Helmut, November 1935.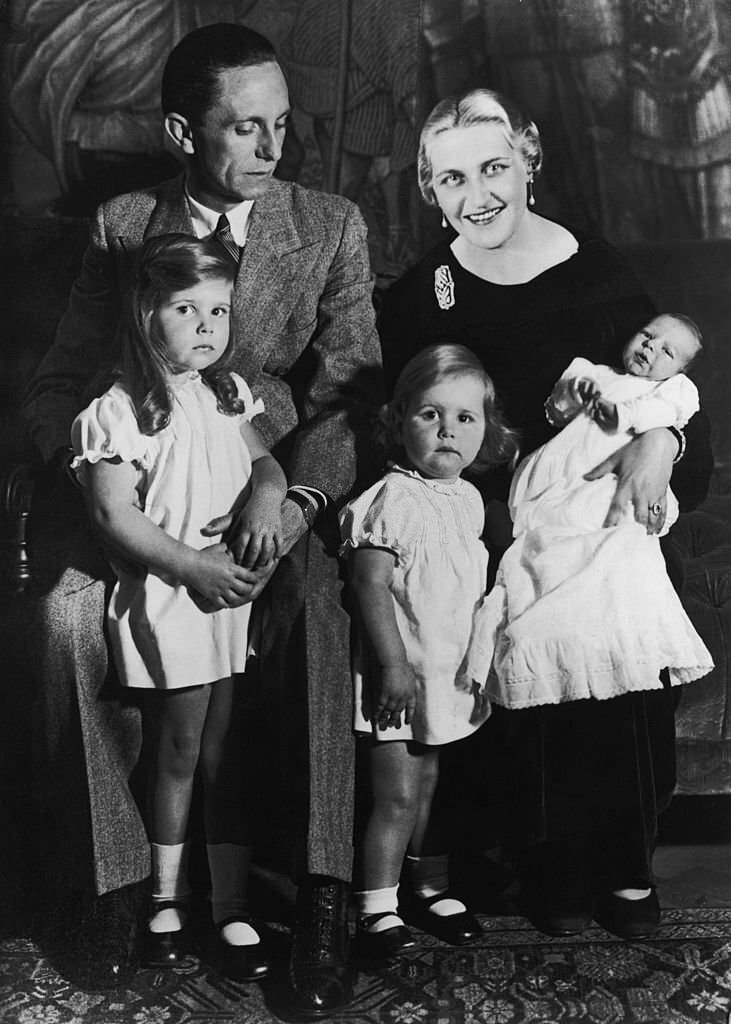 #49

Joseph Goebbels with his daughter Hedda.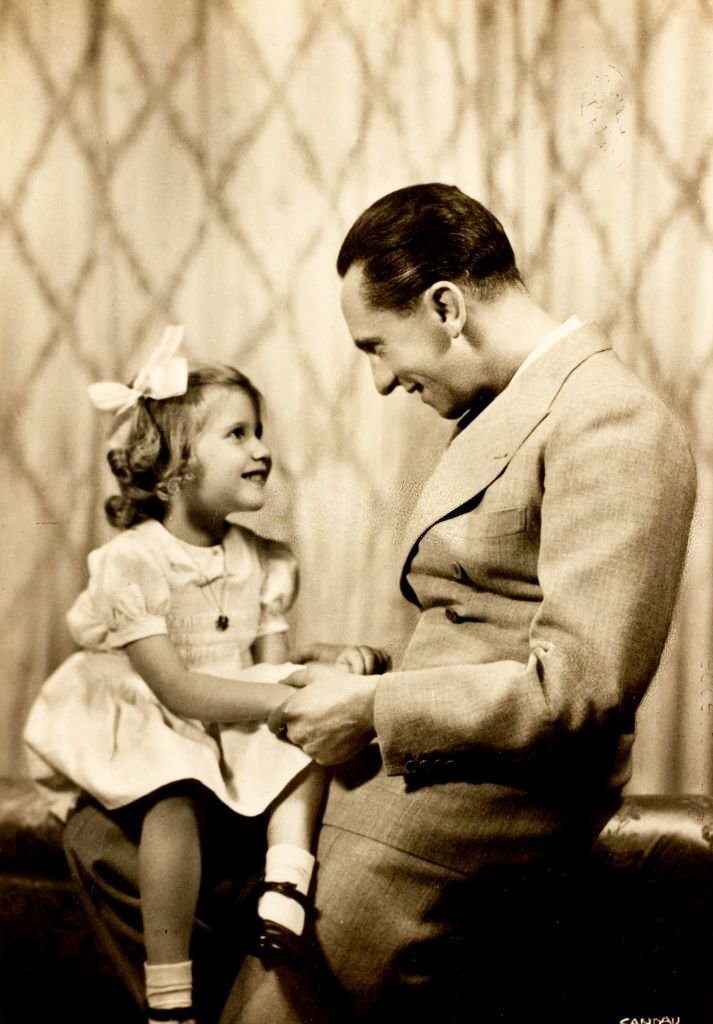 #50

Adolf Hitler sitting on a bench with Helga Goebbels, daughter of Nazi propagandist Paul Joseph Goebbels.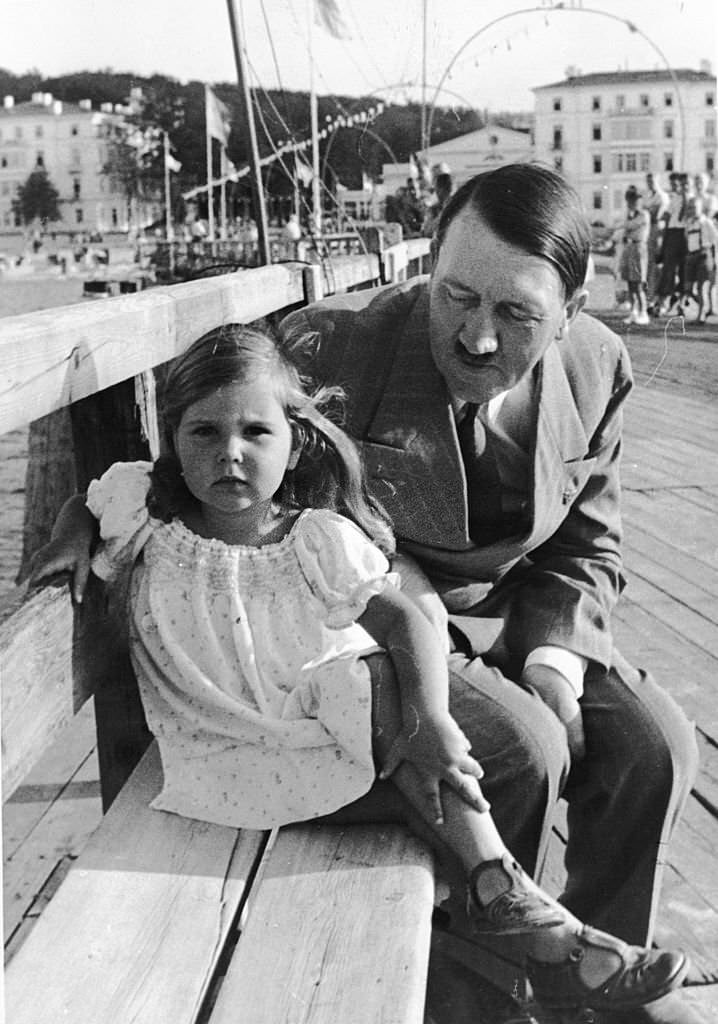 #51

oseph Goebbels with his wife and daughter, Helga, at Heiligendamm, by the Baltic Sea, where they are vacationing.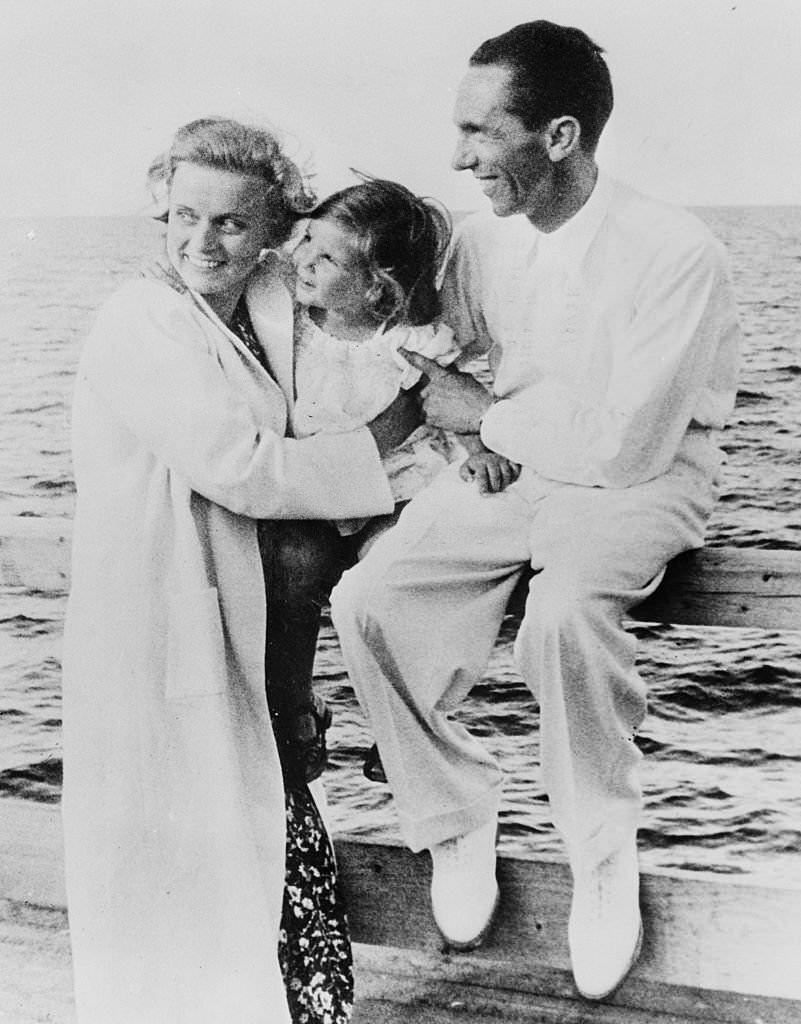 #52

Children Presenting Roses to Adolf Hitler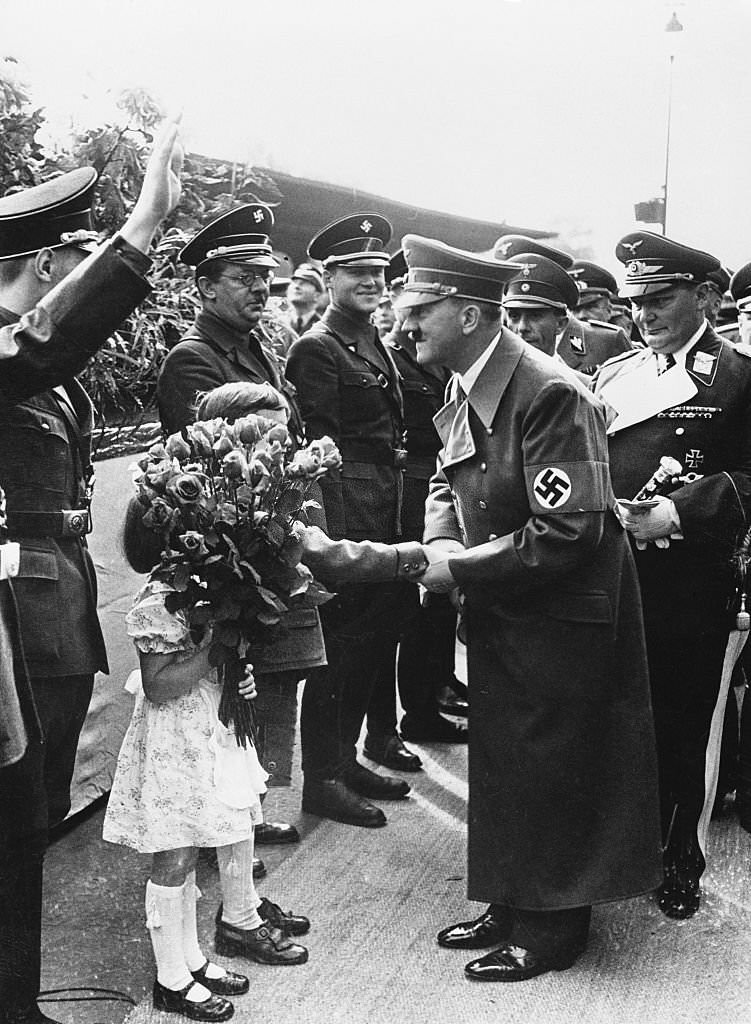 #53

Joseph Goebbels and Family Enjoying the Circus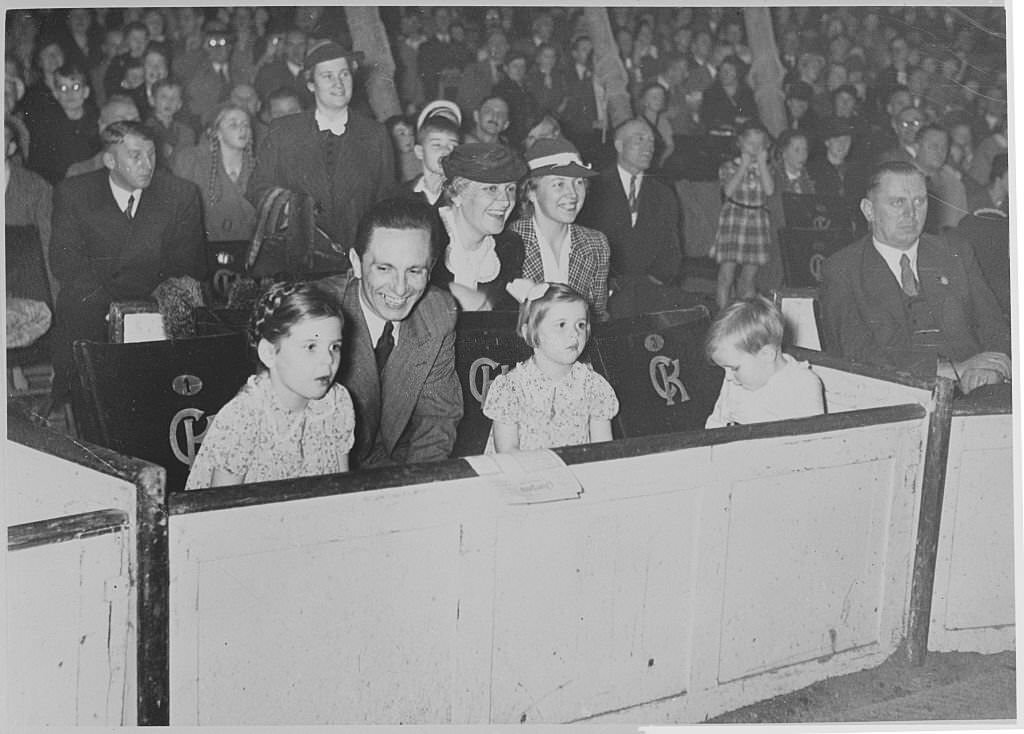 Joseph Goebbels with his wife and children as they attended the circus in Berlin, recently. Mrs. Goebbels, is in the second row, on the left. The children are, left to right: Helga, Hilde and Helmut.
#54

Joseph Goebbles with His Children.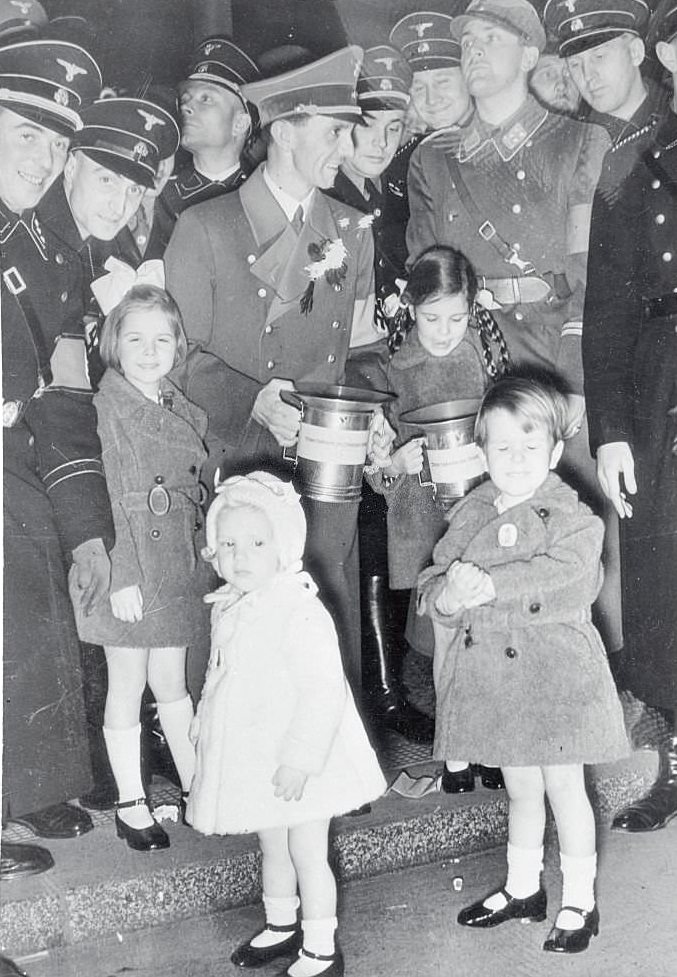 #55

Joseph Goebbels shakes hands with a little girl in a white dress who holds a bouquet of wildflowers, 1930s.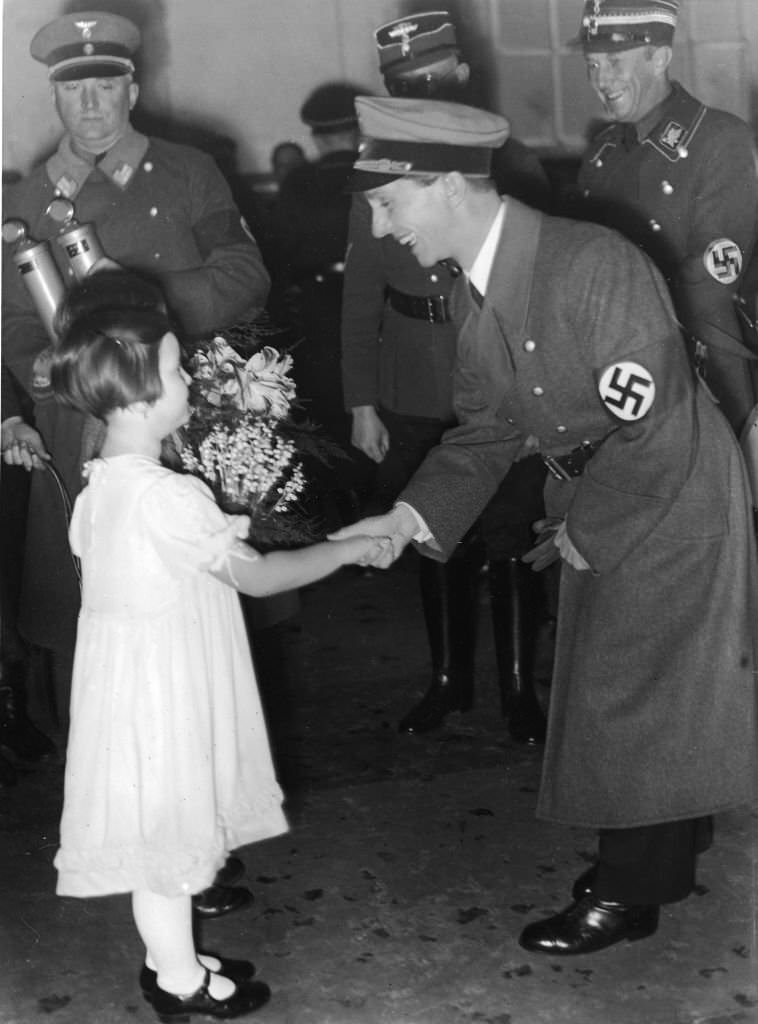 #56

Adolf Hitler adjusts the arms of one of Joseph Goebbels' daughters as they and another Goebbels daughter pose for a photograph, late 1930s.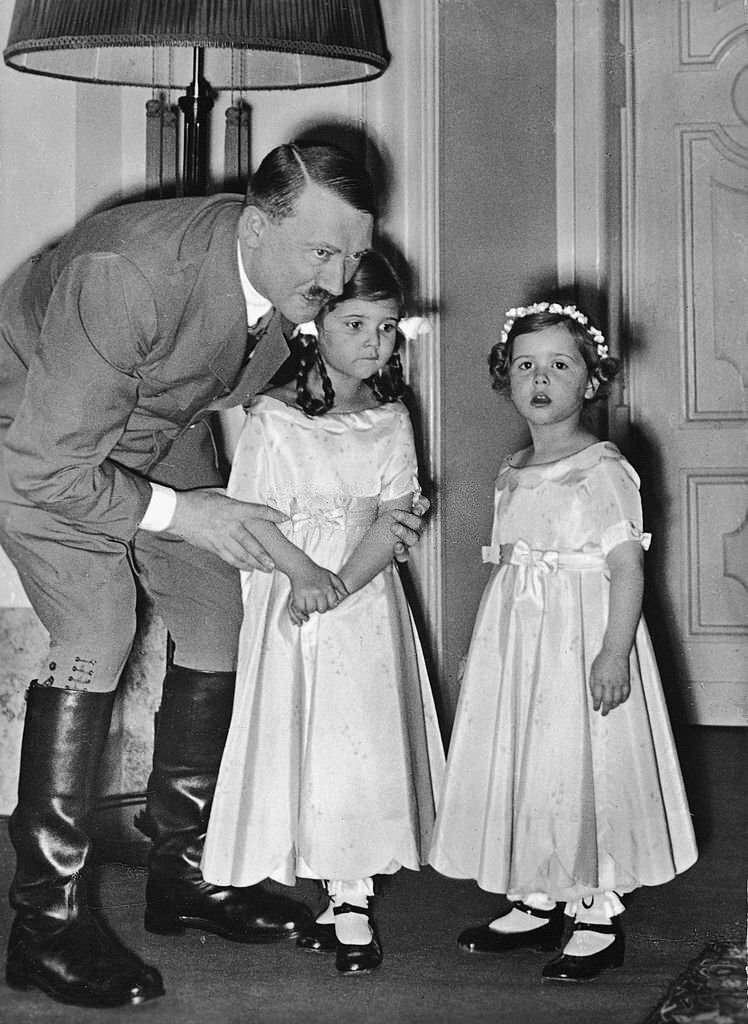 #57

Joseph Goebbels ith his wife Magda and their children, Helga, Hildegard, Helmut, Hedwig, Holdine and Heidrun, 1942.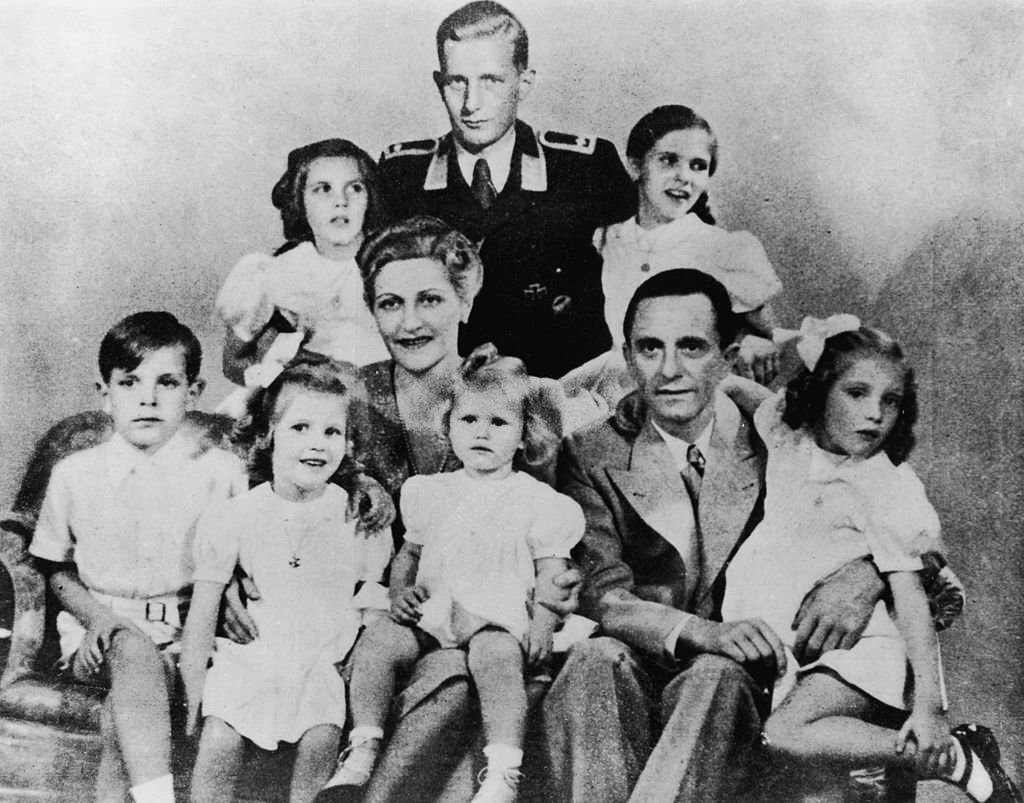 #58

The bodies of Joseph Goebbels children.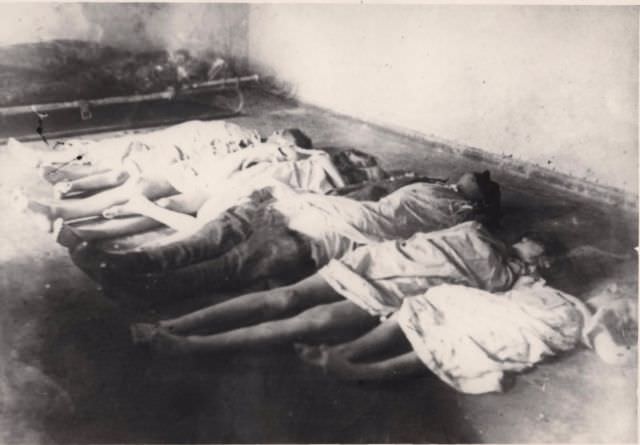 #59

The body of Helga Goebbels lies on a blanket in a field after Russian troops moved her and her siblings' bodies from the beds in the bunker where their parents poisoned them, Berlin, May 1945