In the 1980s St. Louis was the 23rd largest city in the United States with a population of around 700,000. During this time, the city was a major industrial and transportation hub, with a diverse economy that included manufacturing, healthcare, education, and finance. The city was home to several Fortune 500 companies, including Monsanto, Anheuser-Busch, and Emerson Electric.
In the 1980s, St. Louis was also known for its vibrant arts and culture scene. The city was home to several major sports teams, including the St. Louis Cardinals (baseball) and the St. Louis Blues (hockey), and it hosted several major events, such as the World Series, the Stanley Cup Finals, and the Missouri Valley Conference basketball tournament.
The city's arts and culture scene was thriving in the 1980s, with a number of museums, galleries, and performance venues. The St. Louis Art Museum, located in the city's Forest Park, was home to a wide range of works of art, including European paintings, American and contemporary art, and decorative arts. The city was also home to the St. Louis Symphony Orchestra, which was founded in 1880 and was one of the oldest and most respected symphonies in the United States.
However, like many other cities in the United States, St. Louis faced challenges in the 1980s, including racial tensions and economic struggles. The city had a history of segregation, and efforts to address these issues were ongoing during the decade. In addition, the loss of manufacturing jobs and the decline of the city's industrial base had a negative impact on the local economy.
Despite these challenges, St. Louis remained a vibrant and diverse city in the 1980s, with a rich history and a strong sense of community. The city was home to a wide range of neighborhoods, each with its own unique character and culture.
#1

Jefferson Barracks Museum was originally the location of a military base, 1988
#2

Anheuser Busch Brewery, 1986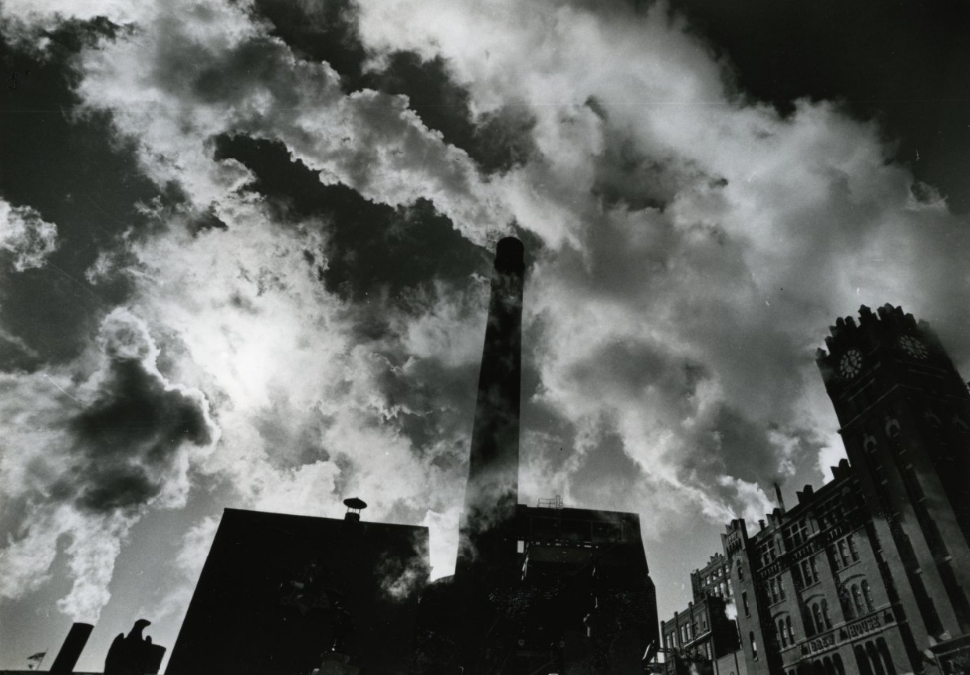 #3

Christmas Tree Erected on the Anheuser-Busch Brewery Ground, 1985
#4

Public Tours of 70-block of Anheuser-Busch, Inc, 1983
#5

Anheuser Busch-The First Budweiser Clydesdale Hitch, 1983
#6

Jefferson Barracks Bridge Construction, 1982
#7

Plaza Apartments – Rates, 1984
#8

Columbus Square Apartments, 1981
#9

ABCD Apartments-Site of Robbery, 1981
#10

Neighborhood Gardens Apartments, 1205 N Seventh Street, 1986
#11

Donaldson (Court) Apartments Alleyway, 1983
#12

Donaldson (Court) Apartments Courtyard, 1983
#13

Parkedge Apartments, 1982
#14

Columbus Square Apartments Opening, 1981
#15

Housing Under Construction at Columbus Square, 1981
#16

Construction At Columbus Square Apartments, 1984
#17

The building at 13th and Washington avenue, St. Louis, 1985
#18

Urban West Apartments – Exterior, front view, 1981
#19

First National Bank (exterior) Remodel Finishing, 1981
#20

Centerre Bank – One Centerre Plaza, 1983
#21

Original Mercantile Trust Company location on the southeast corner of Eighth and Locust streets, St. Louis, Missouri, 1980
#22

St. Louis police officers around the front entrance of the Lindell Trust Co. bank corner St. Louis Avenue and Grand Ave, 1981
#23

Bridge Over Brentwood To Connect Innerbelt to U.S. 40, 1982
#24

A view of the McKinley Bridge, 1985
#25

Rector Brown, 57, a die caster at Carter, 1981
#27

Media and friends gather at the ground breaking and kickoff of the $100 million plus Union Station Redecelopment (sic) project, 1983
#28

4th of July: The general scene on Art Hill in front of the St. Louis Art Museum in Forest Park, 1980
#29

Jefferson Barracks Cemetery Chapel, 1985
#30

Apex Oil Co Building, 1986
#32

Tables And Chairs, 1986
#33

Armory 138th Infantry Missouri National Guard, 1986
#34

The Lighted Eads Bridge, 1981
#35

The Budweiser Rocket Car, 1980
#36

Anheuser-Busch Carpenters Replacing Windows, 1984
#37

Filming Of Budweiser Beer Commercial, 1985
#38

Bill Whiteley, An Anheuser-Busch Supervisor, 1981
#39

A worker inspects the Jonesboro, Arks, rice mill of Busch Agricultural Resources Inc, 1984
#40

Soccer at the Armory, 1982
#41

Caged Worker Continues Work On The Jefferson Barracks Bridge, 1981
#42

Jefferson Barracks Bridge: Bridge-work, 1981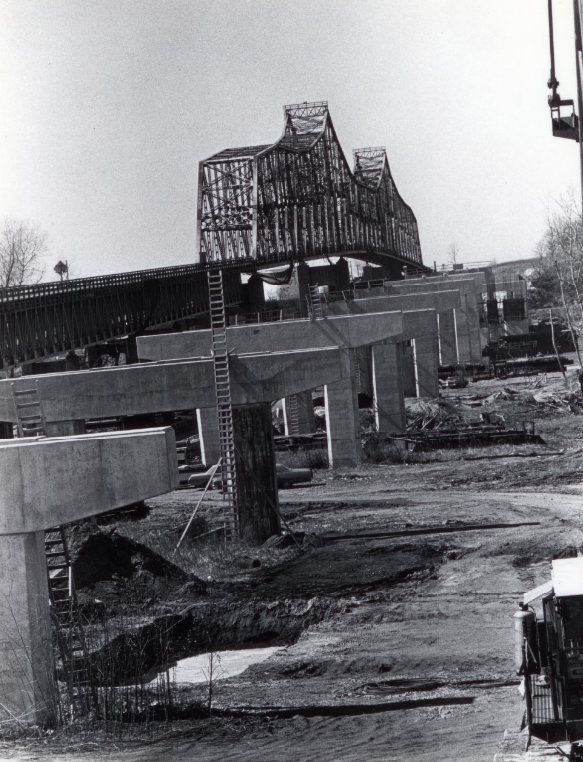 Concrete supports stretch westward toward the Mississippi River as construction continues on the new Jefferson Barracks bridge being built north of Columbia. The bridge will replace the current structure and connect with the Interstate 270 bypass, which will extend to Interstate 55-70 at Collinsville.
#43

Jefferson Barracks Bridge Piers, 1981
#44

Jefferson Barracks Bridge Troubles, 1985
#45

Jefferson Barracks Bridge Work,1 981
#46

Plaza Apartments – Exterior side view, 1981
#47

City Bank has opened its automated banking facility in the remodeled Ettrick Buidling, at Forest Park and Euclid Avenues, 1981
#48

Executive House Apartments at 4466 W. Pine, St. Louis, 1981
#49

Versailles Apartments – Sitting room, 1981
#50

Columbus Square Apartments Construction, 1980
#51

Columbus Square Apartments Townhouse, 1981
#52

Lennox Hotel Building, Downtown on Washington Ave, 1986
#53

Versailles Apartments – Lounge, 1981
#54

Republic National Bank, 1980
#55

Centerre Bank – Skyscraper, 1982
#56

Present Mercantile Trust Company Building, 1980
#57

Boatmen's Bank – Designs for Jefferson County Building, 1986
#58

Future site of Frank's Pizza Parlor–North Side Bank, 1984
#60

Mississippi River Bluffs, 1982
#61

A north view of the old Meramec River bridge on the left and the new bridge is on the right, 1985
#62

Concrete is poured on a form to bridge I-70 at Old Bonhommme, 1986
#63

A million dollars worth of bridge improvements will be completed this year for the St.Louis County Highway Department in the Heman Park area of University City, 1981
#64

Bridge construction on Vernon ave., west of Pennsylvania, 1981
#65

McKinley Bridge officials say the Venice-owned toll bridge has retained some of the new customers it acquired earlier this year when motorists sought to avoid construction areas on the Poplar Street Bridge.
#66

The retaining wall on the Union Boulevard bridge collapsed Nov. 26, taking a sidewalk and part of the boulevard's northbound lanes with it, 1983
#67

Demolition of building at Lafayette and Grattan, west of City Hospital, 1984
#68

Torching Of A Vacant Residential Building Ahead Of Its Scheduled Renovation, 1981
#69

Demolition of this building at Tucker Boulevard and Lafayette Street is no helter-skelter affair, 1981
#70

Reflections on windows of a downtown St. Louis office building, 1981
#71

This deserted building stands behind Carr School, at the corner of Carr and 15th Streets, just north of downtown, 1986
#72

Traffic snakes onto Poplar St. bridge ramp at Spruce St. intersection, 1986
#73

Derelict Building, 1985
#74

Heavy Traffic On Poplar Street Bridge Toward Prairie State, 1986
#75

Highway and I-55 Crossing The Poplar Street Bridge, 1986
#76

Construction Causes One Lane Merge On Poplar Street Bridge, 1983
#77

St. Louis Place Apartment Project, 1985
#78

Confusing Signs On The Poplar Street Bridge, 1983
#79

Site Of Fiery Crash On Poplar Street Bridge, 1983
#80

New Signs On Poplar Street Bridge, 1984
#81

Poplar Street Bridge Re-Paving, 1986
#82

A.G. Edwards & Sons has launched another expansion, its fourth in 12 years, at Jefferson Avenue and Market Street, 1982
#83

Checkerdome-Black Out, 1981
#84

Falstaff Brewery Renovation, 1986
#85

Backside of the old Falstaff brewery which is being converted into 141 apartments called St. Louis Place Apartments, 1986
#86

Arena-Hot Hockey Blues Playoffs Tickets on Sale, 1986
#87

Arena-Checkerdome No More, 1983
#88

St. Louis Arena-Bargains Galore, 1984
#89

MacArthur Bridge-Parking Lot, 1985
#90

MacArthur Bridge-Concrete Crumbling, 1986
#91

MacArthur Bridge-Broken Railing, 1980
#92

The "Suicide Curve" On The Illinois Side Of The MacArthur Bridge, 1981
#93

Hole In MacArthur Bridge Railing, 1980
#94

A shot of the passengers walking down the walkway, 1980
#95

Ann Rutledge train arriving Amtrak Station, 1982
#96

Amtrak Station in St. Louis in 1980
#97

A Morning Walk on Eads Bridge, 1985
#98

Eads Bridge and Martin Luther King Bridge, 1986
#99

The old railroad bed on Eads Bridge that may be used for a light rail system, 1985
#100

Overall view of Union Station as world's largest marching band, some 5000 strong, marches through, 1985
#101

Richard H. Amberg Awards, 1984
#102

Bohemian Savings & Loan Association-Expanding Service, 1985
#103

Bohemian Savings & Loan Association, 1986
#104

St. Louis Avenue – Roof Collapse, 1980
#105

Pickup Crushed – South 8th Street, 1983
#106

The Beck Building at 7811 Carondelet Ave, 1981
#107

Buder Building Implosion Downtown, 1984
#108

Buder Building Implosion Downtown, 1984
#109

Past President of Market Preservation Soc. Standing Outside Buder Building, 1984
#110

The Buder Building, 1984
#111

Board of Election Commissioners Building, 1982
#112

Cervantes Convention Center Sunday, 1986
#113

Sign Of The Times, 1980
#114

Spectators Admiration, 1982
#115

A sketch of the office building project of the Frates Redevelopment Corp, 1980
#116

Convention Center and Plaza Cervantes Center Env. 3, 1986.
#117

Frisco Building, 1983
#118

Frisco Building Plans, 1983
#119

Medical Office Center, 1982
#120

Moving clockwise, is a picture of the Del Monte Building on Delmar Boulevard where Burns plans eventually to relocate, 1986
#121

House that has been renovated at a cost of $150,000 mistakenly scheduled for demolition, 1980
#122

Apartments at 3714 Shreve – Penrose Park. (obverse), 1985
#123

Courtyard of apartment group in the 5700 block of Cabanne Ave., 1985
#124

Eads Square, new 103-unit housing for elderly in Lafayette Towne, 1985
#125

12-units apartment building on the corner of Jamieson and Lansdown, 1983
#126

The Carter Carburetor Plant at 2849 N. Spring Ave, 1981
#127

Plaza Apartments – Shopping center construction, 1981
#128

10th and Cass – Vacant Building Collapse, 1980
#129

Great Car and Cash Giveaway Contest Car Prize, 1984
#130

Great Car and Cash Giveaway Chevrolet Prize Winner, 1984
#131

Great Car and Cash Giveaway Car Prize, 1984